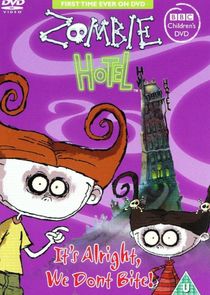 Zombie Hotel is an animated children's program about a hotel run by zombies. The main characters are Fungus and Maggot, two child zombies who pretend to be human to get into their local school, and their family and boarders at the hotel run by their parents. They make friends with Sam, a human boy whose mother is away most of the time. Sam soon finds out about their zombie powers and all three make a team of friends.
Series Overview
Rating
imDb Rating: 6.7 (94 Votes)
Metascore: N/A
Plot
Pass the Fawlty Towers, turn right after the Adams Family's and you'll find the ZOMBIE HOTEL! Wide eyed twins Fungus and Maggot will welcome you, along with their Mom and Dad Zombies, ...
Details
Rated: N/A
Released: N/A
Runtime: 26 min
Genre: Animation
Director: N/A
Writer: Jan Van Rijsselberge
Actors: Aileen Mythen, Hillary Kavanagh, Roger Gregg, Susan Slott
Language: English
Country: France
Awards: 1 win.
Total Seasons: 1
Previous Episode
A Class Act
Episode 1x26; Oct 09, 2007
Francis finds a treasure in the cellar of the Zombie Hotel … Unfortunately, it is guarded by an evil spirit that takes possession of Francis' body and transforms him into an Evil Francis. He persuades Uncle Von to help him conquer the world. The two accomplices make peanuts that transform anyone who eats them into a brainless robot for three days. Evil Francis wants to enslave the entire zombie population! But this is precisely the moment Funerella and Rictus have chosen to invite the most influential zombies around at the Hotel for an alumni gathering…
Previous Episodes 1x26: A Class Act 1x25: Dead Trendy 1x24: The Bogeyman Cometh 1x23: Funerella's Deathday 1x22: Toying with Magic 1x21: Zombie Pride 1x20: It's Not Fair 1x19: Happy People 1x18: Vote for Zombie!

View All Episodes
Skip to:
Season 1
Episode No.
No. Overall
Title
Airdate
Runtime
Summary
1
1
First Day
2006-05-04
30

Children's animation about the occupants of Zombie Hotel, including twins Fungus and Maggot, their mum and dad Rictus and Funerella, a team of wacky employees and guests like Dame Fedora the phantom. Maggot and Fungus go to human school for the first time in their lives. The hotel residents are worried, but not as worried as Funerella, who decides to check that everything is going well at school.

2
2
Love is in the Air
2006-05-11
30

Children's animation about the occupants of Zombie Hotel, including twins Fungus and Maggot, their mum and dad Rictus and Funerella, a team of wacky employees and guests like Dame Fedora the phantom. Maggot and Fungus decide to help the Colonel find the woman of his dreams. It seems that love is impossible between Dame Fedora and himself. On the advice of Sam, they go to a matrimonial agency, but behind the agency are two sharks determined to rip off the Colonel.

3
3
Brat Attack
2006-06-01
30

Children's animation about the occupants of Zombie Hotel. A client arrives at the hotel with his offspring. With a malicious secret plan to buy the hotel, the client unleashes his bratty child on the hotel and kids. The child maliciously enjoys accusing Maggot and Fungus of hundreds of naughty things that he himself has done. He even goes so far as to cause trouble for Fungus at school. How can they get rid of this little pest without upseting the client that the Zombie Hotel really needs?

4
4
There's Something About Zombies
2006-06-08
30

Children's animation about the occupants of Zombie Hotel, including twins Fungus and Maggot, their mum and dad Rictus and Funerella, a team of wacky employees and guests like Dame Fedora the phantom.

Sam has to do a presentation on Ancient Egypt but Tut is incapable of remembering anything that could help him. If only he could have the powers of a Memo Zombie, capable of taking in 15 books a minute.

5
5
Oh My Goth!
2006-06-29
30

Children's animation about the occupants of Zombie Hotel, including twins Fungus and Maggot, their mum and dad Rictus and Funerella, a team of wacky employees and guests like Dame Fedora the phantom. Fungus is desperate to get invited to Lucy's party, but a new goth girl at school has taken a shine to him. Will Fungus succeed in pretending to be just like Lucy?

6
6
Too Many Cooks
2007-08-04
30

Children's animation about the occupants of Zombie Hotel, including twins Fungus and Maggot, their mum and dad Rictus and Funerella, a team of wacky employees and guests like Dame Fedora the phantom.

Sam is very sad. His mother, Araminta, has decided that Maggot and Fungus are just too weird to be her son's friends. Maggot and Fungus are ready to prove her wrong with the help of the entire Zombie Hotel.

Chef has lost his pet cockroach, Zachariah, and Funerella gives him leave to take a rest. Funerella decides to hire Araminta to cook for a week, which should make her realize that they are a perfectly normal family. Unfortunately, Araminta is a horrendous cook...

7
7
Something Old, Something Newt
2007-08-05
30

Children's animation about the occupants of Zombie Hotel, including twins Fungus and Maggot, their mum and dad Rictus and Funerella, a team of wacky employees and guests like Dame Fedora the phantom. The twins look after Grandfather's newt, which can't eat anything apart from pondweed.

8
8
Hexed
2007-08-07
30

Children's animation about the occupants of Zombie Hotel, including twins Fungus and Maggot, their mum and dad Rictus and Funerella, a team of wacky employees and guests like Dame Fedora the phantom. Maggot and her teacher are cursed by a book.

9
9
Movie Madness
2007-08-11
30

Children's animation about the occupants of Zombie Hotel, including twins Fungus and Maggot, their mum and dad Rictus and Funerella, a team of wacky employees and guests like Dame Fedora the phantom. The zombies and Sam learn that making a film is harder than they thought.

10
10
The Wrong Von
2007-08-14
30
11
11
Night of the Undead Babysitters!
2007-08-16
30
12
12
Carrots, Sticks and Robots
2007-08-21
30
13
13
A Zombie's Best Friend
2007-08-24
30
14
14
Inspector Fungus
2007-08-26
30
15
15
The Hug Bug
2007-08-30
30
16
16
School Exchange
2007-09-02
30
17
17
Plumbing the Depths
2007-09-08
30
18
18
Vote for Zombie!
2007-09-15
30
19
19
Happy People
2007-09-22
30
20
20
It's Not Fair
2007-09-25
30
21
21
Zombie Pride
2007-09-28
30
22
22
Toying with Magic
2007-09-30
30
23
23
Funerella's Deathday
2007-10-02
30
24
24
The Bogeyman Cometh
2007-10-04
30
25
25
Dead Trendy
2007-10-06
30
26
26
A Class Act
2007-10-09
30

Francis finds a treasure in the cellar of the Zombie Hotel … Unfortunately, it is guarded by an evil spirit that takes possession of Francis' body and transforms him into an Evil Francis. He persuades Uncle Von to help him conquer the world. The two accomplices make peanuts that transform anyone who eats them into a brainless robot for three days. Evil Francis wants to enslave the entire zombie population! But this is precisely the moment Funerella and Rictus have chosen to invite the most influential zombies around at the Hotel for an alumni gathering…
Related News
TVMaze