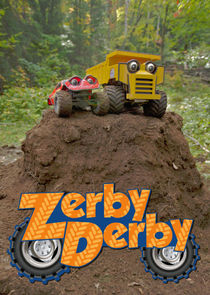 Zerby Derby is an educational philosophy series that aims to enable children to observe the processes of scientific inquiry and technological problem-solving, while also learning about physical science concepts and seeing positive attitudes towards learning, particularly curiosity and perseverance. Each episode makes valuable educational connections to science, technology, engineering and mathematics.
Series Overview
Rating
imDb Rating: 8.3 (13 Votes)
Metascore: N/A
Plot
The adventures of remote-controlled cars and trucks in a forest, where they cross streams, build dams and explore meadows.
Details
Rated: N/A
Released: 26 Aug 2013
Runtime: N/A
Genre: Family
Director: N/A
Writer: N/A
Actors: Ron Pardo
Language: English
Country: Canada
Awards: 1 nomination.
Total Seasons: 3
Previous Episode
Chase Race
Episode 2x39; Nov 29, 2014
Previous Episodes 2x39: Chase Race 2x38: Tightest Turn 2x37: Water-Way 2x36: Main Street 2x35: Strut Gets Stuck 2x34: Flynn's Runway 2x33: Don't Forget to Pack 2x32: Sand Puddle 2x31: Catching Some Zzzs

View All Episodes
Skip to:
Season 1
| Episode No. | No. Overall | Title | Airdate | Runtime | Summary |
| --- | --- | --- | --- | --- | --- |
| 1 | 1 | Big Rock, Sandy Mountain | 2013-08-29 | 8 | |
| 2 | 2 | Eye in the Sky | 2013-08-29 | 8 | |
| 3 | 3 | The Construction Zerby Race | 2013-08-29 | 8 | |
| 4 | 4 | The Big Move | 2013-08-30 | 8 | |
| 5 | 5 | Flower Power | 2013-08-30 | 8 | |
| 6 | 6 | Best Jump Ever | 2013-08-30 | 8 | |
| 7 | 7 | Mazy Days of Summer | 2013-09-05 | 8 | |
| 8 | 8 | Boathouse | 2013-09-05 | 8 | |
| 9 | 9 | Zerby Turn | 2013-09-05 | 8 | |
| 10 | 10 | A Better Bridge | 2013-09-06 | 8 | |
| 11 | 11 | Axle's Track | 2013-09-06 | 8 | |
| 12 | 12 | Zack Camps Out | 2013-09-06 | 8 | |
| 13 | 13 | The Zerby Town Dam | 2013-09-07 | 8 | |
| 14 | 14 | Hide and Seek | 2013-09-03 | 8 | |
| 15 | 15 | The Zerbowl | 2013-09-04 | 8 | |
| 16 | 16 | Tunnel Drat | 2013-09-09 | 8 | |
| 17 | 17 | Raking Leaves | 2013-09-09 | 8 | |
| 18 | 18 | Up a Tree | 2013-09-09 | 8 | |
| 19 | 19 | Gravel Gully | 2013-09-10 | 8 | |
| 20 | 20 | Rex in the Air | 2013-09-10 | 8 | |
| 21 | 21 | Wind Breaker | 2013-09-10 | 8 | |
| 22 | 22 | Rainy Day in Zerby Town | 2013-09-11 | 8 | |
| 23 | 23 | Bottleneck | 2013-09-11 | 8 | |
| 24 | 24 | Balancing Act | 2013-09-11 | 8 | |
| 25 | 25 | Upstream | 2013-09-12 | 8 | |
| 26 | 26 | Stumped | 2013-09-12 | 8 | |
| 27 | 27 | Force of Wheel | 2013-09-12 | 8 | |
| 28 | 28 | Driftwood Dilemma | 2013-09-13 | 8 | |
| 29 | 29 | Zerby Town Mountain | 2013-09-13 | 8 | |
| 30 | 30 | Beached Bob | 2013-09-13 | 8 | |
| 31 | 31 | Ides of Marsh | 2013-10-09 | 8 | |
| 32 | 32 | To Build a Raft | 2013-10-10 | 8 | |
| 33 | 33 | Running Water | 2013-10-10 | 8 | |
| 34 | 34 | Lily Gets Moved | 2013-11-16 | 8 | |
| 35 | 35 | Trail Blocker | 2013-11-16 | 8 | |
| 36 | 36 | Making Waves | 2013-11-16 | 8 | |
| 37 | 37 | Mud Brothers | 2013-11-30 | 8 | |
| 38 | 38 | Crossed Roads | 2013-11-30 | 8 | |
| 39 | 39 | The Bumpiest Road | 2013-11-30 | 8 | |
Season 2
| Episode No. | No. Overall | Title | Airdate | Runtime | Summary |
| --- | --- | --- | --- | --- | --- |
| 1 | 40 | Between a Rock and a Wet Place | 2014-08-28 | 8 | |
| 2 | 41 | Disappearing Leaf Pile | 2014-08-28 | 8 | |
| 3 | 42 | Switchback | 2014-08-28 | 8 | |
| 4 | 43 | Construction Zone | 2014-08-29 | 8 | |
| 5 | 44 | Fran Aground | 2014-08-29 | 8 | |
| 6 | 45 | Double Decker Zerby | 2014-08-29 | 8 | |
| 7 | 46 | One Lane or Two | 2014-09-20 | 8 | |
| 8 | 47 | Chase on the Water | 2014-09-20 | 8 | |
| 9 | 48 | Sandscape | 2014-09-20 | 8 | |
| 10 | 49 | Depth Thoughts | 2014-09-27 | 8 | |
| 11 | 50 | Tunnel Vision | 2014-09-27 | 8 | |
| 12 | 51 | A Bridge for All Zerbies | 2014-09-27 | 8 | |
| 13 | 52 | Esti-mates | 2014-10-04 | 8 | |
| 14 | 53 | Zerby Bridge | 2014-10-04 | 8 | |
| 15 | 54 | Zerby Carrier | 2014-10-04 | 8 | |
| 16 | 55 | The Big Top | 2014-10-11 | 8 | |
| 17 | 56 | Lighthouse | 2014-10-11 | 8 | |
| 18 | 57 | Sandy Tracks | 2014-10-11 | 8 | |
| 19 | 58 | Stuck in the Mud | 2014-10-18 | 8 | |
| 20 | 59 | Fill-a-Vator | 2014-10-18 | 8 | |
| 21 | 60 | Ferry Windy Day | 2014-10-18 | 8 | |
| 22 | 61 | Yoo Hoo | 2014-10-25 | 8 | |
| 23 | 62 | Axle's Hill | 2014-10-25 | 8 | |
| 24 | 63 | Boats and Floats | 2014-10-25 | 8 | |
| 25 | 64 | In a Pinch | 2014-11-01 | 8 | |
| 26 | 65 | Wind Chime | 2014-11-01 | 8 | |
| 27 | 66 | Slippery Bridge | 2014-11-01 | 8 | |
| 28 | 67 | Splash from the Fast | 2014-11-08 | 8 | |
| 29 | 68 | Dirty Zerby | 2014-11-08 | 8 | |
| 30 | 69 | Puddle Too Deep | 2014-11-08 | 8 | |
| 31 | 70 | Catching Some Zzzs | 2014-11-15 | 8 | |
| 32 | 71 | Sand Puddle | 2014-11-15 | 8 | |
| 33 | 72 | Don't Forget to Pack | 2014-11-15 | 8 | |
| 34 | 73 | Flynn's Runway | 2014-11-22 | 8 | |
| 35 | 74 | Strut Gets Stuck | 2014-11-22 | 8 | |
| 36 | 75 | Main Street | 2014-11-22 | 8 | |
| 37 | 76 | Water-Way | 2014-11-29 | 8 | |
| 38 | 77 | Tightest Turn | 2014-11-29 | 8 | |
| 39 | 78 | Chase Race | 2014-11-29 | 8 | |
Season 3
| Episode No. | No. Overall | Title | Airdate | Runtime | Summary |
| --- | --- | --- | --- | --- | --- |
Series Crew
| | Position | Name |
| --- | --- | --- |
| | Creator | Phil McCordic |
Related News
TVMaze