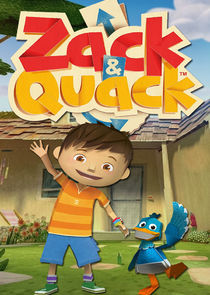 Zack & Quack is a children's television series airing globally on Nick Jr. Set inside a pop-up book, the show follows the adventures of 7-year-old Zack and his best friend, Quack.
Series Overview
Rating
imDb Rating: 7.0 (60 Votes)
Metascore: N/A
Plot
The story of the adventures of Zack and Quack
Details
Rated: N/A
Released: 05 Apr 2014
Runtime: N/A
Genre: Animation, Adventure, Family, Fantasy
Director: N/A
Writer: Gili Dolev, Yvette Kaplan
Actors: Regan Lutz, Jesse Ray Sheps, Thomas Albritton, Nick Baker
Language: English
Country: Israel, UK
Awards: 1 win & 3 nominations.
Total Seasons: 3
Previous Episode
Pop-Up Tearaway
Episode 2x26; Oct 04, 2016
Previous Episodes 2x26: Pop-Up Tearaway 2x25: Pop-Up Counting Sheep 2x24: Popathon Duck 2x23: License to Pop 2x22: The Popfetti Phantom 2x21: Pop-Up Comet 2x20: Doctor Pop 2x19: Popcredible Shrinking Boy 2x18: Pop-Up Space Gorillas

View All Episodes
Cast
Thomas Albritton as Zachary "Zack"
Nick Baker as Quack
Madison Hathaway as Kira
Clancy Penny as Hop
Regan Lutz as Skip
Jesse Ray Sheps as Fluffy
View Full Cast
Skip to:
Season 1
| Episode No. | No. Overall | Title | Airdate | Runtime | Summary |
| --- | --- | --- | --- | --- | --- |
| 1 | 1 | Pop-Up Speedway | 2014-03-01 | 11 | |
| 2 | 2 | Pop-a-Saurus Rex | 2014-03-01 | 11 | |
| 3 | 3 | Super Popper | 2014-03-02 | 11 | |
| 4 | 4 | Pop-Along Cowboy | 2014-03-02 | 11 | |
| 5 | 5 | Pop-Up Circus | 2014-03-08 | 11 | |
| 6 | 6 | Pop-Up Monster | 2014-03-08 | 11 | |
| 7 | 7 | Pop-Up Moon Mission | 2014-03-09 | 11 | |
| 8 | 8 | Popping Hopping Hiccups | 2014-03-09 | 11 | |
| 9 | 9 | The Knights of Pop-a-Lot | 2014-03-09 | 11 | |
| 10 | 10 | The Poparang 3000 | 2014-03-09 | 11 | |
| 11 | 11 | Pop-Up Express | 2014-03-15 | 11 | |
| 12 | 12 | Pop-Up Snowman | 2014-03-15 | 11 | |
| 13 | 13 | The Popped Balloon | 2014-03-16 | 11 | |
| 14 | 14 | Pop-Up Ball Hero | 2014-03-16 | 11 | |
| 15 | 15 | Pop-Up Kite Contest | 2014-03-22 | 11 | |
| 16 | 16 | The Poppy-Up Flower | 2014-03-22 | 11 | |
| 17 | 17 | Pop-N-Seek Ninjas | 2014-03-23 | 11 | |
| 18 | 18 | Pop-Up Pond Pet | 2014-03-23 | 11 | |
| 19 | 19 | Pop-Up Mystery | 2014-03-30 | 11 | |
| 20 | 20 | Pop to the Top | 2014-03-30 | 11 | |
| 21 | 21 | The Pop-Up Easter Egg Hunt | 2014-04-12 | 11 | |
| 22 | 22 | Pop Art Festival | 2014-04-12 | 11 | |
| 23 | 23 | The Legend of King Pop | 2014-05-01 | 11 | |
| 24 | 24 | The Great Pop-Up Ice Race | 2014-05-01 | 11 | |
| 25 | 25 | Pop-Up Duck Vacation | 2014-05-04 | 11 | |
| 26 | 26 | Pop Idols | 2014-05-04 | 11 | |
| 27 | 27 | A Poptastic Dance for Two | 2014-05-10 | 11 | |
| 28 | 28 | Quack's Birthday Bash | 2014-05-10 | 11 | |
| 29 | 29 | Not So Itty Bitty Pop-Up Kitty | 2014-05-11 | 11 | |
| 30 | 30 | Pop-Up Tree House | 2014-05-11 | 11 | |
| 31 | 31 | The Best Pop-Up Picnic Ever | 2014-05-17 | 11 | |
| 32 | 32 | The Pop-Up Games | 2014-05-17 | 11 | |
| 33 | 33 | Pop-Up Genie | 2014-05-18 | 11 | |
| 34 | 34 | Movie Night Popcorn | 2014-05-18 | 11 | |
| 35 | 35 | The Never Ending Pop-Up Adventure | 2014-09-17 | 11 | |
| 36 | 36 | The Tidy Popper-Upper | 2014-09-18 | 11 | |
| 37 | 37 | The Pop-Up Museum | 2014-09-26 | 11 | |
| 38 | 38 | Pop-Up Pumpkin Patch | 2014-10-04 | 11 | |
| 39 | 39 | Up Popped a Spider | 2014-10-04 | 11 | |
| 40 | 40 | Pop-Up Scouts | 2014-10-25 | 11 | |
| 41 | 41 | Pop-Up Parade | 2014-10-25 | 11 | |
| 42 | 42 | The Pop-Up Christmas Calendar | 2014-12-17 | 11 | |
| 43 | 43 | Zack's Christmas Letter | 2014-12-17 | 11 | |
| 44 | 44 | Pop-Up Skate Park | 2014-12-22 | 11 | |
| 45 | 45 | Pop Up, Up and Away! | 2014-12-22 | 11 | |
| 46 | 46 | Pop-Up Camp Out | 2014-12-29 | 11 | |
| 47 | 47 | The Pop-Up Roller Coaster | 2014-12-29 | 11 | |
| 48 | 48 | Where in the World is Zack's Pop-Up Watch? | 2015-01-04 | 11 | |
| 49 | 49 | Pop-Up Golf | 2015-01-04 | 11 | |
| 50 | 50 | Don't Pop-Up the Pirates! | 2015-01-12 | 11 | |
| 51 | 51 | Banana Pops | 2015-01-12 | 11 | |
| 52 | 52 | Pop-Up Posse to the Rescue | 2015-03-02 | 11 | |
Season 2
| Episode No. | No. Overall | Title | Airdate | Runtime | Summary |
| --- | --- | --- | --- | --- | --- |
| 1 | 53 | Wish Upon a Pop-Up | 2016-05-23 | 15 | |
| 2 | 54 | Catch Kira Poptacular | 2016-05-23 | 15 | |
| 3 | 55 | Grumpy in Pop-Up Land | 2016-05-25 | 15 | |
| 4 | 56 | Pop Fu Duck | 2016-05-25 | 15 | |
| 5 | 57 | Pop Witch and Broomsticks | 2016-09-05 | 15 | |
| 6 | 58 | Double Duck | 2016-09-06 | 15 | |
| 7 | 59 | Viking Pop Ball | 2016-09-07 | 15 | |
| 8 | 60 | Pop-Up Swap | 2016-09-08 | 15 | |
| 9 | 61 | Ice Pop Sisters | 2016-09-09 | 15 | |
| 10 | 62 | Fluffy and the Pop Bears | 2016-09-12 | 15 | |
| 11 | 63 | Pop-Up Pegasus | 2016-09-13 | 15 | |
| 12 | 64 | Pop Goes the Balloon | 2016-09-14 | 15 | |
| 13 | 65 | Pearly Pop Queen | 2016-09-15 | 15 | |
| 14 | 66 | Pop-Up Toad Prince | 2016-09-16 | 15 | |
| 15 | 67 | Pop-Up to Mars | 2016-09-19 | 15 | |
| 16 | 68 | Pop the Golden Acorn | 2016-09-20 | 15 | |
| 17 | 69 | Pop to the Rescue | 2016-09-21 | 15 | |
| 18 | 70 | Pop-Up Space Gorillas | 2016-09-22 | 15 | |
| 19 | 71 | Popcredible Shrinking Boy | 2016-09-23 | 15 | |
| 20 | 72 | Doctor Pop | 2016-09-26 | 15 | |
| 21 | 73 | Pop-Up Comet | 2016-09-27 | 15 | |
| 22 | 74 | The Popfetti Phantom | 2016-09-28 | 15 | |
| 23 | 75 | License to Pop | 2016-09-29 | 15 | |
| 24 | 76 | Popathon Duck | 2016-09-30 | 15 | |
| 25 | 77 | Pop-Up Counting Sheep | 2016-10-03 | 15 | |
| 26 | 78 | Pop-Up Tearaway | 2016-10-04 | 15 | |
Season 3
| Episode No. | No. Overall | Title | Airdate | Runtime | Summary |
| --- | --- | --- | --- | --- | --- |
Series Cast
| | | | |
| --- | --- | --- | --- |
| | Thomas Albritton | as Zachary "Zack" | |
| | Nick Baker | as Quack | |
| | Madison Hathaway | as Kira | |
| | Clancy Penny | as Hop | |
| | Regan Lutz | as Skip | |
| | Jesse Ray Sheps | as Fluffy | |
| | Colin McFarlane | as Belly-Up | |
Related News
TVMaze