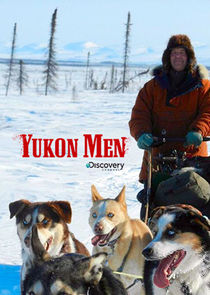 Just 60 miles from the Arctic Circle lies a town on the edge of civilization: Tanana, Alaska. This frozen village of 200 people is at the junction of two powerful rivers, with no roads in or out, where wolves howling through the frigid night air remind the residents how isolated they really are. As the men come together to face these new obstacles, each is also challenged on a personal level. At the end of the day, each man will be pushed to the limit. Pushed to decide: How far will they go to live free? To be a Yukon Man?
Series Overview
Rating
imDb Rating: 7.1 (771 Votes)
Metascore: N/A
Plot
Follow the men of Tanana, a remote village in Alaska by the Yukon River, on their everyday life throughout the four seasons. Every second counts, because as winter is getting closer and the...
Details
Rated: N/A
Released: 24 Aug 2012
Runtime: 60 min
Genre: Adventure, Reality-TV
Director: N/A
Writer: N/A
Actors: Pat Duke, Darren O'Hare
Language: English
Country: USA
Awards: 1 win.
Total Seasons: 5
Previous Episode
End of the Road
Episode 7x9; Jun 16, 2017
Charlie Wright seeks help from a local gold miner to repair his bear-ravaged cabin, getting an unexpected chance. Stan Zuray struggles to reach the new road with his survival cabin. The Morse's search for salvation turns into a fight for their lives.
Previous Episodes 7x9: End of the Road 7x8: Escape Plan 7x7: Dog Days of Winter 7x6: Art of the Eel 7x5: Running on Empty 7x4: Less Than Zero 7x3: Boiling Point 7x2: Bloodlines 7x1: The Road

View All Episodes
Skip to:
Season 1
| Episode No. | No. Overall | Title | Airdate | Runtime | Summary |
| --- | --- | --- | --- | --- | --- |
| 1 | 1 | Hunt or Starve | 2012-08-24 | 60 | The village of Tanana is low on meat. Stan Zuray and his son, Joey, are forced to take a deadly journey into the Yukon Mountains to hunt for caribou. Meanwhile, Charlie Wright must face the threat of a lone wolf that is terrorizing the town. |
| 2 | 2 | The Race for Fur | 2012-08-31 | 60 | With only three weeks left in trapping season, our men race to collect their most valuable commodity--fur. A brutal winter has made the animals scarce. The men are up against the clock to trap as much fur as possible before the season is over. |
| 3 | 3 | Going for Broke | 2012-09-07 | 60 | It's the end of trapping season and the final push is on. Charlie and Bob rush to the river before it melts in hopes of snaring some beaver. Stan and Joe visit Tosi cabin to trap their fur on land. However, they face a larger problem... a bear. |
| 4 | 4 | On Thin Ice | 2012-09-14 | 60 | It's goose-hunting season and the people of Tanana are stocking up on food. Stan & Joey race to get first goose and Charlie & Bob have a father-son contest. Meanwhile, the rivers they use to travel are melting fast... Not everyone will make it home. |
| 5 | 5 | Tragic Spring | 2012-09-21 | 60 | The rivers around Tanana are dangerously melting. Most hunters have made the deadly journey back home but Charlie's brother-in-law, George, is missing. Search & rescue efforts are unsuccessful. A town of 200 people has to face a shocking reality. |
| 6 | 6 | Man Up, Move Out | 2012-09-28 | 60 | It's finally spring in Tanana and Joey Zuray is ready to move out on his own. The only thing he has to do is move the house he wants across town, before it gets demolished in a few days. Charlie hunts a deadly black bear that's menacing the village. |
| 7 | 7 | Logjam | 2012-10-05 | 60 | Its driftwood logging season, and there's a brief window to pull firewood out of local rivers. James relies on his young son to help make ends meet. Stan gets caught in a powerful storm and Charlie battles a deadly black bear. |
| 8 | 8 | Wheel of Misfortune | 2012-10-12 | 60 | Salmon is a precious food source, and the people of Tanana only have a few days to stock up for the winter. Stan Zuray and Pat Moore race to get fish wheels in the water to feed their dog teams, while Charlie sets nets to catch fish for his family. |
| 9 | 9 | Last Chance | 2012-10-19 | 120 | The villagers of Tanana have just 18 hours to get a year's worth of king salmon. Joey and Bob find themselves in the midst of a dangerous hunt. Courtney takes it upon herself to help feed her family, and vicious grizzlies are stealing food. |
Season 2
| Episode No. | No. Overall | Title | Airdate | Runtime | Summary |
| --- | --- | --- | --- | --- | --- |
| 1 | 10 | Feast or Famine | 2013-02-22 | 60 | Stan nearly loses his winter's supply of fish during a risky maneuver on the river. Charlie is in danger of letting precious meat slip away. Courtney tries to bring down her first moose, and James battles a deadly virus outbreak among his dog team. |
| 2 | 11 | New Kid in Town | 2013-03-01 | 60 | Moose hunting season is almost over, and Bob and Charlie are desperate for a moose. Joey and Francis team up to make the most of the hunt. Stan Zuray's sled dog needs emergency surgery, and The Moore's new dog handler struggles to make it in Tanana. |
| 3 | 12 | Hell Freezes Over | 2013-03-08 | 60 | Thawed out with bonus footage and viewer tweets, the first devastating winter storm approaches. Joey scrambles to winterize his home and equipment. Charlie and Bob are running out of time to secure a snowmobile for winter. Pat's patience wears thin. |
| 4 | 13 | Tough Choices | 2013-03-15 | 60 | It's trapping season in Tanana and villagers battle deadly cold to get fur. Joey starts his own line, and ends up in trouble. Charlie and Bob chase a vicious wolverine that's been stealing their bait, and the Moores make a decision. |
| 5 | 14 | Fresh Blood | 2013-03-22 | 60 | Trapping season is underway, but record-low snowfall has made fur scarce and villagers are forced to adapt. A deadly wolverine threatens the Moores' fish camp. Charlie and Bob go after a bear in its den. |
| 6 | 15 | Pray for Snow | 2013-03-29 | 60 | Lack of snow is making trails impassable. Joey sets a new trap line that brings him face to face with a vicious predator. Charlie trusts Bob to run his traps, but Bob might not be up to the challenge. James struggles with a wood shortage. |
| 7 | 16 | Eeling and Dealing | 2013-04-05 | 60 | The Moores gamble on catching eels as a new source of food for their dogs; Stan and Joe hunt moose in their last chance to get meat before the dead of winter; Charlie and Bob work around the clock to save their dismal season. |
| 8 | 17 | Dead of Winter | 2013-04-12 | 60 | The dead of winter is here and Stan has been on the hunt for over a week without results. Charlie's freezer is empty but a town crisis prevents him from hunting. Courtney is missing in action and Francis destroys James' snow machine. |
Season 3
| Episode No. | No. Overall | Title | Airdate | Runtime | Summary |
| --- | --- | --- | --- | --- | --- |
| 1 | 18 | No Quarter | 2013-10-20 | 60 | As the Dark Days of winter are ending, reserves are dwindling fast. Villagers must furiously re-stock their supply. Stan risks his life in hazardous whiteout conditions. Charlie uses tough love on Bob. |
| 2 | 19 | Turf War | 2013-10-27 | 60 | After the worst storm in ten years, Tanana residents emerge to see what's left of their village. Charlie needs help defending his trapline from the Moores, but his son, Bob, is missing in action. Stan receives an unexpected visit from the lower 48s. |
| 3 | 20 | Wolf Invasion | 2013-11-03 | 60 | The annual dog sled race is the biggest event in the village. The Moores look to defend their crown, but James looks to take it away & take over the dog breeding business. Charlie and Stan band together to keep everyone safe from a vicious wolf pack. |
| 4 | 21 | Deadly Crossing | 2013-11-10 | 60 | A late-season cold snap grips Tanana. James finds a creative way to save his business and teach his son, Francis, a lesson. Stan faces the deadly Tozi River crossing without Joey. The Moores turn to an outsider for help. |
| 5 | 22 | Rite of Spring | 2013-11-17 | 60 | It's goose-hunting season. Conflict between Stan & Joey leads them to a rite of passage. A confrontation looms after Bob fails to meet his responsibilities with Charlie. James goes hunting on deadly grounds. Pat must put his trust in newcomer, Sean. |
| 6 | 23 | River Rising | 2013-11-24 | 60 | Spring brings predators to Tanana, and Stan loses a sled dogs to a hungry bear. The Yukon River begins to thaw at an alarming rate, and the villagers must quickly move to high ground. The town gas pump breaks, putting a halt to flood preparations. |
| 7 | 24 | Aftermath | 2013-11-30 | 60 | As floodwaters surge threatening the village, valuable driftwood is left flowing in the wake. James takes to the river to stock-up but his own son, turns his back on him. Joey also races up river but ends up stranded. |
| 8 | 25 | Season of Change | 2013-12-01 | 60 | Pat is faced with tough financial choices, when he finds out his newly handicapped wife is returning home. Sensing weakness, James strategizes to bring Pat's kennel down. Stan is forced to make a life changing decision. |
Season 4
| Episode No. | No. Overall | Title | Airdate | Runtime | Summary |
| --- | --- | --- | --- | --- | --- |
| 1 | 26 | Breaking Points | 2014-09-02 | 60 | Change is coming for the Yukon Men. A government ban on a staple food source sends the Yukon Men to extremes. The village is visited by the Governor of Alaska, who bears news that will change the town and it's people forever. |
| 2 | 27 | A Day of Reckoning | 2014-09-09 | 60 | A double homicide rocks the small Alaskan town of Tanana. Pat is forced to make a difficult decision. Joey builds a raft for an epic trip to float a 3-ton truck 150 miles downriver. Meanwhile, Charlie gets devastating news about his son Bob. |
| 3 | 28 | The Longest Day | 2014-09-16 | 60 | Joey floats a massive truck on a primitive log raft for 150 miles down river. Stan finds himself stranded. Pat is surprised by his nephew's return to Tanana. Charlie and James go moose hunting to supply food for a traditional ceremony. |
| 4 | 29 | Rising Sons | 2014-09-23 | 60 | Charlie's livelihood is challenged when the son of a Tanana legend lays claim to his trap line. Joey & Bob embark on a bow and arrow hunt to secure food for the town elders. James leaves his young sons in the wilderness in the ultimate frontier test. |
| 5 | 30 | New Blood | 2014-09-30 | 60 | Stan gets a surprise visit from an old friend and the reunion sparks opportunity for a dangerous and risky mining operation. Courtney helps a former villager re-acclimate to life in Tanana. Charlie tests his son Bob's recovery with an epic hunt. |
| 6 | 31 | Mother vs Nature | 2014-10-07 | 60 | Villagers unite when bears descend on Tanana. Courtney risks her life to protect her family while Joey and others protect the town from a group of bears. Meanwhile, Charlie races to fix the water plant and Stan gambles on a mining project. |
| 7 | 32 | Stan's Gamble | 2014-10-14 | 60 | Stan's mining gamble demands that he resurrect a 70-year-old tractor. Without it, the mission will fail. Charlie and Joey are put to the test when they have to endure the most challenging hunt of their lives. Pat Moore's son, Thomas, returns home. |
| 8 | 33 | Winter Takes All | 2014-10-21 | 60 | James races to fortify his wood business and collides with another villager on the way. Stan risks losing his winter fish to the river. A predator stalks Charlie as he finishes construction of his trapping cabin. Tragedy blindsides Pat once again. |
Season 5
| Episode No. | No. Overall | Title | Airdate | Runtime | Summary |
| --- | --- | --- | --- | --- | --- |
| 1 | 34 | Dark Days | 2015-09-15 | 60 | The men endure the dark days; the residents team up to keep a pack of wolves at bay; the family must choose a team leader; Joey honors his grandmother. |
| 2 | 35 | The Black Wolf | 2015-09-22 | 60 | Charlie pursues the wolf pack leader; Joey turns to his father for help after the warm winter; Nations thinks the team has the wrong leader. |
| 3 | 36 | On Thin Ice | 2015-09-29 | 60 | Stan has the dangerous task of building an ice road across the Yukon River. Joe & Bob take their chances to embark on a perilous caribou hunt. Charlie confronts Nations about his trapline neglect. Pat & Courtney are faced with an alarming discovery. |
| 4 | 37 | Gut Check | 2015-10-06 | 60 | The pressure is on Nations, when the Moores head out for the first major dog sled race of the season. Stan faces a hard decision when one of his dogs falls ill. Charlie has had enough once he sees the state of the trapline he handed over to Nations. |
| 5 | 38 | Tanana's Test | 2015-10-13 | 60 | Stan and Pat race to prepare Tanana to be a checkpoint for the Iditarod dog sled race. Charlie and Bob hunt a grizzly that has been terrorizing a miner's camp. Joe trains his new dog, hoping to turn him into a hunting partner. |
| 6 | 39 | Life on the Line | 2015-10-20 | 60 | Nations & Charlie have a confrontation over rights to a family trapline. Stan & Kathleen try to upgrade Tozi cabin, but get more than they bargained for. The Moore's kennel is on the line as Courtney and Nations race in the Yukon River Championship. |
| 7 | 40 | Blood on Their Hands | 2015-10-27 | 60 | After a poor trapping season, Charlie decides to team up with Stan, in an attempt to catch beaver. Stan & his son discovery a large predator has been stealing from their trapline. Joe takes action, attempting to find the elusive animal on his own. |
| 8 | 41 | All In | 2015-11-03 | 60 | Unseasonably thin ice prevents villagers from reaching valuable hunting grounds, forcing Stan and Charlie to carve a new path through the rugged Alaskan wilderness in search of food. Desperate to provide for his family, James takes a huge risk! |
| 9 | 42 | Breaking Point | 2015-11-10 | 60 | The Yukon River breaks up earlier than ever. Despite dangerous conditions, Joey crosses the river to hunt geese. Stan and Bob prepare the village for imminent flooding due to the break up, when they something very disturbing. |
Related News
TVMaze