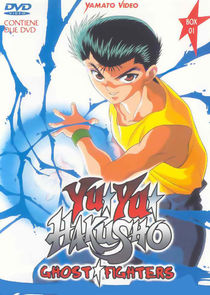 From cutting classes to brawling in the streets, Yusuke Urameshi is not your typical role model. In fact, this kid's nothing more than a fourteen-year-old delinquent with a talent for trouble. But in a single selfless act Yusuke dies while saving another. For such noble sacrifice he is given a second chance at life, but it's to be a life far different than the one left behind. Now a Spirit Detective, the young man must track down demons and humans alike who desire to rule over the three realms of reality.

Granted with amazing new powers to be used in the cause of good versus evil, Yusuke sets out on his first assignment. He will gather together those who will fight alongside him: Kuwabara, Yusuke's intellectually challenged formal rival from high school; Kurama, an infamous thief from the Demon World who inhabits a human body; and Hiei, a hot-headed demon skilled with both the sword and the third eye. Together, these four set forth to do battle with monsters, beasts and men.
Series Overview
Rating
imDb Rating: 8.4 (10,336 Votes)
Metascore: N/A
Plot
One day, 14-year-old Yusuke Urameshi suddenly finds himself dead, having died pushing a child out of the way of oncoming traffic. Since he has such a bad personality, even the Spirit World ...
Details
Rated: TV-Y7
Released: 10 Oct 1992
Runtime: 24 min
Genre: Animation, Action, Adventure, Comedy, Drama, Fantasy, Romance
Director: N/A
Writer: Yoshihiro Togashi
Actors: Nozomu Sasaki, Justin Cook, Christopher Sabat, Cynthia Cranz
Language: Japanese
Country: Japan
Awards: N/A
Total Seasons: 4
Previous Episode
To the Future
Episode 4x18; Dec 17, 1994
Previous Episodes 4x18: To the Future 4x17: Closure 4x16: A Reason to Fight 4x15: Love and War 4x14: Farewell, Kurama 4x13: The Demon World Tournament Begins 4x12: The Battle of Father and Son 4x11: The Preliminaries 4x10: Every Demon for Himself

View All Episodes
Cast
Masashi Ebara as Yomi
Hisako Kyouda as Genkai
Nobuo Tobita as Suzaku
Sanae Miyuki as Botan
Mayumi Tanaka as Koenma
You Inoue as Randou
View Full Cast
Skip to:
Season 1
| Episode No. | No. Overall | Title | Airdate | Runtime | Summary |
| --- | --- | --- | --- | --- | --- |
| 1 | 1 | Surprised to Be Dead | 1992-10-10 | 30 | |
| 2 | 2 | Koenma Appears | 1992-10-17 | 30 | |
| 3 | 3 | Kuwabara: A Promise Between Men | 1992-10-24 | 30 | |
| 4 | 4 | Requirements for Lovers | 1992-10-31 | 30 | |
| 5 | 5 | Yusuke's Back | 1992-11-07 | 30 | |
| 6 | 6 | Three Monsters | 1992-11-14 | 30 | |
| 7 | 7 | Gouki and Kurama | 1992-11-21 | 30 | |
| 8 | 8 | The Three Eyes of Hiei | 1992-11-28 | 30 | |
| 9 | 9 | The Search Begins | 1992-12-05 | 30 | |
| 10 | 10 | Kuwabara's Spirit Sword | 1992-12-12 | 30 | |
| 11 | 11 | Hard Fights for Yusuke | 1992-12-19 | 30 | |
| 12 | 12 | Rando Rises, Kuwabara Falls | 1992-12-26 | 30 | |
| 13 | 13 | Yusuke vs. Rando: 99 Attacks | 1993-01-09 | 30 | |
| 14 | 14 | The Beasts of Maze Castle | 1993-01-16 | 30 | |
| 15 | 15 | Genbu, the Stone Beast | 1993-01-23 | 30 | |
| 16 | 16 | Byakko, the White Tiger | 1993-01-30 | 30 | |
| 17 | 17 | Byakko's Lair | 1993-02-06 | 30 | |
| 18 | 18 | Seiryu, the Blue Dragon | 1993-02-13 | 30 | |
| 19 | 19 | Suzaku, Leader of the Beasts | 1993-02-20 | 30 | |
| 20 | 20 | Seven Ways to Die | 1993-02-27 | 30 | |
| 21 | 21 | Yusuke's Sacrifice | 1993-03-06 | 30 | |
| 22 | 22 | Lamenting Beauty | 1993-03-13 | 30 | |
| 23 | 23 | The Toguro Brothers Gang | 1993-03-20 | 30 | |
| 24 | 24 | The Deadly Triad | 1993-03-27 | 30 | |
| 25 | 25 | Kuwabara's Fight of Love | 1993-04-10 | 30 | |
Season 2
| Episode No. | No. Overall | Title | Airdate | Runtime | Summary |
| --- | --- | --- | --- | --- | --- |
| 1 | 26 | Toguro Returns | 1993-04-17 | 30 | |
| 2 | 27 | The Dark Tournament Begins | 1993-04-24 | 30 | |
| 3 | 28 | First Fight | 1993-05-01 | 30 | |
| 4 | 29 | Flowers of Blood | 1993-05-08 | 30 | |
| 5 | 30 | Dragon of the Darkness Flame | 1993-05-15 | 30 | |
| 6 | 31 | Stumbling Warrior | 1993-05-22 | 30 | |
| 7 | 32 | Knife-Edge Death Match | 1993-05-29 | 30 | |
| 8 | 33 | A Day in Waiting | 1993-06-05 | 30 | |
| 9 | 34 | Percentage of Victory | 1993-06-12 | 30 | |
| 10 | 35 | Glimpse Beneath the Mask | 1993-06-19 | 30 | |
| 11 | 36 | Ambition Destroyed: A Trail of Light | 1993-06-26 | 30 | |
| 12 | 37 | Master of Disguise | 1993-07-03 | 30 | |
| 13 | 38 | Kurama's Stand | 1993-07-10 | 30 | |
| 14 | 39 | Crushing Revenge | 1993-07-17 | 30 | |
| 15 | 40 | Jin, the Wind Master | 1993-07-24 | 30 | |
| 16 | 41 | Reverse Decisions | 1993-07-31 | 30 | |
| 17 | 42 | A Matter of Love and Death | 1993-08-07 | 30 | |
| 18 | 43 | The Masked Fighter Revealed | 1993-08-14 | 30 | |
| 19 | 44 | Yusuke's Final Test | 1993-08-21 | 30 | |
| 20 | 45 | Hiei Battles On | 1993-08-28 | 30 | |
| 21 | 46 | Many Faces, Many Forms | 1993-09-04 | 30 | |
| 22 | 47 | Legendary Bandit: Yoko Kurama | 1993-09-11 | 30 | |
| 23 | 48 | The Cape of No Return | 1993-09-18 | 30 | |
| 24 | 49 | Genkai's Strength | 1993-09-25 | 30 | |
| 25 | 50 | Suzuki's Challenge | 1993-10-02 | 30 | |
| 26 | 51 | Arch-Rivals | 1993-10-09 | 30 | |
| 27 | 52 | The Death of Genkai | 1993-10-16 | 30 | |
| 28 | 53 | Overcoming Grief | 1993-10-23 | 30 | |
| 29 | 54 | The Beginning of the End | 1993-10-30 | 30 | |
| 30 | 55 | The Beast Within | 1993-11-06 | 30 | |
| 31 | 56 | Yoko's Magic | 1993-11-13 | 30 | |
| 32 | 57 | Beneath Bui's Armor | 1993-11-20 | 30 | |
| 33 | 58 | Wielder of the Dragon | 1993-11-27 | 30 | |
| 34 | 59 | The Shadow of Elder Toguro | 1993-12-04 | 30 | |
| 35 | 60 | Sakyo's Proposal | 1993-12-11 | 30 | |
| 36 | 61 | Yusuke vs. Toguro | 1993-12-18 | 30 | |
| 37 | 62 | Toguro's Full Power | 1993-12-25 | 30 | |
| 38 | 63 | Yusuke's Despair | 1994-01-08 | 30 | |
| 39 | 64 | Toguro's Desire | 1994-01-15 | 30 | |
| 40 | 65 | Out with a Bang | 1994-01-22 | 30 | |
| 41 | 66 | Toguro's Wish | 1994-01-29 | 30 | |
Season 3
| Episode No. | No. Overall | Title | Airdate | Runtime | Summary |
| --- | --- | --- | --- | --- | --- |
| 1 | 67 | Return to the Living World | 1994-02-05 | 30 | |
| 2 | 68 | Setting the Trap | 1994-02-12 | 30 | |
| 3 | 69 | The Power of Taboo | 1994-02-19 | 30 | |
| 4 | 70 | Genkai's Ruse | 1994-02-26 | 30 | |
| 5 | 71 | The Tunnel | 1994-03-05 | 30 | |
| 6 | 72 | The Reader | 1994-03-12 | 30 | |
| 7 | 73 | The Doctor's Disease | 1994-03-19 | 30 | |
| 8 | 74 | Sleep, Doctor, Sleep | 1994-03-26 | 30 | |
| 9 | 75 | Caught in the Rain | 1994-04-02 | 30 | |
| 10 | 76 | Kuwabara: Awakening | 1994-04-09 | 30 | |
| 11 | 77 | Sensui's Fall | 1994-04-16 | 30 | |
| 12 | 78 | Divide and Conquer | 1994-04-23 | 30 | |
| 13 | 79 | The Human Race | 1994-04-30 | 30 | |
| 14 | 80 | Moving Target | 1994-05-07 | 30 | |
| 15 | 81 | Let the Games Begin | 1994-05-14 | 30 | |
| 16 | 82 | If You Could Play Forever | 1994-05-21 | 30 | |
| 17 | 83 | Game Over | 1994-05-28 | 30 | |
| 18 | 84 | Kurama's Anger, Gourmet's Guest | 1994-06-04 | 30 | |
| 19 | 85 | Spirit Detective Showdown | 1994-06-11 | 30 | |
| 20 | 86 | The Difference Maker | 1994-06-18 | 30 | |
| 21 | 87 | Power Between the Teeth | 1994-06-25 | 30 | |
| 22 | 88 | The True Face of Sensui | 1994-07-02 | 30 | |
| 23 | 89 | Death of a Spirit Detective | 1994-07-09 | 30 | |
| 24 | 90 | Attempting Revenge | 1994-07-16 | 30 | |
| 25 | 91 | Waking the Lost | 1994-07-23 | 30 | |
| 26 | 92 | The Proof | 1994-07-30 | 30 | |
| 27 | 93 | Sensui's End | 1994-08-06 | 30 | |
| 28 | 94 | Topside | 1994-08-13 | 30 | |
Season 4
| Episode No. | No. Overall | Title | Airdate | Runtime | Summary |
| --- | --- | --- | --- | --- | --- |
| 1 | 95 | Yusuke's Destiny | 1994-08-20 | 30 | |
| 2 | 96 | Three Strangers, Three Kings | 1994-08-27 | 30 | |
| 3 | 97 | Departing Living World | 1994-09-03 | 30 | |
| 4 | 98 | Return to Demon World | 1994-09-10 | 30 | |
| 5 | 99 | Haunted by the Past | 1994-09-17 | 30 | |
| 6 | 100 | The Secret of the Jagan | 1994-09-24 | 30 | |
| 7 | 101 | Reunion of the Bandits | 1994-10-01 | 30 | |
| 8 | 102 | Torn Between Identities | 1994-10-08 | 30 | |
| 9 | 103 | Inheritance | 1994-10-15 | 30 | |
| 10 | 104 | Every Demon for Himself | 1994-10-22 | 30 | |
| 11 | 105 | The Preliminaries | 1994-10-29 | 30 | |
| 12 | 106 | The Battle of Father and Son | 1994-11-05 | 30 | |
| 13 | 107 | The Demon World Tournament Begins | 1994-11-12 | 30 | |
| 14 | 108 | Farewell, Kurama | 1994-11-19 | 30 | |
| 15 | 109 | Love and War | 1994-11-26 | 30 | |
| 16 | 110 | A Reason to Fight | 1994-12-03 | 30 | |
| 17 | 111 | Closure | 1994-12-10 | 30 | |
| 18 | 112 | To the Future | 1994-12-17 | 30 | |
Series Cast
| | | | |
| --- | --- | --- | --- |
| | Masashi Ebara | as Yomi | |
| | Hisako Kyouda | as Genkai | |
| | Nobuo Tobita | as Suzaku | |
| | Sanae Miyuki | as Botan | |
| | Mayumi Tanaka | as Koenma | |
| | You Inoue | as Randou | |
| | Shigeru Chiba | as Kuwabara Kazuma | |
| | Yuri Shiratori | as Yukina | |
| | Nozomu Sasaki | as Urameshi Yuusuke | |
| | Katsumi Suzuki | as Toguro | |
| | Ai Orikasa | as Kuwabara Shizuru | |
| | Rokuro Naya | as Sensui Shinobu | |
| | Minami Takayama | as Mukuro | |
| | John Burgmeier | as Kurama | |
| | Takayuki Sugo | as Raizen | |
| | Nobuyuki Furuta | as Sakyou | |
| | Nobuyuki Hiyama | as Hiei | |
| | Megumi Ogata | as Kurama | |
| | Yuri Amano | as Yukimura Keiko | |
Related News
TVMaze