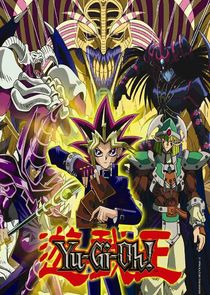 Legend says that the enigmatic Millennium Puzzle will grant one wish to whoever deciphers its ancient secrets. Upon solving it, high school student Yuugi Mutou unleashes "another Yuugi," a peculiar presence contained inside. Now, whenever he is faced with a dilemma, this mysterious alter ego makes an appearance and aids him in his troubles.
Wishing to unravel the mystery behind this strange spirit, Yuugi and his companions find themselves competing with several opponents in "Duel Monsters," a challenging card game used by people seeking to steal the Millennium Puzzle in a desperate attempt to harness the great power within. As the questions pile on, it is not long before they figure out that there is more than pride on the line in these duels.
Series Overview
Rating
imDb Rating: 7.2 (16,798 Votes)
Metascore: N/A
Plot
Yugi Moto solves an Ancient Egyptian Puzzle and brings forth a dark and powerful alter ego. Whenever he and his friends are threatened by evil in Duel Monster Card Game, this alter ego breaks out to save them.
Details
Rated: TV-14
Released: 29 Sep 2001
Runtime: 24 min
Genre: Animation, Action, Adventure, Family, Fantasy
Director: N/A
Writer: Kazuki Takahashi
Actors: Dan Green
Language: English
Country: Japan
Awards: N/A
Total Seasons: 5
Previous Episode
The Final Duel (4)
Episode 5x40; Jun 10, 2006
Previous Episodes 5x40: The Final Duel (4) 5x39: The Final Duel (3) 5x38: The Final Duel (2) 5x37: The Final Duel (1) 5x36: The Final Journey 5x35: In the Name of the Pharaoh! 5x34: The Dark One Cometh (4) 5x33: The Dark One Cometh (3) 5x32: The Dark One Cometh (2)

View All Episodes
Skip to:
Season 1
| Episode No. | No. Overall | Title | Airdate | Runtime | Summary |
| --- | --- | --- | --- | --- | --- |
| 1 | 1 | The Heart of the Cards | 2000-04-18 | 25 | |
| 2 | 2 | The Gauntlet is Thrown | 2001-10-06 | 25 | |
| 3 | 3 | Journey to the Duelist Kingdom | 2001-10-13 | 25 | |
| 4 | 4 | Into The Hornet's Nest (Part 1 of 2) | 2001-10-20 | 25 | |
| 5 | 5 | The Ultimate Great Moth (Part 2 of 2) | 2001-10-27 | 25 | |
| 6 | 6 | First Duel | 2001-11-03 | 25 | |
| 7 | 7 | Attack From the Deep | 2001-11-10 | 25 | |
| 8 | 8 | Everything's Relative (Part 1 of 3) | 2001-11-17 | 25 | |
| 9 | 9 | Duel With A Ghoul (Part 2 of 3) | 2001-11-24 | 25 | |
| 10 | 10 | Give Up The Ghost (Part 3 of 3) | 2001-12-01 | 25 | |
| 11 | 11 | The Dueling Monkey (Part 1 of 2) | 2001-12-15 | 25 | |
| 12 | 12 | Trial By Red Eyes (Part 2 of 2) | 2002-01-19 | 25 | |
| 13 | 13 | Evil Spirit of the Ring | 2002-01-26 | 25 | |
| 14 | 14 | The Light at the End of the Tunnel (Part 1 of 2) | 2002-02-02 | 25 | |
| 15 | 15 | Winning Through Intimidation (Part 2 of 2) | 2002-02-02 | 25 | |
| 16 | 16 | The Scars of Defeat | 2002-02-09 | 25 | |
| 17 | 17 | Arena of Lost Souls (Part 1 of 2) | 2002-02-16 | 25 | |
| 18 | 18 | Arena of Lost Souls (Part 2 of 2) | 2002-02-23 | 25 | |
| 19 | 19 | Double Trouble Duel (Part 1 of 3) | 2002-03-16 | 25 | |
| 20 | 20 | Double Trouble Duel (Part 2 of 3) | 2002-03-23 | 25 | |
| 21 | 21 | Double Trouble Duel (Part 3 of 3) | 2002-03-30 | 25 | |
| 22 | 22 | Face Off (Part 1 of 3) | 2002-04-06 | 25 | |
| 23 | 23 | Face Off (Part 2 of 3) | 2002-04-13 | 25 | |
| 24 | 24 | Face Off (Part 3 of 3) | 2002-04-20 | 25 | |
| 25 | 25 | Shining Friendship | 2002-04-27 | 25 | |
| 26 | 26 | Champion versus Creator (Part 1 of 2) | 2002-05-18 | 25 | |
| 27 | 27 | Champion versus Creator (Part 2 of 2) | 2002-05-25 | 25 | |
| 28 | 28 | The Night Before | 2002-08-17 | 25 | |
| 29 | 29 | Duel Identity (Part 1 of 2) | 2002-08-24 | 25 | |
| 30 | 30 | Duel Identity (Part 2 of 2) | 2002-08-31 | 25 | |
| 31 | 31 | Keith's Machinations (Part 1 of 2) | 2002-09-07 | 25 | |
| 32 | 32 | Keith's Machinations (Part 2 of 2) | 2002-09-07 | 25 | |
| 33 | 33 | Best of Friends, Best of Duelists (Part 1 of 2) | 2002-09-14 | 25 | |
| 34 | 34 | Best of Friends, Best of Duelists (Part 2 of 2) | 2002-09-14 | 25 | |
| 35 | 35 | Yugi versus Pegasus: Match Of The Millennium (Part 1 of 5) | 2002-09-21 | 25 | |
| 36 | 36 | Yugi versus Pegasus: Match Of The Millennium (Part 2 of 5) | 2002-09-21 | 25 | |
| 37 | 37 | Yugi versus Pegasus: Match Of The Millennium (Part 3 of 5) | 2002-09-28 | 25 | |
| 38 | 38 | Yugi versus Pegasus: Match Of The Millennium (Part 4 of 5) | 2002-09-28 | 25 | |
| 39 | 39 | Yugi versus Pegasus: Match Of The Millennium (Part 5 of 5) | 2002-10-05 | 25 | |
| 40 | 40 | Aftermath | 2002-10-05 | 25 | |
| 41 | 41 | The Wrath of Rebecca (Part 1 of 2) | 2002-10-12 | 25 | |
| 42 | 42 | The Ties of Friendship (Part 2 of 2) | 2002-10-12 | 25 | |
| 43 | 43 | Legendary Heroes (Part 1 of 3) | 2002-10-19 | 25 | |
| 44 | 44 | Legendary Heroes (Part 2 of 3) | 2002-10-19 | 25 | |
| 45 | 45 | Legendary Heroes (Part 3 of 3) | 2002-10-26 | 25 | |
| 46 | 46 | Dungeon Dice Monsters (Part 1 of 4) | 2002-11-02 | 25 | |
| 47 | 47 | Dungeon Dice Monsters (Part 2 of 4) | 2002-11-02 | 25 | |
| 48 | 48 | Dungeon Dice Monsters (Part 3 of 4) | 2002-11-09 | 25 | |
| 49 | 49 | Dungeon Dice Monsters (Part 4 of 4) | 2002-11-09 | 25 | |
Season 2
| Episode No. | No. Overall | Title | Airdate | Runtime | Summary |
| --- | --- | --- | --- | --- | --- |
| 1 | 50 | The Mystery Duelist (Part 1 of 2) | 2002-11-16 | 25 | |
| 2 | 51 | The Mystery Duelist (Part 2 of 2) | 2002-11-16 | 25 | |
| 3 | 52 | The Past is Prologue | 2002-11-23 | 25 | |
| 4 | 53 | Steppin' Out | 2002-11-23 | 25 | |
| 5 | 54 | Obelisk the Tormentor | 2002-11-30 | 25 | |
| 6 | 55 | Stalked by the Rare Hunters | 2002-12-14 | 25 | |
| 7 | 56 | Yugi Versus The Rare Hunter (Part 1 of 2) | 2003-01-11 | 25 | |
| 8 | 57 | Yugi Versus The Rare Hunter (Part 2 of 2) | 2003-01-18 | 25 | |
| 9 | 58 | The ESP Duelist (Part 1 of 2) | 2003-01-25 | 25 | |
| 10 | 59 | The ESP Duelist (Part 2 of 2) | 2003-02-01 | 25 | |
| 11 | 60 | The Master Of Magicians (Part 1 of 3) | 2003-02-08 | 25 | |
| 12 | 61 | The Master of Magicians (Part 2 of 3) | 2003-02-08 | 25 | |
| 13 | 62 | The Master Of Magicians (Part 3 of 3) | 2003-02-08 | 25 | |
| 14 | 63 | Playing With A Parasite (Part 1 of 2) | 2003-02-15 | 25 | |
| 15 | 64 | Playing With a Parasite (Part 2 of 2) | 2003-02-22 | 25 | |
| 16 | 65 | Mime Control (Part 1 of 3) | 2003-03-08 | 25 | |
| 17 | 66 | Mime Control (Part 2 of 3) | 2003-03-08 | 25 | |
| 18 | 67 | Mime Control (Part 3 of 3) | 2003-03-15 | 25 | |
| 19 | 68 | Legendary Fisherman (Part 1 of 2) | 2003-03-22 | 25 | |
| 20 | 69 | Legendary Fisherman (Part 2 of 2) | 2003-03-29 | 25 | |
| 21 | 70 | Double Duel (Part 1 of 4) | 2003-05-03 | 25 | |
| 22 | 71 | Double Duel (Part 2 of 4) | 2003-05-10 | 25 | |
| 23 | 72 | Double Duel (Part 3 of 4) | 2003-05-17 | 25 | |
| 24 | 73 | Double Duel (Part 4 of 4) | 2003-05-24 | 25 | |
| 25 | 74 | The Rescue | 2003-06-14 | 25 | |
| 26 | 75 | Friends 'Til the End (Part 1 of 4) | 2003-06-28 | 25 | |
| 27 | 76 | Friends 'Til the End (Part 2 of 4) | 2003-07-05 | 25 | |
| 28 | 77 | Friends 'Til the End (Part 3 of 4) | 2003-07-12 | 25 | |
| 29 | 78 | Friends 'Til the End (Part 4 of 4) | 2003-07-19 | 25 | |
| 30 | 79 | Shadow Of A Duel | 2003-08-16 | 25 | |
| 31 | 80 | Lights, Camera, Duel | 2003-08-23 | 25 | |
| 32 | 81 | Let the Finals Begin! | 2003-08-30 | 25 | |
| 33 | 82 | The Dark Spirit Revealed (Part 1 of 3) | 2003-09-06 | 25 | |
| 34 | 83 | The Dark Spirit Revealed (Part 2 of 3) | 2003-09-13 | 25 | |
| 35 | 84 | The Dark Spirit Revealed (Part 3 of 3) | 2003-09-13 | 25 | |
| 36 | 85 | Rage Of The Egyptian Gods | 2003-09-20 | 25 | |
| 37 | 86 | Awakening of Evil (Part 1 of 4) | 2003-09-20 | 25 | |
| 38 | 87 | Awakening of Evil (Part 2 of 4) | 2003-09-27 | 25 | |
| 39 | 88 | Awakening of Evil (Part 3 of 4) | 2003-09-27 | 25 | |
| 40 | 89 | Awakening of Evil (Part 4 of 4) | 2003-10-04 | 25 | |
| 41 | 90 | Mind Game (Part 1 of 3) | 2003-10-04 | 25 | |
| 42 | 91 | Mind Game (Part 2 of 3) | 2003-10-11 | 25 | |
| 43 | 92 | Mind Game (Part 3 of 3) | 2003-10-11 | 25 | |
| 44 | 93 | A Duel With Destiny (Part 1 of 2) | 2003-10-18 | 25 | |
| 45 | 94 | A Duel With Destiny (Part 2 of 2) | 2003-10-18 | 25 | |
| 46 | 95 | The Tomb-Keeper's Secret | 2003-10-25 | 25 | |
| 47 | 96 | Showdown In The Shadows (Part 1 of 2) | 2003-10-25 | 25 | |
| 48 | 97 | Showdown In The Shadows (Part 2 of 2) | 2003-11-01 | 25 | |
Season 3
| Episode No. | No. Overall | Title | Airdate | Runtime | Summary |
| --- | --- | --- | --- | --- | --- |
| 1 | 98 | A Virtual Nightmare | 2003-11-01 | 25 | |
| 2 | 99 | Isolated in Cyber Space (Part 1 of 3) | 2003-11-08 | 25 | |
| 3 | 100 | Isolated in Cyber Space (Part 2 of 3) | 2003-11-08 | 25 | |
| 4 | 101 | Isolated in Cyber Space (Part 3 of 3) | 2003-11-15 | 25 | |
| 5 | 102 | Freeze Play (Part 1 of 2) | 2003-11-15 | 25 | |
| 6 | 103 | Freeze Play (Part 2 of 2) | 2003-11-22 | 25 | |
| 7 | 104 | Courtroom Chaos (Part 1 of 2) | 2003-11-22 | 25 | |
| 8 | 105 | Courtroom Chaos (Part 2 of 2) | 2003-11-29 | 25 | |
| 9 | 106 | Mechanical Mayhem (Part 1 of 2) | 2003-11-29 | 25 | |
| 10 | 107 | Mechanical Mayhem (Part 2 of 2) | 2003-12-06 | 25 | |
| 11 | 108 | Settling the Score (Part 1 of 2) | 2003-12-13 | 25 | |
| 12 | 109 | Settling the Score (Part 2 of 2) | 2003-12-20 | 25 | |
| 13 | 110 | Noah's Secret | 2004-01-10 | 25 | |
| 14 | 111 | Merger Of The Big Five (Part 1 of 3) | 2004-01-17 | 25 | |
| 15 | 112 | Merger Of The Big Five (Part 2 of 3) | 2004-01-24 | 25 | |
| 16 | 113 | Merger Of The Big Five (Part 3 of 3) | 2004-01-31 | 25 | |
| 17 | 114 | Brothers In Arms (Part 1 of 3) | 2004-02-07 | 25 | |
| 18 | 115 | Brothers In Arms (Part 2 of 3) | 2004-02-14 | 25 | |
| 19 | 116 | Brothers In Arms (Part 3 of 3) | 2004-02-21 | 25 | |
| 20 | 117 | Noah's Final Threat (Part 1 of 2) | 2004-02-28 | 25 | |
| 21 | 118 | Noah's Final Threat (Part 2 of 2) | 2004-03-06 | 25 | |
| 22 | 119 | So Close Yet So Far | 2004-03-20 | 25 | |
| 23 | 120 | Burying The Past (Part 1 of 2) | 2004-04-03 | 25 | |
| 24 | 121 | Burying The Past (Part 2 of 2) | 2004-04-17 | 25 | |
| 25 | 122 | Back To Battle City (Part 1 of 3) | 2004-05-01 | 25 | |
| 26 | 123 | Back To Battle City (Part 2 of 3) | 2004-05-08 | 25 | |
| 27 | 124 | Back To Battle City (Part 3 of 3) | 2004-05-15 | 25 | |
| 28 | 125 | The Darkness Returns (Part 1 of 4) | 2004-05-15 | 25 | |
| 29 | 126 | The Darkness Returns (Part 2 of 4) | 2004-05-22 | 25 | |
| 30 | 127 | The Darkness Returns (Part 3 of 4) | 2004-05-22 | 25 | |
| 31 | 128 | The Darkness Returns (Part 4 of 4) | 2004-05-29 | 25 | |
| 32 | 129 | Clash In The Coliseum (Part 1 of 6) | 2004-05-29 | 25 | |
| 33 | 130 | Clash In The Coliseum (Part 2 of 6) | 2004-06-05 | 25 | |
| 34 | 131 | Clash In The Coliseum (Part 3 of 6) | 2004-06-12 | 25 | |
| 35 | 132 | Clash In The Coliseum (Part 4 of 6) | 2004-06-19 | 25 | |
| 36 | 133 | Clash In The Coliseum (Part 5 of 6) | 2004-06-26 | 25 | |
| 37 | 134 | Clash In The Coliseum (Part 6 of 6) | 2004-07-03 | 25 | |
| 38 | 135 | Battle For The Bronze (Part 1 of 3) | 2004-07-10 | 25 | |
| 39 | 136 | Battle For The Bronze (Part 2 of 3) | 2004-07-17 | 25 | |
| 40 | 137 | Battle For The Bronze (Part 3 of 3) | 2004-07-24 | 25 | |
| 41 | 138 | The Final Face Off (Part 1 of 5) | 2004-07-31 | 25 | |
| 42 | 139 | The Final Face Off (Part 2 of 5) | 2004-08-14 | 25 | |
| 43 | 140 | The Final Face Off (Part 3 of 5) | 2004-08-21 | 25 | |
| 44 | 141 | The Final Face Off (Part 4 of 5) | 2004-08-28 | 25 | |
| 45 | 142 | The Final Face Off (Part 5 of 5) | 2004-08-28 | 25 | |
| 46 | 143 | One For The Road | 2004-09-04 | 25 | |
| 47 | 144 | Looking Back And Moving Ahead | 2004-09-04 | 25 | |
Season 4
| Episode No. | No. Overall | Title | Airdate | Runtime | Summary |
| --- | --- | --- | --- | --- | --- |
| 1 | 145 | A New Evil (Part 1 of 2) | 2004-09-11 | 25 | |
| 2 | 146 | A New Evil (Part 2 of 2) | 2004-09-18 | 25 | |
| 3 | 147 | Legend Of The Dragons | 2004-09-25 | 25 | |
| 4 | 148 | The Creator Returns | 2004-10-02 | 25 | |
| 5 | 149 | Deja Duel! (Part 1 of 2) | 2004-10-09 | 25 | |
| 6 | 150 | Deja Duel! (Part 2 of 2) | 2004-10-16 | 25 | |
| 7 | 151 | An Unexpected Enemy | 2004-10-23 | 25 | |
| 8 | 152 | My Freaky Valentine (Part 1 of 3) | 2004-10-23 | 25 | |
| 9 | 153 | My Freaky Valentine (Part 2 of 3) | 2004-10-30 | 25 | |
| 10 | 154 | My Freaky Valentine (Part 3 of 3) | 2004-10-30 | 25 | |
| 11 | 155 | The Challenge | 2004-11-06 | 25 | |
| 12 | 156 | Fate Of The Pharaoh (Part 1 of 3) | 2004-11-06 | 25 | |
| 13 | 157 | Fate Of The Pharaoh (Part 2 of 3) | 2004-11-13 | 25 | |
| 14 | 158 | Fate Of The Pharaoh (Part 3 of 3) | 2004-11-13 | 25 | |
| 15 | 159 | Trial By Stone | 2004-11-20 | 25 | |
| 16 | 160 | On The Wrong Track (Part 1 of 3) | 2004-11-20 | 25 | |
| 17 | 161 | On The Wrong Track (Part 2 of 3) | 2004-11-27 | 25 | |
| 18 | 162 | On The Wrong Track (Part 3 of 3) | 2004-11-27 | 25 | |
| 19 | 163 | Self Destruction | 2005-01-29 | 25 | |
| 20 | 164 | Reliving the Past | 2005-01-29 | 25 | |
| 21 | 165 | Deck of Armor | 2005-02-05 | 25 | |
| 22 | 166 | Flight Of Fear (Part 1 of 2) | 2005-02-05 | 25 | |
| 23 | 167 | Flight Of Fear (Part 2 of 2) | 2005-02-12 | 25 | |
| 24 | 168 | Paradise Found | 2005-02-12 | 25 | |
| 25 | 169 | Fighting For A Friend (Part 1 of 5) | 2005-02-19 | 25 | |
| 26 | 170 | Fighting For A Friend (Part 2 of 5) | 2005-02-19 | 25 | |
| 27 | 171 | Fighting For A Friend (Part 3 of 5) | 2005-02-26 | 25 | |
| 28 | 172 | Fighting For A Friend (Part 4 of 5) | 2005-02-26 | 25 | |
| 29 | 173 | Fighting For A Friend (Part 5 of 5) | 2005-04-16 | 25 | |
| 30 | 174 | Grappling With A Guardian (Part 1 of 3) | 2005-04-23 | 25 | |
| 31 | 175 | Grappling With A Guardian (Part 2 of 3) | 2005-04-30 | 25 | |
| 32 | 176 | Grappling With A Guardian (Part 3 of 3) | 2005-04-30 | 25 | |
| 33 | 177 | A Duel With Dartz (Part 1 of 6) | 2005-05-07 | 25 | |
| 34 | 178 | A Duel With Dartz (Part 2 of 6) | 2005-05-07 | 25 | |
| 35 | 179 | A Duel With Dartz (Part 3 of 6) | 2005-05-14 | 25 | |
| 36 | 180 | A Duel With Dartz (Part 4 of 6) | 2005-05-14 | 25 | |
| 37 | 181 | A Duel With Dartz (Part 5 of 6) | 2005-05-21 | 25 | |
| 38 | 182 | A Duel With Dartz (Part 6 of 6) | 2005-05-21 | 25 | |
| 39 | 183 | Rise Of The Great Beast (Part 1 of 2) | 2005-05-28 | 25 | |
| 40 | 184 | Rise Of The Great Beast (Part 2 of 2) | 2005-05-28 | 25 | |
Season 5
| Episode No. | No. Overall | Title | Airdate | Runtime | Summary |
| --- | --- | --- | --- | --- | --- |
| 1 | 185 | Unwanted Guest (Part 1 of 2) | 2005-08-27 | 25 | |
| 2 | 186 | Unwanted Guest (Part 2 of 2) | 2005-08-27 | 25 | |
| 3 | 187 | Let the Games Begin! (Part 1 of 2) | 2005-09-03 | 25 | |
| 4 | 188 | Let the Games Begin! (Part 2 of 2) | 2005-09-03 | 25 | |
| 5 | 189 | Child's Play | 2005-09-10 | 25 | |
| 6 | 190 | Down in Flames (Part 1 of 2) | 2005-09-10 | 25 | |
| 7 | 191 | Down in Flames (Part 2 of 2) | 2005-09-17 | 25 | |
| 8 | 192 | A Brawl in a Small Town (Part 1 of 2) | 2005-09-17 | 25 | |
| 9 | 193 | A Brawl in a Small Town (Part 2 of 2) | 2005-09-24 | 25 | |
| 10 | 194 | One Step Ahead (Part 1 of 2) | 2005-09-24 | 25 | |
| 11 | 195 | One Step Ahead (Part 2 of 2) | 2005-10-01 | 25 | |
| 12 | 196 | Sinister Secrets (Part 1 of 3) | 2005-10-01 | 25 | |
| 13 | 197 | Sinister Secrets (Part 2 of 3) | 2005-10-08 | 25 | |
| 14 | 198 | Sinister Secrets (Part 3 of 3) | 2005-10-08 | 25 | |
| 15 | 199 | Tomb of the Nameless Pharaoh | 2005-10-15 | 25 | |
| 16 | 200 | Spiritual Awakening | 2005-10-22 | 25 | |
| 17 | 201 | Memoirs of a Pharaoh | 2005-10-29 | 25 | |
| 18 | 202 | The Intruder (1) | 2005-11-05 | 25 | |
| 19 | 203 | The Intruder (2) | 2005-11-12 | 25 | |
| 20 | 204 | Makings of a Magician | 2005-11-19 | 25 | |
| 21 | 205 | Birth of the Blue-Eyes | 2005-11-26 | 25 | |
| 22 | 206 | Village of Lost Souls | 2005-12-03 | 25 | |
| 23 | 207 | A Reversal of Fortune | 2005-12-10 | 25 | |
| 24 | 208 | In Search of a King | 2005-12-17 | 25 | |
| 25 | 209 | Village of Vengeance (1) | 2006-01-07 | 25 | |
| 26 | 210 | Village of Vengeance (2) | 2006-01-14 | 25 | |
| 27 | 211 | Village of Vengeance (3) | 2006-01-21 | 25 | |
| 28 | 212 | Village of Vengeance (4) | 2006-01-28 | 25 | |
| 29 | 213 | Village of Vengeance (5) | 2006-02-04 | 25 | |
| 30 | 214 | Name of the Game | 2006-04-01 | 25 | |
| 31 | 215 | The Dark One Cometh (1) | 2006-04-08 | 25 | |
| 32 | 216 | The Dark One Cometh (2) | 2006-04-15 | 25 | |
| 33 | 217 | The Dark One Cometh (3) | 2006-04-22 | 25 | |
| 34 | 218 | The Dark One Cometh (4) | 2006-04-29 | 25 | |
| 35 | 219 | In the Name of the Pharaoh! | 2006-05-06 | 25 | |
| 36 | 220 | The Final Journey | 2006-05-13 | 25 | |
| 37 | 221 | The Final Duel (1) | 2006-05-20 | 25 | |
| 38 | 222 | The Final Duel (2) | 2006-05-27 | 25 | |
| 39 | 223 | The Final Duel (3) | 2006-06-03 | 25 | |
| 40 | 224 | The Final Duel (4) | 2006-06-10 | 25 | |
Related News
TVMaze