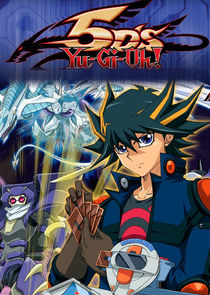 Yu-Gi-Oh! 5D's, set in the not too distant future, is the sequel to "Yu☆Gi☆Oh!: Duel Monsters GX". Following on from its predecessors, the show is centered on the Duel Monsters Card Game.

Neo Domino City, a newer, evolved city is the largest in the world, watched over by its Director, Rex Godwin. Satellite, the renamed old Domino City, is now the city's main waste disposal area and the inhabitants who live there, Satellites, live in poor conditions and are forbidden from Duelling.

Fudou Yuusei, the shows main protagonist, has built a D-Wheel (used for the new form of duelling, Riding Duels) in the hope that he can escape to Neo Domino City. Spurred on by revenge towards Jack Atlus, the King of Riding Duels, he manages to escape and duel Jack for his precious card, Stardust Dragon. However when it is summoned along with Jack's ace monster, Red Demons Dragon, a wondrous Crimson Dragon appears, along with a mysterious Birthmark on Yuusei's arm.

From here on, Yuusei and his friends are thrown into a world of Darkness, from which they must duel their way out and attempt to save the world from the destructive forces that soon appear.
Series Overview
Rating
imDb Rating: 6.7 (1,070 Votes)
Metascore: N/A
Plot
Many years in the future after the exploits of Yugi Mutou, Domino City has become a shadow of its former self: Neo Domino City. There lies a strong divide between the rich and the poor, and...
Details
Rated: TV-14
Released: 13 Sep 2008
Runtime: N/A
Genre: Animation, Action, Adventure, Fantasy, Sci-Fi
Director: N/A
Writer: Kazuki Takahashi
Actors: Gregory Abbey, Ted Lewis, Marc Diraison
Language: Japanese
Country: Japan
Awards: N/A
Total Seasons: 5
Previous Episode
Shining Forth to the Future
Episode 4x62; Mar 30, 2011
Previous Episodes 4x62: Shining Forth to the Future 4x61: Clashing Souls! 4x60: Moving Towards the Future 4x59: Clustering Wishes 4x58: Feelings Entrusted from My Father 4x57: The Revived Hero 4x56: One Chance to Turn It All Around 4x55: A Hope for the Future! 4x54: The Last Human, Z-One

View All Episodes
Skip to:
Season 1
| Episode No. | No. Overall | Title | Airdate | Runtime | Summary |
| --- | --- | --- | --- | --- | --- |
| 1 | 1 | On Your Mark, Get Set, Duel! | 2008-04-02 | 24 | |
| 2 | 2 | Creepy Crawlies | 2008-04-09 | 24 | |
| 3 | 3 | Pipe Dreams | 2008-04-16 | 24 | |
| 4 | 4 | A Blast from the Past (1) | 2008-04-23 | 24 | |
| 5 | 5 | A Blast from the Past (2) | 2008-04-30 | 24 | |
| 6 | 6 | The Facility (1) | 2008-05-07 | 24 | |
| 7 | 7 | The Facility (2) | 2008-05-14 | 24 | |
| 8 | 8 | Fire It Up! | 2008-05-21 | 24 | |
| 9 | 9 | The Lockdown Duel (1) | 2008-05-28 | 24 | |
| 10 | 10 | The Lockdown Duel (2) | 2008-06-04 | 24 | |
| 11 | 11 | The Take Back (1) | 2008-06-11 | 24 | |
| 12 | 12 | The Take Back (2) | 2008-06-18 | 24 | |
| 13 | 13 | A Duel to Remember | 2008-06-25 | 24 | |
| 14 | 14 | Bloom of the Black Rose | 2008-07-02 | 24 | |
| 15 | 15 | Welcome to the Fortune Cup | 2008-07-09 | 24 | |
| 16 | 16 | Battle with the Black Rose | 2008-07-16 | 24 | |
| 17 | 17 | Surprise, Surprise | 2008-07-23 | 24 | |
| 18 | 18 | Return to the Spirit World (1) | 2008-07-30 | 24 | |
| 19 | 19 | Return to the Spirit World (2) | 2008-08-06 | 24 | |
| 20 | 20 | Second Round Showdown (1) | 2008-08-13 | 24 | |
| 21 | 21 | Second Round Showdown (2) | 2008-08-20 | 24 | |
| 22 | 22 | The Profiler | 2008-08-27 | 24 | |
| 23 | 23 | Duel of the Dragons (1) | 2008-09-03 | 24 | |
| 24 | 24 | Duel of the Dragons (2) | 2008-09-10 | 24 | |
| 25 | 25 | The Fortune Cup Finale (1) | 2008-09-17 | 24 | |
| 26 | 26 | The Fortune Cup Finale (2) | 2008-09-24 | 24 | |
Season 2
| Episode No. | No. Overall | Title | Airdate | Runtime | Summary |
| --- | --- | --- | --- | --- | --- |
| 1 | 27 | A Web of Deceit (1) | 2008-10-01 | 24 | |
| 2 | 28 | A Web of Deceit (2) | 2008-10-08 | 24 | |
| 3 | 29 | Good Cop, Bad Cop | 2008-10-15 | 24 | |
| 4 | 30 | Fight or Flight | 2008-10-22 | 24 | |
| 5 | 31 | The Reunion Duel | 2008-10-29 | 24 | |
| 6 | 32 | Dark Signs (1) | 2008-11-05 | 24 | |
| 7 | 33 | Dark Signs (2) | 2008-11-12 | 24 | |
| 8 | 34 | Dark Signs (3) | 2008-11-19 | 24 | |
| 9 | 35 | Dark Signs (4) | 2008-11-26 | 24 | |
| 10 | 36 | Supersensory Shakedown | 2008-12-03 | 24 | |
| 11 | 37 | Digging Deeper (1) | 2008-12-10 | 24 | |
| 12 | 38 | Digging Deeper (2) | 2008-12-17 | 24 | |
| 13 | 39 | Digging Deeper (3) | 2008-12-24 | 24 | |
| 14 | 40 | Clash of the Dragons (1) | 2009-01-07 | 24 | |
| 15 | 41 | Clash of the Dragons (2) | 2009-01-14 | 24 | |
| 16 | 42 | The Signs of Time | 2009-01-21 | 24 | |
| 17 | 43 | Surely, You Jest (1) | 2009-01-28 | 24 | |
| 18 | 44 | Surely, You Jest (2) | 2009-02-04 | 24 | |
| 19 | 45 | Mark of the Spider (1) | 2009-02-11 | 24 | |
| 20 | 46 | Mark of the Spider (2) | 2009-02-18 | 24 | |
| 21 | 47 | Mark of the Monkey (1) | 2009-02-25 | 24 | |
| 22 | 48 | Mark of the Monkey (2) | 2009-03-04 | 24 | |
| 23 | 49 | Mark of the Monkey (3) | 2009-03-11 | 24 | |
| 24 | 50 | Mark of the Monkey (4) | 2009-03-18 | 24 | |
| 25 | 51 | A Whale of a Ride (1) | 2009-03-25 | 24 | |
| 26 | 52 | A Whale of a Ride (2) | 2009-04-01 | 24 | |
| 27 | 53 | A Whale of a Ride (3) | 2009-04-08 | 24 | |
| 28 | 54 | A Score to Settle (1) | 2009-04-15 | 24 | |
| 29 | 55 | A Score to Settle (2) | 2009-04-22 | 24 | |
| 30 | 56 | Destiny's Will (1) | 2009-04-29 | 24 | |
| 31 | 57 | Destiny's Will (2) | 2009-05-06 | 24 | |
| 32 | 58 | Shadows of Doubt (1) | 2009-05-13 | 24 | |
| 33 | 59 | Shadows of Doubt (2) | 2009-05-20 | 24 | |
| 34 | 60 | Truth and Consequences (1) | 2009-05-27 | 24 | |
| 35 | 61 | Truth and Consequences (2) | 2009-06-03 | 24 | |
| 36 | 62 | Signs of Doom (1) | 2009-06-10 | 24 | |
| 37 | 63 | Signs of Doom (2) | 2009-06-17 | 24 | |
| 38 | 64 | Signs of Doom (3) | 2009-06-24 | 24 | |
Season 3
| Episode No. | No. Overall | Title | Airdate | Runtime | Summary |
| --- | --- | --- | --- | --- | --- |
| 1 | 65 | A New Threat (1) | 2009-07-01 | 24 | |
| 2 | 66 | A New Threat (2) | 2009-07-08 | 24 | |
| 3 | 67 | Lessons Learned | 2009-07-15 | 24 | |
| 4 | 68 | Trash Talk | 2009-07-22 | 24 | |
| 5 | 69 | A Duel with Interest | 2009-07-29 | 24 | |
| 6 | 70 | The Wicked Spirit | 2009-08-05 | 24 | |
| 7 | 71 | French Twist (1) | 2009-08-12 | 24 | |
| 8 | 72 | French Twist (2) | 2009-08-19 | 24 | |
| 9 | 73 | Synchro Straits | 2009-08-26 | 24 | |
| 10 | 74 | Synchro Solution | 2009-09-02 | 24 | |
| 11 | 75 | Acceleration | 2009-09-09 | 24 | |
| 12 | 76 | Syd is Vicious | 2009-09-16 | 24 | |
| 13 | 77 | Dawn of the Duel Board (1) | 2009-09-23 | 24 | |
| 14 | 78 | Dawn of the Duel Board (2) | 2009-09-30 | 24 | |
| 15 | 79 | Putting It All Together | 2009-10-07 | 24 | |
| 16 | 80 | The Super Genius | 2009-10-14 | 24 | |
| 17 | 81 | Get with the Program (1) | 2009-10-21 | 24 | |
| 18 | 82 | Get with the Program (2) | 2009-10-28 | 24 | |
| 19 | 83 | Will the Real Jack Atlas, Please Stand Up (1) | 2009-11-04 | 24 | |
| 20 | 84 | Will the Real Jack Atlas, Please Stand Up (2) | 2009-11-11 | 24 | |
| 21 | 85 | Mother Knows Best | 2009-11-18 | 24 | |
| 22 | 86 | Duelist for Hire | 2009-11-25 | 24 | |
| 23 | 87 | Showdown at Sundown (1) | 2009-12-02 | 24 | |
| 24 | 88 | Showdown at Sundown (2) | 2009-12-09 | 24 | |
| 25 | 89 | The Race to Escape (1) | 2009-12-16 | 24 | |
| 26 | 90 | The Race to Escape (2) | 2009-12-23 | 24 | |
| 27 | 91 | Clash at Crash Town (1) | 2010-01-06 | 24 | |
| 28 | 92 | Clash at Crash Town (2) | 2010-01-13 | 24 | |
Season 4
| Episode No. | No. Overall | Title | Airdate | Runtime | Summary |
| --- | --- | --- | --- | --- | --- |
| 1 | 93 | The Question of the Card | 2010-01-20 | 24 | |
| 2 | 94 | Keeping a Promise, Part 1 | 2010-01-27 | 24 | |
| 3 | 95 | Keeping a Promise, Part 2 | 2010-02-03 | 24 | |
| 4 | 96 | Natural Instincts, Part 1 | 2010-02-10 | 24 | |
| 5 | 97 | Natural Instincts, Part 2 | 2010-02-17 | 24 | |
| 6 | 98 | Power Plays | 2010-02-24 | 24 | |
| 7 | 99 | Trouble for Team 5D's | 2010-03-03 | 24 | |
| 8 | 100 | The Edge of Elimination, Part 1 | 2010-03-10 | 24 | |
| 9 | 101 | The Edge of Elimination, Part 2 | 2010-03-17 | 24 | |
| 10 | 102 | The Edge of Elimination, Part 3 | 2010-03-24 | 24 | |
| 11 | 103 | Party Crashers | 2010-03-31 | 24 | |
| 12 | 104 | Knight Takes Pawn | 2010-04-07 | 24 | |
| 13 | 105 | Rook Takes Knight | 2010-04-14 | 24 | |
| 14 | 106 | Primo's Plan, Part 1 | 2010-04-21 | 24 | |
| 15 | 107 | Primo's Plan, Part 2 | 2010-04-28 | 24 | |
| 16 | 108 | Primo's Plan, Part 3 | 2010-05-05 | 24 | |
| 17 | 109 | Primo's Plan, Part 4 | 2010-05-12 | 24 | |
| 18 | 110 | Primo's Plan, Part 5 | 2010-05-19 | 24 | |
| 19 | 111 | The Ancient Land - To Nazca! | 2010-05-26 | 24 | |
| 20 | 112 | The Crimson Devil | 2010-06-02 | 24 | |
| 21 | 113 | Burning Seething Soul! Scarlet Nova Dragon | 2010-06-09 | 24 | |
| 22 | 114 | Operation Capture Jaeger II | 2010-06-16 | 24 | |
| 23 | 115 | Press Him About the Mystery! The Endgame Riding Duel!! | 2010-06-23 | 24 | |
| 24 | 116 | The Ener-D Express Development Agency | 2010-06-30 | 24 | |
| 25 | 117 | The Distorted Past | 2010-07-07 | 24 | |
| 26 | 118 | The New Rivals | 2010-07-14 | 24 | |
| 27 | 119 | The Invincible Scrum! Smash the Unbreakable Defense! | 2010-07-21 | 24 | |
| 28 | 120 | Tie Those Feelings! The Hand Tied to the Majin! | 2010-07-28 | 24 | |
| 29 | 121 | The Miraculous Trump Card - Sleeping Giant Zushin! | 2010-08-04 | 24 | |
| 30 | 122 | Believe in the Power! The Strongest Giant Zushin vs Shooting Star Dragon | 2010-08-11 | 24 | |
| 31 | 123 | Eyes on the Prize | 2010-08-18 | 24 | |
| 32 | 124 | Duel for Redemption | 2010-08-25 | 24 | |
| 33 | 125 | Soul Solution | 2010-09-01 | 24 | |
| 34 | 126 | When Nordic Gods Attack | 2010-09-08 | 24 | |
| 35 | 127 | Tricking the Trickster | 2010-09-15 | 24 | |
| 36 | 128 | Yusei's Last Stand | 2010-09-22 | 24 | |
| 37 | 129 | Fight to the Finish Line | 2010-09-29 | 24 | |
| 38 | 130 | Bound to the Future, Bonds to Our Companions | 2010-10-06 | 24 | |
| 39 | 131 | The Beginning of the End | 2010-10-13 | 24 | |
| 40 | 132 | Dawn of the Machines | 2010-10-20 | 24 | |
| 41 | 133 | Against All Odds | 2010-10-27 | 24 | |
| 42 | 134 | For Synchro's Sake | 2010-11-10 | 24 | |
| 43 | 135 | Flight for the Future | 2010-11-17 | 24 | |
| 44 | 136 | Victory or Doom | 2010-11-24 | 24 | |
| 45 | 137 | An Approaching Terror - The Citadel of God | 2010-12-01 | 24 | |
| 46 | 138 | The Path to the Future - The Rainbow Bridge Bifrost! | 2010-12-08 | 24 | |
| 47 | 139 | The Terrifying Field Spell - École de Zone! | 2010-12-15 | 24 | |
| 48 | 140 | The Soul-Binding Gate! The Forbidden Future! | 2010-12-22 | 24 | |
| 49 | 141 | The Duel of Despair! Fortissimo the Moving Fortress! | 2010-12-29 | 24 | |
| 50 | 142 | A Life-or-Death Battle! Machine Divine Emperor Dragon Asterisk | 2011-01-05 | 24 | |
| 51 | 143 | The Miracle of Life | 2011-01-12 | 24 | |
| 52 | 144 | The Beginning of the End: A Fight for the Future! | 2011-01-19 | 24 | |
| 53 | 145 | Faster Than Light!! | 2011-01-26 | 24 | |
| 54 | 146 | The Last Human, Z-One | 2011-02-02 | 24 | |
| 55 | 147 | A Hope for the Future! | 2011-02-09 | 24 | |
| 56 | 148 | One Chance to Turn It All Around | 2011-02-16 | 24 | |
| 57 | 149 | The Revived Hero | 2011-02-23 | 24 | |
| 58 | 150 | Feelings Entrusted from My Father | 2011-03-02 | 24 | |
| 59 | 151 | Clustering Wishes | 2011-03-09 | 24 | |
| 60 | 152 | Moving Towards the Future | 2011-03-23 | 24 | |
| 61 | 153 | Clashing Souls! | 2011-03-30 | 24 | |
| 62 | 154 | Shining Forth to the Future | 2011-03-30 | 24 | |
Season 5
| Episode No. | No. Overall | Title | Airdate | Runtime | Summary |
| --- | --- | --- | --- | --- | --- |
Related News
TVMaze