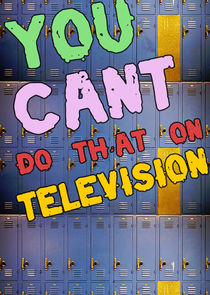 You Can't Do That on Television featured pre-teen and teenaged actors in a sketch comedy format. Each episode had a specific theme normally relating to pop culture of the time.
Series Overview
Rating
imDb Rating: 8.2 (1,685 Votes)
Metascore: N/A
Plot
Sketch TV by young amateur actors in true classic Nick-style. But whatever you do, never admit that you don't know or ask for water.
Details
Rated: TV-PG
Released: 03 Feb 1979
Runtime: 30 min
Genre: Family, Comedy
Director: N/A
Writer: N/A
Actors: Les Lye, Abby Hagyard, Christine McGlade, Lisa Ruddy
Language: English
Country: Canada
Awards: N/A
Total Seasons: 10
Previous Episode
Changes aka Project 131
Episode 11x1; Jul 21, 2004
Previous Episodes 11x1: Changes aka Project 131 10x5: Inventions 10x4: Privileges 10x3: Learning 10x2: Secrets 10x1: Blame 9x25: Embarrassment 9x24: Generosity 9x23: Smoking

View All Episodes
Cast
Les Lye as Barth / Ross Ewich / Senator Lance Prevort / Mr. Schidtler / Various Characters
View Full Cast
Recent News
The forgotten pioneers of computer animation
Everyone remembers ReBoot. It's hard to forget the show's lead character -- a bright blue 'guardian' named Bob -- and his fight to protect a city inside a computer. The computer-animated series premiered in September 1994, months before Pixar stunned theaterg…
10 trends of the 2010s that changed how we see TV
Call it Peak TV, The Second Golden Age of Television, or just "too much." The past 10 years have brought an avalanche of revolutionary television, and fundamentally changed how we see the medium. Heading into the next decade, we're desperately trying to catch…
via NewsAPI
View More Related News
Skip to:
Season 1
| Episode No. | No. Overall | Title | Airdate | Runtime | Summary |
| --- | --- | --- | --- | --- | --- |
| 1 | 1 | The First Episode | 1979-02-03 | 30 | |
| 2 | 2 | Shoestring | 1979-02-10 | 30 | |
| 3 | 3 | The Third Episode | 1979-02-17 | 30 | |
| 4 | 4 | The Fourth Episode | 1979-02-24 | 30 | |
| 5 | 5 | The Fifth Episode | 1979-03-03 | 30 | |
| 6 | 6 | The Sixth Episode | 1979-03-10 | 30 | |
| 7 | 7 | St. Patrick's Day | 1979-03-17 | 30 | |
| 8 | 8 | The Eighth Episode | 1979-03-31 | 30 | |
| 9 | 9 | Executive Washroom | 1979-04-07 | 30 | |
| 10 | 10 | The Tenth Episode | 1979-04-14 | 30 | |
| 11 | 11 | The Eleventh Episode | 1979-04-21 | 30 | |
| 12 | 12 | The Twelveth Episode | 1979-04-28 | 30 | |
| 13 | 13 | The Thirteenth Episode | 1979-05-05 | 30 | |
| 14 | 14 | The Fourteenth Episode | 1979-05-19 | 30 | |
Season 2
| Episode No. | No. Overall | Title | Airdate | Runtime | Summary |
| --- | --- | --- | --- | --- | --- |
| 1 | 15 | Work, Work, Work | 1981-01-24 | 30 | |
| 2 | 16 | Transportation | 1981-01-31 | 30 | |
| 3 | 17 | Strike Now | 1981-02-07 | 30 | |
| 4 | 18 | Dating | 1981-02-14 | 30 | |
| 5 | 19 | Fitness | 1981-02-21 | 30 | |
| 6 | 20 | Safety First | 1981-02-28 | 30 | |
| 7 | 21 | Sexual Equality | 1981-03-07 | 30 | |
| 8 | 22 | Personal Hygiene | 1981-03-14 | 30 | |
| 9 | 23 | Smoking | 1981-03-21 | 30 | |
| 10 | 24 | Crime & Vandalism | 1981-03-28 | 30 | |
| 11 | 25 | Drugs | 1981-04-04 | 30 | |
| 12 | 26 | Nutrition | 1981-04-11 | 30 | |
| 13 | 27 | Peer Pressure | 1981-04-18 | 30 | |
Season 3
| Episode No. | No. Overall | Title | Airdate | Runtime | Summary |
| --- | --- | --- | --- | --- | --- |
| 1 | 28 | Cosmetics | 1982-03-17 | 30 | |
| 2 | 29 | Addictions | 1982-03-24 | 30 | |
| 3 | 30 | Popularity | 1982-03-31 | 30 | |
| 4 | 31 | Fads & Fashion | 1982-04-07 | 30 | |
| 5 | 32 | Vacations | 1982-04-14 | 30 | |
| 6 | 33 | Rip-Offs | 1982-04-21 | 30 | |
| 7 | 34 | Bullying | 1982-05-05 | 30 | |
| 8 | 35 | Culture Junk | 1982-05-12 | 30 | |
| 9 | 36 | Television | 1982-07-07 | 30 | |
| 10 | 37 | Sports | 1982-07-14 | 30 | |
| 11 | 38 | Heroes | 1982-07-21 | 30 | |
| 12 | 39 | The Not-So-Fair Show | 1982-07-28 | 30 | |
| 13 | 40 | Growing Up | 1982-08-04 | 30 | |
Season 4
| Episode No. | No. Overall | Title | Airdate | Runtime | Summary |
| --- | --- | --- | --- | --- | --- |
| 1 | 41 | Pets | 1983-05-10 | 30 | |
| 2 | 42 | Rules & Regulations | 1983-10-10 | 30 | |
| 3 | 43 | Manners or Bad Habits | 1984-02-24 | 30 | |
| 4 | 44 | Medicine | 1983-10-07 | 30 | |
| 5 | 45 | Future World | 1983-10-14 | 30 | |
| 6 | 46 | Media | 1983-10-03 | 30 | |
| 7 | 47 | Inequality: Kids vs. Adults | 1983-10-19 | 30 | |
| 8 | 48 | Nature | 1983-10-14 | 30 | |
| 9 | 49 | Cooking | 1983-10-17 | 30 | |
| 10 | 50 | Classical Music | 1983-10-24 | 30 | |
| 11 | 51 | Rumors | 1983-10-21 | 30 | |
| 12 | 52 | Fame | 1984-02-27 | 30 | |
| 13 | 53 | Priorities | 1984-02-29 | 30 | |
Season 5
| Episode No. | No. Overall | Title | Airdate | Runtime | Summary |
| --- | --- | --- | --- | --- | --- |
| 1 | 54 | Friends | 1984-06-07 | 30 | |
| 2 | 55 | ESP - Magic Astrology | 1984-06-20 | 30 | |
| 3 | 56 | Hobbies | 1984-06-15 | 30 | |
| 4 | 57 | History | 1984-07-11 | 30 | |
| 5 | 58 | Courage | 1984-06-04 | 30 | |
| 6 | 59 | Body Parts | 1984-07-12 | 30 | |
| 7 | 60 | Marketing | 1984-07-03 | 30 | |
| 8 | 61 | Foreign Countries | 1984-06-28 | 30 | |
| 9 | 62 | Literature | 1984-06-21 | 30 | |
| 10 | 63 | Moving | 1984-07-20 | 30 | |
| 11 | 64 | Technology | 1984-07-19 | 30 | |
| 12 | 65 | Ambition | 1984-06-12 | 30 | |
| 13 | 66 | Clubs | 1984-06-25 | 30 | |
| 14 | 67 | Holidays | 1985-01-01 | 30 | |
| 15 | 68 | Colleges | 1985-01-04 | 30 | |
| 16 | 69 | Halloween | 1984-10-09 | 30 | |
| 17 | 70 | Christmas | 1984-12-08 | 30 | |
| 18 | 71 | Politics | 1985-01-08 | 30 | |
| 19 | 72 | War | 1985-01-29 | 30 | |
| 20 | 73 | Science | 1985-01-11 | 30 | |
| 21 | 74 | Divorce | 1985-01-15 | 30 | |
| 22 | 75 | Families | 1985-01-18 | 30 | |
| 23 | 76 | Malls / Hangouts | 1985-01-22 | 30 | |
| 24 | 77 | Seasons / Weather | 1985-01-25 | 30 | |
| 25 | 78 | Jealousy | 1985-02-01 | 30 | |
| 26 | 79 | Wealth | 1985-02-05 | 30 | |
Season 6
| Episode No. | No. Overall | Title | Airdate | Runtime | Summary |
| --- | --- | --- | --- | --- | --- |
| 1 | 80 | Romance and Dating | 1985-11-11 | 30 | |
| 2 | 81 | Identity Crisis | 1985-10-17 | 30 | |
| 3 | 82 | Fears, Worries, and Anxieties | 1985-11-12 | 30 | |
| 4 | 83 | Relatives | 1985-11-13 | 30 | |
| 5 | 84 | Pessimism and Optimism | 1985-10-18 | 30 | |
| 6 | 85 | Revenge | 1985-11-14 | 30 | |
| 7 | 86 | Wildlife and Animals | 1985-10-15 | 30 | |
| 8 | 87 | Outer Space | 1985-10-14 | 30 | |
| 9 | 88 | World Records | 1985-10-16 | 30 | |
| 10 | 89 | Movies | 1985-11-15 | 30 | |
Season 7
| Episode No. | No. Overall | Title | Airdate | Runtime | Summary |
| --- | --- | --- | --- | --- | --- |
| 1 | 90 | Fairy Tales, Myths, and Legends | 1986-01-01 | 30 | |
| 2 | 91 | Pop Music | 1986-01-01 | 30 | |
| 3 | 92 | Know-It-Alls | 1986-01-01 | 30 | |
| 4 | 93 | Parties | 1986-01-01 | 30 | |
| 5 | 94 | Garbage | 1986-01-01 | 30 | |
| 6 | 95 | TV Commercials | 1986-08-18 | 30 | |
| 7 | 96 | Country | 1986-08-19 | 30 | |
| 8 | 97 | Back to School | 1986-08-20 | 30 | |
| 9 | 98 | Illness | 1986-08-21 | 30 | |
| 10 | 99 | Enemies & Paranoia | 1986-08-22 | 30 | |
| 11 | 100 | Savings | 1987-01-02 | 30 | |
| 12 | 101 | Contests | 1987-01-01 | 30 | |
| 13 | 102 | Censorship | 1987-01-01 | 30 | |
| 14 | 103 | Poverty and Unemployment | 1987-01-01 | 30 | |
| 15 | 104 | Luck | 1987-01-01 | 30 | |
| 16 | 105 | Part-Time Jobs | 1987-01-01 | 30 | |
| 17 | 106 | Sleep | 1986-12-29 | 30 | |
| 18 | 107 | Home | 1986-12-30 | 30 | |
| 19 | 108 | Discipline | 1987-01-01 | 30 | |
| 20 | 109 | Mysteries and Crimes | 1986-12-31 | 30 | |
Season 8
| Episode No. | No. Overall | Title | Airdate | Runtime | Summary |
| --- | --- | --- | --- | --- | --- |
| 1 | 110 | Books and Reading | 1987-01-01 | 30 | |
| 2 | 111 | Adoption | 1987-01-01 | 30 | |
| 3 | 112 | City Life | 1987-01-01 | 30 | |
| 4 | 113 | Anniversaries | 1987-01-01 | 30 | |
| 5 | 114 | Smells | 1987-01-01 | 30 | |
Season 9
| Episode No. | No. Overall | Title | Airdate | Runtime | Summary |
| --- | --- | --- | --- | --- | --- |
| 1 | 115 | Choice | 1989-01-01 | 30 | |
| 2 | 116 | Chores | 1989-01-01 | 30 | |
| 3 | 117 | Communication | 1989-01-01 | 30 | |
| 4 | 118 | Fitness | 1989-01-01 | 30 | |
| 5 | 119 | Malfunctions | 1989-01-01 | 30 | |
| 6 | 120 | Cleanliness | 1989-01-01 | 30 | |
| 7 | 121 | Security | 1989-01-01 | 30 | |
| 8 | 122 | Pollution | 1989-01-01 | 30 | |
| 9 | 123 | Fantasy | 1989-01-01 | 30 | |
| 10 | 124 | Time | 1989-01-01 | 30 | |
| 11 | 125 | Mistakes | 1989-01-01 | 30 | |
| 12 | 126 | Punishments | 1989-01-01 | 30 | |
| 13 | 127 | Beliefs | 1989-01-01 | 30 | |
| 14 | 128 | Age | 1989-01-01 | 30 | |
| 15 | 129 | Excess | 1989-01-01 | 30 | |
| 16 | 130 | Cool | 1989-01-01 | 30 | |
| 17 | 131 | Lost | 1989-01-01 | 30 | |
| 18 | 132 | Failure | 1989-01-01 | 30 | |
| 19 | 133 | First Times | 1989-01-01 | 30 | |
| 20 | 134 | Celebrations | 1989-01-01 | 30 | |
| 21 | 135 | Effort | 1989-01-01 | 30 | |
| 22 | 136 | Sports | 1989-01-01 | 30 | |
| 23 | 137 | Smoking | 1989-01-01 | 30 | |
| 24 | 138 | Generosity | 1989-01-01 | 30 | |
| 25 | 139 | Embarrassment | 1989-01-01 | 30 | |
Season 10
| Episode No. | No. Overall | Title | Airdate | Runtime | Summary |
| --- | --- | --- | --- | --- | --- |
| 1 | 140 | Blame | 1990-01-01 | 30 | |
| 2 | 141 | Secrets | 1990-01-01 | 30 | |
| 3 | 142 | Learning | 1990-01-01 | 30 | |
| 4 | 143 | Privileges | 1990-01-01 | 30 | |
| 5 | 144 | Inventions | 1990-01-01 | 30 | |
Series Cast
| | | | |
| --- | --- | --- | --- |
| | Les Lye | as Barth / Ross Ewich / Senator Lance Prevort / Mr. Schidtler / Various Characters | |
Related News
TVMaze