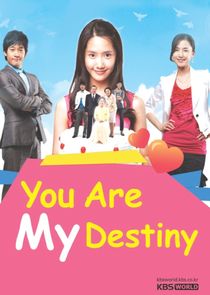 Jang Sae Byuk is a a girl who tries to find a new meaning in life after she receives an eye cornea transplant from the doctor that took care of her after her accident. That doctor, Kim Na Young, died in a car accident on her way back from Africa. Sae Byuk becomes close with the Na Young's family after finding them. The family slowly accepts her as part of the family. Kang Ho Se and Kim Tae Poong, Na Young's twin brother, have disliked each other since they were young kids. This is mostly Tae Poong hates Ho Se because Ho Se's family was rich and because Tae Poong's father was Ho Se's father's driver and his mother was the maid.
Series Overview
Rating
imDb Rating: 7.4 (34 Votes)
Metascore: N/A
Plot
The story of four families and their differences with each other. But things start to change when a young orphan girl enters their lives.
Details
Rated: N/A
Released: 05 May 2008
Runtime: N/A
Genre: Drama, Family, Romance
Director: N/A
Writer: N/A
Actors: Yoona, Jeong-Nam Kim, Hye-suk Lee, Ji-Hoon Lee
Language: Korean
Country: South Korea
Awards: 2 wins.
Total Seasons: 1
Previous Episode
Episode 178
Episode 1x178; Jan 09, 2009
Previous Episodes 1x178: Episode 178 1x177: Episode 177 1x176: Episode 176 1x175: Episode 175 1x174: Episode 174 1x173: Episode 173 1x172: Episode 172 1x171: Episode 171 1x170: Episode 170

View All Episodes
Cast
Lee Seol Ah as Kang Yu Ri
Choi Won Young as Nam Gyeong Woo
Lee Ji Hoon as Kim Tae Poong
Park Jae Jung as Kang Ho Se
Lee Pil Mo as Kim Tae Young
YoonA as Jang Sae Byuk
View Full Cast
Recent News
What's on TV this week: 'Mr. Robot'
This weekend Mr. Robot returns for its fourth and final season on USA, but it's not the only thing worth watching. The Walking Dead is back for season number ten, while Netflix presents a new series Raising Dion, as well as new seasons of Big Mouth and Peaky …
SAP's Bill McDermott on stepping down as CEO
SAP's CEO Bill McDermott today announced that he wouldn't seek to renew his contract for the next year and step down immediately after nine years at the helm of the German enterprise giant. Shortly after the announcement, I talked to McDermott, as well as SAP…
Can I use my Destiny 2 character in New Light?
Best answer: Absolutely! Returning players with old characters get access to all of the free content that Destiny 2: New Light brings. Latest expansion: Destiny 2: Shadowkeep ($35 at PlayStation Store) Previous expansion: Destiny 2: Forsaken ($25 at PlayStati…
via NewsAPI
View More Related News
Skip to:
Season 1
| Episode No. | No. Overall | Title | Airdate | Runtime | Summary |
| --- | --- | --- | --- | --- | --- |
| 1 | 1 | Episode 1 | 2008-05-05 | 35 | |
| 2 | 2 | Episode 2 | 2008-05-06 | 35 | |
| 3 | 3 | Episode 3 | 2008-05-07 | 35 | |
| 4 | 4 | Episode 4 | 2008-05-08 | 35 | |
| 5 | 5 | Episode 5 | 2008-05-09 | 35 | |
| 6 | 6 | Episode 6 | 2008-05-12 | 35 | |
| 7 | 7 | Episode 7 | 2008-05-13 | 35 | |
| 8 | 8 | Episode 8 | 2008-05-14 | 35 | |
| 9 | 9 | Episode 9 | 2008-05-15 | 35 | |
| 10 | 10 | Episode 10 | 2008-05-16 | 35 | |
| 11 | 11 | Episode 11 | 2008-05-19 | 35 | |
| 12 | 12 | Episode 12 | 2008-05-20 | 35 | |
| 13 | 13 | Episode 13 | 2008-05-21 | 35 | |
| 14 | 14 | Episode 14 | 2008-05-22 | 35 | |
| 15 | 15 | Episode 15 | 2008-05-23 | 35 | |
| 16 | 16 | Episode 16 | 2008-05-26 | 35 | |
| 17 | 17 | Episode 17 | 2008-05-27 | 35 | |
| 18 | 18 | Episode 18 | 2008-05-28 | 35 | |
| 19 | 19 | Episode 19 | 2008-05-29 | 35 | |
| 20 | 20 | Episode 20 | 2008-05-30 | 35 | |
| 21 | 21 | Episode 21 | 2008-06-02 | 35 | |
| 22 | 22 | Episode 22 | 2008-06-03 | 35 | |
| 23 | 23 | Episode 23 | 2008-06-04 | 35 | |
| 24 | 24 | Episode 24 | 2008-06-05 | 35 | |
| 25 | 25 | Episode 25 | 2008-06-06 | 35 | |
| 26 | 26 | Episode 26 | 2008-06-09 | 35 | |
| 27 | 27 | Episode 27 | 2008-06-10 | 35 | |
| 28 | 28 | Episode 28 | 2008-06-11 | 35 | |
| 29 | 29 | Episode 29 | 2008-06-12 | 35 | |
| 30 | 30 | Episode 30 | 2008-06-13 | 35 | |
| 31 | 31 | Episode 31 | 2008-06-16 | 35 | |
| 32 | 32 | Episode 32 | 2008-06-17 | 35 | |
| 33 | 33 | Episode 33 | 2008-06-18 | 35 | |
| 34 | 34 | Episode 34 | 2008-06-19 | 35 | |
| 35 | 35 | Episode 35 | 2008-06-20 | 35 | |
| 36 | 36 | Episode 36 | 2008-06-23 | 35 | |
| 37 | 37 | Episode 37 | 2008-06-24 | 35 | |
| 38 | 38 | Episode 38 | 2008-06-25 | 35 | |
| 39 | 39 | Episode 39 | 2008-06-26 | 35 | |
| 40 | 40 | Episode 40 | 2008-06-27 | 35 | |
| 41 | 41 | Episode 41 | 2008-06-30 | 35 | |
| 42 | 42 | Episode 42 | 2008-07-01 | 35 | |
| 43 | 43 | Episode 43 | 2008-07-02 | 35 | |
| 44 | 44 | Episode 44 | 2008-07-03 | 35 | |
| 45 | 45 | Episode 45 | 2008-07-04 | 35 | |
| 46 | 46 | Episode 46 | 2008-07-07 | 35 | |
| 47 | 47 | Episode 47 | 2008-07-08 | 35 | |
| 48 | 48 | Episode 48 | 2008-07-09 | 35 | |
| 49 | 49 | Episode 49 | 2008-07-10 | 35 | |
| 50 | 50 | Episode 50 | 2008-07-11 | 35 | |
| 51 | 51 | Episode 51 | 2008-07-14 | 35 | |
| 52 | 52 | Episode 52 | 2008-07-15 | 35 | |
| 53 | 53 | Episode 53 | 2008-07-16 | 35 | |
| 54 | 54 | Episode 54 | 2008-07-17 | 35 | |
| 55 | 55 | Episode 55 | 2008-07-18 | 35 | |
| 56 | 56 | Episode 56 | 2008-07-21 | 35 | |
| 57 | 57 | Episode 57 | 2008-07-22 | 35 | |
| 58 | 58 | Episode 58 | 2008-07-23 | 35 | |
| 59 | 59 | Episode 59 | 2008-07-24 | 35 | |
| 60 | 60 | Episode 60 | 2008-07-25 | 35 | |
| 61 | 61 | Episode 61 | 2008-07-28 | 35 | |
| 62 | 62 | Episode 62 | 2008-07-29 | 35 | |
| 63 | 63 | Episode 63 | 2008-07-30 | 35 | |
| 64 | 64 | Episode 64 | 2008-07-31 | 35 | |
| 65 | 65 | Episode 65 | 2008-08-01 | 35 | |
| 66 | 66 | Episode 66 | 2008-08-04 | 35 | |
| 67 | 67 | Episode 67 | 2008-08-05 | 35 | |
| 68 | 68 | Episode 68 | 2008-08-06 | 35 | |
| 69 | 69 | Episode 69 | 2008-08-07 | 35 | |
| 70 | 70 | Episode 70 | 2008-08-08 | 35 | |
| 71 | 71 | Episode 71 | 2008-08-11 | 35 | |
| 72 | 72 | Episode 72 | 2008-08-12 | 35 | |
| 73 | 73 | Episode 73 | 2008-08-13 | 35 | |
| 74 | 74 | Episode 74 | 2008-08-14 | 35 | |
| 75 | 75 | Episode 75 | 2008-08-15 | 35 | |
| 76 | 76 | Episode 76 | 2008-08-18 | 35 | |
| 77 | 77 | Episode 77 | 2008-08-19 | 35 | |
| 78 | 78 | Episode 78 | 2008-08-20 | 35 | |
| 79 | 79 | Episode 79 | 2008-08-21 | 35 | |
| 80 | 80 | Episode 80 | 2008-08-22 | 35 | |
| 81 | 81 | Episode 81 | 2008-08-25 | 35 | |
| 82 | 82 | Episode 82 | 2008-08-26 | 35 | |
| 83 | 83 | Episode 83 | 2008-08-27 | 35 | |
| 84 | 84 | Episode 84 | 2008-08-28 | 35 | |
| 85 | 85 | Episode 85 | 2008-08-29 | 35 | |
| 86 | 86 | Episode 86 | 2008-09-01 | 35 | |
| 87 | 87 | Episode 87 | 2008-09-02 | 35 | |
| 88 | 88 | Episode 88 | 2008-09-03 | 35 | |
| 89 | 89 | Episode 89 | 2008-09-04 | 35 | |
| 90 | 90 | Episode 90 | 2008-09-05 | 35 | |
| 91 | 91 | Episode 91 | 2008-09-08 | 35 | |
| 92 | 92 | Episode 92 | 2008-09-09 | 35 | |
| 93 | 93 | Episode 93 | 2008-09-10 | 35 | |
| 94 | 94 | Episode 94 | 2008-09-11 | 35 | |
| 95 | 95 | Episode 95 | 2008-09-12 | 35 | |
| 96 | 96 | Episode 96 | 2008-09-15 | 35 | |
| 97 | 97 | Episode 97 | 2008-09-16 | 35 | |
| 98 | 98 | Episode 98 | 2008-09-17 | 35 | |
| 99 | 99 | Episode 99 | 2008-09-18 | 35 | |
| 100 | 100 | Episode 100 | 2008-09-19 | 35 | |
| 101 | 101 | Episode 101 | 2008-09-22 | 35 | |
| 102 | 102 | Episode 102 | 2008-09-23 | 35 | |
| 103 | 103 | Episode 103 | 2008-09-24 | 35 | |
| 104 | 104 | Episode 104 | 2008-09-25 | 35 | |
| 105 | 105 | Episode 105 | 2008-09-26 | 35 | |
| 106 | 106 | Episode 106 | 2008-09-29 | 35 | |
| 107 | 107 | Episode 107 | 2008-09-30 | 35 | |
| 108 | 108 | Episode 108 | 2008-10-01 | 35 | |
| 109 | 109 | Episode 109 | 2008-10-02 | 35 | |
| 110 | 110 | Episode 110 | 2008-10-03 | 35 | |
| 111 | 111 | Episode 111 | 2008-10-06 | 35 | |
| 112 | 112 | Episode 112 | 2008-10-07 | 35 | |
| 113 | 113 | Episode 113 | 2008-10-08 | 35 | |
| 114 | 114 | Episode 114 | 2008-10-09 | 35 | |
| 115 | 115 | Episode 115 | 2008-10-10 | 35 | |
| 116 | 116 | Episode 116 | 2008-10-13 | 35 | |
| 117 | 117 | Episode 117 | 2008-10-14 | 35 | |
| 118 | 118 | Episode 118 | 2008-10-15 | 35 | |
| 119 | 119 | Episode 119 | 2008-10-16 | 35 | |
| 120 | 120 | Episode 120 | 2008-10-17 | 35 | |
| 121 | 121 | Episode 121 | 2008-10-20 | 35 | |
| 122 | 122 | Episode 122 | 2008-10-21 | 35 | |
| 123 | 123 | Episode 123 | 2008-10-22 | 35 | |
| 124 | 124 | Episode 124 | 2008-10-23 | 35 | |
| 125 | 125 | Episode 125 | 2008-10-24 | 35 | |
| 126 | 126 | Episode 126 | 2008-10-27 | 35 | |
| 127 | 127 | Episode 127 | 2008-10-28 | 35 | |
| 128 | 128 | Episode 128 | 2008-10-29 | 35 | |
| 129 | 129 | Episode 129 | 2008-10-30 | 35 | |
| 130 | 130 | Episode 130 | 2008-10-31 | 35 | |
| 131 | 131 | Episode 131 | 2008-11-03 | 35 | |
| 132 | 132 | Episode 132 | 2008-11-04 | 35 | |
| 133 | 133 | Episode 133 | 2008-11-05 | 35 | |
| 134 | 134 | Episode 134 | 2008-11-06 | 35 | |
| 135 | 135 | Episode 135 | 2008-11-07 | 35 | |
| 136 | 136 | Episode 136 | 2008-11-10 | 35 | |
| 137 | 137 | Episode 137 | 2008-11-11 | 35 | |
| 138 | 138 | Episode 138 | 2008-11-12 | 35 | |
| 139 | 139 | Episode 139 | 2008-11-13 | 35 | |
| 140 | 140 | Episode 140 | 2008-11-14 | 35 | |
| 141 | 141 | Episode 141 | 2008-11-17 | 35 | |
| 142 | 142 | Episode 142 | 2008-11-18 | 35 | |
| 143 | 143 | Episode 143 | 2008-11-19 | 35 | |
| 144 | 144 | Episode 144 | 2008-11-20 | 35 | |
| 145 | 145 | Episode 14 | 2008-11-21 | 35 | |
| 146 | 146 | Episode 146 | 2008-11-24 | 35 | |
| 147 | 147 | Episode 147 | 2008-11-25 | 35 | |
| 148 | 148 | Episode 148 | 2008-11-26 | 35 | |
| 149 | 149 | Episode 149 | 2008-11-27 | 35 | |
| 150 | 150 | Episode 150 | 2008-11-28 | 35 | |
| 151 | 151 | Episode 151 | 2008-12-01 | 35 | |
| 152 | 152 | Episode 152 | 2008-12-02 | 35 | |
| 153 | 153 | Episode 153 | 2008-12-03 | 35 | |
| 154 | 154 | Episode 154 | 2008-12-04 | 35 | |
| 155 | 155 | Episode 155 | 2008-12-05 | 35 | |
| 156 | 156 | Episode 156 | 2008-12-08 | 35 | |
| 157 | 157 | Episode 157 | 2008-12-09 | 35 | |
| 158 | 158 | Episode 158 | 2008-12-10 | 35 | |
| 159 | 159 | Episode 159 | 2008-12-11 | 35 | |
| 160 | 160 | Episode 160 | 2008-12-12 | 35 | |
| 161 | 161 | Episode 161 | 2008-12-15 | 35 | |
| 162 | 162 | Episode 162 | 2008-12-16 | 35 | |
| 163 | 163 | Episode 163 | 2008-12-17 | 35 | |
| 164 | 164 | Episode 164 | 2008-12-18 | 35 | |
| 165 | 165 | Episode 165 | 2008-12-19 | 35 | |
| 166 | 166 | Episode 166 | 2008-12-22 | 35 | |
| 167 | 167 | Episode 167 | 2008-12-23 | 35 | |
| 168 | 168 | Episode 168 | 2008-12-24 | 35 | |
| 169 | 169 | Episode 169 | 2008-12-29 | 35 | |
| 170 | 170 | Episode 170 | 2008-12-30 | 35 | |
| 171 | 171 | Episode 171 | 2008-12-31 | 35 | |
| 172 | 172 | Episode 172 | 2009-01-01 | 35 | |
| 173 | 173 | Episode 173 | 2009-01-02 | 35 | |
| 174 | 174 | Episode 174 | 2009-01-05 | 35 | |
| 175 | 175 | Episode 175 | 2009-01-06 | 35 | |
| 176 | 176 | Episode 176 | 2009-01-07 | 35 | |
| 177 | 177 | Episode 177 | 2009-01-08 | 35 | |
| 178 | 178 | Episode 178 | 2009-01-09 | 35 | |
Series Cast
| | | | |
| --- | --- | --- | --- |
| | Lee Seol Ah | as Kang Yu Ri | |
| | Choi Won Young | as Nam Gyeong Woo | |
| | Lee Ji Hoon | as Kim Tae Poong | |
| | Park Jae Jung | as Kang Ho Se | |
| | Lee Pil Mo | as Kim Tae Young | |
| | YoonA | as Jang Sae Byuk | |
| | Kim Jung Nan | as Ban So Young | |
| | Gong Hyun Joo | as Kim Soo Bin | |
Related News
TVMaze