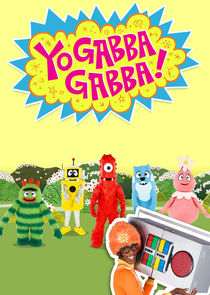 In the tradition of Barney and Friends, Yo Gabba Gabba! is a fun way for your young children to learn. Aimed at ages one and up, this DJ Lance Rock-hosted show features friendly toy monsters like Muno, Foofa the pink flower bubble, Plex the robot, Toodee the blue cat-dragon, and Brobee the green little one; in cheery, colorful environments filled with music, dance, life lessons and colorful cartoons.
Series Overview
Rating
imDb Rating: 6.7 (1,240 Votes)
Metascore: N/A
Plot
Yo Gabba Gabba! is a fun live-action program for young children ages 1 and up. Join our host DJ Lance Rock as he introduces us to friendly toy monsters in a magical land full of music, ...
Details
Rated: TV-Y
Released: 20 Aug 2007
Runtime: 23 min
Genre: Comedy, Drama, Family, Music
Director: N/A
Writer: Christian Jacobs, Scott Schultz
Actors: Lance Robertson, Amos Watene, Adam Deibert, Emma Jacobs
Language: English
Country: USA
Awards: 5 wins & 15 nominations.
Total Seasons: 6
Previous Episode
Quest
Episode 4x13; Nov 12, 2015
The Gabba Land gang puts on enchanted costumes and embarks on a musical quest.
Previous Episodes 4x13: Quest 4x12: Mermaids 4x11: Show 4x10: Restaurant 4x9: Day Camp 4x8: Dinosaur 4x7: Shopping 4x6: DJ Lance's Super Music & Toy Room 4x5: Farm

View All Episodes
Skip to:
Season 1
| Episode No. | No. Overall | Title | Airdate | Runtime | Summary |
| --- | --- | --- | --- | --- | --- |
| 1 | 1 | Eat | 2007-08-20 | 30 | |
| 2 | 2 | Summer | 2007-08-21 | 30 | |
| 3 | 3 | Fun | 2007-08-23 | 30 | |
| 4 | 4 | Dance | 2007-08-24 | 30 | |
| 5 | 5 | Sleep | 2007-08-27 | 30 | |
| 6 | 6 | Happy | 2008-08-28 | 30 | |
| 7 | 7 | Friends | 2007-08-29 | 30 | |
| 8 | 8 | Careful | 2007-08-30 | 30 | |
| 9 | 9 | Move | 2007-09-24 | 30 | |
| 10 | 10 | Greetings | 2007-09-25 | 30 | |
| 11 | 11 | Together | 2007-09-26 | 30 | |
| 12 | 12 | Scary | 2007-09-27 | 30 | |
| 13 | 13 | Halloween | 2007-10-29 | 30 | |
| 14 | 14 | Car | 2007-11-26 | 30 | |
| 15 | 15 | Share | 2007-11-27 | 30 | |
| 16 | 16 | Find | 2007-11-28 | 30 | |
| 17 | 17 | Train | 2007-11-29 | 30 | |
| 18 | 18 | Christmas | 2007-12-21 | 30 | |
| 19 | 19 | Love | 2008-02-14 | 30 | |
| 20 | 20 | Imagine | 2008-05-23 | 30 | |
Season 2
| Episode No. | No. Overall | Title | Airdate | Runtime | Summary |
| --- | --- | --- | --- | --- | --- |
| 1 | 21 | Birthday | 2008-09-22 | 30 | |
| 2 | 22 | Games | 2008-09-23 | 30 | |
| 3 | 23 | Talent | 2008-09-24 | 30 | |
| 4 | 24 | Animals | 2008-09-25 | 30 | |
| 5 | 25 | Weather | 2008-10-20 | 30 | |
| 6 | 26 | Differences | 2008-10-21 | 30 | |
| 7 | 27 | Robot | 2008-10-22 | 30 | |
| 8 | 28 | Teeth | 2008-10-23 | 30 | |
| 9 | 29 | Clean | 2009-02-27 | 30 | |
| 10 | 30 | New Friends | 2009-04-03 | 30 | |
| 11 | 31 | Green | 2009-04-22 | 30 | |
| 12 | 32 | Family | 2009-10-12 | 30 | |
| 13 | 33 | Ride | 2011-02-10 | 30 | |
| 14 | 34 | Boat | 2009-10-14 | 30 | |
| 15 | 35 | Band | 2009-10-15 | 30 | |
| 16 | 36 | Dress Up | 2009-10-16 | 30 | |
| 17 | 37 | Big | 2009-10-16 | 30 | |
| 18 | 38 | Mystery | 2010-02-01 | 30 | |
| 19 | 39 | Space | 2010-02-08 | 30 | |
| 20 | 40 | Art | 2009-10-13 | 30 | |
Season 3
| Episode No. | No. Overall | Title | Airdate | Runtime | Summary |
| --- | --- | --- | --- | --- | --- |
| 1 | 41 | Circus | 2010-03-08 | 30 | |
| 2 | 42 | Bugs | 2010-03-09 | 30 | |
| 3 | 43 | Doctor | 2010-03-10 | 30 | |
| 4 | 44 | Superhero | 2010-03-11 | 30 | |
| 5 | 45 | Baby | 2010-05-07 | 30 | |
| 6 | 46 | Pets | 2010-09-10 | 30 | |
| 7 | 47 | School | 2010-09-19 | 30 | |
| 8 | 48 | Adventure | 2011-02-07 | 30 | |
| 9 | 49 | Nature | 2011-02-08 | 30 | |
| 10 | 50 | Flying | 2011-02-09 | 30 | |
| 11 | 51 | Clubhouse | 2011-05-08 | 30 | |
| 12 | 52 | Fairy Tale | 2011-05-09 | 30 | |
| 13 | 53 | Treasure | 2011-09-08 | 30 | |
Season 4
| Episode No. | No. Overall | Title | Airdate | Runtime | Summary |
| --- | --- | --- | --- | --- | --- |
| 1 | 54 | A Very Awesome Christmas | 2011-12-18 | 30 | |
| 2 | 55 | Super Spies | 2012-04-17 | 30 | |
| 3 | 56 | Olympics | 2012-08-19 | 30 | |
| 4 | 57 | Gooble | 2012-10-28 | 30 | |
| 5 | 58 | Farm | 2013-07-26 | 30 | |
| 6 | 59 | DJ Lance's Super Music & Toy Room | 2013-12-07 | 30 | |
| 7 | 60 | Shopping | 2015-01-03 | 30 | |
| 8 | 61 | Dinosaur | 2015-01-03 | 30 | |
| 9 | 62 | Day Camp | 2015-01-10 | 30 | |
| 10 | 63 | Restaurant | 2015-01-10 | 30 | |
| 11 | 64 | Show | 2015-11-09 | 30 | The Gabba friends visit the Swami on the set of Super Music Friends Show. |
| 12 | 65 | Mermaids | 2015-11-11 | 30 | Foofa and Toodee become mermaids and go on an underwater adventure with Tammy the mermaid. |
| 13 | 66 | Quest | 2015-11-12 | 30 | The Gabba Land gang puts on enchanted costumes and embarks on a musical quest. |
Season 5
| Episode No. | No. Overall | Title | Airdate | Runtime | Summary |
| --- | --- | --- | --- | --- | --- |
Season 6
| Episode No. | No. Overall | Title | Airdate | Runtime | Summary |
| --- | --- | --- | --- | --- | --- |
Related News
TVMaze