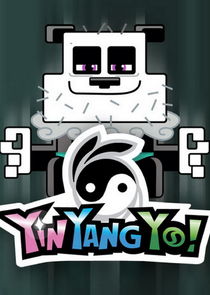 Two rabbit siblings named Yin and Yang have been trained to use super hero abilities, such as kung fu and magic, to defeat enemies, such as an evil cockroach, and a sexist moose. With the help of their leader Master Yo, the old, arrogant panda, they plan to use the way of Woo Foo to save the world from evil.
Series Overview
Rating
imDb Rating: 6.0 (2,049 Votes)
Metascore: N/A
Plot
Two rabbit siblings are trained by their panda mentor in the mystic martial art of Woo-Foo, in hopes that they can protect the world from ever-present evil forces.
Details
Rated: TV-G
Released: 26 Aug 2006
Runtime: 10 min
Genre: Animation, Short, Action, Adventure, Comedy, Family, Fantasy, Sci-Fi
Director: N/A
Writer: Bob Boyle
Actors: Stephanie Morgenstern, Scott McCord, Martin Roach, Jamie Watson
Language: English
Country: USA, Canada
Awards: 1 nomination.
Total Seasons: 2
Previous Episode
Yin, Yang...Who?
Episode 2x39; Apr 18, 2009
Previous Episodes 2x39: Yin, Yang...Who? 2x38: Division Quest 2x37: Yin! Yang! You! 2x36: Party Troopers / Shadowcluck 2x35: Clothes Encounters / Commander-in-Cheat 2x34: Mind Games / The Carl of the Wild 2x33: Unmoving Pictures / The Recline and Fall of Civilization 2x32: Roboticus Maximus / Size Matters 2x31: Extra Cheese, Anchovies and Doom! / The Confidence Game

View All Episodes
Skip to:
Season 1
| Episode No. | No. Overall | Title | Airdate | Runtime | Summary |
| --- | --- | --- | --- | --- | --- |
| 1 | 1 | Dojo, Oh No! / Finding Hershel | 2006-08-26 | 10 | |
| 2 | 2 | 600 Channels of Doom! / An Oldie But a Goodie | 2006-09-04 | 10 | |
| 3 | 3 | Yin! Yang! Yuck! / Beetlemania | 2006-09-04 | 10 | |
| 4 | 4 | Enter: The Ant / Sweet Stench of Love | 2006-09-04 | 10 | |
| 5 | 5 | Woo Foo Flu / The Imagination Situation | 2006-09-04 | 10 | |
| 6 | 6 | Too Much Yangformation / Aura... or Not | 2006-09-05 | 10 | |
| 7 | 7 | Falling Yin Love / On Golden Pondscum | 2006-09-06 | 10 | |
| 8 | 8 | Old School / A Toy's Story | 2006-09-07 | 10 | |
| 9 | 9 | The Trouble with Two-ni-corns / Scarf It Up! | 2006-09-08 | 10 | |
| 10 | 10 | Return of the Night Master | 2006-10-02 | 10 | |
| 11 | 11 | My Stupid Sword / Neat Freak | 2006-10-09 | 10 | |
| 12 | 12 | The High She-as / A Match Not Made in Heaven | 2006-10-16 | 10 | |
| 13 | 13 | Scary Scary Quite Contrary / How the Cookie Crumbles | 2006-10-23 | 10 | |
| 14 | 14 | The Yin of Yang / Shopping Sprawl | 2006-10-30 | 10 | |
| 15 | 15 | Wubble in Paradise / Dictator of the Year | 2006-11-13 | 10 | |
| 16 | 16 | Master Dave / Destination Danger | 2006-11-20 | 10 | |
| 17 | 17 | Bad Nanny Jamma / Pros and Cons | 2006-11-27 | 10 | |
| 18 | 18 | The Gig is Up / Doomed to Repeat It | 2006-12-11 | 10 | |
| 19 | 19 | Family Day / The Hex of the Ex | 2006-12-18 | 10 | |
| 20 | 20 | Out on a Pledge / Dojo Alone | 2007-02-05 | 10 | |
| 21 | 21 | Attack of the Lesson / A Case of Evils | 2007-02-09 | 10 | |
| 22 | 22 | Attack of the Vidiots / Fit to Be Tried | 2007-02-19 | 10 | |
| 23 | 23 | Voyage to the Center of the Yo / Sitting Shaggler | 2007-03-05 | 10 | |
| 24 | 24 | Shadows and Light / The Truth Hurts | 2007-04-02 | 10 | |
| 25 | 25 | Who Knows What Evil Lurks | 2007-04-09 | 10 | |
| 26 | 26 | Night Fall | 2007-04-30 | 10 | |
Season 2
| Episode No. | No. Overall | Title | Airdate | Runtime | Summary |
| --- | --- | --- | --- | --- | --- |
| 1 | 27 | The Pecking Order / Party Favors | 2008-01-01 | 10 | |
| 2 | 28 | Smoke and Mirrors / Yin-credible! | 2008-01-21 | 10 | |
| 3 | 29 | Brain Drain / The Big Payback | 2008-01-28 | 10 | |
| 4 | 30 | Imperfect Fooplicates / Messy Relationships | 2008-02-04 | 10 | |
| 5 | 31 | A Bad Case of the Buglies / Control Issues | 2008-02-11 | 10 | |
| 6 | 32 | Foreign Exchange Problem / Turnabout | 2008-02-18 | 10 | |
| 7 | 33 | The Manotaur / League of Evil | 2008-02-25 | 10 | |
| 8 | 34 | This Yang Isn't Brought to You By... / Stuck | 2008-03-03 | 10 | |
| 9 | 35 | Deja Foo | 2008-03-10 | 10 | |
| 10 | 36 | Gone-a-Fowl | 2008-04-07 | 10 | |
| 11 | 37 | Basic Yin-stinct / Fighting Fooberty | 2008-04-14 | 10 | |
| 12 | 38 | Yin Yang Carl / Smorks | 2008-04-20 | 10 | |
| 13 | 39 | Wonder Tweens Go! / Touchy Feelings | 2008-04-28 | 10 | |
| 14 | 40 | O'Brother There Art Thou / Roger... Over and Out | 2008-05-05 | 10 | |
| 15 | 41 | An Inconvenient Tooth / Situation Tragedy | 2008-06-16 | 10 | |
| 16 | 42 | Skirting the Issue / Moon Over My Yinnie | 2008-06-23 | 10 | |
| 17 | 43 | Clown-Fu Fighting / Cat Smash Fever | 2008-06-30 | 10 | |
| 18 | 44 | Camp Magic Pants / Worked Stiff | 2008-07-07 | 10 | |
| 19 | 45 | Mission Yinpossible / Disapp-Eared | 2008-07-14 | 10 | |
| 20 | 46 | Get Off My Back / Slumber Party of Doom | 2008-07-21 | 10 | |
| 21 | 47 | Old Softie / Dance, Dance Devastation | 2008-07-28 | 10 | |
| 22 | 48 | Upstanding Yuck / A Walk in the Woods | 2008-08-04 | 10 | |
| 23 | 49 | Welcome to the Dark Tomorrow | 2008-08-11 | 10 | |
| 24 | 50 | Today You Are a Bear? / Pets Peeved | 2008-08-18 | 10 | |
| 25 | 51 | For the Love of Clamboy / Zarnot's Girlfriend | 2008-08-28 | 10 | |
| 26 | 52 | The Secret Life of Possum Panda / Dummy Up | 2008-09-29 | 10 | |
| 27 | 53 | The Howl of the Weenie | 2008-10-13 | 10 | |
| 28 | 54 | Game Over / Creeping with the Enemy | 2008-10-27 | 10 | |
| 29 | 55 | The Yindianapolis 500 / Personality Problem | 2008-11-10 | 10 | |
| 30 | 56 | Season's Beatings / Splitting Hares | 2008-11-24 | 10 | |
| 31 | 57 | Extra Cheese, Anchovies and Doom! / The Confidence Game | 2009-02-14 | 10 | |
| 32 | 58 | Roboticus Maximus / Size Matters | 2009-02-21 | 10 | |
| 33 | 59 | Unmoving Pictures / The Recline and Fall of Civilization | 2009-02-28 | 10 | |
| 34 | 60 | Mind Games / The Carl of the Wild | 2009-03-07 | 10 | |
| 35 | 61 | Clothes Encounters / Commander-in-Cheat | 2009-03-14 | 10 | |
| 36 | 62 | Party Troopers / Shadowcluck | 2009-03-21 | 10 | |
| 37 | 63 | Yin! Yang! You! | 2009-04-05 | 10 | |
| 38 | 64 | Division Quest | 2009-04-11 | 10 | |
| 39 | 65 | Yin, Yang...Who? | 2009-04-18 | 10 | |
Related News
TVMaze