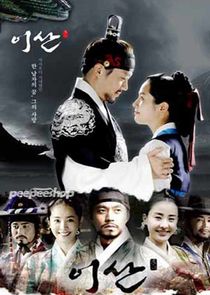 A stunning historical epic chronicling the life of one of Korea's greatest rulers, Yi San tells the story of King Jeongjo, or Yi San, the 22nd ruler of the Joseon Dynasty, who is revered in Korean history for his championing of democratic rights for the common man and for his bureaucratic reform. Lee Seo Jin stars in a compelling performance as a king whose natural leadership ability and charismatic presence allow him to become one of Korea's most popular rulers and unite the land during one of the most tumultuous times in the Joseon Era. The story begins when Yi San, a young boy, manages to save his father's life when his father is suspected of treason by the current King, his grandfather. Protecting his father with the help of two friends, Song Yeon and Dae Su, Yi San cannot protect his two friends when their lives are put in danger by a later attempt on his own succession. After helping Yi San prove his innocence in an accusation of treason, Song Yeon's life is threatened, and she is forced to flee the capital with Dae Su. Yi San and Song Yeon do not meet again until years later when she returns to the palace as a damo with the art department. The drama traces Yi San's path through his rise to power, his assumption of the throne, and the constant intrigues and obstacles he surmounts.
Series Overview
Rating
imDb Rating: 8.2 (167 Votes)
Metascore: N/A
Plot
Yi San dramatizes the life of Korea's King Jeongjo, the 22nd ruler of the Joseon Dynasty. Jeongjo is remembered in Korean history for his sympathy with the harsh conditions his people had ...
Details
Rated: N/A
Released: 17 Sep 2007
Runtime: N/A
Genre: Drama, History
Director: N/A
Writer: N/A
Actors: Ji-min Han
Language: Korean
Country: South Korea
Awards: N/A
Total Seasons: 1
Previous Episode
Final Episode
Episode 1x77; Jun 16, 2008
Previous Episodes 1x77: Final Episode 1x76: Episode 76 1x75: Episode 75 1x74: Episode 74 1x73: Episode 73 1x72: Episode 72 1x71: Episode 71 1x70: Episode 70 1x69: Episode 69

View All Episodes
Skip to:
Season 1
| Episode No. | No. Overall | Title | Airdate | Runtime | Summary |
| --- | --- | --- | --- | --- | --- |
| 1 | 1 | Episode 1 | 2007-09-17 | 70 | |
| 2 | 2 | Episode 2 | 2007-09-18 | 70 | |
| 3 | 3 | Episode 3 | 2007-09-24 | 70 | |
| 4 | 4 | Episode 4 | 2007-09-25 | 70 | |
| 5 | 5 | Episode 5 | 2007-10-01 | 70 | |
| 6 | 6 | Episode 6 | 2007-10-02 | 70 | |
| 7 | 7 | Episode 7 | 2007-10-08 | 70 | |
| 8 | 8 | Episode 8 | 2007-10-09 | 70 | |
| 9 | 9 | Episode 9 | 2007-10-15 | 70 | |
| 10 | 10 | Episode 10 | 2007-10-16 | 70 | |
| 11 | 11 | Episode 11 | 2007-10-22 | 70 | |
| 12 | 12 | Episode 12 | 2007-10-23 | 70 | |
| 13 | 13 | Episode 13 | 2007-10-29 | 70 | |
| 14 | 14 | Episode 14 | 2007-10-30 | 70 | |
| 15 | 15 | Episode 15 | 2007-11-05 | 70 | |
| 16 | 16 | Episode 16 | 2007-11-06 | 70 | |
| 17 | 17 | Episode 17 | 2007-11-12 | 70 | |
| 18 | 18 | Episode 18 | 2007-11-13 | 70 | |
| 19 | 19 | Episode 19 | 2007-11-19 | 70 | |
| 20 | 20 | Episode 20 | 2007-11-20 | 70 | |
| 21 | 21 | Episode 21 | 2007-11-26 | 70 | |
| 22 | 22 | Episode 22 | 2007-11-27 | 70 | |
| 23 | 23 | Episode 23 | 2007-12-03 | 70 | |
| 24 | 24 | Episode 24 | 2007-12-04 | 70 | |
| 25 | 25 | Episode 25 | 2007-12-10 | 70 | |
| 26 | 26 | Episode 26 | 2007-12-11 | 70 | |
| 27 | 27 | Episode 27 | 2007-12-17 | 70 | |
| 28 | 28 | Episode 28 | 2007-12-18 | 70 | |
| 29 | 29 | Episode 29 | 2007-12-24 | 70 | |
| 30 | 30 | Episode 30 | 2007-12-25 | 70 | |
| 31 | 31 | Episode 31 | 2007-12-31 | 70 | |
| 32 | 32 | Episode 32 | 2008-01-01 | 70 | |
| 33 | 33 | Episode 33 | 2008-01-07 | 70 | |
| 34 | 34 | Episode 34 | 2008-01-08 | 70 | |
| 35 | 35 | Episode 35 | 2008-01-14 | 70 | |
| 36 | 36 | Episode 36 | 2008-01-15 | 70 | |
| 37 | 37 | Episode 37 | 2008-01-21 | 70 | |
| 38 | 38 | Episode 38 | 2008-01-22 | 70 | |
| 39 | 39 | Episode 39 | 2008-01-28 | 70 | |
| 40 | 40 | Episode 40 | 2008-01-29 | 70 | |
| 41 | 41 | Episode 41 | 2008-02-04 | 70 | |
| 42 | 42 | Episode 42 | 2008-02-11 | 70 | |
| 43 | 43 | Episode 43 | 2008-02-12 | 70 | |
| 44 | 44 | Episode 44 | 2008-02-18 | 70 | |
| 45 | 45 | Episode 45 | 2008-02-19 | 70 | |
| 46 | 46 | Episode 46 | 2008-02-25 | 70 | |
| 47 | 47 | Episode 47 | 2008-02-26 | 70 | |
| 48 | 48 | Episode 48 | 2008-03-03 | 70 | |
| 49 | 49 | Episode 49 | 2008-03-04 | 70 | |
| 50 | 50 | Episode 50 | 2008-03-10 | 70 | |
| 51 | 51 | Episode 51 | 2008-03-11 | 70 | |
| 52 | 52 | Episode 52 | 2008-03-17 | 70 | |
| 53 | 53 | Episode 53 | 2008-03-18 | 70 | |
| 54 | 54 | Episode 54 | 2008-03-24 | 70 | |
| 55 | 55 | Episode 55 | 2008-03-25 | 70 | |
| 56 | 56 | Episode 56 | 2008-03-31 | 70 | |
| 57 | 57 | Episode 57 | 2008-04-01 | 70 | |
| 58 | 58 | Episode 58 | 2008-04-07 | 70 | |
| 59 | 59 | Episode 59 | 2008-04-08 | 70 | |
| 60 | 60 | Episode 60 | 2008-04-14 | 70 | |
| 61 | 61 | Episode 61 | 2008-04-15 | 70 | |
| 62 | 62 | Episode 62 | 2008-04-21 | 70 | |
| 63 | 63 | Episode 63 | 2008-04-22 | 70 | |
| 64 | 64 | Episode 64 | 2008-04-28 | 70 | |
| 65 | 65 | Episode 65 | 2008-04-29 | 70 | |
| 66 | 66 | Episode 66 | 2008-05-05 | 70 | |
| 67 | 67 | Episode 67 | 2008-05-06 | 70 | |
| 68 | 68 | Episode 68 | 2008-05-12 | 70 | |
| 69 | 69 | Episode 69 | 2008-05-13 | 70 | |
| 70 | 70 | Episode 70 | 2008-05-19 | 70 | |
| 71 | 71 | Episode 71 | 2008-05-20 | 70 | |
| 72 | 72 | Episode 72 | 2008-05-26 | 70 | |
| 73 | 73 | Episode 73 | 2008-05-27 | 70 | |
| 74 | 74 | Episode 74 | 2008-06-02 | 70 | |
| 75 | 75 | Episode 75 | 2008-06-03 | 70 | |
| 76 | 76 | Episode 76 | 2008-06-09 | 70 | |
| 77 | 77 | Final Episode | 2008-06-16 | 70 | |
Related News
TVMaze