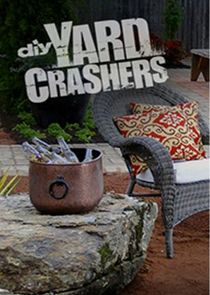 You never know what you'll be bringing home from the home improvement store. You go in for grass seed but come home with new patio chairs and a bag of cement. If you're lucky enough, you could also bring home a professional landscape contractor. On DIY Network's Yard Crashers, expert Chris Lambton waits at stores looking for the perfect weekend warriors who could definitely use his help. Once he finds his target, Chris and his team follow the surprised shoppers home and completely transform their yards.
Series Overview
Rating
imDb Rating: 7.8 (91 Votes)
Metascore: N/A
Plot
Experienced DIY Matt Blashaw fixes up people's backyards for free in just three days.
Details
Rated: TV-G
Released: 07 Apr 2008
Runtime: 30 min
Genre: Reality-TV
Director: N/A
Writer: N/A
Actors: Roger Craig Smith, Ahmed Hassan, Matt Blashaw
Language: English
Country: USA
Awards: N/A
Total Seasons: 17
Previous Episode
Tiki Bar Backyard
Episode 17x15; Jun 24, 2017
Matt and the crew tackle a messy and cluttered backyard filled with with broken patio furniture and uneven pavers, turning it into a space with a custom outdoor kitchen, a rolling Tiki bar and a high-top table.
Previous Episodes 17x15: Tiki Bar Backyard 17x14: Industrial-Modern in the OC 17x13: Hamptons Hangout 17x12: Contemporary Elegance 17x11: Funky Hammock Deck 17x10: Modern Party Pad 17x9: Beer Garden Backyard 17x8: Modern Zen Backyard 17x7: Kansas City Outdoor Room

View All Episodes
Skip to:
Season 1
| Episode No. | No. Overall | Title | Airdate | Runtime | Summary |
| --- | --- | --- | --- | --- | --- |
| 1 | 1 | Backyard Cabana | 2008-04-07 | 30 | |
| 2 | 2 | Poker Patio | 2008-04-10 | 30 | |
| 3 | 3 | Backyard Bocci | 2008-04-21 | 30 | |
| 4 | 4 | Pool Patio | 2008-04-28 | 30 | |
| 5 | 5 | Rock Yard | 2008-05-05 | 30 | |
| 6 | 6 | Outdoor Theater | 2008-05-12 | 30 | |
| 7 | 7 | Floating Deck | 2008-05-19 | 30 | |
| 8 | 8 | Side Yard Swing | 2008-05-26 | 30 | |
| 9 | 9 | Front Door Facelift | 2008-06-02 | 30 | |
| 10 | 10 | Backyard Bar | 2008-06-09 | 30 | |
| 11 | 11 | Draining Patio | 2008-06-23 | 30 | |
| 12 | 12 | Mediterranean Patio | 2008-06-30 | 30 | |
| 13 | 13 | Pizza Patio | 2008-07-30 | 30 | |
Season 2
| Episode No. | No. Overall | Title | Airdate | Runtime | Summary |
| --- | --- | --- | --- | --- | --- |
| 1 | 14 | Bamboo Jungle | 2009-01-01 | 30 | |
| 2 | 15 | Galvanized Gazebo | 2009-01-01 | 30 | |
| 3 | 16 | Small-Space Concrete | 2009-01-01 | 30 | |
| 4 | 17 | Rustic Country Patio | 2009-01-01 | 30 | |
| 5 | 18 | Backyard Brewery | 2009-01-01 | 30 | |
| 6 | 19 | Hot-Tub Hub | 2009-01-01 | 30 | |
| 7 | 20 | Sleepy Creek Bed | 2009-01-01 | 30 | |
| 8 | 21 | Gravel Table | 2009-01-01 | 30 | |
| 9 | 22 | Barbecue Island | 2009-01-01 | 30 | |
| 10 | 23 | Barn Deck | 2009-01-01 | 30 | |
| 11 | 24 | Mosaic Patio | 2009-01-01 | 30 | |
| 12 | 25 | Backyard Living Room | 2009-05-05 | 30 | |
| 13 | 26 | Ultimate French Drain | 2009-05-05 | 30 | |
Season 3
| Episode No. | No. Overall | Title | Airdate | Runtime | Summary |
| --- | --- | --- | --- | --- | --- |
Season 4
| Episode No. | No. Overall | Title | Airdate | Runtime | Summary |
| --- | --- | --- | --- | --- | --- |
Season 5
| Episode No. | No. Overall | Title | Airdate | Runtime | Summary |
| --- | --- | --- | --- | --- | --- |
Season 6
| Episode No. | No. Overall | Title | Airdate | Runtime | Summary |
| --- | --- | --- | --- | --- | --- |
Season 7
| Episode No. | No. Overall | Title | Airdate | Runtime | Summary |
| --- | --- | --- | --- | --- | --- |
| 1 | 27 | Tudor to Thai | 2012-04-02 | 30 | |
| 2 | 28 | Playground Paradise | 2012-04-09 | 30 | |
| 3 | 29 | Old World Pergola | 2012-04-16 | 30 | |
| 4 | 30 | Outdoor Party Place | 2012-04-23 | 30 | |
| 5 | 31 | Surfer Shangri-La | 2012-04-30 | 30 | |
| 6 | 32 | Modern Tahoe | 2012-05-07 | 30 | |
| 7 | 33 | Mexican Resort Retreat | 2012-05-14 | 30 | |
| 8 | 34 | Italian Villa Vista | 2012-05-21 | 30 | |
| 9 | 35 | California Outdoor Room | 2012-05-28 | 30 | |
| 10 | 36 | Tropical Paradise | 2012-06-04 | 30 | |
| 11 | 37 | Tampa Party Pad | 2012-07-09 | 30 | |
| 12 | 38 | Infinity Edge Bar | 2012-07-10 | 30 | |
| 13 | 39 | Hillside Terrace | 2012-07-11 | 30 | |
Season 8
| Episode No. | No. Overall | Title | Airdate | Runtime | Summary |
| --- | --- | --- | --- | --- | --- |
| 1 | 40 | The San Francisco Treat | 2012-07-12 | 30 | |
| 2 | 41 | Boston Backyard Theatre | 2012-07-13 | 30 | |
| 3 | 42 | Play Ball | 2012-08-06 | 30 | |
| 4 | 43 | Rustic Mexican Riviera | 2012-08-13 | 30 | |
| 5 | 44 | Upcycling the Backyard Space | 2012-08-20 | 30 | |
| 6 | 45 | Woodland Retreat | 2012-08-27 | 30 | |
| 7 | 46 | Cozy Cottage | 2012-09-03 | 30 | |
| 8 | 47 | Cabo Chic | 2012-09-10 | 30 | |
| 9 | 48 | Up-cycle and Upscale | 2012-09-24 | 30 | |
| 10 | 49 | Matt Crashes Blog Cabin 2012 | 2012-10-01 | 30 | |
| 11 | 50 | Tranquil Stay-cation | 2012-10-08 | 30 | |
| 12 | 51 | Urban Yard Greening | 2012-10-15 | 30 | |
| 13 | 52 | Lush Landscape and Garden Art | 2012-10-22 | 30 | |
| 14 | 53 | A Music Lover's Holiday Yard | 2012-11-25 | 30 | |
Season 9
| Episode No. | No. Overall | Title | Airdate | Runtime | Summary |
| --- | --- | --- | --- | --- | --- |
Season 10
| Episode No. | No. Overall | Title | Airdate | Runtime | Summary |
| --- | --- | --- | --- | --- | --- |
| 1 | 54 | Putt and Party Yard | 2013-07-01 | 30 | |
| 2 | 55 | Modern Concrete Back Yard | 2013-07-01 | 30 | |
| 3 | 56 | Vegas Gabion Getaway | 2013-07-08 | 30 | |
| 4 | 57 | Modern Outdoor Party Yard | 2013-07-08 | 30 | |
| 5 | 58 | Floating Deck Party Yard | 2013-07-08 | 30 | |
| 6 | 59 | Party Pavilion | 2013-07-22 | 30 | |
| 7 | 60 | Woodland River Retreat | 2013-07-22 | 30 | |
| 8 | 61 | Backyard Secret Garden | 2013-08-26 | 30 | |
| 9 | 62 | Rustic Pallet Retreat | 2013-08-26 | 30 | |
| 10 | 63 | Old World Stone Wall Patio | 2013-09-02 | 30 | |
| 11 | 64 | Elegant Chill Pad | 2013-09-02 | 30 | |
| 12 | 65 | Backyard Hot Rods | 2013-09-02 | 30 | |
| 13 | 66 | Zen Retreat | 2014-04-07 | 30 | |
| 14 | 67 | Spa Retreat | 2014-04-07 | 30 | |
Season 11
| Episode No. | No. Overall | Title | Airdate | Runtime | Summary |
| --- | --- | --- | --- | --- | --- |
Season 12
| Episode No. | No. Overall | Title | Airdate | Runtime | Summary |
| --- | --- | --- | --- | --- | --- |
Season 13
| Episode No. | No. Overall | Title | Airdate | Runtime | Summary |
| --- | --- | --- | --- | --- | --- |
| 1 | 68 | Floating Zen Table | 2015-04-06 | 30 | |
| 2 | 69 | Tuscan Terrace | 2015-04-13 | 30 | |
| 3 | 70 | Rustic Farmhouse Chic | 2015-04-20 | 30 | |
| 4 | 71 | Outdoor Racing Room | 2015-04-27 | 30 | |
| 5 | 72 | Rustic Vinyl Lounge | 2015-05-04 | 30 | |
| 6 | 73 | Hawaiian Paradise | 2015-05-11 | 30 | |
| 7 | 74 | Contemporary Bi-level Patio | 2015-05-18 | 30 | |
| 8 | 75 | Woodsy Hideaway | 2015-05-25 | 30 | |
| 9 | 76 | Yard Crashers at Blog Cabin | 2015-06-01 | 30 | |
| 10 | 77 | Funky Food and Music Lounge | 2015-06-08 | 30 | |
| 11 | 78 | Traditional Country Deck | 2015-06-15 | 30 | |
| 12 | 79 | Beefy Outdoor Pit Chairs | 2015-06-22 | 30 | |
| 13 | 80 | California Casual | 2015-06-29 | 30 | |
Season 14
| Episode No. | No. Overall | Title | Airdate | Runtime | Summary |
| --- | --- | --- | --- | --- | --- |
| 1 | 81 | Mountain Retreat | 2015-07-06 | 30 | |
| 2 | 82 | Vintage Chic | 2015-07-06 | 30 | |
| 3 | 83 | Raised Cabana-Style Deck | 2015-07-13 | 30 | |
| 4 | 84 | Waterfall Oasis | 2015-07-13 | 30 | |
| 5 | 85 | Mid Century Modern Makeover | 2015-07-20 | 30 | |
| 6 | 86 | Rustic Romantic | 2015-07-20 | 30 | |
| 7 | 87 | Rustic Reno Retreat | 2015-07-27 | 30 | |
| 8 | 88 | Urban Bar Hangout | 2015-07-27 | 30 | |
| 9 | 89 | Beachy Outdoor Kitchen | 2015-08-03 | 30 | |
| 10 | 90 | Modern Splash Bar | 2015-08-03 | 30 | |
| 11 | 91 | Modern Rustic Outdoor Dining | 2015-08-10 | 30 | |
| 12 | 92 | Rustic Party Gras | 2015-08-10 | 30 | |
| 13 | 93 | New Orleans Crawfish Boil Courtyard | 2015-08-17 | 30 | |
Season 15
| Episode No. | No. Overall | Title | Airdate | Runtime | Summary |
| --- | --- | --- | --- | --- | --- |
| 1 | 94 | Shady BBQ Retreat | 2016-04-04 | 30 | Chris Lambton designs a landscape for Tony and Malea who have neglected their junk-filled yard for 15 years; Chris adds a pergola, an outdoor bar with a built-in barbecue, a boulder fire feature, a pig spit, and a kayak storage rack. |
| 2 | 95 | Fireman's Party Bar | 2016-04-04 | 30 | |
| 3 | 96 | Old World Hideaway | 2016-04-11 | 30 | Chris Lambton and his team transform a blank-slate backyard into a private, old-world living space; the crew builds a massive redwood deck with a privacy screen and a stone fireplace. |
| 4 | 97 | Blog Cabin Lakeview Living | 2016-04-18 | 30 | Chris and his team head to Blog Cabin in Coeur d' Alene, Idaho to transform the spacious upper deck and front yard into a cozy hideaway with amazing lake views. He builds a slatted pergola with beefy metal posts, beneath a massive dining table and benches complete with a custom slatted bar and grill station and a vertical kitchen garden wall with trailing veggies and colorful flowers. In front, a dry streambed loaded with native and water bog plants to complete this modern Lakeview hideaway. |
| 5 | 98 | Yard Crashers Visits Blog Cabin | 2016-04-25 | 30 | Chris and his team head to Blog Cabin Coeur d'Alene, Idaho, to transform the lower yard into a mountain retreat space that maximizes the amazing lake view. He builds a 20-foot long waterfall with rustic wood and metal bridge. Nearby he creates custom metal and wood benches to flank the fire pit that sits on a massive locally sourced flagstone patio. In addition, he creates a private space for a cedar hot tub, a nature path with a one-of-a-kind lodge bench and an industrial ceiling for the indoor/outdoor game room. |
| 6 | 99 | The Tan, Chill and Grill Yard | 2016-05-02 | 30 | Chris Lambton takes on a big blank slate of a backyard to give a party-loving couple the perfect outdoor living space. Three distinct patio spaces emerge starting with an elevated redwood tanning deck framed with a decorative curb. Center stage, the guys pour an oversized concrete pad that's popped with a circular boulder fire pit, wine inspired bench swings, and a stunning sheer descent water feature backed with glitzy copper. The last patio is the outdoor kitchen that boasts a stacked stone island with BBQ grill, copper countertop with aged patina, a mosaic pub style table, and a vertical herb and veggie garden lush with seasonal plants. |
| 7 | 100 | Modern Bamboo Haven | 2016-05-09 | 30 | Chris Lambton and crew turn this dilapidated backyard into a modern bamboo haven. This transformation includes a beautiful bamboo retaining wall that doubles as a seat wall, a large overhang structure custom-made with gigantic bamboo panels for shade and beneath it is a tranquil copper water feature. A composite bamboo countertop bar with kegerator, adjacent to a beefy stainless steel grill, and finally, colorful plants complete the yard. |
| 8 | 101 | West Coast Party Pad | 2016-05-16 | 30 | Chris Lambton and his crew crash a boring, neglected yard and transform it into a West Coast party pad complete with a massive metal bar, redwood pergola, boardwalk deck and a rustic metal fire bowl. |
| 9 | 102 | Contemporary Shade Yard | 2016-05-23 | 30 | Katie and Ian have a boring yard that is so uninviting they never even think to use it. But Chris promises that he can turn it into an entertaining mecca! He starts with demoing the existing patio and replacing it with sleek concrete slabs. He adds a custom concrete bench and fire feature conversation area and artificial turf, plus plenty of drought tolerant plants. A big new barbecue is dropped into a one-of-a-kind prep space with white metal countertops. DIY pendants hang over a metal floating bar and a metal and wood dining table is also included. All this entertaining space is topped off with shade sails and a cantilevered arbor with perforated metal to provide plenty of shade. |
| 10 | 103 | Eclectic Cottage | 2016-06-06 | 30 | |
| 11 | 104 | Spanish Courtyard | 2016-06-06 | 30 | |
| 12 | 105 | Nautical Cape Cod | 2016-06-13 | 30 | |
| 13 | 106 | Pacific Coast Rustic Loggia | 2016-06-20 | 30 | |
Season 16
| Episode No. | No. Overall | Title | Airdate | Runtime | Summary |
| --- | --- | --- | --- | --- | --- |
| 1 | 107 | Contemporary Cedar Design | 2016-07-11 | 30 | In the 16th season premiere, Chris transforms a dysfunctional space into a private party area. |
| 2 | 108 | Rustic Farm Backyard | 2016-07-11 | 30 | Chris designs an eclectic yard that includes a chicken coop, water wheel, farm table and rustic grill island. |
| 3 | 109 | Tranquil Retreat | 2016-07-18 | 30 | |
| 4 | 110 | Urban Putting Green Yard | 2016-07-18 | 30 | |
| 5 | 111 | Outdoor Living Room | 2016-07-25 | 30 | |
| 6 | 112 | Urban Wine Barrel Bar | 2016-07-25 | 30 | |
| 7 | 113 | Midcentury Modern Revival | 2016-08-01 | 30 | |
| 8 | 114 | Hillside Party Hot Tub | 2016-08-08 | 30 | Chris Lambton and his team transform this wasteland of a backyard into a hillside party pad. His features include beautiful wooden stairs leading up to a redwood upper deck, retaining seat wall, and a bubbling hot tub. It also includes a lower patio area with stained concrete, a custom chaise lounge chair, resin outdoor furniture, and colorful potted plants. A decorative horizontal fence with hanging herb gardens alongside a massive stainless steel grill for outdoor cooking finish it off. |
| 9 | 115 | Traditional Charleston Courtyard | 2016-08-15 | 30 | Chris and his crew transform a dull, muddy space into a traditional Charleston backyard. They install a local hand-cut brick patio, an oyster fire pit, a reclaimed farmhouse table and a traditional Charleston arbor to welcome guests into the space. |
| 10 | 116 | Charleston Low Country Escape | 2016-08-22 | 30 | Cory and Lauren's low-lying yard is rotting, so they beg Chris for the ultimate outdoor living room where they can entertain their friends and family in low country style. He and his team create a huge outdoor kitchen and bar with a new smoker, a custom dining table, a hanging daybed and a raised patio with a lounging area. |
| 11 | 117 | San Diego Beachy Backyard | 2016-08-29 | 30 | Brent and Mariah's backyard is a concrete jungle, and they need help; Chris delivers a beachy backyard with a colored concrete patio, a redwood pergola, a custom dining table, and a surfboard bar. |
Season 17
| Episode No. | No. Overall | Title | Airdate | Runtime | Summary |
| --- | --- | --- | --- | --- | --- |
| 1 | 118 | Lower Lounge at Blog Cabin | 2017-04-01 | 30 | Chris and his team head to Blog Cabin 2016 to transform an unused area under the stilted house into a lower lounge that capitalizes on the gulf view. He builds a wood and metal pub table, then adds a fish cleaning island, living privacy wall and a modern fire table. |
| 2 | 119 | Sky Cabin Side Yard at Blog Cabin | 2017-04-01 | 30 | Chris and his team descend on Blog Cabin 2016 to turn an empty side yard into a recreational destination complete with a stilted guest retreat, two-tiered deck with custom lounge chairs and a sand volleyball court. |
| 3 | 120 | Mediterranean Oasis | 2017-04-08 | 30 | Allen and Lily's uninviting yard is haggard and ignored, so Matt comes to their rescue with a Mediterranean oasis design. They want a place to hang out with friends and family, so Matt gives them a large deck complete with a barbecue island and a reclaimed dining table. He also adds an amazing stone water and fire feature as the center point, then builds a paver patio adjacent to it as well as a custom day bed with a pergola. |
| 4 | 121 | Rock Pond Living Space | 2017-04-08 | 30 | A dirt pile of a backyard with an old shed and dying plants is transformed into an entertainer's dream. An unused space quickly becomes everyone's hangout when a cascading rock pond takes center stage. Also featured is a huge paver patio, a one-of-a-kind farmhouse dining table, a reclaimed wood BBQ cooking station, furniture and games. |
| 5 | 122 | Kansas City English Garden | 2017-04-22 | 30 | Sophie's soggy, sloping yard needs help, so she pleads for Matt Blashaw to come home with her. He designs a usable space for grilling, dining and lounging, all with an English garden vibe. He also fixes a few problems he encounters along the way, like installing a few retaining walls to level the space, adding drainage to move the water away and raising and reinforcing the deck posts. Finally, Matt adds a staircase for access and a composting area to give Sophie the ultimate outdoor space. |
| 6 | 123 | Hamptons Hangout | 2017-06-10 | 30 | This dark and uninviting yard has these homeowners staying indoors. Luckily, Matt agrees to go home with them and delivers a design that will allow them to live outdoors. First he installs a huge multi-tiered deck with a large dining table and a concrete paver patio with a fire pit and comfy sofa. Then he adds a sheer descent water feature with integrated bench seating and a chunky pergola with a custom wood and steel bar. |
| 7 | 124 | Kansas City Outdoor Room | 2017-05-06 | 30 | Yard Crashers is in Kansas City, Missouri, where a rotten deck in a hot and very small backyard is transformed into a quaint outdoor living room. In two days, a brand new deck is installed along with a pergola with retractable awnings to provide much-needed shade over a custom outdoor sofa with a built-in ice chest. Privacy screens with vibrant plants, a modern fire pit and a granite patio space finish off this outdoor room and make it ready for entertaining. |
| 8 | 125 | Modern Zen Backyard | 2017-04-29 | 30 | Emily and Bryan have a barren yard with an existing shed so, instead of fixing it, Matt and his crew make it a feature. They build floating decks around three reflecting pools and install a new pergola to create some much-needed shade, transforming the space into a modern oasis with a peaceful feel. |
| 9 | 126 | Beer Garden Backyard | 2017-05-13 | 30 | A small and cluttered backyard with dead plants and ugly concrete turns into a beer garden fit for a home brewer! Sophisticated steel planters and giant concrete pavers surrounded by turf clean up what was once a mess. Plus, a built-in barbecue and a custom bar bring an industrial tap system to center stage. |
| 10 | 127 | Modern Party Pad | 2017-05-20 | 30 | The team transforms a barren patio space into a modern hangout. What was once just a deck and dirt landscape gets a modified shade structure, steel water feature, living wall and bocce court. The addition of lush green plants and a custom metal fire feature creates one inviting party pad. |
| 11 | 128 | Funky Hammock Deck | 2017-05-27 | 30 | An Orange County backyard with zero purpose and tons of weeds is transformed into the ultimate hangout with a custom hammock sofa, water feature and two-tiered deck with a barbecue smoker. Plus, a pottery plant wall gives this backyard some needed color and life. |
| 12 | 129 | Contemporary Elegance | 2017-06-03 | 30 | |
| 13 | 130 | Hamptons Hangout | 2017-06-10 | 30 | |
| 14 | 131 | Industrial-Modern in the OC | 2017-06-17 | 30 | In Orange County, Calif., Matt finds a couple who have been renovating their fixer upper but neglecting their backyard; Matt transforms the space into an industrial-modern retreat with a dining area, a gabion water feature and a galvanized fire pit. |
| 15 | 132 | Tiki Bar Backyard | 2017-06-24 | 30 | Matt and the crew tackle a messy and cluttered backyard filled with with broken patio furniture and uneven pavers, turning it into a space with a custom outdoor kitchen, a rolling Tiki bar and a high-top table. |
Series Cast
| | | | |
| --- | --- | --- | --- |
| | Chris Lambton | as Host | |
Related News
TVMaze