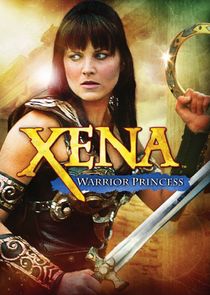 "In a time of ancient gods, warlords, and kings, a land in turmoil cried out for a hero. She was Xena, a mighty princess, forged in the heat of battle. The power... the passion... the danger... Her courage will change the world".
This spin-off from Hercules: The Legendary Journeys (1995), Xena is a feisty and fearless warrior princess who fights everything evil along with her sidekick Gabrielle in Xena: Warrior Princess.
Series Overview
Rating
imDb Rating: 6.7 (38,790 Votes)
Metascore: N/A
Plot
Xena, a mighty Warrior Princess with a dark past, sets out to redeem herself. She is joined by small town bard, Gabrielle. Together they journey the ancient world and fight for the greater good against ruthless Warlords and Gods.
Details
Rated: TV-PG
Released: 04 Sep 1995
Runtime: 45 min
Genre: Action, Adventure, Drama, Fantasy
Director: N/A
Writer: Sam Raimi, John Schulian, R.J. Stewart, Rob Tapert
Actors: Lucy Lawless, Renée O'Connor
Language: English
Country: USA, New Zealand
Awards: Won 1 Primetime Emmy. Another 7 wins & 34 nominations.
Total Seasons: 6
Previous Episode
A Friend in Need (2)
Episode 6x22; Jun 25, 2001
Xena and Gabrielle face the greatest threat they've ever known when they go up against the evil Yodoshi and an army of elite Samurai warriors.
Previous Episodes 6x22: A Friend in Need (2) 6x21: A Friend in Need (1) 6x20: Soul Possession 6x19: Many Happy Returns 6x18: When Fates Collide 6x17: The Last of the Centaurs 6x16: Send in the Clones 6x15: To Helicon and Back 6x14: Path of Vengeance

View All Episodes
Skip to:
Season 1
| Episode No. | No. Overall | Title | Airdate | Runtime | Summary |
| --- | --- | --- | --- | --- | --- |
| 1 | 1 | Sins of the Past | 1995-09-04 | 60 | After vowing to change her evil ways, Xena decides to head back to her village, but first she must face off against an immoral warlord who's determined to keep her on the wrong side of the law |
| 2 | 2 | Chariots of War | 1995-09-11 | 60 | After being befriended by a peace-loving homesteader named Darius, Xena takes on a blood thirsty warlord and his son, who have mercilessly pillaged Darius's community. |
| 3 | 3 | Dreamworker | 1995-09-18 | 60 | Xena enters a mystical realm known as the Dreamscape to save Gabrielle, who has been taken there and forced to complete a series of daunting tasks that will make her worthy of becoming the bride of the dream god, Morpheus. |
| 4 | 4 | Cradle of Hope | 1995-10-02 | 60 | Xena and Gabrielle set out to find the parents of an abandoned baby, and discover that the infant's been marked for death due to a prophecy declaring him a future threat to a local king. |
| 5 | 5 | The Path Not Taken | 1995-10-09 | 60 | Xena faces ghosts from the past when she visits one of her old haunts and ingratiates herself with murderous former colleagues in order to locate a kidnapped princess who is being hidden there. |
| 6 | 6 | The Reckoning | 1995-10-16 | 60 | When villagers declare war on an innocent Xena for killing four of their neighbors, she's forced to consider an offer made her by Ares, the god of war, that would give her the power to rule the world. |
| 7 | 7 | The Titans | 1995-10-30 | 60 | The stage is set for a clash of the Titans when Gabrielle inadvertently releases three of the giant deities from a centuries-long entombment and one of them proceeds to terrorize a village—against the wishes of the other two. |
| 8 | 8 | Prometheus | 1995-11-06 | 60 | Upon realizing that Prometheus has been captured and chained by the gods—thus causing great harm to mankind—Xena sets out to find the one sword that will free him, and is joined in her quest by Hercules. |
| 9 | 9 | Death in Chains | 1995-11-27 | 60 | Hades, god of the underworld, asks Xena to undertake the daunting task of freeing his sister—the embodiment of death—from the clutches of a greedy king who's captured her. |
| 10 | 10 | Hooves and Harlots | 1995-12-04 | 60 | Xena has a tall order to fill trying to prevent a war between the Amazons and the Centaurs and Gabrielle finds herself with some pretty big shoes to fill when she's chosen to replace an Amazon princess who died in her arms. |
| 11 | 11 | The Black Wolf | 1996-01-08 | 60 | King Xerxes arrests a group of villagers, demanding they surrender the mysterious "Black Wolf" and followers. Xena arranges to be arrested to help them escape. |
| 12 | 12 | Beware Greeks Bearing Gifts | 1996-01-15 | 60 | At the behest of Helen of Troy, Xena goes to the embattled city to help end a 10-year war with the Greeks. But while trying to rein in the hostilities, she discovers a Trojan horse who's working with the enemy. |
| 13 | 13 | Athens City Academy of the Performing Bards | 1996-01-22 | 60 | Gabrielle forsakes a new homeric odyssey with Xena in order to audition for the Athens City Academy of the Performing Bards at their annual storytelling competition. |
| 14 | 14 | A Fistful of Dinars | 1996-01-29 | 60 | Xena is drawn into a treacherous treasure hunt that forces her to team up with a desperate assassin and a ruthless warlord—who happens to be her former fiancé. |
| 15 | 15 | Warrior... Princess | 1996-02-05 | 60 | The Warrior Princess learns that life as a blue blood can be a royal pain in the neck when she stands in for a lookalike princess whose life has been threatened by assassins. |
| 16 | 16 | Mortal Beloved | 1996-02-12 | 60 | A visit from the ghost of her beloved Marcus prompts Xena to travel to the Underworld—where a madman has stolen Hades' Helmet of Invisibility. |
| 17 | 17 | The Royal Couple of Thieves | 1996-02-19 | 60 | Xena's asked to steal back a pilfered chest containing the world's most powerful weapon, so she enlists the help of Autolycus, the self-proclaimed King of Thieves. |
| 18 | 18 | The Prodigal | 1996-03-04 | 60 | Gabrielle returns to her home town, only to find it under attack by a greedy warlord, and under the protection of a faded warrior, who's lost his self-confidence. |
| 19 | 19 | Altared States | 1996-04-22 | 60 | Xena rescues a young boy on the run from his father, who wants to sacrifice him. |
| 20 | 20 | Ties That Bind | 1996-04-29 | 60 | Xena saves a mysterious warrior who later professes to be her estranged father. But the reunion is anything but happy, as a suspicious Xena tries to find out if the man's claims are true. |
| 21 | 21 | The Greater Good | 1996-05-06 | 60 | When Xena is incapacitated and left near death after being struck by a poisoned dart, Gabrielle is forced to impersonate the Warrior Princess in order to protect a group of innocent villagers. |
| 22 | 22 | Callisto | 1996-05-13 | 60 | Xena is once again reminded of the sins of her past when a malicious female warrior, whose family was killed by Xena's former army, exacts her revenge on the Warrior Princess by impersonating her. |
| 23 | 23 | Death Mask | 1996-06-03 | 60 | Xena finally confronts Cortese, the warlord who burned her village and turned her into a warrior. |
| 24 | 24 | Is There a Doctor in the House? | 1996-07-29 | 60 | Caught in the middle of a fierce war, Xena and Gabrielle aid the wounded inhabitants of a healing temple, then try to mediate talks between the warring factions. |
Season 2
| Episode No. | No. Overall | Title | Airdate | Runtime | Summary |
| --- | --- | --- | --- | --- | --- |
| 1 | 25 | Orphan of War | 1996-09-30 | 60 | Xena comes to the aid of a community of centaurs menaced by a member of her former band, and upon her arrival is reunited with the young son whom she left in their care nine years earlier. |
| 2 | 26 | Remember Nothing | 1996-10-07 | 60 | When the three Fates allow Xena to travel back in time to her pre-warrior days, she attempts to lead a life devoid of violence. |
| 3 | 27 | The Giant Killer | 1996-10-14 | 60 | Xena is caught behind a rock and a hard place when she's pitted against her old friend Goliath in a battle between the Israelites and the Philistines. |
| 4 | 28 | Girls Just Wanna Have Fun | 1996-10-28 | 60 | Xena is forced to take on the Bacchae—bloodthirsty minions of the wine god, Bacchus—in order to get their power-hungry leader and foil his plan to take over the world. |
| 5 | 29 | Return of Callisto | 1996-11-04 | 60 | Gabrielle's consumed by hatred and a desire for vengeance after an escaped Callisto murders her beloved, Perdicas, in an attempt to punish Xena |
| 6 | 30 | Warrior... Princess... Tramp | 1996-11-11 | 60 | Xena's second effort in protecting her look-alike, Princess Diana, is complicated by the fact that Diana and her latest enemy both resemble Xena. |
| 7 | 31 | Intimate Stranger | 1996-11-18 | 60 | Xena's life takes a nightmarish turn when Callisto escapes from the Underworld by infiltrating her dreams. |
| 8 | 32 | Ten Little Warlords | 1996-11-25 | 60 | While still trapped in the body of her mortal enemy, Callisto, Xena is forced to enter a competition where warlords vie to become the new god of war. |
| 9 | 33 | A Solstice Carol | 1996-12-09 | 60 | Xena and Gabrielle try to bring the warmth and spirit of the holiday season to a cold-hearted king who has outlawed the annual winter solstice celebration. |
| 10 | 34 | The Xena Scrolls | 1997-01-13 | 60 | In 1940, two archaeologists look for the legendary scrolls that Gabrielle wrote about her adventures with Xena. |
| 11 | 35 | Here She Comes... Miss Amphipolis | 1997-01-20 | 60 | A fragile peace may be derailed by behind-the-scenes mayhem at a beauty pageant, in which the rulers of all three former enemies have entered their girlfriends as contestants. |
| 12 | 36 | Destiny | 1997-01-27 | 60 | After being critically injured in a fight, Xena lets her mind flash back to the time that Julius Caesar taught her a valuable lesson about destiny. |
| 13 | 37 | The Quest | 1997-02-03 | 60 | Xena's spirit puts into action a plan that may allow her to return to the land of the living and reclaim her body. And Gabrielle is faced with a big decision after meeting up with her old friends—the Amazons. |
| 14 | 38 | A Necessary Evil | 1997-02-10 | 60 | In order to stop the evil, and now immortal, Velasca from hunting down Gabrielle, Xena must unleash an even more depraved immortal to vanquish her—Callisto. |
| 15 | 39 | A Day in the Life | 1997-02-17 | 60 | Xena has 24 hours to prevent a warlord from plundering one village and the world's biggest giant from destroying another. |
| 16 | 40 | For Him the Bell Tolls | 1997-02-24 | 60 | While engaged in a battle of wills with her son, Cupid, Aphrodite turns Joxer into a dashing war hero tasked with stealing a princess's heart away from her betrothed. |
| 17 | 41 | The Execution | 1997-04-07 | 60 | Gabrielle is torn between her beleaguered hero Meleager, who's accused of a murder she's certain he didn't commit, and Xena, who's not so sure. |
| 18 | 42 | Blind Faith | 1997-04-14 | 60 | Despite being blinded in battle, Xena continues to fight to thwart a nefarious plan to force Gabrielle to marry a king. |
| 19 | 43 | Ulysses | 1997-04-28 | 60 | Xena and Gabrielle try to help Ulysses return to his home after many years away. |
| 20 | 44 | The Price | 1997-05-05 | 60 | Xena calls on her combat experience to fight a sadistic army of fierce warriors, but Gabrielle fears her friend is reverting to her evil former self. |
| 21 | 45 | The Lost Mariner | 1997-05-12 | 60 | Xena and Gabrielle become stranded aboard a cursed pirate ship on which there is no escape other than death. |
| 22 | 46 | A Comedy of Eros | 1997-05-19 | 60 | Cupid's mischievous son makes off with daddy's arrows and creates havoc among virgin priestesses and invading warriors. |
Season 3
| Episode No. | No. Overall | Title | Airdate | Runtime | Summary |
| --- | --- | --- | --- | --- | --- |
| 1 | 47 | The Furies | 1997-09-29 | 60 | The Furies curse Xena with madness for failing to avenge her father's death. |
| 2 | 48 | Been There, Done That | 1997-10-06 | 60 | When Xena is the only person who realises that the day is repeating itself, it is up to her to work out what it is that is causing it. |
| 3 | 49 | The Dirty Half Dozen | 1997-10-13 | 60 | Xena assembles a ruthless band of convicts to confront a powerful army clad in indestructible armor. |
| 4 | 50 | The Deliverer | 1997-10-20 | 60 | As Xena confronts Caesar in Britannia, Gabrielle uncovers disturbing secrets about a mysterious cult that is battling the Romans. |
| 5 | 51 | Gabrielle's Hope | 1997-10-27 | 60 | Gabrielle must make a difficult decision regarding her allegiance to Xena after she gives birth to the daughter of Dahak, the Evil One. |
| 6 | 52 | The Debt | 1997-11-03 | 60 | As Xena and Gabrielle travel toward the Eastern kingdom of Chin, Xena recalls a kidnapping episode from her dark past involving two rival Chin clans. |
| 7 | 53 | The Debt II | 1997-11-10 | 60 | After being betrayed by Gabrielle, Xena is carried to the Green Dragon's prison, where she'll wait her execution. There she continues remembering the days she spent with Lao Ma, and the chance she gave her to change her life. |
| 8 | 54 | The King of Assassins | 1997-11-17 | 60 | Joxer's twin brother's plan to assassinate the visiting Cleopatra is met with resistance from Gabrielle and Autolycus. |
| 9 | 55 | Warrior... Priestess... Tramp | 1998-01-12 | 60 | A priestess and a lusty barmaid who look exactly like Xena team up with the warrior princess when Balius plots to destroy the Hestians. |
| 10 | 56 | The Quill Is Mightier | 1998-01-19 | 60 | A jealous Aphrodite casts a hex on Gabrielle's scroll, which causes everything she writes to come true. |
| 11 | 57 | Maternal Instincts | 1998-02-07 | 60 | Xena and Gabrielle meet with their respective offspring, Solan and Hope. But the reunions are hardly happy, thanks to Callisto. |
| 12 | 58 | The Bitter Suite | 1998-02-14 | 60 | Xena and Gabrielle's bitter conflict reaches its climax when both are transported to the dream world of Illusia to settle their mutual differences. |
| 13 | 59 | One Against an Army | 1998-02-21 | 60 | Xena must hold off an entire Persian army single-handed—and also tend to Gabrielle, who's been struck by a poison arrow. |
| 14 | 60 | Forgiven | 1998-02-28 | 60 | A young woman who wants to turn her life around joins Xena and Gabrielle in a quest for the stolen urn of Apollo. |
| 15 | 61 | King Con | 1998-03-07 | 60 | Joxer's luck seems to have run out when a casino owner orders him killed. |
| 16 | 62 | When in Rome... | 1998-03-14 | 60 | Efforts to engage in a prisoner exchange involving a Gaul warrior and a member of the Roman hierarchy are hindered by an uncooperative Caesar. |
| 17 | 63 | Forget Me Not | 1998-03-21 | 60 | Haunted by images of the past, Gabrielle goes to the Temple of Mnemosyne to forget her painful memories. |
| 18 | 64 | Fins, Femmes and Gems | 1998-04-25 | 60 | Aphrodite steals the Mystic Diamond that keeps the North Star lit, then casts spells on Xena, Gabrielle and Joxer to keep them from retrieving it. |
| 19 | 65 | Tsunami | 1998-05-02 | 60 | The eruption of Mount Aetna produces a tidal wave that submerges Xena, Gabrielle and Autolycus inside a sinking mining vessel. |
| 20 | 66 | Vanishing Act | 1998-05-09 | 60 | When an enormous statue commemorating Peace is stolen from a seaside village, Autolycus fears the loss of his title of King of Thieves and recruits Xena to help him steal it back. |
| 21 | 67 | Sacrifice (1) | 1998-05-16 | 60 | Xena and Gabrielle vainly struggle to stop evil Hope's re-emergence from her cocoon. |
| 22 | 68 | Sacrifice (2) | 1998-05-23 | 60 | Xena and Gabrielle struggle to kill Hope, who has emerged from a cocoon—fully grown and looking just like her mother |
Season 4
| Episode No. | No. Overall | Title | Airdate | Runtime | Summary |
| --- | --- | --- | --- | --- | --- |
| 1 | 69 | Adventures in the Sin Trade (1) | 1998-10-03 | 60 | Distraught with grief over the loss of Gabrielle, Xena travels to Siberia and the Amazon Land of the Dead to find her friend. |
| 2 | 70 | Adventures in the Sin Trade (2) | 1998-10-10 | 60 | Xena's continuing search for Gabrielle in the Amazon Resting Place leads to a climatic battle with the evil shamaness Alti. |
| 3 | 71 | A Family Affair | 1998-10-17 | 60 | Xena reunites with Gabrielle and the two friends face off with the evil Hope and Dahak's grandson, the monstrous Destroyer. |
| 4 | 72 | In Sickness and in Hell | 1998-10-24 | 60 | Xena and Gabrielle, plagued by a myriad of ailments, try to defeat a Scythian army. |
| 5 | 73 | A Good Day | 1998-10-31 | 60 | Xena orchestrates a plan for a quick battle between and Caesar and Pompey in order to save Greece. |
| 6 | 74 | A Tale of Two Muses | 1998-11-07 | 60 | Gabrielle's friend Tara is arrested for dancing in a town run by a puritanical magistrate. |
| 7 | 75 | Locked Up and Tied Down | 1998-11-14 | 60 | Xena is sentenced to life in prison for the crimes she committed in her dark past. |
| 8 | 76 | Crusader | 1998-11-21 | 60 | When a beautiful savior named Najara appears, preaching peace, Xena realizes she may not be all that she seems. |
| 9 | 77 | Past Imperfect | 1999-01-06 | 60 | Xena must find a copycat who is mirroring her evil deeds of the past. |
| 10 | 78 | The Key to the Kingdom | 1999-01-16 | 60 | Xena's double, the barmaid Meg, tempts Autolycus with a key to a treasure. |
| 11 | 79 | Daughter of Pomira | 1999-01-23 | 60 | One girl stands between war and peace. Xena and Gabrielle try to reunite a family but in doing so may cause a war. |
| 12 | 80 | If the Shoe Fits... | 1999-01-30 | 60 | Through imaginative storytelling, Xena, Gabrielle, Joxer and Aphrodite help the young runaway Princess Alesia realize there's no place like home. |
| 13 | 81 | Paradise Found | 1999-02-06 | 60 | Gabrielle finds inner calm, but Xena is plagued by violent images in a land ruled by a man who claims to know the true path to peace. |
| 14 | 82 | Devi | 1999-02-13 | 60 | While traveling in India, Gabrielle suddenly acquires the power to heal, but Xena is suspicious of the its source. |
| 15 | 83 | Between the Lines | 1999-02-20 | 60 | In India, Xena and Gabrielle pass through a Karmic tunnel and into the future. There, they find an old foe, Alti, and get a glimpse of what their own future might hold. |
| 16 | 84 | The Way | 1999-02-27 | 60 | Xena seeks the help of the god Krishna to rescue Gabrielle and Eli from the clutches of the King of the Demons. |
| 17 | 85 | The Play's the Thing | 1999-03-20 | 60 | Gabrielle unwittingly becomes a pawn in a theater scam when one of her scrolls falls into the hands of Zehra, the Queen of Cons. |
| 18 | 86 | The Convert | 1999-04-24 | 60 | Najara returns, claiming a newfound mantra for nonviolence, while Joxer wrestles with the guilt of his first kill. |
| 19 | 87 | Takes One to Know One | 1999-05-01 | 60 | Friends and family gather for Gabrielle's surprise birthday party, only to become suspects in a murder investigation. |
| 20 | 88 | Endgame | 1999-05-08 | 60 | Gabrielle becomes queen of the Amazons after Ephiny dies at the hand of Brutus. |
| 21 | 89 | The Ides of March | 1999-05-15 | 60 | Callisto returns to tempt Xena; Caesar plans to declare himself emperor. |
| 22 | 90 | Deja Vu All Over Again | 1999-05-22 | 60 | A woman is convinced she is the reincarnation of Xena, the Warrior Princess. |
Season 5
| Episode No. | No. Overall | Title | Airdate | Runtime | Summary |
| --- | --- | --- | --- | --- | --- |
| 1 | 91 | Fallen Angel | 1999-09-27 | 60 | After Xena and Gabrielle are crucified by the Romans, an archangel takes the warrior princess to heaven, while a demon spirits Gabrielle to hell. |
| 2 | 92 | Chakram | 1999-10-04 | 60 | Xena forgets her life as a warrior after Eli resurrects her and Gabrielle from the dead. |
| 3 | 93 | Succession | 1999-10-11 | 60 | Ares merges Xena and Gabrielle into the same body and force them to fight Mavican, Ares' potential right hand. |
| 4 | 94 | Animal Attraction | 1999-10-18 | 60 | Xena visits a healer in the town of Spamona to uncover the source of her lethargy and odd cravings. |
| 5 | 95 | Them Bones, Them Bones | 1999-11-01 | 60 | The spirit of the evil shamaness Alti attempts to capture the soul of Xena's unborn child. |
| 6 | 96 | Purity | 1999-11-08 | 60 | Xena receives a message from her spiritual mentor, Lao Ma, that she must recover her book of power. |
| 7 | 97 | Back in the Bottle | 1999-11-15 | 60 | Xena must master Lao Ma's powers to save Gabrielle, Joxer and the people of Chin from a militia led by the evil spirits of Pao Ssu and her brother, Ming T'ien. |
| 8 | 98 | Little Problems | 1999-11-22 | 60 | Gabrielle and Aphrodite have until sundown to save Xena's soul from being trapped inside a young girl forever. |
| 9 | 99 | Seeds of Faith | 2000-01-10 | 60 | Eli takes on Ares in an effort to overthrow the gods and Xena finally learns the true identity of her baby's father. |
| 10 | 100 | Lyre, Lyre, Hearts on Fire | 2000-01-17 | 60 | To avoid a war over who gets possession of Terpsichore's lyre, Xena organizes a battle of the bands in this musical episode that reunites Xena with her mother, Joxer with his twin brother Jace, and Gabrielle with a lovesick Draco. |
| 11 | 101 | Punch Lines | 2000-01-24 | 60 | Gabrielle and Argo are shrunken into miniature versions of themselves when they cross paths with Lachrymose, the god of despair. |
| 12 | 102 | God Fearing Child | 2000-02-07 | 60 | Xena's baby is born after Hercules steps in to battle his father Zeus, who learns that the birth of the child will signal the end of the Olympian order. |
| 13 | 103 | Eternal Bonds | 2000-02-14 | 60 | While Xena fights off priests' armies, Gabrielle seeks an antidote for Joxer's poisonous wound. |
| 14 | 104 | Amphipolis Under Siege | 2000-02-21 | 60 | Athena wages war on Xena's hometown of Amphipolis in an effort to kill Eve and stop the Twilight of the Gods. |
| 15 | 105 | Married with Fishsticks | 2000-02-28 | 60 | When Gabrielle is knocked unconscious into the sea, a merman convinces her that she is his wife and the mother of three. |
| 16 | 106 | Lifeblood | 2000-03-13 | 60 | Xena and Gabrielle travel to the Amazon village to make Eve an Amazon princess and discover that it's up to them to prevent unnecessary bloodshed in a vengeful war. |
| 17 | 107 | Kindred Spirits | 2000-04-17 | 60 | Joxer breaks Amazon laws that force Queen Gabrielle to choose between settling down in the Amazon village and life on the road with Xena. |
| 18 | 108 | Antony & Cleopatra | 2000-04-24 | 60 | When Cleopatra is murdered, Xena assumes her identity to uncover the assassin and protect Egypt. |
| 19 | 109 | Looking Death in the Eye | 2000-05-01 | 60 | Joxer, now in his 60s, finds the last scroll written by Gabrielle, recounting their battle to protect Xena's child. |
| 20 | 110 | Livia | 2000-05-08 | 60 | Xena and Gabrielle are freed from their icy prison after 25 years and set out to find Eve, who has become a fearless commander in Rome. |
| 21 | 111 | Eve | 2000-05-15 | 60 | Eve continues her quest to kill all of Eli's cult followers, and Xena must decide how to stop her. |
| 22 | 112 | Motherhood | 2000-05-22 | 60 | With the lives of Gabrielle and Eve hanging in the balance, Xena faces the gods in a final showdown. |
Season 6
| Episode No. | No. Overall | Title | Airdate | Runtime | Summary |
| --- | --- | --- | --- | --- | --- |
| 1 | 113 | Coming Home | 2000-10-02 | 60 | Ares needs Xena's help to restore his godly powers, but he gets more than he bargained for when the Furies play a trick on him. |
| 2 | 114 | The Haunting of Amphipolis | 2000-10-14 | 60 | Xena is forced to battle Mephistopheles when she returns to Amphipolis with Gabrielle and Eve to find her home haunted by evil. |
| 3 | 115 | Heart of Darkness | 2000-10-21 | 60 | Xena must devise a plan to avoid inheriting the kingdom of hell. |
| 4 | 116 | Who's Gurkhan? | 2000-10-28 | 60 | When Gabrielle learns that her niece has been captured by the vicious raider Gurkhan, she sets sail for North Africa on a rescue mission with Xena, Eve, and Virgil. |
| 5 | 117 | Legacy | 2000-11-04 | 60 | Xena and Gabrielle intervene to help two tribes unite against their Roman enemies in the North African desert. |
| 6 | 118 | The Abyss | 2000-11-11 | 60 | Xena and Gabrielle are forced into a deadly confrontation with cannibals when they go in search of Virgil. |
| 7 | 119 | The Rheingold (1) | 2000-11-18 | 60 | Xena embarks on a deadly mission involving her dark past when the Norse warrior Beowulf approaches her for help. |
| 8 | 120 | The Ring (2) | 2000-11-25 | 60 | Xena must battle a monster of her own making to recover the destructive Rheingold ring she forged in her days as an evil warrior. |
| 9 | 121 | Return of the Valkyrie (3) | 2000-12-02 | 60 | Xena battles to regain her memory and reverse the curse of the Rheingold ring. |
| 10 | 122 | Old Ares Had a Farm | 2001-01-20 | 60 | Xena brings Ares to her childhood home and disguises him as a farmer to protect him from a gang of vengeful warlords. |
| 11 | 123 | Dangerous Prey | 2001-01-27 | 60 | Xena becomes prey for Prince Morloch, who is hunting and killing Amazons in his quest for an adversary who can match his skills. |
| 12 | 124 | The God You Know | 2001-02-03 | 60 | The Archangel Michael summons Xena to kill the now immortal Roman emperor Caligula, who has been murdering innocents in his quest for absolute power. |
| 13 | 125 | You Are There | 2001-02-10 | 60 | A tabloid TV reporter stalks Xena and Gabrielle, determined to get a story on the warrior princess. |
| 14 | 126 | Path of Vengeance | 2001-02-17 | 60 | Xena and Gabrielle fight to save Eve from execution when she returns to Amazon lands to make amends for her past. |
| 15 | 127 | To Helicon and Back | 2001-02-24 | 60 | When the Amazon Queen Varia is kidnapped by a masked warrior, Gabrielle leads the Amazons to Helicon on a bloody rescue mission. |
| 16 | 128 | Send in the Clones | 2001-04-28 | 60 | Three modern-day fans of Xena create clones of Xena and Gabrielle. |
| 17 | 129 | The Last of the Centaurs | 2001-05-05 | 60 | Xena and Gabrielle must save a young centaur from the clutches of Lord Belach. |
| 18 | 130 | When Fates Collide | 2001-05-12 | 60 | Xena becomes the Empress of Rome with no recollection of her past when Caesar chains up the three Fates and cuts the strands of time to alter his destiny. |
| 19 | 131 | Many Happy Returns | 2001-05-20 | 60 | Gabrielle and Xena prevent a group of religious fanatics from sacrificing a virgin and teach her the ways of the world. |
| 20 | 132 | Soul Possession | 2001-06-09 | 60 | When an ancient scroll chronicling the life of Xena surfaces in the present, conflicts arise among the modern-day reincarnations of Xena, Gabrielle, Ares and Joxer. |
| 21 | 133 | A Friend in Need (1) | 2001-06-16 | 60 | Xena revisits her past by returning to Japan to save the city of Higuchi and make amends for her past mistakes. |
| 22 | 134 | A Friend in Need (2) | 2001-06-25 | 60 | Xena and Gabrielle face the greatest threat they've ever known when they go up against the evil Yodoshi and an army of elite Samurai warriors. |
Series Cast
| | | | |
| --- | --- | --- | --- |
| | Lucy Lawless | as Xena | |
| | Renee O'Connor | as Gabrielle | |
Series Crew
| | Position | Name |
| --- | --- | --- |
| | Co-Executive Producer | Roberto Orci |
| | Co-Executive Producer | Alex Kurtzman |
| | Line Producer | Chloe Smith |
| | Producer | Chloe Smith |
| | Co-Executive Producer | Liz Friedman |
| | Co-Producer | Liz Friedman |
| | Supervising Producer | Liz Friedman |
| | Producer | Liz Friedman |
| | Creator | Rob Tapert |
| | Executive Producer | Rob Tapert |
| | Executive Producer | Sam Raimi |
| | Supervising Producer | Babs Greyhosky |
| | Supervising Producer | Emily Skopov |
| | Creator | John Schulian |
| | Co-Executive Producer | Eric Gruendemann |
| | Producer | Eric Gruendemann |
| | Co-Executive Producer | Steven L. Sears |
| | Supervising Producer | Steven L. Sears |
| | Supervising Producer | Bernadette Joyce |
| | Producer | Bernadette Joyce |
| | Co-Executive Producer | R.J. Stewart |
| | Executive Producer | R.J. Stewart |
| | Editor | Robert Fields |
| | Co-Producer | Chris Manheim |
| | Supervising Producer | Chris Manheim |
| | Director Of Photography | Aaron Morton |
| | Music | Joseph LoDuca |
| | Casting | Diana Rowan |
| | Editor | Steve Polivka |
| | Director Of Photography | Simon Riera |
| | Co-Producer | Michael J. McDonald |
| | Producer | Michael J. McDonald |
| | Associate Producer | Jason Schmid |
| | Co-Producer | Patrick Moran |
| | Director Of Photography | Donald Duncan |
| | Director Of Photography | John Cavill |
| | Director Of Photography | Warrick Attewell |
| | Director Of Photography | Allen Guilford |
| | Director Of Photography | Rick Allender |
| | Editor | Jim Prior |
| | Editor | Timothy Batt |
| | Editor | Douglas Ibold |
| | Editor | David E. Blewitt |
| | Editor | Jody Fedele |
| | Editor | Steve Bobertz |
| | Production Designer | Robert Gillies |
Related News
TVMaze