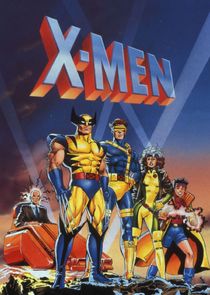 With stories adapted directly from the original comic books, this show is a piece of Marvel history and a must-have for every X-Men fan. Discover the origins of your favorite characters and uncover the secrets of Magneto and more of the world's most diabolical villains in X-Men.
Series Overview
Rating
imDb Rating: 8.4 (35,407 Votes)
Metascore: N/A
Plot
A team of mutant superheroes fight for justice and human acceptance in the Marvel Comics universe.
Details
Rated: TV-Y7
Released: 31 Oct 1992
Runtime: 23 min
Genre: Animation, Action, Family, Sci-Fi, Thriller
Director: N/A
Writer: Mark Edward Edens, Sidney Iwanter, Eric Lewald, Margaret Loesch
Actors: Cathal J. Dodd, George Buza, Norm Spencer, Cedric Smith
Language: English
Country: USA, Canada
Awards: N/A
Total Seasons: 5
Previous Episode
Graduation Day
Episode 5x14; Sep 20, 1997
Previous Episodes 5x14: Graduation Day 5x13: Descent 5x12: Hidden Agendas 5x11: Old Soldiers 5x10: The Fifth Horseman 5x9: Jubilee's Fairytale Theatre 5x8: Storm Front (2) 5x7: Storm Front (1) 5x6: Bloodlines

View All Episodes
Cast
Iona Morris as Ororo Munroe / Storm
Tony Daniels as Remy LeBeau / Gambit
Chris Potter as Remy LeBeau / Gambit
Alison Sealy-Smith as Ororo Munroe / Storm
Norm Spencer as Scott Summers / Cyclops
George Buza as Dr. Henry "Hank" McCoy / Beast
View Full Cast
Recent News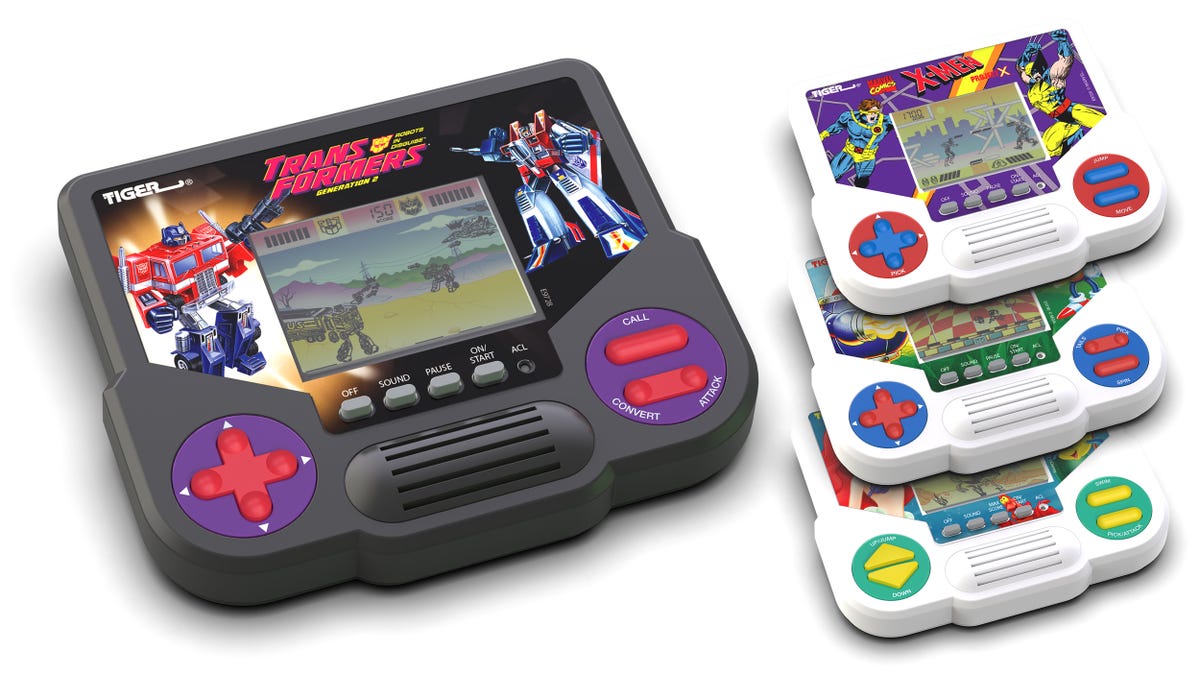 Hasbro Is Bringing Back Tiger Electronics' Handheld LCD Games
Toy Fair 2020 is just a couple of days away and soon the internet will be abuzz with all the new toys arriving this year, but all the old toys as well. Continuing a trend seen at the show for the past couple of years, Hasbro today revealed it's bringing back …
via NewsAPI
View More Related News
Skip to:
Season 1
| Episode No. | No. Overall | Title | Airdate | Runtime | Summary |
| --- | --- | --- | --- | --- | --- |
| 1 | 1 | Night of the Sentinels (1) | 1992-10-31 | 30 | |
| 2 | 2 | Night of the Sentinels (2) | 1992-11-07 | 30 | |
| 3 | 3 | Enter Magneto (1) | 1992-11-27 | 30 | |
| 4 | 4 | Deadly Reunions (2) | 1993-01-23 | 30 | |
| 5 | 5 | Captive Hearts (1) | 1993-01-30 | 30 | |
| 6 | 6 | Cold Vengeance (2) | 1993-02-06 | 30 | |
| 7 | 7 | Slave Island (3) | 1993-02-13 | 30 | |
| 8 | 8 | The Unstoppable Juggernaut | 1993-02-15 | 30 | |
| 9 | 9 | The Cure | 1993-02-20 | 30 | |
| 10 | 10 | Come the Apocalypse | 1993-02-27 | 30 | |
| 11 | 11 | Days of Future Past (1) | 1993-03-13 | 30 | |
| 12 | 12 | Days of Future Past (2) | 1993-03-20 | 30 | |
| 13 | 13 | The Final Decision (3) | 1993-03-27 | 30 | |
Season 2
| Episode No. | No. Overall | Title | Airdate | Runtime | Summary |
| --- | --- | --- | --- | --- | --- |
| 1 | 14 | Till Death Do Us Part (1) | 1993-10-23 | 30 | |
| 2 | 15 | Till Death Do Us Part (2) | 1993-10-30 | 30 | |
| 3 | 16 | Whatever It Takes (3) | 1993-11-06 | 30 | |
| 4 | 17 | Red Dawn (4) | 1993-11-13 | 30 | |
| 5 | 18 | Repo Man | 1993-11-20 | 30 | |
| 6 | 19 | X-Ternally Yours | 1993-12-04 | 30 | |
| 7 | 20 | Time Fugitives (1) | 1993-12-11 | 30 | |
| 8 | 21 | Time Fugitives (2) | 1993-12-18 | 30 | |
| 9 | 22 | A Rogue's Tale | 1994-01-08 | 30 | |
| 10 | 23 | Beauty & the Beast | 1994-01-15 | 30 | |
| 11 | 24 | Mojovision | 1994-02-05 | 30 | |
| 12 | 25 | Reunion (1) | 1994-02-12 | 30 | |
| 13 | 26 | Reunion (2) | 1994-02-19 | 30 | |
Season 3
| Episode No. | No. Overall | Title | Airdate | Runtime | Summary |
| --- | --- | --- | --- | --- | --- |
| 1 | 27 | Out of the Past (1) | 1994-07-29 | 30 | |
| 2 | 28 | Out of the Past (2) | 1994-08-05 | 30 | |
| 3 | 29 | The Phoenix Saga (1): Sacrifice | 1994-09-05 | 30 | |
| 4 | 30 | The Phoenix Saga (2): The Dark Shroud | 1994-09-06 | 30 | |
| 5 | 31 | The Phoenix Saga (3): Cry of the Banshee | 1994-09-07 | 30 | |
| 6 | 32 | The Phoenix Saga (4): The Starjammers | 1994-09-08 | 30 | |
| 7 | 33 | The Phoenix Saga (5): Child of Light | 1994-09-09 | 30 | |
| 8 | 34 | Savage Land, Strange Heart (1) | 1994-09-10 | 30 | |
| 9 | 35 | Savage Land, Strange Heart (2) | 1994-09-17 | 30 | |
| 10 | 36 | Obsession | 1994-09-24 | 30 | |
| 11 | 37 | The Dark Phoenix (1): Dazzled | 1994-11-12 | 30 | |
| 12 | 38 | The Dark Phoenix (2): The Inner Circle | 1994-11-12 | 30 | |
| 13 | 39 | The Dark Phoenix (3): The Dark Phoenix | 1994-11-19 | 30 | |
| 14 | 40 | The Dark Phoenix (4): The Fate of the Phoenix | 1994-11-26 | 30 | |
| 15 | 41 | Cold Comfort | 1995-02-04 | 30 | |
| 16 | 42 | Orphan's End | 1995-02-25 | 30 | |
| 17 | 43 | The Juggernaut Returns | 1995-05-06 | 30 | |
| 18 | 44 | Nightcrawler | 1995-05-13 | 30 | |
| 19 | 45 | Weapon X, Lies, and Video Tape | 1995-06-11 | 30 | |
Season 4
| Episode No. | No. Overall | Title | Airdate | Runtime | Summary |
| --- | --- | --- | --- | --- | --- |
| 1 | 46 | One Man's Worth (1) | 1995-09-09 | 30 | |
| 2 | 47 | One Man's Worth (2) | 1995-09-16 | 30 | |
| 3 | 48 | Courage | 1995-09-23 | 30 | |
| 4 | 49 | Proteus (1) | 1995-09-30 | 30 | |
| 5 | 50 | Proteus (2) | 1995-10-07 | 30 | |
| 6 | 51 | Sanctuary (1) | 1995-10-21 | 30 | |
| 7 | 52 | Sanctuary (2) | 1995-10-28 | 30 | |
| 8 | 53 | Beyond Good and Evil (1) | 1995-11-04 | 30 | |
| 9 | 54 | Beyond Good and Evil (2) | 1995-11-11 | 30 | |
| 10 | 55 | Beyond Good and Evil (3) | 1995-11-18 | 30 | |
| 11 | 56 | Beyond Good and Evil (4) | 1995-11-25 | 30 | |
| 12 | 57 | Have Yourself a Morlock Little X-Mas | 1995-12-23 | 30 | |
| 13 | 58 | The Lotus and the Steel | 1996-02-03 | 30 | |
| 14 | 59 | Love in Vain | 1996-02-10 | 30 | |
| 15 | 60 | Secrets, Not Long Buried | 1996-02-17 | 30 | |
| 16 | 61 | Xavier Remembers | 1996-04-27 | 30 | |
| 17 | 62 | Family Ties | 1996-05-04 | 30 | |
Season 5
| Episode No. | No. Overall | Title | Airdate | Runtime | Summary |
| --- | --- | --- | --- | --- | --- |
| 1 | 63 | The Phalanx Covenant (1) | 1996-09-07 | 30 | |
| 2 | 64 | The Phalanx Covenant (2) | 1996-09-07 | 30 | |
| 3 | 65 | A Deal with the Devil | 1996-09-14 | 30 | |
| 4 | 66 | No Mutant is an Island | 1996-09-21 | 30 | |
| 5 | 67 | Longshot | 1996-10-05 | 30 | |
| 6 | 68 | Bloodlines | 1996-10-26 | 30 | |
| 7 | 69 | Storm Front (1) | 1996-11-02 | 30 | |
| 8 | 70 | Storm Front (2) | 1996-11-09 | 30 | |
| 9 | 71 | Jubilee's Fairytale Theatre | 1996-11-16 | 30 | |
| 10 | 72 | The Fifth Horseman | 1997-02-08 | 30 | |
| 11 | 73 | Old Soldiers | 1997-02-22 | 30 | |
| 12 | 74 | Hidden Agendas | 1997-09-06 | 30 | |
| 13 | 75 | Descent | 1997-09-13 | 30 | |
| 14 | 76 | Graduation Day | 1997-09-20 | 30 | |
Series Cast
| | | | |
| --- | --- | --- | --- |
| | Iona Morris | as Ororo Munroe / Storm | |
| | Tony Daniels | as Remy LeBeau / Gambit | |
| | Chris Potter | as Remy LeBeau / Gambit | |
| | Alison Sealy-Smith | as Ororo Munroe / Storm | |
| | Norm Spencer | as Scott Summers / Cyclops | |
| | George Buza | as Dr. Henry "Hank" McCoy / Beast | |
| | Catherine Disher | as Jean Grey / Phoenix | |
| | Cedric Smith | as Charles Xavier / Professor X | |
| | Lenore Zann | as Rogue | |
| | Alyson Court | as Jubilation Lee / Jubilee | |
| | Cathal J. Dodd | as Logan / Wolverine | |
| | David Hemblen | as Erik Lehnsherr / Magneto | |
Series Crew
| | Position | Name |
| --- | --- | --- |
| | Executive Producer | Stan Lee |
| | Executive Producer | Avi Arad |
| | Executive Producer | Winston Richard |
| | Supervising Producer | Will Meugniot |
| | Supervising Producer | Scott Thomas |
Related News
TVMaze