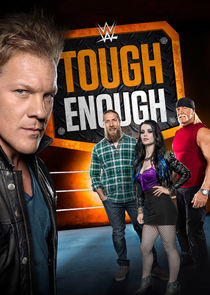 Each week, one cast member will be eliminated until one man and one woman are considered "Tough Enough", with each earning a one-year, $250,000 WWE contract. Chris Jericho will be joined by a panel of experts comprised of WWE Superstar Daniel Bryan, WWE Diva Paige and WWE Superstar This Miz and throughout the competition, the contestants will be trained by WWE Legends Booker T, Billy Gunn and Lita.
Series Overview
Rating
imDb Rating: 6.9 (80 Votes)
Metascore: N/A
Plot
N/A
Details
Rated: N/A
Released: 04 Apr 2011
Runtime: N/A
Genre: N/A
Director: N/A
Writer: N/A
Actors: Eric Watts, Rima Fakih, Matt Capiccioni, Ivelisse Velez
Language: English
Country: USA
Awards: N/A
Total Seasons: 6
Previous Episode
A Champion is Crowned
Episode 6x10; Aug 25, 2015
Previous Episodes 6x10: A Champion is Crowned 6x9: Friend or Foe? 6x8: There's No I in Team 6x7: Spinning a Yarn 6x6: Remember to Be the Best 6x5: Swallow Your Pride, It's Good for You 6x4: One Man Show 6x3: Who Are You? 6x2: Swamp Stories

View All Episodes
Cast
Amy Dumas as Trainer
Trish Stratus as Trainer
Daniel Puder as Season 4 Winner
Booker T as Trainer
Steve Austin as Host
Chris Jericho as Host
View Full Cast
Skip to:
Season 1
| Episode No. | No. Overall | Title | Airdate | Runtime | Summary |
| --- | --- | --- | --- | --- | --- |
| 1 | 1 | Casting Special | 2001-06-21 | 40 | |
| 2 | 2 | Welcome to the Jungle | 2001-06-28 | 40 | |
| 3 | 3 | Jason Crumbles | 2001-07-05 | 40 | |
| 4 | 4 | If You Can't Stand the Heat | 2001-07-12 | 40 | |
| 5 | 5 | Dispatching Darryl | 2001-07-19 | 40 | |
| 6 | 6 | Tears Idle Tears | 2001-07-26 | 40 | |
| 7 | 7 | A No-Win-Ski Situation | 2001-08-02 | 40 | |
| 8 | 8 | Dropping Like Flies | 2001-08-09 | 40 | |
| 9 | 9 | The Viscious Circle | 2001-08-16 | 40 | |
| 10 | 10 | Timing is Everything | 2001-08-23 | 40 | |
| 11 | 11 | The Rules of the Road | 2001-08-30 | 40 | |
| 12 | 12 | No Hill Too Tall, Nor Water Too Deep | 2001-09-20 | 40 | |
| 13 | 13 | That's Not the Story | 2001-09-27 | 40 | |
| 14 | 14 | The Beginning | 2001-09-23 | 40 | |
Season 2
| Episode No. | No. Overall | Title | Airdate | Runtime | Summary |
| --- | --- | --- | --- | --- | --- |
| 1 | 15 | Season 2 Casting Special | 2002-02-28 | 40 | |
| 2 | 16 | Welcome to the Terrordome | 2002-03-07 | 40 | |
| 3 | 17 | The First Cuts | 2002-03-14 | 40 | |
| 4 | 18 | Hawk Comes Through | 2002-03-21 | 40 | |
| 5 | 19 | Buh-Bye | 2002-03-28 | 40 | |
| 6 | 20 | What Are They Looking For? | 2002-04-04 | 40 | |
| 7 | 21 | Acting Up and Getting Down | 2002-04-11 | 40 | |
| 8 | 22 | The Wages of Sin | 2002-04-18 | 40 | |
| 9 | 23 | Downs and Ups | 2002-04-25 | 40 | |
| 10 | 24 | Sun City Here We Come | 2002-05-02 | 40 | |
| 11 | 25 | Hello Hormones | 2002-05-16 | 40 | |
| 12 | 26 | The Last Cut is the Deepest | 2002-05-23 | 40 | |
| 13 | 27 | The End of the Competition | 2002-05-30 | 40 | |
| 14 | 28 | WWE Tough Enough 1 & 2 Reunion Special | 2002-06-13 | 40 | |
| 15 | 29 | WWE Tough Enough 2 Soundtrack Special | 2002-05-26 | 40 | |
Season 3
| Episode No. | No. Overall | Title | Airdate | Runtime | Summary |
| --- | --- | --- | --- | --- | --- |
| 1 | 30 | Casting Special | 2002-10-17 | 40 | |
| 2 | 31 | Let the Games Begin | 2002-10-24 | 40 | |
| 3 | 32 | Dropping Like Flies | 2002-10-31 | 40 | |
| 4 | 33 | Cracking Up and Getting Cut | 2002-11-07 | 40 | |
| 5 | 34 | Two Girls Left | 2002-11-14 | 40 | |
| 6 | 35 | Visitors and Cutbacks | 2002-11-21 | 40 | |
| 7 | 36 | You've Been Had | 2002-11-28 | 40 | |
| 8 | 37 | Revenge and Regrets | 2002-12-05 | 40 | |
| 9 | 38 | One Laugh Too Many | 2002-12-12 | 40 | |
| 10 | 39 | Beginning to Doubt | 2002-12-26 | 40 | |
| 11 | 40 | Cut Short | 2003-01-02 | 40 | |
| 12 | 41 | Time for a Beat Down | 2003-01-09 | 40 | |
| 13 | 42 | Anticipating the Final Decision | 2003-01-16 | 40 | |
| 14 | 43 | The Finale | 2003-01-23 | 40 | |
Season 4
| Episode No. | No. Overall | Title | Airdate | Runtime | Summary |
| --- | --- | --- | --- | --- | --- |
| 1 | 44 | Episode 37 | 2004-10-21 | 40 | |
| 2 | 45 | Episode 38 | 2004-10-28 | 40 | |
| 3 | 46 | Episode 39 | 2004-11-04 | 40 | |
| 4 | 47 | Episode 40 | 2004-11-11 | 40 | |
| 5 | 48 | Episode 41 | 2004-11-18 | 40 | |
| 6 | 49 | Episode 42 | 2004-11-25 | 40 | |
| 7 | 50 | The Tough Enough $1,000,000 Download | 2004-11-26 | 40 | |
| 8 | 51 | Episode 43 | 2004-12-02 | 40 | |
| 9 | 52 | Episode 44 | 2004-12-09 | 40 | |
Season 5
| Episode No. | No. Overall | Title | Airdate | Runtime | Summary |
| --- | --- | --- | --- | --- | --- |
| 1 | 53 | Get Your Teeth Out of My Ring | 2011-04-04 | 40 | |
| 2 | 54 | Five for Flinching | 2011-04-11 | 40 | |
| 3 | 55 | Bad Day, Real Bad Day | 2011-04-18 | 40 | |
| 4 | 56 | 110 Pound Elephant in the Room | 2011-04-25 | 40 | |
| 5 | 57 | Don't Take My Kindness for Weakness | 2011-05-02 | 40 | |
| 6 | 58 | It's Getting Down to Nut Cuttin' Time | 2011-05-09 | 40 | |
| 7 | 59 | Running with Wolves | 2011-05-16 | 40 | |
| 8 | 60 | I've Been Bamboozled and Flabbergasted | 2011-05-23 | 40 | |
| 9 | 61 | Now We Face the Rattlesnake | 2011-05-30 | 40 | |
| 10 | 62 | May the Best Man Win | 2011-06-06 | 40 | |
Season 6
| Episode No. | No. Overall | Title | Airdate | Runtime | Summary |
| --- | --- | --- | --- | --- | --- |
| 1 | 63 | Boot Camp or Bust | 2015-06-23 | 40 | |
| 2 | 64 | Swamp Stories | 2015-06-30 | 40 | |
| 3 | 65 | Who Are You? | 2015-07-07 | 40 | |
| 4 | 66 | One Man Show | 2015-07-14 | 40 | |
| 5 | 67 | Swallow Your Pride, It's Good for You | 2015-07-21 | 40 | |
| 6 | 68 | Remember to Be the Best | 2015-07-28 | 40 | |
| 7 | 69 | Spinning a Yarn | 2015-08-04 | 40 | |
| 8 | 70 | There's No I in Team | 2015-08-11 | 40 | |
| 9 | 71 | Friend or Foe? | 2015-08-18 | 40 | |
| 10 | 72 | A Champion is Crowned | 2015-08-25 | 40 | |
Series Cast
| | | | |
| --- | --- | --- | --- |
| | Amy Dumas | as Trainer | |
| | Trish Stratus | as Trainer | |
| | Daniel Puder | as Season 4 Winner | |
| | Booker T | as Trainer | |
| | Steve Austin | as Host | |
| | Chris Jericho | as Host | |
Related News
TVMaze