WWE Metal (originally known as WWF Metal) was a professional wrestling television program produced by the World Wrestling Federation (now known as WWE). The show aired syndicated weekly from 1999 until 2002 and replaced WWF Shotgun Saturday Night. Originally produced under the World Wrestling Federation (WWF) banner, they were replaced by the similarly formatted WWE Bottom Line and WWE Afterburn in syndication.
Series Overview
Rating
imDb Rating: 5.5 (71 Votes)
Metascore: N/A
Plot
N/A
Details
Rated: N/A
Released: N/A
Runtime: 60 min
Genre: Sport
Director: N/A
Writer: Vince McMahon
Actors: Scoot Andrews
Language: English, Spanish, French
Country: USA, Canada
Awards: N/A
Total Seasons: N/A
Previous Episode
Episode x; Oct 23, 2019
Cast
Torrie Wilson as Torrie Wilson
Chaz Warrington as Chaz / Headbanger Mosh
Shelton Benjamin as Shelton Benjamin
Scott Taylor as Scotty 2 Hotty
Randy Orton as Randy Orton
Mike Alfonso as Mike Awesome
View Full Cast
Recent News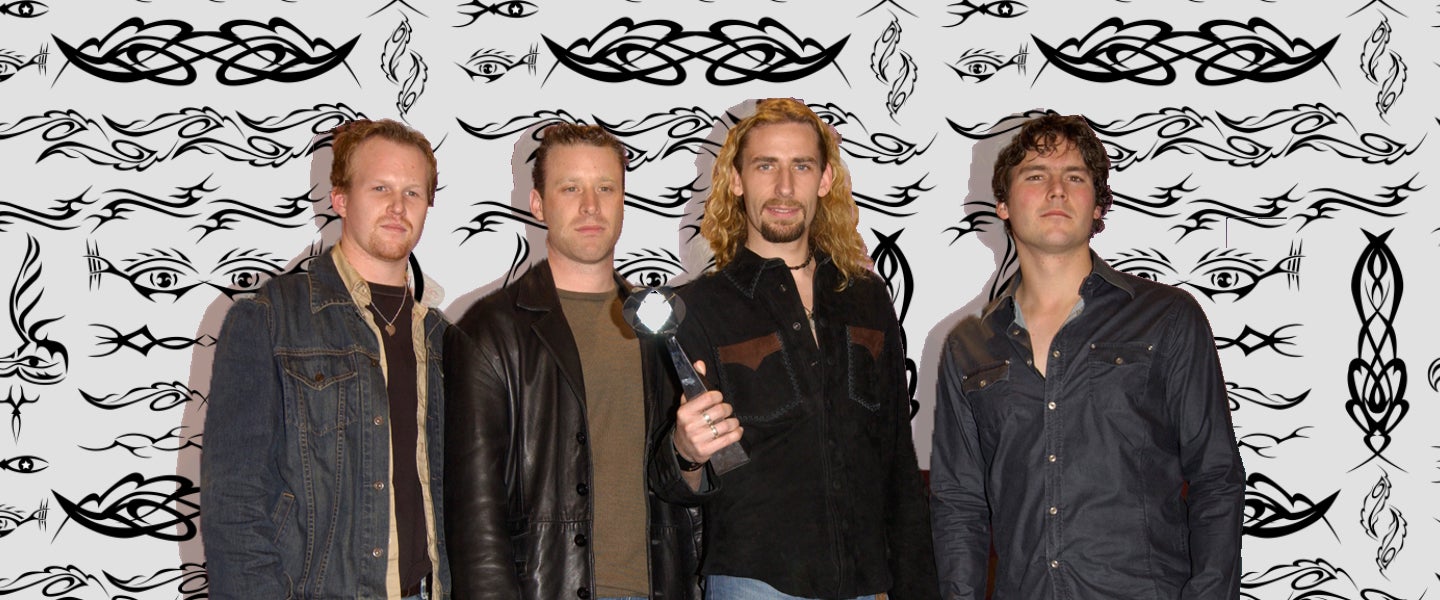 What Was Butt Rock?
I've probably spent more hours at karaoke than the average human. To me, the combination of drunkenness and belting out my favorite Alanis Morissette songs...
via NewsAPI
View More Related News
Series Cast
| | | | |
| --- | --- | --- | --- |
| | Torrie Wilson | as Torrie Wilson | |
| | Chaz Warrington | as Chaz / Headbanger Mosh | |
| | Shelton Benjamin | as Shelton Benjamin | |
| | Scott Taylor | as Scotty 2 Hotty | |
| | Randy Orton | as Randy Orton | |
| | Mike Alfonso | as Mike Awesome | |
| | Darren Drozdov | as Droz | |
| | Taz | as Co-Host | |
| | Charles Wright | as The Goodfather / The Godfather | |
| | Peter Gruner | as Billy Kidman | |
| | Andrew Martin | as Test | |
| | Takao Yoshida | as TAKA Michinoku | |
| | Brock Lesnar | as Brock Lesnar | |
| | A.C. Connor | as D'Lo Brown | |
| | Brian Heffron | as The Blue Meanie | |
| | Sal Guerrero | as Chavo Guerrero | |
| | Dennis Knight | as Naked Mideon / Mideon | |
| | Matt Hyson | as Spike Dudley | |
| | Canyon | as Kanyon | |
| | Devon Hughes | as D-Von Dudley | |
| | Shawn Hill | as Shawn Hill | |
| | Paul Wight | as The Big Show | |
| | P.J. Polaco | as Justin Credible | |
| | Shawn Stipich | as Meat / Shawn Stasiak | |
| | Gregory Helms | as The Hurricane | |
| | Ron Simmons | as Faarooq | |
| | Yoshihiro Tajiri | as Tajiri | |
| | Tommy Dreamer | as Tommy Dreamer | |
| | Mark LoMonaco | as Bubba Ray Dudley | |
| | Sean O'Haire | as Sean O'Haire | |
| | Solofa Fatu Jr | as Rikishi Phatu / Rikishi | |
| | Tracy Smothers | as Tracy Smothers | |
| | Eddie Guerrero | as Eddie Guerrero | |
| | Gregory Helms | as The Hurricane | |
| | Jonathan Coachman | as Co-Host | |
| | Rodney Begnaud | as Redd Dogg | |
| | Steve Lombardi | as The Brooklyn Brawler | |
| | Michael Manna | as Stevie Richards | |
| | Steve Blackman | as Steve Blackman | |
| | Kurt Angle | as Kurt Angle | |
| | Tonga Fifita | as Haku | |
| | Darren Matthews | as William Regal | |
| | Jeffrey Hardy | as Jeff Hardy | |
| | Al Snow | as Al Snow | |
| | Brevard Hudson | as Mike Anthony | |
| | Adam Copeland | as Edge | |
| | Brian Lawler | as Grandmaster Sexay | |
| | Jason Arhndt | as Joey Abs | |
| | Chuck Palumbo | as Chuck Palumbo | |
| | Lisa Moretti | as Ivory | |
| | Perry Saturn | as Perry Saturn | |
| | Matthew Hardy | as Matt Hardy | |
| | Sho Funaki | as Sho Funaki | |
| | Rico Constantino | as Rico | |
| | Stacy Keibler | as Stacy Keibler | |
| | Brian Lawler | as Grandmaster Sexay | |
| | Matt Bloom | as Prince Albert / Albert | |
| | John Layfield | as Bradshaw / John Bradshaw | |
| | Trudy Vachon | as Luna Vachon | |
| | Ron Killings | as K-Kwik | |
| | Jay Reso | as Christian | |
| | Bob Howard | as Bob 'Hardcore' Holly / Bob 'Sparkplug' Holly | |
| | Curt Hennig | as Curt Hennig | |
| | Dave Bautista | as Dave Bautista | |
| | Dustin Runnels | as Goldust | |
| | Peter Gasparino | as Pete Gas | |
| | Amy Dumas | as Lita | |
| | Brandon Silvestry | as Loki | |
| | Dean Malenko | as Dean Malenko | |
| | Lance Storm | as Lance Storm | |
| | Jacqueline Moore | as Jacqueline | |
| | Nora Greenwald | as Molly Holly / Mighty Molly | |
| | Christopher Daniels | as Christopher Daniels | |
| | Barry Buchanan | as Bull Buchanan | |
| | Brian James | as Road Dogg | |
| | Trish Stratus | as Trish Stratus | |
| | Glenn Ruth | as Headbanger Thrasher | |
| | Jose Seldano | as Essa Rios | |
| | Paul Heyman | as Paul Heyman | |
| | Sean Morley | as Val Venis | |
| | Gurjit Singh Hans | as Tiger Ali Singh | |
| | John Cena | as John Cena | |
| | Scott Levy | as Raven | |
| | Rodney Leinhardt | as Rodney | |
| | Gangrel | as Gangrel | |
| | Terri Runnels | as Terri Runnels | |
| | Joe Hitchen | as Just Joe | |
| | Sean Waltman | as X-Pac | |
| | Monty Sopp | as Billy Gunn | |
| | Ray Traylor | as Big Bossman | |
| | Bill DeMott | as Hugh Morrus | |
| | Jerry Lynn | as Jerry Lynn | |
| | Davey Boy Smith | as The British Bulldog | |
| | Mark Henry | as Mark Henry | |
| | Andrew Warner | as Scoot Andrews | |
| | Billy Fives | as Billy Fives | |
Series Crew
| | Position | Name |
| --- | --- | --- |
| | Creator | Vince McMahon |
| | Producer | Vince McMahon |
Related News
TVMaze