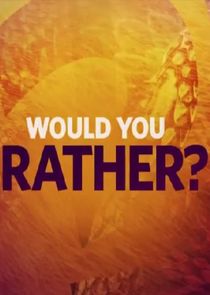 Would You Rather? A popular game that has taken the country — and social media — by storm. So big, Tina Fey and Amy Poehler kicked off the Golden Globes with a friendly game of Would You Rather … Colin Farrell or Colin Firth? Ed Norton or Mark Ruffalo?
Whether you're playing PG versions with your family or R-rated versions at the local bar, the game has taken on a life of its own. And now, Nat Geo WILD is the first network to get into the fray, letting viewers decide what programming they want to watch with the first-ever Would You RatherWILD Wednesdays in February.
Viewers decide if they would rather watch tiny or big animals, furry or scaly ones, ones that swim or slither, or ones that live in a hot or cold climate.
Previous Episode
#WILDhot vs #WILDcold
Episode 1x4; Feb 25, 2015
Setting African butterfly fish and eel catfish opposite camping friends bears and caribou
Previous Episodes 1x4: #WILDhot vs #WILDcold 1x3: #WILDswim vs #WILDslither 1x2: #WILDtiny vs #WILDbig 1x1: #WILDfur vs #WILDscales

View All Episodes
Related News
Pinot Noir From Dutton-Goldfield - 11 Different Ways
Tom Hyland, Contributor, Tom Hyland, Contributor https://www.forbes.com/sites/tomhyland/ (Forbes.com)
To say that Dan Goldfield, winemaker at Dutton-Goldfield in Sonoma's Russian River Valley loves Pinot Noir is a grand understatement; he has an obsession with crafting expressive Pinot Noirs that express a sense of place, wines that tell a story of terroir.
Article preview:
Dutton Goldfield Winery, Santa Rosa Photo courtesy Dutton-Goldfield If youre a fan of Pinot Noir, you dont just like wines produced from this varietal, you have a deep passion for them. To say that Dan Goldfield, winemaker at Dutton-Goldfield in Sonomas Rus… [+9771 chars]
Construction and content validation of a measurement tool to evaluate person-centered therapeutic relationships in physiotherapy services
O. Rodríguez Nogueira, J. Botella-Rico, M. C. Martínez González, M. Leal Clavel, J Morera-Balaguer, A. R. Moreno-Poyato (Plos.org)
Objectives This study sought to develop a tool for evaluating person-centered therapeutic relationships within physiotherapy services, and to examine the content validity of the same. Methods A mixed qualitative and quantitative study was performed in three…
Article preview:
Citation: Rodríguez Nogueira O, Botella-Rico J, Martínez González MC, Leal Clavel M, Morera-Balaguer J, Moreno-Poyato AR (2020) Construction and content validation of a measurement tool to evaluate person-centered therapeutic relationships in physiotherapy se… [+35465 chars]
TVMaze