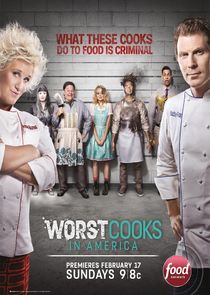 Chef Anne Burrell is back for a seventh season of trying to turn some of America's worst cooks into kitchen stars. This time, however, the recruits are seven celebrities who can showcase their talents on TV and in movies, but not no so much in the kitchen. Burrell competes against Worst Cooks in America newcomer Rachael Ray to see which chef can lead one contestant to make the most impressive culinary transformation. Actors Dean Cain, Ellen Cleghorne, Jaleel White and Barry Williams join reality stars Jenni "JWoww" Farley, Chris Soules and Kendra Wilkinson in boot camp. The winning star gets $50,000 for charity and bragging rights for his or her mentor. Not all of the celebrities will make the cut, however; after an opening potluck dinner each mentor selects three recruits to be on her team, leaving one celebrity to be sent home before the competition really begins. Burrell is looking to extend her record to 5-2, while Ray looks to get the win in her first season.
Series Overview
Rating
imDb Rating: 6.4 (1,006 Votes)
Metascore: N/A
Plot
Some of the worst cooks in the country will compete in an elimination series. The last two standing have the chance to cook for culinary critics and win a cash prize.
Details
Rated: N/A
Released: 03 Jan 2010
Runtime: 60 min
Genre: Comedy, Game-Show, Reality-TV
Director: N/A
Writer: N/A
Actors: Anne Burrell
Language: English
Country: USA
Awards: N/A
Total Seasons: 15
Previous Episode
The Final Countdown
Episode 18x10; Mar 08, 2020
The final two recruits get private cooking lessons from Alton Brown and Anne Burrell and learn to make a dish of their choosing. Then Alton and Anne teach their recruits how to make a three-course, restaurant-quality meal. For the main dish challenge, the two finalists put all their new culinary skills to the test in order to impress judges Kelly Choi, Brian Mazza and Jet Tila, who do a blind taste test and determine the winner of the $25,000 prize.
Previous Episodes 18x10: The Final Countdown 18x9: High Steaks 18x8: Incognito Cuisine 18x7: Amore Sucre 18x6: Opposites Attract 18x5: Let's Get Ready to Tailgate 18x4: Simple Yet Sophisticated 18x3: Chinese New Year 18x2: Indulge Me

View All Episodes
Cast
Anne Burrell as Judge
Bobby Flay as Judge
Tyler Florence as Judge
Robert Irvine as Judge
Beau MacMillan as Judge
Rachael Ray as Judge
View Full Cast
Skip to:
Season 1
| Episode No. | No. Overall | Title | Airdate | Runtime | Summary |
| --- | --- | --- | --- | --- | --- |
| 1 | 1 | Into the Fire | 2010-01-03 | 60 | In the series premiere, 24 terrible home cooks arrive in New York City, hoping to be selected for a 10-day culinary boot camp with chefs Beau MacMillan and Anne Burrell. Then, the field is narrowed down to 12 hopefuls and they begin competing for a $25,000 grand prize |
| 2 | 2 | Looking Good | 2010-01-10 | 60 | The recruits learn five fundamental knife skills at the Arirang Hibachi Steakhouse. Then, each attempts to prepare a teppanyaki-style dish. For the Main Dish Challenge, Anne and Beau post a recipe on the blackboard, only to erase it halfway through the challenge. |
| 3 | 3 | Feelin' the Flavor | 2010-01-17 | 60 | The importance of flavour is emphasized when the recruits learn to make crepes. Then, Anne and Beau teach the basics of marinating and grilling. |
| 4 | 4 | Multitasking | 2010-01-24 | 60 | The recruits learn how to make fresh pasta. Then they prepare a variety of hors d'oeuvres while catering a 30-person cocktail party. |
| 5 | 5 | Are You Ready | 2010-01-31 | 60 | The final four recruits learn to cook a complicated dessert before teaching the dish to a group of high-school football players. Then the finalists must reinvent the terrible dish they cooked for Anne and Beau on their very first day. |
| 6 | 6 | Final Test | 2010-02-01 | 60 | Season 1 comes to a close as the final two recruits prepare a three-course meal for food critics, who think they're eating dishes prepared by Anne and Beau. Then, the amateur chef who serves the best-executed meal is declared the winner. |
Season 2
| Episode No. | No. Overall | Title | Airdate | Runtime | Summary |
| --- | --- | --- | --- | --- | --- |
| 1 | 7 | Worst Food Forward | 2011-01-02 | 60 | Sixteen unskilled home cooks arrive in New York City to begin a culinary boot camp in the Season 2 opener. Hosts Anne Burrell and Robert Irvine divide the recruits into two teams and challenge them to butcher a whole chicken and replicate the entrees they've been taught. |
| 2 | 8 | Farmageddon | 2011-01-09 | 60 | The remaining recruits take a field trip to a farm, where they're challenged to prepare the perfect omelet. Later, the hopefuls try to re-create a pork dish, relying only on their own memory after their notebooks are taken away. |
| 3 | 9 | Frozen to Fabulous | 2011-01-16 | 60 | The hopefuls must replicate three simple sauces and incorporate them into seafood dishes. Later, they re-create frozen meals using fresh and flavorful ingredients. |
| 4 | 10 | Grill Skills | 2011-01-23 | 60 | The recruits construct creative burgers in a grilling Skill Drill. They then prepare elegant meals for two and dine one-on-one with their chef, defending their dishes. |
| 5 | 11 | Game-Day Party | 2011-01-30 | 60 | The recruits cater a cocktail party for Kris Jenkins of the New York Jets. Later, there's a double elimination. |
| 6 | 12 | Facing Food Fears | 2011-02-06 | 60 | The six remaining recruits make sausage from scratch during a trip to a butcher shop. Then, they face their seafood fears when tasked with cleaning and prepping whole fish and squid. |
| 7 | 13 | Sweet Surprise | 2011-02-13 | 60 | The final four compete in a culinary decathlon. Later, their loved ones show up and reveal a favorite dish they'll have to prepare. |
| 8 | 14 | Worst to First | 2011-02-20 | 60 | The final two recruits must prepare a three-course meal in a real restaurant kitchen for a panel of demanding gourmands. Chefs Anne and Robert devise a menu, send the recruits shopping for ingredients and then help their recruit practice the menu for three short hours. The next day, the recruits find themselves at New York's Tribeca Grill, where they'll cook for culinary experts Marc Murphy, Donatella Arpaia and Drew Nieportent. After much deliberation, the panel reveals its choice for the best-executed meal. |
Season 3
| Episode No. | No. Overall | Title | Airdate | Runtime | Summary |
| --- | --- | --- | --- | --- | --- |
| 1 | 15 | Baseline Challenege | 2012-02-12 | 60 | Sixteen hapless home cooks begin culinary boot camp in the Season 3 opener. First, the recruits prepare signature dishes, which are then critiqued by hosts Anne Burrell and Bobby Flay. Later, they learn the basics of cooking breakfast. |
| 2 | 16 | Going Global | 2012-02-19 | 60 | The recruits will be tested on an international level as they attempt to learn to make Hand Pulled Chinese Noodles and meatballs from around the globe. Will the recruits pull through or will they create an international disaster? |
| 3 | 17 | Flavor Combos | 2012-02-26 | 60 | It's all about flavours for the recruits as they have to make and top their own pizza and have their palates tested with extreme and odd flavor combinations. With 12 recruits left, they will all have to fight to taste victory! |
| 4 | 18 | Late Night/Date Night | 2012-03-04 | 60 | The 10 remaining recruits will be up all night learning how to make a late-night treat at a local diner, then Anne Burrell and Bobby Flay will take it up a notch and teach them all an exquisite romantic entree for two. |
| 5 | 19 | Luck of the Irish | 2012-03-11 | 60 | Eight recruits will be asked to re-create one of Anne Burrell and Bobby Flay's favorite meals using nothing but their sense of taste, smell and sight while their teachers secretly watch and judge. Then it's a St. Patrick's Day surprise as the recruits have to cater a party for 40 hungry Irish New Yorkers. |
| 6 | 20 | Something Fishy | 2012-03-18 | 60 | It's time to get down and dirty as the recruits visit a fish market and have to make a colossal raw bar tower. Anne Burrell and Bobby Flay will then put their names on the line as the recruits cook for the chefs' own families! |
| 7 | 21 | Kicked Off By Kinfolk | 2012-03-25 | 60 | The recruits have to impress their hardest critics yet in hopes of moving on to the finale. First they'll feed 30 screaming third-graders, then they'll have to cook a family-style meal for their loved ones who sent them to boot camp. |
| 8 | 22 | Worst to First: The Final Battle | 2012-04-01 | 60 | In the final battle, the two remaining recruits must execute their own three-course menu for a panel of culinary titans at David Burke Kitchen, a restaurant in New York City. Bobby and Anne work with their respective recruits to design the menus, taking into account their personal culinary journeys. The contestants learn new techniques, shop for groceries, practice their menus and execute all three courses in a dramatic end to an exhausting competition. Finally the panel of culinary experts -- including David Burke, Marcus Samuelsson and Susan Feniger -- determine which chef has moved from worst to first and will walk away with the $25,000 grand prize. |
Season 4
| Episode No. | No. Overall | Title | Airdate | Runtime | Summary |
| --- | --- | --- | --- | --- | --- |
| 1 | 23 | The Worst of the Worst | 2013-02-17 | 60 | Fourteen of the worst cooks in America compete in a culinary bootcamp. Chefs Anne Burrell and Bobby Flay are back to turn teams of charmingly helpless recruits into fearless culinary masters. |
| 2 | 24 | Straight Edge Skills | 2013-02-24 | 60 | The worst cooks have their knife skills tested; fishing skills drill on the high seas. This week Chefs Anne Burrell and Bobby Flay test the knife skills of the worst cooks in America. The remaining 12 recruits hit the high seas in a fishing skill drill and also have to take a huge step into the world of farm to table butchery. |
| 3 | 25 | Fire and Ice | 2013-03-03 | 60 | The cooks freeze while making gelato and then play with fire and burgers; special guest Willie Degel. |
| 4 | 26 | Do It Yourself Cooking | 2013-03-10 | 60 | Homemade Chinese takeout; baking a cake for a special occasion with the help of Ron Ben-Israel. |
| 5 | 27 | Face Your Fears Of Feeding Others | 2013-03-17 | 60 | Chefs Anne Burrell and Bobby Flay take the remaining six recruits to the grocery store to make samples for the shoppers and then they face their toughest critics yet, as they host a party for some large hairy, scary bikers. |
| 6 | 28 | Revisit Your Past Before The Last | 2013-03-24 | 60 | Chefs Anne Burrell and Bobby Flay challenge the final four recruits to see how far they have come in the last six weeks. The recruits are in for a surprise as they get to cook for some very special guests, their loved ones. |
| 7 | 29 | So Close I Can Almost Taste It | 2013-03-31 | 60 | Chefs Anne Burrell and Bobby Flay go head to head in the Worst Cooks in America finale. Chef Anne, a 3-0 winner, is ready to fight for her crown but Bobby wants redemption. Who was the better teacher and which recruit will walk away with $25,000? |
Season 5
| Episode No. | No. Overall | Title | Airdate | Runtime | Summary |
| --- | --- | --- | --- | --- | --- |
| 1 | 30 | Worse Than Ever | 2014-02-17 | 60 | Coming off her first loss in four seasons to Bobby Flay last year, Anne Burrell is out for revenge in season five. Step one is scouring the country for the 14 worst cooks in America, picking teams and giving them the recruits their first lesson in cooking, starting with an American favorite: pizza. |
| 2 | 31 | Scratching the Surface | 2014-02-24 | 60 | Since Chefs Bobby and Anne are starting from scratch with these bad cooks, the lessons for the week involve learning to cook from scratch -- including an "udder-ly" hands-on experience sourcing milk for homemade cheese. |
| 3 | 32 | Glazed and Confused | 2014-03-03 | 60 | It's time to learn how to build flavors. From a sweet skill drill making doughnuts to a savory main dish challenge making roulades, the recruits are asked to experiment for the first time in the kitchen and create their own take on these dishes to drastically unpredictable results. |
| 4 | 33 | Surprise! | 2014-03-10 | 60 | The recruits may have mastered putting out one plate of food but they are still a far cry from being able to cook for their families. This week's challenges teach them how to cook quantity -- first rolling sushi for a hungry lunch rush via conveyor belt and then catering a huge party for surprise guest Betsey Johnson. |
| 5 | 34 | Two-a-Day | 2014-03-17 | 60 | The recruits wake up to surprise houseguests Chef Bobby and Chef Anne who crave the most important meal of the day, breakfast. While the most important meal, it's not the only meal and the recruits get in the habit of cooking on a regular basis with two challenges in a single day. |
| 6 | 35 | Eat, Pray, Love | 2014-03-24 | 60 | It's down to the final four and in order to make it to the finale, and after a touching reunion, the remaining recruits will be cooking for the loved ones who nominated them for boot camp. Though they have a chance for redemption showcasing their new cooking skills for their family members, it's also a blind-tasting challenge that could mean getting sent home by the very people they love. |
| 7 | 36 | Timer's Up | 2014-03-31 | 60 | It's Chef Bobby's last recruit versus Chef Anne's last recruit to determine the ultimate winner of Worst Cooks in America. In one last face-off, finalists will cook a refined three-course meal in a professional restaurant kitchen for a panel of culinary experts who will decide which chef-mentor is the better teacher by leading his or her recruit to a $25,000 victory. |
Season 6
| Episode No. | No. Overall | Title | Airdate | Runtime | Summary |
| --- | --- | --- | --- | --- | --- |
| 1 | 37 | It Just Keeps Getting Worse | 2015-01-04 | 60 | With Chef Tyler Florence now beside her in the kitchen, Chef Anne Burrell is out to claim her turf and take the win. After an open call brings some truly horrible cooks right to Anne and Tyler, the pair chooses 14 Recruits to bring back to Boot Camp. These "home cooks" make the chefs their signature dishes, and upon tasting, Anne and Tyler choose their Recruits and give them a lesson in creating the ultimate romantic meal. |
| 2 | 38 | Prepping for Success | 2015-01-11 | 60 | Chef Anne and Chef Tyler test the Recruits' knowledge of food, putting the teams head to head in an effort to gain recipe steps through food trivia. As the Recruits attempt to cut down the competition, they learn and execute knife skills to prepare their dishes. They all make Paella, some ending up with fewer bandages than others. |
| 3 | 39 | Spice Up Your Life | 2015-01-18 | 60 | The Recruits try their hands at experimenting with flavor combinations with a Skill Drill where they serve their crepe creations in a blind tasting. Then the Recruits make their own international tacos: Some flavor combinations are good enough to take over the world while some are truly Worst Cooks worthy! |
| 4 | 40 | Scared Straight Into the Kitchen | 2015-01-25 | 60 | This week, the Recruits huddle up to tackle game day dishes as they as they create deep-fried fan favorites for Chefs Anne and Tyler. Will they make crowd pleasing dishes, or be defeated by the fryer? After the big game, the Recruits try not to lose their noodles when they break down a raw squid to make squid ink pasta with calamari. |
| 5 | 41 | Feeding Frenzy | 2015-02-01 | 60 | The Recruits are faced with their biggest struggles yet: cooking for others in larger quantities. They are asked to make a breakfast for special guest star, Good Morning America's Meteorologist Ginger Zee, who happens to know a thing or two about how important breakfast is. Then they complete this week's challenge by throwing a dinner party for past Recruits, who know exactly what it's like to be in their shoes. |
| 6 | 42 | Blast From the Past | 2015-02-08 | 60 | The Recruits are down to the final four when they are faced with their most important challenge so far. They recreate their signature dishes from the first episode, using their newfound skills and food knowledge, showing who has truly improved and who is still a Worst Cook. The next day, the Recruits are shocked to find they will be cooking for their family members. As this is a blind tasting, the Recruits risk being sent home by their very own loved ones. |
| 7 | 43 | Final Food Fight | 2015-02-15 | 60 | With the final recruit for each team chosen, Chef Anne and Chef Tyler work with their Recruits to choose a refined three course menu to be served to a panel of expert judges. While the Recruits cook, one must work through excruciating pain when they get a taste of the real dangers facing professional chefs daily. The two final Recruits work tirelessly in a professional kitchen to determine who will be named thewinner and win $25,000. |
Season 7
| Episode No. | No. Overall | Title | Airdate | Runtime | Summary |
| --- | --- | --- | --- | --- | --- |
| 1 | 44 | Celebrity Pot-un-lucky | 2015-09-23 | 60 | With Rachael Ray beside her, Chef Anne Burrell faces a new challenge — celebrities who can't cook. They only have six weeks to transform seven pampered celebs into kitchen stars. To assess everyone's skills, Anne and Rachael host a potluck and find themselves tasting some very interesting dishes. After Anne and Rachael pick teams, one celebrity is sent back to Tinsel Town. |
| 2 | 45 | Takeout or Get Out | 2015-09-30 | 60 | The celebrity recruits put their palates to the test in a blindfolded taste and identify game. After seeing what they're working with, Chef Anne Burrell and Rachael Ray focus on getting the celebs to lose their biggest kitchen crutch — takeout. The two recruits with the worst takeout dishes go head-to-head in an elimination challenge. |
| 3 | 46 | Celebrity Showdown | 2015-10-07 | 60 | Chef Anne Burrell and Rachael Ray's remaining celebrity recruits start the week by testing their food knowledge in a game that gets everyone's competitive side fired up. They then have to use their newfound food knowledge to make a signature celebrity sandwich. Anne and Rachael select the cooks of their least favorite sandwiches into a blind elimination challenge. |
| 4 | 47 | Riddle Me This | 2015-10-14 | 60 | When the remaining celebrity recruits walk into Boot Camp, they find two huge boards with incomplete recipes. As a team, they work to fill in the blanks and cook the recipe. Then the recruits are tasked with making fresh pasta with seafood, pushing the culinary boundaries of the seafood-averse. |
| 5 | 48 | Tapas Can't Stop Us | 2015-10-21 | 60 | Chef Anne Burrell and Rachael Ray teach the final three recruits about entertaining, showcasing how to make chips, salsa and guacamole from scratch. Then, putting their entertaining and multitasking skills to the test, the celebs are challenged to make several tapas to be served simultaneously. The final blind elimination of the season will determine which two recruits head to the finale. |
| 6 | 49 | Final Food Fight | 2015-10-28 | 60 | The final two recruits are led to a professional kitchen for their final challenge, cooking a three-course menu for a panel of culinary experts. |
Season 8
| Episode No. | No. Overall | Title | Airdate | Runtime | Summary |
| --- | --- | --- | --- | --- | --- |
| 1 | 50 | Fear the Worst | 2016-01-03 | 60 | Chefs Tyler florence and Anne Burrell choose 14 recruits to train at culinary boot camp; after the cooks make their signature dishes, Tyler and Anne pick their teams and attempt to teach them how to make a well-balanced dinner. |
| 2 | 51 | Getting Stuffed | 2016-01-10 | 60 | The Chefs test the recruits' knowledge of food in a game show-style battle, during which they go head-to-head to win the steps for an incomplete recipe. |
| 3 | 52 | 50 Shades of Flavor | 2016-01-17 | 60 | First, the recruits learn about flavor combinations by tasting some unlikely pairings. Then the Skill Drill checks their creativity as they concoct unique ice cream sandwiches. And when the last round is over, two cooks go home. |
| 4 | 53 | Taking It to the Streets | 2016-01-24 | 60 | The home cooks must prepare four eggs, each in a different style, at the same time. Anne and Tyler see who cracks under the pressure and who keeps calm. Then, the recruits make four different Asian street food dishes. |
| 5 | 54 | The Cod Squad | 2016-01-31 | 60 | The remaining recruits must use exotic proteins to grind out some unforgettable burgers; after serving their sliders to chefs Anne Burrell and Tyler Florence, the recruits learn they must each fillet a whole cod to make homemade fish and chips. |
| 6 | 55 | Blast From the Past | 2016-02-07 | 60 | The final four recruits must replicate a dish with no help from their mentors; the recruits must cook a revamped version of their Day 1 signature dishes for their loved ones. |
| 7 | 56 | Final Food Fight 8 | 2016-02-14 | 60 | Anne and Tyler's final two recruits plan a refined three-course menu for a judges' panel of culinary experts. In the end, only the dishes can prove which recruit has gone from worst to best and will win the $25,000 prize. |
Season 9
| Episode No. | No. Overall | Title | Airdate | Runtime | Summary |
| --- | --- | --- | --- | --- | --- |
| 1 | 57 | Celebrity: Celebrity Dish-asters | 2016-09-14 | 60 | The celebrity cooks make a simple steak and eggs dish which proves to be hard for some; one celebrity is sent back to Tinseltown. |
| 2 | 58 | Celebrity: Hawaiian Pig And Poke | 2016-09-21 | 60 | Hawaiian poke and pork dishes are made by the recruits; two celebrities go head-to-head in an elimination challenge. |
| 3 | 59 | Celebrity: Oktoberfest Feast | 2016-09-28 | 60 | Anne Burrell and Rachael Ray have their teams cook a traditional wiener schnitzel while in a relay-race while playing beer pong; the celebrities learn Oktoberfest-inspired meals including making sausages from scratch; one recruit is sent packing. |
| 4 | 60 | Celebrity: BOOOOT Camp! | 2016-10-05 | 60 | Anne Burrell and Rachael Ray set up a Halloween-themed boot camp; celebrities must make unique monster Bloody Marys; they tackle frightening foods in their main dish; the two celebrities with the worst dishes compete in a blind elimination challenge. |
| 5 | 61 | Celebrity: Celebrity Cheat Meals | 2016-10-12 | 60 | The celebrity recruits play food and pop-culture related trivia; Anne Burrell and Rachael Ray show off their variations of chicken and waffles that their teams must replicate; the least-successful recruits compete in a butchering challenge. |
| 6 | 62 | Celebrity: Hollywood Goes Bollywood | 2016-10-19 | 60 | The tables turn when the remaining celebrities have to direct Anne Burrell and Rachael Ray in making a dish; for their main dish challenge, the celebrities are plunged into the often-intimidating world of Indian cooking. |
| 7 | 63 | Celebrity: Live and Let Dough | 2016-10-26 | 60 | The celebrities must prepare a recipe with missing key words; the remaining recruits must make complex pasta dishes for special guests and former contestants Jenni Jwoww Farley and Kendra Wilkinson. |
| 8 | 64 | Celebrity: The Final Showdown | 2016-11-02 | 60 | The final recruits cook a restaurant-quality meal for a panel of culinary experts, including Sarah Gore, chef Akhtar Nawab and Cooking Channel's Laura Vitale; Anne Burrell and Rachael Ray mentor the final two who hope to win $50,000 for charity. |
Season 10
| Episode No. | No. Overall | Title | Airdate | Runtime | Summary |
| --- | --- | --- | --- | --- | --- |
| 1 | 65 | A Decade of Dish-asters | 2017-01-01 | 60 | The new recruits enter boot camp to find photos of their culinary failures on their stations; mentors Anne Burrell and Rachael Ray judge the recruits' signature dishes; the recruits must cook shrimp and live lobster in a main dish challenge. |
| 2 | 66 | Frozen Freak Out | 2017-01-08 | 60 | Mentors Anne Burrell and Rachael Ray help the recruits prepare breakfasts; the teams show how much they know about different egg dishes; the recruits learn how to create a home-cooked dinner. |
| 3 | 67 | All Aboard! | 2017-01-15 | 60 | Anne Burrell and Rachael Ray teach the recruits about flavor; the recruits use their new flavor combination skills to make a roulade inspired by the cuisine of a foreign country. |
| 4 | 68 | Fish Freak Out | 2017-01-22 | 60 | Two culinary pros replace Anne Burrell and Rachael Ray to mentor the recruits in preparing unconventional pizzas; the recruits fillet and prepare a fish dinner. |
| 5 | 69 | All Fun and Game Day | 2017-01-29 | 60 | Boot camp transforms into a game day arena; the recruits play a game of Family Food; the recruits must prepare the ultimate game day sandwich and an appetizer. |
| 6 | 70 | The Proof Is in the Pudding | 2017-02-05 | 60 | A special guest mentor teaches the recruits the art of making a decadent chocolate dessert for Valentine's Day; the winner receives a special advantage in the main dish challenge, which consists of cooking a romantic meal for their loved ones. |
| 7 | 71 | Facing Your Fears | 2017-02-12 | 60 | The recruits must create a dish with both their least favorite ingredient as well as a more obscure ingredient under the mentorship of Anne Burrell and Rachael Ray; the chefs must spatchcock a Cornish game hen and put a twist on a side dish. |
| 8 | 72 | Mardi Gras Mad | 2017-02-19 | 60 | The recruits learn how to tackle New Orleans cuisine; the recruits must work as a team to fill in the missing words on a recipe that they then have to execute; the recruits must individually replicate their mentors' New Orleans-inspired dishes. |
| 9 | 73 | The Reason You're Here | 2017-02-26 | 60 | The final four recruits step into their mentor's shoes and direct Anne Burrell and Rachael Ray to make a dish; Anne and Rachael bring in VIP guests to judge which recruits move onto the finale for the chance of winning $25,000. |
| 10 | 74 | A Fine Finale | 2017-03-05 | 60 | The final two recruits must prepare a three-course, restaurant-quality meal under the guidance of Anne Burrell and Rachael Ray; the culinary experts pick a winner based on a blind tasting, and the winning recruit walks away with $25,000. |
Season 11
| Episode No. | No. Overall | Title | Airdate | Runtime | Summary |
| --- | --- | --- | --- | --- | --- |
| 1 | 75 | Celebrity: Social Media Food Failures | 2017-08-23 | 60 | The celebrities must make a dish inspired by food they've posted on their social media profiles; the mentors teach the celebrities how to make some lobster dishes, which proves to be disastrous for some of these clueless cooks. |
| 2 | 76 | Celebrity: Shabby to Chic | 2017-08-30 | 60 | Taste and describe game with the celebrity recruits; mentors demonstrate hors d'oeuvres, which their recruits must replicate exactly, as well as make their own; the two celebrities with the worst dishes go head-to-head in an elimination challenge. |
| 3 | 77 | Celebrity: Starting From Scratch | 2017-09-06 | 60 | Boot Camp is transformed into "Cafe Worst Cooks" as the celebrities learn how to make classic crepes. The main challenge proves to be a lot scarier for these novice cooks when they have to butcher whole chickens, grill them and create their own unique side dishes. The two least successful recruits go head-to-head in a chicken challenge, and one recruit is sent packing. |
| 4 | 78 | Celebrity: Around the World in a Day | 2017-09-13 | 60 | It's time for the celebrity recruits to tackle international food, so Anne Burrell and Rachael Ray test their knowledge of world cuisine by playing a fast-paced food game called "What in the World?!" Then, the recruits are forced to stretch their cooking boundaries by making their own hand-pulled noodles from scratch. The two celebrities with the worst dishes battle it out in an international-themed blind elimination challenge. |
| 5 | 79 | Celebrity: This Meat Is Offal! | 2017-09-20 | 60 | The celebrity recruits put their culinary knowledge to the test by playing "Family Food," a game of food trivia and culinary tasks. Unfortunately for the celebrities, it's the "freaky food" edition, so some of the rounds are not for the faint of heart! Afterwards, the recruits learn the art of beef butchering and the least successful recruits go head-to-head in a high "steaks" challenge. |
| 6 | 80 | Celebrity: Get Baked | 2017-09-27 | 60 | The celebrity recruits finally tackle desserts, starting with a fast-paced assembly line challenge. Then, it's on to over-the-top milkshakes topped with decadent sweets. The two recruits with the worst desserts battle it out in a cupcake challenge. |
| 7 | 81 | Celebrity: Tin Foil Chefs | 2017-10-04 | 60 | As the competition nears its end, the oven mitts come off and the celebrities fight for a spot in the finale! They face their toughest challenge yet: a Worst Cooks battle inspired by Iron Chef called Tin Foil Chef. The celebrities with the best dishes head to the finale. |
| 8 | 82 | Celebrity: Finale the End! | 2017-10-11 | 60 | The final two recruits face the ultimate challenge -- cook a restaurant-quality meal for a panel of three culinary experts: Scott Conant, Aliya LeeKong and Marcus Samuelsson. Anne Burrell and Rachael Ray coach their recruits, but all the skills the celebs have learned are put to the test. In the end, one recruit will be named the winner and awarded $25,000 for their charity. |
Season 12
| Episode No. | No. Overall | Title | Airdate | Runtime | Summary |
| --- | --- | --- | --- | --- | --- |
| 1 | 83 | Can It Really Be This Bad? | 2018-01-07 | 60 | Sixteen of the worst cooks in America, including a sportscaster, a feisty granny and a professional balloon artist, arrive at boot camp with dreams of putting their kitchen nightmares behind them. Mentors Anne Burrelland Tyler Florence need to assess the level of disaster they're facing, so they ask the recruits to make their own specialty dishes -- and the results are worse than the chefs could have imagined! For the first main dish challenge, the mentors teach the recruits how to make the most important meal of the day, and the recruit on each team with the worst breakfast dish is sent home. |
| 2 | 84 | Fish are Food, Not Friends | 2018-01-14 | 60 | Mentors Anne Burrell and Tyler Florence introduce a game in which the recruits meet some magical and mysterious kitchen gadgets. The recruits become fast friends with the most important tool of all, a knife, to make fajitas while demonstrating their knife skills. Then boot camp transforms into a fish market, and the recruits get up close and personal with the catch of the day as they learn to fillet and prepare fish. The recruits who don't get along with their new friends end up sleeping with the fishes. |
| 3 | 85 | Show Me the Vegetables! | 2018-01-21 | 60 | The Worst Cooks boot camp is transformed into a game show, Family Food, and the teams of recruits go head-to-head in trivia rounds and culinary tasks that test their knowledge. For the main dish challenge, they're finally ready to put down roots in the kitchen and learn about cooking vegetables. Some will make dishes that taste fresh from the garden, but some recruits will leave mentors Anne Burrell and Tyler Florence missing the meat. |
| 4 | 86 | Game Day! | 2018-01-28 | 60 | It's game day at Worst Cooks boot camp, and the recruits must make varsity-worthy nachos inspired by different flavor profiles. They get into the game day spirit by competing in a game of cornhole to determine what flavor profile they will use. For the main dish challenge, mentors Anne Burrell and Tyler Florence teach their recruits how to make irresistible, stuffed burgers. The recruits step up to the plate and throw darts at a map to determine which of the 50 states will inspire their own craveable creations. The recruits who score touchdowns with their burgers will continue on, but those who fumble in the kitchen will be cut from their teams. |
| 5 | 87 | Leftovers Again? | 2018-02-04 | 60 | The recruits are halfway through boot camp and learn what to do with all the leftovers they are sure to have now that they have gained some culinary skills. The recruits play a taste and describe game, "What's in My Mouth - Leftover Edition" and create new dishes from common leftover ingredients. For the main dish challenge, Anne Burrell and Tyler Florence leave the recruits alone in boot camp for the first time and ask them to make pizza from scratch. During the blind taste test, some pizzas impress the Chefs, while others leave them calling for the delivery guy. |
| 6 | 88 | Sweets for My Sweetie | 2018-02-11 | 60 | It's Valentine's Day and love is in the air at boot camp. A prancing cupid finds his way into the kitchen and the recruits learn how to make sweets for their sweeties. First, the recruits have to test their ability to whip cream - over their Chef's head- and create molten chocolate cakes. For the main dish challenge, the recruits have to make a swoon-worthy multi-component dessert to win over Anne Burrell and Tyler Florence's affection. In the end, the romance will be over for two of them and the Chefs will each have to break up with one of their recruits. |
| 7 | 89 | Sausage Party | 2018-02-18 | 60 | Each team is given a scrambled recipe and the recruits have to work together to figure out the correct order and make the recipe. The Chefs tell the recruits they are being left alone in boot camp, but unbeknownst to them, Anne Burrell and Tyler Florence secretly watch their every move over CCTV. For the main dish challenge, the recruits learn the truth of sausage making. The tasting will be a potluck dinner, so the recruits must make sausages that impress both the Chefs and their fellow recruits or risk being eliminated. |
| 8 | 90 | Can You Pleas Pas-Ta Sauce? | 2018-02-25 | 60 | The remaining recruits are put to the test by playing "Remote Control Chef," in which they must taste a dish put in front of them and describe it to Anne Burrell and Tyler Florence to recreate. For the main dish challenge the recruits tackle their most difficult task yet, making fresh pasta from scratch. The recruits have the guidance of two very special guests to help them with their cooking, Italian nonnas with years of pasta making experience. The top recruits earn a spot in the semi-finals next week. |
| 9 | 91 | Flair Flair Everywhere | 2018-03-04 | 60 | The final four recruits learn the art of showing off as they compete to represent Anne Burrell and Tyler Florence in the finale. First, they learn some fancy bartending tricks and must make happy hour cocktails and bar snacks for Anne and Tyler. For the main dish challenge, Anne and Tyler have invited some very special guests to boot camp - the recruits' loved ones. The recruits are tasked with cooking a dish and performing a flashy tableside demonstration for their guests. After, Anne and Tyler decide which recruits will represent them in next week's finale for a chance to win $25,000. |
| 10 | 92 | The Final Countdown | 2018-03-11 | 60 | The final two recruits face off in the ultimate challenge: cooking a three-course, restaurant quality meal for a panel of culinary experts. Anne Burrell and Tyler Florence coach their recruits from the sidelines, but it all comes down to the skills that the recruits have learned over the past ten weeks. Judges Paulette Goto, Jordan Andino and Michael Chernow taste the recruits' dishes in a blind taste test and determine the winner of the $25,000 prize. |
Season 13
| Episode No. | No. Overall | Title | Airdate | Runtime | Summary |
| --- | --- | --- | --- | --- | --- |
| 1 | 93 | Hit Me With Your Best Dish | 2018-04-15 | 60 | The new cast of celebrity recruits arrive at Boot Camp, and Anne Burrell and Tyler Florence immediately hit them with their first challenge to cook their signature dishes so the chefs can assess their skills in the kitchen. Then the chefs teach the celebrities how to make a classic breakfast dish, and the lesson proves to be disastrous for the clueless cooks. After Anne and Tyler choose their teams, the celebrities are ready to officially start their culinary training. |
| 2 | 94 | Rolling in the Deep | 2018-04-22 | 60 | Anne Burrell and Tyler Florence throw the celebrities into the deep end and start off the day with a fast-paced seafood tower relay game. After that, things get ugly when the recruits tackle monkfish and learn how to make fish and chips. The two celebrities with the worst dishes go head-to-head in an elimination challenge. |
| 3 | 95 | Mother Dough | 2018-04-29 | 60 | Boot Camp is transformed into Celebrity Game Night, and Anne Burrell and Tyler Florence watch their teams go head-to-head in the kitchen playing multiple rounds of celebrity-driven food games. The main challenge proves to be a tough one for the recruits when they have to make their own unique pizzas, including making the dough from scratch. The two least successful recruits face off in a bruschetta challenge, and one recruit is sent packing. |
| 4 | 96 | Celebrity: Nutritious And Delicious | 2018-05-06 | 60 | Anne and Tyler play a unique taste and describe game with the celebrity recruits, themed around delicious comfort foods. After testing their taste buds, special guest Melissa Peterman arrives to help with the main dish challenge. The celebs must create their own unique meals that include a protein, side dish and dessert. The two celebrities with the least successful dishes battle it out in the blind elimination challenge. |
| 5 | 97 | Celebrity: A La Cuisine! | 2018-05-13 | 60 | In this penultimate episode, the oven mitts come off and the celebrities fight for a spot in the finale. First up is Remote Control Chef, where the celebrities must tell their mentors how to cook a dish. After that, they face their toughest challenge yet, which is the Worst Cooks version of Iron Chef called Aluminum Foil Chef! The celebrities with the best dishes will head to the finale. |
| 6 | 98 | Celebrity: It's All For The Fans | 2018-05-20 | 60 | The final two recruits face their final, ultimate challenge - cook a restaurant quality meal for a panel of culinary experts: Rocco DiSpirito, Cady Huffman and Aarthi Sampath. But before the celebrities impress the panel, they must impress their biggest fans. Anne and Tyler coach their recruits, and all the skills the celebs have learned over the past six weeks are put to the test. One recruit is named the winner and awarded $25,000 for their charity. |
Season 14
| Episode No. | No. Overall | Title | Airdate | Runtime | Summary |
| --- | --- | --- | --- | --- | --- |
| 1 | 99 | By Land and Sea | 2018-08-12 | 60 | Fourteen of the worst cooks in America enter culinary boot camp with dreams of putting their kitchen nightmares behind them. Anne Burrell and Robert Irvine want to see what they're dealing with, so they ask the recruits to make their signature dishes, with truly disastrous results. After being sorted into teams, the recruits dive right into the deep end of the kitchen by learning to make a surf and turf dish. The recruits with the worst dishes on each team are sent home. |
| 2 | 100 | Hibachi Heroes | 2018-08-19 | 60 | The recruits enter boot camp and find it has been transformed into everyone's favorite game show, Family Food! The teams go head to head in trivia rounds and culinary tasks testing their knowledge of the kitchen. The recruits watch a Teppanyaki chef perform dazzling tricks over a grill, and then Anne Burrell and Robert Irvine teach them how to make a hibachi-style meal for the main dish challenge. The recruits who light up the kitchen will continue on, but those who stumble will go home in a blaze. |
| 3 | 101 | Winner Winner Chicken Dinner | 2018-08-26 | 60 | Anne Burrell and Robert Irvine decide that it's time for the recruits to spread their wings. For the skill drill, they must work in teams to identify the ingredients of five mother sauces and then create their own chicken with pan sauce dishes for their chef. The main dish challenge finds the chefs teaching their recruits to make fried chicken and cornbread, and the recruits who struggle are forced to fly the coop. |
| 4 | 102 | The Ick Factor | 2018-09-02 | 60 | The kitchen can be a scary place and this week, with the help of Anne Burrell and Robert Irvine, the recruits must learn to face their fears in boot camp. In the Skill Drill, the recruits are forced to expand their palates with some unusual ingredients in a Cake Walk-inspired game that proves to be anything but a cakewalk. Then the recruits get up close and personal with some creatures of the sea, harvesting ink to make fresh squid ink pasta. The brave recruits who conquer their fears will continue on, but those who struggle will be doomed. |
| 5 | 103 | Piece of Cake | 2018-09-09 | 60 | Anne Burrell and Robert Irvine leave the recruits to their own devices for this week's Skill Drill, asking them to work in teams to recreate a dish by taste alone. Unbeknownst to the recruits, the chefs secretly watch their every move over CCTV and are shocked by what they see. For the Main Dish Challenge, the recruits have to bake a multi-tiered cake to suit the interests of two very special guest judges: Gesine Prado and Jason Smith. In the end, Anne and Robert must decide which recruits satisfy their sweet tooth, and which ones leave them with a toothache. |
| 6 | 104 | Duck, Duck... | 2018-09-16 | 60 | With only one more week until the winner is crowned, the final four recruits must start thinking about life after boot camp. For the Skill Drill, the recruits learn their way around a grocery store when boot camp is transformed into "Worst Cooks General Market." For the Main Dish Challenge, the recruits are reunited with their loved ones and asked to make them a dish to show off their new skills. Anne Burrell and Robert Irvineteach their ducklings how to make duck two ways, a dish sure to impress their nearest and dearest. After, the loved ones taste each of the dishes in a blind taste test, and those that fail to impress risk being eliminated. |
| 7 | 105 | Finally the Finale | 2018-09-23 | 60 | The remaining recruits face off in one last Skill Drill to determine who will compete in the finale. To see how far they have come, the recruits recreate their baseline dishes using all the techniques they have learned since entering boot camp. After, Anne Burrell and Robert Irvine teach their final two recruits how to prepare a three-course, restaurant quality meal. For the final Main Dish Challenge, the two finalists put all their newly learned culinary skills to the test in order to impress a panel of culinary experts. Judges David Burtka, Daphne Oz and Melba Wilson taste the recruits' dishes in a blind taste test and determine the winner of the $25,000 prize. |
Season 15
| Episode No. | No. Overall | Title | Airdate | Runtime | Summary |
| --- | --- | --- | --- | --- | --- |
| 1 | 106 | The Perfect Bird | 2019-01-06 | 60 | |
| 2 | 107 | Eggtastic | 2019-01-13 | 60 | |
| 3 | 108 | Cowboy Cuisine | 2019-01-20 | 60 | |
| 4 | 109 | Meat Me at the Game | 2019-01-27 | 60 | |
| 5 | 110 | Spice Up Your Life | 2019-02-03 | 60 | |
| 6 | 111 | Carnival Chaos | 2019-02-10 | 60 | |
| 7 | 112 | Aloha, Recruits! | 2019-02-17 | 60 | |
| 8 | 113 | In It To Win It | 2019-02-24 | 60 | |
| 9 | 114 | The Day We've Been Waiting For | 2019-03-03 | 60 | |
Series Cast
| | | | |
| --- | --- | --- | --- |
| | Anne Burrell | as Judge | |
| | Bobby Flay | as Judge | |
| | Tyler Florence | as Judge | |
| | Robert Irvine | as Judge | |
| | Beau MacMillan | as Judge | |
| | Rachael Ray | as Judge | |
Related News
TVMaze