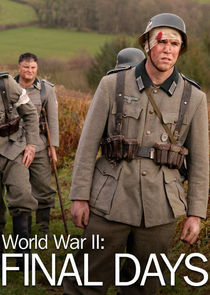 As the deadliest war in history draws to an end, the bloodshed is far from over. For ten soldiers and civilians caught in this theatre of war's final act, the last days of World War II would change their lives forever. Witness the stories of the courageous men and women whose sacrifice and survival, triumph and tragedy provide unique insight into some of the most terrifying days in history. Their firsthand accounts will take you into Hitler's Bunker, to the scene of Mussolini's capture and murder, and to the horrific discovery of the Nazi's most ghastly secret.
Previous Episode
Part 2
Episode 1x2; May 12, 2014
A battle-weary paratrooper stumbles upon a ghastly Nazi secret. An Australian Air Force Lt. goes on what is either a flight of mercy, or a suicide mission. A Canadian Officer sneaks past enemy lines to save thousands of starving people. It's the end of World War II. Mussolini and Hitler are dead, but the stakes are still high for 10 soldiers and civilians. Hear their stories firsthand and learn the political positioning that factored into Germany's surrender, and determined the shape of Europe for generations to come.
Recent News
Everything coming to Hulu in April 2020
Read more... {"player":{"description":"A state of the union for the war of the streaming services.","image":"https://mondrian.mashable.com/uploads%252Fvideo_uploaders%252Fdistribution_thumb%252Fimage%252F93544%252F2687effb-15b9-4b6d-9373-dc922983e3ce.png%252F…
via NewsAPI
View More Related News
Related News
TVMaze