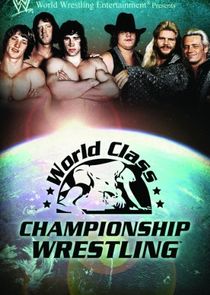 World Class Championship Wrestling (WCCW) was a regional professional wrestling promotion headquartered in Dallas and Fort Worth, Texas. Originally owned by promoter Ed McLemore, by 1966 it was run by Southwest Sports, Inc., whose president, Jack Adkisson, was better known as wrestler Fritz Von Erich. Beginning as a territory of the National Wrestling Alliance (NWA), it went independent in 1986 in a bid to become a major national promotion, but was unsuccessful in its attempts and eventually went out of business in 1990. Rights to the pre-1988 WCCW tape library currently belong to WWE (the post-1988 rights are owned by International World Class Championship Wrestling).
World Class Championship Wrestling was a member of the NWA and was originally known as Big Time Wrestling until 1982, when Adkisson decided that the name of his federation needed to be changed. Mickey Grant, who headed the production of its telecasts, suggested the name World Class, and from there, the rest was history. WCCW operated its enterprise in Dallas, Texas and held wrestling events at the Reunion Arena, and mostly at the famed Sportatorium, located just south of Downtown Dallas, which was also a well-known boxing and wrestling arena as well as the one-time home to the famous Big D Jamboree.
World Class Championship Wrestling experienced tremendous success from 1981-1985, shattering attendance records and achieving global exposure through their syndicated television program. Bookers Ken Mantell, David Von Erich, Gary Hart, Bruiser Brody and Kevin Von Erich provided fans with hard hitting action centered around the popular Von Erich brothers and a cast devious villians.
Storylines during this time followed a consistent theme of friendship and betrayal, with many of the top villians being first presented as friends to the Von Erich Family, only to betray them months or even years later. Weekly wrestling shows were staged there on Tuesday nights until August 1978, then were moved to Sunday nights until the early '80s, and finally were held on Friday nights until the promotion's demise.
WCCW's syndicated show was usually taped at the Sportatorium beginning in 1981, with two hour-long shows being recorded every other Friday. These telecasts were, in the beginning, seen in only a few markets and were hosted at various times by Gene Goodson, Steve Harms, and Marc Lowrance; when the show was taken over in 1982 by Continental Productions (a subsidiary of local station KXTX) and went to international syndication, well-known north Texas journalist/sportscaster Bill Mercer (a former play-by-play announcer for the Dallas Cowboys, Texas Rangers and Chicago White Sox along with other Texas-based teams) became the ringside announcer at the Sportatorium. For a few months he co-hosted with Jay Saldi, and by 1983, hosted the hour-long program alone, with Lowrance filling in for Mercer from time to time.
Previous Episode
WCCW 277
Episode 1987x277; Nov 07, 1986
The Fantastics face The Grappler and Eric Embry in the main event. Plus, the Dingo Warrior defends the Texas Heavyweight Title and more!
Previous Episodes 1987x277: WCCW 277 1986x258: WCCW 258 1986x253: WCCW 253 1986x250: WCCW 250 1986x248: WCCW 248 1986x244: WCCW 244 1986x243: WCCW 243 1985x196: WCCW 196 1985x161: WCCW 161

View All Episodes
Cast
Fritz Von Erich as Fritz Von Erich
Toni Adams as Toni Adams
George Wells as Master Gee
Al Madril as Al Madril
Koko B. Ware as Koko B. Ware
El Solitario as El Solitario
View Full Cast
Series Cast
| | | | |
| --- | --- | --- | --- |
| | Fritz Von Erich | as Fritz Von Erich | |
| | Toni Adams | as Toni Adams | |
| | George Wells | as Master Gee | |
| | Al Madril | as Al Madril | |
| | Koko B. Ware | as Koko B. Ware | |
| | El Solitario | as El Solitario | |
| | Ted Arcidi | as Ted Arcidi | |
| | Jack Victory | as Jack Victory | |
| | Brickhouse Brown | as Brickhouse Brown | |
| | Kerry Von Erich | as Kerry Von Erich | |
| | Rip Oliver | as Rip Oliver | |
| | Nord The Barbarian | as Nord The Barbarian | |
| | Bill Irwin | as "Cowboy" Bill Irwin | |
| | One Man Gang | as One Man Gang | |
| | Eli the Eliminator | as Eli the Eliminator | |
| | Steve Austin | as Steve Austin | |
| | Jeanie Clarke | as Lady Blossom | |
| | Bruiser Brody | as Bruiser Brody | |
| | Kevin Von Erich | as Kevin Von Erich | |
| | Mark Lewin | as "Maniac" Mark Lewin / "Mad" Mark Lewin | |
| | Paul Bearer | as Paul Bearer | |
| | Black Bart | as Black Bart | |
| | Bobby Eaton | as 'Beautiful' Bobby Eaton | |
| | Jeff Jarrett | as Jeff Jarrett | |
| | Jerry Lawler | as Jerry "The King" Lawler | |
| | Jimmy Garvin | as "Gorgeous" Jimmy "Jam" Garvin | |
| | Buck Zumhofe | as Buck "Rock n' Roll" Zumhofe | |
| | David Von Erich | as David Von Erich | |
| | Killer Khan | as Killer Khan | |
| | Mark Calaway | as "Mean" Mark Callous | |
| | Bugsy McGraw | as Bugsy McGraw | |
| | José Lothario | as José Lothario | |
| | Jim Powers | as Jim Powers | |
| | The Ultimate Warrior | as Dingo Warrior | |
| | Jimmy Jack Funk | as Jimmy Jack Funk | |
| | Big John Studd | as Big John Studd | |
| | Chris Von Erich | as Chris Von Erich | |
| | Matt Bourne | as "Maniac" Matt Bourne | |
| | Tim Brooks | as "Killer" Tim Brooks | |
| | Butch Reed | as "Hacksaw" Butch Reed | |
| | Brutus Beefcake | as Brutus Beefcake | |
| | Rick Rude | as "Ravishing" Rick Rude | |
| | Ric Flair | as "The Nature Boy" Ric Flair | |
| | Dory Funk Jr. | as Dory Funk Jr. | |
| | Dennis Condrey | as Dennis Condrey | |
| | Mike Von Erich | as Mike Von Erich | |
| | Missy Hyatt | as Missy Hyatt | |
| | Tommy Rogers | as Tommy Rogers | |
| | Buzz Sawyer | as Buzz Sawyer | |
| | Harley Race | as Harley Race | |
| | Scott Casey | as Scott Casey | |
| | Mick Foley | as Cactus Jack Manson | |
| | Terry Taylor | as Terry Taylor | |
| | Jim Cornette | as James E. Cornette | |
| | Lance Von Erich | as Lance Von Erich | |
| | Mil Máscaras | as Mil Máscaras | |
| | Tony Atlas | as Tony Atlas | |
| | Chris Adams | as "Gentleman" Chris Adams | |
| | Gary Hart | as Gary Hart | |
| | Steve Cox | as Steve Cox | |
| | Kevin Sullivan | as Kevin Sullivan | |
| | The Great Kabuki | as The Great Kabuki | |
| | John Tatum | as "Hollywood" John Tatum | |
| | Michael Hayes | as Michael 'P.S.' Hayes | |
| | Sunshine | as Sunshine | |
| | Toru Tanaka | as Professor Toru Tanaka | |
| | Bam Bam Bigelow | as Bam Bam Bigelow | |
| | Skandor Akbar | as "General" Skandor Akbar | |
| | Steven Dunne | as Steve Doll | |
| | Terry Funk | as Terry Funk | |
| | The Missing Link | as The Missing Link | |
| | Jules Strongbow | as Chief Jules Strongbow | |
| | Terry Gordy | as Terry 'Bam Bam' Gordy | |
| | Bobby Fulton | as Bobby Fulton | |
| | Chris Youngblood | as Chris Youngblood | |
| | Eric Embry | as The Flamboyant Eric Embry | |
| | Kamala | as Kamala | |
| | Steve Simpson | as Steve Simpson | |
| | Shawn Michaels | as Shawn Michaels | |
| | The Spoiler | as The Spoiler | |
| | Junkyard Dog | as Junkyard Dog | |
| | Buddy Roberts | as Buddy Roberts | |
| | Steve Williams | as Steve "Dr. Death" Williams | |
| | Mark Youngblood | as Mark Youngblood | |
| | Gino Hernandez | as Gino Hernandez | |
| | Billy Jack Haynes | as Billy Jack Haynes | |
| | Linda Newton | as Dark Journey | |
| | Sal Guerrero | as Chavo Guerrero | |
| | Tojo Yamamoto | as Tojo Yamamoto | |
| | Kendall Windham | as Kendall Windham | |
| | Abdullah The Butcher | as Abdullah The Butcher | |
| | Chick Donovan | as Chick Donovan | |
| | El Santo | as El Santo | |
| | Iceman Parsons | as Iceman 'King' Parsons | |
| | Brian Adias | as Brian Adias | |
Related News
TVMaze