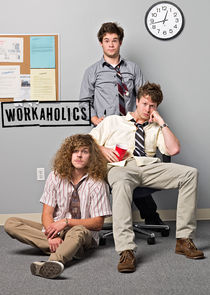 Graduating from college and entering the real world isn't easy, especially for these three unmotivated roommates on Workaholics.
Series Overview
Rating
imDb Rating: 8.1 (44,030 Votes)
Metascore: N/A
Plot
A single-camera comedy featuring three friends who work together as telemarketers from 9 to 5, and live together from 5 to 9.
Details
Rated: TV-14
Released: 06 Apr 2011
Runtime: 22 min
Genre: Comedy
Director: N/A
Writer: Blake Anderson, Adam Devine, Anders Holm, Kyle Newacheck, Connor Pritchard, Dominic Russo
Actors: Blake Anderson, Adam Devine, Anders Holm, Maribeth Monroe
Language: English
Country: USA
Awards: Nominated for 1 Primetime Emmy. Another 5 nominations.
Total Seasons: 7
Previous Episode
Party Gawds
Episode 7x10; Mar 15, 2017
The guys become party gods after an energy drink company starts paying them to throw ragers.
Previous Episodes

7x10: Party Gawds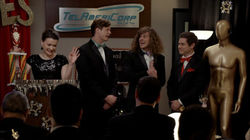 7x9: Bianca Toro


7x8: Termidate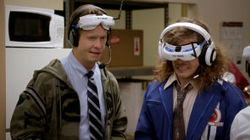 7x7: Tactona 420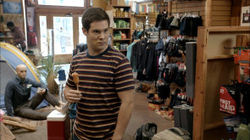 7x6: The Most Dangerless Game


7x5: Faux Chella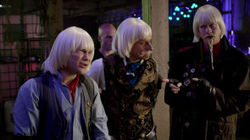 7x4: Bill & Tez's Sexcellent Sexventure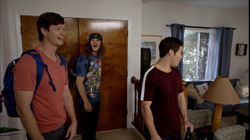 7x3: Monstalibooyah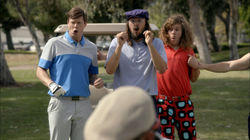 7x2: Weed the People

View All Episodes
Cast
Kyle Newacheck as Karl Hevacheck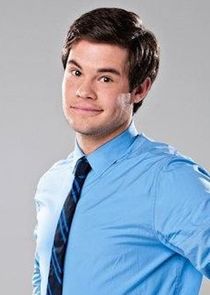 Adam DeVine as Adam Demamp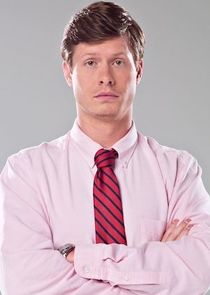 Anders Holm as Anders Holmvik
Blake Anderson as Blake Henderson
Edward Barbanell as Bradley
Erik Griffin as Montez Walker
View Full Cast
Recent News
Grab these Chromebooks using Best Buy's curbside pickup service
As backorders pile up and shipping dates stretch into April, you might be reaching the end of your technological rope trying to get a good Chromebook for you or your little one to use while we're all stuck home. And of course, no one wants to go running all o…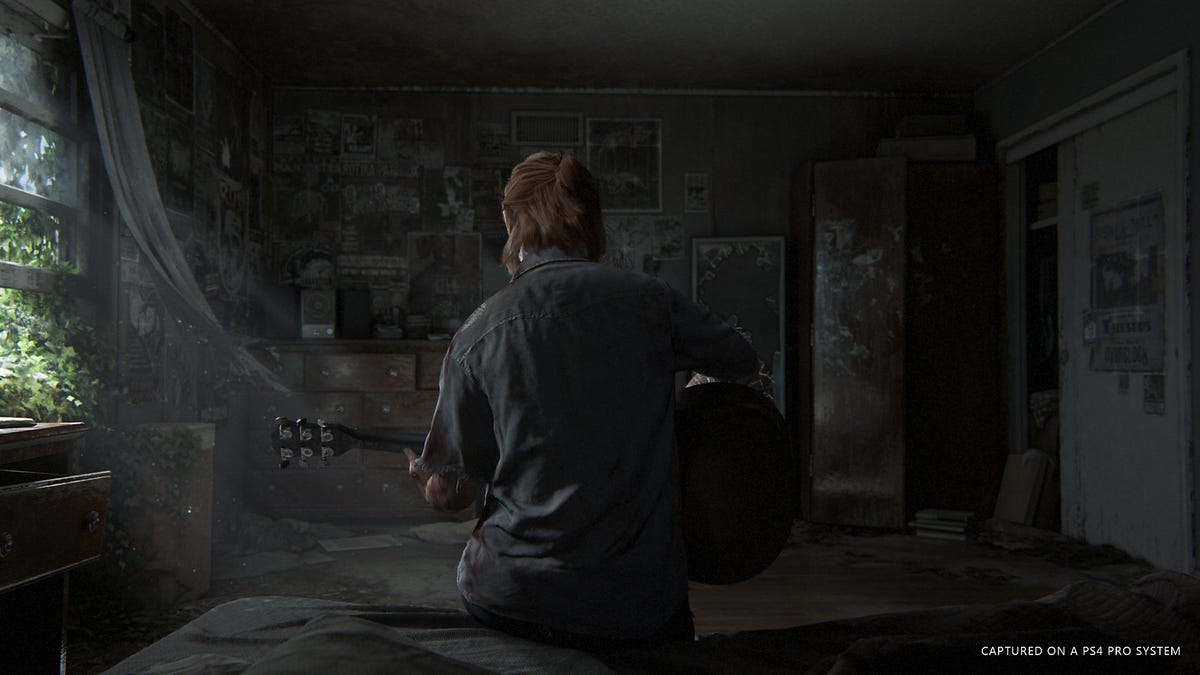 via NewsAPI
View More Related News
Skip to:
Season 1
| Episode No. | No. Overall | Title | Airdate | Runtime | Summary |
| --- | --- | --- | --- | --- | --- |
| 1 | 1 | Piss & S**t | 2011-04-06 | 30 | When the guys have to pass a drug test at work, they only have one choice: bribe middle school kids for clean urine. |
| 2 | 2 | We Be Ballin' | 2011-04-13 | 30 | The guys will stop at nothing to get tickets to a sold-out basketball game, even if it means being dunked in a horchata tank and seeing a grown man's penis. |
| 3 | 3 | Office Campout | 2011-04-20 | 30 | The guys camp out at the office while their house is fumigated, but the giddiness of their drug-fueled slumber party turns into paranoia when they think the company is being burglarized. |
| 4 | 4 | The Promotion | 2011-04-27 | 30 | The guys' loyalties to each other are put to the test when they compete for a rumored promotion at work. |
| 5 | 5 | Checkpoint Gnarly | 2011-05-04 | 30 | Things go badly when the guys hit a DUI checkpoint after drinking with the boss's brother. |
| 6 | 6 | The Strike | 2011-05-11 | 30 | The guys go on strike for better benefits when Alice doesn't buy their observance of a phony holiday called Half-Christmas. |
| 7 | 7 | Straight Up Juggahos | 2011-05-18 | 30 | The guys try to keep Jillian from a business function by setting her up on a blind date, but their plan goes awry when she has to be rescued from an Insane Clown Posse concert. |
| 8 | 8 | To Friend a Predator | 2011-05-25 | 30 | When the guys try "To Catch a Predator", a local child molester, he turns out to be the coolest guy they ever met. |
| 9 | 9 | Muscle I'd Like to Flex | 2011-06-01 | 30 | Blake and Anders' world turns upside down when they lose Adam to a super-rich MILF. |
| 10 | 10 | In the Line of Getting Fired | 2011-06-08 | 30 | When the CEO of TelAmeriCorp arrives to liquidate the company, it's up to the guys to change his mind and save the day. |
Season 2
| Episode No. | No. Overall | Title | Airdate | Runtime | Summary |
| --- | --- | --- | --- | --- | --- |
| 1 | 11 | Heist School | 2011-09-20 | 30 | The loss of something valuable sends the guys on an undercover mission at a high school to investigate. |
| 2 | 12 | Dry Guys | 2011-09-27 | 30 | The guys try to quit drinking for a week after a particularly rough night of imbibing. |
| 3 | 13 | Temp-Tress | 2011-10-04 | 30 | An attractive temp at TelAmeriCorp tests the guys' limits of self-control. |
| 4 | 14 | Model Kombat | 2011-10-11 | 30 | A rift develops between the guys when Adam contemplates finding work as a model. |
| 5 | 15 | Old Man Ders | 2011-10-18 | 30 | Ders wrestles with his impending mortality when he turns 25. |
| 6 | 16 | Stop! Pajama Time | 2011-10-25 | 30 | When Jillian gets put in charge at work, all hell breaks loose. |
| 7 | 17 | Teenage Mutant Ninja Roommates | 2011-11-01 | 30 | The guys are chased by a security guard in Montez Walker's gated community. |
| 8 | 18 | Karl's Wedding | 2011-11-08 | 30 | Karl Hevacheck, aka the Human Genius, gets married. |
| 9 | 19 | Man Up | 2011-11-15 | 30 | The guys take a "man trip" to get their macho mojo back. |
| 10 | 20 | 6 Hours Till Hedonism II | 2011-11-22 | 30 | In the second-season finale, the guys' Thanksgiving trip to a resort known for debauchery is in jeopardy unless they can get Blake a passport in six hours. |
Season 3
| Episode No. | No. Overall | Title | Airdate | Runtime | Summary |
| --- | --- | --- | --- | --- | --- |
| 1 | 21 | The Business Trip | 2012-05-29 | 30 | The guys drop acid while on a business trip and soon find themselves dealing with bizarre situations while trying to remain in control. |
| 2 | 22 | True Dromance | 2012-06-05 | 30 | The guys go behind Karl's back when they find a new drug dealer. |
| 3 | 23 | Fat Cuz | 2012-06-12 | 30 | The guys enlist Adam's obese cousin to get a handicapped parking pass. |
| 4 | 24 | To Kill a Chupacabraj | 2012-06-19 | 30 | The guys battle Montez in Small Claims Court. |
| 5 | 25 | Good Mourning | 2012-06-26 | 30 | The guys face the death of a beloved co-worker. |
| 6 | 26 | The Meat Jerking Beef Boys | 2012-07-03 | 30 | The guys' friendship is tested when Ders's dad comes to visit. |
| 7 | 27 | The Lord's Force | 2012-07-10 | 30 | The guys welcome two members of their favorite faith-based strong man group into their home. |
| 8 | 28 | Real Time | 2012-07-17 | 30 | The guys have to beat Alice to work or risk being fired. |
| 9 | 29 | Montez's Wife | 2012-07-24 | 30 | Montez thinks his wife is being unfaithful, so the guys help with the search for her paramour. |
| 10 | 30 | Flashback in the Day | 2012-07-31 | 30 | A look back in time to explain how Adam, Blake and Ders met for the first time. |
| 11 | 31 | Booger Nights | 2013-01-16 | 30 | The guys set out to prove they're the funniest people in the office at an employee's roast. |
| 12 | 32 | A TelAmerican Horror Story | 2013-01-23 | 30 | Things get spooky when the guys discover a former employee may be haunting the office |
| 13 | 33 | Alice Quits | 2013-01-30 | 30 | The guys meet their new boss when Alice quits being their old boss. |
| 14 | 34 | Fourth and Inches | 2013-02-06 | 30 | The guys get hooked on betting on high-school sports. |
| 15 | 35 | Webcam Girl | 2013-02-13 | 30 | The guys look for romance on the Web when they're alone on Valentine's Day. |
| 16 | 36 | High Art | 2013-02-20 | 30 | Adam and Ders try to get rich by becoming inventors; Blake joins an artist collective for teens. |
| 17 | 37 | The Worst Generation | 2013-02-27 | 30 | The guys meet Adam's grandfather during a visit to a rest home. |
| 18 | 38 | Hungry Like the Wolf Dog | 2013-03-06 | 30 | The guys take a road trip late at night in search of a legendary breakfast burrito. |
| 19 | 39 | In Line | 2013-03-13 | 30 | The guys are anxious to acquire a new video game, but each wants his own copy. |
| 20 | 40 | The Future is Gnar | 2013-03-20 | 30 | Blake worries about the future and the supremacy of machines when Alice unveils an automated phone system at the office. |
Season 4
| Episode No. | No. Overall | Title | Airdate | Runtime | Summary |
| --- | --- | --- | --- | --- | --- |
| 1 | 41 | Orgazmo Birth | 2014-01-22 | 30 | The guys work out a deal with Montez to get tickets to an electronic music show, but plans change and they're forced to attend his wife's baby shower. Things quickly spin out of control as the guys try to distract the ladies at the shower. |
| 2 | 42 | Fry Guys | 2014-01-29 | 30 | The guys want a fish fry at the office, but first they have to find Alice a sex partner. |
| 3 | 43 | Snackers | 2014-02-05 | 30 | The office holds an election to decide who's in charge of breakroom snacks. |
| 4 | 44 | Miss BS | 2014-02-12 | 30 | A local consumer reporter becomes the object of the guys' affections. |
| 5 | 45 | Three and a Half Men | 2014-02-19 | 30 | The guys film a documentary about Karl's medical procedure. |
| 6 | 46 | Brociopath | 2014-02-26 | 30 | The guys party with the ultimate frat bro, Stan Halen. |
| 7 | 47 | We Be Clownin' | 2014-03-05 | 30 | To pay for a pool slide, the guys become children party clowns. |
| 8 | 48 | Beer Heist | 2014-03-12 | 30 | The guys go to any length to impress college girls. |
| 9 | 49 | Best Buds | 2014-03-19 | 30 | The guys quit TAC to start their own taco and weed shop. |
| 10 | 50 | Timechair | 2014-03-26 | 30 | The guys race each other to get a free massage chair. |
| 11 | 51 | The One Where the Guys Play Basketball and Do the Friends Title Thing | 2014-04-02 | 30 | The guys play in an office basketball tournament for a trip to Reno. |
| 12 | 52 | DeputyDong | 2014-04-09 | 30 | The guys confront an online gamer who's been terrorizing them. |
| 13 | 53 | Friendship Anniversary | 2014-04-16 | 30 | The guys celebrate their common law marriage. |
Season 5
| Episode No. | No. Overall | Title | Airdate | Runtime | Summary |
| --- | --- | --- | --- | --- | --- |
| 1 | 54 | Dorm Daze | 2015-01-14 | 30 | In the Season 5 premiere, the guys go to a job fair at North Rancho College, where Ders clashes with Coast Guard officers, while Adam and Blake pursue their dreams elsewhere on campus. |
| 2 | 55 | Front Yard Wrestling | 2015-01-21 | 30 | In order to raise enough money for their rent, the guys create a public access wrestling show. |
| 3 | 56 | Speedo Racer | 2015-01-28 | 30 | The guys help Ders get even with an old high school swim team rival. |
| 4 | 57 | Menergy Crisis | 2015-02-04 | 30 | After Adam and Ders kick Blake out of their new band, Blake declares all-out war. |
| 5 | 58 | Gayborhood | 2015-02-11 | 30 | A wild night at a neighbor's house leads the guys to question the nature of their relationship. |
| 6 | 59 | Ditch Day | 2015-02-18 | 30 | The guys agree to hand off a mysterious package for Karl and, in turn, stage an officewide ditch day so they can stay home and make the deal. |
| 7 | 60 | Gramps Demamp is Dead | 2015-02-25 | 30 | Adam and his father risk it all to give Gramps a proper DeMamp funeral. |
| 8 | 61 | Blood Drive | 2015-03-04 | 30 | Adam, Blake, and Ders try to get the most amount of blood for a drive. |
| 9 | 62 | Wedding Thrashers | 2015-03-11 | 30 | Adam says goodbye to the single life with Ders and Blake. |
| 10 | 63 | Trivia Pursuits | 2015-03-18 | 30 | Ders gets upset with Adam and Blake when their trivia party interrupts his career ambitions. |
| 11 | 64 | The Slump | 2015-03-25 | 30 | Adam goes into a sales slump, and Ders and Blake hire an actor to snap him out of it. |
| 12 | 65 | Peyote It Forward | 2015-04-01 | 30 | After taking peyote, Adam, Blake and Ders must do some babysitting. |
| 13 | 66 | TAC in the Day | 2015-04-08 | 30 | The guys look back at their first day of work at TelAmeriCorp. |
Season 6
| Episode No. | No. Overall | Title | Airdate | Runtime | Summary |
| --- | --- | --- | --- | --- | --- |
| 1 | 67 | Wolves of Rancho | 2016-01-14 | 30 | In the Season 6 premiere, the guys move to another branch of TelAmeriCorp to work for a dynamic boss. |
| 2 | 68 | Meth Head Actor | 2016-01-21 | 30 | The guys discuss drug abuse when they attend a Narcotics Anonymous meeting. |
| 3 | 69 | Save the Cat | 2016-01-28 | 30 | Blake and Jillian adopt a cat, but it comes with unexpected consequences. |
| 4 | 70 | Death of a Salesdude | 2016-02-04 | 30 | The women take over at TelAmeriCorp when the company starts selling female-friendly products. |
| 5 | 71 | Gone Catfishing | 2016-02-11 | 30 | Adam and Ders plan a party with a marijuana theme, but Blake's new girlfriend doesn't approve. |
| 6 | 72 | Going Viral | 2016-02-18 | 30 | The guys go on a quest for social-media stardom. |
| 7 | 73 | Night at the Dudeseum | 2016-02-25 | 30 | The guys go to a museum and wreak havoc on Ders Day. |
| 8 | 74 | The Fabulous Murphy Sisters | 2016-03-03 | 30 | A visit from Alice's sister shakes up the TelAmeriCorp office. |
| 9 | 75 | Always Bet on Blake | 2016-03-10 | 30 | The guys open a casino in their house. |
| 10 | 76 | The Nuttin' Professor | 2016-03-17 | 30 | A quest for epic porn is the guys' latest obsession. |
Season 7
| Episode No. | No. Overall | Title | Airdate | Runtime | Summary |
| --- | --- | --- | --- | --- | --- |
| 1 | 77 | Trainees' Day | 2017-01-11 | 30 | When the guys take three young trainees under their wing, the office prank situation gets seriously out of hand. |
| 2 | 78 | Weed the People | 2017-01-18 | 30 | When Alice makes the office sell a terrible product that her dad invented, the guys discover they can use it as a cover to deal weed over the phone. |
| 3 | 79 | Monstalibooyah | 2017-01-25 | 30 | The guys search for drugs, lose their clothes and try to impress girls during a weekend at TelAmeriCorp's beach condo. |
| 4 | 80 | Bill & Tez's Sexcellent Sexventure | 2017-02-01 | 30 | Bill and Montez transport a mysterious briefcase through the Chinatown underworld. |
| 5 | 81 | Faux Chella | 2017-02-08 | 30 | The guys throw their own version of Coachella to impress a group of festival girls. |
| 6 | 82 | The Most Dangerless Game | 2017-02-15 | 30 | During a getaway to a remote mountain cabin, the guys suspect that their wealthy hosts aren't what they seem. |
| 7 | 83 | Tactona 420 | 2017-02-22 | 30 | The office holds a remote-controlled car race, and Blake adopts a mouse. |
| 8 | 84 | Termidate | 2017-03-01 | 30 | The guys watch an old episode of the TV dating show "Termidate" to remember what happens when they compete for a woman's affections. |
| 9 | 85 | Bianca Toro | 2017-03-08 | 30 | The guys try to get rid of a motivational speaker when she begins interfering with a beloved office awards show. |
| 10 | 86 | Party Gawds | 2017-03-15 | 30 | The guys become party gods after an energy drink company starts paying them to throw ragers. |
Series Cast
| | | | |
| --- | --- | --- | --- |
| | Kyle Newacheck | as Karl Hevacheck | |
| | Adam DeVine | as Adam Demamp | |
| | Anders Holm | as Anders Holmvik | |
| | Blake Anderson | as Blake Henderson | |
| | Edward Barbanell | as Bradley | |
| | Erik Griffin | as Montez Walker | |
| | Jillian Bell | as Jillian | |
| | Maribeth Monroe | as Alice Murphy | |
Series Crew
| | Position | Name |
| --- | --- | --- |
| | Creator | Anders Holm |
| | Executive Producer | Anders Holm |
| | Creator | Adam DeVine |
| | Executive Producer | Adam DeVine |
| | Creator | Blake Anderson |
| | Executive Producer | Blake Anderson |
| | Creator | Kyle Newacheck |
| | Executive Producer | Kyle Newacheck |
Related News
TVMaze