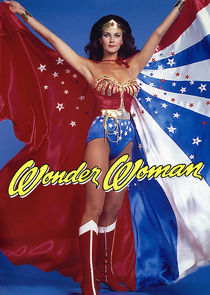 A colorful spin on Charles Moulton's comic about the Amazon goddess battling evil during World War II and later, in more recent times, against new enemies. The change came after the series jumped from ABC to CBS, with the heroine joining a covert military agency. Wonder Woman began as two TV-movies (the first in 1974 with Cathy Lee Crosby) and several specials before finding a regular prime-time home in late 1976. Debra Winger appeared occasionally as Drusilla, Wonder Woman's kid sister.
Series Overview
Rating
imDb Rating: 7.0 (6,290 Votes)
Metascore: N/A
Plot
The adventures of the greatest of the female superheroes.
Details
Rated: TV-PG
Released: 07 Nov 1975
Runtime: 60 min
Genre: Action, Adventure, Drama, Family, Fantasy, Sci-Fi
Director: N/A
Writer: William Moulton Marston, Stanley Ralph Ross
Actors: Lynda Carter, Lyle Waggoner
Language: English
Country: USA
Awards: Nominated for 2 Primetime Emmys. Another 1 win & 3 nominations.
Total Seasons: 3
Previous Episode
Phantom of the Roller Coaster (2)
Episode 3x24; Sep 11, 1979
Leon begs his disfigured twin (Jared Martin in dual roles) to release the orphan (Ike Eisenmann) he has befriended.
Previous Episodes 3x24: Phantom of the Roller Coaster (2) 3x23: Phantom of the Roller Coaster (1) 3x22: The Man Who Could Not Die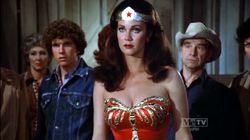 3x21: The Boy Who Knew Her Secret (2)


3x20: The Boy Who Knew Her Secret (1)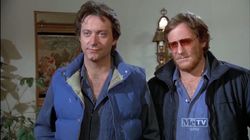 3x19: The Girl with a Gift for Disaster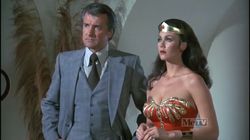 3x18: A Date with Doomsday


3x17: The Richest Man in the World


3x16: Amazon Hot Wax

View All Episodes
Cast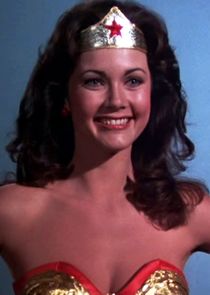 Lynda Carter as Wonder Woman / Diana Prince / Princess Diana
Lyle Waggoner as Steve Trevor Jr.
Richard Eastham as General Phil Blankenship
John Randolph as General Phil Blankenship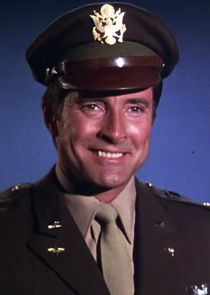 Lyle Waggoner as Major Steve Trevor Sr.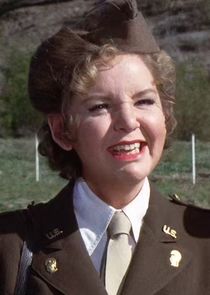 Beatrice Colen as Etta Candy
View Full Cast
Skip to:
Season 1
| Episode No. | No. Overall | Title | Airdate | Runtime | Summary |
| --- | --- | --- | --- | --- | --- |
| 1 | 1 | Pilot | 1975-11-07 | 60 | Princess Diana volunteers to return Steve Trevor to Washington, D.C. after he crashes his airplane on Paradise Island and remains in a coma. Upon arriving in Washington D.C., she establishes the secret identity of Diana Prince and begins working for Steve Trevor. |
| 2 | 2 | Wonder Woman Meets Baroness Von Gunther | 1976-04-21 | 60 | Steve is being framed for several incidents of sabotage. |
| 3 | 3 | Fausta: The Nazi Wonder Woman | 1976-04-28 | 60 | Fausta Grables lures Wonder Woman into a trap. The unconscious Wonder Woman is then kidnapped and taken to Germany for study. |
| 4 | 4 | Beauty on Parade | 1976-10-13 | 60 | Diana goes undercover at a beauty pageant to try to uncover a suspected spy operation behind the facade. |
| 5 | 5 | The Feminum Mystique (1) | 1976-11-06 | 60 | Wonder Woman's sister Drusilla is sent from Paradise Island to Washington to tell Diana to come home. Drusilla discovers her own alter ego, Wonder Girl, and is kidnapped by the Nazis. |
| 6 | 6 | The Feminum Mystique (2) | 1976-11-08 | 60 | Drusilla accidentally reveals the location of Paradise Island to the Nazis who want to go there to harvest Feminum. Wonder Woman must return home to protect her people. |
| 7 | 7 | Wonder Woman vs. Gargantua! | 1976-12-18 | 60 | The Nazis try to get back an agent who turned on them. To help them in their efforts, they brainwash a gorilla named Gargantua to hate Wonder Woman. |
| 8 | 8 | The Pluto File | 1976-12-25 | 60 | Diana and Steve learn that the thief of a formula to eliminate earthquakes is also a carrier of deadly bubonic plague |
| 9 | 9 | Last of the Two Dollar Bills | 1977-01-08 | 60 | Diana uncovers a Nazi plot to place an agent in the U.S. Bureau of Printing and flood the American economy with counterfeit money. |
| 10 | 10 | Judgement from Outer Space (1) | 1977-01-15 | 60 | The outer space Council of Planets sends an emissary to Earth, where he attracts attention from Nazis. |
| 11 | 11 | Judgement from Outer Space (2) | 1977-01-17 | 60 | As Earth's fate hangs in the balance, Diana and Steve must rescue alien Andros from Nazi abductors. |
| 12 | 12 | Formula 407 | 1977-01-22 | 60 | Blankenship sends Diana and Steve to Argentina to collect a formula that makes rubber as strong as steel. |
| 13 | 13 | The Bushwackers | 1977-01-29 | 60 | Steve and Diana help a rancher, one of the biggest suppliers of meat to the military, battle rustlers |
| 14 | 14 | Wonder Woman in Hollywood | 1977-02-16 | 60 | Diana and her sister investigate the disappearances of American war heroes who are the subject of a movie in production. |
Season 2
| Episode No. | No. Overall | Title | Airdate | Runtime | Summary |
| --- | --- | --- | --- | --- | --- |
| 1 | 15 | The Return of Wonder Woman | 1977-09-16 | 60 | A terrorist shoots down a plane carrying Maj. Steve Trevor Jr. over Paradise Island; there he is found by his father's friend Wonder Woman. |
| 2 | 16 | Anschluss '77 | 1977-09-23 | 60 | Diana and Steve must travel to an isolated town in South America to stop a plan by a former Nazi intelligence officer (Mel Ferrer) bent on secret biological research with a frightening impact. |
| 3 | 17 | The Man Who Could Move the World | 1977-09-30 | 60 | A Japanese man who was confined in a New Mexico internment camp during World War II acquires telekenetic powers and seeks revenge. |
| 4 | 18 | The Bermuda Triangle Crisis | 1977-10-07 | 60 | Diana discovers the successful completion of her current mission could mean a nuclear test site will be built near Paradise Island. |
| 5 | 19 | Knockout | 1977-10-14 | 60 | Diana enlists a cab driver's (Ted Shackelford) aid to stop the assassination plans of radicals holding Steve; guest Jayne Kennedy. |
| 6 | 20 | The Pied Piper | 1977-10-21 | 60 | Diana encounters Atkinson's wayward daughter (Eve Plumb) while investigating robberies during a rock star's (Martin Mull) concerts. |
| 7 | 21 | The Queen and the Thief | 1977-10-28 | 60 | Diana and Steve stalk a thief (David Hedison) with his eye on a small nation's crown jewels; guests Juliet Mills, John Colicos. |
| 8 | 22 | I Do, I Do | 1977-11-11 | 60 | Diana goes through a staged wedding with a White House aide (John Getz) to lure a spy who gathers information from government wives. |
| 9 | 23 | The Man Who Made Volcanoes | 1977-11-18 | 60 | Diana joins forces with Chinese and Soviets to stop a scientist (Roddy McDowall) who plans to turn the world into one huge volcano. |
| 10 | 24 | Mind Stealers from Outer Space (1) | 1977-12-02 | 60 | Planetary Council envoy Andros (Dack Rambo) arrives on Earth to retrieve an enemy alien hiding in Washington D.C. |
| 11 | 25 | Mind Stealers from Outer Space (2) | 1977-12-09 | 60 | Andros (Dack Rambo) and Diana attempt to retrieve the great minds of America, stolen by the alien Skrill invaders. |
| 12 | 26 | The Deadly Toys | 1977-12-30 | 60 | A toy maker uses dangerous playthings as part of a plan to replace a trio of top scientists with android doubles. |
| 13 | 27 | Light-Fingered Lady | 1978-01-06 | 60 | Diana poses as a top bank robber to infiltrate the organization of an international thief (Greg Morris); guest Christopher Stone. |
| 14 | 28 | Screaming Javelin | 1978-01-20 | 60 | Evil Marion Mariposa (Henry Gibson) steals the world's best athletes for his tiny nation's Olympic team; guest Melanie Chartoff. |
| 15 | 29 | Diana's Disappearing Act | 1978-02-03 | 60 | A conniving count's (Dick Gautier) faulty scheme of transforming lead into gold could cause a world oil crisis; guest Ed Begley Jr. |
| 16 | 30 | Death in Disguise | 1978-02-10 | 60 | Diana must protect a playboy industrialist (George Chakiris) from an assassin (Charles Pierce) who is also a master of disguise. |
| 17 | 31 | I.R.A.C. is Missing | 1978-02-17 | 60 | IRAC is the target of a nefarious computer scientist. |
| 18 | 32 | Flight to Oblivion | 1978-03-03 | 60 | An enemy agent (John Van Dreelen) uses hypnosis to obtain information on the test flight of a top-secret plane; guest Mitch Vogel. |
| 19 | 33 | Seance of Terror | 1978-03-10 | 60 | Diana steps in when con artists take advantage of a boy's (Todd Lookinland) psychic powers to interfere with a peace conference. |
| 20 | 34 | The Man Who Wouldn't Tell | 1978-03-31 | 60 | Kidnappers try to force a student (Gary Burghoff) who discovered an explosive chemical to recreate the formula; guest Michael Cole. |
| 21 | 35 | The Girl from Islandia | 1978-04-07 | 60 | Diana comes to the aid of a kidnapped girl (Julie Ann Haddock) whose jewelry gives her superhuman powers; guest Harry Guardino. |
| 22 | 36 | The Murderous Missile | 1978-04-21 | 60 | Diana discovers the troubles she encounters in a small town are all part of a larger plan to steal a new, thought-guided missile. |
Season 3
| Episode No. | No. Overall | Title | Airdate | Runtime | Summary |
| --- | --- | --- | --- | --- | --- |
| 1 | 37 | My Teenage Idol is Missing | 1978-09-22 | 60 | A twin (Leif Garrett) steps in to sing for his teen-idol brother, kidnapped by a master criminal (Albert Paulsen); guest Dawn Lyn. |
| 2 | 38 | Hot Wheels | 1978-09-29 | 60 | Diana teams up with an undercover detective (Peter Brown) to bust a ring specializing in rare antique cars; guest Lance LeGault. |
| 3 | 39 | The Deadly Sting | 1978-10-06 | 60 | Steve and Diana look into a rash of football victories by underdogs; guests Ron Ely, Roman Gabriel, Deacon Jones, Craig T. Nelson. |
| 4 | 40 | The Fine Art of Crime | 1978-10-13 | 60 | Diana begins to suspect a link between an artist's (Roddy McDowall) amazingly lifelike sculptures and a recent rash of art thefts. |
| 5 | 41 | Disco Devil | 1978-10-20 | 60 | Diana enlists the aid of a psychic (Paul Sand) to counteract the effects of another psychic stealing secrets from scientists' minds. |
| 6 | 42 | Formicida | 1978-11-03 | 60 | A woman calling herself Formicida sends ant armies to attack factories producing a dangerous, unstable pesticide. |
| 7 | 43 | Time Bomb | 1978-11-10 | 60 | The female half of a pair of time-travelers from the year 2155 plans to destroy the city of Phoenix. |
| 8 | 44 | Skateboard Wiz | 1978-11-24 | 60 | A teen skateboard wiz gets mixed up with a mobster who wants to turn the girl's home town into a gambling mecca. |
| 9 | 45 | The Deadly Dolphin | 1978-12-01 | 60 | A crooked real-estate speculator plans to use a trained dolphin to sink an oil tanker. |
| 10 | 46 | Stolen Faces | 1978-12-15 | 60 | Thieves plan to impersonate Wonder Woman and her colleagues to steal jewels at a high-society party. |
| 11 | 47 | Pot of Gold | 1978-12-22 | 60 | A crook steals an Irish cobbler's gold to purchase $100 bill printing plates from a counterfeiter. |
| 12 | 48 | Gault's Brain | 1978-12-29 | 60 | An aged industrialist has his brain preserved after his death for transferral to a young man's body. |
| 13 | 49 | Going, Going, Gone | 1979-01-12 | 60 | A laser expert uses a holographic image to trick a Soviet pilot into jettisoning a warhead, later offered for sale. |
| 14 | 50 | Spaced Out | 1979-01-26 | 60 | The thief of a secret laser crystal conceals himself among costumed attendees at a science-fiction convention. |
| 15 | 51 | The Starships Are Coming | 1979-02-02 | 60 | A fanatic plans to start a nuclear war by using his own television station to simulate attacks by alien spaceships. |
| 16 | 52 | Amazon Hot Wax | 1979-02-16 | 60 | Diana poses as a singer to expose an extortion ring in the record business. |
| 17 | 53 | The Richest Man in the World | 1979-02-19 | 60 | An international incident looms after thieves kidnap a wealthy man and steal a missile-guidance system he sold to a foreign power. |
| 18 | 54 | A Date with Doomsday | 1979-03-10 | 60 | A thief wearing another man's face steals a vial containing a deadly virus that could destroy millions of people. |
| 19 | 55 | The Girl with a Gift for Disaster | 1979-03-17 | 60 | A thief plans to use a jinxed girl in his plot to steal priceless historical documents. |
| 20 | 56 | The Boy Who Knew Her Secret (1) | 1979-05-28 | 60 | A boy from a town where aliens are taking over everyone sees Diana change herself into Wonder Woman. |
| 21 | 57 | The Boy Who Knew Her Secret (2) | 1979-05-29 | 60 | Diana discovers the invading aliens are taking over human bodies to allow them to capture an evil, criminal being. |
| 22 | 58 | The Man Who Could Not Die | 1979-08-28 | 60 | A scientist develops an injection that makes animals super-strong and invulnerable, then tries the formula on a human (Bob Seagren). |
| 23 | 59 | Phantom of the Roller Coaster (1) | 1979-09-04 | 60 | A man peddling U.S. secrets abroad wants to use an amusement park as a base, but the owner (Jared Martin) won't sell. |
| 24 | 60 | Phantom of the Roller Coaster (2) | 1979-09-11 | 60 | Leon begs his disfigured twin (Jared Martin in dual roles) to release the orphan (Ike Eisenmann) he has befriended. |
Series Cast
| | | | |
| --- | --- | --- | --- |
| | Lynda Carter | as Wonder Woman / Diana Prince / Princess Diana | |
| | Lyle Waggoner | as Steve Trevor Jr. | |
| | Richard Eastham | as General Phil Blankenship | |
| | John Randolph | as General Phil Blankenship | |
| | Lyle Waggoner | as Major Steve Trevor Sr. | |
| | Beatrice Colen | as Etta Candy | |
| | Tom Kratochvil | as Irac | |
| | Norman Burton | as Joe Atkinson | |
Series Crew
| | Position | Name |
| --- | --- | --- |
| | Associate Producer | Rod Holcomb |
| | Supervising Producer | Bruce Lansbury |
| | Executive Producer | Douglas S. Cramer |
| | Producer | Douglas S. Cramer |
| | Developer | Stanley Ralph Ross |
| | Casting | Barbara Miller |
| | Associate Producer | Arnold F. Turner |
| | Producer | Mark Rodgers |
| | Music | Charles Fox |
| | Supervising Producer | Charles B. Fitzsimons |
| | Producer | Charles B. Fitzsimons |
| | Associate Producer | John Gaynor |
| | Music | Richard LaSalle |
| | Music Editor | Jay Alfred Smith |
| | Sound | Richard Raguse |
| | Unit Production Manager | Max Stein |
| | Music | Artie Kane |
| | Casting | Caro Jones |
| | Director Of Photography | Dennis Dalzell |
| | Associate Producer | Peter J. Elkington |
| | Casting | Alan Shayne |
| | Executive Producer | Wilford Lloyd Baumes |
| | Producer | Wilford Lloyd Baumes |
| | Unit Production Manager | Mitch Gamson |
| | Film Editor | Richard L. Van Enger |
| | Director Of Photography | Robert Hoffman |
Related News
TVMaze