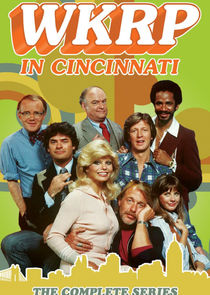 When a Cincinnati radio station switches from sedate music to top-40 rock 'n' roll, its staff of oddball characters is forced to switch gears quickly. New programming director Andy Travis brings in a new DJ named Venus Flytrap to work with the station's burned-out veteran, Dr. Johnny Fever. Neurotic newsman Les Nessman, eager beaver Jan Smithers, sleazy salesman Herb Tarlek, blonde bombshell Jennifer Marlowe, who serves as the station's ultra-capable receptionist, and station manager Arthur Carlson, whose domineering mother owns WKRP, round out the eccentric bunch.
Series Overview
Rating
imDb Rating: 7.9 (7,328 Votes)
Metascore: N/A
Plot
The misadventures of the staff of a struggling Top 40 rock radio station in Cincinnati, Ohio.
Details
Rated: TV-PG
Released: 18 Sep 1978
Runtime: 30 min
Genre: Comedy
Director: N/A
Writer: Hugh Wilson
Actors: Gary Sandy, Gordon Jump, Loni Anderson, Howard Hesseman
Language: English
Country: USA
Awards: Nominated for 3 Golden Globes. Another 2 wins & 13 nominations.
Total Seasons: 4
Previous Episode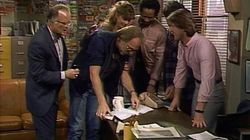 Up and Down the Dial
Episode 4x22; Apr 21, 1982
Previous Episodes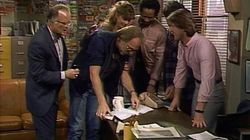 4x22: Up and Down the Dial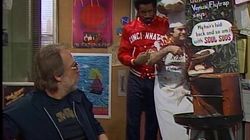 4x21: To Err is Human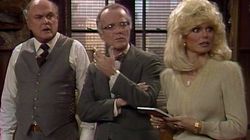 4x20: The Impossible Dream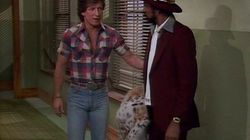 4x19: The Creation of Venus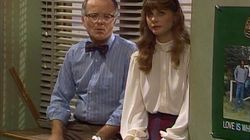 4x18: Dear Liar


4x17: Fire


4x16: Circumstantial Evidence 4x15: I'll Take Romance 4x14: Jennifer and Johnny's Charity

View All Episodes
Cast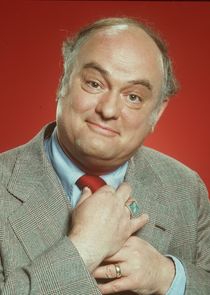 Gordon Jump as Arthur 'Big Guy' Carlson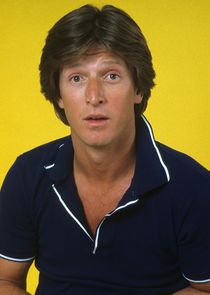 Gary Sandy as Andy Travis
Howard Hesseman as Dr. Johnny Fever
Loni Anderson as Jennifer Elizabeth Marlowe
Richard Sanders as Les Nessman
Frank Bonner as Herb Tarlek
View Full Cast
Skip to:
Season 1
| Episode No. | No. Overall | Title | Airdate | Runtime | Summary |
| --- | --- | --- | --- | --- | --- |
| 1 | 1 | Pilot | 1978-09-18 | 30 | |
| 2 | 2 | Pilot, Part 2 | 1978-09-25 | 30 | |
| 3 | 3 | Les on a Ledge | 1978-10-02 | 30 | |
| 4 | 4 | Hoodlum Rock | 1978-10-09 | 30 | |
| 5 | 5 | Hold-Up | 1978-10-16 | 30 | |
| 6 | 6 | Bailey's Show | 1978-10-23 | 30 | |
| 7 | 7 | Turkeys Away | 1978-10-30 | 30 | When Arthur feels threatened by Andy's success and useless in general, he decides to have a turkey giveaway on Thanksgiving with disastrous results. |
| 8 | 8 | Love Returns | 1978-11-06 | 30 | |
| 9 | 9 | Mama's Review | 1979-01-15 | 30 | |
| 10 | 10 | A Date with Jennifer | 1979-01-22 | 30 | |
| 11 | 11 | The Contest Nobody Could Win | 1979-01-29 | 30 | |
| 12 | 12 | Tornado | 1979-02-05 | 30 | |
| 13 | 13 | Goodbye, Johnny | 1979-02-19 | 30 | |
| 14 | 14 | Johnny Comes Back | 1979-02-26 | 30 | |
| 15 | 15 | Never Leave Me, Lucille | 1979-03-05 | 30 | |
| 16 | 16 | I Want to Keep My Baby | 1979-03-12 | 30 | |
| 17 | 17 | A Commercial Break | 1979-03-26 | 30 | |
| 18 | 18 | Who Is Gordon Sims? | 1979-04-02 | 30 | |
| 19 | 19 | I Do, I Do... For Now | 1979-04-23 | 30 | |
| 20 | 20 | Young Master Carlson | 1979-04-30 | 30 | |
| 21 | 21 | Fish Story | 1979-05-28 | 30 | |
| 22 | 22 | Preacher | 1979-06-04 | 30 | |
Season 2
| Episode No. | No. Overall | Title | Airdate | Runtime | Summary |
| --- | --- | --- | --- | --- | --- |
| 1 | 23 | For Love or Money (1) | 1979-09-17 | 30 | |
| 2 | 24 | For Love or Money (2) | 1979-09-24 | 30 | |
| 3 | 25 | Baseball | 1979-10-15 | 30 | |
| 4 | 26 | Bad Risk | 1979-10-22 | 30 | |
| 5 | 27 | Jennifer Falls in Love | 1979-10-22 | 30 | |
| 6 | 28 | Carlson for President | 1979-11-05 | 30 | |
| 7 | 29 | Mike Fright | 1979-11-12 | 30 | |
| 8 | 30 | Patter of Little Feet | 1979-11-26 | 30 | |
| 9 | 31 | Baby, If You've Ever Wondered | 1979-12-03 | 30 | Everyone at the station is happy to learn that they've gone from 16th to 14th in the market... except Andy. |
| 10 | 32 | Bailey's Big Break | 1979-12-10 | 30 | |
| 11 | 33 | Jennifer's Home for Christmas | 1979-12-17 | 30 | |
| 12 | 34 | Sparky | 1979-12-24 | 30 | |
| 13 | 35 | God Talks to Johnny | 1979-12-31 | 30 | |
| 14 | 36 | A Family Affair | 1980-01-07 | 30 | |
| 15 | 37 | Herb's Dad | 1980-01-14 | 30 | |
| 16 | 38 | Put Up or Shut Up | 1980-01-21 | 30 | |
| 17 | 39 | The Americanization of Ivan | 1980-01-28 | 30 | |
| 18 | 40 | Les' Groupie | 1980-02-04 | 30 | |
| 19 | 41 | In Concert | 1980-02-11 | 30 | |
| 20 | 42 | The Doctor's Daughter | 1980-02-18 | 30 | |
| 21 | 43 | Filthy Pictures (1) | 1980-03-03 | 30 | |
| 22 | 44 | Filthy Pictures (2) | 1980-03-03 | 30 | |
| 23 | 45 | Venus Rising | 1980-03-10 | 30 | |
| 24 | 46 | Most Improved Station | 1980-03-31 | 30 | |
Season 3
| Episode No. | No. Overall | Title | Airdate | Runtime | Summary |
| --- | --- | --- | --- | --- | --- |
| 1 | 47 | The Airplane Show | 1980-11-01 | 30 | |
| 2 | 48 | Jennifer Moves | 1980-11-08 | 30 | |
| 3 | 49 | Real Families | 1980-11-15 | 30 | |
| 4 | 50 | The Baby | 1980-11-22 | 30 | |
| 5 | 51 | Hotel Oceanview | 1980-11-29 | 30 | |
| 6 | 52 | A Mile in My Shoes | 1980-12-06 | 30 | |
| 7 | 53 | Bah, Humbug | 1980-12-20 | 30 | |
| 8 | 54 | Baby, It's Cold Inside | 1981-01-03 | 30 | |
| 9 | 55 | The Painting | 1981-01-10 | 30 | |
| 10 | 56 | Daydreams | 1981-01-17 | 30 | |
| 11 | 57 | Frog Story | 1981-01-24 | 30 | |
| 12 | 58 | Venus and the Man | 1981-01-31 | 30 | |
| 13 | 59 | Dr. Fever and Mr. Tide (1) | 1981-02-07 | 30 | |
| 14 | 60 | Dr. Fever and Mr. Tide (2) | 1981-02-07 | 30 | |
| 15 | 61 | Ask Jennifer | 1981-02-14 | 30 | |
| 16 | 62 | I Am Woman | 1981-02-21 | 30 | |
| 17 | 63 | Secrets of Dayton Heights | 1981-02-28 | 30 | |
| 18 | 64 | Out to Lunch | 1981-03-14 | 30 | |
| 19 | 65 | A Simple Little Wedding | 1981-03-21 | 30 | |
| 20 | 66 | Nothing to Fear But... | 1981-03-28 | 30 | |
| 21 | 67 | Till Debt Do Us Part | 1981-04-05 | 30 | |
| 22 | 68 | Clean Up Radio Everywhere | 1981-04-12 | 30 | |
Season 4
| Episode No. | No. Overall | Title | Airdate | Runtime | Summary |
| --- | --- | --- | --- | --- | --- |
| 1 | 69 | An Explosive Affair (Part 1) | 1981-10-07 | 30 | |
| 2 | 70 | An Explosive Affair (Part 2) | 1981-10-14 | 30 | |
| 3 | 71 | The Union | 1981-10-21 | 30 | |
| 4 | 72 | Rumors | 1981-10-28 | 30 | |
| 5 | 73 | Straight from the Heart | 1981-11-04 | 30 | |
| 6 | 74 | Who's on First? | 1981-11-11 | 30 | |
| 7 | 75 | Three Days of the Condo | 1981-11-18 | 30 | |
| 8 | 76 | Jennifer and the Will | 1981-12-02 | 30 | |
| 9 | 77 | The Consultant | 1981-12-30 | 30 | |
| 10 | 78 | Love, Exciting and New | 1982-01-06 | 30 | Andy goes out with Lillian to discuss getting a new transmitter for the station, but Lillian has other plans when she realizes that everyone thinks she and Andy are dating. |
| 11 | 79 | You Can't Go Out of Town Again | 1982-01-13 | 30 | |
| 12 | 80 | Pills | 1982-01-20 | 30 | |
| 13 | 81 | Changes | 1982-01-27 | 30 | |
| 14 | 82 | Jennifer and Johnny's Charity | 1982-02-03 | 30 | |
| 15 | 83 | I'll Take Romance | 1982-02-17 | 30 | |
| 16 | 84 | Circumstantial Evidence | 1982-02-24 | 30 | |
| 17 | 85 | Fire | 1982-03-17 | 30 | |
| 18 | 86 | Dear Liar | 1982-03-24 | 30 | |
| 19 | 87 | The Creation of Venus | 1982-03-31 | 30 | |
| 20 | 88 | The Impossible Dream | 1982-04-07 | 30 | |
| 21 | 89 | To Err is Human | 1982-04-14 | 30 | |
| 22 | 90 | Up and Down the Dial | 1982-04-21 | 30 | |
Series Cast
| | | | |
| --- | --- | --- | --- |
| | Gordon Jump | as Arthur 'Big Guy' Carlson | |
| | Gary Sandy | as Andy Travis | |
| | Howard Hesseman | as Dr. Johnny Fever | |
| | Loni Anderson | as Jennifer Elizabeth Marlowe | |
| | Richard Sanders | as Les Nessman | |
| | Frank Bonner | as Herb Tarlek | |
| | Tim Reid | as Venus Flytrap | |
| | Jan Smithers | as Bailey Quarters | |
Series Crew
| | Position | Name |
| --- | --- | --- |
| | Videographer | Andy Ackerman |
| | Story Editor | Tom Chehak |
| | Story Editor | Bill Dial |
| | Story Editor | Blake Hunter |
| | Producer | Blake Hunter |
| | Executive Story Consultant | Blake Hunter |
| | Story Editor | Steven Kampmann |
| | Story Editor | Lissa Levin |
| | Associate Director | Linda Day |
| | Associate Producer | Rod Daniel |
| | Post-Production Supervisor | Ted Rich |
| | Art Director | Ken Johnson |
| | Creator | Hugh Wilson |
| | Executive Producer | Hugh Wilson |
| | Producer | Hugh Wilson |
| | Associate Producer | Max Tash |
| | Producer | Max Tash |
| | Story Editor | Dan Guntzelman |
| | Costumer | Warden Neil |
| | Production Executive | Abby Singer |
| | Audio Engineer | Ken Becker |
| | Costumer | Pat Welch |
| | Production Coordinator | Carol Himes |
| | Production Executive | Geri Windsor |
| | Story Editor | Peter Torokvei |
| | Producer | Peter Torokvei |
| | Casting | Sharon Himes |
| | Property Master | Dick Durant |
| | Makeup Artist | Nancy Garen |
| | Art Director | Jacqueline Webber |
| | Set Decorator | Jacqueline Webber |
| | Script Supervisor | Marilynn Marko |
| | Associate Director | Ginger Grigg |
| | Audio Engineer | Doc Siegel |
| | Production Associate | Tim Womack |
| | Production Associate | Richard Sandoval |
| | Stage Manager | Richard Sandoval |
| | Associate Director | Buzz Sapien |
| | Stage Manager | Buzz Sapien |
| | Hair Stylist | Janis Clark |
| | Music | Tom Wells |
| | Main Title Theme | Tom Wells |
| | Talent Producer | Meryl O'Loughlin |
| | Technical Director | Bob Jones |
| | Video Playback | Steve Jones |
| | Story Editor | Steve Marshall |
| | Video Playback | Robert Ackerman |
| | Set Decorator | Catherine Arnold |
| | Assistant To Producers | Patricia Perillo |
| | Assistant To Producers | Linda Campabelli |
| | Director Of Photography | George La Fountaine |
| | Stage Manager | Ted Ray |
| | Casting | Jacklynn Burrud Briskey |
| | Production Associate | Skip D'Amico |
| | Audio Engineer | Cameron McCulloch |
| | Videographer | Steve Berry |
| | Costumer | Bucky Rous |
| | Makeup Artist | Alan Friedman |
| | Property Master | Chris Circosta |
| | Makeup Artist | Ray Steele |
| | Consultant | Larry Boelens |
| | Lighting Director | Joel Siebert |
| | Technical Director | Rob Oberbillig |
| | Unit Manager | Brett Crutcher |
| | Videographer | Dick Browning |
| | Videographer | Chip Brooks |
Related News
TVMaze