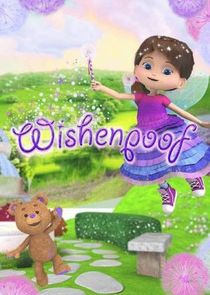 Written by Angela Santomero, creator of Blue's Clues, Creative Galaxy, and the Emmy-nominated literacy series, Super Why!, Wishenpoof! is an animated pilot that revolves around Bianca, who has "wish magic" which means if she wishes to play under the sea then — Wishenpoof! — she's a mermaid, swimming around with the sea horses. Bianca uses her wish magic to help others and learns to solve life's problems in her own creative way because with magic, or without, we all have the power to make good choices. This is Santomero's second Amazon Studios pilot. Santomero's first pilot, Creative Galaxy, is currently in production and scheduled to be available on Prime Instant Video in 2014.
Series Overview
Rating
imDb Rating: 4.5 (101 Votes)
Metascore: N/A
Plot
Bianca is just like any girl...well, kind of. She has one teeny ability, "wish magic" - the power to make wishes come true.
Details
Rated: TV-Y
Released: 06 Feb 2014
Runtime: 23 min
Genre: Animation, Family, Fantasy
Director: N/A
Writer: Angela Santomero
Actors: Addison Holley, Scott McCord, Hope Cassandra, Katie Griffin
Language: English
Country: USA
Awards: 2 wins & 5 nominations.
Total Seasons: 2
Previous Episode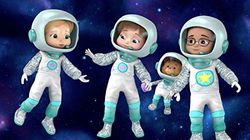 The Scavenger Hunt
Episode 2x26; May 10, 2019
Frank's wishenwhirl rolls through a hole in the wall, and he can't get it back! Determined to retrieve it, Bianca, Laurel and Frank embark on a scavenger hunt to find the glitter rocks that will open the door in the wall. Along the way they learn that staying calm is an important part of problem solving.
Previous Episodes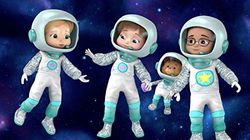 2x26: The Scavenger Hunt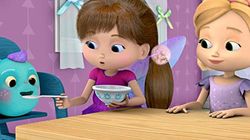 2x25: Froovle and the Dollhouse 2x24: Penelope's Show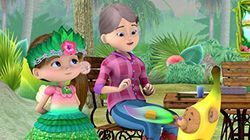 2x23: Grammie's Wish


2x22: The Magical Wish Store


2x21: Bianca and Bianca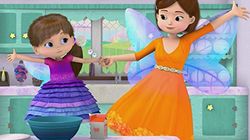 2x20: Dinner with Grandmas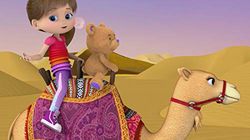 2x19: Bianca's Big Vote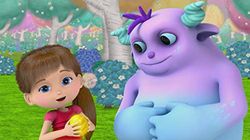 2x18: Wishball with Bruno

View All Episodes
Skip to:
Season 1
| Episode No. | No. Overall | Title | Airdate | Runtime | Summary |
| --- | --- | --- | --- | --- | --- |
| 1 | 1 | Welcome to Wish World | 2015-08-14 | 23 | Presenting...Bianca! Bianca's class is having a talent show, and Bianca is ready to take the stage. But her friends Penelope and Charlie are feeling discouraged. Bianca tries to use her Wish Magic to help, but ultimately, needs to be a good friend. |
| 2 | 2 | Willow Tree Wishes | 2015-08-14 | 23 | When Bianca and her best friends don't agree on what to play, the sparks (and Wish Magic) fly! Bianca and her friends need to learn to listen to each other...before things get out of control! |
| 3 | 3 | Bianca's Passion Project | 2015-08-14 | 23 | Bianca's teacher challenges the students to explore their passion, and Bianca knows her passion...outer space! With just a little Wish Magic, Bianca explores the galaxy with her beloved Bob the Bear (now, Bob the astronaut) by her side. When she comes back down to earth (literally), she learns that she can also explore her passion without Wish Magic. |
| 4 | 4 | Bianca and Penelope's Clubhouse | 2015-08-14 | 23 | Charlie and Oliver have built their very own clubhouse in the park...but they won't let Bianca and Penelope play in it! Bianca and Penelope decide to make their OWN clubhouse. But can they build one? Penelope and Bianca will have to dig in their heels, and work together to create the clubhouse of their dreams- one step at a time! |
| 5 | 5 | Frank's Pet Froovle | 2015-08-14 | 23 | Meet...Froovle! Frank has an adorable, fuzzy, fun-loving new pet, Froovle, and Bianca and Laurel are excited! But the kids quickly learn that they need to pay attention since there's more to Froovle than meets the eye! They are launched into a wild goose (or Froovle) chase to track down the unpredictable pet! |
| 6 | 6 | Bianca Gets Creative | 2015-08-14 | 23 | Bianca is playing with her friends at school when Violet starts being mean to Penelope. Penelope doesn't stand up for herself, so Bianca steps up to say something and make it right. |
| 7 | 7 | Bianca's Tough Kid Challenge | 2015-08-14 | 23 | Miss Bridget has created a 'Tough Kid Challenge' for the kids to complete at school, but will Bianca be tough enough? With a little help from her friends, and a whole lot of determination, Bianca will overcome the obstacles and come out on top! |
| 8 | 8 | Bianca's Great Cake Mistake | 2015-08-14 | 23 | Fairy Grandma is coming to visit, and Bianca decides to welcome her by making a fantastic rainbow cake with puffy cloud frosting. But when Bianca's baking project gets out of hand, she'll try to use her Wish Magic to battle the batter! Will Fairy Grandma get her treat? |
| 9 | 9 | Bianca's Big Idea | 2015-08-14 | 23 | Bianca is excited for "Big Ideas Day" at school, and creates yarn bracelets to trade with the rest of the students. But when her classmates don't seem to be interested in Bianca's handiwork, she needs to come up with an even BIGGER idea to dazzle her classmates...without Wish Magic. |
| 10 | 10 | Adventure to Fairy Grandma's House | 2015-08-14 | 23 | Bianca and her family set off into Wish World for a visit to Fairy Grandma's house. But instead of going over the river and through the woods...they have to go across a bouncy bridge, and climb a gemstone mountain! Even a run-in with an ogre won't stop Bianca from making it all the way to Fairy Grandma's house! |
| 11 | 11 | Bianca's Rainstorm Brainstorm | 2015-08-14 | 23 | It's time for the annual Scooter Parade at school, and Bianca is hard at work decorating her musical scooter. But when the weather just won't cooperate, Bianca and her classmates will have to brainstorm until they figure out a way to have their scooter parade whatever the weather! |
| 12 | 12 | Friends Forever | 2015-08-14 | 23 | It's...the Bianca and Bob the Bear Show! Bob the Bear takes Bianca to the part of Wish World where stuffies like him are born: The Enchanted Forest. Bianca meets a little stuffed bear named Lola, who wishes she had a best friend, just like Bianca has Bob. Will Bianca be able to make Lola's wish come true? |
| 13 | 13 | Ben's Big Surprise | 2015-08-14 | 23 | Bianca has always been the only kid in her family with Wish Magic. However, when unexpected things start happening in Wish World, Bianca wonders...could Ben have Wish Magic? With Wish Magic, or without, Bianca learns that she and her brother are both wonderful. |
Season 2
| Episode No. | No. Overall | Title | Airdate | Runtime | Summary |
| --- | --- | --- | --- | --- | --- |
| 1 | 14 | Ben's Wish Magic | 2017-09-26 | 25 | When Ben's wish magic keeps coming and going unexpectedly, Bianca seeks out Fairy Grandma to help get some useful information on why. |
| 2 | 15 | Bianca's Museum Trip | 2017-09-26 | 25 | On a field trip to the Museum of Natural History, Bianca gets paired up with Oliver for a project, where they end up learning as much about each other, as they do about the project itself. |
| 3 | 16 | Fun Surprises | 2017-09-26 | 25 | Bianca gets upset when a day at the park doesn't go exactly as she planned. Throughout the day, however, she learns that sometimes a change in plans can lead to some fun surprises. |
| 4 | 17 | Save That Stuffie! | 2017-09-26 | 25 | When Bianca's Wish Magic causes Ben's beloved stuffie to go missing, Bianca, Bob, and Ben go on a quest to find her. |
| 5 | 18 | Daddy Daughter Day | 2017-09-26 | 25 | It's Daddy Daughter Day! Bianca and Dad have big plans for their special day but things don't quite go as planned. Bianca learns that even without Wish Magic, any time spent with her Dad can be magical. |
| 6 | 19 | Bianca's Thing | 2017-09-26 | 25 | Bianca learns that she can use her greatest passion, singing, to help inspire her friends and loved ones to overcome their problems. |
| 7 | 20 | Bianca's Wishenfairies | 2017-09-26 | 25 | Bianca's homemade dolls become a popular item at Mom's Magical Wish Store, and things get a little out of hand when she rushes to meet the demand. |
| 8 | 21 | Bianca's Pony | 2017-09-26 | 25 | Grammie has a surprise for Bianca on her farm- a new pony! But before Bianca can ride it, she'll need to make sure the pony is happy and comfortable in her new home. |
| 9 | 22 | Ben Saves the Day | 2017-09-26 | 25 | Bianca, Ben, Frank and Laurel go on an imaginative adventure and learn to listen to all ideas, even the unusual ones, to solve problems along the way. |
| 10 | 23 | The Main Street Carnival | 2017-09-26 | 25 | Bianca and her family head to the Main Street Carnival, where Bianca will be performing! But when she gets therel, she keeps getting distracted by the fun and forgets to practice her routine. |
| 11 | 24 | Winter Wishes | 2017-09-26 | 25 | It's snowing in Wish World! After making a very unique snowbear fairy, Bianca goes ice skating with her Dad. She can't quite get the hang of some tricks she's trying to learn, until she figures out that she can put her own spin on things by doing it her own way. |
| 12 | 25 | A Wish World Christmas - Part 1 | 2017-09-26 | 25 | It's Christmas time and Bianca, her family and friends are gathered around the town's Christmas tree to make their wishes. When Bob's wish breaks and Penelope's wish gets thrown off course, Bianca becomes determined to do whatever it takes to make their wishes come true! |
| 13 | 26 | A Wish World Christmas - Part 2 | 2017-09-26 | 25 | It's Christmas time and Bianca, her family and friends are gathered around the town's Christmas tree to make their wishes. When Bob's wish breaks and Penelope's wish gets thrown off course, Bianca becomes determined to do whatever it takes to make their wishes come true! |
| 14 | 27 | Save the Playground | 2018-09-07 | 25 | When a fallen tree breaks a slide at the park, Bianca and her friends must work together to sell lemonade in hopes of raising enough money for a new one. |
| 15 | 28 | Bianca's Family Camping Trip | 2018-09-07 | 25 | While on a camping adventure to the top of Mount Wishmore, Bianca learns that by working as a team, her family can overcome any obstacle. |
| 16 | 29 | Bob Gets the Sneezes | 2018-09-07 | 25 | A-choo! Bob's got a case of the sneezes. Bianca tries to make him feel better with all the things she knows he likes, but none of them work and only makes him feel worse. |
| 17 | 30 | Bianca's Big Wish Magic Mistake | 2018-09-07 | 25 | Bianca's wish magic goes haywire after she forgets to clean it up, and it's making a mess of the playground! With monkeys and jungle vines and one very anxious banana (Bob- is that you?) Bianca learns that you need to clean up so nothing gets messed up. |
| 18 | 31 | Wishball with Bruno | 2018-09-07 | 25 | Wands up! Wings out! Bianca and her friends are having so much fun playing Wishball, they don't realize that Bruno- who has no wand or wings- is feeling left out. Bianca puts herself into Bruno's shoes to understand how he's feeling and find a way for them to play together in a way where everyone is included. |
| 19 | 32 | Bianca's Big Vote | 2018-09-07 | 25 | Bianca's class will vote on whether to decorate their classroom like Egypt or China but how can she choose? Using wish magic, Bianca and Bob explore each country and discover what they do and do not like, finding that the most important thing is to learn before you choose. |
| 20 | 33 | Dinner with Grandmas | 2018-09-07 | 25 | While preparing for a family dinner, Mom and Bianca become angry with each other; forcing them to learn more about each other's feelings, while exploring the best ways to deal with their problems. |
| 21 | 34 | Bianca and Bianca | 2019-05-10 | 25 | When Bianca's friends need a break from their soccer game, Bianca wishes there was ANOTHER Bianca that could keep playing with her. After a half time of pirate play, Bianca is too tired to focus on the soccer game. Bianca learns how important it is to take breaks, even if she doesn't feel tired. |
| 22 | 35 | The Magical Wish Store | 2019-05-10 | 25 | Bianca learns the importance of asking for help, after things get a little out of hand at Mom's Magical Wish Store. |
| 23 | 36 | Grammie's Wish | 2019-05-10 | 25 | Bianca tries to make Grammie's wish come true by creating a restaurant for her! Should it be in space? Or the jungle? Maybe a roller-skating diner?! Bianca learns that when you want to do something special for someone, it's important to think about what makes that person happy first. |
| 24 | 37 | Penelope's Show | 2019-05-10 | 25 | Penelope is rehearsing her new show with her friends in the park, when Violet arrives with some rainbow bubbles. Torn between the two options- the show and the bubbles- Bianca realizes the importance of playing one thing at a time and not trying to take on too many things at once. |
| 25 | 38 | Froovle and the Dollhouse | 2019-05-10 | 25 | Bianca can't wait to play with Laurel's new dollhouse and decides to take Frank's bouncy pet Froovle along. Things spiral out of control and the play date doesn't go as planned. Bianca learns it's not too late though, and she can change her choice to make things right! |
| 26 | 39 | The Scavenger Hunt | 2019-05-10 | 25 | Frank's wishenwhirl rolls through a hole in the wall, and he can't get it back! Determined to retrieve it, Bianca, Laurel and Frank embark on a scavenger hunt to find the glitter rocks that will open the door in the wall. Along the way they learn that staying calm is an important part of problem solving. |
Series Crew
| | Position | Name |
| --- | --- | --- |
| | Creator | Angela Santomero |
Related News
TVMaze