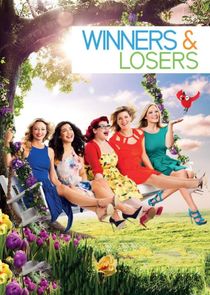 Despite everything they've been through, Bec, Sophie, Jenny, Frances and Sam are as close as they've ever been to having the three key areas of life – love, work and home – firing on all cylinders. But when relationships, friendships, careers and aspirations are all tested, the girls will question if it is even possible to have it all?
Series Overview
Rating
imDb Rating: 7.1 (959 Votes)
Metascore: N/A
Plot
The lives of four best friends bound together by their shared experience of being "the losers" in high school. Now ten years later the women are about to become winners, but at what cost?
Details
Rated: N/A
Released: N/A
Runtime: 60 min
Genre: Comedy, Drama, Romance
Director: N/A
Writer: Bevan Lee, John Holmes
Actors: Melissa Bergland, Virginia Gay, Melanie Vallejo, Tom Wren
Language: English
Country: Australia
Awards: 1 win & 4 nominations.
Total Seasons: 5
Previous Episode
The Last Five Years
Episode 5x13; Sep 12, 2016
Previous Episodes 5x13: The Last Five Years 5x12: Ex Marks the Spot 5x11: iBloom 5x10: Best Laid Plans 5x9: The Woman in the Mirror 5x8: No Going Back 5x7: Cold Hard Bitch 5x6: Caught in the Act 5x5: Hook, Line & Sinker

View All Episodes
Cast
Damien Bodie as Jonathan Kurtiss
Melissa Bergland as Jenny Gross
Tom Wren as Dr. Doug Graham
Zoe Tuckwell-Smith as Rebecca Gilbert
Denise Scott as Trish Gross
Melanie Vallejo as Sophie Wong
View Full Cast
Recent News
Daily Crunch: Waymo raises $2.5B
Alphabet's self-driving car company raises its first outside investment, Robinhood goes down and Pixel phones get new gesture controls. Here's your Daily Crunch for March 3, 2020. 1. Waymo brings in $2.25B from outside investors, Alphabet This is the company'…
via NewsAPI
View More Related News
Skip to:
Season 1
| Episode No. | No. Overall | Title | Airdate | Runtime | Summary |
| --- | --- | --- | --- | --- | --- |
| 1 | 1 | Covert Aggression in Netball | 2011-03-22 | 60 | |
| 2 | 2 | Those People in the Paper | 2011-03-29 | 60 | |
| 3 | 3 | Reality Bites | 2011-03-29 | 60 | |
| 4 | 4 | Worlds Collide | 2011-04-05 | 60 | |
| 5 | 5 | Fascinator Rhythm | 2011-04-12 | 60 | |
| 6 | 6 | Peace of the Past | 2011-04-19 | 60 | |
| 7 | 7 | Like a Virgin | 2011-05-03 | 60 | |
| 8 | 8 | Secrets and Lies | 2011-05-10 | 60 | |
| 9 | 9 | One Door Opens | 2011-05-17 | 60 | |
| 10 | 10 | Countdown | 2011-05-24 | 60 | |
| 11 | 11 | Smelling the Roses | 2011-05-31 | 60 | |
| 12 | 12 | Out of Left Field | 2011-06-07 | 60 | |
| 13 | 13 | What Doesn't Kill You | 2011-06-14 | 60 | |
| 14 | 14 | Two Point Oh | 2011-06-21 | 60 | |
| 15 | 15 | Happiness is a Delusion | 2011-06-28 | 60 | |
| 16 | 16 | Dialing Up the Crazy | 2011-07-05 | 60 | |
| 17 | 17 | The Pink Dog | 2011-07-12 | 60 | |
| 18 | 18 | Mum's the Word | 2011-07-19 | 60 | |
| 19 | 19 | We Are Family | 2011-08-02 | 60 | |
| 20 | 20 | It's Written in the Stars | 2011-08-09 | 60 | |
| 21 | 21 | Eat, Pray, Love | 2011-08-16 | 60 | |
| 22 | 22 | Second Chances | 2011-08-23 | 60 | |
Season 2
| Episode No. | No. Overall | Title | Airdate | Runtime | Summary |
| --- | --- | --- | --- | --- | --- |
| 1 | 23 | The Happy Ever After Thing | 2012-06-26 | 60 | |
| 2 | 24 | Grape Expectations | 2012-07-03 | 60 | |
| 3 | 25 | Welcome to the Family | 2012-07-10 | 60 | |
| 4 | 26 | Juggling's Not Just a Party Trick | 2012-07-17 | 60 | |
| 5 | 27 | A Day in the Life | 2012-07-24 | 60 | |
| 6 | 28 | Twists of Fete | 2012-07-31 | 60 | |
| 7 | 29 | What Lies Beneath | 2012-08-07 | 60 | |
| 8 | 30 | Letters and Lies | 2012-08-14 | 60 | |
| 9 | 31 | Stalled | 2012-08-21 | 60 | |
| 10 | 32 | Moving On | 2012-08-21 | 60 | |
| 11 | 33 | Future Tense | 2012-08-28 | 60 | |
| 12 | 34 | Maybe Baby | 2012-09-04 | 60 | |
| 13 | 35 | A Problem Shared | 2012-09-11 | 60 | |
| 14 | 36 | The Right Time | 2012-09-18 | 60 | |
| 15 | 37 | Footprints | 2012-10-02 | 60 | |
| 16 | 38 | A Whole New World | 2012-10-09 | 60 | |
| 17 | 39 | Matters of the Heart | 2012-10-16 | 60 | |
| 18 | 40 | Eyes Wide Open | 2012-10-23 | 60 | |
| 19 | 41 | To Have and to Hold | 2012-10-30 | 60 | |
| 20 | 42 | The Whole Truth | 2012-11-06 | 60 | |
| 21 | 43 | Perfect Match | 2012-11-13 | 60 | |
| 22 | 44 | This is Our Last Goodbye | 2012-11-27 | 60 | |
Season 3
| Episode No. | No. Overall | Title | Airdate | Runtime | Summary |
| --- | --- | --- | --- | --- | --- |
| 1 | 45 | Whys & What Ifs | 2013-07-09 | 60 | |
| 2 | 46 | Head in the Sand | 2013-07-16 | 60 | |
| 3 | 47 | Self Defence | 2013-07-23 | 60 | |
| 4 | 48 | When You Least Expect It | 2013-07-30 | 60 | |
| 5 | 49 | In an Instant | 2013-08-06 | 60 | |
| 6 | 50 | Blame It on the Moon | 2013-08-13 | 60 | |
| 7 | 51 | I Shall Be Released | 2013-08-20 | 60 | |
| 8 | 52 | Angle of Repose | 2013-08-27 | 60 | |
| 9 | 53 | You Can Run | 2013-09-03 | 60 | |
| 10 | 54 | How to Hide a Scar | 2013-09-10 | 60 | |
| 11 | 55 | Dirty Little Secrets | 2013-09-17 | 60 | |
| 12 | 56 | Love's Labour's Lost | 2013-09-24 | 60 | |
| 13 | 57 | It's a Nice Day to Start Again | 2013-09-26 | 60 | |
| 14 | 58 | The Wake Up Call | 2014-01-28 | 60 | |
| 15 | 59 | Slip Sliding Away | 2014-02-04 | 60 | |
| 16 | 60 | The Real Me | 2014-02-11 | 60 | |
| 17 | 61 | Afternoon Delight | 2014-02-18 | 60 | |
| 18 | 62 | Selective Reality | 2014-02-25 | 60 | |
| 19 | 63 | Fallout | 2014-03-04 | 60 | |
| 20 | 64 | Time Waits for No One | 2014-03-11 | 60 | |
| 21 | 65 | The Right Wrong Choice | 2014-03-11 | 60 | |
| 22 | 66 | You Choose You Lose | 2014-03-18 | 60 | |
| 23 | 67 | The Forbidden Fruit | 2014-03-18 | 60 | |
| 24 | 68 | Coming to Terms | 2014-06-17 | 60 | |
| 25 | 69 | All Good Things... | 2014-06-17 | 60 | |
| 26 | 70 | ...Must Come to an End | 2014-06-24 | 60 | |
Season 4
| Episode No. | No. Overall | Title | Airdate | Runtime | Summary |
| --- | --- | --- | --- | --- | --- |
| 1 | 71 | Two Out of Three Ain't Bad | 2014-07-01 | 60 | |
| 2 | 72 | Shadow of a Doubt | 2014-07-08 | 60 | |
| 3 | 73 | No Woman is an Island | 2014-07-15 | 60 | |
| 4 | 74 | Ass of You and Me | 2014-07-22 | 60 | |
| 5 | 75 | The Easy Way Out | 2014-07-29 | 60 | |
| 6 | 76 | Ctrl-Alt-Delete | 2014-08-05 | 60 | |
| 7 | 77 | The New Me | 2014-08-12 | 60 | |
| 8 | 78 | Rock and a Hard Place | 2014-08-19 | 60 | |
| 9 | 79 | Who Run the World | 2014-08-26 | 60 | |
| 10 | 80 | Terms and Conditions | 2014-09-02 | 60 | |
| 11 | 81 | So Long, Farewell | 2014-09-09 | 60 | |
| 12 | 82 | Same, Same, But Different | 2014-09-16 | 60 | |
| 13 | 83 | When You Least Expect It | 2014-09-23 | 60 | |
| 14 | 84 | The Great Unknown | 2015-07-14 | 60 | |
| 15 | 85 | This is Your Life? | 2015-07-21 | 60 | |
| 16 | 86 | The Cold Light of Day | 2015-07-28 | 60 | |
| 17 | 87 | What You Wish For | 2015-07-28 | 60 | |
| 18 | 88 | Intervention | 2015-08-04 | 60 | |
| 19 | 89 | Now the Rain is Gone | 2015-08-04 | 60 | |
| 20 | 90 | Lean on Me | 2015-08-11 | 60 | |
| 21 | 91 | Proof of Identity | 2015-08-11 | 60 | |
| 22 | 92 | Through the Looking Glass | 2015-08-18 | 60 | |
| 23 | 93 | Pride and Prejudice | 2015-08-18 | 60 | |
| 24 | 94 | Unfinished Business | 2015-08-25 | 60 | |
| 25 | 95 | Surface Tension Theory | 2015-09-01 | 60 | |
| 26 | 96 | Happy Endings | 2015-09-08 | 60 | |
Season 5
| Episode No. | No. Overall | Title | Airdate | Runtime | Summary |
| --- | --- | --- | --- | --- | --- |
| 1 | 97 | Let the Right One In | 2016-07-05 | 60 | Jenny and Gabe's windfall is bringing her no peace of mind and when Gabe's smoking hot new protégé Riley arrives, Jenny fears she's found the source of her future trouble. |
| 2 | 98 | Ready Set Go | 2016-07-12 | 60 | Frances struggles to let Keith in, feeling disloyal to the father who raised her. However, when Keith teaches her a little about himself, Frances starts to develop a connection. |
| 3 | 99 | NBF | 2016-07-19 | 60 | When Jenny is offered a permanent job at Millner Boys', she's in two minds. But then she meets the new Year 8 Coordinator, Eliza, whose progressive style of teaching resonates with Jenny. |
| 4 | 100 | When the Wheels Come Off | 2016-07-19 | 60 | |
| 5 | 101 | Hook, Line & Sinker | 2016-07-26 | 60 | Frances has shut out the world in the wake of Keith's scam. Also, Riley's determined to impress Colin Gammell, a hotshot investor, but she's worried he won't take her seriously because of her age. |
| 6 | 102 | Caught in the Act | 2016-07-26 | 60 | |
| 7 | 103 | Cold Hard Bitch | 2016-08-02 | 60 | Sophie struggles in the aftermath of the attack, finding herself overwhelmed with guilt and grief. Later, As Jenny's attitude towards her marriage problems improves, Gabe's deteriorates. |
| 8 | 104 | No Going Back | 2016-08-02 | 60 | |
| 9 | 105 | The Woman in the Mirror | 2016-08-23 | 60 | |
| 10 | 106 | Best Laid Plans | 2016-08-30 | 60 | |
| 11 | 107 | iBloom | 2016-09-06 | 60 | |
| 12 | 108 | Ex Marks the Spot | 2016-09-12 | 60 | |
| 13 | 109 | The Last Five Years | 2016-09-12 | 60 | |
Series Cast
| | | | |
| --- | --- | --- | --- |
| | Damien Bodie | as Jonathan Kurtiss | |
| | Melissa Bergland | as Jenny Gross | |
| | Tom Wren | as Dr. Doug Graham | |
| | Zoe Tuckwell-Smith | as Rebecca Gilbert | |
| | Denise Scott | as Trish Gross | |
| | Melanie Vallejo | as Sophie Wong | |
| | Virginia Gay | as Frances James | |
| | Francis Greenslade | as Brian Gross | |
| | Sarah Grace | as Bridget Fitzgerald / Bridget Gross | |
Related News
TVMaze