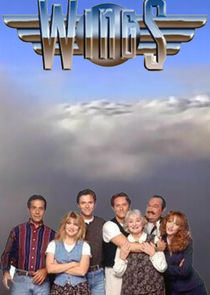 The sky's the limit when estranged brothers - Joe and Brian Hackett reunite to run a commuter airline together. On the small island of Nantucket, the Hacketts run with a first-class crew of neighbors and co-workers, including lunch counter manager and childhood friend Helen Chappel. Their rival Roy Biggins keeps them on their guard, while sharp-tongued ex-stewardess Fay keeps them on their toes. Big-hearted Italian cab driver Antonio and eccentric mechanic Lowell always keep life around the terminal interesting.
Series Overview
Rating
imDb Rating: 7.2 (9,969 Votes)
Metascore: N/A
Plot
Brothers Brian and Joe Hackett attempt to run an airline on the New England island of Nantucket while surrounded by their various wacky friends and employees.
Details
Rated: TV-PG
Released: 19 Apr 1990
Runtime: 30 min
Genre: Comedy, Drama
Director: N/A
Writer: David Angell, Peter Casey, David Lee
Actors: Tim Daly, Steven Weber, Crystal Bernard, David Schramm
Language: English
Country: USA
Awards: Nominated for 3 Primetime Emmys. Another 2 wins & 3 nominations.
Total Seasons: 8
Previous Episode
Final Approach (2)
Episode 8x24; May 21, 1997
Previous Episodes 8x24: Final Approach (2) 8x23: Final Approach (1) 8x22: Raging Bull*[email protected]! 8x21: Oedipus Wrecks 8x20: Heartache Tonight 8x19: Dreamgirl 8x18: Ms. Write 8x17: House of Blues 8x16: Escape from New York

View All Episodes
Cast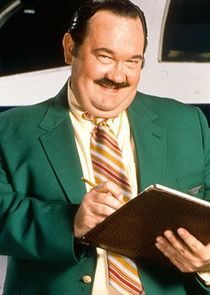 David Schramm as Roy Peterman Biggins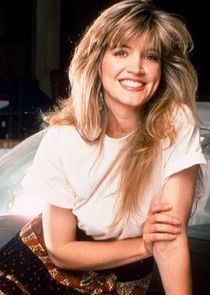 Crystal Bernard as Helen Chappel Hackett
Tim Daly as Joseph 'Joe' Montgomery Hackett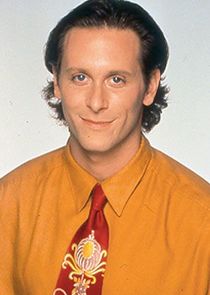 Steven Weber as Brian Michael Hackett
Rebecca Schull as Fay Evelyn Schlob Dumbly DeVay Cochran
Thomas Haden Church as Lowell Mather
View Full Cast
Skip to:
Season 1
| Episode No. | No. Overall | Title | Airdate | Runtime | Summary |
| --- | --- | --- | --- | --- | --- |
| 1 | 1 | Legacy | 1990-04-19 | 30 | One-plane airline owner Joe Hackett is reunited with his fun-loving brother when their late father bequeaths them a strange box. |
| 2 | 2 | Around the World in Eighty Years | 1990-04-26 | 30 | Helen gets her first callback for a symphony audition; Fay encourages a flier to complete his global journey. |
| 3 | 3 | Return to Nantucket (1) | 1990-05-03 | 30 | Brian wants to rendezvous with his ex, Carol, who has developed a habit of dumping boyfriends. |
| 4 | 4 | Return to Nantucket (2) | 1990-05-10 | 30 | Brian talks Carol into a few days on the island, where the Hackett brothers find that history repeats itself. |
| 5 | 5 | There Once Was a Girl from Nantucket | 1990-05-17 | 30 | Joe may be the only man on the island who hasn't gone out---or stayed in---with the girl Brian fixes him up with. |
| 6 | 6 | All for One and Two for Helen | 1990-05-24 | 30 | Joe gets tied up in an emergency meeting, leaving Brian and Helen to go to a Celtics game without him. |
Season 2
| Episode No. | No. Overall | Title | Airdate | Runtime | Summary |
| --- | --- | --- | --- | --- | --- |
| 1 | 7 | The Puppetmaster | 1990-09-28 | 30 | Helen's no-dating-pilots rule is bent when she unknowingly starts to date one, and when she finds out the truth, she's flying too high to care. |
| 2 | 8 | The Story of Joe | 1990-10-05 | 30 | A writer flies in to interview Joe, but it's tales from and about Brian that catch his interest. |
| 3 | 9 | A Little Nightmare Music | 1990-10-12 | 30 | The boys urge Helen to demand an audition with a conductor, but she gets him at a bad time---his honeymoon. |
| 4 | 10 | Sports & Leisure | 1990-10-19 | 30 | Roy's quest for likability is an adventure for all when he practices Joe's advice. |
| 5 | 11 | A Stand-up Kind of Guy | 1990-10-26 | 30 | Joe agrees over the phone to be best man for a high-school pal---whom he doesn't remember. |
| 6 | 12 | It's Not the Thought, It's the Gift | 1990-11-09 | 30 | Helen's birthday sets the brothers in motion trying to outdo each other to get her the more expensive gift. |
| 7 | 13 | Hell Hath No Fury Like a Policewoman Scorned | 1990-11-16 | 30 | Helen suggests a "little white lie" to get Brian out of his unwanted romance with a policewoman, but his lie of choice isn't Helen's. |
| 8 | 14 | High Anxiety | 1990-11-23 | 30 | High blood pressure grounds Joe, but the lackadaisical manner of his remaining pilot has Joe flying into a rage. |
| 9 | 15 | Friends or Lovers? | 1990-12-07 | 30 | A lonely Joe and Helen dine together, then park at Indian Point---not far from Joe's new backup pilot. |
| 10 | 16 | There's Always Room for Cello | 1990-12-14 | 30 | Roy says his jock son wants cello lessons from Helen only because he's attracted to her, but the jock demurs. |
| 11 | 17 | A Terminal Christmas | 1990-12-21 | 30 | The elements conspire against holiday plans for everyone but Fay, whose traditional gathering is short on gatherers. |
| 12 | 18 | Airport '90 | 1991-01-03 | 30 | Fledgling pilot Helen cuts Joe's dull ground school for hands-on experience with Brian---who loses consciousness in mid-flight. |
| 13 | 19 | Love Is Like Pulling Teeth | 1991-01-10 | 30 | Joe has to miss a crucial TV-sports evening with the guys to care for the dentally impaired Helen. |
| 14 | 20 | The Tennis Bum | 1991-01-24 | 30 | Boosting Fay's tennis confidence haunts Brian; busting Lowell's zeppelin haunts Joe; and a gender question haunts Helen. |
| 15 | 21 | My Brother's Back---And There's Gonna Be Trouble | 1991-01-31 | 30 | Brian runs the airline while Joe's in traction, a job made tougher after Kenny loses the plane. |
| 16 | 22 | Plane Nine From Nantucket | 1991-02-07 | 30 | Both Hacketts see a UFO, but only Brian talks, while Joe fears loose lips will sink his airship. |
| 17 | 23 | Looking for Love in All the Wrong Places | 1991-02-14 | 30 | On Valentine's Day, Joe and Helen try to calm that morning's storm by meeting at their special place; Roy meets his classified-ad date. |
| 18 | 24 | Love Means Never Having to Say Geronimo | 1991-02-21 | 30 | Brian's plan to marry a woman he's known for 20 hours spurs long-time friends Joe and Helen to question their feelings. |
| 19 | 25 | All in the Family | 1991-03-07 | 30 | Brian's lack of a "sensitive, intelligent, attractive woman" is overheard by one, who offers to fill that void, which doesn't sit well with her son. |
| 20 | 26 | Mother Wore Stripes | 1991-03-14 | 30 | Another difference in the Hackett brothers is their reaction to seeing their mother, who walked out on them 18 years earlier. |
| 21 | 27 | Murder She Roast | 1991-03-21 | 30 | Putting what he perceives as two and two together, Brian concludes that Fay is a wanted murderer. |
| 22 | 28 | Duet for Plane and Cello | 1991-03-28 | 30 | Helen lands a job with a symphony, over a former student, who purposely blows the audition. |
Season 3
| Episode No. | No. Overall | Title | Airdate | Runtime | Summary |
| --- | --- | --- | --- | --- | --- |
| 1 | 29 | The Naked Truth | 1991-09-19 | 30 | Helen returns from New York after a disastrous 10 months---and prospects don't improve when Joe reveals how he's spent the time. |
| 2 | 30 | Is That a Subpoena in Your Pocket...? | 1991-09-26 | 30 | Helen refuses to pay for damaging Joe's office, so he takes her to court. |
| 3 | 31 | The Taming of the Shrew | 1991-10-10 | 30 | Her anger at Joe unabated, Helen, supported by Brian, takes a shot at group therapy. |
| 4 | 32 | I Ain't Got No Bunny | 1991-10-17 | 30 | Brian discovers that Lowell's jealousy of his wife is well-founded when Brian and Joe get an offer they'd better refuse. |
| 5 | 33 | If Elected, I Will Not Live | 1991-10-31 | 30 | Joe is drafted to challenge Roy for a town-council seat, but neither wins the endorsement of the corrupt local paper. |
| 6 | 34 | My Brother's Keeper | 1991-11-07 | 30 | Tyne Daly plays a wealthy woman whose changes to the life of Brian appall Joe---until she offers Joe a change also. |
| 7 | 35 | Crate Expectations | 1991-11-14 | 30 | Joe overhears plans for his surprise birthday party, but misses that it has to be moved to the next night. |
| 8 | 36 | Ladies Who Lunch | 1991-11-21 | 30 | Joe insists that Helen and Gail end their bickering over lunch, which goes better than either anticipated; Fay tries to stretch a streak of touching First Ladies. |
| 9 | 37 | Try to Remember the Night He Dismembered | 1991-12-05 | 30 | Downtime at the terminal is filled by "Fay's Foggy Day Fun Box," until Brian hypnotizes Roy, who reveals a "deepest, darkest secret." |
| 10 | 38 | The Late Mrs. Biggins | 1991-12-12 | 30 | After Roy reveals that his departed wife is hardly "late," he decides to find the woman who left him 16 years ago. |
| 11 | 39 | The Bogey Men | 1991-12-19 | 30 | Brian plays a trick on Joe, who's unaware their golf weekend includes a time-share sales pitch---or sharing a room with Lowell and Roy. |
| 12 | 40 | Marriage, Italian Style (1) | 1992-01-09 | 30 | When Antonio faces deportation, Brian finds a woman who's willing to wed for a while. |
| 13 | 41 | Divorce, American Style (2) | 1992-01-16 | 30 | The bride has trouble adjusting to married life, which could end if Antonio can win the green-card lottery. |
| 14 | 42 | Stew in a Stew | 1992-01-23 | 30 | When Fay doesn't get a raise, she decides to test Joe by going to work for Roy. |
| 15 | 43 | This Old House | 1992-01-30 | 30 | Brian, Joe and Helen have time for one last look before the wrecking ball destroys the house where the Hacketts grew up. |
| 16 | 44 | Planes, Trains and Visiting Cranes | 1992-02-13 | 30 | A self-esteem seminar run by Dr. Frasier Crane is analyzed by a dissatisfied past customer---Helen. |
| 17 | 45 | Das Plane | 1992-02-20 | 30 | The Hacketts fly to New Mexico with an elderly man whose curiosity is endless---and endlessly irritating. |
| 18 | 46 | Take My Life, Please | 1992-02-27 | 30 | Helen turns to stand-up comedy, thanks to a career-placement test---altered by friends who fear the truth will hurt. |
| 19 | 47 | Four Dates That Will Live in Infamy | 1992-04-02 | 30 | Helen, Lowell, Brian and Joe compare notes at the end of their video dates. |
| 20 | 48 | The Bank Dick | 1992-04-23 | 30 | A robber spoils Brian's second job as a bank guard. |
| 21 | 49 | Say It Ain't So, Joe | 1992-04-30 | 30 | Joe's high-school pitching record will be broken---if he gets the pitcher to the game on time. |
| 22 | 50 | As Fate Would Have It | 1992-05-07 | 30 | Helen's Boston Symphony debut, her friends' attendance and everyone's future are in doubt when Joe's plane begins to sputter. |
Season 4
| Episode No. | No. Overall | Title | Airdate | Runtime | Summary |
| --- | --- | --- | --- | --- | --- |
| 1 | 51 | Lifeboat | 1992-09-24 | 30 | All have survived the water landing, but can they survive each other as they await rescue? |
| 2 | 52 | The Fortune Cookie | 1992-10-01 | 30 | The insurance company is unresponsive after Joe's plane crash, so Brian talks him into trying a personal-injury ploy. |
| 3 | 53 | Noses Off | 1992-10-08 | 30 | Brian is ready for surgery after a doctor makes a comment about his nose. |
| 4 | 54 | Blackout Biggins | 1992-10-22 | 30 | Roy faints during his rendition of the National Anthem at a Red Sox game; and Fay's error is no hit with Joe. |
| 5 | 55 | Mathers of the Heart | 1992-10-29 | 30 | When Lowell asks Helen out, she reluctantly accepts and has a good time---unlike Lowell. |
| 6 | 56 | Two Jerks and a Jill | 1992-11-05 | 30 | The Hacketts compete for a pilot, who finds them both infantile. |
| 7 | 57 | It's So Nice to Have a Mather Around the House | 1992-11-12 | 30 | Brian accidentally sinks Lowell's houseboat, so Lowell moves in with the Hacketts---and proves to be a wonderful roommate. |
| 8 | 58 | Just Say No | 1992-11-19 | 30 | Despite intentions to the contrary, Brian gets wrapped around the finger of an ex. |
| 9 | 59 | It May Have Happened One Night | 1992-12-03 | 30 | Alex and Joe aren't talking about their time spent together, and that drives Brian crazy. |
| 10 | 60 | The Customer's Usually Right | 1992-12-17 | 30 | Joe's complaint gets a video-store employee fired on Christmas Eve. |
| 11 | 61 | Exit Laughing | 1993-01-07 | 30 | The laugh's on Helen when she learns jealousy is not behind Joe's reluctance to fix her up with his friend. |
| 12 | 62 | What the Cabbie Saw | 1993-01-14 | 30 | Antonio testifies against a robber, who's later freed on a technicality. |
| 13 | 63 | Labor Pains | 1993-01-28 | 30 | An irresistible force---Lowell---encounters immovable objects---Roy and Joe---when Lowell asks for a raise. |
| 14 | 64 | I've Got a Secret | 1993-02-04 | 30 | Alex shares a secret with Helen and Antonio, and suddenly it's the talk of the island. |
| 15 | 65 | The Gift (1) | 1993-02-11 | 30 | A local audition prompts Helen to take a second job to save for a new cello. |
| 16 | 66 | The Gift (2) | 1993-02-18 | 30 | The quartet rejects, accepts, then annoys Helen, who'd quit were it not for the Hacketts' enthusiasm. Meanwhile, rehearsals continue for "Phantom of the Oprah." |
| 17 | 67 | I Love Brian | 1993-02-25 | 30 | Brian scrambles to prove his boast to Alex that Clint Black is an old pal. |
| 18 | 68 | The Houseguest | 1993-04-08 | 30 | Helen befriends an old man, who falls in her house and then stays on to convalesce. |
| 19 | 69 | The Key to Alex | 1993-04-15 | 30 | Joe and Brian try to find "the key" to Alex, who sees through them---again. |
| 20 | 70 | Goodbye, Old Friend | 1993-04-29 | 30 | Joe and Brian try to keep Helen awake after she sustains a concussion; Lowell struggles over a eulogy for an old friend. |
| 21 | 71 | Another Wedding | 1993-05-06 | 30 | At a wedding reception, Antonio is smitten, and Lowell toyed with by his ex-wife. |
| 22 | 72 | Date Package Number Seven | 1993-05-13 | 30 | Brian takes Alex on the perfect date---one meticulously tested and perfected on others. |
Season 5
| Episode No. | No. Overall | Title | Airdate | Runtime | Summary |
| --- | --- | --- | --- | --- | --- |
| 1 | 73 | Stop in the Name of Love | 1993-09-16 | 30 | Brian insists he won't pull the old "love 'em and leave 'em" act with Alex. |
| 2 | 74 | Terminal Jealousy | 1993-09-23 | 30 | Roy gets Brian jealous about Alex and gets Helen in trouble with a health inspector. |
| 3 | 75 | Bye-Bye, Bunny | 1993-09-30 | 30 | After Lowell divorces Bunny, they begin acting like newlyweds. |
| 4 | 76 | Business or Pleasure | 1993-10-07 | 30 | Helen reluctantly agrees to "entertain" a potential investor in Joe's airline. |
| 5 | 77 | An Affair to Forget | 1993-10-14 | 30 | Joe is the only happy camper when stuck in a hotel with Helen, Alex and Brian, who were all romance bound. |
| 6 | 78 | Black Eye Affair | 1993-10-28 | 30 | The arrival of an old friend and a visit to the gym hinder Helen's date plans. |
| 7 | 79 | Joe Blows (1) | 1993-11-04 | 30 | Everybody brings their problems to Joe, and that's a problem for him. |
| 8 | 80 | Joe Blows (2) | 1993-11-11 | 30 | Brian finds Joe, who refuses to return and sells the airline to Brian. |
| 9 | 81 | 2 Good 2 B 4 Gotten | 1993-11-18 | 30 | Joe's afraid a visiting ex-classmate who was crazy about him will still be just plain crazy. |
| 10 | 82 | Come Fly with Me | 1993-12-02 | 30 | Joe, Brian, Helen and Lowell find fun in Boston, but at a price. |
| 11 | 83 | Happy Holidays | 1993-12-16 | 30 | Antonio's spirits are lifted out of the holiday doldrums by Lowell's ex. |
| 12 | 84 | Ready, Teddy, Go | 1994-01-06 | 30 | Helen gets more of a surprise than she bargained for when she takes a sneak peek at a gift from Davis. |
| 13 | 85 | Oh, Give Me a Home Where the Mathers Don't Roam | 1994-01-20 | 30 | The Hacketts want Lowell to find his own place, but Lowell's never lived alone. |
| 14 | 86 | The Faygitive | 1994-01-27 | 30 | A PI seeking Fay takes her picture and leaves without explanation. |
| 15 | 87 | Say Uncle, Carlton | 1994-02-03 | 30 | Antonio chauffeurs obnoxious Carlton Blanchard, whose nephew is equally annoying. |
| 16 | 88 | Hey, Nineteen | 1994-02-10 | 30 | Joe dates a 19-year-old whom Helen used to babysit; a lost dog finds women for Antonio and Roy. |
| 17 | 89 | Exclusively Yours | 1994-02-14 | 30 | An invasion of models tests Brian's commitment to Alex. |
| 18 | 90 | Moonlighting | 1994-02-17 | 30 | The gang recalls off-season jobs, including Helen's dance gig---for Roy's lodge brothers. |
| 19 | 91 | Sleepless in Nantucket | 1994-03-10 | 30 | When Alex and Brian realize it wasn't such a good idea to move in together, neither will admit it. |
| 20 | 92 | Boys Will Be Girls | 1994-04-07 | 30 | The Hacketts pull a prank on their ex-football coach---right after the man has expired. |
| 21 | 93 | Roy Crazy | 1994-04-14 | 30 | Roy's ex-wife seems to want him back, which stuns everyone---except Roy. |
| 22 | 94 | Long Distance Lament | 1994-04-28 | 30 | Joe cancels one date to be with another, while Helen dates another after Davis cancels out on her. |
| 23 | 95 | Call of the Wild | 1994-05-05 | 30 | To Alex's dismay, a bad influence has Brian spending his nights out with the boys. |
| 24 | 96 | A Decent Proposal | 1994-05-12 | 30 | Joe sweats out a loan application; Helen anticipates a breakup with Davis. |
Season 6
| Episode No. | No. Overall | Title | Airdate | Runtime | Summary |
| --- | --- | --- | --- | --- | --- |
| 1 | 97 | Whose Wife is it Anyway? | 1994-09-20 | 30 | Helen goes to see fiancé Davis, telling Joe their intimate evening together was "a mistake." |
| 2 | 98 | Twisted Sister | 1994-09-27 | 30 | The arrival of Helen's "perfect"---and snobby---sister Casey spoils Joe's romantic-dinner plans. |
| 3 | 99 | The Shrink | 1994-10-04 | 30 | Joe joins Brian in seeing a therapist after Helen moves up their wedding date. |
| 4 | 100 | The Spark and How to Get It | 1994-10-11 | 30 | Brian starts dating again, but finds no immediate spark with a woman who seems perfect for him. |
| 5 | 101 | The Waxman Cometh | 1994-10-18 | 30 | Lowell invests in a defunct attraction that shows little sign of life. |
| 6 | 102 | Is That a Ten-Foot Sandwich or Are You Just Glad to See Me? | 1994-11-01 | 30 | Casey and Brian plan a surprise engagement party for Joe and Helen, but Helen thinks they're having an affair. |
| 7 | 103 | All's Fare | 1994-11-08 | 30 | The businessman Antonio's chauffeuring makes a play for Casey. |
| 8 | 104 | Miss Jenkins | 1994-11-15 | 30 | Brian goes out with his ninth-grade teacher; a "Simon says" instructor plans on marrying Roy's mom. |
| 9 | 105 | If It's Not One Thing, It's Your Mother | 1994-11-22 | 30 | Helen's mom arrives with a cash wedding gift, which is no surprise---save for the amount. |
| 10 | 106 | The Wrong Stuff | 1994-11-29 | 30 | Robert Culp plays a former astronaut courted by the Hacketts to be their airline spokesman. |
| 11 | 107 | Insanity Claus | 1994-12-13 | 30 | An air-traffic controller holds Antonio at gunpoint for eating his doughnut. |
| 12 | 108 | She's Baaack | 1995-01-03 | 30 | Joe's secret admirer Sandy Cooper returns, claiming that her previous action was a joke. |
| 13 | 109 | Have I Got a Couple for You | 1995-01-10 | 30 | Joe and Helen make friends with a new couple, but a weekend together changes things for one duo. |
| 14 | 110 | Fools Russian | 1995-01-31 | 30 | Roy prepares to marry a mail-order bride from Russia. |
| 15 | 111 | Let's Call the Whole Thing Off | 1995-02-07 | 30 | After Joe and Helen set their wedding date, they crash a reception to check out a facility. |
| 16 | 112 | Remembrance of Flings Past (1) | 1995-02-09 | 30 | A reunion brings back Brian's old flame, who has surprises for both Hacketts. |
| 17 | 113 | Remembrance of Flings Past (2) | 1995-02-14 | 30 | Brian answers a call meant for Joe, who's forced to tell him about Sara. |
| 18 | 114 | Gone But Not Faygotten | 1995-02-21 | 30 | After Fay's retirement, Helen persuades Joe to hire Casey, who stuns the brothers by accepting---and doing a great job. |
| 19 | 115 | Ex, Lies and Videotape | 1995-02-28 | 30 | Brian is confronted by his ex, Alex, on a talk show. |
| 20 | 116 | Portrait of the Con Artist as a Young Man | 1995-03-21 | 30 | A gallery owner sees art in Lowell's welded gift to Casey, who pictures herself as Lowell's agent. Meanwhile, Brian's little joke on Joe creates big problems for Helen. |
| 21 | 117 | The Love Life and Times of Joe and Helen | 1995-04-04 | 30 | Brian makes a video diary of Joe and Helen's relationship, as recalled (in flashbacks) by friends and family, including Roy. |
| 22 | 118 | A House to Die For | 1995-05-02 | 30 | Gilbert Gottfried plays Carlton Blanchard's greedy nephew who's out to sell his dying uncle's house to Joe and Helen. |
| 23 | 119 | Nuptials Off | 1995-05-09 | 30 | Helen plans a quickie divorce from Antonio, whom she once wed to prevent his deportation. |
| 24 | 120 | Et Tu, Antonio? | 1995-05-16 | 30 | Antonio falls for his cousin's fiancée, whom he's to entertain while his cousin is away. |
| 25 | 121 | Boys Just Want to Have Fun (1) | 1995-05-23 | 30 | Brian plans a wild bachelor party for Joe, while Helen anticipates a quiet evening. And each gets the night the other wanted. |
| 26 | 122 | Here It Is: The Big Wedding (2) | 1995-05-23 | 30 | Helen and Joe's wedding is marred by mishaps, including no tux for Joe and a magic-marker mustache for Helen. |
Season 7
| Episode No. | No. Overall | Title | Airdate | Runtime | Summary |
| --- | --- | --- | --- | --- | --- |
| 1 | 123 | Burnin' Down the House (1) | 1995-09-19 | 30 | |
| 2 | 124 | Burnin' Down the House (2) | 1995-09-26 | 30 | |
| 3 | 125 | Death Becomes Him | 1995-10-10 | 30 | |
| 4 | 126 | The Person Formerly Known as Lowell | 1995-10-31 | 30 | |
| 5 | 127 | Hooker, Line and Sinker | 1995-11-07 | 30 | |
| 6 | 128 | She's Gotta Have It | 1995-11-14 | 30 | |
| 7 | 129 | So Long, Frank Lloyd Wrong | 1995-11-21 | 30 | |
| 8 | 130 | When a Man Loves a Donut | 1995-11-28 | 30 | |
| 9 | 131 | The Big Sleep | 1995-12-12 | 30 | |
| 10 | 132 | 'Twas the Heist Before Christmas | 1995-12-19 | 30 | |
| 11 | 133 | Honey, We Broke the Kid | 1996-01-02 | 30 | |
| 12 | 134 | B.S., I Love You | 1996-01-09 | 30 | |
| 13 | 135 | Sons and Lovers | 1996-01-16 | 30 | |
| 14 | 136 | Bye, George | 1996-01-30 | 30 | |
| 15 | 137 | The Team Player | 1996-02-06 | 30 | |
| 16 | 138 | Love at First Flight | 1996-02-13 | 30 | |
| 17 | 139 | Lynch Party | 1996-02-20 | 30 | |
| 18 | 140 | One Flew Over the Cooper's Nest | 1996-02-27 | 30 | |
| 19 | 141 | Driving Mr. DeCarlo | 1996-03-12 | 30 | |
| 20 | 142 | A Tale of Two Sister Cities | 1996-03-26 | 30 | |
| 21 | 143 | What About Larry? | 1996-04-09 | 30 | |
| 22 | 144 | The Lady Vanishes | 1996-04-23 | 30 | |
| 23 | 145 | Life Could Be a Dream | 1996-04-30 | 30 | |
| 24 | 146 | The Lyin' King | 1996-05-07 | 30 | |
| 25 | 147 | Love Overboard | 1996-05-14 | 30 | |
| 26 | 148 | Grouses, Houses and Bickering Spouses | 1996-05-21 | 30 | |
Season 8
| Episode No. | No. Overall | Title | Airdate | Runtime | Summary |
| --- | --- | --- | --- | --- | --- |
| 1 | 149 | Porno for Pyros | 1996-09-18 | 30 | |
| 2 | 150 | ... Like a Neighbor Scorned | 1996-09-25 | 30 | |
| 3 | 151 | Maybe It's You | 1996-10-02 | 30 | |
| 4 | 152 | Single and Hating It | 1996-10-09 | 30 | |
| 5 | 153 | Too Beautiful for You | 1996-10-23 | 30 | |
| 6 | 154 | The Gift of Life | 1996-10-30 | 30 | |
| 7 | 155 | Olive or Twist | 1996-11-06 | 30 | |
| 8 | 156 | Wingless (1) | 1996-11-13 | 30 | |
| 9 | 157 | Wingless (2) | 1996-11-20 | 30 | |
| 10 | 158 | Wingless (3) | 1996-12-11 | 30 | |
| 11 | 159 | All About Christmas Eve | 1996-12-18 | 30 | |
| 12 | 160 | Let's Talk About Sex | 1997-01-08 | 30 | |
| 13 | 161 | Hosed | 1997-01-15 | 30 | |
| 14 | 162 | Just Call Me Angel | 1997-02-05 | 30 | |
| 15 | 163 | Fay There, Georgy Girl | 1997-02-12 | 30 | |
| 16 | 164 | Escape from New York | 1997-02-19 | 30 | |
| 17 | 165 | House of Blues | 1997-03-05 | 30 | |
| 18 | 166 | Ms. Write | 1997-03-19 | 30 | |
| 19 | 167 | Dreamgirl | 1997-04-02 | 30 | |
| 20 | 168 | Heartache Tonight | 1997-04-16 | 30 | |
| 21 | 169 | Oedipus Wrecks | 1997-05-07 | 30 | |
| 22 | 170 | Raging Bull*[email protected]! | 1997-05-14 | 30 | |
| 23 | 171 | Final Approach (1) | 1997-05-21 | 30 | |
| 24 | 172 | Final Approach (2) | 1997-05-21 | 30 | |
Series Cast
| | | | |
| --- | --- | --- | --- |
| | David Schramm | as Roy Peterman Biggins | |
| | Crystal Bernard | as Helen Chappel Hackett | |
| | Tim Daly | as Joseph 'Joe' Montgomery Hackett | |
| | Steven Weber | as Brian Michael Hackett | |
| | Rebecca Schull | as Fay Evelyn Schlob Dumbly DeVay Cochran | |
| | Thomas Haden Church | as Lowell Mather | |
| | Tony Shalhoub | as Antonio Scarpacci | |
| | Farrah Forke | as Alex Lambert | |
| | Amy Yasbeck | as Cassandra 'Casey' Chappel Davenport | |
| | Brian Haley | as Budd Bronski | |
Series Crew
| | Position | Name |
| --- | --- | --- |
| | Co-Producer | Michael Saltzman |
| | Co-Executive Producer | Jeffrey Richman |
| | Creator | David Lee |
| | Executive Producer | David Lee |
| | Executive Producer | Mark Reisman |
| | Executive Producer | Ian Gurvitz |
| | Executive Producer | Howard Gewirtz |
| | Creator | Peter Casey |
| | Executive Producer | Peter Casey |
| | Creator | David Angell |
| | Executive Producer | David Angell |
| | Co-Producer | Larry Balmagia |
| | Supervising Producer | Christopher Vane |
| | Supervising Producer | Ellen Byron |
| | Supervising Producer | Lissa Kapstrom |
| | Associate Producer | Suzanne Holmes |
| | Co-Executive Producer | Dave Hackel |
| | Supervising Producer | Dave Hackel |
| | Co-Producer | Lori A. Moneymaker |
| | Co-Producer | Bill Diamond |
| | Co-Producer | Maggie Blanc |
Related News
TVMaze