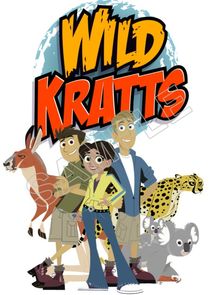 In Wild Kratts, the Kratt brothers go around the world looking for animals and use "creature power suits", suits created by their friend, Aviva, out of the creatures' DNA. There are three villains in the show, Zach Varmitech, who controls the creatures' minds and use them as slaves, Donita Donata, who freezes creatures and sell them alive as jewelry, and Gourmond, who makes expensive gourmet dishes out of endangered species. The Kratts usually use their creature powers to foil these three villains' plots.
Series Overview
Rating
imDb Rating: 7.7 (899 Votes)
Metascore: N/A
Plot
Chris and Martin Kratt are brothers who explore the wild throughout the world to learn more about animals and share conservation information. They have three friends who travel in the ...
Details
Rated: TV-Y
Released: 03 Jan 2011
Runtime: 26 min
Genre: Animation, Adventure, Comedy, Family
Director: N/A
Writer: Martin Kratt, Chris Kratt
Actors: Chris Kratt, Martin Kratt, Jonathan Malen, Athena Karkanis
Language: English
Country: USA, Canada
Awards: 8 nominations.
Total Seasons: 5
Previous Episode
In Search of the Easter Bunny
Episode 6x9; Mar 30, 2020
Previous Episodes 6x9: In Search of the Easter Bunny 6x8: The Vanishing Stingray 6x7: Mystery Of The Mini Monkey Models 6x6: Hammerheads 6x5: The Real Ant Farm 6x4: Wolf Hawks 6x3: Deer Buckaroo 6x2: Spots in the Desert 6x1: Mystery of the Flamingo's Pink

View All Episodes
Skip to:
Season 1
| Episode No. | No. Overall | Title | Airdate | Runtime | Summary |
| --- | --- | --- | --- | --- | --- |
| 1 | 1 | Mom of a Croc | 2010-12-31 | 30 | |
| 2 | 2 | Whale of a Squid | 2010-12-31 | 30 | |
| 3 | 3 | Aardvark Town | 2011-01-05 | 30 | |
| 4 | 4 | Flight of the Draco | 2011-01-06 | 30 | |
| 5 | 5 | Mystery of the Squirmy Wormy | 2011-01-07 | 30 | |
| 6 | 6 | Platypus Cafe | 2011-01-10 | 30 | |
| 7 | 7 | Polar Bears Don't Dance | 2011-01-12 | 30 | |
| 8 | 8 | Build It Beaver | 2011-01-13 | 30 | |
| 9 | 9 | Voyage of the Butterflier XT | 2011-01-17 | 30 | |
| 10 | 10 | Honey Seekers | 2011-01-19 | 30 | |
| 11 | 11 | Bass Class | 2011-01-20 | 30 | |
| 12 | 12 | Fireflies | 2011-01-24 | 30 | |
| 13 | 13 | Mystery of the Weird Looking Walrus | 2011-01-27 | 30 | |
| 14 | 14 | Tazzy Chris | 2011-01-31 | 30 | |
| 15 | 15 | Octopus Wildkratticus | 2011-02-03 | 30 | |
| 16 | 16 | Walk on the Wetside | 2011-02-21 | 30 | |
| 17 | 17 | Elephant in the Room | 2011-02-22 | 30 | |
| 18 | 18 | Let the Rhinos Roll! | 2011-03-28 | 30 | |
| 19 | 19 | Falcon City | 2011-04-21 | 30 | |
| 20 | 20 | The Blue and the Gray | 2011-04-22 | 30 | |
| 21 | 21 | Kickin' it with the Roos | 2011-05-23 | 30 | |
| 22 | 22 | Koala Balloon | 2011-07-11 | 30 | |
| 23 | 23 | Cheetah Racer | 2011-09-02 | 30 | |
| 24 | 24 | Stuck on Sharks | 2011-10-17 | 30 | |
| 25 | 25 | Mimic | 2011-10-18 | 30 | |
| 26 | 26 | Little Howler | 2011-10-19 | 30 | |
| 27 | 27 | Raptor Roundup | 2011-10-20 | 30 | |
| 28 | 28 | A Bat in the Brownies | 2011-10-24 | 30 | |
| 29 | 29 | Masked Bandits | 2011-10-25 | 30 | |
| 30 | 30 | Ker-honk | 2011-12-30 | 30 | |
| 31 | 31 | The Food Chain Game | 2012-01-16 | 30 | |
| 32 | 32 | Flight of the Pollinators | 2012-03-30 | 30 | |
| 33 | 33 | Caracal-Minton | 2012-04-02 | 30 | |
| 34 | 34 | Zig-Zagged | 2012-05-14 | 30 | |
| 35 | 35 | A Huge Orange Problem | 2012-06-04 | 30 | |
| 36 | 36 | Birds of a Feather | 2012-09-07 | 30 | |
| 37 | 37 | Seasquatch | 2012-10-22 | 30 | |
| 38 | 38 | The Gecko Effect | 2012-10-23 | 30 | |
| 39 | 39 | Googly Eye The Night Guru | 2012-10-24 | 30 | |
| 40 | 40 | Quillber's Birthday Present | 2012-10-25 | 30 | |
Season 2
| Episode No. | No. Overall | Title | Airdate | Runtime | Summary |
| --- | --- | --- | --- | --- | --- |
| 1 | 41 | Bad Hair Day | 2012-10-15 | 30 | |
| 2 | 42 | Race for the Hippo Disc | 2012-10-16 | 30 | |
| 3 | 43 | Creature Power Challenge | 2012-10-17 | 30 | |
| 4 | 44 | Termites Versus Tongues | 2012-10-18 | 30 | |
| 5 | 45 | Secrets of the Spider's Web | 2012-10-31 | 30 | |
| 6 | 46 | Happy Turkey Day | 2012-11-19 | 30 | |
| 7 | 47 | Neck and Neck | 2013-01-18 | 30 | |
| 8 | 48 | Speaking Dolphinese | 2013-01-21 | 30 | |
| 9 | 49 | Blowfish Blowout | 2013-01-21 | 30 | |
| 10 | 50 | To Touch A Hummingbird | 2013-02-11 | 30 | |
| 11 | 51 | Rainforest Stew | 2013-02-12 | 30 | |
| 12 | 52 | Seahorse Rodeo | 2013-02-13 | 30 | |
| 13 | 53 | Aquafrog | 2013-02-15 | 30 | |
| 14 | 54 | Snow Runners | 2013-02-18 | 30 | |
| 15 | 55 | Tortuga Tune Up | 2013-02-18 | 30 | |
| 16 | 56 | Road runner | 2013-02-20 | 30 | |
| 17 | 57 | Rocket Jaw:rescuer of the reef | 2013-02-20 | 30 | |
| 18 | 58 | Attack of the Alien Tree Eaters | 2013-02-25 | 30 | |
| 19 | 59 | Rattlesnake Crystal | 2013-02-26 | 30 | |
| 20 | 60 | Skunked! | 2013-02-27 | 30 | |
| 21 | 61 | Gila monster under my house | 2013-02-28 | 30 | |
| 22 | 62 | Bugs or Monkeys? | 2013-04-01 | 30 | |
| 23 | 63 | Shadow of Black Jaguar | 2013-04-02 | 30 | |
| 24 | 64 | The Desert Elves | 2013-11-18 | 30 | |
| 25 | 65 | Journey to the Subnivean Zone | 2014-01-30 | 30 | |
| 26 | 66 | Groundhog Wake Up Call | 2014-01-31 | 30 | |
Season 3
| Episode No. | No. Overall | Title | Airdate | Runtime | Summary |
| --- | --- | --- | --- | --- | --- |
| 1 | 67 | Hermit Crab Shell Exchange | 2014-04-07 | 30 | |
| 2 | 68 | Where the Bison Roam | 2014-04-08 | 30 | |
| 3 | 69 | Bandito: The Black-Footed Ferret | 2014-04-09 | 30 | |
| 4 | 70 | When Fish Fly | 2014-04-10 | 30 | |
| 5 | 71 | Osprey | 2014-04-11 | 30 | |
| 6 | 72 | Back in Creature Time, Part 1 - Day of the Dodo | 2014-07-07 | 30 | |
| 7 | 73 | Back in Creature Time, Part 2 - Tasmanian Tiger | 2014-07-07 | 30 | |
| 8 | 74 | The Amazing Creature Race | 2014-07-08 | 30 | |
| 9 | 75 | Prairie Who? | 2014-07-09 | 30 | |
| 10 | 76 | Mystery on the Prairie | 2014-07-10 | 30 | |
| 11 | 77 | Crocogator Contest | 2014-07-21 | 30 | |
| 12 | 78 | Mosquito Dragon | 2014-07-21 | 30 | |
| 13 | 79 | Slider: The Otter | 2014-07-22 | 30 | |
| 14 | 80 | Search for the Florida Panther | 2014-07-23 | 30 | |
| 15 | 81 | Opossum in My Pocket | 2014-07-24 | 30 | |
| 16 | 82 | Praying Mantis | 2014-08-12 | 30 | |
| 17 | 83 | Under Frozen Pond | 2015-01-19 | 30 | |
| 18 | 84 | Chameleons on Target | 2015-04-20 | 30 | |
| 19 | 85 | Lemur Stink Fight | 2015-04-21 | 30 | |
| 20 | 86 | Capture the Fishmobile | 2015-04-22 | 30 | |
| 21 | 87 | Aye Aye | 2015-07-08 | 30 | |
| 22 | 88 | Tenrec Treasure Hunt | 2015-07-08 | 30 | |
| 23 | 89 | Lemur Legs | 2015-07-15 | 30 | |
| 24 | 90 | Golden Bamboo Lemur | 2015-07-15 | 30 | |
| 25 | 91 | Fossa Palooza! | 2015-07-22 | 30 | |
| 26 | 92 | Mini Madagascar | 2015-07-24 | 30 | |
Season 4
| Episode No. | No. Overall | Title | Airdate | Runtime | Summary |
| --- | --- | --- | --- | --- | --- |
| 1 | 93 | The Last Largest Lobster | 2015-07-29 | 30 | |
| 2 | 94 | Stars of the Tides | 2015-07-29 | 30 | |
| 3 | 95 | Box Turtled In! | 2016-04-25 | 30 | |
| 4 | 96 | The Other Martins | 2016-04-26 | 30 | |
| 5 | 97 | Sea Otter Swim | 2016-04-27 | 30 | |
| 6 | 98 | Animals Who Live to Be 100 Years Old | 2016-04-28 | 30 | |
| 7 | 99 | Spirit Bear | 2016-04-29 | 30 | |
| 8 | 100 | Panda Power Up! | 2016-07-19 | 30 | |
| 9 | 101 | Pangolin Rescue | 2016-07-20 | 30 | |
| 10 | 102 | Golden Snub Nosed Monkey Man | 2016-07-21 | 30 | |
| 11 | 103 | Red Panda Rescue | 2016-07-22 | 30 | |
| 12 | 104 | The Colors of China | 2016-07-25 | 30 | |
| 13 | 105 | Creatures of the Deep Sea - Part 1 | 2016-11-23 | 30 | |
| 14 | 106 | Creatures of the Deep Sea - Part 2 | 2016-11-23 | 30 | |
| 15 | 107 | Liturgusa Krattorum | 2017-01-16 | 30 | |
| 16 | 108 | Snowy Owl Invasion | 2017-01-17 | 30 | |
| 17 | 109 | Puffin Rescue | 2017-01-18 | 30 | |
| 18 | 110 | Eel-lectric | 2017-01-19 | 30 | |
| 19 | 111 | The Mystery of the Two Horned Narwhal | 2017-01-20 | 30 | |
| 20 | 112 | Archerfish School | 2017-04-10 | 30 | |
| 21 | 113 | This Orca Likes Sharks | 2017-04-11 | 30 | |
| 22 | 114 | Baby Tooth and Kid Musky | 2017-04-12 | 30 | |
| 23 | 115 | Cheetah Adopted | 2017-04-13 | 30 | |
| 24 | 116 | Musk Ox Mania | 2017-04-14 | 30 | |
Season 5
| Episode No. | No. Overall | Title | Airdate | Runtime | Summary |
| --- | --- | --- | --- | --- | --- |
| 1 | 117 | Mystery of the North Pole Penguins? | 2017-07-25 | 30 | The Wild Kratts help stranded penguins in the Arctic. |
| 2 | 118 | Temple of the Tigers | 2017-07-27 | 30 | The Kratts search for the tiger, the world's most powerful wildcat. |
| 3 | 119 | Alaska: Hero's Journey - Part 1 | 2017-07-24 | 30 | |
| 4 | 120 | Alaska: Hero's Journey - Part 2 | 2017-07-24 | 30 | |
| 6 | 121 | Cheeks the Hamster | 2018-04-23 | 30 | |
| 7 | 122 | Wild Ponies | 2018-04-24 | 30 | |
| 8 | 123 | Elephant Brains! | 2018-04-25 | 30 | |
| 9 | 124 | Sloth Bear Suction | 2018-04-26 | 30 | |
| 10 | 125 | City Hoppers! | 2018-06-15 | 30 | |
| 11 | 126 | Blue Heron | 2018-06-15 | 30 | |
| 12 | 127 | Choose Your Swordfish | 2018-06-15 | 30 | |
| 13 | 128 | Komodo Dragon | 2018-06-15 | 30 | |
| 18 | 129 | The Fourth Bald Eagle | 2019-01-21 | 30 | |
| 19 | 130 | The Erminator | 2019-01-22 | 30 | |
| 20 | 131 | Hercules: The Giant Beetle | 2019-01-23 | 30 | |
Related News
TVMaze