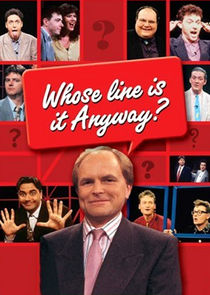 The popular improvisation show, hosted with a stunning lack of impartiality by Clive Anderson.
Series Overview
Rating
imDb Rating: 8.2 (5,011 Votes)
Metascore: N/A
Plot
A British show in which actors and comedians improvise sketches in various "theatre-sports"-type games, based on audience suggestions. The games might include singing a Hoedown about Tory ...
Details
Rated: N/A
Released: 23 Sep 1988
Runtime: 36 min
Genre: Comedy, Game-Show
Director: N/A
Writer: Mark Leveson, Dan Patterson
Actors: Clive Anderson, Richard Vranch, Ryan Stiles, Colin Mochrie
Language: English
Country: UK
Awards: 5 wins & 4 nominations.
Total Seasons: 10
Previous Episode
Series 10 Compilation 2
Episode 10x11; Jul 02, 1998
Previous Episodes 10x11: Series 10 Compilation 2 10x10: Series 10 Compilation 1 10x9: Brad Sherwood, Debra Wilson, Colin Mochrie, Ryan Stiles 10x8: Brad Sherwood, Wayne Brady, Colin Mochrie, Ryan Stiles 10x7: Greg Proops, Phil LaMarr, Colin Mochrie, Ryan Stiles 10x6: Greg Proops, Catherine O'Hara, Colin Mochrie, Ryan Stiles 10x5: Greg Proops, Brad Sherwood, Colin Mochrie, Ryan Stiles 10x4: Patrick Bristow, Wayne Brady, Colin Mochrie, Ryan Stiles 10x3: Greg Proops, Karen Maruyama, Colin Mochrie, Ryan Stiles

View All Episodes
Skip to:
Season 1
| Episode No. | No. Overall | Title | Airdate | Runtime | Summary |
| --- | --- | --- | --- | --- | --- |
| 1 | 1 | Archie Hahn, Josie Lawrence, Paul Merton, John Sessions | 1988-09-23 | 30 | |
| 2 | 2 | Archie Hahn, Rory Bremner, Jimmy Mulville, John Sessions | 1988-09-30 | 30 | |
| 3 | 3 | Stephen Fry, Peter Cook, Josie Lawrence, John Sessions | 1988-10-07 | 30 | |
| 4 | 4 | Tony Slattery, Betty Thomas, Paul Merton, John Sessions | 1988-10-14 | 30 | |
| 5 | 5 | Josie Lawrence, Jonathan Pryce, Paul Merton, John Sessions | 1988-10-21 | 30 | |
| 6 | 6 | Graeme Garden, Jan Ravens, George McGrath, John Sessions | 1988-10-28 | 30 | |
| 7 | 7 | Tony Slattery, Jonathan Pryce, Rory McGrath, John Sessions | 1988-11-04 | 30 | |
| 8 | 8 | Richard Kaplan, Griff Rhys-Jones, Paul Merton, John Sessions | 1988-11-11 | 30 | |
| 9 | 9 | Mike McShane, Josie Lawrence, Tony Slattery, John Sessions | 1988-11-18 | 30 | |
| 10 | 10 | Stephen Fry, Josie Lawrence, Enn Reitel, John Sessions | 1988-11-25 | 30 | |
| 11 | 11 | Series 1 Compilation 1 | 1988-12-02 | 30 | |
| 12 | 12 | Series 1 Compilation 2 | 1988-12-09 | 30 | |
| 13 | 13 | Jon Glover, Jimmy Mulville, Josie Lawrence, John Sessions | 1988-12-16 | 30 | |
| 14 | 14 | Comic Relief Special | 1989-03-10 | 30 | |
Season 2
| Episode No. | No. Overall | Title | Airdate | Runtime | Summary |
| --- | --- | --- | --- | --- | --- |
| 1 | 15 | Greg Proops, Josie Lawrence, Tony Slattery, Mike McShane | 1989-10-10 | 30 | |
| 2 | 16 | Archie Hahn, Josie Lawrence, Tony Slattery, John Sessions | 1989-11-17 | 30 | |
| 3 | 17 | Ron West, Griff Rhys-Jones, Paul Merton, John Sessions | 1989-11-24 | 30 | |
| 4 | 18 | Greg Proops, Josie Lawrence, Paul Rider, Mike McShane | 1989-12-08 | 30 | |
| 5 | 19 | Ryan Stiles, Sandi Toksvig, Tony Slattery, John Sessions | 1989-12-15 | 30 | |
| 6 | 20 | Ron West, Jimmy Mulville, Paul Merton, John Sessions | 1989-12-22 | 30 | |
| 7 | 21 | Greg Proops, Josie Lawrence, Paul Merton, Sandi Toksvig, Tony Slattery, Mike McShane | 1989-12-29 | 30 | |
| 8 | 22 | Ryan Stiles, Josie Lawrence, Neil Mullarkey, Mike McShane | 1990-01-05 | 30 | |
| 9 | 23 | Archie Hahn, Jonathan Pryce, Paul Merton, John Sessions | 1990-01-12 | 30 | |
| 10 | 24 | Lee Simpson, Jan Ravens, Tony Slattery, Mike McShane | 1990-01-19 | 30 | |
| 11 | 25 | Josie Lawrence, Arthur Smith, Sandi Toksvig, Mike McShane | 1990-01-26 | 30 | |
| 12 | 26 | Mike McShane, Chris Langham, Sandi Toksvig, John Sessions | 1990-02-09 | 30 | |
| 13 | 27 | Greg Proops, Josie Lawrence, Tony Slattery, John Sessions | 1990-02-16 | 30 | |
| 14 | 28 | Ron West, Sandi Toksvig, Tony Slattery, Rory McGrath | 1990-02-23 | 30 | |
| 15 | 29 | Josie Lawrence, Paul Merton, Tony Slattery, Mike McShane | 1990-03-02 | 30 | |
| 16 | 30 | Series 2 Compilation 1 | 1990-03-09 | 30 | |
| 17 | 31 | Series 2 Compilation 2 | 1990-03-16 | 30 | |
Season 3
| Episode No. | No. Overall | Title | Airdate | Runtime | Summary |
| --- | --- | --- | --- | --- | --- |
| 1 | 32 | Josie Lawrence, Greg Proops, Jim Sweeney, Tony Slattery | 1991-01-18 | 30 | |
| 2 | 33 | Josie Lawrence, Mark Cohen, Tony Slattery, Mike McShane | 1991-01-25 | 30 | |
| 3 | 34 | Mike McShane, Sandi Toksvig, Paul Merton, Jim Sweeney | 1991-02-01 | 30 | |
| 4 | 35 | Josie Lawrence, Paul Merton, Julian Clary, Mike McShane | 1991-02-08 | 30 | |
| 5 | 36 | Mike McShane, Colin Mochrie, Sandi Toksvig, Tony Slattery | 1991-02-15 | 30 | |
| 6 | 37 | Mike McShane, Josie Lawrence, Denalda Williams, Sandi Toksvig | 1991-02-22 | 30 | |
| 7 | 38 | Mike McShane, Paul Merton, Steve Steen, Jim Sweeney | 1991-03-01 | 30 | |
| 8 | 39 | Greg Proops, Sandi Toksvig, Tony Slattery, Mike McShane | 1991-03-08 | 30 | |
| 9 | 40 | London Compilation | 1991-03-15 | 30 | |
| 10 | 41 | Josie Lawrence, Ryan Stiles, Chris Smith, Jim Meskimen | 1991-03-22 | 30 | |
| 11 | 42 | Mike McShane, Mark Cohen, Greg Proops, John Sessions | 1991-03-29 | 30 | |
| 12 | 43 | Josie Lawrence, Ryan Stiles, Colin Mochrie, Mike McShane | 1991-04-05 | 30 | |
| 13 | 44 | Chris Smith, Sandi Toksvig, Jim Meskimen, Mike McShane | 1991-04-12 | 30 | |
| 14 | 45 | John Sessions, Archie Hahn, Ryan Stiles, Mike McShane | 1991-04-19 | 30 | |
| 15 | 46 | Greg Proops, George McGrath, Ryan Stiles, Mike McShane | 1991-04-26 | 30 | |
| 16 | 47 | Josie Lawrence, Greg Proops, Sandi Toksvig, Mike McShane | 1991-05-03 | 30 | |
| 17 | 48 | New York Compilation | 1991-05-10 | 30 | |
Season 4
| Episode No. | No. Overall | Title | Airdate | Runtime | Summary |
| --- | --- | --- | --- | --- | --- |
| 1 | 49 | Jim Sweeney, Steve Steen, Steve Frost, Tony Slattery | 1992-01-24 | 30 | |
| 2 | 50 | Greg Proops, Paul Merton, Ryan Stiles, Josie Lawrence | 1992-01-31 | 30 | |
| 3 | 51 | Jim Sweeney, Paul Merton, Steve Steen, Tony Slattery | 1992-02-07 | 30 | |
| 4 | 52 | Jim Sweeney, Steve Frost, Josie Lawrence, Tony Slattery | 1992-02-14 | 30 | |
| 5 | 53 | Greg Proops, Ryan Stiles, Chip Esten, Tony Slattery | 1992-02-21 | 30 | |
| 6 | 54 | London Compilation | 1992-02-28 | 30 | |
| 7 | 55 | Greg Proops, Ryan Stiles, Colin Mochrie, Brad Sherwood | 1992-03-07 | 30 | |
| 8 | 56 | Greg Proops, Archie Hahn, Ryan Stiles, Chip Esten | 1992-03-14 | 30 | |
| 9 | 57 | Ron West, Ryan Stiles, Colin Mochrie, Greg Proops | 1992-03-21 | 30 | |
| 10 | 58 | Sam Johnson, Jane Brucker, Ryan Stiles, Chip Esten | 1992-03-28 | 30 | |
| 11 | 59 | Jim Meskimen, Chris Smith, Ryan Stiles, Chip Esten | 1992-04-03 | 30 | |
| 12 | 60 | Greg Proops, Ron West, Ryan Stiles, Brad Sherwood | 1992-04-10 | 30 | |
| 13 | 61 | New York Compilation | 1992-04-17 | 30 | |
Season 5
| Episode No. | No. Overall | Title | Airdate | Runtime | Summary |
| --- | --- | --- | --- | --- | --- |
| 1 | 62 | Greg Proops, Ryan Stiles, Colin Mochrie, Tony Slattery | 1993-03-05 | 30 | |
| 2 | 63 | Greg Proops, Russell Fletcher, Ryan Stiles, Josie Lawrence | 1993-03-12 | 30 | |
| 3 | 64 | Jim Sweeney, Steve Steen, Paul Merton, Tony Slattery | 1993-03-19 | 30 | |
| 4 | 65 | Greg Proops, Ryan Stiles, Colin Mochrie, Tony Slattery | 1993-03-26 | 30 | |
| 5 | 66 | Greg Proops, Ryan Stiles, Josie Lawrence, Mike McShane | 1993-04-02 | 30 | |
| 6 | 67 | Greg Proops, Ryan Stiles, Colin Mochrie, Josie Lawrence | 1993-04-09 | 30 | |
| 7 | 68 | Jim Sweeney, Steve Steen, Tony Slattery, Mike McShane | 1993-04-16 | 30 | |
| 8 | 69 | Steve Frost, Colin Mochrie, Ryan Stiles, Tony Slattery | 1993-04-23 | 30 | |
| 9 | 70 | Series 5 Compilation | 1993-04-30 | 30 | |
Season 6
| Episode No. | No. Overall | Title | Airdate | Runtime | Summary |
| --- | --- | --- | --- | --- | --- |
| 1 | 71 | Steve Frost, Colin Mochrie, Ryan Stiles, Tony Slattery | 1994-07-01 | 30 | |
| 2 | 72 | Josie Lawrence, Ryan Stiles, Greg Proops, Mike McShane | 1994-07-08 | 30 | |
| 3 | 73 | Steve Frost, Colin Mochrie, Ryan Stiles, Tony Slattery | 1994-07-15 | 30 | |
| 4 | 74 | Mike McShane, Greg Proops, Ryan Stiles, Tony Slattery | 1994-07-22 | 30 | |
| 5 | 75 | Josie Lawrence, Steve Frost, Ryan Stiles, Tony Slattery | 1994-07-29 | 30 | |
| 6 | 76 | Steve Frost, Colin Mochrie, Ryan Stiles, Tony Slattery | 1994-08-05 | 30 | |
| 7 | 77 | Josie Lawrence, Rory Bremner, Tony Slattery, Mike McShane | 1994-08-12 | 30 | |
| 8 | 78 | Greg Proops, Chip Esten, Ryan Stiles, Tony Slattery | 1994-08-19 | 30 | |
| 9 | 79 | Greg Proops, Colin Mochrie, Ryan Stiles, Tony Slattery | 1994-08-26 | 30 | |
| 10 | 80 | Series 6 Compilation 1 | 1994-09-02 | 30 | |
| 11 | 81 | Series 6 Compilation 2 | 1994-09-09 | 30 | |
Season 7
| Episode No. | No. Overall | Title | Airdate | Runtime | Summary |
| --- | --- | --- | --- | --- | --- |
| 1 | 82 | Greg Proops, Colin Mochrie, Niall Ashdown, Ryan Stiles | 1995-07-28 | 30 | |
| 2 | 83 | Greg Proops, Mike McShane, Ryan Stiles, Tony Slattery | 1995-08-04 | 30 | |
| 3 | 84 | Steve Frost, Colin Mochrie, Ryan Stiles, Tony Slattery | 1995-08-11 | 30 | |
| 4 | 85 | Colin Mochrie, Ryan Stiles, Caroline Quentin, Tony Slattery | 1995-08-18 | 30 | |
| 5 | 86 | Greg Proops, Mike McShane, Ryan Stiles, Tony Slattery | 1995-08-25 | 30 | |
| 6 | 87 | Mike McShane, Colin Mochrie, Ryan Stiles, Tony Slattery | 1995-09-01 | 30 | |
| 7 | 88 | Steve Frost, Eddie Izzard, Greg Proops, Ryan Stiles | 1995-09-08 | 30 | |
| 8 | 89 | Steve Frost, Josie Lawrence, Colin Mochrie, Ryan Stiles | 1995-09-15 | 30 | |
| 9 | 90 | Josie Lawrence, Caroline Quentin, Colin Mochrie, Ryan Stiles | 1995-09-22 | 30 | |
| 10 | 91 | Steve Frost, Josie Lawrence, Colin Mochrie, Ryan Stiles | 1995-09-29 | 30 | |
| 11 | 92 | Series 7 Compilation 1 | 1995-10-06 | 30 | |
| 12 | 93 | Series 7 Compilation 2 | 1995-10-13 | 30 | |
Season 8
| Episode No. | No. Overall | Title | Airdate | Runtime | Summary |
| --- | --- | --- | --- | --- | --- |
| 1 | 94 | Steve Frost, Greg Proops, Colin Mochrie, Ryan Stiles | 1996-07-05 | 30 | |
| 2 | 95 | Greg Proops, Rory Bremner, Colin Mochrie, Ryan Stiles | 1996-07-12 | 30 | |
| 3 | 96 | Josie Lawrence, Caroline Quentin, Colin Mochrie, Ryan Stiles | 1996-07-19 | 30 | |
| 4 | 97 | Steve Frost, Caroline Quentin, Colin Mochrie, Ryan Stiles | 1996-07-26 | 30 | |
| 5 | 98 | Greg Proops, Niall Ashdown, Colin Mochrie, Ryan Stiles | 1996-08-02 | 30 | |
| 6 | 99 | Greg Proops, Caroline Quentin, Colin Mochrie, Ryan Stiles | 1996-08-09 | 30 | |
| 7 | 100 | Greg Proops, Ardal O'Hanlon, Colin Mochrie, Ryan Stiles | 1996-08-16 | 30 | |
| 8 | 101 | Steve Frost, Greg Proops, Colin Mochrie, Ryan Stiles | 1996-08-23 | 30 | |
| 9 | 102 | Niall Ashdown, Steve Frost, Colin Mochrie, Ryan Stiles | 1996-08-30 | 30 | |
| 10 | 103 | Steve Frost, Josie Lawrence, Colin Mochrie, Ryan Stiles | 1996-09-06 | 30 | |
| 11 | 104 | Greg Proops, Rory Bremner, Colin Mochrie, Ryan Stiles | 1996-09-13 | 30 | |
| 12 | 105 | Josie Lawrence, Caroline Quentin, Colin Mochrie, Ryan Stiles | 1996-09-20 | 30 | |
| 13 | 106 | Series 8 Compilation 1 | 1996-09-27 | 30 | |
| 14 | 107 | Series 8 Compilation 2 | 1996-12-06 | 30 | |
Season 9
| Episode No. | No. Overall | Title | Airdate | Runtime | Summary |
| --- | --- | --- | --- | --- | --- |
| 1 | 108 | Greg Proops, Rory Bremner, Colin Mochrie, Ryan Stiles | 1997-07-03 | 30 | |
| 2 | 109 | Greg Proops, Karen Maruyama, Colin Mochrie, Ryan Stiles | 1997-07-10 | 30 | |
| 3 | 110 | Mike McShane, Brad Sherwood, Colin Mochrie, Ryan Stiles | 1997-07-17 | 30 | |
| 4 | 111 | Josie Lawrence, Stephen Fry, Colin Mochrie, Ryan Stiles | 1997-07-23 | 30 | |
| 5 | 112 | Greg Proops, Steve Frost, Colin Mochrie, Ryan Stiles | 1997-07-31 | 30 | |
| 6 | 113 | Steve Frost, Colin Mochrie, Brad Sherwood, Ryan Stiles | 1997-08-07 | 30 | |
| 7 | 114 | Greg Proops, George Wendt, Colin Mochrie, Ryan Stiles | 1997-08-14 | 30 | |
| 8 | 115 | Greg Proops, Debi Durst, Colin Mochrie, Ryan Stiles | 1997-08-21 | 30 | |
| 9 | 116 | Steve Frost, Colin Mochrie, Brad Sherwood, Ryan Stiles | 1997-09-04 | 30 | |
| 10 | 117 | Steve Frost, Colin Mochrie, Brad Sherwood, Ryan Stiles | 1997-09-11 | 30 | |
| 11 | 118 | Series 9 Compilation 1 | 1997-09-18 | 30 | |
| 12 | 119 | Series 9 Compilation 2 | 1997-09-25 | 30 | |
| 13 | 120 | Greg Proops, Steve Frost, Colin Mochrie, Ryan Stiles | 1997-10-02 | 30 | |
| 14 | 121 | Greg Proops, Karen Maruyama, Colin Mochrie, Ryan Stiles | 1997-10-09 | 30 | |
| 15 | 122 | Steve Frost, Colin Mochrie, Brad Sherwood, Ryan Stiles | 1997-10-16 | 30 | |
| 16 | 123 | Greg Proops, George Wendt, Colin Mochrie, Ryan Stiles | 1997-10-23 | 30 | |
| 17 | 124 | Greg Proops, Rory Bremner, Colin Mochrie, Ryan Stiles | 1997-10-30 | 30 | |
| 18 | 125 | Greg Proops, Josie Lawrence, Colin Mochrie, Ryan Stiles | 1997-11-06 | 30 | |
| 19 | 126 | Steve Frost, Colin Mochrie, Brad Sherwood, Ryan Stiles | 1997-11-13 | 30 | |
Season 10
| Episode No. | No. Overall | Title | Airdate | Runtime | Summary |
| --- | --- | --- | --- | --- | --- |
| 1 | 127 | Brad Sherwood, Wayne Brady, Colin Mochrie, Ryan Stiles | 1998-04-22 | 30 | |
| 2 | 128 | Greg Proops, Phil LaMarr, Colin Mochrie, Ryan Stiles | 1998-04-29 | 30 | |
| 3 | 129 | Greg Proops, Karen Maruyama, Colin Mochrie, Ryan Stiles | 1998-05-06 | 30 | |
| 4 | 130 | Patrick Bristow, Wayne Brady, Colin Mochrie, Ryan Stiles | 1998-05-13 | 30 | |
| 5 | 131 | Greg Proops, Brad Sherwood, Colin Mochrie, Ryan Stiles | 1998-05-20 | 30 | |
| 6 | 132 | Greg Proops, Catherine O'Hara, Colin Mochrie, Ryan Stiles | 1998-05-27 | 30 | |
| 7 | 133 | Greg Proops, Phil LaMarr, Colin Mochrie, Ryan Stiles | 1998-06-04 | 30 | |
| 8 | 134 | Brad Sherwood, Wayne Brady, Colin Mochrie, Ryan Stiles | 1998-06-11 | 30 | |
| 9 | 135 | Brad Sherwood, Debra Wilson, Colin Mochrie, Ryan Stiles | 1998-06-18 | 30 | |
| 10 | 136 | Series 10 Compilation 1 | 1998-06-25 | 30 | |
| 11 | 137 | Series 10 Compilation 2 | 1998-07-02 | 30 | |
Series Cast
| | | | |
| --- | --- | --- | --- |
| | Clive Anderson | as Host | |
Related News
TVMaze