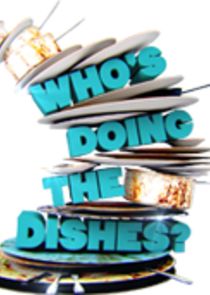 Who's Doing the Dishes? is a UK game show that airs Monday - Friday at 3 PM. Brian McFadden leads four people into unknown territory. This gang of courageous adventurers has but one task: discern the name of their host.
Series Overview
Rating
imDb Rating: 3.3 (43 Votes)
Metascore: N/A
Plot
Over the course of a week, five different celebrities cook a meal for a group of four strangers, who must figure out the identity of each celebrity in order to win cash prizes.
Details
Rated: N/A
Released: 01 Sep 2014
Runtime: 46 min
Genre: Game-Show
Director: N/A
Writer: N/A
Actors: Brian McFadden
Language: English
Country: UK
Awards: N/A
Total Seasons: 3
Previous Episode
Episode 30
Episode 3x30; Oct 14, 2016
Previous Episodes 3x30: Episode 30 3x29: Episode 29 3x28: Episode 28 3x27: Episode 27 3x26: Frazer Hines 3x25: Debbie McGee 3x24: Jay Aston 3x23: Ian 'H' Watkins 3x22: Lesley Garrett

View All Episodes
Skip to:
Season 1
| Episode No. | No. Overall | Title | Airdate | Runtime | Summary |
| --- | --- | --- | --- | --- | --- |
| 1 | 1 | Louis Walsh | 2014-09-01 | 60 | |
| 2 | 2 | Amy Childs | 2014-09-02 | 60 | |
| 3 | 3 | Bobby George | 2014-09-03 | 60 | |
| 4 | 4 | Claire Richards | 2014-09-04 | 60 | |
| 5 | 5 | Jo Wood | 2014-09-05 | 60 | |
| 6 | 6 | Alison Hammond | 2014-09-08 | 60 | |
| 7 | 7 | Nick Hancock | 2014-09-09 | 60 | |
| 8 | 8 | Toyah Willcox | 2014-09-10 | 60 | |
| 9 | 9 | Siân Lloyd | 2014-09-11 | 60 | |
| 10 | 10 | Stavros Flatley | 2014-09-12 | 60 | |
| 11 | 11 | Geoff Capes | 2014-09-15 | 60 | |
| 12 | 12 | Tina Malone | 2014-09-16 | 60 | |
| 13 | 13 | Wes Brown | 2014-09-17 | 60 | |
| 14 | 14 | Tricia Penrose | 2014-09-18 | 60 | |
| 15 | 15 | Dane Bowers | 2014-09-19 | 60 | |
| 16 | 16 | Vincent Simone | 2014-09-22 | 60 | |
| 17 | 17 | Cheryl Baker | 2014-09-23 | 60 | |
| 18 | 18 | Martin Offiah | 2014-09-24 | 60 | |
| 19 | 19 | Aggie McKenzie | 2014-09-25 | 60 | |
| 20 | 20 | Michelle Heaton | 2014-09-26 | 60 | |
| 21 | 21 | Gillian McKeith | 2014-09-29 | 60 | |
| 22 | 22 | Joe McElderry | 2014-09-30 | 60 | |
| 23 | 23 | Claire King | 2014-10-01 | 60 | |
| 24 | 24 | Neil Ruddock | 2014-10-02 | 60 | |
| 25 | 25 | Gemma Collins | 2014-10-03 | 60 | |
| 26 | 26 | Antony Worrall Thompson | 2014-10-06 | 60 | |
| 27 | 27 | Pat Sharp | 2014-10-07 | 60 | |
| 28 | 28 | Wayne Sleep | 2014-10-08 | 60 | |
| 29 | 29 | Sinitta | 2014-10-09 | 60 | |
| 30 | 30 | Caprice Bourret | 2014-10-10 | 60 | |
Season 2
| Episode No. | No. Overall | Title | Airdate | Runtime | Summary |
| --- | --- | --- | --- | --- | --- |
| 1 | 31 | Nancy Sorrell | 2015-09-07 | 60 | |
| 2 | 32 | Mike Read | 2015-09-08 | 60 | |
| 3 | 33 | Anthea Turner | 2015-09-09 | 60 | |
| 4 | 34 | Louie Spence | 2015-09-10 | 60 | |
| 5 | 35 | James Argent and Lydia Bright | 2015-09-11 | 60 | |
| 6 | 36 | Carl Fogarty | 2015-09-14 | 60 | |
| 7 | 37 | Danielle Lloyd | 2015-09-15 | 60 | |
| 8 | 38 | Helen Lederer | 2015-09-16 | 60 | |
| 9 | 39 | Aldo Zilli | 2015-09-17 | 60 | |
| 10 | 40 | Kellie Maloney | 2015-09-18 | 60 | |
| 11 | 41 | Adam Rickitt | 2015-09-21 | 60 | |
| 12 | 42 | Rowland Rivron | 2015-09-22 | 60 | |
| 13 | 43 | Josie Gibson | 2015-09-24 | 60 | |
| 14 | 44 | Peter Shilton | 2015-09-24 | 60 | |
| 15 | 45 | Linda Lusardi | 2015-09-25 | 60 | |
| 16 | 46 | Ann Widdecombe | 2015-09-28 | 60 | |
| 17 | 47 | Toby Anstis | 2015-09-29 | 60 | |
| 18 | 48 | Tessa Sanderson | 2015-09-30 | 60 | |
| 19 | 49 | Bobby Davro | 2015-10-01 | 60 | |
| 20 | 50 | Jan Leeming | 2015-10-02 | 60 | |
Season 3
| Episode No. | No. Overall | Title | Airdate | Runtime | Summary |
| --- | --- | --- | --- | --- | --- |
| 1 | 51 | Su Pollard | 2016-09-05 | 60 | In episode one, four contributors, made up of a team of magicians, are let loose in the home of comedy actress Su Pollard as she steps up to the plate with her three course meal and a handful of clues. Will their magic powers be enough to solve the mystery or will they end up amongst the pots and pans? |
| 2 | 52 | James and Ola Jordan | 2016-09-06 | 60 | Brian McFadden presents the dining challenge show. Strictly pair James and Ola Jordan dance around the team made up of magicians with a series of clues. Will they make the dance off or be doing the plates? |
| 3 | 53 | Chesney Hawkes | 2016-09-07 | 60 | Brian McFadden presents the dining challenge show. The one and only Chesney Hawkes attempts to fool the team of magicians into donning the rubber gloves. |
| 4 | 54 | JB Gill | 2016-09-08 | 60 | Brian McFadden presents the dining challenge show. JLS star JB Gill secretly hosts as the magicians get down and dirty on his pig farm - but will they be doing the dishes? |
| 5 | 55 | Tamara Beckwith | 2016-09-09 | 60 | Brian McFadden presents the dining challenge show. Reality star Tamara Beckwith treats the team of magicians to some posh nosh - but will they end up polishing the silver? |
| 6 | 56 | Lady Colin Campbell | 2016-09-12 | 60 | Brian McFadden presents the dining challenge show. Socialite and author Lady Colin Campbell shares her opulent London pad with a new team of diners - but who will end up doing the dirty dishes? |
| 7 | 57 | Ricky Groves | 2016-09-13 | 60 | Brian McFadden presents the dining challenge show. Ricky Groves - aka EastEnders' Garry Hobbs - takes on Team Uniform. Will the detective diners be forced to do the dishes? |
| 8 | 58 | Charlotte Hawkins | 2016-09-14 | 60 | Brian McFadden presents the dining challenge show. Good Morning Britain presenter Charlotte Hawkins hopes for an early lead as Team Uniform is on call to crack her cunning clues. Will the diners avoid those grubby plates? |
| 9 | 59 | David and Carrie Grant | 2016-09-15 | 60 | Brian McFadden presents the dining challenge show. Vocal coaches Carrie and David Grant make Team Uniform sing for their supper as the Fame Academy judges dish up the clues. Can the diners guess the identities of their mysterious hosts? |
| 10 | 60 | Sean Wilson | 2016-09-16 | 60 | Brian McFadden presents the dining challenge show. Former Coronation Street star Sean Wilson serves up the clues. Will Team Uniform avoid the dishes? |
| 11 | 61 | David Van Day | 2016-09-19 | 60 | Four contributors, made up of a team of Golden Girls take the detective reigns, with over 260 years of experience between them. Let loose in the home of 80's pop star David Van Day, will the girls be able to solve the riddles and avoid those dirty dishes? |
| 12 | 62 | Deena Payne | 2016-09-20 | 60 | Brian McFadden presents the dining challenge show. Former Emmerdale star Deena Payne cooks up some cunning clues to avoid the washing up. Team Golden Girls take to the Yorkshire Dales to try to top up their prize fund. |
| 13 | 63 | Crissy Rock | 2016-09-21 | 60 | Brian McFadden presents the dining challenge show. Benidorm actress and stand up comedian Crissy Rock throws everything but the kitchen sink into her clues - including her own witching powers! Will the Golden Girls take Brian's Spanish-style extra clue or will it be raining soap suds? |
| 14 | 64 | Mark Lester | 2016-09-22 | 60 | Brian McFadden presents the dining challenge show. Oliver star Mark Lester makes some glorious food for Team Golden Girls. Will the girls end up in the wash house? |
| 15 | 65 | Edele Lynch | 2016-09-23 | 60 | Brian McFadden presents the dining challenge show. Bewitched pop star Edele Lynch casts her spell on the Golden Girls. It is a rollercoaster as Brian gets ready to sing in the Irish girl band for his bonus. Will the team finish the week on a high or will it be c'est la vie with those rubber gloves? |
| 16 | 66 | Gemma Bissix | 2016-09-26 | 60 | Brian McFadden presents the dining challenge show. Soap star Gemma Bissix faces off against a new team of food experts and does her best to conceal her identity to avoid those dirty dishes. Will the team come good in the end and bag a first win? |
| 17 | 67 | Diana Moran | 2016-09-27 | 60 | Brian McFadden presents the dining challenge show. Fitness queen Diana Moran, AKA the Green Goddess, is out to fool Team Foodies. Who will be green with envy as they dive into the dishes? |
| 18 | 68 | Lee MacDonald | 2016-09-28 | 60 | Brian McFadden presents the dining challenge show. Grange Hill star Lee MacDonald is full of school-boy pranks to distract Team Foodies away from his identity. Will they avoid the dirty dishes? |
| 19 | 69 | Jake Quickenden | 2016-09-29 | 60 | Brian McFadden presents the dining challenge show. Former X Factor contestant and I'm A Celebrity star Jake Quickenden takes on Team Foodies. Will they face the music in the shape of those dirty dishes? |
| 20 | 70 | Peter Duncan | 2016-09-30 | 60 | Brian McFadden presents the dining challenge show. Blue Peter veteran and actor Peter Duncan throws everything at Team Foodies to conceal his identity. Will they take Brian's bonus, or forfeit with a big pile of washing up? |
| 21 | 71 | Jayne Torvill | 2016-10-03 | 60 | In episode 21, four contributors made up of a team of fitness fanatics are let loose in the home of gold medalist skating champion Jayne Torvill. With their knowledge of all things fitness, will they be able to work out whose food they are eating or will they end up amongst the dirty dishes? |
| 22 | 72 | Lesley Garrett | 2016-10-04 | 60 | Brian McFadden presents the dining challenge show. English soprano singer Lesley Garrett CBE has Team Fitness singing for their supper as she serves up her clues and some high notes. There are a few broken glasses, but who will be shattered to find out they are washing up? |
| 23 | 73 | Ian 'H' Watkins | 2016-10-05 | 60 | Brian McFadden presents the dining challenge show. Steps sensation and West End star Ian 'H' Watkins spins out the cunning clues. Will it end in tragedy for Team Fitness? |
| 24 | 74 | Jay Aston | 2016-10-06 | 60 | Brian McFadden presents the dining challenge show. Bucks Fizz star Jay Aston serves up the clues for Team Fitness. |
| 25 | 75 | Debbie McGee | 2016-10-07 | 60 | Brian McFadden presents the dining challenge show. Debbie McGee serves up the clues and hopes to trick Team Fitness out of the prize money - who will be playing kitchen assistant with those dishes? |
| 26 | 76 | Frazer Hines | 2016-10-10 | 60 | On today's Who's Doing The Dishes? Emmerdale veteran and Dr Who character Frazer Hines takes on a brand new team of glamorous diners with his cunning clues. Will a win be fact or fiction for the dining detectives and who will be farmed out to the dirty dishes? |
| 27 | 77 | Episode 27 | 2016-10-11 | 60 | |
| 28 | 78 | Episode 28 | 2016-10-12 | 60 | |
| 29 | 79 | Episode 29 | 2016-10-13 | 60 | |
| 30 | 80 | Episode 30 | 2016-10-14 | 60 | |
Series Cast
| | | | |
| --- | --- | --- | --- |
| | Brian McFadden | as Host | |
Related News
TVMaze