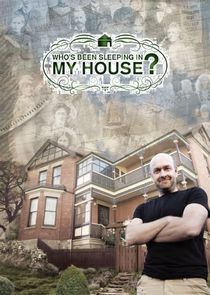 Who's Been Sleeping in My House? is an Australian factual television series, aired on ABC in 2011 and presented by professional archaeologist and researcher Adam Ford. Each episode is an investigative journey as Adam attempts to separate fact from fiction, piecing together a past that's not always recorded in the history books.
Series Overview
Rating
imDb Rating: 7.6 (8 Votes)
Metascore: N/A
Plot
N/A
Details
Rated: N/A
Released: N/A
Runtime: N/A
Genre: Documentary
Director: N/A
Writer: N/A
Actors: N/A
Language: English
Country: Australia
Awards: 1 win.
Total Seasons: 3
Previous Episode
Mount Lawley
Episode 3x5; Aug 27, 2015
Previous Episodes 3x5: Mount Lawley 3x4: Bundaberg 3x3: Adelaide 3x2: Selsdon 3x1: Merton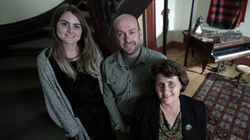 2x6: Baroona


2x5: Gunning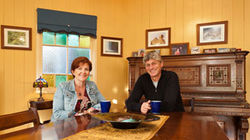 2x4: Toowoomba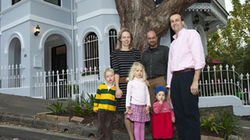 2x3: Paddington

View All Episodes
Skip to:
Season 1
Episode No.
No. Overall
Title
Airdate
Runtime
Summary
1
1
Ashcombe
2011-11-21
30

Tracking through the trail of title deeds and library records, Adam traces Ashcombe's history to a young, savvy entrepreneur, George Crocker, whose name is still recognised in Ballarat today. Indeed, the story of the house is inextricably linked to the dynasty of the Crockers, who called Ashcombe home for more than a hundred years. However, behind the Crocker's good fortune is a terrible double tragedy. But what is its connection to the mysterious dining room?

2
2
Wray Avenue
2011-11-28
30

As soon as they saw it, Sue and James knew that the Victorian brick and limestone cottage in Fremantle was the house in which they wanted to raise their family.

But there's another, more unsettling story about the Fremantle house .....


3
3
Oljato
2011-12-05
30

Peter and Tina have enjoyed Oljato's quirks and charms for 27 years. But having never sighted the original documents, they've always wondered who masterminded such an unorthodox design; when exactly the house was built; and what the nameOljato means.

However, it was while renovating the staircase that the couple made a remarkable discovery – something that many owners of old houses only dream about. Sealed behind the wall they found a box of treasures – a small collection of documents and trinkets. Who did they belong to? And more intriguingly, why were they hidden in the wall?

4
4
Invercloy
2011-12-12
30

Invercloy is a grand Federation-style home in Redcliffe, Western Australia where it stands out as a majestic mansion in a sea of suburbia.

There's no doubt the big, rambling house afforded some breathing room for the boisterous brothers, but Pauline is convinced that the house exudes something more. Her question: what could be behind Invercloy's spell that has worked such wonders on her family?


5
5
The Sheiling
2011-12-19
30

Like many towns in Tasmania, the people of Pontville are proud of their historic buildings – and particularly an impressive stone house called The Sheiling. The date on the gate gives a clue to its age, 'Circa 1819', which would make the house one of the oldest buildings in Tasmania. It's quite a claim, but not everyone is convinced.

6
6
Doobawah
2012-01-02
30

Doobawah is an impressive Queenslander – a tropical, wooden palace on stilts, with a labyrinth of doors and windows designed to catch every breath of breeze from Moreton Bay. Indeed, Doobawah comes from the local Indigenous language, meaning 'vast expanse of water'.

Helen and Richard bought the home over a decade ago, and as their family has grown, so has their fascination for the house's 125-year-old charms. They began to search for any snippets of its past and what they found was intriguing – a series of photographs that document Doobawah's early beginnings. To their surprise, the house looked different – it was even grander, with impressive wings and balconies on either side. But the photos revealed an even greater shock – lots of people move house, but their whole house had moved!

Adam Ford's mission is therefore to investigate a house that has not only changed its appearance over the years, but also its location. Who built Doobawah? When was it moved and why? And what tantalising clues lay buried in the fuzzy grain of the old sepia photos?

7
7
Peter Pan
2012-01-09
30

About 500 kms east of Perth, on the fringe of the Western Desert, sits the outback town of Coolgardie. In the 1890s it exploded into life with the discovery of gold, and became a ghost town almost overnight when the gold dried up. Today only a few of the grand buildings from Coolgardie's heyday survive, and one of them is Peter Pan.

8
8
Nelson Grange
2012-01-16
30

Mike and Lyn were so seduced by the sight of Nelson Grange, a handsome Georgian homestead in Bridgetown WA, they bought it without setting a foot inside.

The couple has now lived there for two years, and Nelson Grange hasn't disappointed. They are delighted by its seclusion and tranquillity, well away from the rat race. And in its way, Nelson Grange has brought them closer to their family and friends, who now stay for days when they come to visit.

But all may not be as it seems behind the facade of the house. Mike and Lyn have heard that Nelson Grange was the scene of a brutal murder. It's been said the original owner was speared and killed by an Aboriginal elder. Could it be true? Mike and Lyn really want Adam Ford to find out.
Season 2
Episode No.
No. Overall
Title
Airdate
Runtime
Summary
1
9
Roleystone
2013-03-15
30

Keith and Sherry Parker are the owners of a cottage that for many years was run as a guesthouse. During the Second World War a mysterious lodger with suspected ties to the Axis powers was captured after allegedly conducting secret reconnaissance missions in the area. While Australia's official military history refutes the notion of foreign spies operating on Australian soil during the War, Adam goes in search of eyewitness accounts to piece together this fascinating story of espionage.

Could there be a link between an unidentified body discovered at Western Australia's Garden Island and the mysterious hillside lodger? What Adam discovers could result in a rewrite of Australian wartime history.

The Parkers also set Adam the challenge of seeing whether he can determine the date and purpose behind a curious old tomahawk that was dug up from their garden. A forensic investigation and a detailed analysis of local records help Adam identify the relic and reveal where the Parker's home fits in with the colourful history of the local area.

2
10
Yellingbo
2013-03-22
30

Mark Galer and his wife Dorothy are the owners of an impressive country estate in rural Victoria. They are intrigued by a local tale that their home was once the scene of the thrilling arrest of a disgraced former British MP, John Stonehouse.

In 1974, Stonehouse was under suspicion over his business dealings. He faked his own death by leaving a pile of clothes on a Miami Beach and fled to Australia. Known as 'The Stonehouse Affair', the story made international headlines when the fugitive MP was discovered in Victoria. But just what role did Mark and Dorothy's home play in this extraordinary story?

Adam is also challenged to investigate the story behind the massive ballroom that dominates Mark and Dorothy's home. Who built it, when and why? And what's the ingenious hidden design that holds this architectural oddity up? The search reveals compelling tales of mateship and sacrifice that are woven into the fabric of this truly unique home.

3
11
Paddington
2013-03-29
30

The Dolton family's prize Paddington terrace hasn't always been so pristine. For many years it remained so derelict and overgrown that the locals referred to it as 'The Witch's House'. In fact the tale of this classic East Sydney home mirrors the evolution of the suburb itself, from early settlement, to depression and then grand gentrification.

The Doltons have heard stories that at the height of its Nineteenth Century grandeur their terrace belonged to a Chilean sea captain, who also held the post of Consul General for no less than four nations at the same time. But as Adam discovers, there was a darker side to this colourful character, whose career eventually turned to ruin.

Behind the very public highs and lows of the Chilean sea captain, Adam also discovers the secret life of a reclusive multi-millionaire who owned more than 100 homes, including the Dalton's terrace. Her frugal eccentricity inadvertently saved much of Paddington from the hands of unrestrained development.

4
12
Toowoomba
2013-04-05
30

Greg and Tina Tilden are the owners of a charming Queensland workers' cottage in Toowoomba. The house has strong links to the town's local history and serves as an intriguing insight into early health care. At a time when women gave birth at home, often without adequate professional assistance, local midwives offered up their own homes as a kind of private maternity clinic, which was seen as a safer alternative. They were known as 'Lying-in hospitals' and as Adam's research reveals, many babies were born in the Toowoomba cottage under the direction of its owner, known as Nurse Lea.

However, the role the cottage played in community healthcare is blighted by a dark story. One day a stranger knocked on the Tildens' door and recounted a deathbed confession that described how a newborn was stolen from the nursery over 70 years ago. In an attempt to validate the claim, Adam exhausts every traditional research method and ultimately has to think outside the box.

As Adam also learns, the house itself is a survivor, fortunately escaping damage from Toowoomba's 2011 tragic floods and a history of neglect. The Tildens want to personally thank the person who pulled their home back from dilapidated ruin, and their wish is granted thanks to a strange twist of fate.

5
13
Gunning
2013-04-12
30

At the time of its settlement, Gunning was a frontier town, a remote rest stop on the Old Hume Highway that linked Sydney and Melbourne. The rolling hills made the area a perfect hideout for bushrangers and the highway brought wealthy travellers right to their doorstep.

Jay and Kerry Gribbin now live in Gunning's former lockup that was built in the late 1800s to help police the banditry. The original cells still remain intact underneath the building and the Gribbins are keen to learn all they can about how their home played such an important role in the town's lawless history.

But the stories of the Gunning house don't end with bushranger legends. Adjacent to the house is a grave that bears testament to one of the colony's most brutal murders. Lucretia Dunkley was convicted and sentenced to death for the slaying of her husband Henry Dunkley in 1842. Could it be that the infamous female murderess was also incarcerated under the house? The answer lies in determining the exact age of the building and Adam calls in an archaeological team to dig into the truth.

6
14
Baroona
2013-04-19
30

Professor of Law Jennifer Mckay and her daughter Monica invite Adam into their unique Federation mansion situated in the leafy Adelaide suburb of St Peters. They want Adam to investigate the rumour that a web of mysterious wires found in their attic was once part of a clandestine radio station that was used to track and broadcast the movements of allied ships during the Second World War. The story takes an unusual turn as Adam unearths a link to a group of Jehovah Witnesses and a compelling story about a battle for religious freedom emerges.

Adam is also asked to look into the life of wealthy wool trader R. J. Coombs, the home's original builder. Adam discovers why the enormous wealth accumulated by Coombs disappeared during the Depression, and the tragic events that brought his family to financial ruin.
Season 3
| Episode No. | No. Overall | Title | Airdate | Runtime | Summary |
| --- | --- | --- | --- | --- | --- |
| 1 | 15 | Merton | 2015-07-30 | 30 | |
| 2 | 16 | Selsdon | 2015-08-06 | 30 | |
| 3 | 17 | Adelaide | 2015-08-13 | 30 | |
| 4 | 18 | Bundaberg | 2015-08-20 | 30 | |
| 5 | 19 | Mount Lawley | 2015-08-27 | 30 | |
Series Cast
| | | | |
| --- | --- | --- | --- |
| | Adam Ford | as Presenter | |
Related News
TVMaze