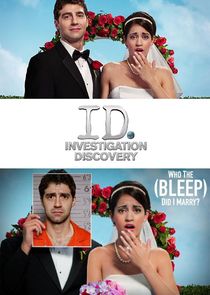 Who The (Bleep) Did I Marry? showcases spouses of liars, cheaters, and thieves, these women have unknowingly signed up for much more than a happy honeymoon and a new last name. All told in shocking first-hand accounts, each episode tells the story of an "I do" turned "You did WHAT?"
Series Overview
Rating
imDb Rating: 6.6 (420 Votes)
Metascore: N/A
Plot
A biography about real people who marry their "soulmates", until they learn that the person they thought they married, isn't who they say they are.
Details
Rated: TV-PG
Released: 07 Aug 2010
Runtime: N/A
Genre: Documentary, Biography, Crime
Director: N/A
Writer: N/A
Actors: Matt Gulbranson, Annie K. Fox, T. Anthony Quinn, Jonathon Ruckman
Language: English
Country: USA
Awards: N/A
Total Seasons: 6
Previous Episode
The Sympathy Card
Episode 5x20; Jun 11, 2015
Previous Episodes 5x20: The Sympathy Card 5x19: Dangerous Game 5x18: Badge Of Dishonor 5x17: Witt's End 5x16: Evil Beauty 5x15: A Deadly Secret 5x14: Dangerous Consequences 5x13: Insufficient Funds 5x12: World Wide Web of Lies

View All Episodes
Skip to:
Season 1
| Episode No. | No. Overall | Title | Airdate | Runtime | Summary |
| --- | --- | --- | --- | --- | --- |
| 1 | 1 | Don Juan Down Under | 2010-08-25 | 30 | |
| 2 | 2 | The Defector and the Divorcee | 2010-08-25 | 30 | |
| 3 | 3 | Mr. Good Times | 2010-09-01 | 30 | |
| 4 | 4 | Keeping Up Appearances | 2010-09-08 | 30 | |
| 5 | 5 | Leap of Faith | 2010-09-15 | 30 | |
| 6 | 6 | The Man with Two Names | 2010-09-22 | 30 | |
| 7 | 7 | An Explosive Love | 2010-09-29 | 30 | |
| 8 | 8 | Caught in the Crosshairs | 2010-10-06 | 30 | |
| 9 | 9 | Married to a Monster | 2010-10-13 | 30 | |
| 10 | 10 | Discovering Danger and a Double Life | 2010-10-20 | 30 | |
| 11 | 11 | The Corpse's Bride | 2010-10-27 | 30 | |
| 12 | 12 | Not the Only One | 2010-11-03 | 30 | |
Season 2
| Episode No. | No. Overall | Title | Airdate | Runtime | Summary |
| --- | --- | --- | --- | --- | --- |
| 1 | 13 | Third Time's No Charm | 2011-07-13 | 30 | |
| 2 | 14 | From Protector to Predator | 2011-07-20 | 30 | |
| 3 | 15 | The Admiral's Wife | 2011-07-27 | 30 | |
| 4 | 16 | Gunning for Love | 2011-08-03 | 30 | |
| 5 | 17 | The Third Mrs. Smith | 2011-08-10 | 30 | |
| 6 | 18 | 'Til Death Do Us Part | 2011-08-17 | 30 | |
| 7 | 19 | Jets, Bets & Debts | 2011-08-24 | 30 | |
| 8 | 20 | Cruising Towards Disaster | 2011-08-31 | 30 | |
| 9 | 21 | Strange Bedfellows | 2011-09-07 | 30 | |
| 10 | 22 | The Rock Star Husband | 2011-09-14 | 30 | |
| 11 | 23 | Just Beneath the Surface | 2011-10-05 | 30 | |
| 12 | 24 | An Exercise in Murder | 2011-10-12 | 30 | |
| 13 | 25 | Duty, Honor, Lies | 2012-01-21 | 30 | |
| 14 | 26 | No Bigger Gamble | 2012-01-21 | 30 | |
| 15 | 27 | The Perfect Cover | 2012-01-28 | 30 | |
| 16 | 28 | Addicted to Love | 2012-01-28 | 30 | |
| 17 | 29 | Gold Digging Grandma | 2012-02-04 | 30 | |
| 18 | 30 | The Weapon Inside Me | 2012-02-11 | 30 | |
Season 3
| Episode No. | No. Overall | Title | Airdate | Runtime | Summary |
| --- | --- | --- | --- | --- | --- |
| 1 | 31 | Scarred by Love | 2012-07-11 | 30 | |
| 2 | 32 | Deadly Match | 2012-07-11 | 30 | |
| 3 | 33 | From Lebanon With Love | 2012-07-18 | 30 | |
| 4 | 34 | Gamble on Love | 2012-07-18 | 30 | |
| 5 | 35 | A Certified Horror | 2012-07-25 | 30 | |
| 6 | 36 | From Starry-Eyed to Star Witness | 2012-08-01 | 30 | |
| 7 | 37 | Love Sick | 2012-08-08 | 30 | |
| 8 | 38 | One Night Affair | 2012-08-15 | 30 | |
| 9 | 39 | Hearts Afire | 2012-08-22 | 30 | |
| 10 | 40 | My Life My Nightmare | 2012-08-29 | 30 | |
| 11 | 41 | Houston, We Have a Marital Problem | 2012-09-05 | 30 | |
| 12 | 42 | Stranger in My House | 2012-09-12 | 30 | |
| 13 | 43 | Predatory Patriarch | 2012-09-19 | 30 | |
| 14 | 44 | You Get What You Pay For | 2012-09-26 | 30 | |
| 15 | 45 | The Unexpected Life | 2012-10-03 | 30 | |
| 16 | 46 | Forgive and Forget | 2012-10-10 | 30 | |
| 17 | 47 | Field of Schemes | 2012-10-17 | 30 | |
| 18 | 48 | Fight for Life | 2012-10-24 | 30 | |
| 19 | 49 | Homeland Insecurity | 2012-10-31 | 30 | |
| 20 | 50 | Ether Man | 2012-11-07 | 30 | |
| 21 | 51 | The Ho Hum Bandit | 2012-11-14 | 30 | |
Season 4
| Episode No. | No. Overall | Title | Airdate | Runtime | Summary |
| --- | --- | --- | --- | --- | --- |
| 1 | 52 | Darkness, Deception, DNA | 2013-08-31 | 30 | |
| 2 | 53 | Torrence the Tyrant | 2013-09-07 | 30 | |
| 3 | 54 | Perfect Stranger | 2013-09-14 | 30 | |
| 4 | 55 | Deployment and a Double Life | 2014-01-11 | 30 | |
| 5 | 56 | Blinded by Love | 2014-01-11 | 30 | |
| 6 | 57 | He's No Angel | 2014-01-18 | 30 | |
| 7 | 58 | Love Burns | 2014-01-25 | 30 | |
| 8 | 59 | Love Intrusion | 2014-02-01 | 30 | |
| 9 | 60 | You've Got Jail | 2014-02-08 | 30 | |
| 10 | 61 | The Face of Death | 2014-02-22 | 30 | |
| 11 | 62 | Lisa Outlaw | 2014-03-01 | 30 | |
| 12 | 63 | Marvelous Deception | 2014-03-08 | 30 | |
| 13 | 64 | Weathering the Storm | 2014-03-15 | 30 | |
| 14 | 65 | Heart Attack | 2014-03-22 | 30 | |
| 15 | 66 | Possum And The Snake | 2014-09-13 | 30 | |
| 16 | 67 | Justice Served | 2014-09-20 | 30 | |
| 17 | 68 | Family Man | 2014-12-20 | 30 | |
| 18 | 69 | Home Fire Burning | 2014-12-27 | 30 | |
| 19 | 70 | Insufficient Funds | 2015-01-03 | 30 | |
| 20 | 71 | Love Burns | 2015-01-10 | 30 | |
| 21 | 72 | World Wide Web of Lies | 2015-01-17 | 30 | |
Season 5
| Episode No. | No. Overall | Title | Airdate | Runtime | Summary |
| --- | --- | --- | --- | --- | --- |
| 1 | 73 | Four's A Crowd | 2015-02-06 | 30 | |
| 2 | 74 | Witt's End | 2015-02-23 | 30 | |
| 3 | 75 | Dangerous Game | 2015-02-20 | 30 | |
| 4 | 76 | The Sympathy Card | 2015-03-02 | 30 | |
| 5 | 77 | Badge of Dishonor | 2015-03-02 | 30 | |
| 6 | 78 | Malicious Woundings | 2015-03-09 | 30 | |
| 7 | 79 | A Dangerous Affair | 2015-03-09 | 30 | |
| 8 | 80 | Possum and the Snake | 2015-03-09 | 30 | |
| 9 | 81 | Weathering the Storm | 2015-03-09 | 30 | |
| 10 | 82 | Campus Creep | 2015-03-16 | 30 | |
| 11 | 83 | Poison Love | 2015-03-16 | 30 | |
| 12 | 84 | World Wide Web of Lies | 2015-03-16 | 30 | |
| 13 | 85 | Insufficient Funds | 2015-03-16 | 30 | |
| 14 | 86 | Dangerous Consequences | 2015-03-23 | 30 | |
| 15 | 87 | A Deadly Secret | 2015-03-30 | 30 | |
| 16 | 88 | Evil Beauty | 2015-03-30 | 30 | |
| 17 | 89 | Witt's End | 2015-06-04 | 30 | |
| 18 | 90 | Badge Of Dishonor | 2015-06-04 | 30 | |
| 19 | 91 | Dangerous Game | 2015-06-11 | 30 | |
| 20 | 92 | The Sympathy Card | 2015-06-11 | 30 | |
Season 6
| Episode No. | No. Overall | Title | Airdate | Runtime | Summary |
| --- | --- | --- | --- | --- | --- |
Related News
TVMaze