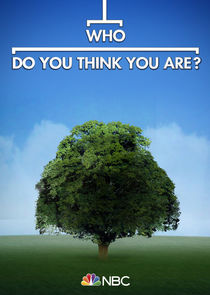 Who Do You Think You Are? is a geneaology documentary show that gives celebrities a unique opportunity to dig into their roots and learn more about their family history.
Series Overview
Rating
imDb Rating: 8.0 (1,249 Votes)
Metascore: N/A
Plot
Celebrities are given the opportunity to research their family trees with surprising and often unexpected results.
Details
Rated: N/A
Released: 05 Mar 2010
Runtime: 60 min
Genre: Documentary, Biography, History
Director: N/A
Writer: N/A
Actors: Mocean Melvin
Language: English
Country: USA
Awards: Won 1 Primetime Emmy. Another 6 nominations.
Total Seasons: 10
Previous Episode
Regina King
Episode 10x4; Dec 17, 2018
Actress Regina King investigates her maternal family tree and uncovers an ancestor who was a passionate civil rights activist in Alabama; a man who came out of slavery, endured horrific violence, but never stopped fighting for his people.
Previous Episodes 10x4: Regina King 10x3: Matthew Morrison 10x2: Josh Duhamel 10x1: Mandy Moore 9x6: Jean Smart 9x5: Molly Shannon 9x4: Hilary Duff 9x3: Megan Mullally 9x2: Laverne Cox

View All Episodes
Skip to:
Season 1
| Episode No. | No. Overall | Title | Airdate | Runtime | Summary |
| --- | --- | --- | --- | --- | --- |
| 1 | 1 | Sarah Jessica Parker | 2010-03-05 | 60 | In this riveting series premiere, Sarah Jessica Parker embarks on an exciting adventure into the unknown to learn about her family tree. With the help of Ancestry.com, Sarah Jessica's story takes her on not one, but two awe-inspiring journeys first to Northern California and then to Salem, Massachusetts. |
| 2 | 2 | Emmitt Smith | 2010-03-12 | 60 | Football legend Emmitt Smith is intrigued by a family rumor that his paternal grandmother, Erma Lee Watson, had white ancestry. As he travels deep into rural Alabama to colonial Virginia and beyond on the trail of Erma's great grandmother Mariah, Smith uncovers a story more dramatic than he ever could have imagined. |
| 3 | 3 | Lisa Kudrow | 2010-03-19 | 60 | Since childhood, Lisa Kudrow ("Friends") has known that her grandmother Gertrude had it tough. Gertrude's mother, Meri, perished in the Holocaust. Lisa's father recalls hearing about her death from a young Polish sailor, a cousin named Yuri who was last seen in New York in the late 1940s. Lisa's father never forgot Yuri for warning him and his family to leave their village for safety before the Nazi army invasion. From Los Angeles to Belarus, to the actual village where Meri once lived, Lisa's journey reveals clues leading her to something neither she nor her father ever thought possible. |
| 4 | 4 | Matthew Broderick | 2010-03-26 | 60 | Broadway star Matthew Broderick knew little about his grandfather, James Joseph Broderick, and is shocked to learn about his involvement as a medic in World War I. Continuing his research, he discovers his grandmother, Mary Martindale, was a descendant from a Civil War hero, Robert Martindale, who fought at Gettysburg and joined the historic march through Georgia. While in Atlanta, Georgia, researching Robert's death, he unwittingly helps historians solve a 150 year-old mystery. |
| 5 | 5 | Brooke Shields | 2010-04-02 | 60 | Brooke Shields begins her journey with her mother's side of the family, taking her to Newark, New Jersey to find out more about her grandmother's roots. There, she uncovers a tragic secret that profoundly changes the way she feels about her grandmother, Teresa. From New Jersey, Brooke travels to Rome and France, tracing her father's family history to one of European aristocracy and even royal connections. |
| 6 | 6 | Susan Sarandon | 2010-04-23 | 60 | Academy Award winner Susan Sarandon has always been intrigued by her enigmatic grandmother, Anita Rigali, who abandoned her daughter, Leonora, when she was just two years old. Susan had grown up feeling a strange connection to her 'colorful' grandmother and had always wanted to solve the mystery of her life. With some clever sleuthing, Susan traces Anita's roots to Italy where she tracks down the actual village in Tuscany that was home to Anita's father. With the help of her son, Susan turns gumshoe and uncovers Anita's obituary, revealing the shocking missing link. |
| 7 | 7 | Spike Lee | 2010-04-30 | 60 | Filmmaker Spike Lee's ( interest and passion for African-American history led him to take a deeper look into his own family history. The one clear question that he wanted answered -- who owned my family? His journey takes him to Georgia, where he is overjoyed to discover that he has an unexpected connection to his great-great grandfather. Lee's ancestry trail leads him to Texas, where he comes face to face with an unlikely relative. |
Season 2
| Episode No. | No. Overall | Title | Airdate | Runtime | Summary |
| --- | --- | --- | --- | --- | --- |
| 1 | 8 | Vanessa Williams | 2011-02-04 | 60 | As someone who has made history on her own, Vanessa Williams ("Desperate Housewives") sets out on a journey to find out if her ancestors were also trailblazers. Her search leads her to the National Archives in Washington, D.C. and to South Carolina where she finds ancestral ties to the Civil War's Union Army. She also heads to the South and discovers an ancestor who was an educator in a time when many African-American southerners did not have the opportunity to receive an education. |
| 2 | 9 | Tim McGraw | 2011-02-11 | 60 | Tim McGraw started his life with no idea who his father was, but later found and forged a close bond with his biological father, baseball player Tug McGraw, before his death. Determined to learn more about his paternal line, Tim's journey leads him to descendants who were among the first settlers in the United States. In his search he discovers an industrious ancestor with a link to George Washington. |
| 3 | 10 | Rosie O'Donnell | 2011-02-18 | 60 | Rosie O'Donnell lost her mother at a young age and wants to reconnect with her by tracing her family history. A visit with her brother uncovers family footage of her mother as a young girl but also reveals the first clues to her mother's ancestry. Rosie's journey takes her from Jersey City to Ireland where she discovers that past generations of her family had endured many hardships before being given the opportunity for a better life. |
| 4 | 11 | Kim Cattrall | 2011-02-25 | 60 | Kim Cattrall ("Sex and the City") has only one obscured photo of her grandfather and is haunted by the fact that the man in that picture abandoned her mother and aunts at a young age. Searching for answers, Kim embarks on a journey to uncover the truth about what happened to her grandfather. The few clues she can find, including a British newspaper article from 1980, lead her to an unsettling truth and a deeper connection with the amazingly strong women in her family. |
| 5 | 12 | Lionel Richie | 2011-03-04 | 60 | Music runs deep in singer/songwriter Lionel Richie's life, especially due to the close bond he had with his maternal grandmother, Adelaide Towson, who taught music at Tuskegee University. Although they had an incredible relationship, Richie knows nothing about her ancestry and is driven to solve the mystery surrounding the identity of her father. Richie sets out on a journey that will take him from his childhood neighborhood in Tuskegee to Nashville where his great grandfather helped sow the seeds of the Civil Rights movement. A trip to Chattanooga, Tennessee will uncover more clues to the identity of those who paved the way for him. |
| 6 | 13 | Steve Buscemi | 2011-03-25 | 60 | Steve Buscemi a man who has played his share of shady characters in his career, sets off on a trail to find similar real life dark figures in his own family. His search leads him to his maternal great great grandfather, a questionable character that had a tarnished Civil War record and other secrets. Steve's journey will take him from New York to Philadelphia and from the battlefields of Virginia to the Union ports of the Potomac River in search of his illusive ancestor. |
| 7 | 14 | Gwyneth Paltrow | 2011-04-01 | 60 | As Academy Award-winning actress Gwyneth Paltrow traces the roots of her beloved paternal grandfather, a man driven to succeed in the face of adversity, she uncovers a string of events that give her insight into her great grandmother's character. On her mother's side, Paltrow discovers that her ancestors have deep roots in the Caribbean island of Barbados. |
| 8 | 15 | Ashley Judd | 2011-04-08 | 60 | Ashley Judd's paternal great grandmother was a larger than life character who told tall tales. Her journey will lead her to an ancestor who served in the Union Army and faced tragedy on the battlefield. Rumors of ancestral ties to New England uncover an incredible connection to the first settlers of the New America. |
Season 3
| Episode No. | No. Overall | Title | Airdate | Runtime | Summary |
| --- | --- | --- | --- | --- | --- |
| 1 | 16 | Martin Sheen | 2012-02-03 | 60 | Martin Sheen ("The West Wing," "The Amazing Spiderman"), a longtime activist, sets out on a journey to find out if his ancestors shared his greatest passion. His search leads him to Ireland where he investigates his uncle's ties to the Irish Civil War and his devotion to activism. He continues his journey in Spain, where he uncovers another relative who also fought for social justice and was wrongfully imprisoned during Franco's fascist regime. As he continues to trace his Spanish roots back to the 1700s, he unearths an unexpected family secret. |
| 2 | 17 | Marisa Tomei | 2012-02-10 | 60 | Marisa Tomei grew up hearing that her great-grandfather was murdered for being a womanizer and gambler. In order to uncover the truth, she travels to Italy to sort through the facts and discover what really lead to his death. |
| 3 | 18 | Blair Underwood | 2012-02-24 | 60 | Blair Underwood has always wanted to trace both of his parents' ancestry, but has encountered roadblocks in the past. With limited information, he uncovers articles that reveal the hardships and unexpected triumphs of his ancestors. Taking a DNA test to dig deeper into his family roots, he unlocks the secret of his family's origin and embarks on a journey he will never forget. |
| 4 | 19 | Reba McEntire | 2012-03-02 | 60 | With little knowledge about her mother's family, Reba McEntire seeks to find which of her ancestors was first to step foot in America. Her search takes her to Raleigh, North Carolina where she discovers an ancestor who was a prominent member in the community. This leads to a discovery connected to one of the darkest periods in American history. As Reba continues her search, she learns of her ancestor's heartbreaking journey to America. |
| 5 | 20 | Jerome Bettis | 2012-03-09 | 60 | Jerome Bettis longs to know the source of his strength and determination as he embarks on a journey in Paducah, Kentucky, to learn more about his mother's side of the family. His search reveals the identity of his great great grandfather and an amazing story of his courage and strength as he stood up against and sued a corporate giant in the Jim Crow era. As Jerome learns more about his great great grandfather, the tragedy and triumph of his early life comes to light. |
| 6 | 21 | Helen Hunt | 2012-03-23 | 60 | Helen Hunt's father lost his mother as a child and didn't know much of his maternal family's history. Armed with little information, Helen learns of the trials and triumphs of her paternal ancestors. Her journey leads her to San Francisco where she learns of her great great grandfather, a Jewish immigrant, and his involvement in launching Wells Fargo. As she continues her search, Helen finds that her great great grandmother was instrumental in the fight for women's rights. |
| 7 | 22 | Rita Wilson | 2012-03-30 | 60 | As Rita Wilson travels to Greece and Bulgaria, she uncovers the untold history of her late father. Her journey begins in Greece where she visits her father's hometown and the place of his birth. The information she receives leads her to Bulgaria where she learns of the hardships and triumphs that shaped her father's life and led him to the United States. Rita's emotional journey brings her to a discovery that she never expected. |
| 8 | 23 | Edie Falco | 2012-04-06 | 60 | Edie Falco knows a lot about her father's side but not much on her mother's. Armed with little information, her journey starts in New York where she learns details of her family's origins. New found clues on her great grandfather lead her to Milwaukee where she investigates the curious life of his father. As her journey continues in the England, she learns of the tragic events surrounding the life of her great great great grandmother. |
| 9 | 24 | Rob Lowe | 2012-04-27 | 60 | Armed with information from his late mother's scrapbook, Rob Lowe sets off on a journey that leads him to America's founding fathers. In Washington, D.C., a visit to the Library of Congress uncovers his ancestor's surprising role in the Revolutionary War and his direct connection to George Washington. After visiting his ancestors native Germany, he gains a deeper understanding of why everything was risked for a chance to build a new future in America. |
| 10 | 25 | Rashida Jones | 2012-05-04 | 60 | Rashida Jones strongly identifies with both her African American and Jewish heritage, but knows very little about her mother's roots. She was close to her grandmother, who was originally from Ireland, but had little details on her life before marrying her grandfather. In New York, Rashida uncovers the answers to her grandmother's missing years and interesting life in Manhattan. As her journey continues, a trip to Ireland reveals new information that lead to her family's origins in Eastern Europe. |
| 11 | 26 | Jason Sudeikis | 2012-05-11 | 60 | Jason Sudeikis has almost no information about his grandfather who died when his father was a child. In Chicago, Jason researches the cryptic story of his grandfather's death and discovers new details about his life. As he continues to learn more, a surprising discovery is revealed about his great grandfather's family life. A trip to Pennsylvania brings Jason to the coal mines his great great grandfather worked in as an immigrant from Lithuania and the extreme dangers he faced each day. |
| 12 | 27 | Paula Deen | 2012-05-18 | 60 | Paula Deen lost both of her parents and has a lot of gaps in her family knowledge. A visit to her aunt in Albany, Georgia, provides Paula with information that takes her back 150 years in her family's history. As she digs deeper into her heritage she uncovers her ancestor's political ties and his connection to a dark time in America's history. Further exploration reveals a heartbreaking event that deeply impacted her ancestors during the Civil War. |
Season 4
| Episode No. | No. Overall | Title | Airdate | Runtime | Summary |
| --- | --- | --- | --- | --- | --- |
| 1 | 28 | Kelly Clarkson | 2013-07-23 | 60 | |
| 2 | 29 | Christina Applegate | 2013-07-30 | 60 | |
| 3 | 30 | Chelsea Handler | 2013-08-06 | 60 | |
| 4 | 31 | Zooey Deschanel | 2013-08-13 | 60 | |
| 5 | 32 | Chris O'Donnell | 2013-08-20 | 60 | |
| 6 | 33 | Cindy Crawford | 2013-08-27 | 60 | |
| 7 | 34 | Trisha Yearwood | 2013-09-03 | 60 | |
| 8 | 35 | Jim Parsons | 2013-09-10 | 60 | |
Season 5
| Episode No. | No. Overall | Title | Airdate | Runtime | Summary |
| --- | --- | --- | --- | --- | --- |
| 1 | 36 | Cynthia Nixon | 2014-07-23 | 60 | |
| 2 | 37 | Jesse Tyler Ferguson | 2014-07-30 | 60 | |
| 3 | 38 | Rachel McAdams | 2014-08-06 | 60 | |
| 4 | 39 | Valerie Bertinelli | 2014-08-13 | 60 | |
| 5 | 40 | Kelsey Grammer | 2014-08-20 | 60 | |
| 6 | 41 | Julie Chen | 2015-03-08 | 60 | |
| 7 | 42 | Josh Groban | 2015-03-15 | 60 | |
| 8 | 43 | Angie Harmon | 2015-03-22 | 60 | |
| 9 | 44 | Sean Hayes | 2015-03-29 | 60 | |
| 10 | 45 | Tony Goldwyn | 2015-04-05 | 60 | |
| 11 | 46 | America Ferrera | 2015-04-12 | 60 | |
| 12 | 47 | Bill Paxton | 2015-04-19 | 60 | |
| 13 | 48 | Melissa Etheridge | 2015-04-26 | 60 | |
Season 6
| Episode No. | No. Overall | Title | Airdate | Runtime | Summary |
| --- | --- | --- | --- | --- | --- |
| 1 | 49 | Ginnifer Goodwin | 2015-07-26 | 60 | Actress Ginnifer Goodwin searches her family history in hopes of connecting her father with the grandparents he never knew; she is shocked to uncover lives filled with drug addiction and life-altering consequences. |
| 2 | 50 | J.K. Rowling | 2015-08-02 | 60 | Author J.K. Rowling stumbles upon a family mystery on a journey to uncover her maternal French roots; a tale of wartime heroism and actions of a brave ancestor. |
| 3 | 51 | Alfre Woodard | 2015-08-09 | 60 | |
| 4 | 52 | Into The Archives | 2015-08-16 | 60 | |
| 5 | 53 | Bryan Cranston | 2015-08-23 | 60 | |
| 6 | 54 | Tom Bergeron | 2015-08-30 | 60 | |
Season 7
| Episode No. | No. Overall | Title | Airdate | Runtime | Summary |
| --- | --- | --- | --- | --- | --- |
| 1 | 55 | Aisha Tyler | 2016-04-03 | 60 | |
| 2 | 56 | Scott Foley | 2016-04-10 | 60 | |
| 3 | 57 | Katey Sagal | 2016-04-17 | 60 | |
| 4 | 58 | Molly Ringwald | 2016-04-24 | 60 | Molly Ringwald explores Swedish royalty, which uncovers her ancestors' harrowing lives, and one brave immigrant who forever changed her family's fate. |
| 5 | 59 | Chris Noth | 2016-05-01 | 60 | |
| 6 | 60 | Lea Michele | 2016-05-01 | 60 | |
Season 8
| Episode No. | No. Overall | Title | Airdate | Runtime | Summary |
| --- | --- | --- | --- | --- | --- |
| 1 | 61 | Courteney Cox | 2017-03-05 | 62 | Courteney Cox traces her maternal line back to ambitious and ruthless relatives who plotted and murdered their way to power in medieval times, and she's shocked to discover that her ancestor is one of Europe's most famous characters. |
| 2 | 62 | Julie Bowen | 2017-03-12 | 60 | |
| 3 | 63 | Jennifer Grey | 2017-03-19 | 60 | |
| 4 | 64 | Noah Wyle | 2017-03-26 | 60 | |
| 5 | 65 | Jessica Biel | 2017-04-02 | 60 | Jessica Biel hunts for the truth behind family lore surrounding the death of an ancestor, and along the way makes two shocking discoveries that shake everything she knows about her heritage to the core. |
| 6 | 66 | Smokey Robinson | 2017-04-09 | 60 | |
| 7 | 67 | John Stamos | 2017-04-16 | 60 | Actor John Stamos explores his Greek heritage for the first time and discovers an explosive feud that shattered his grandfather's childhood. He also meets a relative he never knew and hears firsthand about his family's enduring strength. |
| 8 | 68 | Liv Tyler | 2017-04-24 | 60 | |
Season 9
| Episode No. | No. Overall | Title | Airdate | Runtime | Summary |
| --- | --- | --- | --- | --- | --- |
| 1 | 69 | Jon Cryer | 2018-05-21 | 60 | Jon Cryer's journey takes him from America to Scotland as he uncovers the dramatic tale of an ancestor who survived a catastrophic battle, endured horrific conditions as a prisoner of war, and was forced to come to America as an indentured servant. |
| 2 | 70 | Laverne Cox | 2018-05-21 | 60 | Actress and activist Laverne Cox pieces together the inspiring life of her African American ancestor, who challenged societal norms and bravely pushed the boundaries just years after Emancipation. |
| 3 | 71 | Megan Mullally | 2018-05-28 | 60 | Megan Mullally explores a shocking pattern of dysfunction in her father's line; she finds her two-times great grandmother was bravely defying societal norms in order to fight for her family's survival, while struggling to hang on to her own sanity. |
| 4 | 72 | Hilary Duff | 2018-06-04 | 60 | Actress Hilary Duff uncovers the tale of an ancestor who bravely led an American colony to battle a notorious gang of pirates; she dives centuries-deep into her Scottish roots and is shocked to discover that she descends from a heroic medieval king. |
| 5 | 73 | Molly Shannon | 2018-06-11 | 60 | Actress Molly Shannon heads to Ireland in search of her mother's unknown family tree; her desperate ancestors were forced to choose between their faith and survival; a family legacy of bravery; meeting Irish cousins for the first time. |
| 6 | 74 | Jean Smart | 2018-06-18 | 60 | Actress Jean Smart uncovers the curious tale of an unconventional ancestor in colonial Massachusetts, who got her children entangled in her own thievery ring and later faced execution when she was accused of witchcraft. |
Season 10
| Episode No. | No. Overall | Title | Airdate | Runtime | Summary |
| --- | --- | --- | --- | --- | --- |
| 1 | 75 | Mandy Moore | 2018-12-03 | 60 | Actress Mandy Moore is shocked to discover ancestors who lived in Australia and travels far, determined to unlock the mystery of how they got there. Moore is touched by the courage of those who made the journey and the sacrifice of those who were left behind. |
| 2 | 76 | Josh Duhamel | 2018-12-10 | 60 | Actor Josh Duhamel travels to England to investigate the extraordinary life of his twelve times great-grandfather and uncovers an astonishing, dark twist of interrogation and torture that rocks his belief system to the core. |
| 3 | 77 | Matthew Morrison | 2018-12-17 | 60 | Actor Matthew Morrison explores his American roots for the first time and is surprised to discover his family's ties to the Revolutionary War. He learns of the bold lengths his ancestor went through to protect his allegiances and the brutality he faced on the battlefield. |
| 4 | 78 | Regina King | 2018-12-17 | 60 | Actress Regina King investigates her maternal family tree and uncovers an ancestor who was a passionate civil rights activist in Alabama; a man who came out of slavery, endured horrific violence, but never stopped fighting for his people. |
Series Crew
| | Position | Name |
| --- | --- | --- |
| | Executive Producer | Dan Bucatinsky |
| | Executive Producer | Lisa Kudrow |
| | Executive Producer | Don Roos |
| | Creator | Alex Graham |
| | Executive Producer | Alex Graham |
| | Executive Producer | Lucy Carter |
| | Co-Executive Producer | Bryn Freedman |
Related News
TVMaze