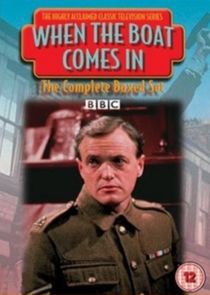 When the Boat Comes In is a British television period-drama produced by the BBC between 1976 and 1981.
The series stars James Bolam as Jack Ford, a First World War veteran who returns to his poverty-stricken (fictional) town of Gallowshield in the North East of England. The series dramatises the political struggles of the 1920s and 1930s and explores the impact of national and international politics upon Ford and the people around him.
The memorable traditional tune "When The Boat Comes In" was adapted by David Fanshawe and sung by Alex Glasgow for the title theme of the series. Fanshawe also composed the incidental music.
The BBC revived the series in 1981, with the fourth series telling the story of Jack Ford as he returns to Britain penniless, after six years spent bootlegging in the United States, and follows him as he sets up in London.
Series Overview
Rating
imDb Rating: 8.4 (306 Votes)
Metascore: N/A
Plot
Set in Gallowshields on Tyneside between the 2 World Wars, this story follows the life of ex-sergeant Jack Ford and the Seaton family as they deal with the aftermath of the Great War, the Great 1920s Depression and trade union activists.
Details
Rated: N/A
Released: 08 Jan 1976
Runtime: 50 min
Genre: Drama, History
Director: N/A
Writer: James Mitchell
Actors: James Bolam, James Garbutt, Jean Heywood, John Nightingale
Language: English
Country: UK
Awards: 5 nominations.
Total Seasons: 4
Previous Episode
Roll of Honour
Episode 4x10; Apr 21, 1981
Jack learns from Ceddie Corley that Scott-Palliser is planning to have him arrested for gunrunning. He sends Tania home, warns the ship's captain and goes ashore with the ship's steward, Raoul Savory. Jessie is shocked to discover that Scott-Palliser plans to give the guns to the Communists and not the Socialists. Raoul diverts the Communist convoy. Jack, Jessie, Billy and Raoul set off to deliver the guns to the socialists. They fight off Franco's Moorish cavalry, but Scott-Palliser is lying in wait and shoots Jack.
Previous Episodes 4x10: Roll of Honour 4x9: Comrades in Arms 4x8: Action! 4x7: The Bright Young Things 4x6: Friends, Romans, Countrymen 4x5: Oh My Charming Billy Boy 4x4: Flies and Spiders 4x3: A Medal for the Argentine 4x2: A Gift from Heaven

View All Episodes
Cast
Edward Wilson as Billy Seaton
Madelaine Newton as Dolly
John Nightingale as Tom Seaton
James Bolam as Jack Ford
Susan Jameson as Jessie Ashton née Seaton
Malcolm Terris as Matt Headley
View Full Cast
Skip to:
Season 1
| Episode No. | No. Overall | Title | Airdate | Runtime | Summary |
| --- | --- | --- | --- | --- | --- |
| 1 | 1 | A Land Fit for Heroes and Idiots | 1976-01-08 | 50 | In 1919 Sergeant Jack Ford returns to Gallowshield on discharge leave from the army. He meets Jessie Seaton, a schoolteacher, her brother Tom and his fiancée Mary. Later, Jack meets Jessie's brother, Billy a medical student and her parents – Bill, a miner, and Bella. Will Scrimgour, a shell-shocked ex-soldier, beats a child who was tormenting him. He is arrested and committed for trial despite Jack's evidence about his condition. The magistrate, Major Pinner, who is standing for election as a Liberal, is bitter that he never won a medal. Pinner wins the election, but Jack humiliates him by arranging for local veterans to throw their own medals at him. |
| 2 | 2 | Say Hello... ...Say Tirra | 1976-01-15 | 50 | Bella takes in Harry, a young boy whose mother has died. Harry steals 10 shillings from a fruit seller. Father Keenley, a local priest, arranges for the boy to be sent on an emigration scheme to Australia; Bella reluctantly agrees. |
| 3 | 3 | Fish in Woolly Jumpers | 1976-01-22 | 50 | Times are hard as the miners strike. Jack, who is now engaged to Jessie, still has money. Tom is desperate for money because Mary is suffering from tuberculosis. He borrows from Jack. Jack sleeps with Dolly, the widowed sister of his war comrade, Matt Headley. Tom threatens to expose him unless he can join Jack's sheep-rustling gang. Jack agrees. Tom is almost caught, but Jack knocks out the policeman. Against Jack's expectations, Jessie condones his activities. |
| 4 | 4 | Swords and Pick Handles | 1976-01-29 | 50 | Jack visits Sir Horatio Manners, father of his late commanding officer and gives him a present of a sword. Manners offers him a job. Tom is scabbing to get money for Mary. Jack saves him from a beating. Tom then turns to theft. |
| 5 | 5 | Coal Comfort | 1976-02-05 | 50 | As the strike continues, Bill works out that an abandoned coal seam runs under his house and digs for coal in the front room. Tom pursues two children who have stolen leeks from his allotment, but takes pity on them when he discovers that their mother is a war widow with no pension. |
| 6 | 6 | Empire Day on the Slag Heap | 1976-02-12 | 50 | The strike ends with no concessions won by the miners. Jessie's headmaster, Arthur Ashton, proposes to her. Matt tells Jack that Dolly is pregnant and he agrees to marry her. Bill is crippled in an accident at the pit. Jack prevents the mine owner from defrauding him of proper compensation. Jack tells Jessie that he has to marry Dolly. After he leaves, she breaks down in tears. |
| 7 | 7 | A First Time for Everything | 1976-02-19 | 50 | Bella turns the front of the house into a shop using Bill's compensation. Bill, confined to a wheelchair, is initially hostile to the plan. Jessie is impressed by the talent and intelligence of fourteen-year-old pupil, Ronnie Fairburn, and tries to dissuade him from working in the mines. But his widowed mother needs the money and Ronnie wants to become a man. Ronnie is killed on his first day in the pit. Jessie gets engaged to Arthur and Jack marries Dolly at the Registry Office. |
| 8 | 8 | Paddy Boyle's Discharge | 1976-02-26 | 50 | Mary has died. Jack meets an old comrade, Sid Hepburn, who is still in the army. Hepburn is with the Black and Tans in Ireland on very good pay. Hepburn and his colleague, Harry Bartram take Jack to see Captain Leslie who tries to recruit him. Paddy Boyle, an Irish member of Jack's sheep-stealing gang, is a member of Sinn Féin. Hepburn and Bartram are shot by Paddy and his Sinn Féin boss, Michael Lynch. Despite a warning cry from Jack, Paddy and Lynch are shot by Captain Leslie. |
| 9 | 9 | Angel on Horseback | 1976-03-03 | 50 | Tom falls for a nurse, Rosie Trotter. Just before he dies, Mick Murphy, Bella's uncle, places a bet in Bella's name with his nephew, Ralph, a bookie's runner. Mick's funeral is well-attended, but the winning bet was never placed because Ralph was arrested. |
| 10 | 10 | King for a Day | 1976-03-11 | 50 | Jack agreed to help Manners buy a house from Lord Calderbeck by acting as front man. At Calderbeck's house, he meets his nephew Freddy who wants to marry Jane Cromer, a wealthy young widow. Jane sleeps with Jack, but eventually decides to marry Freddy. Billy, who is working on a nearby farm, helps Jack obtain inside information, and Jack negotiates a good deal with Freddy and a large commission from Manners. He learns that Dolly has had a miscarriage. |
| 11 | 11 | Happy New Year, Some Say | 1976-03-18 | 50 | Jack is looking after Glaswegian socialist lecturer, Sandy Lewis, who is speaking at the Co-Op Hall. There is also a Tory meeting at the George Hotel, and Tom avoids capture having stolen from the cloakroom. Billy takes Bill to a New Year's party at Jessie's against his will. Jack turns up with Sandy who needs somewhere to stay the night. Bill is summonsed for keeping the shop open too late. He suspects a rival shopkeeper of reporting him, and Sandy throws a brick through his window. |
| 12 | 12 | Heads You Win, Tails I Lose | 1976-03-25 | 50 | Tom is threatened by two local ruffians from whom he has won money. Jessie tries to persuade widow, Lizzie Armstrong, to let her son, Robert, take up a grammar school scholarship, but Lizzie needs him to leave school to earn money. Matt proposes to Lizzie who refuses him. Jack helps Tom take on the ruffians, who are then humiliated by a 'tin-panning' by local women arranged by Lizzie. |
| 13 | 13 | Kind Hearted Rat with a Lifebelt | 1976-04-01 | 50 | Les Mallow, the local branch chairman, asks Jack to help him become district secretary of the fitters union. Jack refuses. He then persuades the branch to vote against a strike and to provide financial help to Mrs Downey, the widow of union member. Tom is awaiting trial for theft. Widow Downey - who informed on Tom - is evicted. Jack helps her recover her furniture by breaking into her flat. He then lets himself be arrested. Both he and Tom are sent to Durham jail. A month later, Jack is released to a hero's welcome. As planned, he is now favourite to beat Mallow in the election for district secretary, a post with a salary of £400 a year. |
Season 2
| Episode No. | No. Overall | Title | Airdate | Runtime | Summary |
| --- | --- | --- | --- | --- | --- |
| 1 | 14 | Ask for Twopence, Take a Penny | 1976-10-29 | 50 | Jack is now the district secretary of the fitters union, and he appoints Matt as his deputy. Les Mallow still wants Jack's job and reveals that his predecessor had agreed to ask for a two-pence an hour pay increase. Jack discovers that the plan was to settle for a penny. Mallow says that Jack must deliver this to keep his job beyond the probationary period. Jack persuades Sir Horatio Manners, now chairman of the large Lewis Bishop shipyard, to concede the extra penny to keep him rather than Mallow as union secretary. But Jack is now in Manners' debt. |
| 2 | 15 | Tram Ride to the Bluebell | 1976-11-05 | 50 | Jack, Dolly and Matt move to their posh new house in Lavender Avenue. Dolly wants to adopt a child, and is distraught to find that Jack's prison record will prevent this. Tom, now helping in the shop, is threatened by Big Mac, whom he and Jack had exposed as a tobacco baron when they were in prison. Jack and Matt beat up Mac and his friends. |
| 3 | 16 | A Pillowful of Buttercups | 1976-11-12 | 50 | Jack is approached by Ted Chater, a Sergeant who knew him in Murmansk. Chater has got his girlfriend pregnant, unaware that she was a minor. Jack hides Chater while he looks for the girl. He traces her father, Stobart, and learns that she killed herself after he told her that the regimental adjutant, Captain Barford, would put Chater in prison. Manners invites Barford and Jack to a shooting-party. Manners wants Jack to demolish a country house, Mandrake Place, to make room for a housing project. Jack stops Chater from shooting Barford, but then leaves him to shoot himself. |
| 4 | 17 | Roubles for the Promised Land | 1976-11-19 | 50 | Billy is unable to get medical work due to his socialist principles. Tom, living in a hostel, befriends Kaganovich, a Russian Jew hoping to travel to Palestine and looking for Jack. Kaganovich accuses Jack of stealing money from his late father during the Russian revolution. Jack claims he was given the money for helping the old man escape. In any case it is worthless 'Kerensky money'. Jack persuades Tom to return home. |
| 5 | 18 | Some Bulbs to Keep the Garden Bright | 1976-11-26 | 50 | Les Mallow wants Jack to expose seed merchant Sanderson, whose brother is on the housing committee and sells plants to council tenants at extortionate prices. If Jack refuses, Les threatens to reveal what Jack had done in Murmansk. He had learned about this from a drunken Matt. Jessie asks Jack to employ Billy as the union's doctor for compensation cases. She lets slip that Mallow has a shameful secret in his family. Jack discovers that Mallow is living off his sister's immoral earnings, and threatens to reveal this unless he backs off. Tom starts work as a jobbing gardener. |
| 6 | 19 | God and Love and Wellesley Street | 1976-12-03 | 50 | Billy gets a job at the Wellesley Street free clinic run by Dr. Stoker. His family disapprove because he has turned down Jack's job offer and will not be able to repay what he owes Bill and Tom. Charlotte Courtnay, a novelist from London, comes looking for her father, a priest who is also working with Stoker. She becomes friendly with Tom, but Jack thinks she is toying with him and persuades her to return to London before he gets hurt. |
| 7 | 20 | Whatever Made You Think the War Was Over? | 1976-12-10 | 50 | To repay his debt to Manners, Jack has to close down production for a week at Buell-Hodge, a firm that pays its workers well over the minimum. Jack calls a strike over conditions at the factory. Using Matt's name, he also discovers that Buell's American machines are dangerous. This enables him to close down Manners' factory as well, so Manners cannot fulfil Buell's big contract and put him out of business. Bella gets drunk and flirts with Jack. |
| 8 | 21 | Ladies, Women, Sweethearts and Wives | 1976-12-17 | 50 | Bill opens a second shop. Jessie has a baby boy. Jack and Dolly go to a dinner party at the Duke of Bedlington's, where Jack is to negotiate terms for his members to work a new trading estate being built on some of the Duke's land. Manners warns Jack not to take Dolly. As he predicted, bitchy society ladies pick on Dolly, but Lady Caroline, the Duke's daughter, is kind to her. Later, Jack sees Tom offer her a shoulder to cry on. |
| 9 | 22 | After the Bonfire | 1977-01-07 | 50 | Dolly leaves Jack to be with Tom. Jack gets them both jobs on the duke's staff. He becomes increasingly friendly with Lady Caroline and buys land from her to spite Manners. Billy finally accepts Jack's job offer, saying that the money he earns will be split between repaying his family and Stoker's clinic. |
| 10 | 23 | A Wreath with Our Names On | 1976-01-14 | 50 | Billy is shocked that Stan Mather, a cousin of Dolly's late husband, is still working at Lewis Bishop despite having pleurisy. When he is fatally injured in an accident, Jack forces Billy to keep quiet about Stan's being unfit to work to ensure his widow gets compensation. Lady Caroline offers to give Dolly and Tom the money for a cottage, but they get it from Bill instead. Jack makes his peace with Dolly and they send Stan's widow a wreath. |
| 11 | 24 | The Way It Was in Murmansk | 1977-01-21 | 50 | Stan Liddell, local Labour party secretary, asks Jack to speak on behalf of their candidate at the forthcoming election, Geordie Watson. Jack agrees on condition that Matt is made a councillor and gives a rousing speech, also bribing voters to ensure Watson's victory. The elections cause an argument between Jessie and Arthur. Matt's new girlfriend, Sarah Lytton, becomes housekeeper for him and Jack. |
| 12 | 25 | In the Front Line You Get Shot At | 1977-01-28 | 50 | A factory owner called Colfax refuses on principle to recognise union labour. Manners tells Jack that head office want to try to force the union on Colfax, and says that as a bet Colfax will give him a thousand pounds if the attempt fails. Using Eddy Morton to win the men's support, Jack threatens strike action. But he has to call the strike off when Colfax calls in the police. He suspects that Boothroyd from head office has tipped off Colfax. Jack tears up Manners' cheque for £1000 recognising it as a trick to implicate him in corruption. Bella is rushed to hospital with appendicitis. |
| 13 | 26 | The Simple Pleasures of the Rich | 1977-01-04 | 50 | Dolly is pregnant by Tom. Jack announces that he is resigning as Union secretary and handing over to Matt. He will also move out of the house to allow Matt and Sarah privacy when they marry. When Jack demands a high price, Manners refuses to buy the land that Jack obtained from Lady Caroline. Nevertheless, Jack decides to go ahead with the demolition of Mandrake Place. Tom helps in return for Jack's agreeing to let Dolly divorce him. In the event, Jack insists that he rather than Tom fires the shot. |
Season 3
| Episode No. | No. Overall | Title | Airdate | Runtime | Summary |
| --- | --- | --- | --- | --- | --- |
| 1 | 27 | A House Divided | 1977-09-08 | 50 | Matt and Tom rescue the injured Jack from the ruins of Mandrake Place. Arthur is appalled by the destruction and contacts the Association for the Preservation of Great Houses. Its Chairman, James Channing, threatens to prosecute. Jessie warns Jack and offers him an alibi. Jack learns from Caroline that her brother-in-law, Roddy, and Channing have been lovers. To Caroline's disgust he says he will use this to blackmail Roddy into persuading Channing drop the prosecution. |
| 2 | 28 | A Tiger, a Lamb and a Basket of Fruit | 1977-09-15 | 50 | Jessie calls a family meeting to ensure that Matt and Tom are not arrested for their part in the demolition of Mandrake Place. Bill offers Dolly a job managing his new shop in Garibaldi Street. Jack is beaten up by two thugs employed by Roddy. He gets his own back on one of them and then tells Roddy he will get him sent to prison unless all charges are dropped. |
| 3 | 29 | My Bonny Lass Goodbye | 1977-09-22 | 50 | Jack forces Channing to support his story that the destruction of Mandrake Place was an accident. Manners, claiming to believe this story, then refuses to pay him. Jessie is dismayed when Arthur tells her that they are moving to Kent where he has a better paid job. Jack, after a farewell kiss, arranges an introduction with the Kent Fabian Society so she can carry on with her political activities. He then leaves for Scarborough to provide Dolly's grounds for divorce. |
| 4 | 30 | A Ticket to Care for the Wounded | 1977-09-29 | 50 | Matt's position as union district secretary is threatened by Eddy Morton. In an attempt to show Matt up, Eddy tells Matt that Manners has done a deal with Friedrich von Peltzer, the duke's German nephew. As this could mean his members lose jobs to Germany, Matt threatens strike action unless the deal is cancelled. Matt wins the vote to confirm him in his job, but then makes Eddy his deputy, aware from Billy that he is terminally ill. Dolly persuades Tom to leave the duke's estate so she can run Bill's new shop. |
| 5 | 31 | Travel Light, Travel Far | 1977-10-06 | 50 | Riddled with cancer, Dr. Stoker takes an overdose and dies, leaving Billy to run the free clinic with only Father Courtnay to help. Jack supplies Dolly with a solicitor, who tells her that she and Tom must live apart to appear blameless. Manners pays Jack to front Pioneer Enterprises, a 'nominee company' to act as go-between with Peltzer. Matt finds out and fights Jack. He later discovers that Jack's contract with Manners guarantees 20 more fitters jobs. |
| 6 | 32 | Requiem for a Loser | 1977-10-13 | 50 | Jack learns that the witness to his infidelity has died. Dolly, told by her solicitor that her own adultery jeopardises her case, accuses Jack of deliberately stalling. Billy collapses from exhaustion. At Sarah's insistence, Matt asks Jack rather than Eddy Morton to be his best man. Eddy is drunk and abusive at the wedding and then drops dead. Father Courtnay, who is leaving the parish, discovers that Jack is trying to buy the Wellesley Street clinic. |
| 7 | 33 | Debts Owed, Debts Paid | 1977-10-20 | 50 | Jack threatens to reveal that he bought votes for Geordie Watson unless he ensures Matt is made a councillor as promised. Geordie must also get Stan Liddell to ensure that the Council sells Wellesley Street to Jack. Billy asks a fellow doctor if a new operation could allow Bill to walk again. To annoy Manners, Caroline asks Jack to a ball as her father's guest. |
| 8 | 34 | The Empire Builders | 1977-10-27 | 50 | Billy reveals that Bill might walk again if he has an operation, but Bella is against it. Having bought Wellesley Street cheaply, Jack demands £5000 to sell it to Colfax, who needs to expand there. He persuades Bill to introduce loyalty savings stamps in his shops, the two of them splitting the profits. |
| 9 | 35 | Look Up and See the Sky | 1977-11-03 | 50 | Colfax visits Jack to haggle over the sale of Wellesley Street. Jack knows that Colfax has already invested in expensive new plant and holds out for the full amount and acceptance of union labour. Colfax eventually agrees when Jack threatens to sell to Manners, who would then be able to bankrupt Colfax and take over his factory. Bella tells Jack about the possibility of an operation for Bill, and Jack reveals this to Tom. |
| 10 | 36 | Letters from Afar | 1977-11-10 | 50 | Left-winger Regan threatens a strike at Lewis Bishop unless a sacked worker is reinstated. Matt resorts to trickery to get information for Jack about Ryders, a local engineering firm run by an old-fashioned patriarch. Joe Prestwick, a former loyal employee, persuades Mr. Ryder to give Billy an old warehouse to use as a new clinic. With Ryders' undervalued shares continuing to rise, Manners tries to buy the Duke's shares. |
| 11 | 37 | The Father of Lies | 1977-11-17 | 50 | Jack is using a nominee company to buy up Ryders shares for Manners. The Duke warns him off involving Caroline in the scheme. As the share price keeps rising, Manners has to offer Lewis Bishop shares in exchange. Jack persuades Bill to have the operation. Dolly gives birth a month early. |
| 12 | 38 | Diamond Cut Diamond | 1977-11-24 | 50 | Dolly's divorce comes through and baby Matthew William is christened. Bill goes into hospital. Regan calls an unofficial strike at Lewis Bishop and disrupts Manners' press conference about the Ryders take-over. To assume total control of Ryders, Manners needs the duke's block vote. Jack says he can deliver it, but tells the Duke to vote for Ryder. He persuades Matt to make the strike official and ensures that the news breaks at the meeting. The take-over fails, costing Manners a lot of money and finally giving Jack his revenge for Mandrake Place. Jack and Lady Caroline do well, having sold their shares to Manners when the price was high. |
| 13 | 39 | A Marriage and a Massacre | 1977-12-01 | 50 | After his operation, Bill is able to walk with a stick. Tom is frustrated working in the shop. Billy and his assistant, medical student Isobel Murcheson, alert Matt to the case of Mr. Dixon, mentally unsound after an accident at Lewis Bishop for which Manners paid his hospital bill. Jack visits the duke who asks him to find out who is sending him threatening letters and killing animals on his estate. Caroline tells Jack she is engaged. |
| 14 | 40 | High Life and Hunger | 1977-12-08 | 50 | Isobel's reactionary father tries to ban her from working at the clinic. He is Bill's wholesaler and threatens to cut off his credit. Billy and Bill argue and Bill suffers a fall. Jack visits Dixon who sends him away. Jack employs a group of homeless unemployed, including upper class con man High Life DeVere, to help him catch the person threatening the duke. He discovers it is Dixon. |
| 15 | 41 | Please Say Goodbye Before You Go | 1977-12-15 | 50 | Jack flirts with Isobel at a charity ball and meets Lady Caroline's fiancé, Mostyn. Jack and High Life catch Dixon breaking into the duke's house to destroy a picture of one of the duke's ancestors who resembles his son, Christopher. Dixon wants revenge because Christopher had seduced his daughter. Manners agrees to look after Dixon. Jack lends Tom money for his own market garden, then tells Matt he is leaving for America. Matt asks why he is going to a land where you can't get whisky. "To sell them some", Jack replies. |
Season 4
| Episode No. | No. Overall | Title | Airdate | Runtime | Summary |
| --- | --- | --- | --- | --- | --- |
| 1 | 42 | Back to Dear Old Blighty | 1981-02-17 | 50 | Jack has made a fortune from bootlegging and lost it in the Wall Street Crash. An alcoholic and in debt to gangsters, he flees New York as a stowaway. In Liverpool he meets Canon Penfold, who gets him a room in a hostel. He has to share with Charlie Rowse, an embittered ex-teacher who forces him to drink and beats him up. Jack hits back at him and quits the hostel. Morty Black, an old business friend from New York, offers him money. |
| 2 | 43 | A Gift from Heaven | 1981-02-24 | 50 | Jack returns to Gallowshield and lodges with Sarah, who tells him that Matt drowned in a boating accident. Jack learns from the boat's owner, Doughty, that Matt killed himself having stolen union funds to support his mistress, Thelma Clark. She is now dating Sarah's brother, Harry. Harry has photographs of Doughty's smuggling activities with which to blackmail him. Jack steals them and sells them to Doughty. They have Harry beaten up and run him out of town. Jack burns Matt's love letters to Thelma to convince Sarah that he was not unfaithful. |
| 3 | 44 | A Medal for the Argentine | 1977-03-03 | 50 | Jack meets Margaret Carter-Brown, the niece of Lewis Bishop's managing director John Hartley. She is a Socialist researching the plight of the unemployed on Tyneside. He takes her to see Danny Lockhart, who is unemployed and has sold his war medal. Hartley learns that the Argentine navy want a warship and asks Jack to use his contacts to win the contract for Lewis Bishop. The deal fails, but Jack is able to win another order for an American millionaire and uses his fee to buy back Danny's medal. |
| 4 | 45 | Flies and Spiders | 1981-03-10 | 50 | Doughty introduces Jack to Captain Bauer, who offers Jack work guarding an air-strip in South America against local tribes. Learning that Bauer wants the locals killed for the oil on their land, Jack refuses. He buys fire damaged goods from Bauer and he and Sarah sell them in Gallowshield market. Margaret becomes engaged. |
| 5 | 46 | Oh My Charming Billy Boy | 1981-03-17 | 50 | Schoolteacher, Sid Meek, tells Jack about Matt's nephew, Bill Pierce. He is a law student at Oxford but wants to drop out to get married. Sid is secretly in love with Bill and supporting him financially. In Oxford, Jack meets Bill, his patron, Labour philanthropist Violet Laurence, and her niece, Imogen Lorrimer. Jack loans Bill money to pay off his debts. |
| 6 | 47 | Friends, Romans, Countrymen | 1981-03-24 | 50 | Jack has been living in London for three years with Imogen. She leaves him to avoid scandal as her aunt is standing to be Labour MP for Gallowshield. Tipped off about oil by Geordie Watson, Jack buys cheap land in Gallowshields to sell to the interested company. At a toga party given by Mrs. Laurence for the Tyneside hunger marchers, Jack meets Jessie. Although still married to Arthur, she is seeing upper class socialist Robin Cunningham. She opposes the land deal, but Jack buys her silence by threatening to tell Arthur about Robin. |
| 7 | 48 | The Bright Young Things | 1981-03-31 | 50 | Having made money from his deal with the oil company, Jack is mixing in London high society. His land agent, Frank, asks Jack to broker the sale of an expensive emerald necklace to Morty Black. The necklace is owned by Philip Martin whose sister, Jane, is unbalanced and would kill to get the necklace for herself. The sale goes ahead. When Jack learns that Morty paid off the mobsters who were after him, he waives his share of the price. |
| 8 | 49 | Action! | 1981-04-07 | 50 | Lady Caroline invites Jack to visit her in Northumberland. Sarah is seeing Stan Lidell. Jack helps shopkeeper Manny Goldstein who is being persecuted by Blackshirt thugs. At a function given by Caroline's husband, Edward Mostyn, Jack argues with the local Fascist leader, Hector Smith-Jameson, which attracts him to socialist guest, Tania Corley. Jack buys a share in Manny's shop and when the thugs attack it again, he forces Smith-Jameson to pay compensation or face prosecution, and then exposes him for having paid money to a Jew. |
| 9 | 50 | Comrades in Arms | 1981-04-14 | 50 | Tania's mother, Lady Leamington, gives a party to raise funds for the victims of Franco in the Spanish civil war. Billy treats Bob Randall, son of Jack's old sergeant-major Fred, wounded fighting for the Spanish Republicans. Jack considers himself in debt to Fred who once saved his life. Jessie and Billy get Fred to persuade Jack to smuggle guns to the Republicans. Using a pleasure cruise as cover, Jack sails for Spain with Tania, Jessie, Billy and communist Nigel Scott-Palliser. |
| 10 | 51 | Roll of Honour | 1981-04-21 | 50 | Jack learns from Ceddie Corley that Scott-Palliser is planning to have him arrested for gunrunning. He sends Tania home, warns the ship's captain and goes ashore with the ship's steward, Raoul Savory. Jessie is shocked to discover that Scott-Palliser plans to give the guns to the Communists and not the Socialists. Raoul diverts the Communist convoy. Jack, Jessie, Billy and Raoul set off to deliver the guns to the socialists. They fight off Franco's Moorish cavalry, but Scott-Palliser is lying in wait and shoots Jack. |
Series Cast
| | | | |
| --- | --- | --- | --- |
| | Edward Wilson | as Billy Seaton | |
| | Madelaine Newton | as Dolly | |
| | John Nightingale | as Tom Seaton | |
| | James Bolam | as Jack Ford | |
| | Susan Jameson | as Jessie Ashton née Seaton | |
| | Malcolm Terris | as Matt Headley | |
| | Jean Heywood | as Bella Seaton | |
| | James Garbutt | as Bill Seaton | |
Series Crew
| | Position | Name |
| --- | --- | --- |
| | Creator | James Mitchell |
Related News
TVMaze