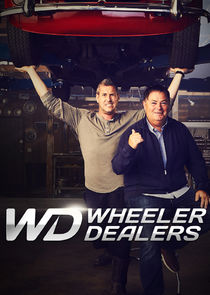 All new Wheeler Dealers episodes debut on Discovery Channel this summer, as Mike and Edd continue on their quest to find and restore some of the most iconic cars in the world.
Back in the UK after their stint in the US, the chaps pick up exactly where they left off and continue their search for Britain's model motors. As Mike tracks down the vehicles in need of a second chance, Edd fixes them up back at the garage.
Series Overview
Rating
imDb Rating: 8.2 (2,452 Votes)
Metascore: N/A
Plot
The hosts team up to find and flip serviceable used classic cars. Mike scours the Internet and local trade rags for bargain-priced modern classics needing attention. Edd China (and in later...
Details
Rated: N/A
Released: N/A
Runtime: 22 min
Genre: Documentary
Director: N/A
Writer: N/A
Actors: Mike Brewer, Edd China
Language: English
Country: UK
Awards: N/A
Total Seasons: 16
Next Episode
Mercedes Benz E55 AMG
Episode 19x4; Oct 22, 2019
Previous Episode
Toyota Celica ST
Episode 19x3; Oct 08, 2019
Episodes 19x4: Mercedes Benz E55 AMG 19x3: Toyota Celica ST 19x2: Ford Bronco 19x1: Volvo Amazon 122 18x6: The Best of the Best 18x5: 1965 Barracuda Part 2 18x4: 1965 Barracuda Part 1 18x3: Toyota Landcruiser 18x2: 2004 BMW M3

View All Episodes
Cast
Edd China as Edd China
Mike Brewer as Mike Brewer
Ant Anstead as Ant Anstead
View Full Cast
Skip to:
Season 1
| Episode No. | No. Overall | Title | Airdate | Runtime | Summary |
| --- | --- | --- | --- | --- | --- |
| 1 | 1 | Porsche 924 (1) | 2003-10-07 | 60 | |
| 2 | 2 | Porsche 924 (2) | 2003-10-07 | 60 | |
| 3 | 3 | Saab 900 Turbo (1) | 2003-10-14 | 60 | |
| 4 | 4 | Saab 900 Turbo (2) | 2003-10-14 | 60 | |
| 5 | 5 | VW Golf Mk1 GTI (1) | 2003-10-21 | 60 | |
| 6 | 6 | VW Golf Mk1 GTI (2) | 2003-10-21 | 60 | |
| 7 | 7 | Austin Mini Mk1 (1) | 2003-10-28 | 60 | |
| 8 | 8 | Austin Mini Mk1 (2) | 2003-10-28 | 60 | |
| 9 | 9 | Mercedes-Benz W123 230E (1) | 2003-11-04 | 60 | |
| 10 | 10 | Mercedes-Benz W123 230E (2) | 2003-11-04 | 60 | |
| 11 | 11 | Ford Capri Laser 1.6 (1) | 2003-11-11 | 60 | |
| 12 | 12 | Ford Capri Laser 1.6 (2) | 2003-11-11 | 60 | |
Season 2
| Episode No. | No. Overall | Title | Airdate | Runtime | Summary |
| --- | --- | --- | --- | --- | --- |
| 1 | 13 | Toyota MR2 MK1 (1) | 2004-02-11 | 60 | |
| 2 | 14 | Toyota MR2 MK1 (2) | 2004-02-11 | 60 | |
| 3 | 15 | Peugeot 205 GTi 1.9 (1) | 2004-02-18 | 60 | |
| 4 | 16 | Peugeot 205 GTi 1.9 (2) | 2004-02-18 | 60 | |
| 5 | 17 | Suzuki SJ410 (1) | 2004-02-25 | 60 | |
| 6 | 18 | Suzuki SJ410 (2) | 2004-02-25 | 60 | |
| 7 | 19 | BMW E30 325i Touring (1) | 2004-03-05 | 60 | |
| 8 | 20 | BMW E30 325i Touring (2) | 2004-03-05 | 60 | |
| 9 | 21 | MG MGB GT (1) | 2004-03-12 | 60 | |
| 10 | 22 | MG MGB GT (2) | 2004-03-12 | 60 | |
| 11 | 23 | Beetle to Buggy (1) | 2004-03-19 | 60 | |
| 12 | 24 | Beetle to Buggy (2) | 2004-03-19 | 60 | |
Season 3
| Episode No. | No. Overall | Title | Airdate | Runtime | Summary |
| --- | --- | --- | --- | --- | --- |
| 1 | 25 | VW Type 2 Transporter (1) | 2005-01-01 | 60 | |
| 2 | 26 | VW Type 2 Transporter (2) | 2005-01-01 | 60 | |
| 3 | 27 | Lancia Delta Integrale 8V (1) | 2005-01-01 | 60 | |
| 4 | 28 | Lancia Delta Integrale 8V (2) | 2005-01-01 | 60 | |
| 5 | 29 | Mercedes 190E Cosworth (1) | 2005-01-01 | 60 | |
| 6 | 30 | Mercedes 190E Cosworth (2) | 2005-01-01 | 60 | |
| 7 | 31 | Range Rover Series 1 (1) | 2005-01-01 | 60 | |
| 8 | 32 | Range Rover Series 1 (2) | 2005-01-01 | 60 | |
| 9 | 33 | Mazda MX-5 NA (1) | 2005-01-01 | 60 | |
| 10 | 34 | Mazda MX-5 NA (2) | 2005-01-01 | 60 | |
| 11 | 35 | Porsche 928 (1) | 2005-01-01 | 60 | |
| 12 | 36 | Porsche 928 (2) | 2005-01-01 | 60 | |
Season 4
| Episode No. | No. Overall | Title | Airdate | Runtime | Summary |
| --- | --- | --- | --- | --- | --- |
| 1 | 37 | Porsche 911S 2.7 Targa (1) | 2006-01-01 | 60 | |
| 2 | 38 | Porsche 911S 2.7 Targa (2) | 2006-01-01 | 60 | |
| 3 | 39 | Jeep CJ7 (1) | 2006-01-01 | 60 | |
| 4 | 40 | Jeep CJ7 (2) | 2006-01-01 | 60 | |
| 5 | 41 | Alfa Romeo Spider Veloce (1) | 2006-01-01 | 60 | |
| 6 | 42 | Alfa Romeo Spider Veloce (2) | 2006-01-01 | 60 | |
| 7 | 43 | BMW 635CSi (1) | 2006-01-01 | 60 | |
| 8 | 44 | BMW 635CSi (2) | 2006-01-01 | 60 | |
| 9 | 45 | Corvette C4 (1) | 2006-01-01 | 60 | |
| 10 | 46 | Corvette C4 (2) | 2006-01-01 | 60 | |
| 11 | 47 | Lexus LS400 (1) | 2006-01-01 | 60 | |
| 12 | 48 | Lexus LS400 (2) | 2006-01-01 | 60 | |
Season 5
| Episode No. | No. Overall | Title | Airdate | Runtime | Summary |
| --- | --- | --- | --- | --- | --- |
| 1 | 49 | Mercedes Benz 280SL (1) | 2008-10-28 | 60 | |
| 2 | 50 | Mercedes Benz 280SL (2) | 2008-10-28 | 60 | |
| 3 | 51 | Lotus Esprit (1) | 2008-11-08 | 60 | |
| 4 | 52 | Lotus Esprit (2) | 2008-11-08 | 60 | |
| 5 | 53 | Fiat 500 (1) | 2008-11-15 | 60 | |
| 6 | 54 | Fiat 500 (2) | 2008-11-15 | 60 | |
| 7 | 55 | Land Rover Series III (1) | 2008-11-18 | 60 | |
| 8 | 56 | Land Rover Series III (2) | 2008-11-18 | 60 | |
| 9 | 57 | Citroën DS (1) | 2008-11-25 | 60 | |
| 10 | 58 | Citroën DS (2) | 2008-11-25 | 60 | |
| 11 | 59 | Bentley Mulsanne (1) | 2008-12-06 | 60 | |
| 12 | 60 | Bentley Mulsanne (2) | 2008-12-06 | 60 | |
Season 6
| Episode No. | No. Overall | Title | Airdate | Runtime | Summary |
| --- | --- | --- | --- | --- | --- |
| 1 | 61 | Triumph Spitfire Mark IV (1) | 2009-05-09 | 60 | |
| 2 | 62 | Triumph Spitfire Mark IV (2) | 2009-05-09 | 60 | |
| 3 | 63 | Porsche 944 Turbo (1) | 2009-05-14 | 60 | |
| 4 | 64 | Porsche 944 Turbo (2) | 2009-05-14 | 60 | |
| 5 | 65 | AUDI Quattro (1) | 2009-05-21 | 60 | |
| 6 | 66 | AUDI Quattro (2) | 2009-05-21 | 60 | |
| 7 | 67 | Volkswagen Beetle (1) | 2009-05-28 | 60 | |
| 8 | 68 | Volkswagen Beetle (2) | 2009-05-28 | 60 | |
| 9 | 69 | Jaguar XJS (1) | 2009-06-04 | 60 | |
| 10 | 70 | Jaguar XJS (2) | 2009-06-04 | 60 | |
| 11 | 71 | Ferrari Dino 308 GT4 (1) | 2009-10-16 | 60 | |
| 12 | 72 | Ferrari Dino 308 GT4 (2) | 2009-10-16 | 60 | |
| 13 | 73 | Mini City 1000 (1) | 2009-10-27 | 60 | |
| 14 | 74 | Mini City 1000 (2) | 2009-10-27 | 60 | |
| 15 | 75 | TVR S2 (1) | 2009-11-03 | 60 | |
| 16 | 76 | TVR S2 (2) | 2009-11-03 | 60 | |
| 17 | 77 | Land Rover Discovery TDI (1) | 2009-11-10 | 60 | |
| 18 | 78 | Land Rover Discovery TDI (2) | 2009-11-10 | 60 | |
| 19 | 79 | BMW M3 E36 Convertible (1) | 2009-11-17 | 60 | |
| 20 | 80 | BMW M3 E36 Convertible (2) | 2009-11-17 | 60 | |
Season 7
| Episode No. | No. Overall | Title | Airdate | Runtime | Summary |
| --- | --- | --- | --- | --- | --- |
| 1 | 81 | Jensen Interceptor | 2010-05-04 | 60 | |
| 2 | 82 | Ford Cosworth | 2010-05-11 | 60 | |
| 3 | 83 | VW T2 Panel Van | 2010-05-18 | 60 | |
| 4 | 84 | BMW 840 | 2010-05-25 | 60 | |
| 5 | 85 | Triumph Stag | 2010-06-01 | 60 | |
| 6 | 86 | Bond Bug | 2010-10-12 | 60 | |
| 7 | 87 | Volvo P1800 | 2010-10-19 | 60 | |
| 8 | 88 | Land Rover Defender | 2010-10-22 | 60 | |
| 9 | 89 | Subaru Impreza WRX | 2010-10-29 | 60 | |
| 10 | 90 | Lotus Elan | 2010-11-05 | 60 | |
Season 8
| Episode No. | No. Overall | Title | Airdate | Runtime | Summary |
| --- | --- | --- | --- | --- | --- |
| 1 | 91 | Jaguar E-Type | 2011-04-05 | 60 | |
| 2 | 92 | Mini Moke | 2011-04-12 | 60 | |
| 3 | 93 | Range Rover P38 | 2011-04-19 | 60 | |
| 4 | 94 | Frogeye Sprite | 2011-04-26 | 60 | |
| 5 | 95 | SAAB 93 Turbo | 2011-05-03 | 60 | |
| 6 | 96 | Dodge Charger | 2011-10-04 | 60 | |
| 7 | 97 | Delorean DMC-12 | 2011-10-11 | 60 | |
| 8 | 98 | Chevrolet 3100 | 2011-10-18 | 60 | |
| 9 | 99 | Volkswagen Karmann Ghia | 2011-10-25 | 60 | |
| 10 | 100 | Chevrolet Bel Air | 2011-11-01 | 60 | |
Season 9
| Episode No. | No. Overall | Title | Airdate | Runtime | Summary |
| --- | --- | --- | --- | --- | --- |
| 1 | 101 | Fiat Dino Coupe 2400 | 2012-03-20 | 60 | |
| 2 | 102 | Morgan +4 | 2012-03-27 | 60 | |
| 3 | 103 | BMW M5 | 2012-04-03 | 60 | |
| 4 | 104 | Renault Alpine 310 | 2012-04-10 | 60 | |
| 5 | 105 | Porsche 914 | 2012-04-17 | 60 | |
| 6 | 106 | Mercedes-Benz G-Class | 2012-04-24 | 60 | |
| 7 | 107 | Jaguar XK8 | 2012-05-01 | 60 | |
| 8 | 108 | Gardner Douglas AC Cobra | 2012-09-18 | 60 | |
| 9 | 109 | Jaguar MK2 | 2012-09-25 | 60 | |
| 10 | 110 | Willy's Jeep | 2012-10-02 | 60 | |
| 11 | 111 | Nissan Skyline | 2012-10-09 | 60 | |
| 12 | 112 | Triumph TR6 | 2012-10-16 | 60 | |
| 13 | 113 | BMW Isetta | 2012-10-23 | 60 | |
| 14 | 114 | Ford Mustang | 2012-10-30 | 60 | |
| 15 | 115 | Mercedes SLK | 2012-11-06 | 60 | |
Season 10
| Episode No. | No. Overall | Title | Airdate | Runtime | Summary |
| --- | --- | --- | --- | --- | --- |
| 1 | 116 | Aston Martin DB7 | 2013-02-19 | 60 | |
| 2 | 117 | Ford Escort Mk1 | 2013-02-26 | 60 | |
| 3 | 118 | Range Rover Vogue | 2013-03-05 | 60 | |
| 4 | 119 | Porsche Boxster 3.2S | 2013-03-12 | 60 | |
| 5 | 120 | Morris Minor Traveller 1966 | 2013-03-19 | 60 | |
| 6 | 121 | TVR Cerbera | 2013-03-26 | 60 | |
| 7 | 122 | Lamborghini Urraco | 2013-09-17 | 60 | |
| 8 | 123 | Ford Popular | 2013-09-24 | 60 | |
| 9 | 124 | Corvette C2 | 2013-10-01 | 60 | |
| 10 | 125 | Syrena | 2013-10-08 | 60 | |
| 11 | 126 | Lotus Elise | 2013-10-15 | 60 | |
| 12 | 127 | Cadillac Coupe de Ville | 2013-10-22 | 60 | |
Season 11
| Episode No. | No. Overall | Title | Airdate | Runtime | Summary |
| --- | --- | --- | --- | --- | --- |
| 1 | 128 | Ford Fiesta XR2 | 2014-03-17 | 60 | |
| 2 | 129 | Porsche 993 Targa | 2014-03-24 | 60 | |
| 3 | 130 | Mazda RX7 | 2014-03-31 | 60 | |
| 4 | 131 | Citroen 2CV | 2014-04-07 | 60 | |
| 5 | 132 | Maserati 3200 GT | 2014-04-14 | 60 | |
| 6 | 133 | Chevrolet Camaro | 2014-04-21 | 60 | |
| 7 | 134 | Amphicar | 2014-04-28 | 60 | |
| 8 | 135 | Ford Thunderbird | 2014-09-01 | 60 | |
| 9 | 136 | Jaguar XJ-C | 2014-09-08 | 60 | |
| 10 | 137 | Audi TT | 2014-09-15 | 60 | |
| 11 | 138 | VW Type 2 Split-Screen | 2014-09-22 | 60 | |
| 12 | 139 | BMW Z1 | 2014-09-29 | 60 | |
| 13 | 140 | Darracq | 2014-10-06 | 60 | |
| 14 | 141 | Lincoln Continental | 2014-10-13 | 60 | |
| 15 | 142 | Archive Show | 2014-10-13 | 60 | |
Season 12
| Episode No. | No. Overall | Title | Airdate | Runtime | Summary |
| --- | --- | --- | --- | --- | --- |
| 1 | 143 | Pontiac GTO | 2015-03-23 | 60 | |
| 2 | 144 | Ford F1 Pickup Truck | 2015-03-30 | 60 | |
| 3 | 145 | MG MGA | 2015-04-06 | 60 | |
| 4 | 146 | BMW 2002 tii | 2015-04-13 | 60 | |
| 5 | 147 | AMC Pacer | 2015-04-20 | 60 | |
| 6 | 148 | Datsun 240Z | 2015-04-27 | 60 | |
| 7 | 149 | Volkswagen 181 Thing | 2015-05-04 | 60 | |
| 8 | 150 | DeSoto Firedome 8 | 2015-05-11 | 60 | |
| 9 | 151 | Best of the U.S. | 2015-05-18 | 60 | |
| 10 | 152 | 1973 Rover P5B | 2015-08-17 | 60 | |
| 11 | 153 | Fiat Panda 4x4 | 2015-08-24 | 60 | |
| 12 | 154 | Alfa Romeo Alfasud | 2015-08-31 | 60 | |
| 13 | 155 | Caterham Seven | 2015-09-07 | 60 | |
| 14 | 156 | Ford Escort RS2000 Rally Car | 2015-09-14 | 60 | |
| 15 | 157 | Messerschmitt KR200 | 2015-09-21 | 60 | |
| 16 | 158 | Citroen HY Van | 2015-09-28 | 60 | |
| 17 | 159 | VW Corrado VR6 | 2015-10-05 | 60 | |
| 18 | 160 | Honda S2000 | 2015-10-12 | 60 | |
| 19 | 161 | Noble M12 GTO 2.5 | 2015-10-19 | 60 | |
Season 13
| Episode No. | No. Overall | Title | Airdate | Runtime | Summary |
| --- | --- | --- | --- | --- | --- |
| 1 | 162 | 1987 Mercedes 560SL | 2016-05-09 | 60 | If money were no object, the Mercedes 560SL was the car to buy in the 1980s. Mike finds a well looked after example in need of a complete refresh. |
| 2 | 163 | 1963 Volvo PV544 | 2016-05-16 | 60 | Mike was challenged to find a classic endurance sports car and the Volvo PV544 fit the bill. Mike finds a running example, but with an engine that few can master. |
| 3 | 164 | 1977 Honda CVCC | 2016-05-23 | 60 | The guys want to tackle something eco-friendly, and they get their wish when Mike chooses the original 'Econobox', a 1977 Honda CVCC that needs a rebuilt engine. |
| 4 | 165 | 1980 Chevy LUV | 2016-05-30 | 60 | When Edd sets Mike the task of finding him a classic American truck, Mike heads to Sonoma County where he meets his first hipster and her Chevy LUV. |
| 5 | 166 | 1988 Ford Mustang GT | 2016-06-06 | 60 | Mike and Edd decide that the 80s classic, Ford Mustang GT, is the ideal affordable muscle car for a young aspiring mechanic to cut his teeth on. |
| 6 | 167 | 1963 Chevy Corvair | 2016-06-13 | 60 | Mike and Edd decide to create an eye-catching, inexpensive beach cruiser, and the Corvair is the muse! Can the guys restore this classic to its original beauty? |
| 7 | 168 | 1965 Land Rover IIA | 2016-06-20 | 60 | Edd and Mike set the challenge to find the ultimate bug-out vehicle that would ceaselessly run, and there was only one contender: the Land Rover Series IIA! |
| 8 | 169 | 1968 Chevy Corvette | 2016-07-04 | 60 | Mike and Edd go back and forth about the definition of a real sports car. With the desire to hit the gas and feel the seat in his back, Mike brings a 1968 Corvette. |
| 9 | 170 | Best of Series 13 (1) | 2016-07-11 | 60 | |
| 10 | 171 | 1970 Ford Bronco | 2016-11-14 | 60 | |
| 11 | 172 | 1983 Mercedes 500 SEC | 2016-11-21 | 60 | |
| 12 | 173 | 1976 Porsche 912E | 2016-11-28 | 60 | Mike seeks out a Porsche 912E. With the help of Edd, they address the years of neglect, while they bring home the horses and return on their investment. |
| 13 | 174 | 1973 Chevrolet Camaro | 2016-12-05 | 60 | Mike and Edd are back in their West Coast workshop in the US and fixing up a 1973 Chevrolet Camaro. Can the guys still make a profit after restoring it? |
| 14 | 175 | 1963 Sunbeam Alpine | 2016-12-12 | 60 | Mike hunts the first ever Bond car, a 1963 Sunbeam Alpine. He finds a rust-free race-ready motor and Edd must deal with some surprises in the engine bay. |
| 15 | 176 | 1992 Humvee | 2017-01-02 | 60 | |
| 16 | 177 | 1985 Maserati Bi-Turbo | 2017-01-09 | 60 | Whilst looking for a 1985 Maserati Bi-Turbo, Mike discovers a truly unique example: a Bi-Turbo without a Bi-Turbo! This little Italian auto received an electric motor conversion dating back to the early 90's. Their first ever electric car project has Edd dancing, and Mike worried. Can they beat the original performance of the Maserati and still turn a profit? |
| 17 | 178 | 1916 Cadillac V8 | 2017-01-16 | 60 | Is there anything cooler than a Caddy? In this episode, Mike and Edd get their hands on a V8. Can they get it back up to speed while turning a profit? |
| 18 | 179 | Best of Series 13 (2) | 2017-01-23 | 60 | |
Season 14
| Episode No. | No. Overall | Title | Airdate | Runtime | Summary |
| --- | --- | --- | --- | --- | --- |
| 1 | 180 | 1995 Ford Escort RS Cosworth | 2017-10-04 | 60 | |
| 2 | 181 | 1982 Toyota Celica Supra | 2017-10-11 | 60 | |
| 3 | 182 | 1969 Ford Mustang Mach 1 | 2017-10-18 | 60 | |
| 4 | 183 | Saab 96 | 2017-10-25 | 60 | |
| 5 | 184 | 1965 Dodge A100 Van | 2017-11-01 | 60 | |
| 6 | 185 | 1964 Ford Ranchero | 2017-11-08 | 60 | |
| 7 | 186 | 1994 Mitusbishi 3000GT VR-4 | 2017-11-15 | 60 | |
| 8 | 187 | 1965 Austin-Healey 3000 MkIII | 2017-11-22 | 60 | |
| 9 | 188 | Best of Series 14 | 2017-11-29 | 60 | |
Season 15
| Episode No. | No. Overall | Title | Airdate | Runtime | Summary |
| --- | --- | --- | --- | --- | --- |
| 1 | 189 | 1969 Opel GT 1900 | 2018-04-11 | 60 | Mike and Ant dive into the European car market with a 1969 Opel GT. It suffers fresh body damage, a backfiring engine, shoddy brakes, and faulty headlights. |
| 2 | 190 | 1988 Jeep Grand Wagoneer | 2018-04-18 | 60 | Mike and Ant enter the market for iconic American SUVs with a 1988 Jeep Grand Wagoneer. But, it has a sagging suspension and a defective four-wheel drive. |
| 3 | 191 | 2004 Mini Cooper S MC40 | 2018-04-25 | 60 | Mike finds one of only 1,000 MC40s ever made, the 40th anniversary homage to the Monte Carlo rally-winning British icon. Can Ant revive its original look? |
| 4 | 192 | 1987 Alfa Romeo Spider Quadrifoglio | 2018-05-02 | 60 | Mike and Ant take on a 1987 Alfa Romeo Spider Quadrifoglio with a rare hardtop. It needs extensive repairs, including a rebuild of the propshaft. |
| 5 | 193 | 1970 International Harvester Scout 800A | 2018-05-09 | 60 | Mike hunts an early SUV - a 1970 International Harvester Scout 800A. Ant's repair includes rebuilding a leaky transfer case and replacing the interior. |
| 6 | 194 | 1977 Porsche 924 | 2018-05-16 | 60 | Mike takes on a Porsche 924, the first car he ever turned around on the series. Will fixing oil leaks and worn interior be enough earn a profit? |
| 7 | 195 | 1972 Datsun 510 | 2018-05-23 | 60 | Mike and Ant drag a rare 1972 Datsun 510 into the 21st century. The engine is in good order, but the bad paint job, gearbox and bodywork let it down. |
| 8 | 196 | 1972 Lancia Fulvia | 2018-05-30 | 60 | Mike finds a rare, rally-bred 1972 Lancia Fulvia. He and Ant must fix its bad CV joints, a broken heater, cracked dash and a debris-clogged fuel system. |
| 9 | 197 | Petrolhead Takeover | 2018-06-06 | 60 | Mike and Ant answer questions from fans across the globe. In the process, they reveal on the inner workings of the series and look back at the last eight cars. |
Season 16
| Episode No. | No. Overall | Title | Airdate | Runtime | Summary |
| --- | --- | --- | --- | --- | --- |
| 1 | 198 | 1976 Mercury Capri MK2 | 2018-10-03 | 60 | Mike finds a 1976 Mark 2 Mercury Capri with the classic 2.8 liter Cologne V6, and Ant has to completely overhaul the engine, the interior, and his own design upgrade. |
| 2 | 199 | 1991 Toyota MR2 Turbo | 2018-10-10 | 60 | Mike finds a '95 Volvo 850 T-5R, a station wagon with a racing pedigree, in need of TLC. |
| 3 | 200 | 1995 Volvo 850 T-5R Wagon | 2018-10-17 | 60 | Mike fixes a 1991 Toyota MR2 Turbo. |
| 4 | 201 | 1991 Alfa Romeo 164L | 2018-10-24 | 60 | Mike tracks down a rare '91 Alfa Romeo 164L. He loves the look of the car but Ant has his work cut out for him. This Alfa has perfect bodywork, but it has a leaking engine, faulty steering, dodgy brakes, and a host of other issues. |
| 5 | 202 | 1991 Lotus Elan M100 | 2018-10-31 | 60 | |
| 6 | 203 | 2002 Corvette C5 Z06 | 2018-11-07 | 60 | |
| 7 | 204 | 1983 Volkswagen Rabbit GTi | 2018-11-14 | 60 | |
| 8 | 205 | 2004 Dodge Ram SRT-10 | 2018-11-21 | 60 | |
| 9 | 206 | Best of | 2018-11-28 | 60 | |
Series Cast
| | | | |
| --- | --- | --- | --- |
| | Edd China | as Edd China | |
| | Mike Brewer | as Mike Brewer | |
| | Ant Anstead | as Ant Anstead | |
Related News
TVMaze