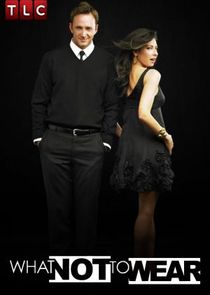 TLC's What Not to Wear is a spin-off of What Not to Wear airing on BBC America. The reality show premise is simple: friends and family members nominate a candidate that they consider poorly dressed and ask the show to make over the "fashion victim". Fashion Police Stacy London and her partner, Clinton Kelly (or Wayne Scott Lukas in the first season) ambush the candidate and make them an offer-- they are given a $5000.00 budget for a new wardrobe, which they must purchase in New York City boutiques over the course of two days, but only on the condition that they allow Stacy & Clinton/ Wayne to critique, and in most cases throw out, their existing wardrobe. For grooming tips, hairdresser Nick Arrojio and makeup artist Carmindy help refine the candidate's look.Fashionistas Stacy London and Clinton Kelly ambush a style felon nominated by family and friends and offer that person $5,000 to buy a new wardrobe -- if he or she will throw out their current wardrobe and agree to be critiqued by the unwavering eyes of Stacy and Clinton. The participant's makeover also includes grooming courtesy of hairstylist Ted Gibson and makeup artist Carmindy.
Series Overview
Rating
imDb Rating: 7.0 (1,690 Votes)
Metascore: N/A
Plot
Two fashion stylists and a team of hair and makeup advisors help revamp the look of individuals who have been nominated by their friends for makeovers due to their lamentable appearance, using a $5,000 budget.
Details
Rated: TV-PG
Released: 18 Jan 2003
Runtime: 60 min
Genre: Family, Reality-TV
Director: N/A
Writer: N/A
Actors: Adam J. Harrington, Clinton Kelly, Stacy London, Carmindy
Language: English
Country: UK, USA
Awards: 1 nomination.
Total Seasons: 12
Previous Episode
Katherine L.
Episode 11x14; Mar 14, 2013
Previous Episodes 11x14: Katherine L. 11x13: Liz W. 11x12: Nakiya T. 11x10: Andrea Y. 11x9: Tina Yothers 11x8: Shannon Elizabeth 11x7: Casey D. 11x4: Simona D. 11x3: Tristen

View All Episodes
Cast
Stacy London as Co-Host
Clinton Kelly as Co-Host
Carmindy Bowyer as Makeup Artist
View Full Cast
Skip to:
Season 1
| Episode No. | No. Overall | Title | Airdate | Runtime | Summary |
| --- | --- | --- | --- | --- | --- |
| 1 | 1 | Morna | 2003-01-18 | 60 | |
| 2 | 2 | Eileen | 2003-03-08 | 60 | |
| 3 | 3 | Donna | 2003-03-15 | 60 | |
| 4 | 4 | Kerry | 2003-03-22 | 60 | |
| 5 | 5 | Christine | 2003-03-29 | 60 | |
| 6 | 6 | Larry | 2003-04-05 | 60 | |
| 7 | 7 | Lili | 2003-04-12 | 60 | |
| 8 | 8 | Ann | 2003-04-26 | 60 | |
| 9 | 9 | Holli | 2003-05-03 | 60 | |
| 10 | 10 | Jen | 2003-05-10 | 60 | |
Season 2
| Episode No. | No. Overall | Title | Airdate | Runtime | Summary |
| --- | --- | --- | --- | --- | --- |
| 1 | 11 | Gina Marchioni | 2003-08-29 | 60 | |
| 2 | 12 | Oretha Winston | 2003-09-05 | 60 | |
| 3 | 13 | Laura Miller | 2003-09-12 | 60 | |
| 4 | 14 | Mary Fragapane | 2003-09-19 | 60 | |
| 5 | 15 | Ellen Lindner | 2003-09-26 | 60 | |
| 6 | 16 | Dave Hank | 2003-10-03 | 60 | |
| 7 | 17 | Shifra Littman | 2003-10-10 | 60 | |
| 8 | 18 | Kimberly Banks | 2003-10-17 | 60 | |
| 9 | 19 | Eric Braunsdorf | 2003-10-24 | 60 | |
| 10 | 20 | Amanda Stallins | 2003-10-31 | 60 | |
| 11 | 21 | Niya Battle | 2003-11-07 | 60 | |
| 12 | 22 | Ross Byron | 2003-11-14 | 60 | |
| 13 | 23 | Donia Clark | 2003-11-21 | 60 | |
| 14 | 24 | David Lee | 2003-12-05 | 60 | |
| 15 | 25 | Misti Mazey | 2003-12-12 | 60 | |
| 16 | 26 | Elizabeth Sutton | 2003-12-19 | 60 | |
| 17 | 27 | Anne Wallace | 2003-12-26 | 60 | |
| 18 | 28 | Alisha Roman | 2004-01-09 | 60 | |
| 19 | 29 | Ken Keating | 2004-01-16 | 60 | |
| 20 | 30 | Laura Miranda | 2004-01-23 | 60 | |
| 21 | 31 | Michelle Leiblich | 2004-02-06 | 60 | |
| 22 | 32 | Irene Frolick | 2004-02-13 | 60 | |
| 23 | 33 | Cynthia Venasca | 2004-03-05 | 60 | |
| 24 | 34 | Crissa Loderwick | 2004-03-12 | 60 | |
| 25 | 35 | Kathy Zolsinski | 2004-03-19 | 60 | |
| 26 | 36 | Marie Harkin | 2004-03-26 | 60 | |
| 27 | 37 | John Bernard | 2004-04-02 | 60 | |
| 28 | 38 | Debbie Dierks | 2004-04-09 | 60 | |
| 29 | 39 | Jeanne Spivey | 2004-04-16 | 60 | |
| 30 | 40 | Veronica & Valerie Reyes | 2004-04-23 | 60 | |
| 31 | 41 | Michael Seacrest | 2004-04-30 | 60 | |
| 32 | 42 | Belinda Hill | 2004-05-07 | 60 | |
| 33 | 43 | Carlos Kline | 2004-05-14 | 60 | |
| 34 | 44 | Kimberly Hall | 2004-05-21 | 60 | |
| 35 | 45 | Kim Pane | 2004-06-04 | 60 | |
| 36 | 46 | Shannon Keith | 2004-06-11 | 60 | |
| 37 | 47 | Terry Mulrooney | 2004-06-18 | 60 | |
| 38 | 48 | Mirella Streuck | 2004-06-25 | 60 | |
| 39 | 49 | Larissa Lyons | 2004-07-02 | 60 | |
| 40 | 50 | Diana Clifford | 2004-07-11 | 60 | |
| 41 | 51 | Megan Slankard | 2004-07-16 | 60 | |
| 42 | 52 | Lisa Laford | 2004-07-16 | 60 | |
| 43 | 53 | Will Creedle & Nicole Stoner | 2004-07-23 | 60 | |
| 44 | 54 | Celita Schultz | 2004-07-30 | 60 | |
| 45 | 55 | Erinn Johnson Long | 2004-08-06 | 60 | |
| 46 | 56 | Melissa Notig | 2004-08-20 | 60 | |
| 47 | 57 | Aysha Malik | 2004-09-03 | 60 | |
| 48 | 58 | Tiffany West | 2004-09-10 | 60 | |
Season 3
| Episode No. | No. Overall | Title | Airdate | Runtime | Summary |
| --- | --- | --- | --- | --- | --- |
| 1 | 59 | Kerryellen Kelly | 2004-10-01 | 60 | |
| 2 | 60 | Will Russell | 2004-10-08 | 60 | |
| 3 | 61 | Ellyn Sollis | 2004-10-15 | 60 | |
| 4 | 62 | Melanie Lapatton | 2004-10-22 | 60 | |
| 5 | 63 | Matt Harris | 2004-10-29 | 60 | |
| 6 | 64 | Kelly Denhart | 2004-11-05 | 60 | |
| 7 | 65 | Jennifer Freeman | 2004-11-12 | 60 | |
| 8 | 66 | Chris Love | 2004-11-19 | 60 | |
| 9 | 67 | Tish Merrill | 2004-12-03 | 60 | |
| 10 | 68 | Delia Espinoza | 2005-01-07 | 60 | |
| 11 | 69 | Charlie Hughes | 2005-01-14 | 60 | |
| 12 | 70 | Sohni Sing | 2005-01-21 | 60 | |
| 13 | 71 | Eddie Wren | 2005-01-28 | 60 | |
| 14 | 72 | Laura Mousetess | 2005-02-04 | 60 | |
| 15 | 73 | Mia Brant | 2005-02-11 | 60 | |
| 16 | 74 | Nancy Herton | 2005-02-18 | 60 | |
| 17 | 75 | Ed Madisevic | 2005-02-25 | 60 | |
| 18 | 76 | Melanie Artz | 2005-03-04 | 60 | |
| 19 | 77 | Maria Merchado | 2005-03-11 | 60 | |
| 20 | 78 | Laurie Pratt | 2005-03-25 | 60 | |
| 21 | 79 | Amy Ernst | 2005-04-01 | 60 | |
| 22 | 80 | Alana Clinka | 2005-04-08 | 60 | |
| 23 | 81 | Jeanine Garrity | 2005-04-15 | 60 | |
| 24 | 82 | Tanya Dwyer | 2005-04-22 | 60 | |
| 25 | 83 | Ana Wyatt | 2005-04-29 | 60 | |
| 26 | 84 | Jenny Eames | 2005-05-06 | 60 | |
| 27 | 85 | Belinda Tenothred | 2005-05-08 | 60 | |
| 28 | 86 | Kristy Hennessey | 2005-05-20 | 60 | |
| 29 | 87 | Mimi Miller | 2005-05-27 | 60 | |
| 30 | 88 | Kristen Regan | 2005-06-03 | 60 | |
| 31 | 89 | Raina Daley | 2005-06-10 | 60 | |
| 37 | 90 | Michaela Krecks | 2005-06-17 | 60 | |
| 39 | 91 | Naima Jones | 2005-07-01 | 60 | |
| 40 | 92 | Courtney Pitts | 2005-07-08 | 60 | |
Season 4
| Episode No. | No. Overall | Title | Airdate | Runtime | Summary |
| --- | --- | --- | --- | --- | --- |
| 1 | 93 | What Not To Wear: Wannabe | 2005-10-21 | 60 | |
| 2 | 94 | What Not To Wear: Reunion | 2006-01-01 | 60 | |
| 26 | 95 | What Not To Underwear | 2006-03-17 | 60 | |
Season 5
| Episode No. | No. Overall | Title | Airdate | Runtime | Summary |
| --- | --- | --- | --- | --- | --- |
Season 6
| Episode No. | No. Overall | Title | Airdate | Runtime | Summary |
| --- | --- | --- | --- | --- | --- |
| 1 | 96 | Katherine | 2008-02-29 | 60 | |
| 2 | 97 | Melissa | 2008-01-25 | 60 | |
| 3 | 98 | Kathy | 2008-03-14 | 60 | |
| 4 | 99 | Dottie | 2008-03-07 | 60 | |
| 5 | 100 | Kathy G. | 2008-02-08 | 60 | |
| 6 | 101 | Danielle | 2008-04-04 | 60 | |
| 8 | 102 | Joy | 2008-03-28 | 60 | |
| 9 | 103 | Donna and Robert (Wedding Couple) | 2008-04-11 | 60 | |
| 10 | 104 | Tara K. | 2008-04-18 | 60 | |
| 11 | 105 | Amber | 2008-05-02 | 60 | |
| 12 | 106 | Catherine K. | 2008-04-25 | 60 | |
| 13 | 107 | Jessica | 2008-05-16 | 60 | |
| 14 | 108 | Natalie | 2008-05-30 | 60 | |
| 15 | 109 | Sunny | 2008-06-06 | 60 | |
| 16 | 110 | Joanne | 2008-06-20 | 60 | |
| 17 | 111 | Jennifer | 2008-06-27 | 60 | |
| 18 | 112 | Tara | 2008-07-25 | 60 | |
| 19 | 113 | Kandiss | 2008-07-18 | 60 | |
| 20 | 114 | Heather | 2008-08-15 | 60 | |
| 21 | 115 | Glenda | 2008-08-22 | 60 | |
| 22 | 116 | Jackie | 2008-09-05 | 60 | |
| 23 | 117 | Tonya | 2008-09-19 | 60 | |
| 24 | 118 | Cheyenne | 2008-10-03 | 60 | |
| 25 | 119 | Amanda | 2008-10-17 | 60 | |
| 26 | 120 | Mala | 2008-10-24 | 60 | |
| 27 | 121 | Michelle | 2008-11-07 | 60 | |
| 28 | 122 | Moriah | 2009-01-16 | 60 | |
| 29 | 123 | Yorine | 2009-01-09 | 60 | |
| 30 | 124 | Tami | 2008-12-05 | 60 | |
| 31 | 125 | Marianna | 2008-12-12 | 60 | |
| 32 | 126 | Cathy | 2009-01-02 | 60 | |
| 33 | 127 | Debbie | 2009-03-06 | 60 | |
| 34 | 128 | Lynn | 2008-11-14 | 60 | |
| 35 | 129 | Jennifer | 2009-01-23 | 60 | |
| 36 | 130 | Carla | 2009-02-06 | 60 | |
Season 7
| Episode No. | No. Overall | Title | Airdate | Runtime | Summary |
| --- | --- | --- | --- | --- | --- |
| 1 | 131 | Mayim | 2009-05-29 | 60 | |
| 2 | 132 | Chelsea | 2009-06-05 | 60 | |
| 3 | 133 | Jessie | 2009-06-12 | 60 | |
| 4 | 134 | Amanda | 2009-06-19 | 60 | |
| 5 | 135 | Kimberley | 2009-06-26 | 60 | |
| 6 | 136 | Holly | 2009-07-10 | 60 | |
| 7 | 137 | Tamara | 2009-07-17 | 60 | |
| 8 | 138 | Ariel | 2009-07-24 | 60 | |
| 9 | 139 | Bailey | 2009-07-31 | 60 | |
| 10 | 140 | Alexandra | 2009-08-07 | 60 | |
| 11 | 141 | Lisa | 2009-08-14 | 60 | |
| 12 | 142 | Disa | 2009-08-21 | 60 | |
| 13 | 143 | Teresa | 2009-08-28 | 60 | |
Season 8
| Episode No. | No. Overall | Title | Airdate | Runtime | Summary |
| --- | --- | --- | --- | --- | --- |
| 1 | 144 | Courtney | 2010-01-08 | 60 | |
| 2 | 145 | Leanne | 2010-01-15 | 60 | |
| 3 | 146 | Christine | 2010-01-22 | 60 | |
| 4 | 147 | Crizti | 2010-01-29 | 60 | |
| 5 | 148 | Emily | 2010-02-05 | 60 | |
| 6 | 149 | Gina | 2010-02-19 | 60 | |
| 7 | 150 | Jessica | 2010-02-26 | 60 | |
| 8 | 151 | Annie | 2010-03-05 | 60 | |
| 9 | 152 | Sara | 2010-03-12 | 60 | |
| 10 | 153 | Jennaydra | 2010-03-19 | 60 | |
| 11 | 154 | Leia | 2010-04-02 | 60 | |
| 12 | 155 | Miriam | 2010-04-09 | 60 | |
| 14 | 156 | What Not to Wear Awards | 2010-04-16 | 60 | |
| 15 | 157 | Mindy | 2010-10-29 | 60 | |
| 16 | 158 | Wanda | 2010-11-05 | 60 | |
| 17 | 159 | Dressing Your Age | 2010-11-05 | 60 | |
| 18 | 160 | Serrita | 2010-11-12 | 60 | |
| 19 | 161 | Hardest Makeovers in History | 2010-11-12 | 60 | |
| 20 | 162 | Hillary | 2010-11-19 | 60 | |
| 21 | 163 | Best Mommy Makeovers | 2010-11-26 | 60 | |
| 22 | 164 | Linda | 2010-12-03 | 60 | |
| 23 | 165 | Susan | 2010-12-10 | 60 | |
| 24 | 166 | Sarah W. | 2010-12-17 | 60 | |
| 25 | 167 | Sarah M. | 2010-12-21 | 60 | |
| 26 | 168 | Lizzie | 2010-12-28 | 60 | |
| 27 | 169 | Erin | 2011-01-04 | 60 | |
| 28 | 170 | Maggie | 2011-01-11 | 60 | |
| 29 | 171 | Aleishe | 2011-01-18 | 60 | |
| 30 | 172 | Angie | 2011-01-25 | 60 | |
| 31 | 173 | Denise | 2011-02-01 | 60 | |
| 32 | 174 | Janet | 2011-02-08 | 60 | |
| 33 | 175 | Azi | 2011-02-15 | 60 | |
| 34 | 176 | Alicia M. | 2011-02-22 | 60 | |
| 35 | 177 | Amanda R. | 2011-03-01 | 60 | |
| 36 | 178 | Teresa S. | 2011-03-08 | 60 | |
| 37 | 179 | Renee | 2011-03-15 | 60 | |
| 38 | 180 | Deana | 2011-03-15 | 60 | |
| 39 | 181 | Jillian | 2011-03-22 | 60 | |
| 40 | 182 | Jordan | 2011-03-22 | 60 | |
| 41 | 183 | Julie | 2011-03-29 | 60 | |
| 42 | 184 | Carly | 2011-04-05 | 60 | |
| 43 | 185 | Becca | 2011-04-12 | 60 | |
Season 9
| Episode No. | No. Overall | Title | Airdate | Runtime | Summary |
| --- | --- | --- | --- | --- | --- |
| 1 | 186 | Becky | 2011-08-16 | 60 | |
| 2 | 187 | Top 10 Most Resistant Makeovers | 2011-08-16 | 60 | |
| 3 | 188 | Noel | 2011-08-23 | 60 | |
| 4 | 189 | Top 10 Meltdowns | 2011-08-23 | 60 | |
| 5 | 190 | Jackie | 2011-08-30 | 60 | |
| 6 | 191 | Heather | 2011-09-06 | 60 | |
| 7 | 192 | Ebony | 2011-09-13 | 60 | |
| 8 | 193 | Jill | 2011-09-20 | 60 | |
| 9 | 194 | Jodi | 2011-11-29 | 60 | |
| 10 | 195 | Rebecca | 2011-11-29 | 60 | |
| 11 | 196 | Becca | 2009-11-29 | 60 | |
| 12 | 197 | Tenessa | 2011-11-13 | 60 | |
| 13 | 198 | Jennifer | 2011-12-20 | 60 | |
| 14 | 199 | Christine | 2011-12-27 | 60 | |
| 15 | 200 | Beryl | 2012-01-03 | 60 | |
| 16 | 201 | Live and Let Fly | 2012-05-29 | 60 | |
| 17 | 202 | Desiree | 2012-06-05 | 60 | |
| 18 | 203 | Kathy | 2012-06-12 | 60 | |
| 19 | 204 | Leigh Anne | 2012-06-19 | 60 | |
| 20 | 205 | 300th Episode: Minda | 2010-02-26 | 60 | |
| 21 | 206 | Emi | 2010-03-05 | 60 | |
| 22 | 207 | Alexandra | 2012-07-10 | 60 | |
| 23 | 208 | Victoria | 2012-07-17 | 60 | |
| 24 | 209 | Dolly | 2012-07-24 | 60 | |
| 25 | 210 | Vanessa | 2012-07-31 | 60 | |
| 26 | 211 | Deborah | 2012-08-07 | 60 | |
| 27 | 212 | Frances | 2012-08-14 | 60 | |
| 28 | 213 | Rebecca T | 2012-08-21 | 60 | |
Season 10
| Episode No. | No. Overall | Title | Airdate | Runtime | Summary |
| --- | --- | --- | --- | --- | --- |
| 1 | 214 | Tiffany | 2013-01-03 | 60 | |
| 2 | 215 | Nicole | 2013-01-10 | 60 | |
| 3 | 216 | Tristen | 2013-01-17 | 60 | |
| 4 | 217 | Simona D. | 2013-01-24 | 60 | |
| 5 | 218 | Kathy A. | 2013-01-13 | 60 | |
| 6 | 219 | Heather M. | 2013-02-07 | 60 | |
| 7 | 220 | Casey D. | 2013-02-14 | 60 | |
| 8 | 221 | Shannon Elizabeth | 2013-02-21 | 60 | |
| 9 | 222 | Tina Yothers | 2013-02-28 | 60 | |
| 10 | 223 | Andrea Y | 2013-03-07 | 60 | |
| 11 | 224 | Katherine L | 2013-03-14 | 60 | |
| 12 | 225 | Nakiya T | 2012-03-21 | 60 | |
| 13 | 226 | Liz W | 2013-03-28 | 60 | |
| 14 | 227 | Perfect Storm: Riana C, Taylor P, and Megan G | 2013-08-09 | 60 | |
| 15 | 228 | Lizz S | 2013-08-16 | 60 | |
| 16 | 229 | Courtney D | 2013-08-23 | 60 | |
| 17 | 230 | The Rules Book | 2013-08-30 | 60 | |
| 18 | 231 | Tania L | 2013-09-06 | 60 | |
| 19 | 232 | Melinda P | 2013-09-13 | 60 | |
| 20 | 233 | Carly S | 2013-09-20 | 60 | |
| 21 | 234 | Molly S and Mandy Y | 2013-09-27 | 60 | |
| 22 | 235 | Jennifer W | 2013-10-04 | 60 | |
| 23 | 236 | Megumi H | 2013-10-11 | 60 | |
| 24 | 237 | Fan Mail | 2013-10-18 | 60 | |
| 25 | 238 | The Last Hurrah in Vegas! | 2013-10-18 | 60 | |
Season 11
| Episode No. | No. Overall | Title | Airdate | Runtime | Summary |
| --- | --- | --- | --- | --- | --- |
| 2 | 239 | Nicole | 2013-01-10 | 60 | |
| 3 | 240 | Tristen | 2013-01-17 | 60 | |
| 4 | 241 | Simona D. | 2013-01-24 | 60 | |
| 7 | 242 | Casey D. | 2013-02-07 | 60 | |
| 8 | 243 | Shannon Elizabeth | 2013-02-21 | 60 | |
| 9 | 244 | Tina Yothers | 2013-02-28 | 60 | |
| 10 | 245 | Andrea Y. | 2013-03-07 | 60 | |
| 12 | 246 | Nakiya T. | 2013-03-21 | 60 | |
| 13 | 247 | Liz W. | 2013-03-28 | 60 | |
| 14 | 248 | Katherine L. | 2013-03-14 | 60 | |
Season 12
| Episode No. | No. Overall | Title | Airdate | Runtime | Summary |
| --- | --- | --- | --- | --- | --- |
Series Cast
| | | | |
| --- | --- | --- | --- |
| | Stacy London | as Co-Host | |
| | Clinton Kelly | as Co-Host | |
| | Carmindy Bowyer | as Makeup Artist | |
Related News
TVMaze