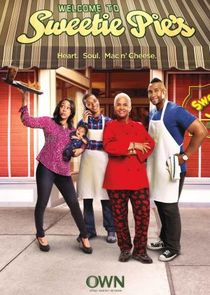 When Miss Robbie Montgomery, a 1960s backup singer and former "Ikette", suffered a collapsed lung and had to stop singing, she decided to pour her talents into another creative venture—a soul food restaurant called Sweetie Pie's. This docuseries follows the loud, loving and often singing Montgomery family as they work to expand their empire, one soulful dish at a time. On an all-new season of Welcome to Sweetie Pie's, we see our favorite family like never before, as we follow Miss Robbie and her son, Tim, through the ups and downs of running their soul food empire.
From Tim hustling to open their very first drive-thru, to Miss Robbie heading out west and back in the studio, this close-knit family juggles the business at hand with wayward employees and celebrity guests. But in the aftermath of the Michael Brown shooting in Ferguson, Miss Robbie and Tim have very different ideas on how to handle the civil unrest. Through it all, the entire Sweetie Pie's family serves up every situation with a perfect mix of humor, drama, heart, and especially soul.
Series Overview
Rating
imDb Rating: 6.0 (137 Votes)
Metascore: N/A
Plot
Miss Robbie Montgomery, an ex-background singer for Ike and Tina Turner, is as sassy and savvy as ever in an all-new season of the hit show, Welcome to Sweetie Pie's! She and her son Tim ...
Details
Rated: N/A
Released: 15 Oct 2011
Runtime: 60 min
Genre: Reality-TV
Director: N/A
Writer: N/A
Actors: Charles Crenchaw
Language: English
Country: USA
Awards: 2 wins & 4 nominations.
Total Seasons: 7
Previous Episode
Cast Reunion: Spilling The Sweet Tea
Episode 8x14; Jun 09, 2018
Previous Episodes 8x14: Cast Reunion: Spilling The Sweet Tea 8x13: Movin On 8x12: Come Together 8x11: Ain't Nobody's Business 8x10: Keep You Guessing 8x9: You Got Me Runnin' 8x8: I Can't Stand the Rain 8x7: Keep on Pushin' 8x6: Road Blocks

View All Episodes
Skip to:
Season 1
| Episode No. | No. Overall | Title | Airdate | Runtime | Summary |
| --- | --- | --- | --- | --- | --- |
| 1 | 1 | The Business of Family | 2011-10-15 | 60 | |
| 2 | 2 | Happy Birthday, Miss Robbie | 2011-10-22 | 60 | |
| 3 | 3 | Special Delivery | 2011-10-29 | 60 | |
| 4 | 4 | Family Matters | 2011-11-05 | 60 | |
| 5 | 5 | All You Need is Love | 2011-11-12 | 60 | |
| 6 | 6 | Go Big or Go Home | 2011-11-19 | 60 | |
| 7 | 7 | Second Chances | 2011-11-26 | 60 | |
| 8 | 8 | Hopes & Dreams | 2011-12-03 | 60 | |
| 9 | 9 | Miss Robbie's Full House | 2012-03-31 | 60 | |
| 10 | 10 | Growing Pains | 2012-04-07 | 60 | |
| 11 | 11 | You Can Count on Me | 2012-04-14 | 60 | |
| 12 | 12 | The Heat is On | 2012-04-21 | 60 | |
| 13 | 13 | Boiling Point | 2012-04-28 | 60 | |
| 14 | 14 | Opportunity Knocks | 2012-05-05 | 60 | |
| 15 | 15 | We Are Family | 2012-05-12 | 60 | |
| 16 | 16 | Tim's Lifeclass | 2012-05-19 | 60 | |
| 17 | 17 | Decisions, Decisions | 2012-05-19 | 60 | |
| 18 | 18 | It Takes a Village | 2012-06-02 | 60 | |
Season 2
| Episode No. | No. Overall | Title | Airdate | Runtime | Summary |
| --- | --- | --- | --- | --- | --- |
| 1 | 19 | Welcome to Upper Crust | 2012-09-15 | 60 | |
| 2 | 20 | The Upper Crust vs the Lower Crust | 2012-09-22 | 60 | |
| 3 | 21 | For Love or Money | 2012-09-29 | 60 | |
| 4 | 22 | Don't Be a Party Pooper | 2012-10-06 | 60 | |
| 5 | 23 | Showing Up is Hard to Do | 2012-10-13 | 60 | |
| 6 | 24 | Charles in Charge | 2012-10-20 | 60 | |
| 7 | 25 | Just Say 'Yes Ma'am' | 2012-11-03 | 60 | |
| 8 | 26 | The Future of the Mangrove - Part 1 | 2012-11-10 | 60 | |
| 9 | 27 | The Future of the Mangrove - Part 2 | 2012-11-17 | 60 | |
| 10 | 28 | HOLIDAY Special! | 2012-11-24 | 60 | |
| 11 | 29 | Lean on Me | 2012-12-01 | 60 | |
| 12 | 30 | Voices Carry, Charles, Doesn't | 2012-12-08 | 60 | |
| 13 | 31 | Highballs & Low-balls | 2012-12-15 | 60 | |
Season 3
| Episode No. | No. Overall | Title | Airdate | Runtime | Summary |
| --- | --- | --- | --- | --- | --- |
| 1 | 32 | End of an Era | 2013-07-27 | 60 | |
| 2 | 33 | Baby-Proofed | 2013-08-03 | 60 | |
| 3 | 34 | Vote for Me, I'll Set You Free | 2013-08-10 | 60 | |
| 4 | 35 | You Gonna Learn Today! | 2013-08-17 | 60 | |
| 5 | 36 | Sweetie Pie's On-the-Go | 2012-08-24 | 60 | |
| 6 | 37 | Give & Take | 2013-09-07 | 60 | |
| 7 | 38 | Scheming & Dreaming | 2013-09-14 | 60 | |
| 8 | 39 | While Robbie's Away... | 2013-09-21 | 60 | |
| 9 | 40 | Surprise? | 2013-09-28 | 60 | |
| 10 | 41 | Do the Sweetie Pie! | 2013-10-05 | 60 | |
| 11 | 42 | First Time for Everything | 2013-10-12 | 60 | |
| 12 | 43 | Managing Expectations | 2013-10-19 | 60 | |
| 13 | 44 | Fools Rush In | 2013-10-26 | 60 | |
Season 4
| Episode No. | No. Overall | Title | Airdate | Runtime | Summary |
| --- | --- | --- | --- | --- | --- |
| 1 | 45 | Houston's Calling | 2014-03-15 | 60 | |
| 2 | 46 | Shifting Priorities | 2014-03-22 | 60 | |
| 3 | 47 | Negotiating a Dream | 2014-03-29 | 60 | |
| 4 | 48 | What Happens in Houston... | 2014-04-05 | 60 | |
| 5 | 49 | Houston, We Have a Problem | 2014-04-12 | 60 | |
| 6 | 50 | Can't We All Just Get Along? | 2014-04-19 | 60 | |
| 7 | 51 | Somethin's a Brewin' | 2014-04-26 | 60 | |
| 8 | 52 | The Perfect Storm | 2014-05-03 | 60 | |
| 9 | 53 | Hello Memphis | 2014-07-12 | 60 | |
| 10 | 54 | The Devil's in the Details | 2014-07-19 | 60 | |
| 11 | 55 | Disconnection Notice | 2014-07-26 | 60 | |
| 12 | 56 | Good Cop, Bad Cop | 2014-08-02 | 60 | |
| 13 | 57 | Running Out of Time | 2014-08-09 | 60 | |
| 14 | 58 | Ready to Launch | 2014-08-16 | 60 | |
Season 5
| Episode No. | No. Overall | Title | Airdate | Runtime | Summary |
| --- | --- | --- | --- | --- | --- |
| 1 | 59 | Jesus, Take the Wheel | 2015-02-28 | 60 | |
| 2 | 60 | With Unity Comes Change | 2015-03-07 | 60 | |
| 3 | 61 | The Pecking Order | 2015-03-14 | 60 | |
| 4 | 62 | Ferguson | 2015-03-21 | 60 | |
| 5 | 63 | California Dreamin' | 2015-03-28 | 60 | |
| 6 | 64 | Too Blessed to Be Stressed | 2015-04-04 | 60 | |
| 7 | 65 | Soft Opening, Hard Landing | 2015-04-11 | 60 | |
| 8 | 66 | The Final Countdown | 2015-04-18 | 60 | |
Season 6
| Episode No. | No. Overall | Title | Airdate | Runtime | Summary |
| --- | --- | --- | --- | --- | --- |
| 1 | 67 | Hooray for (North) Hollywood! | 2015-11-21 | 60 | |
| 2 | 68 | NoHo or NoGo? | 2015-11-28 | 60 | |
| 3 | 69 | A Tale of Two Cities | 2015-12-05 | 60 | Day two at TJ's Sweetie Pie's brings as many complaints as customers; Miss Robbie checks in on the St. Louis staff, forcing Tim to step up. |
| 4 | 70 | Life's a Beach (Kind Of) | 2015-12-12 | 60 | Tim puts Charles in charge while he's out of town; Miss Robbie deals with her robbery; Janae, Monique and TJ fly out to Los Angeles; Tim gives Danielle an ultimatum. |
| 5 | 71 | That's What Friends Are For | 2015-12-19 | 60 | |
| 6 | 72 | Secrets & Sabotage | 2015-12-26 | 60 | |
| 7 | 73 | If You Can't Stand the Heat... | 2016-01-02 | 60 | |
| 8 | 74 | To Inglewood and Beyond | 2016-01-09 | 60 | |
Season 7
| Episode No. | No. Overall | Title | Airdate | Runtime | Summary |
| --- | --- | --- | --- | --- | --- |
| 1 | 75 | In Loving Memory | 2016-11-19 | 60 | Miss Robbie and the Sweetie Pie's family are devastated by the senseless murder of her grandson, Andre; Tim turns his focus to expanding the Sweetie Pie's franchise; the NoHo employees have a new threat to deal with. |
| 2 | 76 | The Ripple Effect | 2016-11-26 | 60 | Tim returns to St. Louis to open a new restaurant, and is surprised to find out that Miss Robbie has something new up her sleeve; the NoHo team stages a mutiny against chef Clark; the family deals with the ripple effect after Andre's death. |
| 3 | 77 | Behind the Wall | 2016-12-03 | 60 | After visiting the sites of family tragedies, Tim gives Miss Robbie a tour of the prison where he served 10 years; Jan prepares to re-open West Florissant to the Ferguson community, and the tension over chef Clark requires an intervention. |
| 4 | 78 | Vacation: Sweetie Pie's-Style | 2016-12-10 | 60 | Tim takes the entire family on a trip to Orlando for TJ's 5th birthday and much-needed R&R; Tim is pulled back to LA for a business emergency, the family wonders if he is juggling too much at once, and Miss Robbie suspects he's up to something. |
| 5 | 79 | Show Up or Show Out | 2016-12-17 | 60 | As Miss Robbie's concerns over Tim's business dealings grow, he anxiously waits for a decision from the city to move forward with Sweet Times; the team at NoHo is infuriated by a new staffing strategy; Tim goes on a date with his new fling. |
| 6 | 80 | Something's Gotta Give | 2017-01-07 | 60 | |
| 7 | 81 | Family Business is Always Personal | 2017-01-14 | 60 | |
| 8 | 82 | Irreconcilable Differences | 2017-01-21 | 60 | |
| 9 | 83 | Finish What You Started | 2017-01-28 | 60 | |
| 10 | 84 | No Opening, No Closure | 2017-02-04 | 60 | |
| 11 | 85 | Going for Broke | 2017-02-11 | 60 | |
| 12 | 86 | Challenge Accepted! | 2017-02-18 | 60 | |
| 13 | 87 | Facing the Music | 2017-02-25 | 60 | |
Series Cast
| | | | |
| --- | --- | --- | --- |
| | Zevi Wolmark | as Zevi Wolmark | |
Related News
TVMaze