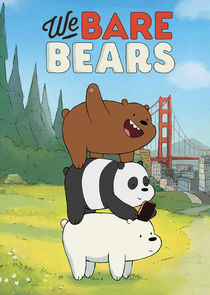 We Bare Bears is about three brother bears who awkwardly attempt to find their place in civilized society, whether they're looking for food, trying to make human friends, or scheming to become famous on the internet. Grizzly, Panda and Ice Bear stack atop one another when they leave their cave and explore the hipster environs of the San Francisco Bay Area, and it's clear the siblings have a lot to learn about a technologically driven world. By their side on many adventures are best friend Chloe (the only human character in the cast), fame-obsessed panda Nom Nom, and Charlie, aka Bigfoot.
Series Overview
Rating
imDb Rating: 7.9 (9,944 Votes)
Metascore: N/A
Plot
Three bear brothers do whatever they can to be a part of human society by doing what everyone around them does.
Details
Rated: TV-Y7
Released: 27 Jul 2015
Runtime: 30 min
Genre: Animation, Adventure, Comedy, Family, Fantasy
Director: N/A
Writer: Daniel Chong
Actors: Eric Edelstein, Demetri Martin, Bobby Moynihan, Keith Ferguson
Language: English
Country: USA
Awards: Nominated for 1 Primetime Emmy. Another 7 wins & 3 nominations.
Total Seasons: 4
Previous Episode
Panda's Birthday
Episode 4x51; May 27, 2019
Previous Episodes 4x51: Panda's Birthday 4x50: Tabes & Charlie 4x49: Band of Outsiders 4x48: The Mummy's Curse 4x47: Lord of the Poppies 4x46: Cousin Jon 4x45: Bros in the City 4x44: Sandcastle 4x43: Snake Babies

View All Episodes
Cast
Demetri Martin as Ice Bear
Eric Edelstein as Grizzly
Bobby Moynihan as Panda
View Full Cast
Recent News
Todos los estrenos de HBO para abril de 2020
Estos son los estrenos que la plataforma de HBO tendrá para abril de 2020. El complicado mes de marzo está por terminarse y es momento de conocer las novedades que las diferentes plataformas de streaming nos tienen preparadas. Ya conocimos todas las series y …
via NewsAPI
View More Related News
Skip to:
Season 1
| Episode No. | No. Overall | Title | Airdate | Runtime | Summary |
| --- | --- | --- | --- | --- | --- |
| 1 | 1 | Our Stuff | 2015-07-27 | 15 | The bears try to recover the possessions that were stolen while they played basketball. |
| 2 | 2 | Viral Video | 2015-07-27 | 15 | The bears believe they can make a viral video, but Nom-Nom disagrees. |
| 3 | 3 | Food Truck | 2015-07-28 | 15 | When local food options disappoint the bears, they open a food truck. |
| 4 | 4 | Chloe | 2015-07-29 | 15 | Chloe spends time with the bears to research them for a presentation. |
| 5 | 5 | Panda's Date | 2015-07-30 | 15 | After being rescued at a farmer's market, Panda believes he has found the woman of his dreams. |
| 6 | 6 | Everyday Bears | 2015-07-31 | 15 | Ice fights with a Roomba; a mouse invades Panda's room; Grizz gets stuck in a tree. |
| 7 | 7 | Burrito | 2015-08-06 | 15 | Grizz likes Burritos. A lot. So much so that after a restaurant makes a Bear-Sized Burrito, Grizz can't bring himself to eat such a majestic work of art. He carries the burrito everywhere making it a new and increasingly smelly part of his life. |
| 8 | 8 | Primal | 2015-08-13 | 15 | Have the Bears lost their survival instincts by living in the modern world? Grizz wants to know so he purposefully gets the Bears lost in the deep forest. |
| 9 | 9 | Jean Jacket | 2015-08-20 | 15 | The Bears find a bedazzled jean jacket in a dumpster. It's just about the coolest thing they've ever seen and seems to make the wearer of the jacket extremely lucky. But after the Bears fight over who gets control of the jacket, they have to consider that their denim blessing has become a curse. |
| 10 | 10 | Nom Nom | 2015-08-27 | 15 | When Nom Nom shows up on the Bears' doorstep, disheveled and deposed from his spot as cutest internet star ever after a recent meltdown, he enlists the Bears to help him regain his title. |
| 11 | 11 | Shush Ninjas | 2015-09-03 | 15 | The Bears police a movie theater to keep it quiet. |
| 12 | 12 | My Clique | 2015-09-10 | 15 | Chloe has a hard time connecting with her classmates, so the Bears show her how to make college friends |
| 13 | 13 | Charlie | 2015-09-17 | 15 | When a Bigfoot named Charlie spends a weekend at the bears' house, the houseguest nearly destroys the place. |
| 14 | 14 | Brother Up | 2015-10-12 | 15 | When Panda scares away a pack of wolves, the hierarchy of the Bears is disrupted, and emotional Panda becomes leader. |
| 15 | 15 | Occupy Bears | 2015-10-13 | 15 | The Bears' cave comes under threat when the city plans to destroy it and they must fight to protect it. |
| 16 | 16 | Panda's Sneeze | 2015-10-14 | 15 | Panda becomes a cute sensation when a Vine video of his very cute sneeze goes viral. |
| 17 | 17 | The Road | 2015-10-15 | 15 | The Bears flashback to a time when they were cubs and discovered a giant warehouse. |
| 18 | 18 | Emergency | 2015-10-16 | 15 | Grizz brings home a crab, which pinches Ice Bear's ear and results in a trip to the hospital. |
| 19 | 19 | Tote Life | 2015-11-02 | 15 | When a hipster grocery store clerk shames the Bears for asking for plastic grocery bags, the Bears realize that eco-friendly tote bags are their way of gaining acceptance amongst the progressive people of the Bay Area. But in their effort to gain popularity, the Bears let the culture of tote bags take over their lives. |
| 20 | 20 | Charlie & the Snake | 2015-11-03 | 15 | |
| 21 | 21 | Video Date | 2015-11-04 | 15 | Panda shows his best side on a video chat date, but completely exaggerates that side of himself to make a good impression. |
| 22 | 22 | Pet Shop | 2015-11-05 | 15 | |
| 23 | 23 | Chloe and Ice Bear | 2015-11-06 | 15 | |
| 24 | 24 | Cupcake Job | 2015-11-12 | 15 | |
| 25 | 25 | Hibernation | 2015-11-19 | 15 | |
| 26 | 26 | Charlie Ball | 2016-02-11 | 15 | |
Season 2
| Episode No. | No. Overall | Title | Airdate | Runtime | Summary |
| --- | --- | --- | --- | --- | --- |
| 1 | 27 | Yard Sale | 2016-02-25 | 15 | A box full of free stuff the bears find at a yard sale sends each of them on their own adventure. |
| 2 | 28 | Slumber Party | 2016-03-03 | 15 | A thunderstorm forces Chloe to spend the night at the bear's cave. When Chloe's parents tell the bears to make sure she stays safe, they go a bit overboard. |
| 3 | 29 | Bear Cleanse | 2016-03-10 | 15 | The bears go on a diet, eating only what their species naturally eats. |
| 4 | 30 | Nom Nom's Entourage | 2016-03-17 | 15 | Nom Nom enlists the bears as his new entourage. |
| 5 | 31 | Ranger Tabes | 2016-03-31 | 15 | In order to locate a missing package, the bears seek help from Ranger Tabes, who has an overbearing sense of justice. |
| 6 | 32 | Rooms | 2016-04-21 | 15 | |
| 7 | 33 | Losing Ice | 2016-04-28 | 15 | |
| 8 | 34 | Cellie | 2016-05-05 | 15 | Panda is consumed with jealousy when his brothers get new smartphones. |
| 9 | 35 | Fashion Bears | 2016-08-01 | 15 | When the bears purchase new clothes, they find their lives have changed. |
| 10 | 36 | The Island | 2016-08-02 | 15 | |
| 11 | 37 | Bear Flu | 2016-08-03 | 15 | After they swim in a dirty lake, the bears become convinced they have the bear flu, and Chloe decides to act as nurse. |
| 12 | 38 | Chicken and Waffles | 2016-08-04 | 15 | |
| 13 | 39 | The Audition | 2016-08-05 | 15 | |
| 14 | 40 | Captain Craboo, Part 1 | 2016-09-05 | 15 | |
| 15 | 41 | Captain Craboo, Part 2 | 2016-09-05 | 15 | |
| 16 | 42 | Baby Bears on a Plane | 2016-10-06 | 15 | |
| 17 | 43 | Yuri and the Bear | 2016-10-13 | 15 | While living alone in the arctic, baby Ice Bear meets a mysterious man who helps him survive the frigid environment. |
| 18 | 44 | Icy Nights | 2016-10-20 | 15 | After Ice Bear rides his custom vacuum into the city, a gang of techies steal the device, and Ice Bear sets out on a rescue mission. |
| 19 | 45 | Everyone's Tube | 2016-10-27 | 15 | The bears post a variety of videos online. |
| 20 | 46 | Creature Mysteries | 2016-11-03 | 15 | After learning Ranger Tabes is investigating Charlie, the bears split up to ensure their friend's safety. |
| 21 | 47 | The Library | 2016-11-10 | 15 | The Bears find Chloe in the library exhausted from studying for an exam all day. The Bears stay to help Chloe study but make things worse in the process. |
| 22 | 48 | Grizz Helps | 2016-11-17 | 15 | When his brothers don't need his help for the day, Grizz leaves the cave to assist anyone he can throughout the city. |
| 23 | 49 | Christmas Parties | 2016-12-01 | 15 | The Bears have been invited to all their friends' Christmas parties. In an effort to have time to crash Nom Nom's huge star-studded bash, the Bears first try to make quick stops at all their friends' parties throughout the night. |
Season 3
| Episode No. | No. Overall | Title | Airdate | Runtime | Summary |
| --- | --- | --- | --- | --- | --- |
| 1 | 50 | Grizzly the Movie | 2017-04-03 | 15 | Grizz gets cast in a movie about a grizzly bear, but soon realizes the movie's depiction of grizzly bears goes against what he had in mind. |
| 2 | 51 | Subway | 2017-04-04 | 15 | The Bears become stranded on a subway platform after missing their train, but while waiting, the Bears must recover some lost items. |
| 3 | 52 | Anger Management | 2017-04-05 | 15 | Nom Nom must complete anger management in order to keep his career and fame. |
| 4 | 53 | Panda's Friend | 2017-04-06 | 30 | Panda uses an app to find a friend with whom he has more in common, but things take a turn for the worse when the new friend gets too possessive. |
| 5 | 54 | $100 | 2017-04-10 | 15 | The Baby Bears' dreams come true when they discover a $100 bill; when they can't bear to spend it, they have difficulty letting go. |
| 6 | 55 | Neighbors | 2017-04-11 | 15 | Some new neighbors set up camp next to the Bears' cave; Panda and Ice love it, but Grizz thinks they're up to no good. |
| 7 | 56 | Professor Lampwick | 2017-04-12 | 15 | The Bears try to help when Chloe is unable to speak to her professor about a poor grade, but their efforts only make the situation worse. |
| 8 | 57 | Ralph | 2017-04-13 | 15 | Charlie meets a creature just like him named Ralph, but the Bears think Ralph is bad news. |
| 9 | 58 | Planet Bears | 2017-04-17 | 15 | A nature documentary follows the Bears through their normal routine, which includes a trip to the grocery store. |
| 10 | 59 | Coffee Cave | 2017-04-18 | 15 | When they learn that Ice Bear is a talented barista, the bears turn the cave into a popular coffee shop. |
| 11 | 60 | Charlie's Big Foot | 2017-04-19 | 15 | When Charlie suffers an injury to his foot, the bears must sneak him into a hospital for medical assistance. |
| 12 | 61 | The Demon | 2017-04-20 | 15 | When Chloe and Ice Bear lose her prized hoodie to the dog next door, they set out on a mission to retrieve it. |
| 13 | 62 | Panda's Art | 2017-04-24 | 15 | Panda paints a picture of Charlie that gains notoriety, and when an art dealer makes an offer, Panda must get the painting from Charlie. |
| 14 | 63 | Poppy Rangers | 2017-04-25 | 15 | Ranger Tabes guides a troop of young girls into a cave expedition, and uses Grizz as their cave expert. |
| 15 | 64 | Lucy's Brother | 2017-04-26 | 15 | Panda offers to babysit Lucy's brother in order to impress her, but he is too much for Panda to handle. |
| 16 | 65 | The Fair | 2017-08-07 | 15 | The Baby Bears make a deal with a carnival worker to be prizes for a game of ball toss. |
| 17 | 66 | Private Lake | 2017-08-08 | 15 | When the local lake is overcrowded with tourists, the Bears have fun at Charlie's private lake. |
| 18 | 67 | Lunch with Tabes | 2017-08-09 | 15 | When Tabes's lunch gets stolen, Tabes launches a full investigation to find the culprit. |
| 19 | 68 | Road Trip | 2017-08-10 | 15 | Chloe and the Bears take a road trip to see a meteor shower. Ice Bear, the only one licensed to drive, is put in charge, which becomes harder than he thought. |
| 20 | 69 | Summer Love | 2017-08-11 | 15 | Panda goes on a mission to return a lost phone to the girl of his dreams. |
| 21 | 70 | The Kitty | 2017-09-01 | 15 | |
| 22 | 71 | Crowbar Jones | 2017-09-01 | 15 | Grizz screens an epic amateur movie he just made for a focus group, but when he notices people are leaving he must figure out ways to keep the audience engaged. |
| 23 | 72 | Kyle | 2017-09-08 | 15 | Nom Nom is reunited with his long-lost brother, Kyle. |
| 24 | 73 | Citizen Tabes | 2017-09-15 | 15 | After Ranger Tabes accidentally wounds an animal and quits her job, the Bears do what they can to get her to return to work. |
| 25 | 74 | Dance Lessons | 2017-09-22 | 15 | Panda volunteers to be Lucy's partner for a dance contest, but doesn't have the heart to tell her that she's a terrible dancer. |
| 26 | 75 | Icy Nights II | 2017-09-29 | 15 | Ice Bear goes on a late-night adventure to rescue his friend, Yana, from some familiar foes. |
| 27 | 76 | Dog Hotel | 2017-10-06 | 15 | The bears book a night at a hotel for dogs when they need to have the cave fumigated. |
| 28 | 77 | Bear Lift | 2017-10-13 | 15 | To raise money to save Darrell's store, the Bears use the stack as a taxi through a ride share app. |
| 29 | 78 | The Nom Nom Show | 2017-10-13 | 15 | Things go awry while Nom Nom shoots his TV show; the bears offer to help and appear on the show. |
| 30 | 79 | Ice Cave | 2017-10-20 | 15 | Ralph takes over the cave, turning it into a snowy fortress where he reigns as king over the bears and Charlie. |
| 31 | 80 | Spa Day | 2017-10-20 | 15 | The Bears have a relaxing day at the spa. Grizz tries to get everything the spa has to offer. Panda gets trapped in the steam room with an old man. And Ice Bear plays ping pong. |
| 32 | 81 | Charlie's Halloween Thing | 2017-10-27 | 15 | Charlie hosts an evening of scary stories starring the Bears. |
| 33 | 82 | Bunnies | 2017-11-03 | 15 | The Baby Bears meet a group of helpless bunnies; when they find out the bunnies live in fear of vicious crows, the Bears decide to become heroes and help out. |
| 34 | 83 | Pigeons | 2017-11-03 | 15 | Grizz becomes friendly with a flock of pigeons. |
| 35 | 84 | Tubin' | 2017-11-10 | 15 | |
| 36 | 85 | Panda 2 | 2017-11-10 | 15 | |
| 37 | 86 | Lazer Royale | 2017-11-17 | 15 | |
| 38 | 87 | Ranger Games | 2017-11-17 | 15 | |
| 39 | 88 | The Perfect Tree | 2017-12-01 | 15 | Chloe and Ice Bear drive up north to find the perfect Christmas tree while Grizz and Panda are decorating Chloe's house. |
Season 4
| Episode No. | No. Overall | Title | Airdate | Runtime | Summary |
| --- | --- | --- | --- | --- | --- |
| 1 | 89 | Bearz II Men | 2018-01-05 | 15 | The Baby Bears help a teenager accomplish his dream of being a famous singer. |
| 2 | 90 | Bro Brawl | 2018-01-05 | 15 | The Bears participate in a brother-themed game show against Panda's ex-BFF, Tom, and his roommates. |
| 3 | 91 | Hurricane Hal | 2018-01-12 | 15 | A storm rolls in while the Bears are separated. Grizz looks after the Poppy Rangers. Panda is stuck with Charlie in his car. And Chloe and Ice Bear are in the city seeking a ride home. |
| 4 | 92 | Vacation | 2018-01-19 | 15 | Nom Nom is ordered by his doctor to take a vacation. But he's paired with an unlikely travel buddy: Grizz. |
| 5 | 93 | Beehive | 2018-01-26 | 15 | The Bears allow bees to live in the cave to make honey. But soon the Bears, entranced by the honey, become the bees' mindless servants. |
| 6 | 94 | The Park | 2018-02-02 | 15 | The Bears spend a day at the park. Grizz works out. Panda attempts to sell his artwork. Ice Bear trains some kids. |
| 7 | 95 | I Am Ice Bear | 2018-02-09 | 15 | After Ice Bear hits his head, Grizz and Panda notice him acting like a different person. |
| 8 | 96 | Baby Bears Can't Jump | 2018-02-16 | 15 | In order to win a pizza, the Baby Bears play basketball against a ragtag gang of kids. |
| 9 | 97 | Go Fish | 2018-07-30 | 15 | While on a fishing trip, the Bears get attacked by a giant legendary fish. |
| 10 | 98 | Teacher's Pet | 2018-07-30 | 15 | The Baby Bears escape their hectic lives by attending school. |
| 11 | 99 | Googs | 2018-07-30 | 15 | The Bears win a tour of the infamous Googs corporate headquarters. |
| 12 | 100 | Paperboyz | 2018-07-30 | 15 | The Baby Bears get jobs as paper boys. |
| 13 | 101 | Bear Squad | 2018-07-30 | 15 | Tabes deputizes the Bears so they can go to the city and catch a thief. |
| 14 | 102 | Lil' Squid | 2018-07-30 | 15 | The Baby Bears build a submarine and explore the depths of an aquarium so they can bring a lost squid to its family. |
| 15 | 103 | I, Butler | 2018-07-30 | 15 | The Bears use a robot bear to help around the house. But things get tricky when they lose control of the robot. |
| 16 | 104 | Family Troubles | 2018-07-30 | 15 | Baby Grizz lives on the set of a sitcom in which he stars. But when a cooler kid joins the cast, Grizz feels threatened. |
| 17 | 105 | Best Bears | 2018-08-06 | 15 | The Bears must complete their Best-Man duties on the day of Darrell's wedding. |
| 18 | 106 | Crowbar Jones: Origins | 2018-08-07 | 15 | Grizz screens an epic amateur movie he just made for a focus group. But when he notices people are leaving he must figure out ways to keep the audience engaged. |
| 19 | 107 | Hot Sauce | 2018-08-08 | 15 | A quest for their favorite hot sauce causes the Bears to get involved with a sting operation. |
| 20 | 108 | Mom App | 2018-08-09 | 15 | Hoping to finally get the mom-experience, the Bears use an app that'll bring a mom right to their door. |
| 21 | 109 | The Limo | 2018-08-10 | 15 | To help distract Panda from his girl problems, Grizz and Ice Bear treat him to a ride in a limo. |
| 22 | 110 | More Everyone's Tube | 2018-08-13 | 15 | Through another video browsing session online, we get more videos uploaded by the Bears and their friends. |
| 23 | 111 | Money Man | 2018-08-14 | 15 | The Bears help Chloe present her project for a college science contest. But Chloe's rival makes things difficult. |
| 24 | 112 | Rescue Ranger | 2018-08-15 | 15 | Tabes helps the Bears rescue Charlie after he gets captured by a villainous game hunter. |
| 25 | 113 | El Oso | 2018-08-16 | 15 | In a flashback to long ago, Charlie has an adventure in the Mexican desert. |
| 26 | 114 | Charlie's Halloween Thing 2 | 2018-10-19 | 15 | Charlie tells some scary stories featuring the Bears and their friends. |
| 27 | 115 | Escandalosos | 2018-11-05 | 15 | The Baby Bears enter a Mexican wrestling tournament. |
| 28 | 116 | Pizza Band | 2018-11-06 | 15 | The Bears get pizza at Papa Bear's Pizza Cave and wind up replacing the place's animatronic band. They're such a hit that they go on tour!. |
| 29 | 117 | Adopted | 2018-11-07 | 15 | The Baby Bears get adopted by an eccentric millionaire and get to live in his mansion. |
| 30 | 118 | Wingmen | 2018-11-08 | 15 | In order to get some sleep, the Bears help an annoying bird find a new mate. |
| 31 | 119 | Braces | 2018-11-09 | 15 | When the Bears go to the dentist, Panda gets braces. But, Panda finds out his braces grant him super abilities and the power goes to his head. |
| 32 | 120 | Christmas Movies | 2018-12-17 | 15 | On Christmas Eve, the Baby Bears defend a video store from getting robbed. |
| 33 | 121 | Imaginary Friend | 2019-01-28 | 15 | |
| 34 | 122 | The Mall | 2019-02-04 | 15 | The Bears go the mall and encounter their human counterparts. |
| 35 | 123 | Tunnels | 2019-02-11 | 15 | The Bears discover a network of tunnels underneath the cave. Are they prepared to discover where they lead to and who dug them?. |
| 36 | 124 | Ramen | 2019-02-18 | 15 | The Baby Bears help a struggling ramen chef perfect her ramen and save her shop. |
| 37 | 125 | The Gym | 2019-02-25 | 15 | The Bears go to the gym and get quite the work out. |
| 38 | 126 | Bubble | 2019-03-04 | 15 | Panda becomes a germophobe and decides to live the rest of his life in a bubble. |
| 39 | 127 | Baby Orphan Ninja Bears | 2019-03-11 | 15 | The Baby Bears venture into the sewers and meet a ninja-like martial arts master. |
| 40 | 128 | Fire! | 2019-03-18 | 15 | Grizz's quick thinking prevents a potential wild fire, but the praise he receives from doing so quickly goes to his head. |
| 41 | 129 | Ranger Norm | 2019-03-18 | 15 | When Tabes leaves for a conference, the Bears have to deal with her substitute, Ranger Norm. |
| 42 | 130 | Shmorby | 2019-03-25 | 15 | |
| 43 | 131 | Snake Babies | 2019-03-25 | 15 | Charlie adopts baby snakes despite the Bears thinking he's not ready for parenthood. |
| 44 | 132 | Sandcastle | 2019-04-01 | 15 | The Baby Bears build a giant sandcastle. But when some kids declare war on the Bears, they must fight to defend their new home. |
| 45 | 133 | Bros in the City | 2019-04-03 | 15 | The Bears star in a reality TV show along with Griff, Tom, and Isaac. |
| 46 | 134 | Cousin Jon | 2019-04-04 | 15 | When the Bears attend Chloe's family reunion, they fall victim to the mischievous pranks of Chloe's cousin, Jon. |
| 47 | 135 | Lord of the Poppies | 2019-04-05 | 15 | Grizz and the Poppy Rangers go camping on an island, but they soon find themselves deserted. |
| 48 | 136 | The Mummy's Curse | 2019-04-29 | 15 | |
| 49 | 137 | Band of Outsiders | 2019-05-06 | 15 | A gang of streetwise kids takes Baby Ice Bear under their wing. |
| 50 | 138 | Tabes & Charlie | 2019-05-13 | 15 | Tabes and Charlie team up to find Tabes' missing dog, Kirk. |
| 51 | 139 | Panda's Birthday | 2019-05-27 | 15 | |
Series Cast
| | | | |
| --- | --- | --- | --- |
| | Demetri Martin | as Ice Bear | |
| | Eric Edelstein | as Grizzly | |
| | Bobby Moynihan | as Panda | |
Series Crew
| | Position | Name |
| --- | --- | --- |
| | Executive Producer | Curtis Lelash |
| | Creator | Daniel Chong |
Related News
TVMaze