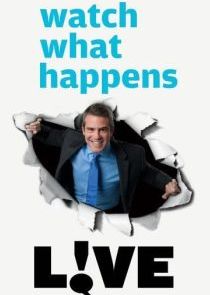 Watch What Happens Live is an interactive series hosted by Bravo programming executive Andy Cohen, Bravo's Senior Vice President of Original Programming and Development, is best known to viewers as the host of the network's often explosive Watch What Happens reunion specials. Watch What Happens originally debuted as a live online show on www.bravotv.com. Watch What Happens welcomes guests from some of the cable network's most popular series, as well as other entertainment stars, to chat about pop culture and celebrities in the news!
Series Overview
Rating
imDb Rating: 6.0 (448 Votes)
Metascore: N/A
Plot
Bravo network executive Andy Cohen discusses pop culture topics with celebrities and reality show personalities.
Details
Rated: N/A
Released: 16 Jun 2009
Runtime: 30 min
Genre: Talk-Show
Director: N/A
Writer: N/A
Actors: Andy Cohen
Language: English
Country: USA
Awards: 1 nomination.
Total Seasons: 16
Next Episode
Dr. Jackie and Iyanla Vanzant
Episode 16x166; Oct 20, 2019
Previous Episode
Angela Kinsey & Jenna Fischer
Episode 16x165; Oct 17, 2019
Episodes 16x165: Angela Kinsey & Jenna Fischer 16x164: Lorraine Bracco & Dr. Oz 16x163: Leeanne Locken & Tamra Judge 16x162: Kate Chastain & Captain Lee Rosbach 16x161: Dr. Simone Whitmore & Toya Bush-Harris 16x160: Jimmy Fallon 16x159: Kameron Westcott & Paula Abdul 16x158: Emily Simpson & Lauren Lapkus 16x157: Heidi Gardner & Mark Consuelos

View All Episodes
Skip to:
Season 1
| Episode No. | No. Overall | Title | Airdate | Runtime | Summary |
| --- | --- | --- | --- | --- | --- |
| 1 | 1 | Danielle Staub | 2009-07-16 | 30 | |
| 2 | 2 | Isaac Mizrahi | 2009-07-23 | 30 | |
| 3 | 3 | Sheree Whitfield | 2009-07-30 | 30 | |
| 4 | 4 | NeNe Leakes | 2009-08-06 | 30 | |
| 5 | 5 | Dwight Eubanks, Levi Johnston | 2009-08-13 | 30 | |
| 6 | 6 | Anderson Cooper, Jeff Lewis, and Kim Zolciak | 2009-08-21 | 30 | |
| 7 | 7 | Congressman Barney Frank, Lisa Wu Hartwell, and Ed Hartwell | 2009-08-27 | 30 | |
| 8 | 8 | Wendy Williams, Patti Stanger | 2009-09-03 | 30 | |
| 9 | 9 | Tom Colicchio, Niecey Nash | 2009-09-10 | 30 | |
| 10 | 10 | Lance Bass, Kim Zolciak | 2009-09-17 | 30 | |
| 11 | 11 | Tyson Beckford, Kandi Burruss | 2009-09-24 | 30 | |
| 12 | 12 | Jimmy Fallon | 2009-10-01 | 30 | |
| 13 | 13 | Jeff Lewis, Jenni Pulos | 2009-10-08 | 30 | |
| 14 | 14 | Matthew Broderick | 2009-10-15 | 30 | |
| 15 | 15 | Sheree Whitfield, Dwight Eubanks, and Isaac Mizrahi | 2009-10-22 | 30 | |
| 16 | 16 | Kandi Burruss, Ray J | 2009-10-29 | 30 | |
| 17 | 17 | Gretchen Rossi | 2009-11-05 | 30 | |
| 18 | 18 | Padma Lakshmi, Rachel Dratch | 2009-11-12 | 30 | |
| 19 | 19 | Vicki Gunvalson, Jeana Keough | 2009-11-19 | 30 | |
| 20 | 20 | Kristen Johnson, Mark Consuelos | 2009-12-03 | 30 | |
| 21 | 21 | Lynne Curtin, Michael Voltaggio | 2009-12-10 | 30 | |
| 22 | 22 | Sarah Jessica Parker, 'Top Chef' Fan Favorite | 2009-12-17 | 30 | |
Season 2
| Episode No. | No. Overall | Title | Airdate | Runtime | Summary |
| --- | --- | --- | --- | --- | --- |
| 1 | 23 | Tamra Barney & Jeff Lewis | 2010-01-14 | 30 | |
| 2 | 24 | Cheyenne Jackson & Gretchen Rossi | 2010-01-21 | 30 | |
| 3 | 25 | Tracey Ullman, Kristen Johnston & Lynne Curtin | 2010-01-28 | 30 | |
| 4 | 26 | RuPaul, Ricki Lake & Lauri Peterson | 2010-02-04 | 30 | |
| 5 | 27 | Patti Stranger Matchmaking Special | 2010-02-09 | 30 | |
| 6 | 28 | Jackie Collins, Teresa Guidice & Kim Zolciak | 2010-02-11 | 30 | |
| 7 | 29 | Wendy Williams | 2010-02-18 | 30 | |
| 8 | 30 | Joan Rivers & Vicki Gunvalson | 2010-02-25 | 30 | |
| 9 | 31 | Bethenny Frankel & Ramona Singer | 2010-03-04 | 30 | |
| 10 | 32 | Jill Zarin & NeNe Leakes | 2010-03-11 | 30 | |
| 11 | 33 | Patti Labelle & Kelly Bensimon | 2010-03-18 | 30 | |
| 12 | 34 | Ramona Singer & Carol Leifer | 2010-03-25 | 30 | |
| 13 | 35 | Rashida Jones, Alex McCord & Tori Spelling | 2010-04-01 | 30 | |
| 14 | 36 | Liam Neeson & Laura Linney | 2010-04-08 | 30 | |
| 15 | 37 | Jill Zarin & Gloria Kamen | 2010-04-15 | 30 | Tune into Bravo's latest docu-series "9 By Design," featuring husband and wife design team Bob and Cortney Novogratz, owners of the NYC based design firm Sixx Design. For more than a decade, this young, hip and artsy couple have developed and designed unique properties in Manhattan, rebuilt entire blocks in the city, and turned funky into fabulous with taste and confidence. In the premiere episode, meet this large family - two parents, six kids and one on the way - who are residing in a downtown two bedroom while waiting for their latest renovation project to be finished. Space is cramped for the family at the moment, but the team comes together as they embark on yet a new chapter of their lives with a new baby on the way, a new home being renovated and new projects on the horizon. |
| 16 | 38 | Bethenny Frankel, Jesse Tyler Ferguson, Neil Patrick Harris & Mark Consuelos | 2010-04-22 | 30 | |
| 17 | 39 | Alex McCord, Simon van Kempen & Kim Zolciak | 2010-04-29 | 30 | |
| 18 | 40 | Ellen Barkin & Caroline Manzo | 2010-05-06 | 30 | |
| 19 | 41 | Luann Delesseps & Sonja Morgan | 2010-05-13 | 30 | |
| 20 | 42 | Sarah Jessica Parker | 2010-05-20 | 30 | |
| 21 | 43 | Jerry Seinfeld | 2010-05-27 | 30 | |
| 22 | 44 | Kelly Ripa | 2010-06-03 | 30 | |
| 23 | 45 | Bethenny Frankel | 2010-06-10 | 30 | |
| 24 | 46 | Dina Manzo & Ramona Singer | 2010-06-14 | 30 | |
| 25 | 47 | Kathy Griffin | 2010-06-17 | 30 | |
| 26 | 48 | Danielle Staub | 2010-06-21 | 30 | |
| 27 | 49 | Caroline Manzo, Albie Manzo & Kim Zolciak | 2010-06-28 | 30 | |
| 28 | 50 | Teresa Guidice & Jacqueline Laurita | 2010-07-12 | 30 | |
| 29 | 51 | Danielle Staub, Jeff Lewis & Jenni Pulos | 2010-07-19 | 30 | |
| 30 | 52 | Bethenny Frankel, Rachel Dratch & Kim G | 2010-07-26 | 30 | |
Season 3
| Episode No. | No. Overall | Title | Airdate | Runtime | Summary |
| --- | --- | --- | --- | --- | --- |
| 1 | 53 | Teresa Giudice & Staci Scott | 2010-09-09 | 30 | |
| 2 | 54 | Cat Ommanney & Ramona Singer | 2010-09-16 | 30 | |
| 3 | 55 | Mary Amons & Jeff Lewis | 2010-09-23 | 30 | |
| 4 | 56 | Tina Fey | 2010-09-30 | 30 | |
| 5 | 57 | NeNe Leakes & the Salahis | 2010-10-07 | 30 | |
| 6 | 58 | The Real Housewives of Beverly Hills | 2010-10-14 | 30 | |
| 7 | 59 | Hoda Kotb & Patti Stranger | 2010-10-21 | 30 | |
| 8 | 60 | Lisa VanderPump & Nate Berkus | 2010-10-28 | 30 | |
| 9 | 61 | Patti LaBelle & Kandi Burruss | 2010-11-01 | 30 | |
| 10 | 62 | Kyle Richards & Isaac Mizrahi | 2010-11-04 | 30 | |
| 11 | 63 | NeNe Leakes & Cynthia Bailey | 2010-11-07 | 30 | |
| 12 | 64 | Jessie Tyler Ferguson & Brad Goreski | 2010-11-11 | 30 | |
| 13 | 65 | Molly Shannon & Kristin Chenoweth | 2010-11-14 | 30 | |
| 14 | 66 | Kelly Ripa & Mark Consuelos | 2010-11-18 | 30 | |
| 15 | 67 | Kim Zolciak & Derek J | 2010-11-21 | 30 | |
| 16 | 68 | Kandi Burruss & Mama Joyce | 2010-11-28 | 30 | |
| 17 | 69 | Adrienne Maloof & Lance Bass | 2010-12-02 | 30 | |
| 18 | 70 | Sheree Whitfield & Tabatha Coffey | 2010-12-05 | 30 | |
| 19 | 71 | Taylor Armstrong & Rocco DiSpirito | 2010-12-09 | 30 | |
| 20 | 72 | Anderson Cooper & NeNe Leakes | 2010-12-12 | 30 | |
| 21 | 73 | Rebecca Romijn & Kenan Thompson | 2010-12-13 | 30 | |
| 22 | 74 | Iman & Diane von Furstenberg | 2010-12-14 | 30 | |
| 23 | 75 | Amy Sedaris & Tom Colicchio | 2010-12-15 | 30 | |
| 24 | 76 | Denise Richards & Kyle Richards | 2010-12-16 | 30 | |
| 25 | 77 | Phaedra Parks & Apollo Nida | 2010-12-19 | 30 | |
| 26 | 78 | Andy's New Year's Party | 2010-12-31 | 30 | |
Season 4
| Episode No. | No. Overall | Title | Airdate | Runtime | Summary |
| --- | --- | --- | --- | --- | --- |
| 1 | 79 | Bethenny Frankel | 2011-01-06 | 30 | |
| 2 | 80 | Regina King & Jackee Harry | 2011-01-09 | 30 | |
| 3 | 81 | Camille Grammer | 2011-01-13 | 30 | |
| 4 | 82 | Iman & NeNe Leakes | 2011-01-16 | 30 | |
| 5 | 83 | Adrienne Maloof & Taylor Armstrong | 2011-01-20 | 30 | |
| 6 | 84 | RuPaul & Lawrence | 2011-01-23 | 30 | |
| 7 | 85 | Kim Zolciak & Kroy Biermann | 2011-01-30 | 30 | |
| 8 | 86 | Lisa VanderPump & Ken Todd | 2011-02-03 | 30 | |
| 9 | 87 | Jimmy Fallon | 2011-02-10 | 30 | |
| 10 | 88 | Cynthia Bailey & Peter Thomas | 2011-02-13 | 30 | |
| 11 | 89 | Kandi Burruss & Phaedra Parks | 2011-02-20 | 30 | |
| 12 | 90 | Lea Black, Alexia Echevarria & Adriana De Moura | 2011-02-22 | 30 | |
| 13 | 91 | Marysol Patton & Cristy Rice | 2011-03-01 | 30 | |
| 14 | 92 | Tamra Barney & Vicki Gunvalson | 2011-03-06 | 30 | |
| 15 | 93 | Bethenny Frankel | 2011-03-08 | 30 | |
| 16 | 94 | Gretchen Rossi & Slade Smiley | 2011-03-11 | 30 | |
| 17 | 95 | Kathy Griffin & Larsa Pippen | 2011-03-15 | 30 | |
| 18 | 96 | Alexis Bellino & Carla Hall | 2011-03-20 | 30 | |
| 19 | 97 | Elsa Patton & Marysol Patton | 2011-03-22 | 30 | |
| 20 | 98 | Richard Blais & Mike Isabella | 2011-03-30 | 30 | |
| 21 | 99 | Curtis Stone & NeNe Leakes | 2011-04-01 | 30 | |
| 22 | 100 | Jill Zarin & Ramona Singer | 2011-04-07 | 30 | |
| 23 | 101 | 100th Episode - Jay Mohr & Peggy Tanous | 2011-04-10 | 30 | |
| 24 | 102 | Sonja Morgan & David Arquette | 2011-04-14 | 30 | |
| 25 | 103 | Tamra Barney & Eddie Judge | 2011-04-17 | 30 | |
| 26 | 104 | Denise Richards & Alex McCord | 2011-04-21 | 30 | |
| 27 | 105 | Rachel Dratch & Cheyenne Jackson | 2011-04-24 | 30 | |
| 28 | 106 | Cat Ommanney & LuAnn de Lesseps | 2011-04-28 | 30 | |
| 29 | 107 | Royal Wedding Spectacular | 2011-05-01 | 30 | |
| 30 | 108 | Kelly Ripa | 2011-05-05 | 30 | |
| 31 | 109 | Bethenny Frankel | 2011-05-08 | 30 | |
| 32 | 110 | Kelly Bensimon & Cindy Barshop | 2011-05-12 | 30 | |
| 33 | 111 | Lauri Waring Paterson & Jeana Keough | 2011-05-15 | 30 | |
| 34 | 112 | Gayle King | 2011-05-19 | 30 | |
| 35 | 113 | Kara DioGuardi & Gretchen Rossi | 2011-05-22 | 30 | |
| 36 | 114 | Teresa Giudice & Jacqueline Laurita | 2011-05-23 | 30 | |
| 37 | 115 | Willie Geist | 2011-05-26 | 30 | |
| 38 | 116 | Sandra Bernhard & Sonja Morgan | 2011-06-02 | 30 | |
| 39 | 117 | Peggy Tanous & Sean Avery | 2011-06-05 | 30 | |
| 40 | 118 | Ana Gasteyer & LuAnn de Lesseps | 2011-06-09 | 30 | |
| 41 | 119 | Jeff Lewis & Jenni Pulos | 2011-06-12 | 30 | |
| 42 | 120 | Rocco DiSpirito & Mary McDonald | 2011-06-16 | 30 | |
| 43 | 121 | Caroline Manzo & Giuliana Rancic | 2011-06-19 | 30 | |
| 44 | 122 | Jill Zarin & Adam Carolla | 2011-06-23 | 30 | |
| 45 | 123 | Vicki Gunvalson, Jacqueline Laurita & Dina Manzo | 2011-06-26 | 30 | |
| 46 | 124 | Matt Bomer & Tiffani Thiessen | 2011-06-30 | 30 | |
| 47 | 125 | Carson Kressley & Alex McCord | 2011-07-07 | 30 | |
| 48 | 126 | Kathy Rich Wakile & Guest Host Jay Mohr | 2011-07-10 | 30 | |
| 49 | 127 | Jeff Lewis & Susie Essman | 2011-07-17 | 30 | |
| 50 | 128 | Melissa & Joe Gorga | 2011-07-17 | 30 | |
| 51 | 129 | LuAnn de Lesseps & Sonja Morgan | 2011-07-21 | 30 | |
| 52 | 130 | Caroline Manzo & Willie Giest | 2011-07-24 | 30 | |
| 53 | 131 | Neil Patrick Harris | 2011-07-25 | 30 | |
| 54 | 132 | Ramona Singer & Denise Richards | 2011-07-28 | 30 | |
| 55 | 133 | Allison Janney & John Benjamin Hickey | 2011-07-31 | 30 | |
| 56 | 134 | Teresa Giudice & Jerry O'Connell | 2011-08-07 | 30 | |
Season 5
| Episode No. | No. Overall | Title | Airdate | Runtime | Summary |
| --- | --- | --- | --- | --- | --- |
| 1 | 135 | Patti Stranger | 2011-09-25 | 30 | |
| 2 | 136 | Tia & Tamera Mowry | 2011-09-26 | 30 | |
| 3 | 137 | Caroline Manzo & Simon Helberg | 2011-10-02 | 30 | |
| 4 | 138 | Kyle Richards & Wendi McLendon-Covey | 2011-10-03 | 30 | |
| 5 | 139 | Melissa & Joe Gorga | 2011-10-09 | 30 | |
| 6 | 140 | Sarah Jessica Parker | 2011-10-11 | 30 | |
| 7 | 141 | Jay Mohr | 2011-10-16 | 30 | |
| 8 | 142 | Courtney Kerr & Matt Nordgren | 2011-10-17 | 30 | |
| 9 | 143 | Kelly Ripa & Mark Consuelos | 2011-10-23 | 30 | |
| 10 | 144 | Brandi Glanville & Dana Wilkey | 2011-10-24 | 30 | |
| 11 | 145 | Kandi Burruss & Tyrese Gibson | 2011-10-30 | 30 | |
| 12 | 146 | Halloween Spectacular with Chris March, Gail Simmons, Phaedra Parks, Apollo Nida, Alex McCord & Simon van Kempen | 2011-10-31 | 30 | |
| 13 | 147 | Wendy Williams | 2011-11-06 | 30 | |
| 14 | 148 | Lisa VanderPump & Matthew Broderick | 2011-11-07 | 30 | |
| 15 | 149 | NeNe Leaks & Tatyana Ali | 2011-11-13 | 30 | |
| 16 | 150 | Adrienne Maloof & China Chow | 2011-11-14 | 30 | |
| 17 | 151 | Cynthia Bailey & Keshia Knight Pulliam | 2011-11-20 | 30 | |
| 18 | 152 | Ellen Barkin & Andrew Rannells | 2011-11-21 | 30 | |
| 19 | 153 | Jerry O'Connell & Rebecca Romjin | 2011-11-27 | 30 | |
| 20 | 154 | Brad Goreski & Kristen Johnston | 2011-11-28 | 30 | |
| 21 | 155 | Sandra Bernhard & Roble Ali | 2011-12-04 | 30 | |
| 22 | 156 | Taylor Armstrong | 2011-12-05 | 30 | |
| 23 | 157 | Tracee Ellis Ross & Phaedra Parks | 2011-12-11 | 30 | |
| 24 | 158 | Vanessa Williams & Dot Marie Jones | 2011-12-12 | 30 | |
| 25 | 159 | Sheree Whitfield & Miss Lawrence | 2011-12-18 | 30 | |
| 26 | 160 | Chris Colfer & Lea Michele | 2011-12-19 | 30 | |
Season 6
| Episode No. | No. Overall | Title | Airdate | Runtime | Summary |
| --- | --- | --- | --- | --- | --- |
| 1 | 161 | Kandi Burress | 2012-01-08 | 30 | |
| 2 | 162 | Camille Grammer & Anderson Cooper | 2012-01-09 | 30 | |
| 3 | 163 | Robin Thicke & Katrina Bowden | 2012-01-10 | 30 | |
| 4 | 164 | Rosie Perez & Hugh Acheson | 2012-01-11 | 30 | |
| 5 | 165 | Rosie O'Donnell | 2012-01-12 | 30 | |
| 6 | 166 | Nene Leekes | 2012-01-15 | 30 | |
| 7 | 167 | Kyle Richards & Mauricio Umansky | 2012-01-16 | 30 | |
| 8 | 168 | Tabitha Coffee & Rue Paul | 2012-01-17 | 30 | |
| 9 | 169 | Jimmy Fallon | 2012-01-18 | 30 | |
| 10 | 170 | Pajama Party with Ralph Fiennes | 2012-01-19 | 30 | |
| 11 | 171 | Yvette Nicole Brown | 2012-01-22 | 30 | |
| 12 | 172 | Lisa Vanderpump & Brandi Glanni | 2012-01-23 | 30 | |
| 13 | 173 | Mary J Blige | 2012-01-24 | 30 | |
| 14 | 174 | Gail Simmons & Fabio | 2012-01-25 | 30 | |
| 15 | 175 | Emmy Rossun & Alan Cumming | 2012-01-26 | 30 | |
| 16 | 176 | Kim Zolciak & Kroy Biernan | 2012-01-29 | 30 | |
| 17 | 177 | Brad Goresky & Gary Janetti | 2012-01-30 | 30 | |
| 18 | 178 | Abby Elliott & Vanessa Bayer | 2012-01-31 | 30 | |
| 19 | 179 | Tom Colicchio | 2012-02-01 | 30 | |
| 20 | 180 | Nicole "Snooki" Polizzi & Jenni "J-Woww" Farley | 2012-02-02 | 30 | |
| 21 | 181 | Sarah Michelle Gellar & Ryan Murphy | 2012-02-06 | 30 | |
| 22 | 182 | Taylor Armstrong | 2012-02-07 | 30 | |
| 23 | 183 | Padima Kshmi | 2012-02-08 | 30 | |
| 24 | 184 | Daniel Radcliffe | 2012-02-09 | 30 | |
| 25 | 185 | Phaedra Parks & Gloria Estefan | 2012-02-12 | 30 | |
| 26 | 186 | Busy Philipps & David Arquette | 2012-02-13 | 30 | |
| 27 | 187 | The Millionaire Matchmaker Valentine's Day WWHL Special | 2012-02-14 | 30 | |
| 28 | 188 | Lil Kim & Willie Geist | 2012-02-15 | 30 | |
| 29 | 189 | Joan Rivers | 2012-02-16 | 30 | |
| 30 | 190 | Jackee' Harry and Sheree Whitfield | 2012-02-19 | 30 | |
| 31 | 191 | Bethenny Frankel | 2012-02-20 | 30 | |
| 32 | 192 | Billy Eichner & Tamra Barney | 2012-02-21 | 30 | |
| 33 | 193 | John Legend & Chriss Teigen | 2012-02-22 | 30 | |
| 34 | 194 | Lisa Kudrow and Jesse Tyler Ferguson | 2012-02-23 | 30 | |
| 35 | 195 | Megan Hilty and Nick Jonas | 2012-02-27 | 30 | |
| 36 | 196 | Jackie Collins and Ali Wentworth | 2012-02-28 | 30 | |
| 37 | 197 | The Finale Top Chef: Texas Players | 2012-02-29 | 30 | |
| 38 | 198 | Nancy Grace and Kris Jenner | 2012-03-01 | 30 | |
| 39 | 199 | Kandi Burress | 2012-03-04 | 30 | |
| 40 | 200 | Fran Drescher | 2012-03-05 | 30 | |
| 41 | 201 | Lisa Rinna & Alexis Bellino | 2012-03-06 | 30 | |
| 42 | 202 | Martha Stewart & Mark Consuelos | 2012-03-07 | 30 | |
| 43 | 203 | Dina Cortez (Jersey Shore) | 2012-03-08 | 30 | |
| 44 | 204 | Nene Leeks & Reza Farahan | 2012-03-11 | 30 | |
| 45 | 205 | Nichole Richie & Sean Avery | 2012-03-12 | 30 | |
| 46 | 206 | Vicki Gunvalon | 2012-03-13 | 30 | |
| 47 | 207 | Jeff Lewis & Kristen Johnston | 2012-03-14 | 30 | |
| 48 | 208 | Cee Lo Green & Angela | 2012-03-15 | 30 | |
| 49 | 209 | Cythnia Bailey and Coco T | 2012-03-25 | 30 | |
| 50 | 210 | Casey Wilson and Tamar Braxton | 2012-03-26 | 30 | |
| 51 | 211 | Jenna Jameson and Clay Aiken | 2012-03-27 | 30 | |
| 52 | 212 | Ryan Serhant, Fredrik Eklund and Michael Lorber | 2012-03-28 | 30 | |
| 53 | 213 | J.B. Smoove and Shannon Elizabeth | 2012-03-29 | 30 | |
| 54 | 214 | Phaedra Parks & Golnesa "GG" Gharachedaghi | 2012-04-01 | 30 | |
| 55 | 215 | Shannen Doherty & Kristin Chenoweth | 2012-04-02 | 30 | |
| 56 | 216 | Chris Klein & Torri Spelling | 2012-04-03 | 30 | |
| 57 | 217 | Bravo All-Star Party! | 2012-04-04 | 30 | |
| 58 | 218 | Kathy Griffin | 2012-04-05 | 30 | |
| 59 | 219 | Mercedes "MJ" Javid & Sammy Younai | 2012-04-08 | 30 | |
| 60 | 220 | Monica & John Hickey | 2012-04-09 | 30 | |
| 61 | 221 | Jeana Keough & Kristin Chenoweth | 2012-04-10 | 30 | |
| 62 | 222 | Martha Plimpton & Billy Eichner | 2012-04-11 | 30 | |
| 63 | 223 | Rachel Dratch & Cheryl Hines | 2012-04-12 | 30 | |
| 64 | 224 | Reza Farahan, Asa Rahmati & Mike Shouhed | 2012-04-15 | 30 | |
| 65 | 225 | John Slattery & Rashida Jones | 2012-04-16 | 30 | |
| 66 | 226 | Ana Gasteyer & Loretta Devine | 2012-04-17 | 30 | |
| 67 | 227 | Rachel Maddow & Jenni Pulos | 2012-04-18 | 30 | |
| 68 | 228 | Ricki Lake & Jaleel White | 2012-04-19 | 30 | |
| 69 | 229 | Caroline Manzo & Khloe Kardashian Odom | 2012-04-22 | 30 | |
| 70 | 230 | Kate Walsh & Wayne Brady | 2012-04-23 | 30 | |
| 71 | 231 | Lauri Peterson & Vicki Gunvalson | 2012-04-24 | 30 | |
| 72 | 232 | James Van Der Beek & Gabourey Sidibe | 2012-04-25 | 30 | |
| 73 | 233 | Jenna Fischer & Jason Mraz | 2012-04-26 | 30 | |
| 74 | 234 | Jacqueline Laurita & Kelly Osbourne | 2012-04-29 | 30 | |
| 75 | 235 | Kathleen Turner & Jennifer Tilly | 2012-04-30 | 30 | |
| 76 | 236 | Heather McDonald & Tamra Barney | 2012-05-01 | 30 | |
| 77 | 237 | Ryan Serhant, Fredrik Eklund & Michael Lorber | 2012-05-02 | 30 | |
| 78 | 238 | Susan Lucci & Mark Ruffalo | 2012-05-03 | 30 | |
| 79 | 239 | Joe & Melissa Gorga | 2012-05-06 | 30 | |
| 80 | 240 | Kelly Ripa & Anderson Cooper | 2012-05-07 | 30 | |
| 81 | 241 | Cat Cora & Alexis Bellino | 2012-05-08 | 30 | |
| 82 | 242 | Rita Wilson & Curtis Stone | 2012-05-09 | 30 | |
| 83 | 243 | Wendy Williams | 2012-05-10 | 30 | |
| 84 | 244 | Kathy Wakile & Rosie Pierri | 2012-05-20 | 30 | |
| 85 | 245 | Jerry Sienfeld & Matthew Broderick | 2012-05-21 | 30 | |
| 86 | 246 | Dr. Oz & Heather Dubrow | 2012-05-22 | 30 | |
| 87 | 247 | Dan Rather & John Mayer | 2012-05-23 | 30 | |
| 88 | 248 | Beth Ditto & Adam Lambert | 2012-05-24 | 30 | |
| 89 | 249 | Rosie Pope & Margaret Cho | 2012-05-29 | 30 | |
| 90 | 250 | Steve Guttenberg & Joey Lawrence | 2012-05-30 | 30 | |
| 91 | 251 | Mindy Cohn & Kim Field | 2012-05-31 | 30 | |
Season 7
| Episode No. | No. Overall | Title | Airdate | Runtime | Summary |
| --- | --- | --- | --- | --- | --- |
| 1 | 252 | Teresa Giudice and Joe Giudice | 2012-06-17 | 30 | |
| 2 | 253 | Kate Flannery and Ramona Singer | 2012-06-18 | 30 | |
| 3 | 254 | Nicey Nash and Gretchen Rossi | 2012-06-19 | 30 | |
| 4 | 255 | Josh Flagg, Madison Hildebrand and Josh Altman | 2012-06-20 | 30 | |
| 5 | 256 | Soleil Moon-Frye & Levar Burton | 2012-06-21 | 30 | |
| 6 | 257 | Jacqueline Laurita & Carole Radziwill | 2012-06-24 | 30 | |
| 7 | 258 | Aviva Drescher, Heather Thomson and Carole Radziwill | 2012-06-25 | 30 | |
| 8 | 259 | Denise Richards & Tamra Barney | 2012-06-26 | 30 | |
| 9 | 260 | Joe Manganiello and Andrew Zimmern | 2012-06-27 | 30 | |
| 10 | 261 | Kylie Minogue and Katie Couric | 2012-06-28 | 30 | |
| 11 | 262 | Mike Tyson & Melissa Gorga | 2012-07-08 | 30 | |
| 12 | 263 | Sonja Morgan and Scissor Scissors | 2012-07-09 | 30 | |
| 13 | 264 | Heather Dubrow and Willie Garson | 2012-07-10 | 30 | |
| 14 | 265 | Curtis Stone and Kathy Njimy | 2012-07-11 | 30 | |
| 15 | 266 | Donald Faison and Jeremy Sisto | 2012-07-12 | 30 | |
| 16 | 267 | Kathy Wakile & Vanessa Williams | 2012-07-15 | 30 | |
| 17 | 268 | Mark Feuerstein and LuAnn DeLesseps | 2012-07-16 | 30 | |
| 18 | 269 | Tiffani Amber Thiessen & Willie Geist | 2012-07-17 | 30 | |
| 19 | 270 | Ashley Tisdale & Chris Colfer | 2012-07-18 | 30 | |
| 20 | 271 | Ralph Macchio & Lorraine Bracchio | 2012-07-19 | 30 | |
| 21 | 272 | Caroline Manzo and Megan McCain | 2012-07-22 | 30 | |
| 22 | 273 | Julia Allison, Emily Morse and Amy Laurent | 2012-07-23 | 30 | |
| 23 | 274 | Amy Sedaris & Bruce Jenner | 2012-07-24 | 30 | |
| 24 | 275 | Nelly Furtado and Cheyenne Jackson | 2012-07-25 | 30 | |
| 25 | 276 | Nelly and Josh Henderson | 2012-07-26 | 30 | |
| 26 | 277 | Teresa Guidice and Renee Graziano | 2012-07-29 | 30 | |
| 27 | 278 | Carole Radziwill & Jerry O'Connell | 2012-07-30 | 30 | |
| 28 | 279 | Joan Rivers and Rashida Jones | 2012-07-31 | 30 | |
| 29 | 280 | Madison Hildebrand and Josh Flagg | 2012-08-01 | 30 | |
| 30 | 281 | James Frye and Jenni "J-Woww" Farley | 2012-08-02 | 30 | |
| 31 | 282 | Pauly D & Dina Manzo | 2012-08-05 | 30 | |
| 32 | 283 | Nancy Grace & Aviva Drescher | 2012-08-06 | 30 | |
| 33 | 284 | L.A. Reid & Beth Stern | 2012-08-07 | 30 | |
| 34 | 285 | Actress Anna Kendrick | 2012-08-08 | 30 | |
| 35 | 286 | Meryl Streep | 2012-08-09 | 30 | |
Season 8
| Episode No. | No. Overall | Title | Airdate | Runtime | Summary |
| --- | --- | --- | --- | --- | --- |
| 1 | 287 | Perez Hilton and Teresa Giudice | 2012-09-09 | 30 | |
| 2 | 288 | Jenna Dewan-Tatum and Heather Thomson | 2012-09-10 | 30 | |
| 3 | 289 | Nicole Richie and Andrew Rannells | 2012-09-11 | 30 | |
| 4 | 290 | Kevin Jonas and Lance Bass | 2012-09-12 | 30 | |
| 5 | 291 | Joanna Krupa and Lea Black | 2012-09-13 | 30 | |
| 6 | 292 | Theresa Caputo & Jacqueline Laurita | 2012-09-16 | 30 | |
| 7 | 293 | Ramona Singer & Liz Margulies | 2012-09-17 | 30 | |
| 8 | 294 | Jeff Lewis & Chloris Leachman | 2012-09-18 | 30 | |
| 9 | 295 | Cyndi Lauper & Sherri Shepherd | 2012-09-19 | 30 | |
| 10 | 296 | Marysol Patton, Ana Quincoces and Alexia Echevarria | 2012-09-20 | 30 | |
| 11 | 297 | Kelly Ripa & Mark Consuelos | 2012-09-23 | 30 | |
| 12 | 298 | Cat Ommaney and Sonja Morgan | 2012-09-24 | 30 | |
| 13 | 299 | Jimmy Fallon, Anthony Anderson, Jezsse Bradford and Zach Cregger | 2012-09-25 | 30 | |
| 14 | 300 | Kerry Heffernan, Tom Cholicchio & Chris Cosentino | 2012-09-26 | 30 | |
| 15 | 301 | NeNe Leakes & Ellen Barkin | 2012-09-27 | 30 | |
| 16 | 302 | Joanna Garcia-Swisher & Deena Cortese | 2012-09-30 | 30 | |
| 17 | 303 | Michelle Trachtenverg & Carole Radziwill | 2012-10-01 | 30 | |
| 18 | 304 | Jenny McCarthy & Donnie Wahlberg | 2012-10-02 | 30 | |
| 19 | 305 | Ethan Hawke & Liam Neeson | 2012-10-03 | 30 | |
| 20 | 306 | Brittany Snow & Adriana De Moura | 2012-10-04 | 30 | |
| 21 | 307 | Wendy Williams | 2012-10-07 | 30 | |
| 22 | 308 | Vanessa Williams & RuPaul | 2012-10-08 | 30 | |
| 23 | 309 | Andrew McCarthy & Max Greenfield | 2012-10-09 | 30 | |
| 24 | 310 | Mike 'The Situation', Pauly D, Vinny & Ronnie from Jersey Shore | 2012-10-10 | 30 | |
| 25 | 311 | Kate Gosselin and Morgan Fairchild | 2012-10-11 | 30 | |
| 26 | 312 | Mario Lopez & Melissa Gorga | 2012-10-14 | 30 | |
| 27 | 313 | Jill Zarin | 2012-10-15 | 30 | |
| 28 | 314 | Lauren Conrad & Countess LuAnn | 2012-10-16 | 30 | |
| 29 | 315 | Gina Gershon & Jackie Warner | 2012-10-17 | 30 | |
| 30 | 316 | Brandy & Lisa Hochstein | 2012-10-18 | 30 | |
| 31 | 317 | Yvette Nicole Brown & Caroline Manzo | 2012-10-21 | 30 | |
| 32 | 318 | Scott Baio & Jamie Lynn Sigler | 2012-10-22 | 30 | |
| 33 | 319 | Jenni Pulos and Zoila Chavez | 2012-10-23 | 30 | |
| 34 | 320 | Fabio Viviani, Richard Blais, Jen Carroll and Spike Mendelson | 2012-10-24 | 30 | |
| 35 | 321 | Larry King & Dreama Walker | 2012-10-25 | 30 | |
| 36 | 322 | Joanna Krupa & Karent Sierra | 2012-10-28 | 30 | |
| 37 | 323 | Andy Cohen's Hurricane Party | 2012-10-29 | 30 | |
| 38 | 324 | Ryan Murphy & Mark Consuelos | 2012-10-30 | 30 | |
| 39 | 325 | Denise Richards & Tamar Braxton | 2012-10-31 | 30 | |
| 40 | 326 | Jimmy Fallon | 2012-11-01 | 30 | |
| 41 | 327 | Phaedra Parks & Coco T | 2012-11-04 | 30 | |
| 42 | 328 | Kyle Richards & Jay Mohr | 2012-11-05 | 30 | |
| 43 | 329 | Alicia Silverstone & Padma Lakshmi | 2012-11-06 | 30 | |
| 44 | 330 | Russell Peters & Kandi Burruss | 2012-11-11 | 30 | |
| 45 | 331 | Brandi Glanville & Willy Guiess | 2012-11-12 | 30 | |
| 46 | 332 | Tyra Banks & Whitney Cummings | 2012-11-13 | 30 | |
| 47 | 333 | Gail Simmons & Peter Facinelli | 2012-11-14 | 30 | |
| 48 | 334 | Anna Quincoces & Camille Paglia | 2012-11-15 | 30 | |
| 49 | 335 | Kenya Moore & Tichina Arnold | 2012-11-25 | 30 | |
| 50 | 336 | Valerie Bertinelli & Jesse Tyler Ferguson | 2012-11-26 | 30 | |
| 51 | 337 | Joan Collins & Martyn Lawrence-Bullard | 2012-11-27 | 30 | |
| 52 | 338 | Nicole "Snooki" Polizzi, Jennifer "JWoww" Farley, Samantha "Sammi Sweetheart" Giancola & Deen | 2012-11-28 | 30 | |
| 53 | 339 | Lea Black & Erin Andrews | 2012-11-29 | 30 | |
| 54 | 340 | Reza Farahan & Kim Zolsiac-Bierman | 2012-12-02 | 30 | |
| 55 | 341 | Kristin Cavallari & Taylor Armstrong | 2012-12-03 | 30 | |
| 56 | 342 | Lisa Rinna & Jeff Lewis | 2012-12-04 | 30 | |
| 57 | 343 | Carmen Electra & Billy Ray Cyrus | 2012-12-05 | 30 | |
| 58 | 344 | Jane Fonda & Sandra Bernhard | 2012-12-06 | 30 | |
| 59 | 345 | Cynthia Bailey & GG (Shahs of Sunset) | 2012-12-09 | 30 | |
| 60 | 346 | Camille Grammer & Julie Chen | 2012-12-10 | 30 | |
| 61 | 347 | Bethenny Frankel | 2012-12-11 | 30 | |
| 62 | 348 | Aisha Taylor & Shemar Moore | 2012-12-12 | 30 | |
| 63 | 349 | Elsa Patton & Mark Consuelos | 2012-12-13 | 30 | |
| 64 | 350 | Lilly Gallicci & Porsha Stewart | 2012-12-16 | 30 | |
Season 9
| Episode No. | No. Overall | Title | Airdate | Runtime | Summary |
| --- | --- | --- | --- | --- | --- |
| 1 | 351 | Nene & Gregg Leekes | 2013-01-06 | 30 | |
| 2 | 352 | Lisa Vanderpump & Jiggy | 2013-01-07 | 30 | |
| 3 | 353 | Busy Phillips & Al Roker | 2013-01-08 | 30 | |
| 4 | 354 | Marlon Wayons & Carla Hall | 2013-01-09 | 30 | |
| 5 | 355 | Tionne | 2013-01-10 | 30 | |
| 6 | 356 | Kenya Moore & Mercedes | 2013-01-13 | 30 | |
| 7 | 357 | Kim Richards & Tom Arnold | 2013-01-14 | 30 | |
| 8 | 358 | Sarah Paulson & Robin Thicke | 2013-01-15 | 30 | |
| 9 | 359 | Maggie Q & Padma Lakshmi | 2013-01-16 | 30 | |
| 10 | 360 | George Tekei & Drita D'Avanzo | 2013-01-17 | 30 | |
| 11 | 361 | Mike Shouhed & Kandi Burruss | 2013-01-20 | 30 | |
| 12 | 362 | Hoda Kotb | 2013-01-21 | 30 | |
| 13 | 363 | Kristen Johnston & Luke Perry | 2013-01-22 | 30 | |
| 14 | 364 | Patti LuPone & Billy Eichner | 2013-01-23 | 30 | |
| 15 | 365 | Kimora Lee Simmons & Liam McIntyre | 2013-01-24 | 30 | |
| 16 | 366 | Asa Soltan Rahmati & Jeff Lewis | 2013-01-27 | 30 | |
| 17 | 367 | Callie Thorne & Yolanda Foster | 2013-01-28 | 30 | |
| 18 | 368 | Whoopi Goldberg | 2013-01-29 | 30 | |
| 19 | 369 | Jax Taylor, Stassi Schroeder, Scheana Marie & Tom Sandoval | 2013-01-30 | 30 | |
| 20 | 370 | Khloe Kardashian & Victor Garber | 2013-01-31 | 30 | |
| 21 | 371 | Kyle Richards & Kristen Doute | 2013-02-04 | 30 | |
| 22 | 372 | Abby Lee Miller & Carson Kressley | 2013-02-05 | 30 | |
| 23 | 373 | Rachel Dratch & Jenna Elfman | 2013-02-06 | 30 | |
| 24 | 374 | Jenny McCarthy | 2013-02-07 | 30 | |
| 25 | 375 | Josh Groban & Phaedra Parks | 2013-02-10 | 30 | |
| 26 | 376 | Nigel Barker & Taylor Armstrong | 2013-02-11 | 30 | |
| 27 | 377 | Eve & Nigella Lawson | 2013-02-12 | 30 | |
| 28 | 378 | Jillian Michaels & Melissa Rauch | 2013-02-13 | 30 | |
| 29 | 379 | Julianne Hough & Josh Duhamel | 2013-02-14 | 30 | |
| 30 | 380 | Naomi Campbell | 2013-02-17 | 30 | |
| 31 | 381 | Anderson Cooper & Wendi McLendon-Covey | 2012-02-25 | 30 | |
| 32 | 382 | Boris Kodjoe & Dana Delaney | 2013-02-26 | 30 | |
| 33 | 383 | Top Chef Winner & Runner-up | 2012-02-27 | 30 | |
| 34 | 384 | Seth Meyers & Gayle King | 2013-02-28 | 30 | |
| 35 | 385 | Cynthia Bailey & NeNe Leakes | 2013-03-03 | 30 | |
| 36 | 386 | Stassi Schroeder & Jax Taylor (400th episode) | 2013-03-04 | 30 | |
| 37 | 387 | Chelsea Handler & Ricky Schroder | 2013-03-05 | 30 | |
| 38 | 388 | Brad Goreski & Tate Donovan | 2013-03-06 | 30 | |
| 39 | 389 | Jennifer Love Hewitt & Jake Owen | 2013-03-07 | 30 | |
| 40 | 390 | Brooklyn Decker & Kenya Moore | 2013-03-10 | 30 | |
| 41 | 391 | Brandi Glanville | 2013-03-11 | 30 | |
| 42 | 392 | Sarah Silverman | 2013-03-12 | 30 | |
| 43 | 393 | Ian Somerhalder & Nev Schulman | 2013-03-13 | 30 | |
| 44 | 394 | Paloma Faith & Gillian Jacobs | 2013-03-14 | 30 | |
| 45 | 395 | Porsha Stewart & Jurnee Smollett-Bell | 2013-03-17 | 30 | |
| 46 | 396 | Kim Richards & Lisa Rinna | 2013-03-18 | 30 | |
| 47 | 397 | La Toya Jackson & Reza Farahan | 2013-03-19 | 30 | |
| 48 | 398 | Megan Hilty & Patti Stanger | 2013-03-20 | 30 | |
| 49 | 399 | Shirley Manson & Becca Tobin | 2013-03-21 | 30 | |
| 50 | 400 | Mariah Huq & Wendy Raquel Robinson | 2013-03-24 | 30 | |
| 51 | 401 | Kyle Richards & Dr. Venus Nicolino | 2013-03-25 | 30 | |
| 52 | 402 | Kathy Griffin | 2013-03-26 | 30 | |
| 53 | 403 | Anna Chlumsky, Christian Syrano & Christos Garkinos | 2013-03-27 | 30 | |
| 54 | 404 | Caroline Manzo & Bobby Moynihan | 2013-03-28 | 30 | |
| 55 | 405 | Kandi Burress & Quad Webb-Lunceford | 2013-03-31 | 30 | |
| 56 | 406 | Vicki Gunvalson & Jenni Pulos | 2013-04-01 | 30 | |
| 57 | 407 | Rita Wilson & Nia Vardalos | 2013-04-02 | 30 | |
| 58 | 408 | Donnie Wahlberg, Danny Wood, Joey McIntyre, Jordan Knight & Jonathan Knight | 2013-04-03 | 30 | |
| 59 | 409 | Tabatha Coffey & Fred Armisen | 2013-04-04 | 30 | |
| 60 | 410 | Iyanla Vanzant & Julie Benz | 2013-04-14 | 30 | |
| 61 | 411 | Pete Wentz & Camille Grammer | 2013-04-15 | 30 | |
| 62 | 412 | Harvey Fierstein & Kim Zolciak | 2013-04-16 | 30 | |
| 63 | 413 | Kevin Jonas & Heather Graham | 2013-04-17 | 30 | |
| 64 | 414 | Peter Facinelli & Joe Manginiello | 2013-04-18 | 30 | |
| 65 | 415 | Vivica A Fox & Porsha Stewart | 2013-04-21 | 30 | |
| 66 | 416 | Tamra Barney & Dr V | 2013-04-22 | 30 | |
| 67 | 417 | Laura Linney & John Benjamin Hickey | 2013-04-23 | 30 | |
| 68 | 418 | Vincent Kartheiser & Gabriel Mann | 2013-04-24 | 30 | |
| 69 | 419 | Fantasia & Anthony Mackie | 2013-04-25 | 30 | |
| 70 | 420 | Kareem Abdul Jabbar & Don Cheadle | 2013-04-28 | 30 | |
| 71 | 421 | Jackie Siegal & Alexis Bellino | 2013-04-29 | 30 | |
| 72 | 422 | Carly Rae Jepsen & Kandi Burress | 2013-04-30 | 30 | |
| 73 | 423 | Rachel Maddow & Lil John | 2013-05-01 | 30 | |
| 74 | 424 | Lauren Graham & Kal Penn | 2013-05-02 | 30 | |
| 75 | 425 | Dr Jackie Walters & Dr Simone Whitmore | 2013-05-05 | 30 | |
| 76 | 426 | 98 Degrees | 2013-05-07 | 30 | |
| 77 | 427 | Alyson Hannigan & Zachary Quinto | 2013-05-08 | 30 | |
| 78 | 428 | Natalie Maines & Carrie Ann Inaba | 2013-05-09 | 30 | |
| 79 | 429 | Sheree Whitfield & Matthew Morrison | 2013-05-12 | 30 | |
| 80 | 430 | Gretchen Rossi & Willie Geist | 2013-05-13 | 30 | |
| 81 | 431 | Wendy Williams | 2013-05-14 | 30 | |
| 82 | 432 | Amy Schumer & Tony Goldwyn | 2013-05-15 | 30 | |
| 83 | 433 | Kari Wells & Toya Bush-Harris | 2013-05-19 | 30 | |
| 84 | 434 | Heather Dubrow & Jamie Lynn Sigler | 2013-05-20 | 30 | |
| 85 | 435 | Ray J & Vinny Guadagnino | 2013-05-21 | 30 | |
| 86 | 436 | Ryan Serhant, Luis D Ortiz & Fredrik Eklund | 2013-05-22 | 30 | |
| 87 | 437 | Elisabeth Moss & Jessica Walter | 2013-05-23 | 30 | |
| 88 | 438 | Khloe Kardashian Odom & Melissa Joan Hart | 2012-05-28 | 30 | |
| 89 | 439 | Aaron Tviet & Ethan Hawke | 2013-05-29 | 30 | |
| 90 | 440 | Siva Kaneswaran, Jay McGuinrss, Max George & Tom Parker (The Wanted) | 2013-05-30 | 30 | |
| 91 | 441 | Teresa Giudice | 2013-06-02 | 30 | |
Season 10
| Episode No. | No. Overall | Title | Airdate | Runtime | Summary |
| --- | --- | --- | --- | --- | --- |
| 1 | 442 | Melissa Gorga & Tabatha Coffey | 2013-06-16 | 30 | |
| 2 | 443 | Lydia McLaughlin & Kristen Johnston | 2013-06-17 | 30 | |
| 3 | 444 | Nev Schulman & Kelly Killoren-Bensimon | 2013-06-18 | 30 | |
| 4 | 445 | Kylie Minogue & Elijah Wood | 2013-06-19 | 30 | |
| 5 | 446 | Kelly Rowland & Cedric the Entertainer | 2013-06-20 | 30 | |
| 6 | 447 | Caroline Manzo & Manzo Kids (Albie, Lauren & Chris) | 2013-06-23 | 30 | |
| 7 | 448 | Newlyweds: The First Year Reunion | 2013-06-24 | 30 | |
| 8 | 449 | Jo De La Rosa, Jeana, Kara & Shane Keough | 2013-06-25 | 30 | |
| 9 | 450 | Maggie Gyllenhaal & Martha Stewart | 2013-06-26 | 30 | |
| 10 | 451 | Cher | 2013-06-27 | 30 | |
| 11 | 452 | Jeff Lewis | 2013-07-07 | 30 | |
| 12 | 453 | Laurie Peterson & Mark Feurstein | 2013-07-08 | 30 | |
| 13 | 454 | Roble Ali & Alissa Milano | 2013-07-09 | 30 | |
| 14 | 455 | Kris Jenner & Pattie Mallette | 2013-07-10 | 30 | |
| 15 | 456 | Aisha Tyler & Ciara | 2013-07-11 | 30 | |
| 16 | 457 | Kathy Wakile & Rosie Pierri | 2013-07-14 | 30 | |
| 17 | 458 | Vicki Gunvalson & Joe Buck | 2013-07-15 | 30 | |
| 18 | 459 | Giuliana & Bill Rancic | 2013-07-16 | 30 | |
| 19 | 460 | Patti Stanger | 2013-07-17 | 30 | |
| 20 | 461 | Wanda Sykes & Susan Lucci | 2013-07-18 | 30 | |
| 21 | 462 | Jacqueline Laurita & Rebecca Romaine | 2013-07-21 | 30 | |
| 22 | 463 | Tamera Judge (Barney) & Hoda Kotb | 2013-07-22 | 30 | |
| 23 | 464 | Jonas Brothers | 2013-07-23 | 30 | |
| 24 | 465 | TI & Mary Murphy | 2013-07-24 | 30 | |
| 25 | 466 | Lisa Kudro & Piper Perabo | 2013-07-25 | 30 | |
| 26 | 467 | Teresa Gudice & Dr V | 2013-07-28 | 30 | |
| 27 | 468 | Gretchen Rossi & Billy Eichner | 2013-07-29 | 30 | |
| 28 | 469 | Debi Mazur & Adam Brody | 2013-07-30 | 30 | |
| 29 | 470 | Ryan Serhant, Fredrik Eklund & Luis D Ortiz | 2013-07-31 | 30 | |
| 30 | 471 | Ashanti & Christina Ricci | 2013-08-01 | 30 | |
| 31 | 472 | Caroline Manzo & Anna Chlumsky | 2013-08-04 | 30 | |
| 32 | 473 | Alexis Bellino & Jenni Pulos | 2013-08-05 | 30 | |
| 33 | 474 | Yvette Nicole Brown & Jason Derulo | 2013-08-06 | 30 | |
| 34 | 475 | John Altman, Josh Flagg & Madison Hilderbrand | 2013-08-07 | 30 | |
| 35 | 476 | Hank Azaria & Taylor Schilling | 2013-08-08 | 30 | |
| 36 | 477 | Melissa Gorga & Elisabeth Moss | 2013-08-11 | 30 | |
| 37 | 478 | Joanna Krupa & Leah Black | 2013-08-12 | 30 | |
| 38 | 479 | Keri Russell & Kyra Sedgwick | 2013-08-13 | 30 | |
| 39 | 480 | Padma Lakshmi & Tamar Braxton | 2013-08-14 | 30 | |
| 40 | 481 | Oprah Winfrey | 2013-08-15 | 30 | |
| 41 | 482 | Danielle Staub | 2013-09-08 | 30 | |
| 42 | 483 | Adriana De Moura & Ali Larter | 2013-09-09 | 30 | |
| 43 | 484 | Bethenny Frankel | 2013-09-10 | 30 | |
| 44 | 485 | Lady Gaga | 2013-09-11 | 30 | |
| 45 | 486 | Sean Kingston & Gloria Estefan | 2013-09-12 | 30 | |
| 46 | 487 | Andrew Dice Clay & Kathy Wakile | 2013-09-15 | 30 | |
| 47 | 488 | Tamra and Eddie Judge | 2013-09-16 | 30 | |
| 48 | 489 | Nene Leakes & Paula Patton | 2013-09-17 | 30 | |
| 49 | 490 | The Real World All-Stars: Chris Tamburello, Paula Meronek, Ruthie Alcaide & Danny Roberts | 2013-09-18 | 30 | |
| 50 | 491 | Jewel & Taye Diggs | 2013-09-19 | 30 | |
| 51 | 492 | Jacqueline Laurita & Kelly Ripa | 2013-09-22 | 30 | |
| 52 | 493 | Wendi Mclendon-Covey & Ellen Pompeo | 2013-09-23 | 30 | |
| 53 | 494 | Nick Carter & Suzanne Somers | 2013-09-24 | 30 | |
| 54 | 495 | Lucy Liu & Malin Akerman | 2013-09-25 | 30 | |
| 55 | 496 | Lizzy Caplan & Tony Danza | 2013-09-26 | 30 | |
| 56 | 497 | One-on-One: Teresa & Joe Giudice | 2013-09-29 | 30 | |
| 57 | 498 | Alexia Echavarria & Meghan McCain | 2013-09-30 | 30 | |
| 58 | 499 | Tom Cholicchio & David Arquette | 2013-10-01 | 30 | |
| 59 | 500 | Jerry O'Connell & Rebel Wilson | 2013-10-02 | 30 | |
| 60 | 501 | Betsey Brandt & Daniel Radcliff | 2013-10-03 | 30 | |
| 61 | 502 | Rosie Pierre & Lance Bass | 2013-10-06 | 30 | |
| 62 | 503 | Connie Britton & Zachary Quinto | 2013-10-07 | 30 | |
| 63 | 504 | John Legend & Jason Briggs | 2013-10-08 | 30 | |
| 64 | 505 | Michael Strahan & Rachel Maddow | 2013-10-09 | 30 | |
| 65 | 506 | WWHL Wedding Special | 2013-10-10 | 30 | |
| 66 | 507 | Orlando Bloom & Ian McKellen | 2013-10-13 | 30 | |
| 67 | 508 | Ja Rule & Lisa Hochstein | 2013-10-14 | 30 | |
| 68 | 509 | Soleil Moon Frye & Dr Sanjay Gupta | 2013-10-15 | 30 | |
| 69 | 510 | Carla Hall, Jessica Seinfeld & Rachel Ray | 2013-10-16 | 30 | |
| 70 | 511 | Cee Lo Green & Lisa Marie Presley | 2013-10-17 | 30 | |
| 71 | 512 | Bevy Smith, Jenna Jameson & Jennifer Tilley | 2013-10-20 | 30 | |
| 72 | 513 | Amy Sedaris & Lea Black | 2013-10-21 | 30 | |
| 73 | 514 | George Takei & Sherri Shepherd | 2013-10-22 | 30 | |
| 74 | 515 | Josh Altnan, Josh Flagg & Madison Hilderbrand | 2013-10-23 | 30 | |
| 75 | 516 | Johnny Knoxville & Rosie Perez | 2013-10-24 | 30 | |
| 76 | 517 | Rev. All Sharpton & Cynthia Bailey | 2013-10-27 | 30 | |
| 77 | 518 | Marysol Patton & Nancy Grace | 2013-10-28 | 30 | |
| 78 | 519 | Donnie Wahlberg & Jenny McCarthy | 2013-10-29 | 30 | |
| 79 | 520 | Christina Hendricks & Dylan McDermott | 2013-10-30 | 30 | |
| 80 | 521 | Neil Patrick Harris | 2013-10-31 | 30 | |
| 81 | 522 | Kandi Burruss & Kenya Moore | 2013-11-03 | 30 | |
| 82 | 523 | Lisa Vanderpump & Whitney Cummings | 2013-11-04 | 30 | |
| 83 | 524 | Reza Farahan & Zachary Levi | 2013-11-05 | 30 | |
| 84 | 525 | Giada De Laurent is & Katey Sagal | 2013-11-06 | 30 | |
| 85 | 526 | The Wanted (Jay McGuiness, Max George, Nathan Sykes, Siva Kaneswaran & Tom Parker) | 2013-11-07 | 30 | |
| 86 | 527 | Porsha Stewart & Nelly | 2013-11-10 | 30 | |
| 87 | 528 | Brandi Glanville & Mark Consuelos | 2013-11-11 | 30 | |
| 88 | 529 | Mercedes "MJ" Javid & Mike Shouhed | 2013-11-12 | 30 | |
| 89 | 530 | Gail Simmons & Curtis Stone | 2013-11-13 | 30 | |
| 90 | 531 | Nia Long & Terrence Howard | 2013-11-14 | 30 | |
| 91 | 532 | Phaedra Parks, Ben & Jewel | 2013-11-17 | 30 | |
| 92 | 533 | Jax & Stassi | 2013-11-18 | 30 | |
| 93 | 534 | Meredith Vieira & Jesse Tyler Ferguson | 2013-11-19 | 30 | |
| 94 | 535 | Gina Gershon & Josh Gad | 2013-11-20 | 30 | |
| 95 | 536 | Jennifer Hudson & Angela Bassett | 2013-11-21 | 30 | |
| 96 | 537 | Cynthia Bailey & Sandra Bernhardt | 2013-12-01 | 30 | |
| 97 | 538 | Kim Richards & Lisa Whelchel | 2013-12-02 | 30 | |
| 98 | 539 | Lilly Ghalichi & Cheyenne Jackson | 2013-12-03 | 30 | |
| 99 | 540 | Patti Stanger | 2013-12-04 | 30 | |
| 100 | 541 | Whoopi Goldberg & Zoe Saldana | 2013-12-05 | 30 | |
| 101 | 542 | Kandi Burruss & Fantasia Barrino | 2013-12-08 | 30 | |
| 102 | 543 | Kyle Richards & Abigail Breslin | 2013-12-09 | 30 | |
| 103 | 544 | Downton Abbey | 2013-12-10 | 30 | |
| 104 | 545 | Susan Sarandon & Ralph Fiennes | 2013-12-11 | 30 | |
| 105 | 546 | Sharon Osbourne & Tyler Perry | 2013-12-12 | 30 | |
| 106 | 547 | Kenya Moore & Flo Rida | 2013-12-15 | 30 | |
| 107 | 548 | Joyce Giraud De Ohoven & Scheana Marie | 2013-12-16 | 30 | |
| 108 | 549 | Will Farrell, Steve Carell & James Marsden | 2013-12-17 | 30 | |
| 109 | 550 | Sarah Jessica Parker | 2013-12-18 | 30 | |
| 110 | 551 | Justin Long & John Leguizamo | 2013-12-19 | 30 | |
| 111 | 552 | Mariah Carey | 2013-12-22 | 30 | |
Season 11
| Episode No. | No. Overall | Title | Airdate | Runtime | Summary |
| --- | --- | --- | --- | --- | --- |
| 1 | 553 | Porsha Williams & Josh Groban | 2014-01-05 | 30 | |
| 2 | 554 | Carlton Gebbia & Sophia Bush | 2014-01-06 | 30 | |
| 3 | 555 | Asa Soltan Rahmati & Gg Gharachedaghi | 2014-01-07 | 30 | |
| 4 | 556 | Dan Rather & Will Forte | 2014-01-08 | 30 | |
| 5 | 557 | George Stephanopoulos & Ali Wentworth | 2014-01-09 | 30 | |
| 6 | 558 | Nene Leakes | 2014-01-12 | 30 | |
| 7 | 559 | Kristen Doute & Tom Sandoval | 2014-01-13 | 30 | |
| 8 | 560 | Cheri Oteri & Zach Gilford | 2014-01-14 | 30 | |
| 9 | 561 | Natasha Lyonne & John Cena | 2014-01-15 | 30 | |
| 10 | 562 | Queen Latifah & Cuba Gooding Jr. | 2014-01-16 | 30 | |
| 11 | 563 | The Men of Atlanta | 2014-01-19 | 30 | |
| 12 | 564 | Katie Maloney & Pete Wentz | 2014-01-20 | 30 | |
| 13 | 565 | Reza Farahan & Beth Stern | 2014-01-21 | 30 | |
| 14 | 566 | Melissa Gilbert & Nick Kroll | 2014-01-22 | 30 | |
| 15 | 567 | Savannah Guthrie & Matt Lauer | 2014-01-23 | 30 | |
| 16 | 568 | Cynthia Bailey & Lala Anthony | 2014-01-26 | 30 | |
| 17 | 569 | Yolanda Foster & Stassi Schroeder | 2014-01-27 | 30 | |
| 18 | 570 | Mercedes Javid & Bobby Moynihan | 2014-01-28 | 30 | |
| 19 | 571 | Sarah Silverman | 2014-01-29 | 30 | |
| 20 | 572 | John Stamos, Bob Saget & Dave Coulier | 2014-01-30 | 30 | |
| 21 | 573 | Lisa Vanderpump & Jax Taylor | 2014-02-03 | 30 | |
| 22 | 574 | Tamar Braxton & Jonathan Groff | 2014-02-04 | 30 | |
| 23 | 575 | Nina Compton & Nicholas Elmi | 2014-02-05 | 30 | |
| 24 | 576 | B.J. Novak & Michael Urie | 2014-02-06 | 30 | |
| 25 | 577 | Kenya Moore & Wayne Brady | 2014-02-09 | 30 | |
| 26 | 578 | Brandi Glanville & Jenny McCarthy | 2014-02-10 | 30 | |
| 27 | 579 | Henry Winkler & Andrew Rannells | 2014-02-11 | 30 | |
| 28 | 580 | Sarah Paulson & Seth Meyers | 2014-02-12 | 30 | |
| 29 | 581 | Hoda Kotb & Kathie Lee Gifford | 2014-02-13 | 30 | |
| 30 | 582 | Demetria, Melyssa & Geneva from "Blood Sweat and Heels" | 2014-02-16 | 30 | |
| 31 | 583 | Anderson Cooper & Stassi Schroeder | 2014-02-17 | 30 | |
| 32 | 584 | Bevy Smith, Miss Lawrence & Derek J. | 2014-02-18 | 30 | |
| 33 | 585 | Elizabeth Olsen & Jerry O'Connell | 2014-02-19 | 30 | |
| 34 | 586 | Robin Quivers & Patti Labelle | 2014-02-20 | 30 | |
| 35 | 587 | Porsha Williams & Rupaul | 2014-02-23 | 30 | |
| 36 | 588 | Kyle Richards & Linda Gray | 2014-02-24 | 30 | |
| 37 | 589 | Jane Krakowski & Jeff Goldblum | 2014-02-25 | 30 | |
| 38 | 590 | Dierks Bentley & Elijah Wood | 2014-02-26 | 30 | |
| 39 | 591 | Julianna Margulies & Liam Neeson | 2014-02-27 | 30 | |
| 40 | 592 | Camille Grammer & Vanessa Bayer | 2014-03-03 | 30 | |
| 41 | 593 | Wendi Mclendon-covey & Fred Armisen | 2014-03-04 | 30 | |
| 42 | 594 | Jeff Lewis & Lauren Cohan | 2014-03-05 | 30 | |
| 43 | 595 | Naomi Campbell & Scott Foley | 2014-03-06 | 30 | |
| 44 | 596 | Jimmy Kimmel | 2014-03-09 | 30 | |
| 45 | 597 | Brandi Glanville, Jason Ritter & Betty Who | 2014-03-10 | 30 | |
| 46 | 598 | Sonja Morgan & Gabriel Mann | 2014-03-11 | 30 | |
| 47 | 599 | Seth Rogen & Dave Franco | 2014-03-12 | 30 | |
| 48 | 600 | Josh Lucas & Shaq | 2014-03-13 | 30 | |
| 49 | 601 | Kim Zolciak & Sheree Whitfield | 2014-03-16 | 30 | |
| 50 | 602 | Maria Menounos & Nick Lachey | 2014-03-17 | 30 | |
| 51 | 603 | Carole Radziwill & Kristin Cavallari | 2014-03-18 | 30 | |
| 52 | 604 | Kathryn Hahn & Giuliana Rancic | 2014-03-19 | 30 | |
| 53 | 605 | America Ferrera & Enrique Iglesias | 2014-03-20 | 30 | |
| 54 | 606 | Kandi Burruss & Tiny | 2014-03-23 | 30 | |
| 55 | 607 | Uma Thurman & Dominic Monaghan | 2014-03-24 | 30 | |
| 56 | 608 | Ramona Singer & Bethenny Frankel | 2014-03-25 | 30 | |
| 57 | 609 | Jenni Pulos & Theresa Caputo | 2014-03-26 | 30 | |
| 58 | 610 | Rachel Zoe & Isaac Mizrahi | 2014-03-27 | 30 | |
| 59 | 611 | Rashida Jones & Retta | 2014-04-06 | 30 | |
| 60 | 612 | Southern Charm | 2014-04-07 | 30 | |
| 61 | 613 | Aviva Drescher & Carol Leifer | 2014-04-08 | 30 | |
| 62 | 614 | Mdl: Ny | 2014-04-09 | 30 | |
| 63 | 615 | Rita Wilson & Bob Saget | 2014-04-10 | 30 | |
| 64 | 616 | NeNe Leakes | 2014-04-13 | 30 | |
| 65 | 617 | Vicki Gunvalson & Kristin Chenoweth | 2014-04-14 | 30 | |
| 66 | 618 | Heather Thomson & Tabatha Coffey | 2014-04-15 | 30 | |
| 67 | 619 | Joan Rivers & Tracy Morgan | 2014-04-16 | 30 | |
| 68 | 620 | Lindsay Lohan | 2014-04-17 | 30 | |
| 69 | 621 | Phaedra Parks & Quad Webb-lunceford | 2014-04-20 | 30 | |
| 70 | 622 | Gillian Jacobs & Heather Dubrow | 2014-04-21 | 30 | |
| 71 | 623 | Luann De Lesseps & Billy Eichner | 2014-04-22 | 30 | |
| 72 | 624 | Marisa Tomei & Boy George | 2014-04-23 | 30 | |
| 73 | 625 | Mario Lopez & Brandy Norwood | 2014-04-24 | 30 | |
| 74 | 626 | Cynthia Bailey & Rita Ora | 2014-04-27 | 30 | |
| 75 | 627 | Cameron Diaz & Leslie Mann | 2014-04-28 | 30 | |
| 76 | 628 | Nate Berkus & Kristen Taekman | 2014-04-29 | 30 | |
| 77 | 629 | Nick Carter & Jordan Knight | 2014-04-30 | 30 | |
| 78 | 630 | Julie Andrews & Idina Menzel | 2014-05-01 | 30 | |
| 79 | 631 | Porsha Williams | 2014-05-04 | 30 | |
| 80 | 632 | Tamra Judge & Dr. Drew | 2014-05-05 | 30 | |
| 81 | 633 | Sonja Morgan & David Alan Grier | 2014-05-06 | 30 | |
| 82 | 634 | Maury Povich & Connie Chung | 2014-05-07 | 30 | |
| 83 | 635 | Ricki Lake & Jason Priestly | 2014-05-08 | 30 | |
| 84 | 636 | Kenya Moore | 2014-05-11 | 30 | |
| 85 | 637 | The Ladies Of 'the Talk' | 2014-05-12 | 30 | |
| 86 | 638 | Ramona Singer & Casey Wilson | 2014-05-13 | 30 | |
| 87 | 639 | Amy Sedaris & Jon Hamm | 2014-05-14 | 30 | |
| 88 | 640 | Toni Collette & Michael C. Hall | 2014-05-15 | 30 | |
| 89 | 641 | Heavenly Kimes & Simone Whitmore | 2014-05-18 | 30 | |
| 90 | 642 | Sara Bareilles & Ricky Martin | 2014-05-19 | 30 | |
| 91 | 643 | Heather Thomson & Terry Crews | 2014-05-20 | 30 | |
| 92 | 644 | Fredrik Eklund & Ian Ziering | 2014-05-21 | 30 | |
| 93 | 645 | Lea Michele & Debbie Harry | 2014-05-22 | 30 | |
| 94 | 646 | Carole Radziwill & Amar'e Stoudemire | 2014-05-27 | 30 | |
| 95 | 647 | Lisa Rinna & Harry Hamlin | 2014-05-28 | 30 | |
| 96 | 648 | Lacey Chabert & Willie Geist | 2014-05-29 | 30 | |
| 97 | 649 | Mariah Huq & Andre Leon Talley | 2014-06-15 | 30 | |
| 98 | 650 | Shannon Beador & Gabrielle Union | 2014-06-16 | 30 | |
| 99 | 651 | Patti LaBelle & Wanda Sykes | 2014-06-17 | 30 | |
| 100 | 652 | 50 Cent & Jerry Ferrara | 2014-06-18 | 30 | |
| 101 | 653 | Jennifer Lopez | 2014-06-19 | 30 | |
| 102 | 654 | Kandi Burruss & Mama Joyce | 2014-06-22 | 30 | |
| 103 | 655 | Caprice & Joe Manganiello | 2014-06-23 | 30 | |
| 104 | 656 | Sonja Morgan & John Oliver | 2014-06-24 | 30 | |
| 105 | 657 | Joel McHale & Stanley Tucci | 2014-06-25 | 30 | |
| 106 | 658 | Keira Knightley & Mark Ruffalo | 2014-06-26 | 30 | |
| 107 | 659 | Jennie Garth & Tori Spelling | 2014-06-29 | 30 | |
| 108 | 660 | Kandi Burruss Tucker & Todd Tucker | 2014-07-06 | 30 | |
| 109 | 661 | Heather Dubrow & Caroline Stanbury | 2014-07-07 | 30 | |
| 110 | 662 | Nicole Richie & Rachel Maddow | 2014-07-08 | 30 | |
| 111 | 663 | Leah Remini & Steve Guttenberg | 2014-07-09 | 30 | |
| 112 | 664 | Taye Diggs & John Legend | 2014-07-10 | 30 | |
| 113 | 665 | Dina Manzo & Chris Colfer | 2014-07-13 | 30 | |
| 114 | 666 | Angela Kinsey & Tamra Judge | 2014-07-14 | 30 | |
| 115 | 667 | Kelly Ripa & Anderson Cooper | 2014-07-15 | 30 | |
| 116 | 668 | Liv Tyler & Common | 2014-07-16 | 30 | |
| 117 | 669 | 5th Anniversary Show! | 2014-07-17 | 30 | |
| 118 | 670 | Kathy Wakile, Rosie Pierri & Vanassa Sebastian | 2014-07-20 | 30 | |
| 119 | 671 | Lizzie Rovsek & Juliet Angus | 2014-07-21 | 30 | |
| 120 | 672 | The Real Housewives Of New York | 2014-07-22 | 30 | |
| 121 | 673 | Million Dollar Listing Miami | 2014-07-23 | 30 | |
| 122 | 674 | Kristin Chenoweth & Gayle King | 2014-07-24 | 30 | |
| 123 | 675 | Nicole Napolitano & Teresa Aprea | 2014-07-27 | 30 | |
| 124 | 676 | Vicki Gunvalson & Rachel Dratch | 2014-07-28 | 30 | |
| 125 | 677 | Joan Rivers & Maksim Chmerkovskiy | 2014-07-29 | 30 | |
| 126 | 678 | Kate Hudson & Zach Braff | 2014-07-30 | 30 | |
| 127 | 679 | Laverne Cox & Zoe Saldana | 2014-07-31 | 30 | |
| 128 | 680 | Melissa & Joe Gorga | 2014-08-03 | 30 | |
| 129 | 681 | Shannon Beador & Elisabeth Moss | 2014-08-04 | 30 | |
| 130 | 682 | Tyra Banks & Derek Hough | 2014-08-05 | 30 | |
| 131 | 683 | Mark-paul Gosselaar & Mel B | 2014-08-06 | 30 | |
| 132 | 684 | Rebecca Romijn & Daniel Radcliffe | 2014-08-07 | 30 | |
| 133 | 685 | Amber Marchese & David Arquette | 2014-08-10 | 30 | |
| 134 | 686 | Heather & Terry Dubrow | 2014-08-11 | 30 | |
| 135 | 687 | Kim Kardashian West | 2014-08-12 | 30 | |
| 136 | 688 | Kim Biermann | 2014-08-13 | 30 | |
| 137 | 689 | Jessica Alba & Demi Lovato | 2014-08-14 | 30 | |
| 138 | 690 | Kathy Wakile, Rosie Pierri & Jaime Primak Sullivan | 2014-09-07 | 30 | |
| 139 | 691 | Zosia Mamet & Patrick Wilson | 2014-09-08 | 30 | |
| 140 | 692 | Jenna Dewan-tatum & Tyson Beckford | 2014-09-09 | 30 | |
| 141 | 693 | Nick Jonas & Steve Harvey | 2014-09-10 | 30 | |
| 142 | 694 | Kirsten Wiig & Bill Hader | 2014-09-11 | 30 | |
| 143 | 695 | Mindy Kaling & Meredith Vieira | 2014-09-14 | 30 | |
| 144 | 696 | Connie Britton & Justin Long | 2014-09-15 | 30 | |
| 145 | 697 | Mdl: La | 2014-09-16 | 30 | |
| 146 | 698 | Jessica Chastain & Craig Ferguson | 2014-09-17 | 30 | |
| 147 | 699 | Liam Neeson & John Benjamin Hickey | 2014-09-18 | 30 | |
| 148 | 700 | Melissa & Joe Gorga | 2014-09-21 | 30 | |
| 149 | 701 | Chloe Grace Moretz & Billy Bush | 2014-09-22 | 30 | |
| 150 | 702 | Kim Cattrall & Frank Grillo | 2014-09-23 | 30 | |
| 151 | 703 | Jennifer Hudson & Andre Leon Talley | 2014-09-24 | 30 | |
| 152 | 704 | Sofia Vergara & Sam Rockwell | 2014-09-25 | 30 | |
| 153 | 705 | Jacqueline Laurita & Rita Wilson | 2014-09-28 | 30 | |
| 154 | 706 | LuAnn de Lesseps & Jeff Garlin | 2014-09-29 | 30 | |
| 155 | 707 | Kate Walsh & B.J. Novak | 2014-09-30 | 30 | |
| 156 | 708 | Melissa Etheridge & Gretchen Mol! | 2014-10-01 | 30 | |
| 157 | 709 | Kat Held & Ben Robinson | 2014-10-02 | 30 | |
| 158 | 710 | Caroline Manzo & Ana Gasteyer | 2014-10-05 | 30 | |
| 159 | 711 | Teresa Giudice And Joe Giudice | 2014-10-06 | 30 | |
| 160 | 712 | Below Deck: Kate Chastain, Amy Johnson & Kelly Johnson | 2014-10-07 | 30 | |
| 161 | 713 | Hilary Duff & Giada De Laurentiis | 2014-10-08 | 30 | |
| 164 | 714 | One-on-One with Teresa & Joe Giudice Part 2 | 2014-10-09 | 30 | |
| 165 | 715 | Amber and Jim Marchese | 2014-10-12 | 30 | |
| 166 | 716 | Carol Burnett | 2014-10-13 | 30 | |
| 167 | 717 | Gretchen Rossi and Slade Smiley | 2014-10-14 | 30 | |
| 168 | 718 | Minnie Driver and James Marsden | 2014-10-15 | 30 | |
| 169 | 719 | Candy Crowley and Dane Cook | 2014-10-16 | 30 | |
| 170 | 720 | Teresa, Nicole & Tamar Braxton | 2014-10-19 | 30 | |
| 171 | 721 | T.I & Matthew Broderick | 2014-10-20 | 30 | |
| 172 | 722 | Ty Burrell & John Leguizamo | 2014-10-21 | 30 | |
| 173 | 723 | Jenny McCarthy & Tom Bergeron | 2014-10-22 | 30 | |
| 174 | 724 | Alan Cumming & Victor Garber | 2014-10-23 | 30 | |
| 175 | 725 | Dina Manzo & Mark Consuelos | 2014-10-26 | 30 | |
| 176 | 726 | Andrea Martin & Nathan Lane | 2014-10-27 | 30 | |
| 177 | 727 | Antonio Sabato Jr. & Joey Mcintyre | 2014-10-28 | 30 | |
| 178 | 728 | Tracy Pollan & Michael J. Fox | 2014-10-29 | 30 | |
| 179 | 729 | American Horror Story: Freak Show | 2014-10-30 | 30 | |
| 180 | 730 | Caroline Manzo & Michelle Williams | 2014-11-02 | 30 | |
| 181 | 731 | Scheana Marie & Kristen Doute | 2014-11-03 | 30 | |
| 182 | 732 | Jane Leeves, Valerie Bertinelli & Wendi Malick | 2014-11-05 | 30 | |
| 183 | 733 | Lisa Kudrow & Martin Short | 2014-11-06 | 30 | |
| 184 | 734 | NeNe Leakes | 2014-11-09 | 30 | |
| 185 | 735 | Tom Sandoval & Ariana Madix | 2014-11-10 | 30 | |
| 186 | 736 | Megan Mullally & Dick Cavett | 2014-11-11 | 30 | |
| 187 | 737 | Naomi Judd & Rob Riggle | 2014-11-12 | 30 | |
| 188 | 738 | Anjelica Huston & Wendi McLendon-Covey | 2014-11-13 | 30 | |
| 189 | 739 | Kenya Moore & Sherri Shepherd | 2014-11-16 | 30 | |
| 190 | 740 | Lisa Vanderpump | 2014-11-17 | 30 | |
| 191 | 741 | Adrienne, Camille & Taylor | 2014-11-18 | 30 | |
| 192 | 742 | Brooke Shields & Russell Brand | 2014-11-19 | 30 | |
| 193 | 743 | Allison Williams & Allison Janney | 2014-11-20 | 30 | |
| 194 | 744 | Kandi Burruss & Lisa Wu | 2014-11-23 | 30 | |
| 195 | 745 | Cynthia Bailey & Bevy Smith | 2014-11-30 | 30 | |
| 196 | 746 | Lisa Edelstein & Jax Taylor | 2014-12-01 | 30 | |
| 197 | 747 | Kyle Richards & Gabrielle Union | 2014-12-02 | 30 | |
| 198 | 748 | Jenna Bush Hager & Rachael Ray | 2014-12-03 | 30 | |
| 199 | 749 | Amy Sedaris & Deepak Chopra | 2014-12-04 | 30 | |
| 200 | 750 | Nene Leakes & Kim Biermann | 2014-12-07 | 30 | |
| 201 | 751 | Stassi Schroeder & Todd Chrisley | 2014-12-08 | 30 | |
| 202 | 752 | Brandi Glanville & Sandra Bernhard | 2014-12-09 | 30 | |
| 203 | 753 | Diane Von Fürstenberg & Hugh Bonneville | 2014-12-10 | 30 | |
| 204 | 754 | Padma Lakshmi & Olivia Munn | 2014-12-11 | 30 | |
| 205 | 755 | Porsha Williams & Laverne Cox | 2014-12-14 | 30 | |
| 206 | 756 | Krysten Ritter & Jason Schwartzman | 2014-12-15 | 30 | |
| 207 | 757 | Vicki Gunvalson & Beth Stren | 2014-12-16 | 30 | |
| 208 | 758 | Nicki Minaj | 2014-12-17 | 30 | |
| 209 | 759 | Sting & Trudie Styler | 2014-12-18 | 30 | |
| 210 | 760 | Phaedra Parks & Faith Evans | 2014-12-21 | 30 | |
| 211 | 761 | Kelly Ripa & Anderson Cooper | 2014-12-22 | 30 | |
| 212 | 762 | Yolanda Foster & Anna Kendrick | 2014-12-23 | 30 | |
Season 12
Episode No.
No. Overall
Title
Airdate
Runtime
Summary
1
763
Kenya Moore & The Tankards
2015-01-04
30
2
764
Kristen Doute & Margaret Cho
2015-01-05
30
3
765
Brandi Glanville & Jeff Lewis
2015-01-06
30
4
766
Patrick Wilson & Nicolle Wallace
2015-01-07
30
5
767
Lucy Hale & Josh Lucas
2015-01-08
30
6
768
Claudia Jordan & Willie Geist
2015-01-11
30
7
769
Wolf Blitzer & Scheana Marie Shay
2015-01-12
30
8
770
Lisa Rinna & Bob Harper
2015-01-13
30
9
771
Angela Bassett & George Lopez
2015-01-14
30
10
772
Gwyneth Paltrow & Amanda Peet
2015-01-15
30
11
773
Cynthia Bailey & Christina Milian
2015-01-18
30
12
774
Kevin Hart & Josh Gad
2015-01-19
30
13
775
Kyle Richards & Brad Goreski
2015-01-20
30
14
776
Julianne Moore & Jonathan Groff
2015-01-21
30
15
777
Jennifer Lopez
2015-01-22
30
16
778
Kandi Burruss & Ne-Yo
2015-01-25
30
17
779
Kristin Chenoweth & Tom Sandoval
2015-01-26
30
18
780
Eileen Davidson & Whitney Cummings
2015-01-27
30
19
781
Savannah Guthrie & Al Roker
2015-01-28
30
20
782
Jennifer Nettles & Tony Goldwyn
2015-01-29
30
21
783
Katie Maloney & Tom Schwartz
2015-02-02
30
22
784
Luann De Lesseps & Lance Bass
2015-02-03
30
23
785
Busy Philipps & Tom Colicchio
2015-02-04
30
24
786
Aidy Bryant & Zachary Quinto
2015-02-05
30
25
787
Hoda Kotb & Steve Harvey
2015-02-08
30
26
788
Patti Stanger & Jax Taylor
2015-02-09
30
27
789
Catherine O'Hara & Eugene Levy
2015-02-10
30
28
790
Top Chef Finalists
2015-02-11
30
29
791
Patricia Arquette & Marcia Gay Harden
2015-02-12
30
30
792
NeNe Leakes & Tracee Ellis Ross
2015-02-15
30
31
793
Cheri Oteri & Dylan McDermott
2015-02-16
30
32
794
Lisa Vanderpump
2015-02-17
30
33
795
Hugh Grant
2015-02-18
30
34
796
Meredith Vieira & Samuel L. Jackson
2015-02-19
30
35
797
Scheana Marie Shay & Scott Wolf
2015-02-23
30
36
798
Lisa Rinna & Dakota Fanning
2015-02-24
30
37
799
Jane Lynch & Josh Duhamel
2015-02-25
30
38
800
John Oliver & Mark Duplass
2015-02-26
30
39
801
Kenya Moore, Derek J & Miss Lawrence
2015-03-01
30
40
802
Gg & Reza Farahan
2015-03-02
30
41
803
Kim, Alaska, Tina & Tarz
2015-03-03
30
42
804
Anne Heche & Tim Daly
2015-03-04
30
43
805
Kelly Clarkson
2015-03-05
30
44
806
Cynthia Bailey & Melissa Gorga
2015-03-08
30
45
807
Kristen Doute & Vanessa Bayer
2015-03-09
30
46
808
Elizabeth Hurley & Tony Danza
2015-03-10
30
47
809
Shania Twain & Penn Badgley
2015-03-11
30
48
810
Jane Krakowski & Liam Neeson
2015-03-12
30
49
811
Claudia Jordan & Tituss Burgess
2015-03-15
30
50
812
Mj Javid & Thomas Ravenel
2015-03-16
30
51
813
Adrienne Maloof, Camille Grammer & Taylor Armstrong
2015-03-17
30
52
814
Ellen Barkin & Anderson Cooper
2015-03-18
30
53
815
Nick Cannon & Bobby Cannavale
2015-03-19
30
54
816
Bethenny Frankel
2015-03-22
30
55
817
Brandi Glanville & Mike Shouhed
2015-03-23
30
56
818
Kyle Richards & Jerry O'connell
2015-03-24
30
57
819
Christina Hendricks & Rita Wilson
2015-03-25
30
58
820
Patti Stanger & Ryan Serhant
2015-03-26
30
59
821
Regina King & RuPaul
2015-03-29
30
60
822
Elizabeth Moss & John Slattery
2015-04-06
30
61
823
Ramona Singer & Christina Ricci
2015-04-07
30
62
824
Lorraine Bracco & Sandra Bernhard
2015-04-08
30
63
825
Jon Cryer & Scott Eastwood
2015-04-09
30
64
826
Phaedra Parks & Porsha Williams
2015-04-12
30
65
827
Terry Dubrow & Paul Nassif
2015-04-13
30
66
828
Bethenny Frankel & Isaac Mizrahi
2015-04-14
30
67
829
Million Dollar Listing: NY
2015-04-15
30
68
830
Reba & Suzanne Somers
2015-04-16
30
69
831
Kandi Burruss & Brandy Norwood
2015-04-19
30
70
832
Chrissy Teigen & LL Cool J
2015-04-20
30
71
833
Heather Thomson & Ana Gasteyer
2015-04-21
30
72
834
Lori Loughlin & Jerry O'connell
2015-04-22
30
73
835
Gina Rodriguez & Mo'Nique
2015-04-23
30
74
836
Kenya Moore & Daisy Lewellyn
2015-04-26
30
75
837
Asa Soltan Rahmati & Shep Rose
2014-04-27
30
76
838
Sonja Morgan & Lea Black
2015-04-28
30
77
839
Bob Harper & Barney Frank
2015-04-29
30
78
840
Cynthia Nixon & Nicolle Wallace
2015-04-30
30
79
841
NeNe Leakes & Cecily Strong
2015-05-03
30
80
842
Helen Hunt & Candice Bergen
2015-05-04
30
81
843
Carole Radziwill & Alan Thicke
2015-05-05
30
82
844
Jack Black & James Marsden
2015-05-06
30
83
845
Sofia Vergara & Reese Witherspoon
2015-05-07
30
84
846
Sean "diddy" Combs
2015-05-10
30
85
847
Bellamy Young & Guillermo Diaz
2015-05-11
30
86
848
LuAnn De Lesseps & Skylar Astin
2015-05-12
30
87
849
Sharon Osbourne & Seann William Scott
2015-05-13
30
88
850
Jane Fonda & Lily Tomlin
2015-05-14
30
89
851
Snoop Dogg & Willie Geist
2015-05-17
30
90
852
Brooklyn Decker & Adam Lambert
2015-05-18
30
91
853
Dorinda Medley & Chris Harrison
2015-05-19
30
92
854
Vivica A. Fox & Fredrik Eklund
2015-05-20
30
93
855
Vanessa Hudgens & Kellan Lutz
2015-05-21
30
94
856
Bethenny
2015-05-26
30
95
857
Jerry Ferrara & Dermot Mulroney
2015-05-27
30
96
858
Kevin Connolly & Kevin Dillon
2015-05-28
30
97
859
Quad Webb-Lunceford & Heavenly
2015-06-14
30
98
860
Vicki Gunvalson & Jenny Mccarthy
2015-06-15
30
99
861
Heather Thomson, Kristen Taekman & Jackie Collins
2015-06-16
30
100
862
Lauren Graham & Eric Dane
2015-06-17
30
101
863
Natasha Leggero & Adam Scott
2015-06-18
30
102
864
Uzo Aduba & Trey Songz
2015-06-21
30
103
865
Heather Dubrow & Jill Kargman
2015-06-22
30
104
866
LuAnn De Lesseps & Sonja Morgan
2015-06-23
30
105
867
Sarah Paulson & Gabriel Macht
2015-06-24
30
106
868
Rose McGowan & Josh Groban
2015-06-25
30
107
869
Debra Messing & Ali Wentworth
2015-07-06
30
108
870
Jenni Pulos & Jeff Lewis
2015-07-07
30
109
871
Bernadette Peters & Laura Linney
2015-07-08
30
110
872
Andie MacDowell & Taylor Schilling
2015-07-09
30
111
873
Laverne Cox & Andre Leon Talley
2015-07-12
30
112
874
Tamra Judge & Abby Elliott
2015-07-13
30
113
875
Carole Radziwill & Heather Thomson
2015-07-14
30
114
876
Hoda Kotb & Kathie Lee Gifford
2015-07-15
30
115
877
John Cena & Method Man
2015-07-16
30
116
878
Gina Gershon & Colin Quinn
2015-07-19
30
117
879
Shannon Beador & Dorinda Medley
2015-07-20
30
118
880
Amy Schumer, Bill Hader & Judd Apatow
2015-07-21
30
119
881
Leah Remini & Josh Gad
2015-07-22
30
120
882
Melissa Gorga & LuAnn de Lesseps
2015-07-23
30
121
883
Dionne Warwick & 50 Cent
2015-07-26
30
122
884
Meghan King Edmonds & Joanna Garcia Swisher
2015-07-27
30
123
885
Ramona Singer & Michael Rapaport
2015-07-28
30
124
886
Justin Fichelson, Andrew Greenwell & Roh Habibi
2015-07-29
30
125
887
Joss Stone & Ed Helms
2015-07-30
30
126
888
Christina Applegate & Mark Consuelos
2015-08-02
30
127
889
Julie Klausner & Billy Eichner
2015-08-03
30
128
890
Sonja Morgan & Jessica St. Clair
2015-08-04
30
129
891
Valerie Bertinelli & Colin Jost
2015-08-05
30
130
892
Jamie Bell, Kate Mara, Michael B. Jordan, & Miles Teller
2015-08-06
30
131
893
Ice-t & Coco
2015-08-09
30
132
894
Vicki Gunvalson & Jeff Lewis
2015-08-10
30
133
895
Bethenny Frankel & Christina Hendricks
2015-08-11
30
134
896
Salma Hayek & Craig Robinson
2015-08-12
30
135
897
Connie Britton & Austin Mahone
2015-08-13
30
136
898
Kim Zolciak-biermann & Angela Kinsey
2015-08-16
30
137
899
Caroline Manzo & Ricki Lake
2015-08-17
30
138
900
Alison Brie & Jason Sudeikis
2015-09-08
30

Andy Cohen's special guests tonight are Alison Brie & Jason Sudeikis.

139
901
Martha Stewart & Jim Gaffigan
2015-09-09
30

Andy Cohen's special guests tonight are Chrissy Teigen & Martha Stewart.

140
902
Emily Mortimer & Criag Ferguson
2015-09-10
30

Andy Cohen's special guests tonight are Craig Ferguson & Emily Mortimer.

141
903
Mindy Kaling & Bryshere Gray
2015-09-13
30

Andy Cohen's special guests tonight are Bryshere Y. Gray & Mindy Kaling.

142
904
Ramona Singer & Tamra Judge
2015-09-14
30

Andy Cohen's special guests tonight are Ramona Singer and Tamra Judge, Andy announces the "Real Housewives Awards", including the "Lifetime Achievement", "Rookie of the Year", "OMG Moment of the Year",' and the "Most LOL-Worthy" awards.

143
905
Ciara & Joy Behar
2015-09-15
30

Andy Cohen's special guests tonight are Jessica Alba & Rick Springfield.

144
906
Jessica Alba & Rick Springfield
2015-09-16
30

Andy Cohen's special guests tonight are Journalist David Gregory & Joy Behar.

145
907
Andy's Top 10 NYC Moments
2015-09-17
30

Andy's Top 10 NYC Moments

146
908
Kaley Cuoco-sweeting & Serayah
2015-09-20
30

Andy Cohen's special guests tonight are Kaley Cuoco-Sweeting & Serayah McNeill.

147
909
Shannon Beador & Gretchen Rossi
2015-09-21
30

Andy Cohen's special guests tonight are Gretchen Rossi & Shannon Beador.

148
910
Kate Chastain & Amy Johnson
2015-09-22
30

Andy Cohen's special guests tonight are Amy Johnson & Kate Chastain.

149
911
Chrissie Hynde & Sandra Bernhard
2015-09-23
30

Andy Cohen's special guests tonight are Chrissie Hynde & Sandra Bernhard.

150
912
Pamela Anderson And Meredith Vieira
2015-09-24
30

Andy Cohen's special guests tonight are Meredith Vieira & Pamela Anderson.

151
913
Neil Patrick Harris & Whitney Cummings
2015-09-27
30

Andy Cohen's special guests tonight are Neil Patrick Harris & Whitney Cummings.

152
914
Heather Dubrow And Annabelle Neilson
2015-09-28
30

Andy Cohen's special guests tonight are Annabelle Neilson & Heather Dubrow.

153
915
Mike Epps And Matthew Morrison
2015-09-29
30

Andy Cohen's special guests tonight are Matthew Morrison & Mike Epps.

154
916
David Parnes, James Harris, Josh Altman & Josh Flagg
2015-09-30
30

Andy Cohen's special guests tonight are David Parnes, James Harris, Josh Altman & Josh Flagg.

155
917
John Stamos & Kathleen Turner
2015-10-01
30

Andy Cohen's special guests tonight are John Stamos & Kathleen Turner.

156
918
Julianne Moore & Kristen Wiig
2015-10-04
30

Andy Cohen's special guests tonight are Julianne Moore & Kristen Wiig

.

157
919
One On One: Shannon & David Beador
2015-10-05
30

Andy Cohen's special guests tonight are David & Shannon Beador .

158
920
David Gregory & Sarah Michelle Gellar
2015-10-07
30

Andy Cohen's special guests tonight are David Gregory & Sarah Michelle Gellar.

159
921
Jill Zarin & Rebecca Romijn
2015-10-08
30

Andy Cohen's special guests tonight are Jill Zarin & Rebecca Romijn.

.

160
922
Joe Giudice & Joe Gorga
2015-10-11
30

Andy Cohen's special guests tonight are TBA Joe Giudice & Joe Gorga.

161
923
Cecily Strong & Vicki Gunvalson
2015-10-12
30

Andy Cohen's special guests tonight are Cecily Strong & Vicki Gunvalson.

162
924
Cate Blanchett & Julie Andrews
2015-10-13
30

Andy Cohen's special guests tonight are Cate Blanchett & Julie Andrews.

163
925
Donna Karan & Taylor Kinney
2015-10-14
30

Andy Cohen's special guests tonight are Donna Karan & Taylor Kinney.

164
926
Michael Strahan & Olivia Wilde
2015-10-15
30

Andy Cohen's special guests tonight are Michael Strahan & Olivia Wilde.

165
927
Selena Gomez, Willie Geist
2015-10-18
30
167
928
Jeana Keough, Lynne Curtain, Lauri Peterson
2015-10-19
30
168
929
Kate Hudson, Zooey Deschanel
2015-10-20
30
169
930
Robin Thicke, Ron Howard
2015-10-21
30
170
931
Whoopi Goldberg, Molly Ringwald
2015-10-22
30
171
932
Amber Rose, Iyanla Vanzant
2015-10-25
30
172
933
Wendi McLendon-Covey, Alexis Bellino
2015-10-26
30
173
934
David Spade, Matthew Broderick
2015-10-27
30
174
935
Stephen Moyer, Dan Rather
2015-10-28
30
175
936
Mike Tyson, Sarah Silverman
2015-10-29
30
176
937
Caroline Manzo, Albie Manzo, Chris Manzo, Lauren Manzo
2015-11-01
30
177
938
Jax Taylor, Tom Schwartz
2015-11-02
30
178
939
Maura Tierney & Topher Grace
2015-11-03
30
179
940
Leah Remini, Gloria Estefan
2015-11-04
30
180
941
Giada De Laurentiis, Jerry Rice
2015-11-05
30
181
942
Kandi Burruss; Vivica A. Fox.
2015-11-08
30

TV personality Kandi Burruss (``The Real Housewives of Atlanta''); actress Vivica A. Fox.

182
943
Caroline Stanbury & Tom Sandoval
2015-11-09
30

TV personality Caroline Standbury (``Ladies of London''); TV personality Tom Sandoval (``Vanderpump Rules'').

183
944
Christina Ricci & John Benjamin Hickey
2015-11-10
30

Actor John Benjamin Hickey; actress Christina Ricci.

184
945
Elizabeth Hurley; Ralph Fiennes.
2015-11-11
30

Actress Elizabeth Hurley; actor Ralph Fiennes.

185
946
Daniel Radcliffe; James McAvoy
2015-11-12
30

Actors Daniel Radcliffe and James McAvoy (``Victor Frankenstein'').

186
947
Kenya Moore & T-pain
2015-11-15
30

TV personality Kenya Moore; singer T-Pain.

187
948
Drew Barrymore
2015-11-16
30

Actress Drew Barrymore.

188
949
Dennis Quaid & Oliver Hudson
2015-11-17
30

Actor Dennis Quaid; actor Oliver Hudson.

189
950
Natalie Dormer & Timbaland
2015-11-18
30

Actress Natalie Dormer; rapper Timbaland.

190
951
Seth Rogen & Anthony Mackie
2015-11-19
30
191
952
Porsha Williams & Ja Rule
2015-11-22
30

TV personality Porsha Williams (``The Real Housewives of Atlanta''); rapper Ja Rule.

192
953
Vicki Gunvalson
2015-11-23
30

Andy Cohen's special guest tonight is Vicki Gunvalson

193
954
Donny Deutsch & Scheana Shay
2015-11-30
30

Andy Cohen's special guests tonight are Donny Deutsch & Scheana Shay.

194
955
Kyle Richards And Lisa Edelstein
2015-12-01
30

TV personality Kyle Richards; actress Lisa Edelstein.

195
956
Gloria Steinem And Mariska Hargitay
2015-12-02
30
196
957
Adriana Lima And Padma Lakshmi
2015-12-03
30

Model Adriana Lima; TV show host Padma Lakshmi.

197
958
NeNe Leakes
2015-12-06
30

TV personality NeNe Leakes.

198
959
Kristen Doute & Beth Stern
2015-12-07
30
199
960
Lisa Rinna & Joan Collins
2015-12-08
30
200
961
Trisha Yearwood & Baby Face
2015-12-09
30
201
962
Michelle Dockery & Allen Leech
2015-12-10
30
202
963
Phaedra Parks & Patti Labelle
2015-12-13
30
203
964
Lala Kent & James Kennedy
2015-12-14
30
204
965
Behati Prinsloo & Seth Meyers
2015-12-15
30
205
966
Whoopi Goldberg, Billy Eichner
2015-12-16
30
206
967
Maya Rudloph & Will Ferrell
2015-12-20
30
207
968
Jennifer Lawrence
2015-12-21
30
Season 13
| Episode No. | No. Overall | Title | Airdate | Runtime | Summary |
| --- | --- | --- | --- | --- | --- |
| 1 | 969 | Cynthia Bailey & Bob Harper | 2016-01-03 | 30 | |
| 2 | 970 | Katie Maloney & Tom Schwartz | 2016-01-04 | 30 | |
| 3 | 971 | Erika Girardi & Cheyenne Jackson | 2016-01-05 | 30 | TV personality Erika Girardi; actor Cheyenne Jackson. |
| 4 | 972 | Dr. Oz & Dave Foley | 2016-01-06 | 30 | |
| 5 | 973 | Samuel L. Jackson & Jennifer Jason Leigh | 2016-01-07 | 30 | |
| 6 | 974 | Sherri Shepherd & Sheree Whitfield | 2016-01-10 | 30 | |
| 7 | 975 | Scheana Shay & Kristen Doute | 2016-01-11 | 30 | |
| 8 | 976 | Lisa Vanderpump & Hoda Kotb | 2016-01-12 | 30 | |
| 9 | 977 | Eva Longoria & Ryan Seacrest | 2016-01-13 | 30 | |
| 10 | 978 | Heather Graham & Brooke Shields | 2016-01-14 | 30 | |
| 11 | 979 | Khloe Kardashian | 2016-01-17 | 30 | |
| 12 | 980 | Michelle Collins & Jax Taylor | 2016-01-18 | 30 | |
| 13 | 981 | Kyle Richards & Camille Grammer | 2016-01-19 | 30 | |
| 14 | 982 | Jenna Fischer & Dermot Mulroney | 2016-01-20 | 30 | |
| 15 | 983 | Laurie Metcalf & Aaron Tveit | 2016-01-21 | 30 | |
| 16 | 984 | Gizelle Bryant & Marlon Wayans | 2016-01-24 | 30 | |
| 17 | 985 | Chris Carmack & Stassi Schroeder | 2016-01-25 | 30 | |
| 18 | 986 | Eileen Davidson & Michele Lee | 2016-01-26 | 30 | |
| 19 | 987 | Matt Lauer & Savannah Guthrie | 2016-01-27 | 30 | |
| 20 | 988 | Connie Chung & Matt Harvey | 2016-01-28 | 30 | |
| 21 | 989 | Kenya Moore & Karen Huger | 2016-01-31 | 30 | |
| 22 | 990 | Ariana Madix & Tom Sandoval | 2016-02-01 | 30 | |
| 23 | 991 | Lisa Rinna & Harry Hamlin | 2016-02-02 | 30 | |
| 24 | 992 | Cynthia Nixon & Ethan Hawke | 2016-02-03 | 30 | |
| 25 | 993 | Cuba Gooding Jr. & Charles Kelley | 2016-02-04 | 30 | |
| 26 | 994 | Katie Maloney, Kristen Doute, & Bobby Moynihan | 2016-02-08 | 30 | |
| 27 | 995 | WWHL One on One with Teresa Giudice | 2016-02-09 | 30 | |
| 28 | 996 | WWHL One on One with Teresa Giudice: Part 2 | 2016-02-10 | 30 | |
| 29 | 997 | Leslie Mann, Dakota Johnson, & Alison Brie | 2016-02-10 | 30 | |
| 30 | 998 | Olivia Wilde & Ryan Reynolds | 2016-02-11 | 30 | |
| 31 | 999 | Phaedra Parks & Ta'Rhonda Jones | 2016-02-14 | 30 | |
| 32 | 1000 | Aidy Bryant, Tom Sandoval, & Tom Schwartz | 2016-02-15 | 30 | |
| 33 | 1001 | Yolanda Foster & Craig Ferguson | 2016-02-16 | 30 | |
| 34 | 1002 | Penelope Cruz & Ben Stiller | 2016-02-17 | 30 | |
| 35 | 1003 | Cynthia Bailey & Sandra Bernhard | 2016-02-18 | 30 | |
| 36 | 1004 | NeNe Leakes | 2016-02-21 | 30 | TV personality NeNe Leakes. |
| 37 | 1005 | Jax Taylor & Brittany Cartwright | 2016-02-22 | 30 | |
| 38 | 1006 | Kathryn Edwards & Debra Messing | 2016-02-23 | 30 | |
| 39 | 1007 | Lala Kent & Jerry O'Connell | 2016-02-24 | 30 | |
| 40 | 1008 | Candace Cameron-Bure, Jodie Sweetin & Andrea Barber | 2016-02-25 | 30 | |
| 41 | 1009 | Jennifer Lopez | 2016-02-29 | 30 | Jennifer Lopez |
| 42 | 1010 | Taylor Armstrong & Rachael Harris | 2016-03-01 | 30 | |
| 43 | 1011 | Kristin Chenoweth & Chrissy Teigen | 2016-03-02 | 30 | |
| 44 | 1012 | Kim Fields & Michael Rapaport | 2016-03-06 | 30 | |
| 45 | 1013 | Katie Maloney, Scheana Shay, Kristen Doute & Stassi Schroeder | 2016-03-07 | 30 | |
| 46 | 1014 | Tina Fey & Kim Barker | 2016-03-08 | 30 | |
| 47 | 1015 | Loretta Lynn & Isaac Mizrahi | 2016-03-09 | 30 | |
| 48 | 1016 | Sally Field & Max Greenfield | 2016-03-10 | 30 | |
| 49 | 1017 | Kandi Burruss & RuPaul | 2016-03-13 | 30 | |
| 50 | 1018 | Lisa Vanderpump | 2016-03-14 | 30 | |
| 51 | 1019 | Abbi Jacobson & Ilana Glazer | 2016-03-15 | 30 | |
| 52 | 1020 | Catherine O'Hara & Eugene Levy | 2016-03-16 | 30 | |
| 53 | 1021 | William H. Macy & Seal | 2016-03-17 | 30 | |
| 54 | 1022 | Ashley Darby, Charrisse Jordan & Wayne Brady | 2016-03-20 | 30 | |
| 55 | 1023 | Jenny McCarthy & Donnie Wahlberg | 2016-03-21 | 30 | |
| 56 | 1024 | Erika Girardi & Rachel Dratch | 2016-03-22 | 30 | |
| 57 | 1025 | Iggy Azalea & David Arquette | 2016-03-23 | 30 | |
| 58 | 1026 | Kaitlin Doubleday & Nia Vardalos | 2016-03-24 | 30 | |
| 59 | 1027 | Phaedra Parks, Porsha Williams & Shereé Whitfield | 2016-03-27 | 30 | |
| 60 | 1028 | Kathryn Calhoun Dennis & Carson Kressley | 2016-04-04 | 30 | |
| 61 | 1029 | Kyle Richards & Sonja Morgan | 2016-04-05 | 30 | |
| 62 | 1030 | Bethenny Frankel | 2016-04-06 | 30 | TV personality Bethenny Frankel. |
| 63 | 1031 | Sam Rockwell & Greg Kinnear | 2016-04-07 | 30 | Actor Sam Rockwell; actor Greg Kinnear. |
| 64 | 1032 | Mercedes Javid & Mike Epps | 2016-04-10 | 30 | |
| 65 | 1033 | Brandi Redmond & Shep Rose | 2016-04-11 | 30 | |
| 66 | 1034 | Yolanda Hadid & Erika Girardi | 2016-04-12 | 30 | |
| 67 | 1035 | Dorinda Medley & Marie Osmond | 2016-04-13 | 30 | |
| 68 | 1036 | Chris O'Donnell & Jason Sudeikis | 2016-04-14 | 30 | |
| 69 | 1037 | Gizelle Bryant & Mike Shouhed | 2016-04-17 | 30 | |
| 70 | 1038 | Ellie Kemper & Craig Conover | 2016-04-18 | 30 | |
| 71 | 1039 | Rebecca Romijn & Tony Hale | 2016-04-19 | 30 | |
| 72 | 1040 | Sonja Morgan & Fredrik Eklund | 2016-04-20 | 30 | |
| 73 | 1041 | Susan Sarandon & Rose Byrne | 2016-04-21 | 30 | |
| 74 | 1042 | Gillian Anderson & Nikolaj Coster-Waldau | 2016-04-24 | 30 | Andy Cohen hosts guests Nikolaj Coster-Waldau and Gillian Anderson. "Watch What Happens Live," the only live late night, interactive talk show, features guests from the world of entertainment, politics and pop culture. The series includes lively debates on everything from the latest drama surrounding your favorite Bravolebrities to what celebrity is making headlines that week. |
| 75 | 1043 | Cary Deuber & Thomas Ravenel | 2016-04-25 | 30 | Andy Cohen hosts guests Thomas Ravenel and Cary Deuber. "Watch What Happens Live," the only live late night, interactive talk show, features guests from the world of entertainment, politics and pop culture. The series includes lively debates on everything from the latest drama surrounding your favorite Bravolebrities to what celebrity is making headlines that week. |
| 76 | 1044 | Bellamy Young & Gavin Newsom | 2016-04-26 | 30 | Andy Cohen hosts guests Gavin Newsom and Bellamy Young. "Watch What Happens Live," the only live late night, interactive talk show, features guests from the world of entertainment, politics and pop culture. The series includes lively debates on everything from the latest drama surrounding your favorite Bravolebrities to what celebrity is making headlines that week. |
| 77 | 1045 | Carole Radziwill & Ryan Serhant | 2016-04-27 | 30 | Andy Cohen hosts guests Carole Radziwill. "Watch What Happens Live," the only live late night, interactive talk show, features guests from the world of entertainment, politics and pop culture. The series includes lively debates on everything from the latest drama surrounding your favorite Bravolebrities to what celebrity is making headlines that week. |
| 78 | 1046 | Gloria Vanderbilt & Anderson Cooper | 2016-04-28 | 30 | Andy Cohen hosts guests Anderson Cooper and Gloria Vanderbilt. "Watch What Happens Live," the only live late night, interactive talk show, features guests from the world of entertainment, politics and pop culture. The series includes lively debates on everything from the latest drama surrounding your favorite Bravolebrities to what celebrity is making headlines that week. |
| 79 | 1047 | Keegan-Michael Key & Jordan Peele | 2016-05-01 | 30 | Andy Cohen hosts guests Keegan-Michael Key & Jordan Peele. "Watch What Happens Live," the only live late night, interactive talk show, features guests from the world of entertainment, politics and pop culture. The series includes lively debates on everything from the latest drama surrounding your favorite Bravolebrities to what celebrity is making headlines that week. |
| 80 | 1048 | LeeAnne Locken & Cecily Strong | 2016-05-02 | 30 | Andy Cohen hosts guests LeeAnne Locken & Cecily Strong. "Watch What Happens Live," the only live late night, interactive talk show, features guests from the world of entertainment, politics and pop culture. The series includes lively debates on everything from the latest drama surrounding your favorite Bravolebrities to what celebrity is making headlines that week. |
| 81 | 1049 | Lisa Rinna & Ben Robinson | 2016-05-03 | 30 | Andy Cohen hosts guests Lisa Rinna & Ben Robinson. "Watch What Happens Live," the only live late night, interactive talk show, features guests from the world of entertainment, politics and pop culture. The series includes lively debates on everything from the latest drama surrounding your favorite Bravolebrities to what celebrity is making headlines that week. |
| 82 | 1050 | Jules Wainstein & Tituss Burgess | 2016-05-04 | 30 | Andy Cohen hosts guests Jules Wainstein & Tituss Burgess. "Watch What Happens Live," the only live late night, interactive talk show, features guests from the world of entertainment, politics and pop culture. The series includes lively debates on everything from the latest drama surrounding your favorite Bravolebrities to what celebrity is making headlines that week. |
| 83 | 1051 | Morris Chestnut & Daniel Dae Kim | 2016-05-05 | 30 | Andy Cohen hosts guest Morris Chestnut and Daniel Dae Kim. "Watch What Happens Live," the only live late night, interactive talk show, features guests from the world of entertainment, politics and pop culture. The series includes lively debates on everything from the latest drama surrounding your favorite Bravolebrities to what celebrity is making headlines that week. |
| 84 | 1052 | Mercedes Javid & Vida Javid | 2016-05-08 | 30 | Andy Cohen hosts guests Mercedes Javid and Vida Javid. "Watch What Happens Live," the only live late night, interactive talk show, features guests from the world of entertainment, politics and pop culture. The series includes lively debates on everything from the latest drama surrounding your favorite Bravolebrities to what celebrity is making headlines that week. |
| 85 | 1053 | Chloe Grace Moretz & Meghan Trainor | 2016-05-09 | 30 | Andy Cohen hosts guests Chloe Grace Moretz and Meghan Trainor. "Watch What Happens Live," the only live late night, interactive talk show, features guests from the world of entertainment, politics and pop culture. The series includes lively debates on everything from the latest drama surrounding your favorite Bravolebrities to what celebrity is making headlines that week. |
| 86 | 1054 | Allison Williams & Tony Goldwyn | 2016-05-10 | 30 | Andy Cohen hosts guests Allison Williams and Tony Goldwyn. "Watch What Happens Live," the only live late night, interactive talk show, features guests from the world of entertainment, politics and pop culture. The series includes lively debates on everything from the latest drama surrounding your favorite Bravolebrities to what celebrity is making headlines that week. |
| 87 | 1055 | Ramona Singer & Bridget Everett | 2016-05-11 | 30 | Andy Cohen hosts guests Ramona Singer and Bridget Everett. "Watch What Happens Live," the only live late night, interactive talk show, features guests from the world of entertainment, politics and pop culture. The series includes lively debates on everything from the latest drama surrounding your favorite Bravolebrities to what celebrity is making headlines that week. |
| 88 | 1056 | Sara Bareilles & Judith Light | 2016-05-12 | 30 | Andy Cohen hosts guests Sara Bareilles and Judith Light. "Watch What Happens Live," the only live late night, interactive talk show, features guests from the world of entertainment, politics and pop culture. The series includes lively debates on everything from the latest drama surrounding your favorite Bravolebrities to what celebrity is making headlines that week. |
| 89 | 1057 | Kenya Moore & Wendi Mclendon-Covey | 2016-05-15 | 30 | Andy Cohen hosts guests Kenya Moore and Wendi Mclendon-Covey. "Watch What Happens Live," the only live late night, interactive talk show, features guests from the world of entertainment, politics and pop culture. The series includes lively debates on everything from the latest drama surrounding your favorite Bravolebrities to what celebrity is making headlines that week. |
| 90 | 1058 | Jennifer Nettles & Megyn Kelly | 2016-05-16 | 30 | Andy Cohen hosts guests Jennifer Nettles and Megyn Kelly. "Watch What Happens Live," the only live late night, interactive talk show, features guests from the world of entertainment, politics and pop culture. The series includes lively debates on everything from the latest drama surrounding your favorite Bravolebrities to what celebrity is making headlines that week. |
| 91 | 1059 | Mariah Carey | 2016-05-17 | 30 | Andy Cohen hosts guest Mariah Carey. "Watch What Happens Live," the only live late night, interactive talk show, features guests from the world of entertainment, politics and pop culture. The series includes lively debates on everything from the latest drama surrounding your favorite Bravolebrities to what celebrity is making headlines that week. |
| 92 | 1060 | Luann De Lesseps & Michael Rapaport | 2016-05-18 | 30 | Andy Cohen hosts guests Luann De Lesseps and Michael Rapaport. "Watch What Happens Live," the only live late night, interactive talk show, features guests from the world of entertainment, politics and pop culture. The series includes lively debates on everything from the latest drama surrounding your favorite Bravolebrities to what celebrity is making headlines that week. |
| 93 | 1061 | B.J. Novak & Rachel Bloom | 2016-05-19 | 30 | Andy Cohen hosts guests B.J. Novak and Rachel Bloom. "Watch What Happens Live," the only live late night, interactive talk show, features guests from the world of entertainment, politics and pop culture. The series includes lively debates on everything from the latest drama surrounding your favorite Bravolebrities to what celebrity is making headlines that week. |
| 94 | 1062 | Luis D. Ortiz & Reza Farahan | 2016-05-22 | 30 | Andy Cohen hosts guests Luis D. Ortiz and Reza Farahan. "Watch What Happens Live," the only live late night, interactive talk show, features guests from the world of entertainment, politics and pop culture. The series includes lively debates on everything from the latest drama surrounding your favorite Bravolebrities to what celebrity is making headlines that week. |
| 95 | 1063 | Beth Behrs & Sam Claflin | 2016-05-23 | 30 | Andy Cohen hosts guests Beth Behrs and Sam Claflin. "Watch What Happens Live," the only live late night, interactive talk show, features guests from the world of entertainment, politics and pop culture. The series includes lively debates on everything from the latest drama surrounding your favorite Bravolebrities to what celebrity is making headlines that week. |
| 96 | 1064 | Laura Linney & Sean Hayes | 2016-05-24 | 30 | Andy Cohen hosts guests Laura Linney and Sean Hayes. "Watch What Happens Live," the only live late night, interactive talk show, features guests from the world of entertainment, politics and pop culture. The series includes lively debates on everything from the latest drama surrounding your favorite Bravolebrities to what celebrity is making headlines that week. |
| 97 | 1065 | Dorinda Medley & Paula Abdul | 2016-05-25 | 30 | Andy Cohen hosts guests Dorinda Medley and Paula Abdul. "Watch What Happens Live," the only live late night, interactive talk show, features guests from the world of entertainment, politics and pop culture. The series includes lively debates on everything from the latest drama surrounding your favorite Bravolebrities to what celebrity is making headlines that week. |
| 98 | 1066 | Andy Samberg, Akiva Schaffer & Jorma Taccone | 2016-05-26 | 30 | Andy Cohen hosts guests Andy Samberg, Akiva Schaffer and Jorma Taccone. "Watch What Happens Live," the only live late night, interactive talk show, features guests from the world of entertainment, politics and pop culture. The series includes lively debates on everything from the latest drama surrounding your favorite Bravolebrities to what celebrity is making headlines that week. |
| 99 | 1067 | Shervin Roohparvar & Brandi Glanville | 2016-06-12 | 30 | Andy Cohen hosts guests Shervin Roohparvar and Brandi Glanville. "Watch What Happens Live," the only live late night, interactive talk show, features guests from the world of entertainment, politics and pop culture. The series includes lively debates on everything from the latest drama surrounding your favorite Bravolebrities to what celebrity is making headlines that week. |
| 100 | 1068 | Cameran Eubanks, Whitney Sudler-Smith & Landon Clements | 2016-06-13 | 30 | Andy Cohen hosts guests Cameran Eubanks, Whitney Sudler-Smith and Landon Clements. "Watch What Happens Live," the only live late night, interactive talk show, features guests from the world of entertainment, politics and pop culture. The series includes lively debates on everything from the latest drama surrounding your favorite Bravolebrities to what celebrity is making headlines that week. |
| 101 | 1069 | Nick Jonas & Leslie Odom Jr. | 2016-06-14 | 30 | Andy Cohen hosts guests Nick Jonas and Leslie Odom Jr.. "Watch What Happens Live," the only live late night, interactive talk show, features guests from the world of entertainment, politics and pop culture. The series includes lively debates on everything from the latest drama surrounding your favorite Bravolebrities to what celebrity is making headlines that week. |
| 102 | 1070 | Sonja Morgan & Jerry O'Connell | 2016-06-15 | 30 | Andy Cohen hosts guests Sonja Morgan and Jerry O'Connell. "Watch What Happens Live," the only live late night, interactive talk show, features guests from the world of entertainment, politics and pop culture. The series includes lively debates on everything from the latest drama surrounding your favorite Bravolebrities to what celebrity is making headlines that week. |
| 103 | 1071 | NeNe Leakes & Vivica A. Fox | 2016-06-16 | 30 | Andy Cohen hosts guests Nene Leakes and Vivica A. Fox. "Watch What Happens Live," the only live late night, interactive talk show, features guests from the world of entertainment, politics and pop culture. The series includes lively debates on everything from the latest drama surrounding your favorite Bravolebrities to what celebrity is making headlines that week. |
| 104 | 1072 | Asa Soltan Rahmati & Sherri Shepherd | 2016-06-19 | 30 | Andy Cohen hosts guests Asa Soltan Rahmati and Sherri Shepherd. "Watch What Happens Live," the only live late night, interactive talk show, features guests from the world of entertainment, politics and pop culture. The series includes lively debates on everything from the latest drama surrounding your favorite Bravolebrities to what celebrity is making headlines that week. |
| 105 | 1073 | Vicki Gunvalson & Bobby Moynihan | 2016-06-20 | 30 | Andy Cohen hosts guests Vicki Gunvalson and Bobby Moynihan. "Watch What Happens Live," the only live late night, interactive talk show, features guests from the world of entertainment, politics and pop culture. The series includes lively debates on everything from the latest drama surrounding your favorite Bravolebrities to what celebrity is making headlines that week. |
| 106 | 1074 | Hannah Ferrier & Bobby Giancola | 2016-06-21 | 30 | Andy Cohen hosts guests Hannah Ferrier and Bobby Giancola. "Watch What Happens Live," the only live late night, interactive talk show, features guests from the world of entertainment, politics and pop culture. The series includes lively debates on everything from the latest drama surrounding your favorite Bravolebrities to what celebrity is making headlines that week. |
| 107 | 1075 | Bethenny Frankel & Matt Walsh | 2016-06-22 | 30 | Andy Cohen hosts guests Bethenny Frankel and Matt Walsh. "Watch What Happens Live," the only live late night, interactive talk show, features guests from the world of entertainment, politics and pop culture. The series includes lively debates on everything from the latest drama surrounding your favorite Bravolebrities to what celebrity is making headlines that week. |
| 108 | 1076 | Anna Kendrick & Fredrik Eklund | 2016-06-23 | 30 | Andy Cohen hosts guests Anna Kendrick and Fredrik Eklund. |
| 109 | 1077 | Mike Shouhed And Sandra Bernhard | 2016-06-26 | 30 | Andy Cohen hosts guests Mike Shouhed And Sandra Bernhard. "Watch What Happens Live," the only live late night, interactive talk show, features guests from the world of entertainment, politics and pop culture. The series includes lively debates on everything from the latest drama surrounding your favorite Bravolebrities to what celebrity is making headlines that week. |
| 110 | 1078 | Jill Kargman And Tamra Judge | 2016-06-27 | 30 | Andy Cohen hosts guests Jill Kargman And Tamra Judge. "Watch What Happens Live," the only live late night, interactive talk show, features guests from the world of entertainment, politics and pop culture. The series includes lively debates on everything from the latest drama surrounding your favorite Bravolebrities to what celebrity is making headlines that week. |
| 111 | 1079 | John Mayer And Bob Weir | 2016-06-28 | 30 | Andy Cohen hosts guests John Mayer And Bob Weir. "Watch What Happens Live," the only live late night, interactive talk show, features guests from the world of entertainment, politics and pop culture. The series includes lively debates on everything from the latest drama surrounding your favorite Bravolebrities to what celebrity is making headlines that week. |
| 112 | 1080 | Carole Radziwill And Shiri Appleby | 2016-06-29 | 30 | Andy Cohen hosts guests Carole Radziwill And Shiri Appleby. "Watch What Happens Live," the only live late night, interactive talk show, features guests from the world of entertainment, politics and pop culture. The series includes lively debates on everything from the latest drama surrounding your favorite Bravolebrities to what celebrity is making headlines that week. |
| 113 | 1081 | Alexander Skarsgard And Aubrey Plaza | 2016-06-30 | 30 | Andy Cohen hosts guests Alexander Skarsgard And Aubrey Plaza. "Watch What Happens Live," the only live late night, interactive talk show, features guests from the world of entertainment, politics and pop culture. The series includes lively debates on everything from the latest drama surrounding your favorite Bravolebrities to what celebrity is making headlines that week. |
| 114 | 1082 | Heather Dubrow; Rob Corddry. | 2016-07-11 | 30 | Actress Heather Dubrow; actor Rob Corddry. |
| 115 | 1083 | Emma Roberts; Dave Franco. | 2016-07-12 | 30 | Actress Emma Roberts; actor Dave Franco. |
| 116 | 1084 | Jeff Lewis; Busy Philipps. | 2016-07-13 | 30 | TV personality Jeff Lewis; actress Busy Philipps. |
| 117 | 1085 | Diane Kruger; Benjamin Bratt. | 2016-07-14 | 30 | Actress Diane Kruger; actor Benjamin Bratt. |
| 118 | 1086 | Jacqueline Laurita & Billy Eichner | 2016-07-17 | 30 | |
| 119 | 1087 | Meghan King Edmonds & Julie Klausner | 2016-07-18 | 30 | |
| 120 | 1088 | Kristen Wiig & Leslie Jones | 2016-07-19 | 30 | |
| 121 | 1089 | The Bravos | 2016-07-20 | 30 | |
| 122 | 1090 | Joanna Lumley & Jennifer Saunders | 2016-07-21 | 30 | |
| 123 | 1091 | Melissa Gorga And Michael Rapaport | 2016-07-24 | 30 | |
| 124 | 1092 | Abby Elliott And Shannon Beador | 2016-07-25 | 30 | |
| 125 | 1093 | Zachary Quinto And Michael Ian Black | 2016-07-26 | 30 | Zachary Quinto And Michael Ian Black |
| 126 | 1094 | Ramona Singer And Travis Kelce | 2016-07-27 | 30 | |
| 127 | 1095 | Joe Jonas And Ashley Graham | 2016-07-28 | 30 | |
| 128 | 1096 | Reza Farahan; Dolores Catania. | 2016-07-31 | 30 | TV personality Reza Farahan; TV personality Dolores Catania. |
| 129 | 1097 | Kelly Dodd; Jenni Pulos. | 2016-08-01 | 30 | TV personality Kelly Dodd; TV personality Jenni Pulos. |
| 130 | 1098 | Mercedes ``MJ'' Javid; Carole Radziwill. | 2016-08-02 | 30 | TV personality Mercedes ``MJ'' Javid; TV personality Carole Radziwill. |
| 131 | 1099 | Dorinda Medley & Jules Wainstein | 2016-08-03 | 30 | |
| 132 | 1100 | Viola Davis & Joel Kinnaman | 2016-08-04 | 30 | |
| 133 | 1101 | Willie Geist And Seth Rogen | 2016-08-07 | 30 | |
| 134 | 1102 | Terry Dubrow And Paul Nassif | 2016-08-08 | 30 | |
| 135 | 1103 | Justin Long And James Lipton | 2016-08-09 | 30 | Actor Justin Long; TV show host James Lipton. |
| 136 | 1104 | Amy Sedaris And Adrian Grenier | 2016-08-10 | 30 | |
| 137 | 1105 | Hugh Grant And Simon Helberg | 2016-08-11 | 30 | |
| 138 | 1106 | Teresa Giudice, Sonja Morgan | 2016-08-14 | 30 | |
| 139 | 1107 | Morris Chestnut, Naomi Campbell | 2016-09-06 | 30 | |
| 140 | 1108 | Bethenny Frankel, Michael Rapaport | 2016-09-07 | 30 | |
| 141 | 1109 | Harry Connick Jr., Chris Noth | 2016-09-08 | 30 | |
| 142 | 1110 | Caroline Manzo, Siggy Flicker | 2016-09-11 | 30 | |
| 143 | 1111 | Tamra Judge, Lance Bass | 2016-09-12 | 30 | |
| 144 | 1112 | Luann De Lesseps, Kate Chastain | 2016-09-13 | 30 | |
| 145 | 1113 | Kim Zolciak-Biermann, Jeff Lewis | 2016-09-14 | 30 | |
| 146 | 1114 | Carol Burnett | 2016-09-15 | 30 | |
| 147 | 1115 | Melissa Gorga, Bevy Smith | 2016-09-18 | 30 | |
| 148 | 1116 | Shannon Beador, Bob Harper | 2016-09-19 | 30 | |
| 149 | 1117 | Jussie Smollett, Gabourey Sidibe | 2016-09-20 | 30 | |
| 150 | 1118 | Tamron Hall & Ryan Serhant | 2016-09-21 | 30 | |
| 151 | 1119 | Whoopi Goldberg, America Ferrera | 2016-09-22 | 30 | |
| 152 | 1120 | Jacqueline Laurita & Mark Consuelos | 2016-09-25 | 30 | |
| 153 | 1121 | Amy Schumer | 2016-09-26 | 30 | |
| 154 | 1122 | Mandy Moore, Nile Rodgers | 2016-09-27 | 30 | |
| 155 | 1123 | Lupita Nyong'o, David Oyelowo | 2016-09-28 | 30 | |
| 156 | 1124 | January Jones, Alfre Woodard | 2016-09-29 | 30 | |
| 157 | 1125 | Teresa Giudice, Mindy Kaling | 2016-10-02 | 30 | |
| 158 | 1126 | Reza Farahan, Meghan King | 2016-10-03 | 30 | |
| 159 | 1127 | Olivia Newton-john & Cynthia Nixon | 2016-10-04 | 30 | |
| 160 | 1128 | Kelly Clarkson, Melissa Etheridge | 2016-10-05 | 30 | |
| 161 | 1129 | Sarah Jessica Parker | 2016-10-06 | 30 | |
| 162 | 1130 | Colin Jost, Michael Che | 2016-10-09 | 30 | |
| 163 | 1131 | Vicki Gunvalson & Sonja Morgan | 2016-10-10 | 30 | |
| 164 | 1132 | Molly Shannon, Billie Joe Armstrong | 2016-10-11 | 30 | |
| 165 | 1133 | Minnie Driver, Ben McKenzie | 2016-10-12 | 30 | |
| 166 | 1134 | J.K. Simmons, Meredith Vieira | 2016-10-13 | 30 | |
| 167 | 1135 | Kevin Hart | 2016-10-16 | 30 | |
| 168 | 1136 | Heather Dubrow, Kristin Chenoweth | 2016-10-17 | 30 | |
| 169 | 1137 | Randall Park, Wanda Sykes | 2016-10-18 | 30 | |
| 170 | 1138 | Dakota Fanning & Justin Hartley | 2016-10-19 | 30 | |
| 171 | 1139 | Padma Lakshmi, Tyler Perry | 2016-10-20 | 30 | |
| 172 | 1140 | Robin Lord Taylor, Patti Labelle | 2016-10-23 | 30 | |
| 173 | 1141 | Shannon Beador, Tamra Judge | 2016-10-24 | 30 | |
| 174 | 1142 | Kelley Johnson, Nico Scholly | 2016-10-25 | 30 | |
| 175 | 1143 | Will Forte, David Crosby | 2016-10-26 | 30 | |
| 176 | 1144 | Michael Buble, Abbi Jacobson | 2016-10-27 | 30 | |
| 177 | 1145 | Teresa Giudice, Melissa Gorga | 2016-10-30 | 30 | |
| 178 | 1146 | Kelly Dodd, Rachel Dratch | 2016-10-31 | 30 | |
| 179 | 1147 | Kate Chastain, Captain Lee Rosbach | 2016-11-01 | 30 | |
| 180 | 1148 | Tracey Ullman & Taye Diggs | 2016-11-02 | 30 | |
| 181 | 1149 | Mo'nique, Gabrielle Union, Omar Epps | 2016-11-03 | 30 | |
| 182 | 1150 | Kandi Burruss, Dr. Jackie Walters | 2016-11-06 | 30 | |
| 183 | 1151 | Lisa Vanderpump | 2016-11-07 | 30 | |
| 184 | 1152 | Priyanka Chopra, Tony Goldwyn | 2016-11-09 | 30 | |
| 185 | 1153 | Josh Flagg, Josh Altman, James Harris, David Parnes | 2016-11-10 | 30 | |
| 186 | 1154 | Kenya Moore, Sandra Bernhard | 2016-11-13 | 30 | |
| 187 | 1155 | Jax Taylor, Christina Hendricks | 2016-11-14 | 30 | |
| 188 | 1156 | Bryant Gumbel, Ali Wentworth | 2016-11-15 | 30 | |
| 189 | 1157 | Eddie Redmayne, Dan Fogler | 2016-11-16 | 30 | |
| 190 | 1158 | Sterling K. Brown, Dennis Quaid | 2016-11-17 | 30 | |
| 191 | 1159 | Cynthia Bailey, Rebecca Romijn | 2016-11-20 | 30 | |
| 192 | 1160 | Kristen Doute, Vanessa Bayer | 2016-11-28 | 30 | |
| 193 | 1161 | Kyra Sedgwick, Matthew Broderick | 2016-11-29 | 30 | |
| 194 | 1162 | Kelly Ripa, Anderson Cooper | 2016-11-30 | 30 | |
| 195 | 1163 | Curtis "50 Cent" Jackson, Leah Remini | 2016-12-01 | 30 | |
| 196 | 1164 | Sheree Whitfield, Quad Webb-Lunceford | 2016-12-04 | 30 | |
| 197 | 1165 | Katie Maloney, Tom Schwartz | 2016-12-05 | 30 | |
| 198 | 1166 | Kyle Richards, Caroline Stanbury | 2016-12-06 | 30 | |
| 199 | 1167 | John Legend, Trevor Noah | 2016-12-07 | 30 | |
| 200 | 1168 | Courtney B. Vance, Dan Rather | 2016-12-08 | 30 | |
| 201 | 1169 | Phaedra Parks, Shemar Moore | 2016-12-11 | 30 | |
| 202 | 1170 | Sting, Trudie Styler | 2016-12-12 | 30 | |
| 203 | 1171 | Lisa Rinna, Julie Chen | 2016-12-13 | 30 | |
| 204 | 1172 | Kim Zolciak-Biermann, Kroy Biermann | 2016-12-14 | 30 | |
| 205 | 1173 | Keegan-Michael Key, Megan Mullally | 2016-12-15 | 30 | |
| 206 | 1174 | Mariah Carey | 2016-12-18 | 30 | |
| 207 | 1175 | Jennifer Lawrence | 2016-12-19 | 30 | |
Season 14
| Episode No. | No. Overall | Title | Airdate | Runtime | Summary |
| --- | --- | --- | --- | --- | --- |
| 1 | 1176 | Erika Jayne, Kenya Moore | 2017-01-03 | 30 | |
| 2 | 1177 | Rachel Maddow & Chris Hardwick | 2017-01-04 | 30 | |
| 3 | 1178 | Stephen Colbert | 2017-01-05 | 30 | |
| 4 | 1179 | Bevy Smith, Cynthia Bailey | 2017-01-08 | 30 | |
| 5 | 1180 | Stassi Schroeder, Scheana Shay | 2017-01-09 | 30 | |
| 6 | 1181 | Kim Richards, Lisa Edelstein | 2017-01-10 | 30 | |
| 7 | 1182 | Charlie Scheen, Craig Robinson | 2017-01-11 | 30 | |
| 8 | 1183 | Queen Latifah, Jason Sudeikis | 2017-01-12 | 30 | |
| 9 | 1184 | Porsha Williams, Carson Kressley | 2017-01-15 | 30 | |
| 10 | 1185 | Tom Sandoval, Ariana Madix | 2017-01-16 | 30 | |
| 11 | 1186 | Brandi Glanville & Sophie Stanbury | 2017-01-17 | 30 | |
| 12 | 1187 | Neil Patrick Harris, B.J. Novak | 2017-01-18 | 30 | |
| 13 | 1188 | Idina Menzel, Rachel Bloom | 2017-01-19 | 30 | |
| 14 | 1189 | Nene Leakes | 2017-01-22 | 30 | |
| 15 | 1190 | Jax Taylor, Jerry O'Connell | 2017-01-23 | 30 | |
| 16 | 1191 | Dorit Kemsley, Boy George | 2017-01-24 | 30 | |
| 17 | 1192 | Cyndi Lauper, Rod Stewart | 2017-01-25 | 30 | |
| 18 | 1193 | Bryce Dallas Howard, Blair Underwood | 2017-01-26 | 30 | |
| 19 | 1194 | Sheree Whitfield & Dr. Heavenly Kimes | 2017-01-29 | 30 | |
| 20 | 1195 | Bridget Everett & James Kennedy | 2017-01-30 | 30 | |
| 21 | 1196 | Eileen Davidson & Lisa Rinna | 2017-01-31 | 30 | |
| 22 | 1197 | Keke Palmer & Dr. Mehmet Oz | 2017-02-01 | 30 | |
| 23 | 1198 | Christina Ricci, Andrew Rannells | 2017-02-02 | 30 | |
| 24 | 1199 | Scheana Marie Shay, Marissa Hermer | 2017-02-06 | 30 | |
| 25 | 1200 | Kyle Richards, Brad Goreski | 2017-02-07 | 30 | |
| 26 | 1201 | Tracee Ellis Ross, Shaun White | 2017-02-08 | 30 | Andy Cohen hosts guests Tracee Ellis Ross and Shaun White. "Watch What Happens Live with Andy Cohen," the only live late night, interactive talk show, features guests from the world of entertainment, politics and pop culture. The series includes lively debates on everything from the latest drama surrounding your favorite Bravolebrities to what celebrity is making headlines that week. |
| 27 | 1202 | Rita Ora, Nick Viall | 2017-02-09 | 30 | Andy Cohen hosts guests Rita Ora and Nick Viall. "Watch What Happens Live with Andy Cohen," the only live late night, interactive talk show, features guests from the world of entertainment, politics and pop culture. The series includes lively debates on everything from the latest drama surrounding your favorite Bravolebrities to what celebrity is making headlines that week. |
| 28 | 1203 | Phaedra Parks, Danielle Brooks | 2017-02-12 | 30 | Andy Cohen hosts guests Phaedra Parks and Danielle Brooks. "Watch What Happens Live with Andy Cohen," the only live late night, interactive talk show, features guests from the world of entertainment, politics and pop culture. The series includes lively debates on everything from the latest drama surrounding your favorite Bravolebrities to what celebrity is making headlines that week. |
| 29 | 1204 | Tom Schwartz, Tom Sandoval | 2017-02-13 | 30 | Andy Cohen hosts guests Tom Schwartz and Tom Sandoval. "Watch What Happens Live with Andy Cohen," the only live late night, interactive talk show, features guests from the world of entertainment, politics and pop culture. The series includes lively debates on everything from the latest drama surrounding your favorite Bravolebrities to what celebrity is making headlines that week. |
| 30 | 1205 | Erika Jayne, Parker Young | 2017-02-14 | 30 | Andy Cohen hosts guests Erika Jayne and Parker Young. "Watch What Happens Live with Andy Cohen," the only live late night, interactive talk show, features guests from the world of entertainment, politics and pop culture. The series includes lively debates on everything from the latest drama surrounding your favorite Bravolebrities to what celebrity is making headlines that week. |
| 31 | 1206 | Taran Killam, Ryan Murphy | 2017-02-15 | 30 | Andy Cohen hosts guests Taran Killam and Ryan Murphy. "Watch What Happens Live with Andy Cohen," the only live late night, interactive talk show, features guests from the world of entertainment, politics and pop culture. The series includes lively debates on everything from the latest drama surrounding your favorite Bravolebrities to what celebrity is making headlines that week. |
| 32 | 1207 | Chrissy Metz, Adam Lambert | 2017-02-16 | 30 | Andy Cohen hosts guests Chrissy Metz and Adam Lambert. "Watch What Happens Live with Andy Cohen," the only live late night, interactive talk show, features guests from the world of entertainment, politics and pop culture. The series includes lively debates on everything from the latest drama surrounding your favorite Bravolebrities to what celebrity is making headlines that week. |
| 33 | 1208 | Kandi Burruss, Michael Rapaport | 2017-02-19 | 30 | Andy Cohen hosts guests Kandi Burruss and Michael Rapaport. "Watch What Happens Live with Andy Cohen," the only live late night, interactive talk show, features guests from the world of entertainment, politics and pop culture. The series includes lively debates on everything from the latest drama surrounding your favorite Bravolebrities to what celebrity is making headlines that week. |
| 34 | 1209 | Kristen Doute, Wendi McLendon-Covey | 2017-02-20 | 30 | Andy Cohen hosts guests Kristen Doute and Wendi McLendon-Covey. "Watch What Happens Live with Andy Cohen," the only live late night, interactive talk show, features guests from the world of entertainment, politics and pop culture. The series includes lively debates on everything from the latest drama surrounding your favorite Bravolebrities to what celebrity is making headlines that week. |
| 35 | 1210 | Lisa Vanderpump | 2017-02-21 | 30 | Andy Cohen hosts guest Lisa Vanderpump. "Watch What Happens Live with Andy Cohen," the only live late night, interactive talk show, features guests from the world of entertainment, politics and pop culture. The series includes lively debates on everything from the latest drama surrounding your favorite Bravolebrities to what celebrity is making headlines that week. |
| 36 | 1211 | Ricky Martin, Kate Upton | 2017-02-22 | 30 | Andy Cohen hosts guests Ricky Martin and Kate Upton. "Watch What Happens Live with Andy Cohen," the only live late night, interactive talk show, features guests from the world of entertainment, politics and pop culture. The series includes lively debates on everything from the latest drama surrounding your favorite Bravolebrities to what celebrity is making headlines that week. |
| 37 | 1212 | Gail Simmons, Dale Earnhardt Jr. | 2017-02-23 | 30 | Andy Cohen hosts guests Dale Earnhardt Jr and Gail Simmons "Watch What Happens Live with Andy Cohen," the only live late night, interactive talk show, features guests from the world of entertainment, politics and pop culture. The series includes lively debates on everything from the latest drama surrounding your favorite Bravolebrities to what celebrity is making headlines that week. |
| 38 | 1213 | Stassi Schroeder, Josh Henderson | 2017-02-27 | 30 | Andy Cohen hosts guests Stassi Schroeder and Josh Henderson. "Watch What Happens Live with Andy Cohen," the only live late night, interactive talk show, features guests from the world of entertainment, politics and pop culture. The series includes lively debates on everything from the latest drama surrounding your favorite Bravolebrities to what celebrity is making headlines that week. |
| 39 | 1214 | Dorit Kemsley, Dan Bucatinsky | 2017-02-28 | 30 | Andy Cohen hosts guests Dorit Kemsley and Dan Bucatinsky. "Watch What Happens Live with Andy Cohen," the only live late night, interactive talk show, features guests from the world of entertainment, politics and pop culture. The series includes lively debates on everything from the latest drama surrounding your favorite Bravolebrities to what celebrity is making headlines that week. |
| 40 | 1215 | Lisa Kudrow, Jennifer Beals | 2017-03-01 | 30 | Andy Cohen hosts guests Lisa Kudrow and Jennifer Beals. "Watch What Happens Live with Andy Cohen," the only live late night, interactive talk show, features guests from the world of entertainment, politics and pop culture. The series includes lively debates on everything from the latest drama surrounding your favorite Bravolebrities to what celebrity is making headlines that week. |
| 41 | 1216 | Tom Colicchio, Padma Lakshmi and Top Chef Winner | 2017-03-02 | 30 | Andy Cohen hosts guests Tom Colicchio, Padma Lakshmi and Top Chef Winner. "Watch What Happens Live with Andy Cohen," the only live late night, interactive talk show, features guests from the world of entertainment, politics and pop culture. The series includes lively debates on everything from the latest drama surrounding your favorite Bravolebrities to what celebrity is making headlines that week. |
| 42 | 1217 | Porsha Williams, Charlamagne Tha God | 2017-03-05 | 30 | |
| 43 | 1218 | Jax Taylor, Kyle Cooke, Carl Radke | 2017-03-06 | 30 | |
| 44 | 1219 | Naomi Campbell, RuPaul | 2017-03-07 | 30 | |
| 45 | 1220 | Jennifer Lopez, Ray Liotta | 2017-03-08 | 30 | |
| 46 | 1221 | Samuel L. Jackson, Allison Williams | 2017-03-09 | 30 | |
| 47 | 1222 | Cynthia Bailey, Miss Lawrence | 2017-03-12 | 30 | Tonight's guests are Cynthia Bailey, Miss Lawrence. |
| 48 | 1223 | Ariana Madix, Lala Kent | 2017-03-13 | 30 | Tonight's guests are Ariana Madix, Lala Kent. |
| 49 | 1224 | Lisa Rinna, Adam Pally | 2017-03-14 | 30 | Tonight's guests are Lisa Rinna, Adam Pally. |
| 50 | 1225 | Harry Hamlin, Van Jones | 2017-03-15 | 30 | Tonight's guests are Harry Hamlin, Van Jones. |
| 51 | 1226 | Stanley Tucci, Susan Sarandon, WWHL: Plead the Fifth Vol. 2 | 2017-03-16 | 30 | Tonight's guests are Stanley Tucci, Susan Sarandon. |
| 52 | 1227 | Kenya Moore, Tyson Beckford | 2017-03-19 | 30 | Tonight's guests are Kenya Moore, Tyson Beckford. |
| 53 | 1228 | Katie Maloney, Tom Schwartz | 2017-03-20 | 30 | Tonight's guests are Katie Maloney, Tom Schwartz. |
| 54 | 1229 | Erika Jayne, Meghan McCain | 2017-03-21 | 30 | Tonight's guests are Erika Jayne, Meghan McCain. |
| 55 | 1230 | Laura Dern, Kate Walsh | 2017-03-22 | 30 | Tonight's guests are Laura Dern, Kate Walsh. |
| 56 | 1231 | Dax Shepard, Michael Pena | 2017-03-23 | 30 | Tonight's guests are Dax Shepard, Michael Pena. |
| 57 | 1232 | Kandi Burruss, Sanaa Lathan | 2017-04-02 | 30 | Tonight's guests are Kandi Burruss, Sanaa Lathan. |
| 58 | 1233 | Scheana Marie, Shep Rose | 2017-04-03 | 30 | Tonight's guests are Scheana Marie, Shep Rose. |
| 59 | 1234 | Kyle Richards, Sarah Michelle Gellar | 2017-04-04 | 30 | Tonight's guests are Kyle Richards, Sarah Michelle Gellar. |
| 60 | 1235 | Bethenny Frankel, Jeff Lewis | 2017-04-05 | 30 | Tonight's guests are Bethenny Frankel, Jeff Lewis. |
| 61 | 1236 | Amanda Peet, Helen Hunt | 2017-04-06 | 30 | Tonight's guests are Amanda Peet, Helen Hunt . |
| 62 | 1237 | Sheree Whitfield, Gizelle Bryant | 2017-04-09 | 30 | Tonight's guests are Sheree Whitfield, Gizelle Bryant. |
| 63 | 1238 | Dennis Quaid, Jemima Kirke | 2017-04-10 | 30 | Tonight's guests are Dennis Quaid, Jemima Kirke. |
| 64 | 1239 | Rachel Dratch, Bob Harper | 2017-04-11 | 30 | Tonight's guests are Rachel Dratch, Bob Harper. |
| 65 | 1240 | Luann D'Agostino, Andre Leon Talley | 2017-04-12 | 30 | Tonight's guests are Luann D'Agostino, Andre Leon Talley. |
| 66 | 1241 | Keri Russell, Matthew Rhys | 2017-04-13 | 30 | Tonight's guests are Keri Russell, Matthew Rhys. |
| 67 | 1242 | Charrisse Jackson Jordan, Robyn Dixon | 2017-04-16 | 30 | Tonight's guests are Charrisse Jackson Jordan, Robyn Dixon. |
| 68 | 1243 | Sally Field, Katie Couric | 2017-04-17 | 30 | Tonight's guests are Sally Field, Katie Couric. |
| 69 | 1244 | Tony Hale, Kristin Chenoweth | 2017-04-18 | 30 | Tonight's guests are Tony Hale, Kristin Chenoweth. |
| 70 | 1245 | Sonja Morgan, Michael Rapaport | 2017-04-19 | 30 | Tonight's guests are Sonja Morgan, Michael Rapaport. |
| 71 | 1246 | Anne Hathaway, Sheryl Crow | 2017-04-20 | 30 | Tonight's guests are Anne Hathaway, Sheryl Crow. |
| 72 | 1247 | Kim Zolciak-Biermann, Andre Leon Talley | 2017-04-23 | 30 | Tonight's guests are Kim Zolciak-Biermann, Andre Leon Talley. |
| 73 | 1248 | Patricia Altschul, Kelly Osbourne | 2017-04-24 | 30 | Tonight's guests are Patricia Altschul, Kelly Osbourne. |
| 74 | 1249 | Lea Michele, Andrea Martin | 2017-04-25 | 30 | Tonight's guests are Lea Michele, Andrea Martin. |
| 75 | 1250 | Dorinda Medley, John Oliver | 2017-04-26 | 30 | Tonight's guests are Dorinda Medley, John Oliver. |
| 76 | 1251 | Allison Janney, John Benjamin Hickey | 2017-04-27 | 30 | Tonight's guests are Allison Janney, John Benjamin Hickey. |
| 77 | 1252 | TV personality NeNe Leakes. | 2017-04-30 | 30 | Tonight's guest is TV personality NeNe Leakes. |
| 78 | 1253 | Naomi Watts, Susan Sarandon | 2017-05-01 | 30 | Tonight's guests are Naomi Watts, Susan Sarandon. |
| 79 | 1254 | Bobby Giancola, Hannah Ferrier | 2017-05-02 | 30 | Tonight's guests are Bobby Giancola, Hannah Ferrier. |
| 80 | 1255 | Ramona Singer, Alex Mccord | 2017-05-03 | 30 | Tonight's guests are Ramona Singer, Alex Mccord. |
| 81 | 1256 | Zoe Saldana, Beth Behrs | 2017-05-04 | 30 | Tonight's guests are Zoe Saldana, Beth Behrs. |
| 82 | 1257 | Kim Zolciak-Biermann, Gabourey Sidibe | 2017-05-07 | 30 | Tonight's guests are Kim Zolciak-Biermann, Gabourey Sidibe. |
| 83 | 1258 | Jim Parsons, Diane Lane | 2017-05-08 | 30 | Tonight's guests are Jim Parsons, Diane Lane. |
| 84 | 1259 | Christopher Meloni, Patti Lupone | 2017-05-09 | 30 | Tonight's guests are Christopher Meloni, Patti Lupone. |
| 85 | 1260 | Carole Radziwill, Anthony Atamanuik | 2017-05-10 | 30 | Tonight's guests are Carole Radziwill, Anthony Atamanuik. |
| 86 | 1261 | Amy Schumer, Goldie Hawn | 2017-05-11 | 30 | Tonight's guests are Amy Schumer, Goldie Hawn. |
| 87 | 1262 | Jenna Dewan Tatum & Tituss Burgess | 2017-05-14 | 30 | Tonight's guests are Jenna Dewan Tatum & Tituss Burgess |
| 88 | 1263 | Laura Linney, Cynthia Nixon. | 2017-05-15 | 30 | Tonight's guests are Laura Linney, Cynthia Nixon. |
| 89 | 1264 | Amy Brenneman, Priyanka Chopra | 2017-05-16 | 30 | Tonight's guests are Amy Brenneman, Priyanka Chopra. |
| 90 | 1265 | Tinsley Mortimer, Amber Tamblyn | 2017-05-17 | 30 | Tonight's guests are Tinsley Mortimer,Amber Tamblyn. |
| 91 | 1266 | Matthew Perry, Gordon Ramsay | 2017-05-18 | 30 | Tonight's guests are Matthew Perry,Gordon Ramsay. |
| 92 | 1267 | Terrence Howard, Iggy Azalea | 2017-05-21 | 30 | Tonight's guests are Terrence Howard, Iggy Azalea. |
| 93 | 1268 | Hilary Swank, Kate Mara | 2017-05-22 | 30 | Tonight's guests are Hilary Swank, Kate Mara. |
| 94 | 1269 | Conan O'Brien | 2017-05-23 | 30 | Tonight's guest is Conan O'Brien. |
| 95 | 1270 | Bethenny Frankel, Eric Stonestreet | 2017-05-24 | 30 | Tonight's guests are Bethenny Frankel, Eric Stonestreet. |
| 96 | 1271 | Armie Hammer, Chelsea Handler | 2017-05-25 | 30 | Tonight's guests are Armie Hammer, Chelsea Handler. |
| 97 | 1272 | Kim Kardashian West, Kris Jenner | 2017-05-28 | 30 | Tonight's guests are Kim Kardashian West, Kris Jenner. |
| 98 | 1273 | Vanessa Williams, Star Jones | 2017-06-11 | 30 | Tonight's guests are Vanessa Williams, Star Jones. |
| 99 | 1274 | Craig Conover, Bobby Moynihan | 2017-06-12 | 30 | Tonight's guests are Craig Conover, Bobby Moynihan. |
| 100 | 1275 | Captain Sandy Yawn & Anthony Michael Hall | 2017-06-13 | 30 | Tonight's guests are Captain Sandy Yawn & Anthony Michael Hall. |
| 101 | 1276 | Luann D'Agostino, Jill Zarin | 2017-06-14 | 30 | Tonight's guests are Luann D'Agostino, Jill Zarin. |
| 102 | 1277 | Zoe Kravitz & Ilana Glazer | 2017-06-15 | 30 | Tonight's guests are Karen Huger & Monique Samuels. |
| 103 | 1278 | Kathryn Calhoun Dennis, Willie Geist | 2017-06-19 | 30 | Tonight's guests are Kathryn Calhoun Dennis, Willie Geist. |
| 104 | 1279 | Jane Krakowski & Sandra Bernhard | 2017-06-20 | 30 | Tonight's guests are Jane Krakowski, Hailey Baldwin. |
| 105 | 1280 | Ramona Singer, Jackie Hoffman | 2017-06-21 | 30 | Tonight's guests are Ramona Singer, Jackie Hoffman. |
| 106 | 1281 | Matt Lauer, Savannah Guthrie | 2017-06-22 | 30 | Tonight's guests are Matt Lauer,Savannah Guthrie. |
| 107 | 1282 | Ashley Graham, Ryan Serhant | 2017-06-25 | 30 | Tonight's guests are Ashley Graham, Ryan Serhant. |
| 108 | 1283 | Landon Clements, Thomas Ravenel | 2017-06-26 | 30 | Tonight's guests are Landon Clements, Thomas Ravenel. |
| 109 | 1284 | Scott Wolf, Neve Campbell | 2017-06-27 | 30 | Tonight's guests are Scott Wolf, Neve Campbell. |
| 110 | 1285 | Dorinda Medley, Fredrik Eklund | 2017-06-28 | 30 | Tonight's guests are Dorinda Medley, Fredrik Eklund. |
| 111 | 1286 | Will Ferrell | 2017-06-29 | 30 | Tonight's guest is Will Ferrell. |
| 112 | 1287 | Gizelle Bryant, La La Anthony | 2017-07-02 | 30 | Tonight's guests are Gizelle Bryant, La La Anthony. |
| 113 | 1288 | Tamra Judge, Shep Rose | 2017-07-10 | 30 | Tonight's guests are Tamra Judge, Shep Rose. |
| 114 | 1289 | Lauren Cohen, Max Hagley | 2017-07-11 | 30 | Tonight's guests are Lauren Cohen, Max Hagley. |
| 115 | 1290 | Steve Gold, Sonja Morgan | 2017-07-12 | 30 | Tonight's guests are Steve Gold, Sonja Morgan. |
| 116 | 1291 | Joy Behar, Judd Apatow | 2017-07-13 | 30 | Tonight's guests are Joy Behar, Judd Apatow. |
| 117 | 1292 | Mercedes "MJ" Javid, Mike Shouhed | 2017-07-16 | 30 | Tonight's guests are Mercedes "MJ" Javid, Mike Shouhed. |
| 118 | 1293 | Vicki Gunvalson, Lydia McLaughlin | 2017-07-17 | 30 | Tonight's guests are Vicki Gunvalson, Lydia McLaughlin. |
| 119 | 1294 | Issa Rae, T.J. Miller | 2017-07-18 | 30 | Tonight's guests are Issa Rae, T.J. Miller. |
| 120 | 1295 | Ali Wentworth, Luann D'Agostino | 2017-07-19 | 30 | Tonight's guests are Ali Wentworth, Luann D'Agostino. |
| 121 | 1296 | Queen Latifah, Jada Pinkett Smith | 2017-07-20 | 30 | Tonight's guests are Queen Latifah, Jada Pinkett Smith. |
| 122 | 1297 | Charlize Theron, James McAvoy | 2017-07-23 | 30 | Tonight's guests are Charlize Theron, James McAvoy. |
| 123 | 1298 | Kelly Dodd, Isaac Mizrahi | 2017-07-24 | 30 | Tonight's guests are Kelly Dodd, Isaac Mizrahi. |
| 124 | 1299 | Olivia Wilde, Anderson Cooper | 2017-07-25 | 30 | Tonight's guests are Olivia Wilde, Anderson Cooper. |
| 125 | 1300 | Carole Radziwill, Tinsley Mortimer | 2017-07-26 | 30 | Tonight's guests are Carole Radziwill, Tinsley Mortimer. |
| 126 | 1301 | Matt Bomer, Abby Elliott | 2017-07-27 | 30 | Tonight's guest is Matt Bomer, Abby Elliott. |
| 127 | 1302 | Reza Farahan, Shervin Roohparvar | 2017-07-30 | 30 | Tonight's guests are Reza Farahan, Shervin Roohparvar. |
| 128 | 1303 | Molly Shannon, Shannon Beador | 2017-07-31 | 30 | Tonight's guests are Molly Shannon, Shannon Beador. |
| 129 | 1304 | James Van Der Beek, Kate Upton | 2017-08-01 | 30 | Tonight's guests are James Van Der Beek, Kate Upton. |
| 130 | 1305 | Bethenny Frankel, Jeff Lewis | 2017-08-02 | 30 | Tonight's guests are Bethenny Frankel, Jeff Lewis. |
| 131 | 1306 | Halle Berry, Toni Collette | 2017-08-03 | 30 | Tonight's guests are Halle Berry,Toni Collette. |
| 132 | 1307 | Golnesa "GG" Gharachedaghi, Ryan Serhant | 2017-08-06 | 30 | Tonight's guests are Golnesa "GG" Gharachedaghi, Ryan Serhant. |
| 133 | 1308 | Meghan King Edmonds, Julie Klausner | 2017-08-07 | 30 | Tonight's guests are Meghan King Edmonds, Julie Klausner. |
| 134 | 1309 | Billy Eichner, Bridget Everett | 2017-08-09 | 30 | Tonight's guests are Billy Eichner, Bridget Everett. |
| 135 | 1310 | Kate Beckinsale, Jeff Bridges | 2017-08-10 | 30 | Tonight's guests are Kate Beckinsale, Jeff Bridges. |
| 136 | 1311 | Below Deck Mediterranean Reunion | 2017-08-15 | 30 | Below Deck Mediterranean Reunion |
| 137 | 1312 | Kate Chastain, Nico Scholly | 2017-09-05 | 30 | Tonight's guests are Kate Chastain, Nico Scholly. |
| 138 | 1313 | Live One-on-one With Luann De Lesseps | 2017-09-06 | 30 | Tonight's guest is Luann De Lesseps. |
| 139 | 1314 | Elisabeth Moss, Sarah Paulson | 2017-09-07 | 30 | Tonight's guests are Elisabeth Moss, Sarah Paulson. |
| 140 | 1315 | Asa Soltan Rahmati, Destiney Rose | 2017-09-10 | 30 | Tonight's guests are Asa Soltan Rahmati, Destiney Rose. |
| 141 | 1316 | Brandi Redmond, Cary Deuber, Stephanie Hollman | 2017-09-11 | 30 | Tonight's guests are Brandi Redmond, Cary Deuber, Stephanie Hollman. |
| 142 | 1317 | Maggie Gyllenhaal, Curtis "50 Cent" Jackson | 2017-09-12 | 30 | Tonight's guests are Maggie Gyllenhaal, Curtis "50 Cent" Jackson. |
| 143 | 1318 | Reese Witherspoon, Candice Bergen | 2017-09-13 | 30 | Tonight's guests are Reese Witherspoon, Candice Bergen. |
| 144 | 1319 | Seth MacFarlane, Martha Stewart | 2017-09-14 | 30 | Tonight's guests are Seth MacFarlane, Martha Stewart. |
| 145 | 1320 | Bevy Smith, Derek J, Miss Lawrence | 2017-09-17 | 30 | Tonight's guests are Bevy Smith, Derek J, Miss Lawrence. |
| 146 | 1321 | Keith Morrison, Tamra Judge | 2017-09-18 | 30 | Tonight's guests are Keith Morrison, Tamra Judge. |
| 147 | 1322 | Jax Taylor, Captain Lee Rosbach | 2017-09-19 | 30 | Tonight's guests are Jax Taylor, Captain Lee Rosbach. |
| 148 | 1323 | Kumail Nanjiani, Jim Gaffigan | 2017-09-20 | 30 | Tonight's guests are Kumail Nanjiani, Jim Gaffigan. |
| 149 | 1324 | Ryan Seacrest, Kelly Ripa | 2017-09-21 | 30 | Tonight's guests are Ryan Seacrest, Kelly Ripa. |
| 150 | 1325 | Susie Essman, Kim Fields | 2017-09-24 | 30 | Tonight's guests are Susie Essman, Kim Fields. |
| 151 | 1326 | Aidy Bryant, Lydia Mclaughlin | 2017-09-25 | 30 | Tonight's guests are Aidy Bryant, Lydia Mclaughlin. |
| 152 | 1327 | Fergie, Jussie Smollett | 2017-09-26 | 30 | Tonight's guests are Fergie, Jussie Smollett. |
| 153 | 1328 | Sterling K. Brown, Sean Hayes | 2017-09-27 | 30 | Tonight's guests are Sterling K. Brown, Sean Hayes. |
| 154 | 1329 | Savannah Guthrie, Adam Scott | 2017-09-28 | 30 | Tonight's guests are Savannah Guthrie, Adam Scott. |
| 155 | 1330 | Golnesa "gg" Gharachedaghi & Shervin Roohparvar | 2017-10-01 | 30 | Tonight's guests are TBA. |
| 156 | 1331 | Peggy Sulahian & Jennifer Tilly | 2017-10-02 | 30 | |
| 157 | 1332 | Brooke Shields & Andy Grammer | 2017-10-03 | 30 | |
| 158 | 1333 | Kim Zolciak-biermann & Kroy Biermann | 2017-10-05 | 30 | |
| 161 | 1334 | Mercedes ``MJ'' Javid and Jeff Lewis. | 2017-10-08 | 30 | TV personality Mercedes ``MJ'' Javid; TV personality Jeff Lewis. 0 |
| 162 | 1335 | Shannon Beador & Jenni Pulos | 2017-10-09 | 30 | TV personality Jenni Pulos; TV personality Shannon Beador. |
| 163 | 1336 | Yolanda Hadid & Carla Bruni | 2017-10-10 | 30 | Music artist Carla Bruni; TV personality Yolanda Hadid. |
| 164 | 1337 | Teresa Giudice & Lea Michele | 2017-10-11 | 30 | Actress Lea Michele; TV personality Teresa Giudice. |
| 165 | 1338 | Sarah Silverman; and Isla Fisher. | 2017-10-12 | 30 | Comic Sarah Silverman; actress Isla Fisher. |
| 166 | 1339 | Reza Farahan & Mike Shouhed | 2017-10-15 | 30 | |
| 167 | 1340 | Vicki Gunvalson & Rita Wilson | 2017-10-16 | 30 | |
| 168 | 1341 | Tracey Ullman & David Arquette | 2017-10-17 | 30 | |
| 169 | 1342 | Siggy Flicker & Valerie Bertinelli | 2017-10-18 | 30 | |
| 170 | 1343 | Pink | 2017-10-19 | 30 | |
| 171 | 1344 | Kameron Westcott and D'Andra Simmons. | 2017-10-22 | 30 | TV personalities Kameron Westcott and D'Andra Simmons. |
| 172 | 1345 | LeeAnne Locken; Kelly Dodd. | 2017-10-23 | 30 | TV personality LeeAnne Locken; TV personality Kelly Dodd. |
| 173 | 1346 | Chris Sullivan And Meghan Mccain | 2017-10-24 | 30 | Actor Chris Sullivan. |
| 174 | 1347 | Michael Rapaport; Danielle Staub. | 2017-10-25 | 30 | Actor Michael Rapaport; TV personality Danielle Staub. |
| 175 | 1348 | Amy Sedaris; Henry Winkler. | 2017-10-26 | 30 | Actress Amy Sedaris; actor Henry Winkler. |
| 176 | 1349 | Jenny McCarthy and Donnie Wahlberg. | 2017-10-29 | 30 | Actors Jenny McCarthy and Donnie Wahlberg. |
| 177 | 1350 | Sean Avery , Bethenny Franke | 2017-10-30 | 30 | Former NHL ice hockey player Sean Avery; TV personality Bethenny Frankel. |
| 178 | 1351 | Julianne Moore , Whoopi Goldberg | 2017-10-31 | 30 | Actress Julianne Moore; TV show host Whoopi Goldberg. |
| 179 | 1352 | Gabrielle Union , Dolores Catania | 2017-11-01 | 30 | Actress Gabrielle Union; TV personality Dolores Catania. |
| 180 | 1353 | Jimmy Fallon. | 2017-11-02 | 30 | TV show host Jimmy Fallon. |
| 181 | 1354 | NeNe Leakes | 2017-11-05 | 30 | |
| 182 | 1355 | Brandi Redmond And Kristen Chenoweth | 2017-11-06 | 30 | |
| 183 | 1356 | Kate Hudson And Colin Hanks | 2017-11-07 | 30 | |
| 184 | 1357 | Cheyenne Jackson And Margaret Josephs | 2017-11-08 | 30 | |
| 185 | 1358 | Rosie O'donnell And Joy Behar | 2017-11-09 | 30 | |
| 186 | 1359 | Kandi Burruss And Xscape | 2017-11-12 | 30 | |
| 187 | 1360 | Leslie Grossman And Shannon Beador | 2017-11-13 | 30 | |
| 188 | 1361 | Will Ferrell And John Lithgow | 2017-11-14 | 30 | |
| 189 | 1362 | Jerry O'connell And Melissa Gorga | 2017-11-15 | 30 | |
| 190 | 1363 | Macklemore And T-pain | 2017-11-16 | 30 | |
| 191 | 1364 | Dr. Jackie Walters And Porsha Williams | 2017-11-19 | 30 | |
| 192 | 1365 | John Mayer And Bob Saget | 2017-11-27 | 30 | |
| 193 | 1366 | Leslie Odom Jr. And Gayle King | 2017-11-28 | 30 | |
| 194 | 1367 | Robin Lord Taylor And Teresa Giudice | 2017-11-29 | 30 | |
| 195 | 1368 | Greta Gerwig And Tbd | 2017-11-30 | 30 | |
| 196 | 1369 | Fantasia Barrino And Kenya Moore | 2017-12-03 | 30 | |
| 197 | 1370 | Shep Rose And Stassi Schroeder | 2017-12-04 | 30 | |
| 198 | 1371 | Sam Smith And Patti Labelle | 2017-12-05 | 30 | |
| 199 | 1372 | Ilana Glazer And Abbi Jacobson | 2017-12-06 | 30 | |
| 200 | 1373 | Claire Foy And Matt Smith | 2017-12-07 | 30 | |
| 201 | 1374 | Tiffany Haddish; Cynthia Bailey. | 2017-12-10 | 30 | Actress Tiffany Haddish; TV personality Cynthia Bailey. |
| 202 | 1375 | Bridget Everett; Jax Taylor. | 2017-12-11 | 30 | Actress Bridget Everett; TV personality Jax Taylor. |
| 203 | 1376 | Below Deck Reunion | 2017-12-12 | 30 | Cast members reunite to discuss season five of ``Below Deck.'' |
| 204 | 1377 | Dolores Catania; Michael Rapaport. | 2017-12-13 | 30 | TV personality Dolores Catania; actor Michael Rapaport. |
| 205 | 1378 | Andy's Clubhouse Holiday Bash! | 2017-12-14 | 30 | Holiday celebration. |
| 206 | 1379 | Kim Zolciak-biermann & Anderson Cooper | 2017-12-17 | 30 | |
| 207 | 1380 | Anna Camp & Jamie Bell | 2017-12-18 | 30 | |
| 208 | 1381 | Erika Jayne & Christian Siriano | 2017-12-19 | 30 | |
Season 15
| Episode No. | No. Overall | Title | Airdate | Runtime | Summary |
| --- | --- | --- | --- | --- | --- |
| 1 | 1382 | Tyra Banks And Nene Leakes | 2018-01-07 | 30 | |
| 2 | 1383 | Se Cupp And Scheana Marie | 2018-01-08 | 30 | |
| 3 | 1384 | Chrissy Teigen And Teresa Giudice | 2018-01-10 | 30 | |
| 4 | 1385 | Liam Neeson And Taraji P. Henson | 2018-01-11 | 30 | |
| 5 | 1386 | Sheree Whitfield & Bob Harper | 2018-01-14 | 30 | |
| 6 | 1387 | Ariana Madix & Brittany Cartwright | 2018-01-15 | 30 | |
| 7 | 1388 | Kyle Richards & Molly Shannon | 2018-01-16 | 30 | |
| 8 | 1389 | Gerard Butler & 50 Cent | 2018-01-17 | 30 | |
| 9 | 1390 | Samantha Bee and Dan Rather | 2018-01-22 | 30 | Samantha Bee and Dan Rather |
| 10 | 1391 | Lisa Rinna And Tabatha Coffey | 2018-01-23 | 30 | |
| 11 | 1392 | Belinda Carlisle And Sandra Bernhard | 2018-01-24 | 30 | |
| 12 | 1393 | Kandi Burruss And Bevy Smith | 2018-01-28 | 30 | |
| 13 | 1394 | Kristen Doute And Quad Webb-lunceford | 2018-01-29 | 30 | |
| 14 | 1395 | Dakota Fanning & Carson Kressley | 2018-01-30 | 30 | |
| 15 | 1396 | Sarah Jessica Parker. | 2018-01-31 | 30 | Actress Sarah Jessica Parker. |
| 16 | 1397 | Joel Kinnaman And Chrissy Teigen | 2018-02-01 | 30 | |
| 17 | 1398 | Katie Maloney-schwartz And Tom Schwartz | 2018-02-05 | 30 | |
| 18 | 1399 | Kyle Richards And Bethenny Frankel | 2018-02-06 | 30 | |
| 19 | 1400 | Cecily Strong And Whitney Cummings | 2018-02-07 | 30 | |
| 20 | 1401 | Maury Povich And Connie Chung | 2018-02-08 | 30 | |
| 21 | 1402 | Porsha Williams & Amber Tamblyn | 2018-02-11 | 30 | |
| 22 | 1403 | Stassi Schroeder & Jake Shears | 2018-02-12 | 30 | |
| 23 | 1404 | Camille Grammer & Teddi Mellencamp-arroyave | 2018-02-13 | 30 | |
| 24 | 1405 | Padma Lakshmi & Nina Agdal | 2018-02-14 | 30 | |
| 25 | 1406 | Cynthia Bailey & Phoebe Robinson | 2018-02-18 | 30 | |
| 26 | 1407 | Lala Kent & Carl Radke | 2018-02-19 | 30 | |
| 27 | 1408 | Dorit Kemsley & Katy Mixon | 2018-02-20 | 30 | |
| 28 | 1409 | Brooke Shields & Van Jones | 2018-02-21 | 30 | |
| 29 | 1410 | Contessa Metcalfe & Toya Bush-harris | 2018-02-22 | 30 | |
| 30 | 1411 | Nene Leakes And Marlo Hampton | 2018-02-25 | 30 | |
| 31 | 1412 | James Kennedy And Lauren Wirkus | 2018-02-26 | 30 | |
| 32 | 1413 | Meghan Mccain And Lisa Rinna | 2018-02-27 | 30 | |
| 33 | 1414 | Dennis Quaid And Patton Oswalt | 2018-02-28 | 30 | |
| 34 | 1415 | Ariana Madix & Scheana Shay | 2018-03-05 | 30 | |
| 35 | 1416 | Brandi Glanville And Adam Rippon | 2018-03-06 | 30 | |
| 36 | 1417 | Bernadette Peters And Victor Garber | 2018-03-07 | 30 | |
| 37 | 1418 | Elizabeth Hurley & David Oyelowo | 2018-03-08 | 30 | |
| 38 | 1419 | Eva Marcille & Rickey Smiley | 2018-03-11 | 30 | |
| 40 | 1420 | TBA | 2018-03-12 | 30 | |
| 41 | 1421 | Dorit Kemsley & Jerry O'connell | 2018-03-13 | 30 | |
| 42 | 1422 | Kandi Burruss & Gina Neely | 2018-03-14 | 30 | |
| 43 | 1423 | Angela Bassett & Burt Reynolds | 2018-03-15 | 30 | |
| 44 | 1424 | Kim Zolciak-biermann And Iggy Azalea | 2018-03-18 | 30 | |
| 45 | 1425 | Stassi Schroeder And Brittany Cartwright | 2018-03-19 | 30 | |
| 46 | 1426 | Erika Jayne And Rupaul | 2018-03-20 | 30 | |
| 47 | 1427 | Rod Stewart And Cyndi Lauper | 2018-03-21 | 30 | |
| 48 | 1428 | Bill Hader And Jay Pharoah | 2018-03-22 | 30 | |
| 49 | 1429 | Miss Lawrence And ShereÉ Whitfield | 2018-03-25 | 30 | |
| 50 | 1430 | Jeff Goldblum And Alan Cumming | 2018-03-26 | 30 | |
| 51 | 1431 | Casey Wilson And Danielle Schneider | 2018-03-27 | 30 | |
| 52 | 1432 | Drew Barrymore And Timothy Olyphant | 2018-03-28 | 30 | |
| 53 | 1433 | Chrissy Metz And Sara Gilbert | 2018-03-29 | 30 | |
| 54 | 1434 | Kenya Moore & Michael Rapaport | 2018-04-01 | 30 | |
| 55 | 1435 | Kristen Doute & Paul Adelstein | 2018-04-02 | 30 | |
| 56 | 1436 | Summer House Reunion | 2018-04-03 | 30 | |
| 57 | 1437 | Luann De Lesseps & Jackie Hoffman | 2018-04-04 | 30 | |
| 58 | 1438 | Milo Ventimiglia And Ricky Martin | 2018-04-09 | 30 | |
| 59 | 1439 | The Real Housewives Of Beverly Hills Cast | 2018-04-10 | 30 | |
| 60 | 1440 | Dorinda Medley And The Night Of 31 Doorbells | 2018-04-11 | 30 | |
| 61 | 1441 | Anna Faris And Snoop Dogg | 2018-04-12 | 30 | |
| 62 | 1442 | Gizelle Bryant & Wendi Mclendon-covey | 2018-04-22 | 30 | |
| 63 | 1443 | Christina Hendricks & Tom Sandoval | 2018-04-23 | 30 | |
| 64 | 1444 | Carole Radziwill & Ali Wentworth | 2018-04-25 | 30 | |
| 65 | 1445 | Cameran Eubanks & Inbar Lavi | 2018-04-26 | 30 | |
| 66 | 1446 | Sting And Shaggy | 2018-04-29 | 30 | |
| 67 | 1447 | Jax Taylor And Shep Rose | 2018-04-30 | 30 | |
| 68 | 1448 | Katie Couric & Geraldo Rivera | 2018-05-01 | 30 | |
| 69 | 1449 | Bethenny Frankel And Lea Michele | 2018-05-02 | 30 | |
| 70 | 1450 | Sebastian Stan And Priyanka Chopra | 2018-05-03 | 30 | |
| 71 | 1451 | Karen Huger & Candiace Dillard | 2018-05-06 | 30 | |
| 72 | 1452 | Charlize Theron & Ron Livingston | 2018-05-07 | 30 | |
| 73 | 1453 | Winnie Harlow & Brad Goreski | 2018-05-08 | 30 | |
| 74 | 1454 | Ramona Singer & Ryan Serhant | 2018-05-09 | 30 | |
| 75 | 1455 | Monique Samuels & Gabrielle Union | 2018-05-13 | 30 | |
| 76 | 1456 | Rachel Bloom & Oliver Hudson | 2018-05-14 | 30 | |
| 77 | 1457 | Carol Kane & Jimmy Buffett | 2018-05-15 | 30 | |
| 78 | 1458 | Sonja Morgan & Keith Hernandez | 2018-05-16 | 30 | |
| 79 | 1459 | Candice Bergen, Mary Steenburgen, & Don Johnson | 2018-05-17 | 30 | |
| 80 | 1460 | Ashley Darby & Retta | 2018-05-20 | 30 | |
| 81 | 1461 | Kathryn Calhoun Dennis & Craig Conover | 2018-05-21 | 30 | |
| 82 | 1462 | Hannah Ferrier & Adam Glick | 2018-05-22 | 30 | |
| 83 | 1463 | Kyle Richards & Simon Baker | 2018-05-23 | 30 | |
| 84 | 1464 | Laurie Metcalf & Jessica Walter | 2018-05-24 | 30 | |
| 85 | 1465 | Gillian Jacobs, Phoebe Robinson, & Vanessa Bayer | 2018-05-27 | 30 | |
| 86 | 1466 | John Mayer & Andy Cohen | 2018-06-03 | 30 | |
| 87 | 1467 | Kelly Preston & Tituss Burgess | 2018-06-11 | 30 | |
| 88 | 1468 | Captain Sandy Yawn & Fredrik Eklund | 2018-06-12 | 30 | |
| 89 | 1469 | Carole Radziwill & Leslie Bibb | 2018-06-13 | 30 | |
| 90 | 1470 | Andrew Rannells & Matt Bomer | 2018-06-14 | 30 | During the gamelet Uncomfortably Close, actors Matt Bomer and Andrew Rannells get 60 seconds to ask each other random questions while getting closer and closer to each other which ends in a kiss. |
| 91 | 1471 | Robyn Dixon & Ginuwine | 2018-06-17 | 30 | |
| 92 | 1472 | Alfre Woodard & Mike Colter | 2018-06-18 | 30 | |
| 93 | 1473 | Naomie Olindo & Austen Kroll | 2018-06-19 | 30 | |
| 94 | 1474 | Tinsley Mortimer And Zoey Deutch | 2018-06-20 | 30 | |
| 95 | 1475 | Alison Brie And Billy Porter | 2018-06-21 | 30 | |
| 96 | 1476 | Antoni Porowski, Tan France, Karamo Brown, Jonathan Van Ness And Bobby Berk | 2018-06-24 | 30 | |
| 97 | 1477 | Bebe Rexha And Bryan Adams | 2018-06-25 | 30 | |
| 98 | 1478 | Rachel Zoe And Conrad Empson | 2018-06-26 | 30 | |
| 99 | 1479 | Dorinda Medley And Willie Geist | 2018-06-27 | 30 | |
| 100 | 1480 | Patricia Clarkson And Elizabeth Perkins | 2018-06-28 | 30 | |
| 101 | 1481 | Kandi Burruss And Aisha Tyler | 2018-07-01 | 30 | |
| 102 | 1482 | Shep Rose And Dale Earnhardt Jr. | 2018-07-09 | 30 | |
| 103 | 1483 | Brooke Laughton & Jane Krakowski | 2018-07-10 | 30 | |
| 104 | 1484 | Sonja Morgan & Kristin Cavallari | 2018-07-11 | 30 | |
| 105 | 1485 | Dwayne Johnson | 2018-07-12 | 30 | |
| 106 | 1486 | Ashley Darby And D.l. Hughley | 2018-07-15 | 30 | |
| 107 | 1487 | Shannon Beador And Tamra Judge | 2018-07-16 | 30 | |
| 108 | 1488 | Liv Tyler And Neve Campbell | 2018-07-17 | 30 | |
| 109 | 1489 | Tinsley Mortimer & Kristin Chenoweth | 2018-07-18 | 30 | |
| 110 | 1490 | Charlamagne Tha God & Joel Mchale | 2018-07-19 | 30 | |
| 111 | 1491 | Monique Samuels And Sherri Shepherd | 2018-07-22 | 30 | |
| 112 | 1492 | Kelly Dodd & Bridget Everett | 2018-07-23 | 30 | |
| 113 | 1493 | Joao Franco And Colin Macy-o'toole | 2018-07-24 | 30 | |
| 114 | 1494 | Ramona Singer & Meghan Mccain | 2018-07-25 | 30 | |
| 115 | 1495 | Rosanna Arquette And Laverne Cox | 2018-07-26 | 30 | |
| 116 | 1496 | Robyn Dixon & Charrisse Jackson-jordan | 2018-07-29 | 30 | |
| 117 | 1497 | Vicki Gunvalson & Chloë Grace Moretz | 2018-07-30 | 30 | |
| 118 | 1498 | Hannah Ferrier, Jamie Jason, & Kasey Cohen | 2018-07-31 | 30 | |
| 119 | 1499 | Dorinda Medley And Isaac Mizrahi | 2018-08-01 | 30 | |
| 120 | 1500 | Mercedes "mj" Javid & Reza Farahan | 2018-08-02 | 30 | |
| 121 | 1501 | Gizelle Bryant And Brandi Redmond | 2018-08-05 | 30 | |
| 122 | 1502 | Emily Simpson And Brooklyn Decker | 2018-08-06 | 30 | |
| 123 | 1503 | Ann Dowd And Jake Tapper | 2018-08-07 | 30 | |
| 124 | 1504 | Sonja Morgan And Michael Rapaport | 2018-08-08 | 30 | |
| 125 | 1505 | Golnesa "gg" Gharachedaghi & Mike Shouhed | 2018-08-09 | 30 | |
| 126 | 1506 | Ashlee Simpson And Evan Ross | 2018-09-04 | 30 | |
| 127 | 1507 | Luann De Lesseps & Jerry O'Connell | 2018-09-05 | 30 | |
| 128 | 1508 | Troye Sivan And Laura Linney | 2018-09-06 | 30 | |
| 129 | 1509 | Quad Webb-lunceford And Dr. Jackie Walters | 2018-09-09 | 30 | |
| 130 | 1510 | Gina Kirschenheiter And Dr. Oz | 2018-09-10 | 30 | |
| 131 | 1511 | Cary Deuber And Stephanie Hollman | 2018-09-12 | 30 | |
| 132 | 1512 | Mercedes Javid And Michael Rapaport | 2018-09-13 | 30 | |
| 133 | 1513 | Vivica A. Fox & Mariah Huq | 2018-09-16 | 30 | |
| 134 | 1514 | Vicki Gunvalson & S.e. Cupp | 2018-09-17 | 30 | |
| 135 | 1515 | Hoda Kotb & Savannah Guthrie | 2018-09-18 | 30 | |
| 136 | 1516 | Leeanne Locken & Brendan Schaub | 2018-09-19 | 30 | |
| 137 | 1517 | Queen Latifah & Josh Groban | 2018-09-20 | 30 | |
| 138 | 1518 | Toya Bush-harris & Jerry O'connell | 2018-09-23 | 30 | |
| 139 | 1519 | Kelly Dodd & Chrissy Teigen | 2018-09-24 | 30 | |
| 140 | 1520 | D'andra Simmons & Tom Arnold | 2018-09-25 | 30 | |
| 141 | 1521 | Naomi Campbell & Cuba Gooding Jr. | 2018-09-26 | 30 | |
| 142 | 1522 | Elle Macpherson & Terrence Howard | 2018-09-27 | 30 | |
| 143 | 1523 | Dr. Simone Whitmore And Dave Holmes | 2018-09-30 | 30 | |
| 144 | 1524 | Shannon Beador & Jeff Lewis | 2018-10-01 | 30 | |
| 145 | 1525 | Kate Chastain & Captain Lee | 2018-10-02 | 30 | |
| 146 | 1526 | Candice Bergen And Faith Ford | 2018-10-03 | 30 | |
| 147 | 1527 | Debra Messing And Molly Shannon | 2018-10-04 | 30 | |
| 148 | 1528 | Dr. Heavenly Kimes And Taye Diggs | 2018-10-07 | 30 | |
| 149 | 1529 | Tamra Judge And Behati Prinsloo | 2018-10-08 | 30 | |
| 150 | 1530 | Kj Apa, Lili Reinhart, Luke Perry, And Madchen Amick | 2018-10-09 | 30 | |
| 151 | 1531 | Lena Dunham And Maggie Gyllenhaal | 2018-10-10 | 30 | |
| 152 | 1532 | Reza Farahan And Destiney Rose | 2018-10-11 | 30 | |
| 153 | 1533 | Tamar Braxton & Quad Webb-lunceford | 2018-10-14 | 30 | |
| 154 | 1534 | Heather Dubrow And Anthony Atamanuik | 2018-10-15 | 30 | |
| 155 | 1535 | Jane Curtin And Harvey Fierstein | 2018-10-16 | 30 | |
| 156 | 1536 | Kameron Westcott And Carson Kressley | 2018-10-17 | 30 | |
| 157 | 1537 | Busy Phillips & Ashley Graham | 2018-10-18 | 30 | |
| 158 | 1538 | Mariah Huq & T-pain | 2018-10-21 | 30 | |
| 159 | 1539 | Gina Kirschenheiter & Mary Mccormack | 2018-10-22 | 30 | |
| 160 | 1540 | Juliette Lewis & Ricki Lake | 2018-10-23 | 30 | |
| 161 | 1541 | Ellie Kemper & Stockard Channing | 2018-10-24 | 30 | |
| 162 | 1542 | Mike Shouhed & Nema Vand | 2018-10-25 | 30 | |
| 163 | 1543 | Dr. Jackie Walters And Kristin Chenoweth | 2018-10-28 | 30 | |
| 164 | 1544 | Kelly Dodd And Brandi Redmond | 2018-10-29 | 30 | |
| 165 | 1545 | Amanda Peet And Debra Winger | 2018-10-30 | 30 | |
| 166 | 1546 | Seth Meyers | 2018-10-31 | 30 | |
| 167 | 1547 | Tyler Perry And Whoopi Goldberg | 2018-11-01 | 30 | |
| 168 | 1548 | Nene Leakes And Phoebe Robinson | 2018-11-04 | 30 | |
| 169 | 1549 | Vicki Gunvalson And Leslie Grossman | 2018-11-05 | 30 | |
| 170 | 1550 | Teresa Giudice And Dolores Catania | 2018-11-07 | 30 | |
| 171 | 1551 | Kandi Burruss And Keke Palmer | 2018-11-11 | 30 | |
| 172 | 1552 | Jenni Pulos And Emily Simpson | 2018-11-12 | 30 | |
| 173 | 1553 | Eddie Redmayne And Zoe Kravitz | 2018-11-13 | 30 | |
| 174 | 1554 | Margaret Josephs And Bridget Everett | 2018-11-14 | 30 | |
| 175 | 1555 | Shania Twain And Patricia Arquette | 2018-11-15 | 30 | |
| 176 | 1556 | Porsha Williams And Miss Lawrence | 2018-11-18 | 30 | |
| 177 | 1557 | Connie Britton | 2018-11-25 | 30 | |
| 178 | 1558 | Tatiana Maslany & Sean Hayes | 2018-11-26 | 30 | |
| 179 | 1559 | Kate Chastain And Josiah Carter | 2018-11-27 | 30 | |
| 180 | 1560 | Melissa Gorga And Leeanne Locken | 2018-11-28 | 30 | |
| 181 | 1561 | Tyra Banks And Megan Fox | 2018-11-29 | 30 | |
| 182 | 1562 | Eva Marcille And Sandra Bernhard | 2018-12-02 | 30 | |
| 183 | 1563 | Brittany Cartwright & Jax Taylor | 2018-12-03 | 30 | |
| 184 | 1564 | Ross Inia, Ashton Pienaar And Rhylee Gerber | 2018-12-04 | 30 | |
| 185 | 1565 | Jackie Goldschneider & Jennifer Aydin | 2018-12-05 | 30 | |
| 186 | 1566 | Dua Lipa & Kenan Thompson | 2018-12-06 | 30 | |
| 187 | 1567 | Tameka "tiny" Harris And Kandi Burruss | 2018-12-09 | 30 | |
| 188 | 1568 | Julia Garner And Stassi Schroeder | 2018-12-10 | 30 | |
| 189 | 1569 | Ashton Pienaar And Jenny Mccarthy | 2018-12-11 | 30 | |
| 190 | 1570 | Gayle King & Lenny Kravitz | 2018-12-12 | 30 | |
| 191 | 1571 | Jennifer Lopez And Leah Remini | 2018-12-13 | 30 | |
| 192 | 1572 | Cynthia Bailey And Anderson Cooper | 2018-12-16 | 30 | |
| 193 | 1573 | Lala Kent And Adam Pally | 2018-12-17 | 30 | |
| 194 | 1574 | Natalie Portman And Leslie Mann | 2018-12-18 | 30 | |
| 195 | 1575 | Saoirse Ronan And Lucas Hedges | 2018-12-19 | 30 | |
| 196 | 1576 | O Come Og Faithful: Teresa Giudice, Kyle Richards, Bethenny Frankel, Ramona Singer, Vicki Gunvalson And Nene Leakes | 2018-12-20 | 30 | |
| 197 | 1577 | O Come Og Faithful Part 2 | 2018-12-23 | 30 | |
Season 16
| Episode No. | No. Overall | Title | Airdate | Runtime | Summary |
| --- | --- | --- | --- | --- | --- |
| 1 | 1578 | Shamari Devoe And Bevy Smith | 2019-01-06 | 30 | |
| 2 | 1579 | Lisa Vanderpump | 2019-01-07 | 30 | |
| 3 | 1580 | Mark-paul Gosselaar And Marie Osmond | 2019-01-08 | 30 | |
| 4 | 1581 | Danielle Staub And Lindsay Lohan | 2019-01-09 | 30 | |
| 5 | 1582 | Meghan Mccain & Josh Hutcherson | 2019-01-10 | 30 | |
| 6 | 1583 | Porsha williams and terry crews | 2019-01-13 | 30 | |
| 7 | 1584 | The Kardashian Sisters | 2019-01-14 | 30 | |
| 8 | 1585 | The Vanderpump Rules Girls | 2019-01-15 | 30 | |
| 9 | 1586 | Lena Waithe And Nina Dobrev | 2019-01-16 | 30 | |
| 10 | 1587 | Chrissy Teigen & John Legend | 2019-01-17 | 30 | |
| 11 | 1588 | Cynthia Bailey And Rupaul | 2019-01-20 | 30 | |
| 12 | 1589 | Jimmy Kimmel | 2019-01-21 | 30 | |
| 13 | 1590 | Judd Apatow And Jay Leno | 2019-01-22 | 30 | |
| 14 | 1591 | Sarah Paulson And Billy Eichner | 2019-01-23 | 30 | |
| 15 | 1592 | Anne Hathaway And Matthew Mcconaughey | 2019-01-24 | 30 | |
| 16 | 1593 | Nene Leakes And Michael Rapaport | 2019-01-27 | 30 | |
| 17 | 1594 | Jax Taylor, Tom Sandoval And Tom Schwartz | 2019-01-28 | 30 | |
| 18 | 1595 | Jerry O'Connell And Rebecca Romijn | 2019-01-29 | 30 | |
| 19 | 1596 | Margaret Josephs & Wendi McLendon-Covey | 2019-01-30 | 30 | |
| 20 | 1597 | Christina Aguilera | 2019-01-31 | 30 | |
| 21 | 1598 | Vanderpump Rules: James, Raquel, & Billie | 2019-02-04 | 30 | |
| 22 | 1599 | Below Deck Reunion | 2019-02-05 | 30 | |
| 23 | 1600 | Dolores Catania And Naya Rivera | 2019-02-06 | 30 | |
| 24 | 1601 | Kyle Richards, Lisa Rinna, & Teddi Mellencamp-Arroyave | 2019-02-07 | 30 | |
| 25 | 1602 | Kim Zolciak-Biermann & Eva Marcille | 2019-02-17 | 30 | |
| 26 | 1603 | Kristen Doute & S.E. Cupp | 2019-02-18 | 30 | |
| 27 | 1604 | Lisa Rinna And Carson Kressley | 2019-02-19 | 30 | |
| 28 | 1605 | Melissa Gorga And Mark Consuelos | 2019-02-20 | 30 | |
| 29 | 1606 | Reba McEntire & Morris Chestnut | 2019-02-21 | 30 | |
| 30 | 1607 | Casey Wilson And Tom Sandoval | 2019-02-25 | 30 | |
| 31 | 1608 | Isaac Mizrahi And Dorit Kemsley | 2019-02-26 | 30 | |
| 32 | 1609 | Padma Lakshmi & Dr. Oz | 2019-02-27 | 30 | |
| 33 | 1610 | Scott Foley & Derek Hough | 2019-02-28 | 30 | |
| 34 | 1611 | Nene Leakes | 2019-03-03 | 30 | |
| 35 | 1612 | Katie Maloney-Schwartz & Stassi Schroeder | 2019-03-04 | 30 | |
| 36 | 1613 | Denise Richards And Karamo Brown | 2019-03-05 | 30 | |
| 37 | 1614 | Dorinda Medley And Amber Tamblyn | 2019-03-06 | 30 | |
| 38 | 1615 | Julianne Moore And Diane Von Furstenberg | 2019-03-07 | 30 | |
| 39 | 1616 | Cynthia Bailey & Marlo Hampton | 2019-03-10 | 30 | |
| 40 | 1617 | Scheana Shay & Kyle Cook | 2019-03-11 | 30 | |
| 41 | 1618 | Kyle Richards & Thom Filicia | 2019-03-12 | 30 | |
| 42 | 1619 | Luann de Lesseps & John Oliver | 2019-03-13 | 30 | |
| 43 | 1620 | Karlie Kloss & Christian Siriano | 2019-03-14 | 30 | |
| 44 | 1621 | Kandi Burruss And Shamari Devoe | 2019-03-17 | 30 | |
| 45 | 1622 | Lindsay Hubbard And James Kennedy | 2019-03-18 | 30 | |
| 46 | 1623 | Teddi Mellencamp And Maren Morris | 2019-03-19 | 30 | |
| 47 | 1624 | Sonja Morgan And Antoni Porowski | 2019-03-20 | 30 | |
| 48 | 1625 | Priyanka Chopra-Jonas & Willie Geist | 2019-03-21 | 30 | |
| 49 | 1626 | Kim Zolciak-Biermann & Jonathan Van Ness | 2019-03-24 | 30 | |
| 50 | 1627 | Tom Schwartz And Aidy Bryant | 2019-03-25 | 30 | |
| 51 | 1628 | Erika Jayne And Paul Scheer | 2019-03-26 | 30 | |
| 52 | 1629 | Ramona Singer And Tracy Tutor | 2019-03-27 | 30 | |
| 53 | 1630 | Amy Sedaris & John McEnroe | 2019-03-28 | 30 | |
| 54 | 1631 | Tamar Braxton And Lizzo | 2019-04-07 | 30 | |
| 55 | 1632 | Jax Taylor And Brittany Cartwright | 2019-04-08 | 30 | |
| 56 | 1633 | Lisa Vanderpump | 2019-04-09 | 30 | |
| 57 | 1634 | Bethenny Frankel And Brandon Maxwell | 2019-04-10 | 30 | |
| 58 | 1635 | Melissa Etheridge And Chelsea Handler | 2019-04-11 | 30 | |
| 59 | 1636 | Eva Marcille And Miss Lawrence | 2019-04-14 | 30 | |
| 60 | 1637 | Lala Kent And Ariana Madix | 2019-04-15 | 30 | |
| 61 | 1638 | Lisa Rinna And Ciara | 2019-04-16 | 30 | |
| 62 | 1639 | Dorinda Medley And Kristin Cavallari | 2019-04-17 | 30 | |
| 63 | 1640 | Anna Faris And Nina Garcia | 2019-04-18 | 30 | |
| 64 | 1641 | Cynthia Bailey & Roxane Gay | 2019-04-21 | 30 | |
| 65 | 1642 | Carl Radke And Scheana Shay | 2019-04-22 | 30 | |
| 66 | 1643 | Teddi Mellencamp And Jackie Hoffman | 2019-04-23 | 30 | |
| 67 | 1644 | Luann De Lesseps And Barbara Kavovit | 2019-04-24 | 30 | |
| 68 | 1645 | Samantha Bee And Van Jones | 2019-04-25 | 30 | |
| 69 | 1646 | Porsha Williams And Anderson Cooper | 2019-04-28 | 30 | |
| 70 | 1647 | Stassi Schroeder And Cecily Strong | 2019-04-29 | 30 | |
| 71 | 1648 | Dorit Kemsley And Boy George | 2019-04-30 | 30 | |
| 72 | 1649 | Tinsley Mortimer And June Diane Raphael | 2019-05-01 | 30 | |
| 73 | 1650 | Charlize Theron And Seth Rogen | 2019-05-02 | 30 | |
| 74 | 1651 | Gizelle Bryant And Kristin Chenoweth | 2019-05-05 | 30 | |
| 75 | 1652 | Christina Applegate And Linda Cardellini | 2019-05-06 | 30 | |
| 76 | 1653 | Ana Gasteyer, Emily Spivey, Paula Pell, & Rachel Dratch | 2019-05-07 | 30 | |
| 77 | 1654 | Sonja Morgan And Bridget Everett | 2019-05-08 | 30 | |
| 78 | 1655 | Rhea Perlman And Whoopi Goldberg | 2019-05-09 | 30 | |
| 79 | 1656 | Ashley Darby And Candiace Dillard | 2019-05-12 | 30 | |
| 80 | 1657 | Anjelica Huston & Rupaul | 2019-05-13 | 30 | |
| 81 | 1658 | Erika Jayne And Paris Hilton | 2019-05-14 | 30 | |
| 82 | 1659 | Kathryn Dennis And Patricia Altschul | 2019-05-15 | 30 | |
| 83 | 1660 | Rachael Ray & Bill Hader | 2019-05-16 | 30 | |
| 84 | 1661 | Karen Huger And Dj Khaled | 2019-05-19 | 30 | |
| 85 | 1662 | Gabrielle Union And Jessica Alba | 2019-05-20 | 30 | |
| 86 | 1663 | Camille Grammer & Tracy Pollan | 2019-05-21 | 30 | |
| 87 | 1664 | Ramona Singer & Craig Conover | 2019-05-22 | 30 | |
| 88 | 1665 | Allison Williams & Billie Lourd | 2019-05-23 | 30 | |
| 89 | 1666 | Robin Givens And Robyn Dixon | 2019-06-09 | 30 | |
| 90 | 1667 | Laura Linney And John Cena | 2019-06-10 | 30 | |
| 91 | 1668 | Denise Richards & Kyle Richards | 2019-06-11 | 30 | |
| 92 | 1669 | Dorinda Medley And Sonja Morgan | 2019-06-12 | 30 | |
| 93 | 1670 | Rosie Perez And Mark Ronson | 2019-06-13 | 30 | |
| 94 | 1671 | Candiace Dillard & Janet Mock | 2019-06-16 | 30 | |
| 95 | 1672 | Hannah Ferrier And Anastasia Surmava | 2019-06-17 | 30 | |
| 96 | 1673 | Celeste Barber And Lisa Rinna | 2019-06-18 | 30 | |
| 97 | 1674 | Adam Devine And Shep Rose | 2019-06-19 | 30 | |
| 98 | 1675 | Bethenny Frankel | 2019-06-20 | 30 | |
| 99 | 1676 | Desus And Mero | 2019-06-23 | 30 | |
| 100 | 1677 | Rosie O'donnell And Captain Sandy Yawn | 2019-06-24 | 30 | |
| 101 | 1678 | Teddi Mellencamp And Michael Rapaport | 2019-06-25 | 30 | |
| 102 | 1679 | Chaka Khan And Adam Lambert | 2019-06-26 | 30 | |
| 103 | 1680 | WWHL 10: Chrissy Teigen | 2019-06-27 | 30 | Luann de Lesseps from #RHONY performs her latest song "Feelin' Jovani" in the Clubhouse and features drag queens dressed as her on stage. Singer John Mayer makes a surprise visit to the Clubhouse and Andy Cohen and Chrissy Teigen play "Now and Ten" to test their Clubhouse trivia knowledge with John as the game show host. |
| 104 | 1681 | Gizelle Bryant & Terry Crews | 2019-06-30 | 30 | |
| 105 | 1682 | Keke Palmer & Robyn Dixon | 2019-07-07 | 30 | |
| 106 | 1683 | Colin Macy-O'toole & João Franco | 2019-07-08 | 30 | |
| 107 | 1684 | Camille Grammer & Tinsley Mortimer | 2019-07-09 | 30 | |
| 108 | 1685 | Phoebe Robinson & Kumail Nanjiani | 2019-07-10 | 30 | |
| 109 | 1686 | Luann De Lesseps & Pauly D | 2019-07-11 | 30 | |
| 110 | 1687 | Vivica A. Fox And Karen Huger | 2019-07-14 | 30 | |
| 111 | 1688 | Kate Chastain And Aesha Scott | 2019-07-15 | 30 | |
| 112 | 1689 | Dorit Kemsley And Ramona Singer | 2019-07-16 | 30 | |
| 113 | 1690 | Craig Conover And Austen Kroll | 2019-07-17 | 30 | |
| 114 | 1691 | Ellie Kemper And Marc Maron | 2019-07-18 | 30 | |
| 115 | 1692 | Monique Samuels & Tamica Lee | 2019-07-21 | 30 | |
| 116 | 1693 | Chrissy Metz & Lance Bass | 2019-07-22 | 30 | |
| 117 | 1694 | Kyle Richards & Poppy Montgomery | 2019-07-23 | 30 | |
| 118 | 1695 | Aisha Tyler & Fred Savage | 2019-07-24 | 30 | |
| 119 | 1696 | Dorinda Medley & Michael Rapaport | 2019-07-25 | 30 | |
| 120 | 1697 | Laverne Cox And Tituss Burgess | 2019-07-28 | 30 | |
| 121 | 1698 | Captain Sandy, June Foster, & Colin Macy-o'toole | 2019-07-29 | 30 | |
| 122 | 1699 | Denise Richards & Fredrik Eklund | 2019-07-30 | 30 | |
| 123 | 1700 | Queer Eye | 2019-07-31 | 30 | |
| 124 | 1701 | Angela Bassett And Chace Crawford | 2019-08-01 | 30 | |
| 125 | 1702 | Issa Rae And Robin Thede | 2019-08-04 | 30 | |
| 126 | 1703 | Jennie Garth And Tori Spelling | 2019-08-05 | 30 | |
| 127 | 1704 | Jerry O'connell And Shannon Beador | 2019-08-06 | 30 | |
| 128 | 1705 | Rebecca Romijn & Milo Ventimiglia | 2019-08-07 | 30 | |
| 129 | 1706 | Eva Longoria And Julianne Moore | 2019-08-08 | 30 | |
| 130 | 1707 | Sherri Shepherd & Ashley Darby | 2019-08-11 | 30 | |
| 131 | 1708 | Hannah Ferrier & Steve Gold | 2019-08-12 | 30 | |
| 132 | 1709 | Tamra Judge & Betty Gilpin | 2019-08-13 | 30 | |
| 133 | 1710 | Whitney Cummings & Austen Kroll | 2019-08-14 | 30 | |
| 134 | 1711 | Alison Brie & Brian Austin Green | 2019-08-15 | 30 | |
| 135 | 1712 | Kate Upton & 50 Cent | 2019-08-18 | 30 | |
| 136 | 1713 | Wendy Williams | 2019-09-08 | 30 | |
| 137 | 1714 | Ben Robinson & João Franco | 2019-09-09 | 30 | |
| 138 | 1715 | Vicki Gunvalson & Ryan Serhant | 2019-09-10 | 30 | |
| 139 | 1716 | Sheryl Crow & Jim Gaffigan | 2019-09-11 | 30 | |
| 140 | 1717 | Lala Kent & Kate Bosworth | 2019-09-12 | 30 | |
| 141 | 1718 | Keke Palmer And Gizelle Bryant | 2019-09-15 | 30 | |
| 142 | 1719 | Leeanne Locken And Candiace Dillard | 2019-09-16 | 30 | |
| 143 | 1720 | Eileen Davidson and June Diane Raphael | 2019-09-17 | 30 | |
| 144 | 1721 | Tanya Tucker and Brandi Redmond | 2019-09-18 | 30 | |
| 145 | 1722 | Elizabeth Mcgovern and Allen Leech | 2019-09-19 | 30 | |
| 146 | 1723 | Adrienne C. Moore, Mariah Huq | 2019-09-22 | 30 | |
| 147 | 1724 | Judith Light, Finn Wittrock | 2019-09-23 | 30 | |
| 148 | 1725 | Kelly Dodd, Meghan Mccain | 2019-09-24 | 30 | |
| 149 | 1726 | Andi Dorfman, Stephanie Hollman | 2019-09-25 | 30 | |
| 150 | 1727 | Brooke Shields & Dylan Mcdermott | 2019-09-26 | 30 | |
| 151 | 1728 | Dr. Heavenly Kimes And Dr. Jackie Walters | 2019-09-29 | 30 | |
| 152 | 1729 | Anastasia Surmava and Aesha Scott | 2019-09-30 | 30 | |
| 153 | 1730 | Jenny Mccarthy and Gina Kirschenheiter | 2019-10-01 | 30 | |
| 154 | 1731 | Rachel Lindsay & Taye Diggs | 2019-10-02 | 30 | |
| 155 | 1732 | Dan Rather & Henry Winkler | 2019-10-03 | 30 | |
| 156 | 1733 | Amber Ruffin & Ja Rule | 2019-10-06 | 30 | |
| 157 | 1734 | Heidi Gardner & Mark Consuelos | 2019-10-07 | 30 | |
| 158 | 1735 | Emily Simpson & Lauren Lapkus | 2019-10-08 | 30 | |
| 159 | 1736 | Kameron Westcott & Paula Abdul | 2019-10-09 | 30 | |
| 160 | 1737 | Jimmy Fallon | 2019-10-10 | 30 | |
| 161 | 1738 | Dr. Simone Whitmore & Toya Bush-Harris | 2019-10-13 | 30 | |
| 162 | 1739 | Kate Chastain & Captain Lee Rosbach | 2019-10-14 | 30 | |
| 163 | 1740 | Leeanne Locken & Tamra Judge | 2019-10-15 | 30 | |
| 164 | 1741 | Lorraine Bracco & Dr. Oz | 2019-10-16 | 30 | |
| 165 | 1742 | Angela Kinsey & Jenna Fischer | 2019-10-17 | 30 | |
Series Cast
| | | | |
| --- | --- | --- | --- |
| | Andy Cohen | as Host | |
Related News
TVMaze