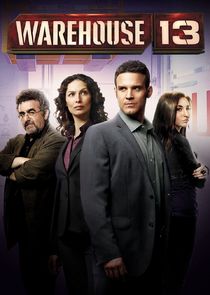 After saving the life of the President, two Secret Service agents find themselves abruptly transferred to Warehouse 13 -- a massive, top-secret storage facility in windswept South Dakota that houses every strange artifact, mysterious relic, fantastical object and supernatural souvenir ever collected by the U.S. government. The Warehouse's caretaker Artie charges Pete and Myka with chasing down reports of supernatural and paranormal activity in search of new objects to cache at the Warehouse, as well as helping him to control the warehouse, itself. Rounding out the team is technology specialist Claudia and former ATF Steve Jinks.
Series Overview
Rating
imDb Rating: 7.6 (44,800 Votes)
Metascore: N/A
Plot
Pete and Myka, U.S Secret Service agents, are deployed in South Dakota's Warehouse 13 with a new assignment from an authority above and outside the government.
Details
Rated: TV-14
Released: 07 Jul 2009
Runtime: 43 min
Genre: Drama, Mystery, Sci-Fi, Thriller
Director: N/A
Writer: Jane Espenson, D. Brent Mote
Actors: Eddie McClintock, Joanne Kelly, Saul Rubinek, Allison Scagliotti
Language: English
Country: USA, Canada
Awards: Nominated for 1 Primetime Emmy. Another 2 nominations.
Total Seasons: 5
Previous Episode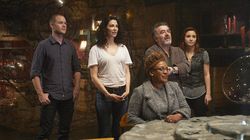 Endless
Episode 5x6; May 19, 2014
The team get news that will affect their future — and that of the Warehouse — forever, so with the help of Mrs. Frederic they share stories to put in an artefact time capsule.
Previous Episodes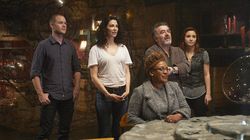 5x6: Endless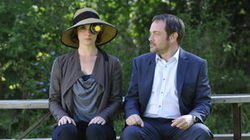 5x5: Cangku Shisi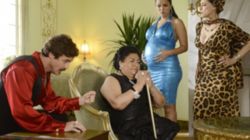 5x4: Savage Seduction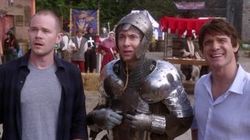 5x3: A Faire to Remember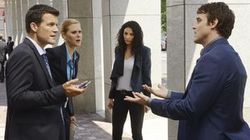 5x2: Secret Services


5x1: Endless Terror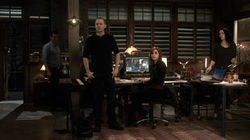 4x20: The Truth Hurts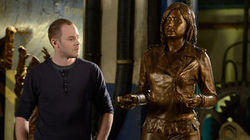 4x19: All the Time in the World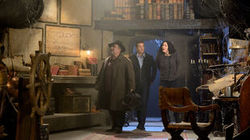 4x18: Lost & Found

View All Episodes
Cast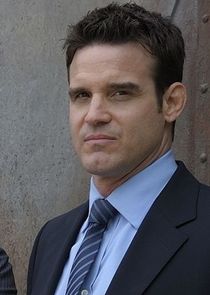 Eddie McClintock as Pete Lattimer
Joanne Kelly as Myka Bering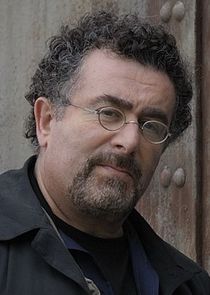 Saul Rubinek as Artie Nielsen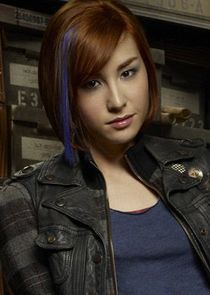 Allison Scagliotti as Claudia Donovan
Aaron Ashmore as Steven Jinks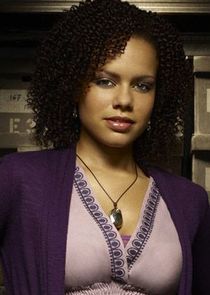 Genelle Williams as Leena
View Full Cast
Skip to:
Season 1
| Episode No. | No. Overall | Title | Airdate | Runtime | Summary |
| --- | --- | --- | --- | --- | --- |
| 1 | 1 | Pilot | 2009-07-07 | 90 | Secret Service agents Lattimer and Bering are "rewarded" with a transfer to the top-secret Warehouse 13. They meet Artie Nielsen, the caretaker of the mysterious warehouse, who tells them about their new job. The agents are responsible for the collection of every supernatural and unexplained item that the U.S. Government has ever collected. For their first assignment, they are sent to Iowa to investigate a possible artifact belonging to a college student who went berserk and assaulted his girlfriend while chanting an Italian incantation. |
| 2 | 2 | Resonance | 2009-07-14 | 60 | Pete and Myka are after a team of bank robbers who have a distinctive weapon. Meanwhile, Artie examines the security breach at the warehouse. |
| 3 | 3 | Magnetism | 2009-07-21 | 60 | Pete and Myka are sent to investigate a town where the inhabitants' minds are being altered making them act as they please. Meanwhile, Artie is confused by the energy flows going on in the warehouse. |
| 4 | 4 | Claudia | 2009-07-28 | 60 | A woman kidnaps Artie and insists that he help her recover her brother... who was lost in an artifact-related experiment 12 years ago. |
| 5 | 5 | Elements | 2009-08-04 | 60 | The theft of a sculpture leads Myka and Pete to a sacred Indian cave holding an ancient secret of creation... and destruction. |
| 6 | 6 | Burnout | 2009-08-11 | 60 | Pete and Myka take on a previous agent's assignment after the man's corpse turns up in the basement of a St. Louis police station. |
| 7 | 7 | Implosion | 2009-08-18 | 60 | On the trail of a samurai sword gifted to the President, the agents encounter a rival artifact-seeker. |
| 8 | 8 | Duped | 2009-08-25 | 60 | Pete goes to Las Vegas with Myka to recover an artifact from a couple of gamblers... unaware that the real Myka is trapped in a mirror at the warehouse. |
| 9 | 9 | Regrets | 2009-09-01 | 60 | While Pete and Myka investigate a series of artifact-related suicides at a Florida prison, Claudia uses an artifact at the warehouse. |
| 10 | 10 | Breakdown | 2009-09-08 | 60 | While Pete, Myka, and Claudia are trapped in the warehouse, Artie is forced to answer to his superiors. |
| 11 | 11 | Nevermore | 2009-09-15 | 60 | Myka travels home to see her dying father only to discover that he's the victim of an artifact. |
| 12 | 12 | MacPherson | 2009-09-22 | 60 | MacPherson engages in a scheme to secretly sell off Warehouse artifacts, leaving a trail of clues that lead Artie, Pete, and Myka directly to him. |
Season 2
| Episode No. | No. Overall | Title | Airdate | Runtime | Summary |
| --- | --- | --- | --- | --- | --- |
| 1 | 13 | Time Will Tell | 2010-07-06 | 60 | After destroying the umbilicus, MacPherson rescues another prisoner from the Bronze Sector and travels to Europe for the next step in his plan. Pete and Myka identify the missing prisoner: H.G. Wells. Meanwhile, Mrs. Frederic determines the true traitor, and Claudia is briefly reunited with her brother. |
| 2 | 14 | Mild Mannered | 2010-07-13 | 60 | The team goes after an artifact that can turn individuals into superheroes... with deadly consequences for everyone around them. |
| 3 | 15 | Beyond Our Control | 2010-07-20 | 60 | An artifact strikes close to home when the town near the Warehouse is plagued by an outbreak of B movie characters. Meanwhile, Mrs. Frederick and Valda undertake a risky procedure to discover what of MacPherson is still inside of Leena's mind. |
| 4 | 16 | Age Before Beauty | 2010-07-27 | 60 | Super models age 50 years in moments, and Pete and Myka must figure who is responsible, and what artifact they are employing. |
| 5 | 17 | 13.1 | 2010-08-03 | 60 | Douglas Fargo, a member of Global Dynamics, travels from Eureka to Warehouse 13 to assist them with a computer system update. However, when a sentient computer virus is unleashed, the team is trapped when the warehouse goes into lockdown. |
| 6 | 18 | Around the Bend | 2010-08-10 | 60 | Mrs. Frederic chooses Pete for an undercover assignment that brings him into conflict with a former love... and his current teammates. |
| 7 | 19 | For the Team | 2010-08-17 | 60 | Myka takes Claudia on as a partner for the teenager's first full mission, investigating cases of spontaneous combustion among athletes. Meanwhile, Helena returns to plague the team. |
| 8 | 20 | Merge with Caution | 2010-08-24 | 60 | Pete and Myka fall victim to an artifact that causes them to swap bodies, but the process will soon prove fatal if not reversed. Meanwhile, Artie and Claudia go after an artifact-enhanced seductress and Artie falls under her spell. |
| 9 | 21 | Vendetta | 2010-08-31 | 60 | Artie's past as a traitor returns to haunt him when someone uses artifacts to murder, and his former Russian handler is the prime suspect. |
| 10 | 22 | When and Where | 2010-09-07 | 60 | The agents must use Helena's time machine to travel to 1961 to solve a case. |
| 11 | 23 | Buried | 2010-09-14 | 60 | When Mrs. Frederic is stricken ill, the agents must search for a cure before it's too late. Their quest takes them to Egypt and the long-lost Warehouse 2. |
| 12 | 24 | Reset | 2010-09-21 | 60 | The team tries to track down their rogue member, and discover the artifact they have is unexpectedly powerful. Meanwhile, Claudia wonders about her future with the Warehouse team and Pete must choose between Kelly and the mission. |
| 13 | 25 | Secret Santa | 2010-12-07 | 60 | Pete and Myka have to track down an elf haunting a businessman who has abandoned his family, while Claudia gives Artie a memorable Christmas gift and the rest of the team celebrates the holidays. |
Season 3
| Episode No. | No. Overall | Title | Airdate | Runtime | Summary |
| --- | --- | --- | --- | --- | --- |
| 1 | 26 | The New Guy | 2011-07-11 | 60 | New (former ATF) agent Steve Jinks gets initiated on his first assignment with Pete investigating a string of murders which echo the deaths of characters in Shakespeare's tragedies, and almost dies on the job; luckily, former Warehouse agent Myka steps in to save him. |
| 2 | 27 | Trials | 2011-07-18 | 60 | When a pilot and a surgeon, both witnesses in a murder trial, suddenly start losing their memories, Pete and reinstated agent Myka must race against time to solve the case. Meanwhile, Claudia and Steve try to locate a kitchen cleaver capable of transferring illness. |
| 3 | 28 | Love Sick | 2011-07-25 | 60 | Artie and Dr. Calder are reunited on a new case (trying to locate an artefact which has been turning people into clay), but when the victims' DNA reveals a cyber matrix, Hugo Miller, Vanessa's ex, joins the investigation. Also, Pete and Myka wake up naked in bed together with no memory of what happened. |
| 4 | 29 | Queen for a Day | 2011-08-01 | 60 | Claudia and Steve attempt to infiltrate a Civil War re-enactment. Pete gets a visit from his ex-wife, who is in town to remarry, and who inadvertently activates an artefact that follows her on her wedding day, turning her into the Queen Bee and people she touches into her slaves. |
| 5 | 30 | 3... 2... 1... | 2011-08-08 | 60 | Three generations of Warehouse agents have failed to retrieve Joshua's Trumpet - an artifact that vaporized three separate victims. |
| 6 | 31 | Don't Hate the Player | 2011-08-15 | 60 | The Warehouse agents are called to a case that sees the return of Fargo, who is trapped in a Virtual Reality video game he created (with the help of an artefact) modelled after the Warehouse. The only way Pete and Claudia can rescue him and his co-creator friend is by entering the game themselves, as avatars. Meanwhile, Artie and Steve have another encounter with FBI Agent Sally Stukowski whilst trying to recover another artefact. |
| 7 | 32 | Past Imperfect | 2011-08-22 | 60 | After a brief sighting, Myka turns to her old Secret Service team to help find Leo, the man who murdered her old partner, Sam, and the agents investigate the possibility that the killer is linked to the Secret Service. |
| 8 | 33 | The 40th Floor | 2011-08-29 | 60 | Whilst attempting to save a group of Regents (after learning that Stukowski has been using artefacts to kill them), Pete and Claudia search for Stukowski's partner in crime and Artie and Myka find themselves trapped in a building that is disintegrating under the power of an artefact. |
| 9 | 34 | Shadows | 2011-09-12 | 60 | Pete decides to enter Jane's memories in order to investigate the Regent murders. Meanwhile, Myka and Claudia focus on some strange disappearances as with a flash and a zap numerous people begin to disappear, leaving only a charcoal smudge behind. |
| 10 | 35 | Insatiable | 2011-09-19 | 60 | With the number of crazed, shivering, ravenous people on the rise, Myka and Pete investigate a zombie outbreak and determine the artefact responsible is a 19th-century mason jar. Back at the Warehouse, Claudia is spooked when a fortune-telling machine tells her that she is about to die. |
| 11 | 36 | Emily Lake | 2011-10-03 | 60 | The theft of a top-secret file leads Pete and Myka to a Wyoming high school (where they find H.G. Wells working as a teacher named Emily Lake), in a race to stop Sykes from using his own cache of artefacts to destroy them and the Warehouse. Part 1 of 2. |
| 12 | 37 | Stand | 2011-10-03 | 60 | As Sykes' diabolical plan nears its fruition, Pete and Myka desperately try to track down a forgotten secret. Part 2 of 2. |
| 13 | 38 | The Greatest Gift | 2011-12-06 | 60 | When Pete touches an artefact in the Warehouse which creates an alternative reality in which he was never born, James McPherson is in charge of the Warehouse, and Artie is in jail, he must convince the team to help him return things to normal. |
Season 4
Episode No.
No. Overall
Title
Airdate
Runtime
Summary
1
39
A New Hope
2012-07-23
60

With the destruction of Warehouse 13 and the death of three of their friends, the only hope left for Myka, Pete, Claudia, and Artie is to recover an obscure artifact which may not even exist... and which could have deadly consequences when they use it for personal gain.

2
40
An Evil Within
2012-07-30
60

Pete and Myka travel to Philadelphia to investigate an artifact that is causing people to see bizarre monsters while Artie attempts to stop Claudia from resurrecting Steve.

3
41
Personal Effects
2012-08-06
60

It's all hands on deck to prevent a small town from being wiped off the map when a box full of artefacts is accidentally unleashed there.

4
42
There's Always a Downside
2012-08-13
60

Pete and Claudia hunt down an artefact at a prep school Hugo Miller's nephew attends, while Myka and Steve investigate an artefact in New Orleans. Artie has to deal with Brother Adrian's continuing investigations into Magellan's astrolabe.

5
43
No Pain, No Gain
2012-08-20
60

Artie and Steve investigate the theft of artefacts from the Warehouse while Mrs Frederic invites Claudia to lunch, and Pete and Myka look into a series of incidents involving a miraculously healed athlete.

6
44
Fractures
2012-08-27
60

A previously snagged artefact, Lewis Carroll's Mirror, turns up in a case and Alice is released into the world once more, but, this time, she is hunting something very specific, and will stop at nothing to carry out her goal.

7
45
Endless Wonder
2012-09-10
60

Artie, Steve and Claudia try to find out where Brother Adrian is hiding. Meanwhile, Pete and Myka search for an artefact that is making people taller with deadly consequences, while a nosy drug executive is tailing them and is putting the secrets of the Warehouse itself at risk.

8
46
Second Chance
2012-09-17
60

Pete and Myka trace two cases of a strange rusting disease to a factory run by a shady character named Siskel, and uncover links to an explosion at a museum. Meanwhile, Steve and Claudia try to get Steve off the metronome, while Artie deals with Helena, Leena, and Mrs. Frederic about the astrolabe and Brother Adrian.

9
47
The Ones You Love
2012-09-24
60

Artie and Leena stay in the Warehouse to find Brother Adrian, who ramps up his campaign against Artie by targeting the team's loved ones (Pete's ex-wife, Myka's sister, and Claudia's brother). Pete, Myka and Claudia try to save them, while elsewhere Steve and Mrs. Frederic discover the reason behind the Brotherhood's attacks.

10
48
We All Fall Down
2012-10-01
60

After discovering the truth about their situation, the agents gather at the Warehouse and set out to find the person responsible for the Warehouse thefts and the attacks on their loved ones... before the responsible party endangers the world.

Unable to find where H.G. Wells hid the astrolabe, a criminally insane Artie threatens to unleash a plague upon the entire world if it is not given back to him. The Warehouse agents race against time to stop him.

11
49
The Living and the Dead
2013-04-29
60

After Artie uses the Chinese Orchid to release the Sweating Sickness, Pete and Myka are left with 24 hours to save the entire world, while Steve and Claudia try to save Artie from his subconscious.

12
50
Parks and Rehabilitation
2013-05-06
60

While Artie tries to get back to work, Pete and Claudia investigate a radical activist from an environmental group that may be tied to an artefact... and who is killing off each member of the group that disbanded 30 years ago.

Pete and Claudia investigate a series of accidents involving earthquakes, sinkholes, and landslides, while Myka and Steve try to help Artie adjust to a Warehouse without Leena.

13
51
The Big Snag
2013-05-13
60

An artefact sucks Pete and Myka into a 1940s detective novel, but their lives are in real danger. Meanwhile, Artie, Steve, and Claudia go after a phantom car thief with racing gloves that enable a car to pass through solid matter.

14
52
The Sky's the Limit
2013-05-20
60

Pete and Myka head to Vegas to investigate deaths that are tied to the world of high magic. Meanwhile, Claudia and Jinks go to Watford, England, to search for an artefact used to rig horse races, while Mrs. Fredericks introduces Artie to the new owner of the B&B, Abigail Cho, a former psychotherapist who helps address his grief over Leena.

15
53
Instinct
2013-06-03
60

H.G. Wells re-enters the picture when she calls on Pete and Myka to help find an artefact that's forcing confessions out of criminals. Meanwhile, the rest of the team deals with earthquakes INSIDE the Warehouse.

16
54
Runaway
2013-06-10
60

Pete, Myka and Jinks deal with a prison break where the wall appears to have been melted by molten lava, and the Marshall assigned is Steve's ex-boyfriend. Meanwhile, Artie is struck deaf and Claudia must help him locate a missing statuette from Beethoven's clock before it becomes permanent.

17
55
What Matters Most
2013-06-17
60

Pete and Myka investigate when a series of mysterious incidents occur at an expensive gated community, and soon discover that someone is using an artefact to get revenge. Meanwhile, Claudia and Artie must help a homeless boy experiencing recurring moments of mathematical brilliance, each of which is followed by a seizure of increasing intensity.

18
56
Lost & Found
2013-06-24
60

Claudia and Steve get an intruder alert, which leads them to the shocking reveal that Paracelsus is alive and in the Warehouse. Meanwhile, Artie takes Pete and Myka to Buffalo to hunt down artefacts stolen from Warehouse 12 by Roaring Dan Seavey and his pirates centuries ago. There they find and team up with the duplicitous Charlotte Dupres whose agenda puts all their lives in danger.

19
57
All the Time in the World
2013-07-01
60

After bronzing Claudia, Paracelsus escapes with the only artefact that can reverse the process, and the team has to hunt him down before it's too late. Meanwhile, Claudia's link to Warehouse 13 endangers the building and Mrs. Frederic.

The Warehouse agents have to work against the clock to de-bronze a disintegrating Claudia and hunt down Paracelsus, Nick, and Sutton.

20
58
The Truth Hurts
2013-07-08
60

The team continues their attempt to capture Paracelsus before he achieves immortality. Myka seems to be losing her battle with cancer. Steve learns that Artie has been hiding life-changing information from the rest of the team.

The agents capture Paracelsus, but soon discover that's exactly what he wants. Meanwhile, Myka goes in for surgery and Artie tells Claudia a family secret.
Season 5
| Episode No. | No. Overall | Title | Airdate | Runtime | Summary |
| --- | --- | --- | --- | --- | --- |
| 1 | 59 | Endless Terror | 2014-04-14 | 60 | Paracelsus takes control of Warehouse 13 and uses his newfound abilities to terrorize the team... and then travel back in time to create a new timeline where he rules the Warehouse. |
| 2 | 60 | Secret Services | 2014-04-21 | 60 | Pete and Myka investigate a series of drowning victims and run into a pair of Secret Service agent acquaintances with a secret of their own that forces them to question their own relationship, while Artie attempts to show Claudia the truth about her sister. |
| 3 | 61 | A Faire to Remember | 2014-04-28 | 60 | Pete and Steve are sent to a Renaissance Faire to search for an artefact that's making horseless chariots and life-size chess pieces come to life, while Claudia's desperate attempt (with Myka's help) to remove the effects of the music box artefact from her sister in order to revive her have unintended consequences. |
| 4 | 62 | Savage Seduction | 2014-05-05 | 60 | Pete, Myka, and Artie help Pete's ex-girlfriend, Kelly, track an artifact that sucks them all into a Telenovela. Meanwhile, Claudia and Steve investigate a college student whose spine mysteriously broke in the middle of class. |
| 5 | 63 | Cangku Shisi | 2014-05-12 | 60 | An old enemy returns and attempts to move the Warehouse, and plans to use Claudia's sister to do it. |
| 6 | 64 | Endless | 2014-05-19 | 60 | The team get news that will affect their future — and that of the Warehouse — forever, so with the help of Mrs. Frederic they share stories to put in an artefact time capsule. |
Series Cast
| | | | |
| --- | --- | --- | --- |
| | Eddie McClintock | as Pete Lattimer | |
| | Joanne Kelly | as Myka Bering | |
| | Saul Rubinek | as Artie Nielsen | |
| | Allison Scagliotti | as Claudia Donovan | |
| | Aaron Ashmore | as Steven Jinks | |
| | Genelle Williams | as Leena | |
| | Simon Reynolds | as Daniel Dickinson | |
Series Crew
| | Position | Name |
| --- | --- | --- |
| | Co-Executive Producer | Andrew Kreisberg |
| | Co-Executive Producer | Drew Z. Greenberg |
| | Executive Producer | Drew Z. Greenberg |
| | Supervising Producer | Drew Z. Greenberg |
| | Co-Executive Producer | Holly Harold |
| | Supervising Producer | Holly Harold |
| | Executive Producer | David Simkins |
| | Creator | Jane Espenson |
| | Co-Executive Producer | Nell Scovell |
| | Co-Producer | Suzanne Lauer |
| | Co-Executive Producer | Jace Alexander |
| | Co-Producer | Robert Goodman |
| | Supervising Producer | Robert Goodman |
| | Executive Producer | Mark Winemaker |
| | Co-Producer | Paul M. Leonard |
| | Associate Producer | Gregg Tilson |
| | Co-Producer | Gregg Tilson |
| | Co-Executive Producer | Diego Gutierrez |
| | Supervising Producer | Stephen Surjik |
| | Associate Producer | Kenny Micka |
| | Co-Producer | Matthew Federman |
| | Co-Producer | Stephen Scaia |
| | Associate Producer | Andrew Seklir |
| | Co-Producer | Ian Stokes |
| | Creator | D. Brent Mote |
| | Executive Producer | Jack Kenny |
| | Co-Executive Producer | Dana Baratta |
| | Co-Producer | Deric A. Hughes |
| | Co-Producer | Benjamin Raab |
| | Supervising Producer | Chris Fisher |
Related News
TVMaze