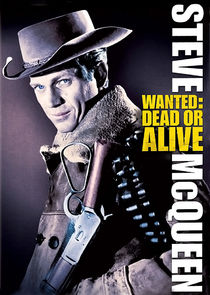 Wanted: Dead or Alive originally aired in black and white on CBS. The pilot aired on the series "Trackdown" in March 1958. Bounty hunter Josh Randall was unlike any bounty hunter, he usually gave half or all of his reward money to good causes. He was a gentlemen and very respectful of the elderly. He was a man of few words and seemed to lack emotion but he was adept at using his gun, not an ordinary gun but a .44-.40 sawed-off 1892 Winchester carbine which he had on his "Mare's Leig", BUT the cartridges in his belt were .45-.70! His catch phrase in almost every episode was "Let's Go" which he spoke softly and sounded more like les goo. A treasure one not to be missed, especially to see Mr. Cool himself, Steve McQueen.
Series Overview
Rating
imDb Rating: 8.1 (1,785 Votes)
Metascore: N/A
Plot
A Civil War veteran with a sawed-off rifle as a holstered weapon makes a living as a bounty hunter in the Wild West of the 1870s.
Details
Rated: TV-PG
Released: 06 Sep 1958
Runtime: 30 min
Genre: Western
Director: N/A
Writer: N/A
Actors: Steve McQueen
Language: English
Country: USA
Awards: N/A
Total Seasons: 3
Previous Episode
Barney's Bounty
Episode 3x26; Mar 29, 1961
Josh tries to reconcile an old friend and his son while they pursue a pair of escaped prisoners who make off with Barney's horses.
Previous Episodes 3x26: Barney's Bounty 3x25: Dead Reckoning 3x24: The Long Search 3x23: Monday Morning 3x22: Detour 3x21: El Gato 3x20: The Voice of Silence 3x19: Epitaph 3x18: Hero in the Dust

View All Episodes
Cast
Steve McQueen as Josh Randall
Wright King as Jason Nichols
View Full Cast
Recent News
The gadgets that refuse to die
I have a drawer in my bedroom that's filled with defunct tech. It consists of old PDAs, bricked smartwatches and wearables that no longer work. Like many of you, I've realized that gadgets don't last forever. As Engadget Senior Editor Devindra Hardawar recent…
'Picard' finally shows us how Star Trek's technology evolves
This article contains spoilers for the first season of 'Star Trek: Picard' up to episode nine. Star Trek: Picard is the show I've been looking forward to for 17 years. Not because I was particularly interested in finding out what happened to Picard, Troi, Rik…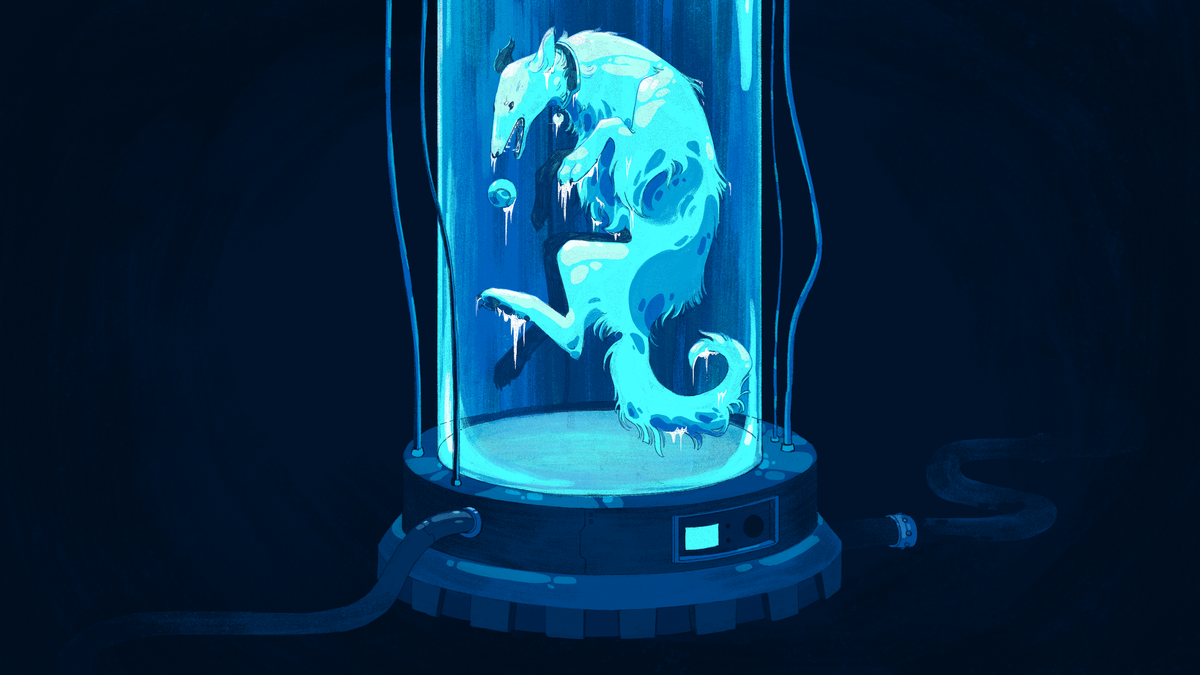 Cryonics, Dakota the Dog, and the Hope of Forever
As pet deathcare providers, we assist families with the euthanasia process in their own homes and with the disposition of their pet's body once death has occurred. Most families chose traditional dispositions like burial or cremation. Less frequently, they ma…
via NewsAPI
View More Related News
Skip to:
Season 1
| Episode No. | No. Overall | Title | Airdate | Runtime | Summary |
| --- | --- | --- | --- | --- | --- |
| 1 | 1 | The Martin Poster | 1958-09-06 | 30 | Josh goes after two brothers, Andy and Carl Martin, who killed his friend Marshall Jeff Wilcox. |
| 2 | 2 | Fatal Memory | 1958-09-13 | 30 | Josh is on the trail of an army deserter who has put up fake wanted posters about and army commander that he served under. |
| 3 | 3 | The Bounty | 1958-09-20 | 30 | Josh hunts for a vicious bounty hunter named Clark Daimler who gunned down an elderly fugitive wanted for murder. |
| 4 | 4 | Dead End | 1958-09-27 | 30 | Josh is hired to find and apprehend a ranch worker who stole $10,OOO, and then disappeared. |
| 5 | 5 | Passing of Shawnee Bill | 1958-10-04 | 30 | After losing one thousand dollars in a poker game to a stranger named Dan Poe, who claims to know where the wanted 'Shawnee Bill' can be found, sends the money away and introduces himself as Shawnee Bill, in order to get his award, Josh escorts the man over 170 miles to Colorado. |
| 6 | 6 | The Giveaway Gun | 1958-10-11 | 30 | Josh goes after a gunman he has never seen and can only identify by the peculiar way he draws his gun. |
| 7 | 7 | Ransom for a Nun | 1958-10-18 | 30 | A mother superior ask for Josh's help to find and free a nun taken hostage by a gang of outlaws who's boss is being escorted to Tuscon for trial. |
| 8 | 8 | Miracle at Pot Hole | 1958-10-25 | 30 | Josh Randall tracks down a man wanted for murder and turns him over to Sheriff Chute Wilson, but later learns that the Sheriff is corrupt and begins to have doubts about the wanted man's guilt. |
| 9 | 9 | The Fourth Headstone | 1958-11-01 | 30 | Josh pays a visit to his friend Sheriff Gladstone and offers his help to escort an attractive woman prisoner, who has killed three men, to another jail. |
| 10 | 10 | Til Death Do Us Part | 1958-11-08 | 30 | Attractive Stacy Torrance is wanted for murder, and when Josh learns her alleged victim, her husband Leo is alive, he tries to clear her of the charge. |
| 11 | 11 | The Favor | 1958-11-15 | 30 | Josh searches for a robbery suspect in a town run by outlaws. |
| 12 | 12 | Ricochet | 1958-11-22 | 30 | A woman's wish to find her missing husband involves Josh in a murder conspiracy. |
| 13 | 13 | Sheriff of Red Rock | 1958-11-29 | 30 | Sheriff Eckert let's his prisoners escape so two bounty hunters named Evans and Stoner can collect the reward money so it can be split three ways. Josh arrives in Red Rock with a prisoner and is placed in jail accused of using unfair tactics to get hold of the bounty. |
| 14 | 14 | Die by the Gun | 1958-12-06 | 30 | Josh is returning a prisoner to jail aboard a stagecoach, when he, the prisoner, and the coach driver are waylaid and menaced by two escaped killers who are heading for the Mexican border. |
| 15 | 15 | Rawhide Breed | 1958-12-13 | 30 | Josh and a passenger are the only two people that survived an Apache attack on the stagecoach that they were riding in. The two have a long walk to the next relay station, not realizing that the Kreager brothers are on their trail hopeing to free their brother who was in Randall's custody but died during the attack. |
| 16 | 16 | Eight Cent Reward | 1958-12-20 | 30 | Josh is hired for an unusual assignment: bring in Santa. |
| 17 | 17 | Drop to Drink | 1958-12-27 | 30 | Frank Parrish and his partner are after a diamond ring worth $20,000. They way-lay the pony express carrier carrying the package that has the ring. When the rider doesn't return to the town of Tipton, Josh Randall is hired to find the courier and the ring. |
| 18 | 18 | Rope Law | 1959-01-03 | 30 | A lynch mob overtakes Josh and his prisoner Brace Logan. Josh is overpowered and later, during his investigation he learns that Logan is innocent and the son of a respectable citizen is the real murderer. |
| 19 | 19 | Six-Up to Bannach | 1959-01-10 | 30 | Josh must reach Bannach to prevent the execution of an innocent man. The only way to get in time is by stagecoach. The one that Josh happens to pick is carrying boxes of dynamite. |
| 20 | 20 | The Spur | 1959-01-17 | 30 | Searching for wanted murderer Vic Warsaw, Josh is told that Warsaw was gunned down in a small town. But one clue alerts the bounty hunter that Warsaw may still be alive. |
| 21 | 21 | Reunion for Revenge | 1959-01-24 | 30 | Several escaped convicts believe that Josh's prisoner was responsible for sending them to jail, and are intent on revenge. |
| 22 | 22 | Competition | 1959-01-31 | 30 | While taking time away from his regular duties, Josh finds himself confronted by two bounty hunters who think he is on a big paying job, and they want a piece of the action too. |
| 23 | 23 | Call Your Shot | 1959-02-07 | 30 | Gabe Henshaw hires Josh to find the body of his son named Will. During his investigation, Josh learns that Jed Miller, the town's leading business man, killed Will in order to get Abbie Fenton, the love interest of Will Henshaw. |
| 24 | 24 | Secret Ballot | 1959-02-14 | 30 | Josh's army buddy, Ned Easter, is running for mayor against a ruthless candidate named Barney Pax, whose brother, the town's murderous Sheriff is wanted for murder. |
| 25 | 25 | The Corner | 1959-02-21 | 30 | Accused of killing a friend, bounty hunter Josh Randall tries to prove himself innocent. |
| 26 | 26 | Eager Man | 1959-02-28 | 30 | Fugitive Ted Nelson will surrender to his friend Josh Randall if his wife shares the reward. But another bounty hunter named Foley is closing in. |
| 27 | 27 | The Legend | 1959-03-07 | 30 | A wealthy rancher puts a bounty on Josh so he can hire him to lead himself and his children into the desert and find a one-hundred years old treasure. |
| 28 | 28 | Railroaded | 1959-03-14 | 30 | Josh comes to the defense of a boy accused of murdering an undercover Pinkerton detective aboard a train. With the help of a stable owner, Josh attempts to track down the real killer and bring him to justice. |
| 29 | 29 | Double Fee | 1959-03-21 | 30 | Josh is hired by an opera singer to help find her sister who was kidnapped and held for a $5,000 ransom. |
| 30 | 30 | The Kovack Affair | 1959-03-28 | 30 | Josh's old friend, Jesse Holloway is in love with the town's hotel owner, Meghan Francis, who is being threatened by a monstrous businessman named Kovak who wants to take the hotel over at any cost. Jesse sends for Josh to try and keep Kovak away, if possible without any use of violence. |
| 31 | 31 | Bounty for a Bride | 1959-04-04 | 30 | Fifteen years ago apache's kidnapped Damon Albright's daughter. The only way he can get her back, is after Josh marries her. |
| 32 | 32 | Crossroads | 1959-04-11 | 30 | While Josh track a suspected murderer, the fugitive's father plots to prevent the capture of his son. |
| 33 | 33 | Angels of Vengeance | 1959-04-18 | 30 | When Josh kills a young man in self-defence, the victim's father, head of a religious cult, orders the bounty hunters death. |
| 34 | 34 | Littlest Client | 1959-04-25 | 30 | Josh Randall is hired by a 10 year old girl to find her father, the reports of whose death she refuses to believe. |
| 35 | 35 | The Conquerors | 1959-05-02 | 30 | A banker hires Josh to find his runaway son, who has joined a mercenary army that preys on mexican towns. |
| 36 | 36 | Amos Carter | 1959-05-09 | 30 | Josh tries to reconcile two families who's feud has reached dangerous proportions. |
Season 2
| Episode No. | No. Overall | Title | Airdate | Runtime | Summary |
| --- | --- | --- | --- | --- | --- |
| 1 | 37 | Montana Kid | 1959-09-05 | 30 | A kid is the key for Josh to find Johnny Deuce who cheated during a poker game and took a lot of money off Josh, who goes after Deuce to get his money back. |
| 2 | 38 | The Healing Woman | 1959-09-12 | 30 | Tom takes his very ill son away from medical help and takes him to a witch, a so-called healer, jeopardizing his son's full recovery. |
| 3 | 39 | The Matchmaker | 1959-09-19 | 30 | Josh reluctantly plays matchmaker and enlists the aid of Amy Williams to teach Charlie the proper way to behave and act so that he can confidently find his own bride. |
| 4 | 40 | Breakout | 1959-09-26 | 30 | Prison officials allow Josh to go undercover and help Tom Dunn, an imprisoned criminal, to breakout out in order to find out where he has hidden the fifty thousand dollars from a bank robbery. |
| 5 | 41 | Estralita | 1959-10-03 | 30 | While hot on the trail of a murderer, Josh comes across a man about to be lynched by a group of vigilanties. The victim happens to be the same man that Randall has been chaseing. With the help of a woman Josh and the man escape the mob, but later the killer realizes that the person who freed him is actually a bounty hunter. |
| 6 | 42 | The Hostage | 1959-10-10 | 30 | Condemned murderer Jumbo Kane shoots the town's sheriff, then promises to free him in exchange for another hostage. Josh volunteers to be the hostage. |
| 7 | 43 | The Empty Cell | 1959-10-17 | 30 | Josh delivers a prisoner to a man posing as a sheriff, who then frees the criminal and takes the bounty hunters reward. |
| 8 | 44 | Bad Gun | 1959-10-24 | 30 | When he realizes that he sold a customer a defective gun, a firearms salesman hires Randall to retrieve the weapon before any damage is done. |
| 9 | 45 | The Tyrant | 1959-10-31 | 30 | While seeking the bounty for an army deserter and some stolen goverment property, Josh rides into a small town and has his gun confiscated by a homicidal marshal named Asa Wynter who rules the town with an iron fist. |
| 10 | 46 | Reckless | 1959-11-07 | 30 | Well-known businessman Tate Bradley hires Josh and other bounty hunters to find Tony Eagan who killed his son, but was ruled an accident. When Randall finds the supposed killer and returns him-Bradley refuses to pay the bounty because Eagan is still alive. |
| 11 | 47 | Desert Seed | 1959-11-14 | 30 | Josh is hot on the trail of a wanted fugitive named Juan Gomez. Randall's search leads him to a small village near the Mexican border, where the man is seeking refuge from his family. |
| 12 | 48 | Twelve Hours to Crazy Horse | 1959-11-21 | 30 | Josh delivers Dan Murdock, wanted for multiple murders, to the Sheriff of Mesa City. While there Josh learns that one of the murdered victims is the brother of Sheriff Hayes who will take revenge while transporting his prisoner to Crazy Horse. Josh joins both men to prevent any wrong doing on the trail back to Crazy Horse. |
| 13 | 49 | No Trail Back | 1959-11-28 | 30 | Josh goes after robbers who have bungled the job---one of them has been bitten by a rabid dog. |
| 14 | 50 | Man on Horseback | 1959-12-05 | 30 | Charley Red Cloud is blamed for the murder of Will Bascomb. Bascomb's brother, Merv places a high bounty on Red Cloud. Josh agrees to go after him, even though he has to enter hostile Apache territory. |
| 15 | 51 | Chain Gang | 1959-12-12 | 30 | Josh is arrested for a minor offense and put into jail, not knowing he is the replacement on a chain gang working a local mine. |
| 16 | 52 | Vanishing Act | 1959-12-26 | 30 | Josh is on the trail of bank robber Bart McCready. He tracks him to a town and discovers that McCready is performing as an escape artist with the name of 'The Great Bartolo'. |
| 17 | 53 | Mental Lapse | 1960-01-02 | 30 | Josh tries to help an amnesia victim who has tacked up posters offering a reward for information about himself. |
| 18 | 54 | Angela | 1960-01-09 | 30 | Angela Pryor is seeking revenge againts the man who murdered her father during a burglary. Josh is after the same man too, and must decide if it's worth the bounty or having the killer hang for his latest deed. |
| 19 | 55 | The Monster | 1960-01-16 | 30 | Josh Randall goes after an elephant trainer who's using his animal to scare away whole towns so he can plunder everything in sight. |
| 20 | 56 | The Most Beautiful Woman | 1960-01-23 | 30 | Josh will do almost anything for money---even search for a woman reported dead. |
| 21 | 57 | Jason | 1960-01-30 | 30 | Josh Randall caught 'Doc' Phillips, the partner of outlaw Clell Fennon, and wants to use him as bait to get Fennon. Deputy Jason Nichols admires Josh so much the he wants to become a bounty hunter and ride with Randall and has an idea on how to capture Fennon. |
| 22 | 58 | The Partners | 1960-02-06 | 30 | Josh gets arrested for horse theft, then he finds out it was Jason who put him behind bars because Jason wants to go after notorious outlaw Billy Joe Henry and bring him in alone without Josh's help. |
| 23 | 59 | Tolliver Bender | 1960-02-13 | 30 | Old Tolliver Bender's testimony is needed at a trial. Bender is to be hanged in a nearby town, and his captors inform Josh that they demand a hostage to assure that Tolliver will be returned to be executed. Josh's parner Jason Nichols is selected as the hostage. |
| 24 | 60 | A House Divided | 1960-02-20 | 30 | Josh is hired by an attractive woman to find and clear the name of her father wrongly accused of murder. The real killer hires Jason to find the same man too. |
| 25 | 61 | Triple Vise | 1960-02-27 | 30 | Josh and his partner Jason travel to Mexico, on behalf of Al Hemp, who wants them to find his brother Billy wanted for a crime. |
| 26 | 62 | Black Belt | 1960-03-19 | 30 | Josh goes after a korean named Sammy Wong wanted for murder. The weapon he uses is his hands. Sammy's a karate expert. |
| 27 | 63 | The Pariah | 1960-03-26 | 30 | Asked to keep an eye on a friends son, Josh learns that the young man is actually a cold-blooded thief with a bad heart. |
| 28 | 64 | Vendetta | 1960-04-09 | 30 | Josh captures and returns a wanted recruit to an Army Camp. The commanding officer re-instates the wanted man and refuses to pay Randall his bounty money. |
| 29 | 65 | Death, Divided by Three | 1960-04-23 | 30 | Josh and Jason are on the trail of an outlaw wanted for murder in Arizona. But someone else is seeking the same man too-the killers wife. |
| 30 | 66 | The Inheritance | 1960-04-30 | 30 | Clint Davis, owner of the largest ranch west of Missouri, is blind and dying, and hires Josh Randell to find his son. |
| 31 | 67 | Prison Trail | 1960-05-14 | 30 | Josh and Jason are returning four prisoners to prison. On their way they encounter a stranger who keeps following them. From the prisoners themselves Josh learns that the stranger is out to kill them before they reach the prison. |
| 32 | 68 | Pay-Off at Pinto | 1960-05-21 | 30 | The bank of Pinto has been recently robbed. The banks owner, Tom Wing, hires Josh to go to Santa Fe to pick up funds to be returned to his bank. On his way back, Josh is robbed too, and the citizens of Pinto are outraged and want to see Tom Wing hanged. |
Season 3
| Episode No. | No. Overall | Title | Airdate | Runtime | Summary |
| --- | --- | --- | --- | --- | --- |
| 1 | 69 | The Trial | 1960-09-21 | 30 | Daniel Trenner is wanted for court martial because of his cowardice several men is his platoon lost their lives. Josh is after Trenner for other reasons and wants to stop the trial. |
| 2 | 70 | The Cure | 1960-09-28 | 30 | Emily Kendrick hires Josh to keep her beloved Harry from drinking himself to death, she has matrimony on her mind and with the arrival of Harry's brother for the wedding, she wants to make sure that all goes as planned. |
| 3 | 71 | Journey for Josh | 1960-10-05 | 30 | Josh is delivering a female prisoner and becomes smitten with her, unknown to him is her accomplice, who is following them to break her loose. |
| 4 | 72 | The Looters | 1960-10-12 | 30 | Josh is on his way to River City to pick up three prisoners, when an unexpected tornado destroys the jail, killing the sheriff. Josh is on the hunt to recapture the escapees. |
| 5 | 73 | The Twain Shall Meet | 1960-10-19 | 30 | A Boston newspaperman accompanies Randall on a manhunt to obtain an exclusive story, but his pacifism offers problems when Randall corners his prey. |
| 6 | 74 | The Showdown | 1960-10-26 | 30 | Johnny Haywood, a childhood friend of Josh's, claims to be innocent of the crime he is accused of. When he escapes, Josh is ordered to bring him back - dead or alive. |
| 7 | 75 | Surprise Witness | 1960-11-02 | 30 | Josh captures a notorious killer but no one wants to testify against him, until a surprise witness come forward, his mother. |
| 8 | 76 | To the Victor | 1960-11-09 | 30 | Josh is hired by the men of the town to try and persuade the ladies to return to their homes after rebelling against their husbands' gunplay. |
| 9 | 77 | Criss-Cross | 1960-11-16 | 30 | When Josh mistakenly brings in the wrong man, the man is released and finds the real criminal, and notifies Josh of the man's whereabouts. |
| 10 | 78 | The Medicine Man | 1960-11-23 | 30 | Josh and a phony medicine man help out a man who was framed and falsely accused of the theft of a huge sum of money. |
| 11 | 79 | One Mother Too Many | 1960-12-07 | 30 | Josh is hired by Beth a widow, to find her runaway son, who is currently in the care of her vindictive mother-in-law. |
| 12 | 80 | The Choice | 1960-12-14 | 30 | Jane Koster asks Josh's help with her husband, Frank who is also a bounty hunter. He is out looking for Stacy Lenz with a score to settle and Jane fears for his life. |
| 13 | 81 | Three for One | 1960-12-21 | 30 | Josh with prisoner Tom Fellows in tow, stops in the town of Center City overnight, unaware that one of Tom's cohorts is devising a plan to free him. |
| 14 | 82 | Witch Woman | 1960-12-28 | 30 | Josh Randall faces the wrath of a terrified Mexican village when he attempts to protect a schoolteacher who refuses to give in to the local witch doctor. The witch doctor demands that she be allowed to treat the schoolteacher's expectant wife. |
| 15 | 83 | Baa-Baa | 1961-01-04 | 30 | Josh is hired to find Baa-Baa a beloved pet of Mrs. Goode's. Her husband is desperate to find Baa-Baa as he is in the dog house with her until Baa-Baa returns. Josh reluctantly goes and looks for the lost sheep admist much ridicule from other ranchers and cowboys alike. |
| 16 | 84 | The Last Retreat | 1961-01-11 | 30 | Sarah Lawton's identification led to killer Clem Robinson's conviction. Now Clem has escaped from prison, and Josh is hired for protection by Mrs. Lawton because her lawyer husband is a coward. |
| 17 | 85 | Bounty on Josh | 1961-01-25 | 30 | Josh is asked to meet a client at the hotel, at his arrival he is shot. Josh tries to figure out who is behind the shooting. |
| 18 | 86 | Hero in the Dust | 1961-02-01 | 30 | Josh is hired by Harry Weaver to find his twin brother Pete. Pete is using his resemblence to his brother to get away with murder. |
| 19 | 87 | Epitaph | 1961-02-08 | 30 | Josh tries to return an old friend and former sheriff who robbed a bank to stand trial, but the journey becomes dangerous after another bounty hunter gets involved. |
| 20 | 88 | The Voice of Silence | 1961-02-15 | 30 | Josh is hired by Frank Hagen to protect his deaf-mute daughter Carol Hagen while he's away on business. During Josh's stay at the Hagen Farm, he encounters a strange drifter and former bank robber named Harry Brice accompanied by his criminal partners. |
| 21 | 89 | El Gato | 1961-02-22 | 30 | A timid photographer named Archie Warner comes west with hopes of being the first to shoot a photo of a famous Mexican bandit. Josh happens to be a friend of "El Gato", and is hired by Archie to meet him. |
| 22 | 90 | Detour | 1961-03-01 | 30 | Martin Fairweather has two lovely daughters which are the objects of a young man's affection. Papa doesn't want to lose his best cook and best cleaner so he proceeds to chase any possible suitors away. Josh's job is to distract Papa long enough for the girls to elope! |
| 23 | 91 | Monday Morning | 1961-03-08 | 30 | After being coerced into stealing a large amount of money from his workplace, Charlie Glover has a change of heart and hires Josh to help him return the money before his boss finds out. |
| 24 | 92 | The Long Search | 1961-03-15 | 30 | Yoshika Nakamura comes west to find a man named Bill Timmons who promised to marry her when he visited Japan. Yoshika hires Josh to help her locate Timmons, and during his venture learns about Japanese culture. |
| 25 | 93 | Dead Reckoning | 1961-03-22 | 30 | Barbara Decker asks Josh to find her husband Paul and bring him back alive before the Taggert brothers catch up with him for murdering their brother. |
| 26 | 94 | Barney's Bounty | 1961-03-29 | 30 | Josh tries to reconcile an old friend and his son while they pursue a pair of escaped prisoners who make off with Barney's horses. |
Series Cast
| | | | |
| --- | --- | --- | --- |
| | Steve McQueen | as Josh Randall | |
| | Wright King | as Jason Nichols | |
Series Crew
| | Position | Name |
| --- | --- | --- |
| | Producer | John Robinson |
Related News
TVMaze