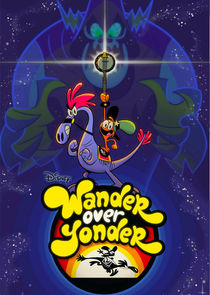 Emmy-winning producer Craig McCracken, among the most sought-after talent in TV animation, is the creator/executive producer of Disney Channel's Wander Over Yonder, an animated comedy series about best friends and epic enemies, set in surreal places across the universe. Wander is an overly-optimistic intergalactic traveler who, along with his loyal but bullish steed, Sylvia, goes from planet to planet helping people to live free and have fun, all against the evil reign of Lord Hater and his army of Watchdogs.
Series Overview
Rating
imDb Rating: 7.1 (3,083 Votes)
Metascore: N/A
Plot
Wander is is eager to help anyone in the galaxy, together with his friend Sylvia. Wander's friendliness often angers Lord Hater, who is bent on galactic domination, and his army of Watchdogs.
Details
Rated: TV-Y7
Released: 13 Sep 2013
Runtime: 30 min
Genre: Animation, Adventure, Comedy, Family, Fantasy, Sci-Fi
Director: N/A
Writer: Craig McCracken
Actors: Jack McBrayer, April Winchell, Keith Ferguson, Tom Kenny
Language: English
Country: USA
Awards: Won 1 Primetime Emmy. Another 3 wins & 15 nominations.
Total Seasons: 2
Previous Episode
The End of the Galaxy
Episode 2x40; Jun 27, 2016
Previous Episodes 2x40: The End of the Galaxy 2x39: The Flower 2x38: The Robomechabotatron 2x37: The Sky Guy 2x36: The Sick Day 2x35: The Heebie Jeebies 2x34: The Search for Captain Tim 2x33: The Night Out 2x32: The Hot Shot

View All Episodes
Cast
Edie McClurg as Trudie Traveler
Tom Kenny as Commander Peepers
April Winchell as Sylvia
Keith Ferguson as Lord Hater
Jack McBrayer as Wander
James Marsden as Sir Brad Starlight
View Full Cast
Recent News
10 (Spoiler-Free) Things to Know About 'DuckTales' Season 3
'Ducktales Season 3' sends the Duck family (and a rotating selection of well-known guests) around the globe on a search for the world's greatest lost artifacts. Click through to read all of " 10 (Spoiler-Free) Things to Know About 'DuckTales' Season 3 " at Ge…
via NewsAPI
View More Related News
Skip to:
Season 1
| Episode No. | No. Overall | Title | Airdate | Runtime | Summary |
| --- | --- | --- | --- | --- | --- |
| 1 | 1 | The Picnic | 2013-08-16 | 30 | Wander discovers the perfect spot for his celestial picnic -- right next to Lord Hater's epic battlefield, consequently making it extremely difficult for Hater to focus on his battle against arch enemy Emperor Awesome for ultimate cosmic power. |
| 2 | 2 | The Greatest | 2013-09-13 | 30 | Lord Hater sets out to control and win everything in the universe, including conquering The Binglebops and their planet, but his plans are soon diverted when he finds himself accepting Wander's series of challenges to prove once and for all that he truly is the greatest in the entire galaxy. |
| 3 | 3 | The Egg | 2013-09-13 | 30 | |
| 4 | 4 | The Fugitives | 2013-09-20 | 30 | Wander and Sylvia have become fugitives on a distant planet ruled by Lord Hater, but just as fast as Sylvia can concoct their escape plans, Wander inadvertently keeps foiling them by helping strangers in need. |
| 5 | 5 | The Good Deed | 2013-09-27 | 30 | When a series of Wander's good deeds backfire, the free-spirited nomad sets out to make everything right. |
| 6 | 6 | The Pet | 2013-10-04 | 30 | When Wander and Sylvia board an abandoned spaceship, they encounter a horrifying alien monster that is set on eating them. While Sylvia sees the wild beast as a threat, Wander takes a liking to the ferocious little monster and tries to train it to be his pet. |
| 7 | 7 | The Prisoner | 2013-10-11 | 30 | When Wander gets loose aboard Hater's ship and causes havoc, Commander Peepers must stop him before Lord Hater finds out. |
| 8 | 8 | The Bad Guy | 2013-10-18 | 30 | |
| 9 | 9 | The Troll | 2013-11-01 | 30 | Wander and Sylvia help Prince Cashmere and his goat warriors of Baaaaa-halla to defend themselves against a menacing troll. |
| 10 | 10 | The Box | 2013-11-15 | 30 | When Wander and Sylvia are entrusted to deliver a sealed box, Wander can't stop obsessing about what could be inside and struggles not to open it. |
| 11 | 11 | The Hat | 2013-11-22 | 30 | When Wander gets lost on a dangerous planet, Sylvia must learn to trust Wander's magical hat and its mysterious ways, in order to find her buddy before it's too late. |
| 12 | 12 | The Little Guy | 2013-12-06 | 30 | When Goofy reveals that he's been having trouble with sleepwalking, Mickey agrees to watch over him. |
| 13 | 13 | The Ball | 2014-01-10 | 30 | |
| 14 | 14 | The Bounty | 2014-01-24 | 30 | |
| 15 | 15 | The Hero | 2014-03-31 | 30 | With the help of Sir Brad Starlight, Wander sets out to fulfill his fairytale dreams of rescuing a princess. Guest starring James Marsden ("Enchanted") as Sir Brad Starlight. |
| 16 | 16 | The Birthday Boy | 2014-03-31 | 30 | |
| 17 | 17 | The Nice Guy | 2014-06-10 | 30 | Wander wants to buy a drink for Sylvia from a gas station's convenience store, but his extreme politeness and helpfulness complicates things and makes this simple errand feel like an epic, high stakes adventure. |
| 18 | 18 | The Timebomb | 2014-06-10 | 30 | |
| 19 | 19 | The Tourist | 2014-06-11 | 30 | When Wander meets an elder tourist who has seen more of the universe than he has, he becomes ultra-competitive and abandons Sylvia in an attempt to outdo the tourist. Guest starring is Edie McClurg as the tourist Trudy Traveler. |
| 20 | 20 | The Day | 2014-06-16 | 30 | Sylvia wakes up to find that she and a sleeping Wander are imprisoned on Hater's ship and must fight to escape. |
| 21 | 21 | The Night | 2014-06-16 | 30 | |
| 22 | 22 | The Lonely Planet | 2014-06-17 | 30 | Peepers tries to brainstorm an invasion plan, but Hater rejects them all as he dreams up increasingly improbable ways for Wander to foil every single one. |
| 23 | 23 | The Brainstorm | 2014-06-17 | 30 | |
| 24 | 24 | The Toddler | 2014-06-23 | 30 | When Wander and Sylvia find a giant lost baby in a mall, differences in their parenting methods complicates the search to find the baby's parents. |
| 25 | 25 | The Fancy Party | 2014-06-24 | 30 | Lord Hater must compete against Wander for the affections of an alien queen so that he can inherit her powerful army and rule the galaxy. |
| 26 | 26 | The Epic Quest of Unfathomable Difficulty | 2014-06-30 | 30 | Wander forces Sylvia to go on an epic quest in order to return a lost sock to its owner. "The Void" - When Wander and Sylvia enter a white void where anything is possible through imagination, Sylvia worries Wander may never want to leave. |
| 27 | 27 | The Void | 2014-06-30 | 30 | |
| 28 | 28 | The Party Animal | 2014-07-19 | 30 | Sylvia tries to stop Emperor Awesome from destroying a planet with his partying and party-loving Wander from joining in the festivities. |
| 29 | 29 | The Gift II: The Giftining | 2014-10-04 | 30 | Mysterious gifts start popping up on Lord Hater's ship, zombie-fying each recipient with gratitude. Hater and Peepers try to escape the creeping terror delivering these gifts. |
| 30 | 30 | The Date | 2014-10-17 | 30 | When Lord Hater gets stood up on a date, Wander convinces Sylvia to endure a dreadful date with Hater in order save the planet from Hater's wrath. |
| 31 | 31 | The Buddies | 2014-10-17 | 30 | |
| 32 | 32 | The Liar | 2014-11-07 | 30 | Wander goes out of his way to help a cute little kitten, Little Bits, only to find that she is secretly a bounty hunter luring him into a trap. G Hannelius ("Dog With A Blog") guest stars as Little Bits. |
| 33 | 33 | The Stray | 2014-11-07 | 30 | |
| 34 | 34 | The Big Job | 2014-11-14 | 30 | One strange day, Wander is unable to find anybody who actually needs his help. Episode written and storyboarded by Aaron Springer ("Mickey Mouse" cartoon shorts, "SpongeBob SquarePants"). |
| 35 | 35 | The Helper | 2014-11-14 | 30 | |
| 36 | 36 | The Funk | 2014-11-25 | 30 | Lord Hater and Sir Brad Starlight team up to fight the one person they hate more than each other, Wander. James Marsden ("Enchanted") reprises his role as Sir Brad Starlight. |
| 37 | 37 | The Enemies | 2014-11-25 | 30 | |
| 38 | 38 | The Rider | 2014-11-28 | 30 | When Sylvia's old partner, Rider, shows up, Wander wonders if the roguish Rider makes a better teammate for Sylvia than he does. Emmy Award-nominated actor Will Arnett guest stars as Rider. |
| 39 | 39 | The Gift | 2014-12-04 | 30 | In this holiday-themed episode, Wander is handing out gifts to every new friend he's made and sneaks onto Lord Hater's ship to give him and the Watchdogs gifts. |
Season 2
| Episode No. | No. Overall | Title | Airdate | Runtime | Summary |
| --- | --- | --- | --- | --- | --- |
| 1 | 40 | The Greater Hater | 2015-08-03 | 30 | Wander and Sylvia's world is turned upside down with the arrival of a new villain that threatens Lord Hater's status as the Greatest in the Galaxy. |
| 2 | 41 | The Big Day | 2015-08-10 | 15 | Lord Hater finally captures Wander and Sylvia. |
| 3 | 42 | The Breakfast | 2015-08-10 | 15 | Wander and Hater each struggle in their own way when making breakfast. |
| 4 | 43 | The Fremergency Fronfract | 2015-08-17 | 15 | Wander heroically faces a ridiculous villain from his past whom no one takes seriously. *Guest starring singer-songwriter "Weird Al" Yankovic as Dr. Screwball Jones. |
| 5 | 44 | The Boy Wander | 2015-08-17 | 15 | Wander faces a villain. |
| 6 | 45 | The Wanders | 2015-08-31 | 15 | Wander is split into multiple personalities. |
| 7 | 46 | The Axe | 2015-08-31 | 15 | Lord Hater fires Commander Peepers. |
| 8 | 47 | The Loose Screw | 2015-09-28 | 15 | Wander and Sylvia are stuck between stopping a planetary invasion and helping an elderly lady fix her broken-down ship. June Squibb ("Nebraska") recurs as Stella Starbella. |
| 9 | 48 | The It | 2015-09-28 | 15 | |
| 10 | 49 | The Cool Guy | 2015-10-05 | 15 | Lord Hater ditches Peepers to party with Emperor Awesome. |
| 11 | 50 | The Catastrophe | 2015-10-05 | 15 | Wander becomes obsessed with funny cat videos. |
| 12 | 51 | The Rager | 2015-10-19 | 15 | Lord Hater tries to crash the party Wander throws for the deposed rulers in Hater's prison. |
| 13 | 52 | The Good Bad Guy | 2015-10-19 | 15 | |
| 14 | 53 | The Battle Royale | 2015-10-26 | 30 | |
| 15 | 54 | The Matchmaker | 2015-11-09 | 15 | Sylvia tries to distract Wander with a bunch of ridiculous adventures |
| 16 | 55 | The New Toy | 2015-11-09 | 15 | Peepers comes up with a plan to stop Lord Dominator. |
| 17 | 56 | The Black Cube | 2015-11-16 | 15 | Wander convinces a villain to spend a day being positive. |
| 18 | 57 | The Eye on the Skullship | 2015-11-16 | 15 | Andy the Watchdog interviews Lord Hater for his blog. |
| 19 | 58 | The Secret Planet | 2016-01-25 | 15 | Wander's white lie sets off a ridiculous chain of events that threatens to expose a hidden planet to Lord Dominator. |
| 20 | 59 | The Bad Hatter | 2016-01-25 | 15 | |
| 21 | 60 | The Hole...Lotta Nuthin' | 2016-02-01 | 15 | When Wander gets his finger stuck in a black hole, he struggles to pass the time until Sylvia returns with a suitable plug. |
| 22 | 61 | The Show Stopper | 2016-02-01 | 15 | |
| 23 | 62 | The Cartoon | 2016-02-08 | 15 | Wander adopts a damaged Dominator bot as his new travel buddy after it crashes on a vacation planet. |
| 24 | 63 | The Bot | 2016-02-08 | 15 | |
| 25 | 64 | The Family Reunion | 2016-02-22 | 15 | When Emperor Awesome shows up on Dominator's ship, Peepers and Hater must figure out if the two are joining forces or dating. |
| 26 | 65 | The Rival | 2016-02-22 | 15 | |
| 27 | 66 | My Fair Hatey | 2016-02-29 | 30 | |
| 28 | 67 | The Legend | 2016-03-07 | 15 | |
| 29 | 68 | The Bad Neighbors | 2016-03-07 | 15 | |
| 30 | 69 | The Party Poopers | 2016-04-04 | 15 | Wander fights a massive case of the giggles while trying to impress a race of beings with unusual faces. |
| 31 | 70 | The Waste of Time | 2016-04-11 | 15 | When Wander and Silvia accidentally buy Time Orbbles, Sylvia must keep Wander focused or risk being lost in time forever. |
| 32 | 71 | The Hot Shot | 2016-05-30 | 15 | "The Hot Shot" – When a mysterious new rebel begins fighting Dominator's forces, Sylvia becomes jealous |
| 33 | 72 | The Night Out | 2016-05-30 | 15 | Dominator takes a night off to explore a nearby city and makes an unlikely new friend, Sylvia. |
| 34 | 73 | The Search for Captain Tim | 2016-06-06 | 30 | |
| 35 | 74 | The Heebie Jeebies | 2016-06-06 | 15 | |
| 36 | 75 | The Sick Day | 2016-06-13 | 30 | |
| 37 | 76 | The Sky Guy | 2016-06-13 | 15 | |
| 38 | 77 | The Robomechabotatron | 2016-06-20 | 15 | |
| 39 | 78 | The Flower | 2016-06-20 | 15 | |
| 40 | 79 | The End of the Galaxy | 2016-06-27 | 30 | |
Series Cast
| | | | |
| --- | --- | --- | --- |
| | Edie McClurg | as Trudie Traveler | |
| | Tom Kenny | as Commander Peepers | |
| | April Winchell | as Sylvia | |
| | Keith Ferguson | as Lord Hater | |
| | Jack McBrayer | as Wander | |
| | James Marsden | as Sir Brad Starlight | |
| | Will Arnett | as Emperor Awesome | |
| | Aziz Ansari | as Westley the Watchdog | |
Related News
TVMaze