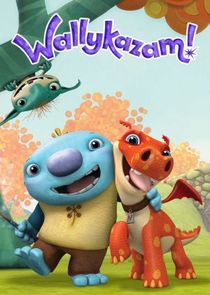 Wallykazam! is about Wally Trollman is an adventurous 6-year-old troll with a power that lets him make words come to life using a magic stick. Wally uses those words to transform the world around him by creating objects that start with the same letter as the first letter in the word he has animated -- such as creating a castle and catapult out of words that begin with C. Wally uses his magic for more than fun, though; he uses it to solve problems, help friends, and overcome the antics of resident troublemaker Bobgoblin. But the young troll must be careful because his magic stick sometimes creates unexpected results that can make the entire forest go dark or send his house galloping away. Going with Wally on his adventures are pet dragon Norville and friends Gina Giant, Ogre Doug and Libby Light Sprite.
Series Overview
Rating
imDb Rating: 8.0 (751 Votes)
Metascore: N/A
Plot
The adventures of a boy named Wally Trollman and his pet dragon, Norville.
Details
Rated: TV-Y
Released: 01 Feb 2014
Runtime: 24 min
Genre: Animation, Adventure, Family, Fantasy, Musical
Director: N/A
Writer: Adam Peltzman
Actors: Dan Bittner, Thomas Langston, Jorge Vega, Aria Capria
Language: English
Country: USA
Awards: 6 nominations.
Total Seasons: 3
Next Episode
The Great Bummer Klasticope
Episode 5x5; Apr 02, 2020
Previous Episode
A Goblin Theater
Episode 5x4; Mar 27, 2020
Episodes 5x6: Beatbox Troll 5x5: The Great Bummer Klasticope 5x4: A Goblin Theater 5x3: Vexing The Hex 5x2: Home Day New Girl Rhyme Letter Ig 5x1: What the Fluff 4x13: Notical Moments 4x12: Would it be Norville 4x11: Ghost Manor

View All Episodes
Skip to:
Season 1
| Episode No. | No. Overall | Title | Airdate | Runtime | Summary |
| --- | --- | --- | --- | --- | --- |
| 1 | 1 | Naptime for Borgelorp | 2014-02-03 | 30 | |
| 2 | 2 | Castle Caper | 2014-02-05 | 30 | |
| 3 | 3 | The Rock Can Talk | 2014-02-07 | 30 | |
| 4 | 4 | How to Bathe Your Dragon | 2014-02-10 | 30 | |
| 5 | 5 | Dragon Hiccups | 2014-02-12 | 30 | |
| 6 | 6 | Picnic: Impossible | 2014-02-19 | 30 | |
| 7 | 7 | Totally Swamped | 2014-02-21 | 30 | |
| 8 | 8 | Day in the Dark | 2014-03-19 | 30 | |
| 9 | 9 | The Great Wishing Potato | 2014-03-21 | 30 | |
| 10 | 10 | Running Rita | 2014-04-22 | 30 | |
| 11 | 11 | The Cake Monster | 2014-04-24 | 30 | |
| 12 | 12 | Great Galloping Goblins | 2014-05-13 | 30 | |
| 13 | 13 | Victor the Villain | 2014-05-15 | 30 | |
| 14 | 14 | Snow Place Like Home | 2014-06-10 | 30 | |
| 15 | 15 | The Switching Stone | 2014-06-12 | 30 | |
| 16 | 16 | Play It Again, Stan | 2014-08-26 | 30 | |
| 17 | 17 | A Tiny Problem | 2014-08-28 | 30 | |
| 18 | 18 | Castle Cafe | 2014-09-30 | 30 | |
| 19 | 19 | The Dragon Games | 2014-10-01 | 30 | |
| 20 | 20 | Mustache Day | 2014-10-28 | 30 | |
| 21 | 21 | Wally Saves the Trollidays | 2014-12-05 | 30 | |
| 22 | 22 | The Big Goblin Problem Part 1 | 2015-02-06 | 30 | |
| 23 | 23 | The Big Goblin Problem Part 2 | 2015-02-06 | 30 | |
| 24 | 24 | Hopgoblin | 2015-04-03 | 30 | |
| 25 | 25 | The Explorers Club | 2015-04-14 | 30 | |
| 26 | 26 | Mission for Mom | 2015-05-08 | 30 | |
Season 2
| Episode No. | No. Overall | Title | Airdate | Runtime | Summary |
| --- | --- | --- | --- | --- | --- |
| 1 | 27 | The Nice Ninjas | 2015-04-16 | 30 | |
| 2 | 28 | Home Swamp Home | 2015-05-18 | 30 | |
| 3 | 29 | The Goblin Cold | 2015-05-20 | 30 | |
| 4 | 30 | Rock and Troll | 2015-06-12 | 30 | |
| 5 | 31 | Going Coconuts | 2015-06-26 | 30 | |
| 6 | 32 | Critter Campers | 2015-09-15 | 30 | |
| 7 | 33 | The Big Cake Mistake | 2015-09-17 | 30 | |
| 8 | 34 | Dawn Of The Zucchini | 2015-10-23 | 30 | While helping Gina Giant harvest vegetables from her garden, Wally and Norville meet a garden gnome. His name is Zach, but he doesn't like his name because he thinks that 'z' isn't a very fun letter. Wally decides to show Zach just how many fun words 'z' can make! It's all going great, until Bobgoblin convinces Wally to make a zillion zombie zucchinis, which take off with Gina's vegetables! |
| 9 | 35 | Ricky Robot | 2015-11-03 | 30 | Wally uses a word to power up Gina Giant's toy, making him a real working robot! Ricky Robot can do all kinds of amazing things, but can only do one thing at a time or he'll malfunction. The gang has fun with Ricky, taking turns, until Bobgoblin barges in and decides it's his turn. Wally and friends must try to get Ricky back from Bobgoblin so that everybody can play with Ricky. |
| 10 | 36 | A Flouse in the House | 2015-11-05 | 30 | Wally, Norville and Gina become detectives to discover who has been taking Gina's possessions from her house. |
| 11 | 37 | Young Norville | 2015-11-13 | 30 | Wally and Norville must search for a cure when Norville accidentally bumps into a magic word and becomes a puppy again. |
| 12 | 38 | Snowgoblin | 2016-01-18 | 30 | Everyone plays outside when Wally makes it snow, but then Bobgoblin builds a snowgoblin that comes to life. |
| 13 | 39 | The Great Missing Potato | 2016-02-05 | 30 | |
| 14 | 40 | Buddy Pal Friend Day | 2016-02-12 | 30 | |
| 15 | 41 | Keeping Cappie Happy | 2016-02-19 | 30 | |
| 16 | 42 | Captain Animal | 2016-04-15 | 30 | |
| 17 | 43 | The Bathmobile | 2016-10-09 | 30 | Wally creates a bathmobile to help clean the town on Clean Up Day; a mud monster is spotted roaming the forest and getting everyone dirty. |
| 18 | 44 | Wally's Great Big Birthday Hunt | 2017-01-16 | 30 | On Wally's birthday, all of his friends organize a silly quest that Wally must go on in order to find his birthday party. |
| 19 | 45 | Act Like Your Hat | 2017-01-18 | 30 | Gina Giant throws a party where each friend must choose a hat and act like the character the hat represents. |
| 20 | 46 | The Chickephant's Getting Married | 2017-02-14 | 30 | |
| 21 | 47 | A Very Villainous Vacation | 2017-04-05 | 30 | Victor the Villain springs from Wally's comic book and declares that he will ruin the Trollman family vacation. |
| 22 | 48 | Ted The Bed | 2017-05-01 | 30 | |
| 23 | 49 | Power Tie | 2017-05-03 | 30 | |
| 27 | 50 | The Wally-O Sides | 2018-05-01 | 30 | |
| 28 | 51 | Cookie Shocks | 2018-05-06 | 30 | |
Season 3
| Episode No. | No. Overall | Title | Airdate | Runtime | Summary |
| --- | --- | --- | --- | --- | --- |
| 1 | 52 | Cappie's Anormus Face | 2017-11-12 | 30 | |
| 2 | 53 | Baby Yeti | 2017-11-15 | 30 | |
| 3 | 54 | Big Wally Trollman | 2017-11-17 | 30 | |
| 4 | 55 | Koolz | 2017-11-19 | 30 | |
| 5 | 56 | Best Friend | 2017-11-21 | 30 | |
| 6 | 57 | Spy Buddies | 2017-11-23 | 30 | |
| 7 | 58 | Paint the House | 2018-06-22 | 30 | |
| 8 | 59 | Heard A Peep | 2017-11-25 | 30 | |
| 9 | 60 | Big Snake Attack | 2017-11-27 | 30 | |
| 10 | 61 | The Great Spider Web | 2018-04-29 | 30 | |
| 11 | 62 | Bobgoblin at School | 2017-11-29 | 30 | |
| 12 | 63 | Hattie Becomes A Lion | 2017-12-01 | 30 | |
| 13 | 64 | Baby Food | 2017-12-03 | 30 | |
| 14 | 65 | Don't Cry Cappie | 2017-12-06 | 30 | |
| 15 | 66 | BFF Day | 2017-12-08 | 30 | |
| 16 | 67 | Confetti Yeti | 2017-12-10 | 30 | |
| 17 | 68 | Trophy Girls | 2018-01-07 | 30 | |
| 18 | 69 | 1 and a Half Goblin | 2018-05-19 | 30 | |
| 19 | 70 | Sticky Picnic | 2018-05-10 | 30 | |
| 20 | 71 | Show and Tell and Run | 2018-05-21 | 30 | |
| 21 | 72 | The Collar Caper | 2018-05-09 | 30 | |
| 22 | 73 | Cecil H. Hattie | 2018-05-11 | 30 | |
| 23 | 74 | A Very Important Person | 2018-05-23 | 30 | |
Related News
TVMaze