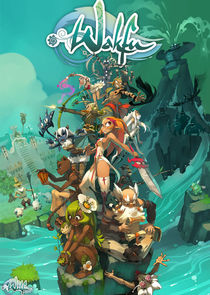 Wakfu is a french animation series that is currently being dubbed in english, amazing cartoonish look, I believe the whole series was originaly rendered in flash, but it was so nicely done that the series has been subbed in many languages.
Series Overview
Rating
imDb Rating: 8.2 (979 Votes)
Metascore: N/A
Plot
Saving the world from an evil madman? Not a problem for this kid. Finding his birth parents? That's the real adventure!
Details
Rated: TV-Y7-FV
Released: 30 Oct 2008
Runtime: 24 min
Genre: Animation, Adventure, Family, Fantasy
Director: N/A
Writer: N/A
Actors: Fanny Bloc, Geneviève Doang, Jules de Jongh, Thomas Guitard
Language: French
Country: France
Awards: N/A
Total Seasons: 4
Previous Episode
Inglorium
Episode 3x13; Sep 17, 2017
Previous Episodes 3x13: Inglorium 3x12: L'Hyperzaap 3x11: Oropo 3x10: Lorsque les murs tombent 3x9: Le Temple de Sadida 3x8: Arpagone 3x7: Faut pas flipper 3x6: L'Arbre à Ecaflip 3x5: Les Iops se cachent pour pleurer

View All Episodes
Cast
Patrick Bethune as Ruel Stroud
Dorothée Pousséo as Adamaï
Geneviève Doang as Evangelyne
Adeline Chetail as Amalia Sheran Sharm
Gérard Surugues as Rubilax
Fanny Bloc as Yugo
View Full Cast
Skip to:
Season 1
| Episode No. | No. Overall | Title | Airdate | Runtime | Summary |
| --- | --- | --- | --- | --- | --- |
| 1 | 1 | The Child from the Mist | 2008-10-30 | 20 | In a small village, an innkeeper finds an abandoned newborn and decides to adopt him. Some years later, it turns out that the boy, Yugo, has a rare magical power of creating portals. |
| 2 | 2 | Yugo The Eliatrope | 2008-10-31 | 20 | When residents of his village are turned into trees, Yugo decides to look for a cure. He is accompanied by his new friends: Percedal - a warrior looking for adventures, Ruel - a greedy treasure hunter, Amalia - a princess able to control plants, and Evangelyne - an archer and Amalia's guardian. |
| 3 | 3 | The Black Crow | 2008-11-19 | 20 | Yugo and his friends are looking for a map which would help them in their journey. They visit a market to try and buy it, but the shops are attacked by a mysterious Black Crow. |
| 4 | 4 | The Ugly Pageant | 2008-12-17 | 20 | When Percedal is captured by a group of princesses cursed to look ugly, his friends have to rescue him as well as help the princesses undo the curse. |
| 5 | 5 | The Magnificent Five | 2009-01-28 | 20 | When Yugo and his friends discover that a village of small and weak creatures known as Puddlies is terrorized by big and strong Taures, they decide to defend the villagers. |
| 6 | 6 | Vampyro | 2009-02-15 | 20 | Yugo and his friends find themselves in a town where all residents are possessed. Soon Evangelyne is kidnapped by a vampire and the rest of the group have to rescue her. |
| 7 | 7 | Poisonous Beauty | 2009-02-21 | 20 | Amalia is attacked by a poisonous plant and falls ill. Yugo and Ruel go look for an antidote while Percedal, Evangelyne, and a healer called Nausea fight Amalia's doll which goes crazy and becomes aggressive. |
| 8 | 8 | Xav the Baker | 2009-02-28 | 20 | A baker named Xav is attacked by a monster and loses the entire supply of his special flour. With a baking competition about to take place, Yugo and his friends decide to help Xav win the title of the master baker. |
| 9 | 9 | Ruel's Bag | 2009-03-07 | 20 | A courier informs Yugo and his friends that big fortunes are disappearing all over the world. Ruel decides to visit his home and check whether his treasure is safe, and the rest of the group follows him. |
| 10 | 10 | The Gobbowl Inferno (1) | 2009-03-14 | 20 | Yugo and his friends need money in order to buy a boat and continue their journey. When Ruel is reunited with his old Gobbowl teammates, he decides to participate in Gobbowl championships to make some money. |
| 11 | 11 | The Gobbowl Inferno (2) | 2009-03-21 | 20 | Ruel leads the team of Real Gobbly against Lamechester United in the Gobbowl championships. |
| 12 | 12 | The Gobbowl Inferno (3) | 2009-03-28 | 20 | Yugo, Amalia and Evangelyne help Ruel and Percedal during the last two quarters of the Gobbowl championships finale. |
| 13 | 13 | Calm Blue Sea | 2009-04-18 | 20 | Time-controlling Nox visits Yugo's father in his inn. Meanwhile, Yugo and his friends are attacked by a mysterious stowaway while sailing towards Oma Island. |
| 14 | 14 | Moon Island | 2009-06-20 | 20 | After getting shipwrecked on an unknown island, Ruel and Percedal try to repair their boat while Yugo, Amalia and Evangelyne are captured by hostile natives. |
| 15 | 15 | Adamai | 2009-06-20 | 20 | After arriving at Oma Island, Yugo meets a mysterious native while his friends are attacked by a kraken-like monster. |
| 16 | 16 | The Eliacube | 2009-11-28 | 20 | Nox makes plans for his attack on the dragon Grougaloragran, who in the meantime attacks Ruel, Percedal, Amalia, and Evangelyne. Yugo meets his dragon brother Adamaï. |
| 17 | 17 | Grougaloragran the Eternal | 2009-12-05 | 20 | Grougaloragran fights Nox, who wants to take his magical power, Wakfu. Yugo and his friends are stranded in a frozen wilderness. |
| 18 | 18 | The Brotherhood of the Tofu | 2009-12-12 | 20 | Yugo and Adamaï set on a journey to find Grougaloragran's egg. Amalia, Evangelyne, Percedal, and Ruel travel towards Sadida Kingdom to warn its inhabitants about Nox's plans to attack them. |
| 19 | 19 | The Sadida Kingdom | 2009-12-19 | 20 | Amalia and her friends arrive in Sadida Kindgom, where prince Armand rules while the king is temporarily absent. Soon Percedal gets into a fight with Sadida warriors. |
| 20 | 20 | The Tree of Life | 2010-01-09 | 20 | After Percedal's attack on prince Armand, Ruel is arrested and Amalia is confined to her quarters. Helped by master Joris she escapes, and together with Evangelyne travels to the Tree of Life to warn her father about the impending attack from Nox. |
| 21 | 21 | Igol | 2010-01-16 | 20 | In search of Grougaloragran's egg Yugo and Adamaï arrive at Dofus Island. While working on improving Yugo's magic skills they are attacked by Nox's pet Igol. |
| 22 | 22 | Rubilax | 2010-01-23 | 20 | Percedal buries his possessed sword Rubilax, whom he blames for their attack on Evangelyne and prince Armand. Brokenhearted, he goes to a desert to visit his master's tomb. |
| 23 | 23 | The Quest for the Dofus | 2010-03-20 | 20 | Yugo and Adamaï meet the guardian of Grougaloragran's egg, but he is reluctant to believe their story. It turns out that the guardian's daughter adopted Igol not knowing how dangerous he is. |
| 24 | 24 | Reunion | 2010-06-05 | 20 | Yugo and Adamaï arrive in Sadida Kingdom, where they are reunited with their friends. The kingdom is invaded by Nox's troops. |
| 25 | 25 | I Am A Legend | 2010-06-05 | 20 | Nox comes to Sadida Kingdom by creating a diversion. Now only Yugo and his friends stand between him and the Tree of Life. |
| 26 | 26 | Mount Zinit | 2010-06-05 | 20 | Yugo and Nox fight the final battle for the Tree of Life. |
Season 2
| Episode No. | No. Overall | Title | Airdate | Runtime | Summary |
| --- | --- | --- | --- | --- | --- |
| 1 | 27 | Monsters and Chimeras | 2011-02-26 | 20 | Yugo is reunited with his father. Evangelyne believes that Percedal isn't dead and that she hears his voice. Ruel gets in trouble while looking for treasure underground. |
| 2 | 28 | Rubilaxia | 2011-03-05 | 20 | In search of Percedal, Evangelyne travels to Rubliaxia. She is followed by a mysterious collector of Shushus, artifacts inhabited by powerful demons. |
| 3 | 29 | Remington Smisse | 2011-03-12 | 20 | It turns out that Percedal's soul is trapped inside his sword while his body is possessed by Rubilax. When the sword is stolen by the Shushu collector Remington Smisse, Evangelyne is determined to get it back. |
| 4 | 30 | Grovy's return | 2011-03-19 | 20 | With Yugo imprisoned by Rubilax and the rest of the team turned into ghouls, only Evangelyne can get back Percedal's body. |
| 5 | 31 | The Dragon-Pig | 2011-03-26 | 20 | The team are hungry, so they kill a pig for food. In doing so they anger the Dragon Pig, who kidnaps Ruel. |
| 6 | 32 | Qilby | 2011-04-02 | 20 | The team arrive back in Sadida Kingdom. Yugo and Adamaï try using the Eliacube, which has an unexpected effect. They meet a mysterious Qilby, who tells them the story of dragons and Eliatropes. |
| 7 | 33 | Ambush | 2011-04-09 | 20 | The team leave Sadida Kingdom and embark on a journey in search of a Dofus. They meet Ruel's grandmother. |
| 8 | 34 | Knight Justice | 2011-04-16 | 20 | Justice Knight wants revenge on Rubliax, so he imprisons Yugo and his friends. In prison they meet the Shushu collector Remington Smisse. |
| 9 | 35 | Rushu's World | 2011-04-30 | 20 | Qilby tries to take care of Grougaloragran's brother. Meanwhile Yugo, Percedal, Remington, Grany, and Rubilax find themselves trapped in a hell-like dimension inhabited by Shushus. |
| 10 | 36 | Kriss la Krass | 2011-06-04 | 20 | The team visit the city of sin, Brakmar. They hope to find the famous Gobbowl player Kriss Krass, who now lives in the city. |
| 11 | 37 | The Masked Boufbowler | 2011-06-11 | 20 | With Amalia and Evangelyne posing as males in order to be allowed to play the game, Yugo and his friends play a Gobbowl match against Brakmar's team of Brack 'n' Black. The stake of the game is Kriss Krass' life. |
| 12 | 38 | The Mmmmmmmmmporg | 2011-06-18 | 20 | The Masked Gobbowler's secret is revealed and now the Brack 'n' Black team want revenge. Helped by a mysterious Mmmmmmmmmporpg, they compete against the Masked Gobbowler, Kriss Krass, Yugo, and the rest of the team. |
| 13 | 39 | The Night of the Thirsters | 2011-10-29 | 20 | The team travel through the valley of Pandalucia. Once full of life, it is now bleak and desolated. When her friends are turned into zombies, Amalia has to to save the valley with the help with from a bamboo planter, Pandiego de la Vega. |
| 14 | 40 | The Voice Thief | 2011-11-05 | 20 | A singing competition is held in the inn where Yugo and his friends are staying. Soon the singers are attacked by a masked Voice Thief, who steals their voices. The innkeeper turns out to be an old friend/rival of Ruel. |
| 15 | 41 | Wabbit Island | 2011-11-12 | 20 | The team find themselves on the Wabbit Island and need a ship to continue their journey. They meet the legendary Wa Wabbit, who promises them a boat if they help him get his dungeon back. |
| 16 | 42 | The Cursed Fountain | 2011-11-19 | 20 | Travelling through a desert, the team are thirsty and tired. They find an oasis, but the water is guarded by a warrior Bordegann, who refuses to let anyone drink it, |
| 17 | 43 | The Council of Twelve | 2011-11-26 | 20 | The team continue their journey and get in trouble with some Cra archers. Meanwhile in Sadida Kingdom, monarchs of the twelve races gather to listen to Qilby's story and discuss the Eliatrope issue. |
| 18 | 44 | Cléophée | 2011-12-03 | 20 | The team visit the Trool Fair in search of Evangelyne's trouble-making sister. They soon discover that she is trying to become famous by participating in gladiator fights. |
| 19 | 45 | A Fistful of Kamas | 2011-12-10 | 20 | Ruel tries to rent a boat the team needs to continue their journey. When his money is stolen and the daughter of the boat's captain kidnapped, he is determined to get both back by any means necessary. |
| 20 | 46 | The Zinit | 2012-01-14 | 20 | Yugo and his friends sail towards Qilby's Dofus. Qilby explains his real intentions to Adamaï while showing him the Eliatrope spaceship. |
| 21 | 47 | The Island of the Bellaphones | 2012-01-21 | 20 | The team land on a jungle island. Soon the boys succumb to the charms of three beautiful and mysterious girls native to the island. |
| 22 | 48 | The Silence of the Rings | 2012-01-28 | 20 | Ruel tricks the team into landing on an island. They meet a man trapped in a magic ring and decide to help him get back both his freedom and the woman he loves. |
| 23 | 49 | The Crimson Claws | 2012-02-11 | 20 | The team arrive at the Crimson Claw Island and find it surrounded by a fleet of battleships. |
| 24 | 50 | Phaeris the Powerful | 2012-02-18 | 20 | Prince Adal's fleet fights Rushu and his army of Shushus trying to invade the world. Phaeris and Yugo try to prevent Qilby from getting back his Dofus. |
| 25 | 51 | The Blank Dimension | 2012-02-25 | 20 | Percedal and Rubilax are helped by Percedal's master Goultard in their fight against Rushu. Yugo and Phaeris fight Qilby. |
| 26 | 52 | The Eliatrope People | 2012-03-03 | 20 | Goultard continues his battle against Rushu. Qilby takes Yugo to another dimension where they meet the Eliatrope children. |
Season 3
| Episode No. | No. Overall | Title | Airdate | Runtime | Summary |
| --- | --- | --- | --- | --- | --- |
| 1 | 53 | Tomber de haut | 2017-09-02 | 20 | |
| 2 | 54 | Tel père, telle fille | 2017-09-02 | 20 | |
| 3 | 55 | La Tour d'Oropo | 2017-09-02 | 20 | |
| 4 | 56 | Pas si bête | 2017-09-03 | 20 | |
| 5 | 57 | Les Iops se cachent pour pleurer | 2017-09-03 | 20 | |
| 6 | 58 | L'Arbre à Ecaflip | 2017-09-09 | 20 | |
| 7 | 59 | Faut pas flipper | 2017-09-09 | 20 | |
| 8 | 60 | Arpagone | 2017-09-10 | 20 | |
| 9 | 61 | Le Temple de Sadida | 2017-09-10 | 20 | |
| 10 | 62 | Lorsque les murs tombent | 2017-09-16 | 20 | |
| 11 | 63 | Oropo | 2017-09-16 | 20 | |
| 12 | 64 | L'Hyperzaap | 2017-09-17 | 20 | |
| 13 | 65 | Inglorium | 2017-09-17 | 20 | |
Season 4
| Episode No. | No. Overall | Title | Airdate | Runtime | Summary |
| --- | --- | --- | --- | --- | --- |
Series Cast
| | | | |
| --- | --- | --- | --- |
| | Patrick Bethune | as Ruel Stroud | |
| | Dorothée Pousséo | as Adamaï | |
| | Geneviève Doang | as Evangelyne | |
| | Adeline Chetail | as Amalia Sheran Sharm | |
| | Gérard Surugues | as Rubilax | |
| | Fanny Bloc | as Yugo | |
| | Thomas Guitard | as Tristepin de Percedal | |
Related News
TVMaze