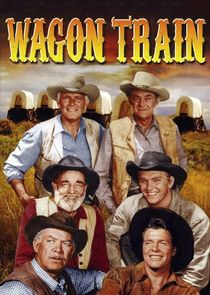 Wagon Train followed the trials and tribulations of pioneering families as they set out from the East to carve out a new life in the West soon after the American Civil War. For some of the travellers it was a happy ending, but not for all, which only heightened the drama along the way.
Series Overview
Rating
imDb Rating: 7.5 (2,072 Votes)
Metascore: N/A
Plot
Stories of the journeys of a wagon train as it leaves post-Civil War Missouri on its way to California through the plains, deserts, and Rocky Mountains.
Details
Rated: TV-PG
Released: 18 Sep 1957
Runtime: 75 min
Genre: Western
Director: N/A
Writer: N/A
Actors: Frank McGrath, Terry Wilson, Robert Horton, John McIntire
Language: English
Country: USA
Awards: Nominated for 7 Primetime Emmys. Another 5 nominations.
Total Seasons: 8
Previous Episode
The Jarbo Pierce Story
Episode 8x26; May 02, 1965
Previous Episodes 8x26: The Jarbo Pierce Story 8x25: The Silver Lady 8x24: The Indian Girl Story 8x23: The Katy Piper Story 8x22: The Betsy Blee Smith Story 8x21: The Captain Sam Story 8x20: The Miss Mary Lee McIntosh Story 8x19: The Bonnie Brooke Story 8x18: Herman

View All Episodes
Cast
Frank McGrath as Charlie Wooster
Terry Wilson as Bill Hawks
Ward Bond as Major Seth Adams
Robert Horton as Flint McCullough
John McIntire as Christopher Hale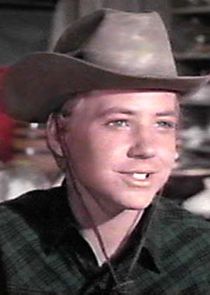 Michael Burns as Barnaby West
View Full Cast
Skip to:
Season 1
| Episode No. | No. Overall | Title | Airdate | Runtime | Summary |
| --- | --- | --- | --- | --- | --- |
| 1 | 1 | The Willy Moran Story | 1957-09-18 | 60 | |
| 2 | 2 | The Jean LeBec Story | 1957-09-25 | 60 | When Seth comes to the aid of a man unjustly accused of murder, the dead man's father forbids the stores in St. Joseph from selling the train any supplies. |
| 3 | 3 | The John Cameron Story | 1957-10-02 | 60 | |
| 4 | 4 | The Ruth Owens Story | 1957-10-09 | 60 | |
| 5 | 5 | The Les Rand Story | 1957-10-16 | 60 | |
| 6 | 6 | The Nels Stack Story | 1957-10-23 | 60 | |
| 7 | 7 | The Emily Rossiter Story | 1957-10-30 | 60 | |
| 8 | 8 | The John Darro Story | 1957-11-06 | 60 | John Darro is revealed as the man who abandoned a wagon train to the Indians several years ago. John has to prove that he's not the coward that he's reputed to be. |
| 9 | 9 | The Charles Avery Story | 1957-11-13 | 60 | |
| 10 | 10 | The Mary Halstead Story | 1957-11-20 | 60 | |
| 11 | 11 | The Zeke Thomas Story | 1957-11-27 | 60 | |
| 12 | 12 | The Riley Gratton Story | 1957-12-04 | 60 | |
| 13 | 13 | The Clara Beauchamp Story | 1957-12-11 | 60 | |
| 14 | 14 | The Julie Gage Story | 1957-12-18 | 60 | A strong-willed woman, Julie Gage, runs into trouble when she's forced to "half marry" a man that she's tending to when he's stricken with fever. |
| 15 | 15 | The Cliff Grundy Story | 1957-12-25 | 60 | |
| 16 | 16 | The Luke O'Malley Story | 1958-01-01 | 60 | |
| 17 | 17 | The Jesse Cowan Story | 1958-01-08 | 60 | |
| 18 | 18 | The Gabe Carswell Story | 1958-01-15 | 60 | |
| 19 | 19 | The Honorable Don Charlie Story | 1958-01-22 | 60 | |
| 20 | 20 | The Dora Gray Story | 1958-01-29 | 60 | Flint runs afoul of crooked soldiers selling guns to the Indians. |
| 21 | 21 | The Annie MacGregor Story | 1958-02-05 | 60 | |
| 22 | 22 | The Bill Tawnee Story | 1958-02-12 | 60 | |
| 23 | 23 | The Mark Hanford Story | 1958-02-26 | 60 | |
| 24 | 24 | The Bernal Sierra Story | 1958-03-12 | 60 | |
| 25 | 25 | The Marie Dupree Story | 1958-03-19 | 60 | A romantic triangle between Marie Dupree, Wiley Howard, and Tonio Gigli play out when the wagon train meets another one led by Wiley. |
| 26 | 26 | A Man Called Horse | 1958-03-26 | 60 | |
| 27 | 27 | The Sarah Drummond Story | 1958-04-02 | 60 | |
| 28 | 28 | The Sally Potter Story | 1958-04-09 | 60 | |
| 29 | 29 | The Daniel Barrister Story | 1958-04-16 | 60 | |
| 30 | 30 | The Major Adams Story (1) | 1958-04-23 | 60 | |
| 31 | 31 | The Major Adams Story (2) | 1958-04-30 | 60 | |
| 32 | 32 | The Charles Maury Story | 1958-05-07 | 60 | |
| 33 | 33 | The Dan Hogan Story | 1958-05-14 | 60 | |
| 34 | 34 | The Ruttledge Munroe Story | 1958-05-21 | 60 | |
| 35 | 35 | The Rex Montana Story | 1958-05-28 | 60 | |
| 36 | 36 | The Cassie Tanner Story | 1958-06-04 | 60 | |
| 37 | 37 | The John Wilbot Story | 1958-06-11 | 60 | |
| 38 | 38 | The Monty Britton Story | 1958-06-18 | 60 | When the wagon train runs low on water, Adams is forced to rely on a suspected deserter to get help from a nearby fort. |
| 39 | 39 | The Sacramento Story | 1958-06-25 | 60 | |
Season 2
| Episode No. | No. Overall | Title | Airdate | Runtime | Summary |
| --- | --- | --- | --- | --- | --- |
| 1 | 40 | Around the Horn | 1958-10-01 | 60 | |
| 2 | 41 | The Juan Ortega Story | 1958-10-08 | 60 | |
| 3 | 42 | The Jennifer Churchill Story | 1958-10-15 | 60 | |
| 4 | 43 | The Tobias Jones Story | 1958-10-22 | 60 | |
| 5 | 44 | The Liam Fitzmorgan Story | 1958-10-28 | 60 | Liam Fitzmorgan joins the train, looking for an informer who betrayed the Irish cause. However, Liam soon falls in love with the daughter of the man who he suspects is the traitor. |
| 6 | 45 | The Doctor Willoughby Story | 1958-11-15 | 60 | |
| 7 | 46 | The Bije Wilcox Story | 1958-11-19 | 60 | |
| 8 | 47 | The Millie Davis Story | 1958-11-26 | 60 | |
| 9 | 48 | The Sakae Ito Story | 1958-12-03 | 60 | |
| 10 | 49 | The Tent City Story | 1958-12-10 | 60 | |
| 11 | 50 | The Beauty Jamison Story | 1958-12-17 | 60 | Flint helps out Beauty Jamison, the daughter of a dead rancher who has inherited his spread... and the local ranchers that are trying to drive her out. |
| 12 | 51 | The Mary Ellen Thomas Story | 1958-12-24 | 60 | A hostile orphan girl accompanies her friend: another girl dying of consumption. |
| 13 | 52 | The Dick Richardson Story | 1958-12-31 | 60 | |
| 14 | 53 | The Kitty Angel Story | 1959-01-07 | 60 | |
| 15 | 54 | The Flint McCullough Story | 1959-01-14 | 60 | |
| 16 | 55 | The Hunter Malloy Story | 1959-01-21 | 60 | |
| 17 | 56 | The Ben Courtney Story | 1959-01-28 | 60 | |
| 18 | 57 | The Ella Lindstrom Story | 1959-02-04 | 60 | |
| 19 | 58 | The Last Man | 1959-02-11 | 60 | |
| 20 | 59 | The Old Man Charvanaugh Story | 1959-02-18 | 60 | |
| 21 | 60 | The Annie Griffith Story | 1959-02-25 | 60 | |
| 22 | 61 | The Jasper Cato Story | 1959-03-04 | 60 | Jasper Cato joins the train, claiming to be looking for man who has an inheritance waiting for him back east. |
| 23 | 62 | The Vivian Carter Story | 1959-03-11 | 60 | |
| 24 | 63 | The Conchita Vasquez Story | 1959-03-18 | 60 | |
| 25 | 64 | The Sister Rita Story | 1959-03-25 | 60 | |
| 26 | 65 | The Matthew Lowry Story | 1959-04-01 | 60 | Matthew Lowry, a one-armed Quaker, helps the train when they risk infection of cholera, and Adams faces a mutiny. |
| 27 | 66 | The Swift Cloud Story | 1959-04-08 | 60 | |
| 28 | 67 | The Vincent Eaglewood Story | 1959-04-15 | 60 | A would-be college professor, Vincent Eaglewood, offers to teach the train's children to pay his way to San Francisco. Major Seth agrees, but Vincent's lack of common sense gets him into trouble. |
| 29 | 68 | The Clara Duncan Story | 1959-04-22 | 60 | |
| 30 | 69 | The Duke LeMay Story | 1959-04-29 | 60 | |
| 31 | 70 | The Kate Parker Story | 1959-05-06 | 60 | |
| 32 | 71 | The Steve Campden Story | 1959-05-13 | 60 | |
| 33 | 72 | Chuck Wooster, Wagonmaster | 1959-05-20 | 60 | |
| 34 | 73 | The Jose Maria Moran Story | 1959-05-27 | 60 | The Shoshone string up a Pawnee warrior to die. The train finds the warrior and discovers that he's the long-lost son of Spanish aristocrats... and the Shoshone won't stop until he's dead. |
| 35 | 74 | The Andrew Hale Story | 1959-06-03 | 60 | |
| 36 | 75 | The Rodney Lawrence Story | 1959-06-10 | 60 | |
| 37 | 76 | The Steele Family | 1959-06-17 | 60 | |
| 38 | 77 | The Jenny Tannen Story | 1959-06-24 | 60 | |
Season 3
| Episode No. | No. Overall | Title | Airdate | Runtime | Summary |
| --- | --- | --- | --- | --- | --- |
| 1 | 78 | The Stagecoach Story | 1959-09-30 | 60 | |
| 2 | 79 | The Greenhorn Story | 1959-10-07 | 60 | |
| 3 | 80 | The C.L. Harding Story | 1959-10-14 | 60 | |
| 4 | 81 | The Estaban Zamora Story | 1959-10-21 | 60 | Estaban Zamora is a Basque rancher coming to America to herd sheep... and discovers that someone has murdered his youngest son. |
| 5 | 82 | The Elizabeth McQueeny Story | 1959-10-28 | 60 | A woman heading west with a gaggle of girls claims that she is going to open a finishing school. The truth gets out... as does spotted fever. |
| 6 | 83 | The Martha Barham Story | 1959-11-04 | 60 | The Cheyenne and the Sioux band together to attack a fort, and an officer's wife Martha Barham is abducted. However, when Flint is sent to rescue her, he discovers that she suspects that he's a renegade working with the Indians. |
| 7 | 84 | The Cappy Darrin Story | 1959-11-11 | 60 | Cappy and his grandson Tuck try to leave the wagon train and head for San Francisco to fulfill Tuck's dream of seeing the ocean. |
| 8 | 85 | The Felizia Kingdom Story | 1959-11-08 | 60 | An old woman controls her 300,000 acres with an iron hand. But when Flint stands up to her, the woman decides that he should marry her granddaughter Angela... whether he wants to or not. |
| 9 | 86 | The Jess MacAbbee Story | 1959-11-25 | 60 | While scouting for meat, Flint stumbles across an oasis-like valley protected by Jess MacAbbee, who forces his daughters to do the work while cliaiming that Indians lurk just outside the valley. |
| 10 | 87 | The Danny Benedict Story | 1959-12-02 | 60 | Seth takes on a young boy who is unwilling to join the wagon train but is eventually forced to go with them. When they arrive at the next fort, they discover that the boy's father, a colonel was forced to flog his own son. |
| 11 | 88 | The Vittorio Botticelli Story | 1959-12-16 | 60 | Duke Vittorio Botticelli and his butler Josef are sent to America and join the wagon train. The womanizing Vittorio falls in love with n American woman, but trouble arises when his betrothed from Europe arrives. |
| 12 | 89 | The St. Nicholas Story | 1959-12-23 | 60 | On Christmas Eve, the wagon train is attacked by Ute braves and one young boy is taken prisoner... or is he? |
| 13 | 90 | The Ruth Marshall Story | 1959-12-30 | 60 | While Flint is out looking for a missing girl, a white woman who dresses and acts like an Indian takes him in when he is wounded. |
| 14 | 91 | The Lita Foladaire Story | 1960-01-06 | 60 | The train comes across a dying woman, and Seth sets out to discover who killed her. |
| 15 | 92 | The Colonel Harris Story | 1960-01-13 | 60 | Flint gets caught in a war between two old friends: an Army Colonel and a Comanche leader. |
| 16 | 93 | The Maidie Brandt Story | 1960-01-20 | 60 | The train comes across a stranded widow and her son, but she refuses to travel with the train to the next town to buy horses. |
| 17 | 94 | The Larry Hanify Story | 1960-01-27 | 60 | Flint takes on Larry Hanify, the 17-year-old son of a dying friend. However, Larry is soon accused of robbery. |
| 18 | 95 | The Clayton Tucker Story | 1960-02-10 | 60 | A small train of three wagons hoping to meet the Adams train is on their own when their scout dies. |
| 19 | 96 | The Benjamin Burns Story | 1960-02-17 | 60 | When the train runs out of water and water holes are few and far between, Flint and the others rely on Benjamin Burns to find a legendary spring that Burns saw 30 years ago in the area. |
| 20 | 97 | The Ricky and Laurie Bell Story | 1960-02-24 | 60 | Ricky and Laurie Bell head from Baltimore out west, but when Laurie becomes pregnant, Ricky begins to resent her attention to the baby. |
| 21 | 98 | The Tom Tuckett Story | 1960-03-02 | 60 | Tom Tuckett is helped throughout his life by a mysterious benefactor, after he helps a convict escape. He joins the train and meets a young girl who he has loved from afar, although she has always thought him beneath her station. |
| 22 | 99 | The Tracy Sadler Story | 1960-03-09 | 60 | Tracy Sadler is trying to track down her son, David Forest. But her assistant Cadge has other plans. |
| 23 | 100 | The Alexander Portlass Story | 1960-03-16 | 60 | British archaeologist Alexander Portlass is looking for Montezuma's treasure. His men capture Flint and force him to lead them to the treasure. |
| 24 | 101 | The Christine Elliot Story | 1960-03-23 | 60 | Christine Elliot plans to fulfill her dead father's dream of starting a boys school, but someone plans to stop her. |
| 25 | 102 | The Joshua Gilliam Story | 1960-03-30 | 60 | The wagon train finds a man, Joshua Gilliam, whipped and dying along the side of the trail. When they rescue him, Joshua soon befriends Greta Halstadt and claims that he's a schoolteacher... but keeps a dark secret. |
| 26 | 103 | The Maggie Hamilton Story | 1960-04-06 | 60 | The Hamiltons hire Flint to bring their spoiled daughter Maggie back, and Flint not only has to deal with Maggie's temper tantrums but renegades looking for a hostage. |
| 27 | 104 | The Jonas Murdock Story | 1960-04-13 | 60 | Chief Red Hawk grants the train passage across his people's territory in return for them not killing any animals for supplies. But mountain man Jonas Murdock refuses to abide by the edict, putting everyone in danger. |
| 28 | 105 | The Amos Gibbon Story | 1960-04-20 | 60 | |
| 29 | 106 | Trial for Murder (1) | 1960-04-27 | 60 | Seth is forced to hold a trial when a member of the wagon train is found murdered. |
| 30 | 107 | Trial for Murder (2) | 1960-05-04 | 60 | Iver's wife Leslie appears to provide testimony that may clear the defendant's name. |
| 31 | 108 | The Countess Baranof Story | 1960-05-11 | 60 | A countess is desperate to get to Alaska before the Russians sell it… and her bodyguard is equally determined to make sure she never reaches Alaska alive. |
| 32 | 109 | The Dick Jarvis Story | 1960-05-18 | 60 | A crippled Jick Darvis befirends a runaway, Joiey Henshaw, over his mother's objections. |
| 33 | 110 | The Dr. Swift Cloud Story | 1960-05-25 | 60 | Swift Cloud returns to the wagon train, having become a white man doctor, but neither the wagon train members nor Swift Cloud's original tribe will let him practice medicine. |
| 34 | 111 | The Luke Grant Story | 1960-06-01 | 60 | A singing troupe joins the train, and their leader recognizes a sunstruck survivor the train picked up as her former fiance. |
| 35 | 112 | The Charlene Brenton Story | 1960-06-08 | 60 | Charlie takes a baby--and the only survivor of a stagecoach stricken by bubonic plague--thinking that the townspeople mean to kill it |
| 36 | 113 | The Sam Livingston Story | 1960-06-15 | 60 | Missionairy Abigail Newkirk finds a replacement driver, Sam Livingston, who is traveling with his friend Cass Fleming. |
| 37 | 114 | The Shadrack Bennington Story | 1960-06-22 | 60 | A medicine man, Shadrack Bennington, abandons his partner and joins the train. Shadrack soon charms a woman and an orphan, but then abandons them when the train reaches San Francisco. |
Season 4
| Episode No. | No. Overall | Title | Airdate | Runtime | Summary |
| --- | --- | --- | --- | --- | --- |
| 1 | 115 | Wagons Ho! | 1960-09-28 | 60 | |
| 2 | 116 | The Horace Best Story | 1960-10-05 | 60 | Horace Best, Seth's "cousin", undermines the wagon train by making better deals to build his own train. Now all he has to do is get it to California. |
| 3 | 117 | The Albert Farnsworth Story | 1960-10-12 | 60 | An arrogant British colonel joins the train and starts a feud with an Irish family... and then endangers the train when he insults a Cherokee chief. |
| 4 | 118 | The Allison Justis Story | 1960-10-19 | 60 | Flint faces execution after killing a supposed horse thief who turns out to be the local town's mayor... and the husband of his childhood friend. |
| 5 | 119 | The Jose Morales Story | 1960-10-26 | 60 | Bill is forced to team up with Jose Morales and his band of Mescaleros when Apaches threaten to kill them all. |
| 6 | 120 | The Princess of a Lost Tribe | 1960-11-02 | 60 | Flint takes three men to investigate Haunted Mountain, and finds a lost tribe of Aztecs. |
| 7 | 121 | The Cathy Eckhart Story | 1960-11-09 | 60 | After Cathy Eckhart is murdered, apparently by Indians, Seth has each of the witnesses testify... and their stories will determine if Ben Harness lives or dies since he's been convicted of the murder of Cathy's father. |
| 8 | 122 | The Bleymier Story | 1960-11-16 | 60 | |
| 9 | 123 | The Colter Craven Story | 1960-11-23 | 60 | |
| 10 | 124 | The Jane Hawkins Story | 1960-11-30 | 60 | |
| 11 | 125 | The Candy O'Hara Story | 1960-12-07 | 60 | |
| 12 | 126 | The River Crossing | 1960-12-14 | 60 | Colonel Buckner mistakenly wipes out a Comanche Indian village of women and children, and now Comanche braves are looking for revenge. |
| 13 | 127 | The Roger Bigelow Story | 1960-12-21 | 60 | |
| 14 | 128 | The Jeremy Dow Story | 1960-12-28 | 60 | Flint hires drunk Jeff Durant to drive a wagon on the train. It turns out that Jeff is Jeremy Dow, who supposedly died a heroic death years ago and whose family is on the train. |
| 15 | 129 | The Earl Packer Story | 1961-01-04 | 60 | |
| 16 | 130 | The Patience Miller Story | 1961-01-11 | 60 | |
| 17 | 131 | The Sam Elder Story | 1961-01-18 | 60 | |
| 18 | 132 | The Weight of Command | 1961-01-25 | 60 | |
| 19 | 133 | The Prarie Story | 1961-02-01 | 60 | |
| 20 | 134 | The Path of the Serpent | 1961-02-08 | 60 | A dying soldier asks his old friend Ruddy Blaine to bring his daughter Penelope to him before he expires. |
| 21 | 135 | The Odyssey of Flint McCullough | 1961-02-15 | 60 | |
| 22 | 136 | The Beth Pearson Story | 1961-02-22 | 60 | |
| 23 | 137 | The Jed Polke Story | 1961-03-01 | 60 | |
| 24 | 138 | The Nancy Palmer Story | 1961-03-07 | 60 | |
| 25 | 139 | The Christopher Hale Story | 1961-03-15 | 60 | |
| 26 | 140 | The Tiburcio Mendez Story | 1961-03-22 | 60 | |
| 27 | 141 | The Nellie Jefferson Story | 1961-04-05 | 60 | |
| 28 | 142 | The Saul Bevins Story | 1961-04-12 | 60 | |
| 29 | 143 | The Joe Muharich Story | 1961-04-19 | 60 | |
| 30 | 144 | The Duke Shannon Story | 1961-04-26 | 60 | |
| 31 | 145 | The Will Santee Story | 1961-05-03 | 60 | |
| 32 | 146 | The Jim Bridger Story | 1961-05-10 | 60 | |
| 33 | 147 | The Eleanor Culhane Story | 1961-05-17 | 60 | |
| 34 | 148 | The Chalice | 1961-05-24 | 60 | |
| 35 | 149 | The Janet Hale Story | 1961-05-31 | 60 | |
| 36 | 150 | Wagon to Fort Anderson | 1961-06-07 | 60 | |
| 37 | 151 | The Ah Chong Story | 1961-06-14 | 60 | |
| 38 | 152 | The Don Alvarado Story | 1961-06-21 | 60 | |
Season 5
| Episode No. | No. Overall | Title | Airdate | Runtime | Summary |
| --- | --- | --- | --- | --- | --- |
| 1 | 153 | The Captain Dan Brady Story | 1961-09-07 | 60 | |
| 2 | 154 | The Kitty Albright Story | 1961-10-04 | 60 | |
| 3 | 155 | The Maud Frazer Story | 1961-10-11 | 60 | |
| 4 | 156 | The Selena Hartnell Story | 1961-10-18 | 60 | |
| 5 | 157 | The Clementine Jones Story | 1961-10-25 | 60 | |
| 6 | 158 | The Jenna Douglas Story | 1961-11-01 | 60 | |
| 7 | 159 | The Artie Matthewson Story | 1961-11-08 | 60 | |
| 8 | 160 | The Mark Miner Story | 1961-11-15 | 60 | |
| 9 | 161 | The Bruce Saybrook Story | 1961-11-22 | 60 | |
| 10 | 162 | The Lizabeth Ann Calhoun Story | 1961-12-06 | 60 | |
| 11 | 163 | The Traitor | 1961-12-13 | 60 | |
| 12 | 164 | The Bettina May Story | 1961-12-20 | 60 | |
| 13 | 165 | Clyde | 1961-12-27 | 60 | |
| 14 | 166 | The Martin Onyx Story | 1962-01-03 | 60 | |
| 15 | 167 | The Dick Pederson Story | 1962-01-10 | 60 | |
| 16 | 168 | The Hobie Redman Story | 1962-01-17 | 60 | |
| 17 | 169 | The Malachi Hobart Story | 1962-01-24 | 60 | |
| 18 | 170 | The Dr. Denker Story | 1962-01-31 | 60 | |
| 19 | 171 | The Lonnie Fallon Story | 1962-02-07 | 60 | |
| 20 | 172 | The Jeff Hartfield Story | 1962-02-14 | 60 | |
| 21 | 173 | The Daniel Clay Story | 1962-02-21 | 60 | |
| 22 | 174 | The Lieutenant Burton Story | 1962-02-28 | 60 | |
| 23 | 175 | The Charley Shutup Story | 1962-03-07 | 60 | |
| 24 | 176 | The Amos Gibbon Story | 1962-03-14 | 60 | After an argument with Seth, Flint rides off... and gets shanghaied into working for a town's silver mine. |
| 25 | 177 | The Baylor Crowfoot Story | 1962-03-21 | 60 | |
| 26 | 178 | The George B. Hanrahan Story | 1962-03-28 | 60 | |
| 27 | 179 | The Swamp Devil | 1962-04-04 | 60 | |
| 28 | 180 | The Cole Crawford Story | 1962-04-11 | 60 | |
| 29 | 181 | The Levi Hale Story | 1962-04-18 | 60 | |
| 30 | 182 | The Terry Morrell Story | 1962-04-25 | 60 | |
| 31 | 183 | The Jud Steele Story | 1962-05-02 | 60 | |
| 32 | 184 | The Mary Beckett Story | 1962-05-09 | 60 | |
| 33 | 185 | The Nancy Davis Story | 1962-05-16 | 60 | |
| 34 | 186 | The Frank Carter Story | 1962-05-23 | 60 | |
| 35 | 187 | The John Turnbull Story | 1962-05-30 | 60 | |
| 36 | 188 | The Hiram Winthrop Story | 1962-06-06 | 60 | |
| 37 | 189 | The Heather Mahoney Story | 1962-06-13 | 60 | |
Season 6
| Episode No. | No. Overall | Title | Airdate | Runtime | Summary |
| --- | --- | --- | --- | --- | --- |
| 1 | 190 | Wagon Train Mutiny | 1962-09-19 | 60 | |
| 2 | 191 | The Caroline Casteel Story | 1962-09-26 | 60 | |
| 3 | 192 | The Madame Sagittarius Story | 1962-10-03 | 60 | |
| 4 | 193 | The Martin Gatsby Story | 1962-10-10 | 60 | |
| 5 | 194 | The John Augustus Story | 1962-10-17 | 60 | |
| 6 | 195 | The Mavis Grant Story | 1962-10-24 | 60 | |
| 7 | 196 | The Lisa Raincloud Story | 1962-10-31 | 60 | |
| 8 | 197 | The Shiloh Degnan Story | 1962-11-07 | 60 | |
| 9 | 198 | The Levy-McGowan Story | 1962-11-14 | 60 | |
| 10 | 199 | The John Bernard Story | 1962-11-21 | 60 | |
| 11 | 200 | The Kurt Davos Story | 1962-11-28 | 60 | |
| 12 | 201 | The Eve Newhope Story | 1962-12-05 | 60 | |
| 13 | 202 | The Orly French Story | 1962-12-12 | 60 | |
| 14 | 203 | The Donna Fuller Story | 1962-12-19 | 60 | |
| 15 | 204 | The Sam Darland Story | 1962-12-26 | 60 | |
| 16 | 205 | The Abel Weatherly Story | 1963-01-02 | 60 | |
| 17 | 206 | The Davey Baxter Story | 1963-01-09 | 60 | |
| 18 | 207 | The Johnny Masters Story | 1963-01-16 | 60 | |
| 19 | 208 | The Naomi Kaylor Story | 1963-01-30 | 60 | |
| 20 | 209 | The Hollister John Garrison Story | 1963-02-06 | 60 | |
| 21 | 210 | The Lily Legend Story | 1963-02-13 | 60 | |
| 22 | 211 | Charlie Wooster - Outlaw | 1963-02-20 | 60 | |
| 23 | 212 | The Sara Proctor Story | 1963-02-27 | 60 | |
| 24 | 213 | The Emmett Lawton Story | 1963-03-06 | 60 | |
| 25 | 214 | The Annie Duggan Story | 1963-03-13 | 60 | |
| 26 | 215 | The Michael McGoo Story | 1963-03-20 | 60 | |
| 27 | 216 | The Adam MacKenzie Story | 1963-03-27 | 60 | |
| 28 | 217 | The Tom Tuesday Story | 1963-03-25 | 60 | |
| 29 | 218 | Heather and Hamish | 1963-04-10 | 60 | |
| 30 | 219 | The Blane Wessels Story | 1963-04-17 | 60 | |
| 31 | 220 | The Tom O'Neal Story | 1963-04-24 | 60 | |
| 32 | 221 | The Clarence Mullins Story | 1963-05-01 | 60 | |
| 33 | 222 | The David Garner Story | 1963-05-08 | 60 | |
| 34 | 223 | Alias Bill Hawks | 1963-05-15 | 60 | |
| 35 | 224 | The Antone Rose Story | 1963-05-22 | 60 | |
| 36 | 225 | The Jim Whitlow Story | 1963-05-29 | 60 | |
| 37 | 226 | The Barnaby West Story | 1963-06-05 | 60 | |
Season 7
| Episode No. | No. Overall | Title | Airdate | Runtime | Summary |
| --- | --- | --- | --- | --- | --- |
| 1 | 227 | The Molly Kincaid Story | 1963-09-16 | 60 | |
| 2 | 228 | The Fort Pierce Story | 1963-09-23 | 60 | |
| 3 | 229 | The Gus Morgan Story | 1963-09-30 | 60 | |
| 4 | 230 | The Widow O'Rourke Story | 1963-10-07 | 60 | |
| 5 | 231 | The Robert Harrison Clarke Story | 1963-10-14 | 60 | |
| 6 | 232 | The Myra Marshall Story | 1963-10-21 | 60 | |
| 7 | 233 | The Sam Spicer Story | 1963-10-28 | 60 | |
| 8 | 234 | The Sam Pulaski Story | 1963-11-04 | 60 | |
| 9 | 235 | The Eli Bancroft Story | 1963-11-11 | 60 | |
| 10 | 236 | The Kitty Pryer Story | 1963-11-18 | 60 | |
| 11 | 237 | The Sandra Cummings Story | 1963-12-02 | 60 | |
| 12 | 238 | The Bleeker Story | 1963-12-09 | 60 | |
| 13 | 239 | The Story of Cain | 1963-12-16 | 60 | |
| 14 | 240 | The Cassie Vance Story | 1963-12-23 | 60 | |
| 15 | 241 | The Fenton Canaby Story | 1963-12-30 | 60 | |
| 16 | 242 | The Michael Malone Story | 1964-01-06 | 60 | |
| 17 | 243 | The Jed Whitmore Story | 1964-01-13 | 60 | |
| 18 | 244 | The Geneva Balfour Story | 1964-01-20 | 60 | |
| 19 | 245 | The Kate Crawley Story | 1964-01-27 | 60 | |
| 20 | 246 | The Grover Allen Story | 1964-02-03 | 60 | |
| 21 | 247 | The Andrew Ellitott Story | 1964-02-10 | 60 | |
| 22 | 248 | The Melanie Craig Story | 1964-02-17 | 60 | |
| 23 | 249 | The Pearlie Garnet Story | 1964-02-24 | 60 | |
| 24 | 250 | The Trace McCloud Story | 1964-03-02 | 60 | |
| 25 | 251 | The Duncan McIvor Story | 1964-03-09 | 60 | |
| 26 | 252 | The Ben Engel Story | 1964-03-16 | 60 | |
| 27 | 253 | The Whipping | 1964-03-23 | 60 | |
| 28 | 254 | The Santiago Quesada Story | 1964-03-30 | 60 | |
| 29 | 255 | The Stark Bluff Story | 1964-04-06 | 60 | |
| 30 | 256 | The Link Cheney Story | 1964-04-13 | 60 | |
| 31 | 257 | The Zebedee Titus Story | 1964-04-20 | 60 | |
| 32 | 258 | Last Circle Up | 1964-04-27 | 60 | |
Season 8
| Episode No. | No. Overall | Title | Airdate | Runtime | Summary |
| --- | --- | --- | --- | --- | --- |
| 1 | 259 | The Bob Stuart Story | 1964-09-20 | 60 | |
| 2 | 260 | The Hide Hunters | 1964-09-27 | 60 | |
| 3 | 261 | The John Gillman Story | 1964-10-04 | 60 | |
| 4 | 262 | The Race Town Story | 1964-10-11 | 60 | |
| 5 | 263 | The Barbara Lindquist Story | 1964-10-18 | 60 | |
| 6 | 264 | The Brian Conlin Story | 1964-10-25 | 60 | |
| 7 | 265 | The Alice Whitetree Story | 1964-11-01 | 60 | |
| 8 | 266 | Those Who Stay Behind | 1964-11-08 | 60 | |
| 9 | 267 | The Nancy Styles Story | 1964-11-22 | 60 | |
| 10 | 268 | The Richard Bloodgood Story | 1964-11-29 | 60 | |
| 11 | 269 | The Clay Shelby Story | 1964-12-06 | 60 | |
| 12 | 270 | Little Girl Lost | 1964-12-13 | 60 | |
| 13 | 271 | The Story of Hector Heatherington | 1964-12-20 | 60 | |
| 14 | 272 | The Echo Pass Story | 1965-01-03 | 60 | |
| 15 | 273 | The Chottsie Gubenheimer Story | 1965-01-10 | 60 | |
| 16 | 274 | The Wanda Snow Story | 1965-01-17 | 60 | |
| 17 | 275 | The Isaiah Quickfox Story | 1965-01-31 | 60 | |
| 18 | 276 | Herman | 1965-02-14 | 60 | |
| 19 | 277 | The Bonnie Brooke Story | 1965-02-21 | 60 | |
| 20 | 278 | The Miss Mary Lee McIntosh Story | 1965-02-28 | 60 | |
| 21 | 279 | The Captain Sam Story | 1965-03-21 | 60 | |
| 22 | 280 | The Betsy Blee Smith Story | 1965-03-28 | 60 | |
| 23 | 281 | The Katy Piper Story | 1965-04-11 | 60 | |
| 24 | 282 | The Indian Girl Story | 1965-04-18 | 60 | |
| 25 | 283 | The Silver Lady | 1965-04-25 | 60 | |
| 26 | 284 | The Jarbo Pierce Story | 1965-05-02 | 60 | |
Series Cast
| | | | |
| --- | --- | --- | --- |
| | Frank McGrath | as Charlie Wooster | |
| | Terry Wilson | as Bill Hawks | |
| | Ward Bond | as Major Seth Adams | |
| | Robert Horton | as Flint McCullough | |
| | John McIntire | as Christopher Hale | |
| | Michael Burns | as Barnaby West | |
| | Robert Fuller | as Cooper Smith | |
| | Denny Miller | as Duke Shannon | |
Related News
TVMaze