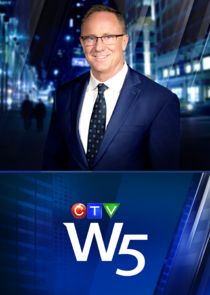 Co-anchors Lloyd Robertson and Sandie Rinaldo tell viewers everything they need to know about current events in this weekly newsmagazine series, which holds the distinction of being the longest-running news program of its type in North America, having debuted in 1966.
Series Overview
Rating
imDb Rating: 6.4 (24 Votes)
Metascore: N/A
Plot
Investigations covering tough, relevant stories for Canadians.
Details
Rated: N/A
Released: 01 Oct 1966
Runtime: N/A
Genre: Documentary, News
Director: N/A
Writer: N/A
Actors: Kevin Newman, David Tyler, Avery Haines
Language: English
Country: Canada
Awards: 4 wins & 7 nominations.
Total Seasons: 53
Previous Episode
W5 50th Anniversary Special
Episode 51x32; Jun 17, 2017
Canada through the decades.
Previous Episodes 51x32: W5 50th Anniversary Special 51x31: Serena; A New Game 51x30: Neglected Care; Electric Pow Wow 51x29: Troubled Waters; Family Affair 51x28: Making a Terrorist 51x1: Episode 1 50x33: W5 50th Anniversary Special 50x32: Who Killed Harry?; Bulls Eye 50x27: Hany's Journey

View All Episodes
Cast
Lloyd Robertson as Anchor
Kevin Newman as Anchor
Lisa LaFlamme as Anchor
Sandie Rinaldo as Anchor
Henry Champ as Anchor
Ken Lefolii as Anchor
View Full Cast
Skip to:
Season 1
| Episode No. | No. Overall | Title | Airdate | Runtime | Summary |
| --- | --- | --- | --- | --- | --- |
| 1 | 1 | Episode 1 | 1966-01-08 | 60 | |
Season 2
| Episode No. | No. Overall | Title | Airdate | Runtime | Summary |
| --- | --- | --- | --- | --- | --- |
Season 3
| Episode No. | No. Overall | Title | Airdate | Runtime | Summary |
| --- | --- | --- | --- | --- | --- |
Season 4
| Episode No. | No. Overall | Title | Airdate | Runtime | Summary |
| --- | --- | --- | --- | --- | --- |
Season 5
| Episode No. | No. Overall | Title | Airdate | Runtime | Summary |
| --- | --- | --- | --- | --- | --- |
Season 6
| Episode No. | No. Overall | Title | Airdate | Runtime | Summary |
| --- | --- | --- | --- | --- | --- |
Season 7
| Episode No. | No. Overall | Title | Airdate | Runtime | Summary |
| --- | --- | --- | --- | --- | --- |
Season 8
| Episode No. | No. Overall | Title | Airdate | Runtime | Summary |
| --- | --- | --- | --- | --- | --- |
Season 9
| Episode No. | No. Overall | Title | Airdate | Runtime | Summary |
| --- | --- | --- | --- | --- | --- |
Season 10
| Episode No. | No. Overall | Title | Airdate | Runtime | Summary |
| --- | --- | --- | --- | --- | --- |
Season 11
| Episode No. | No. Overall | Title | Airdate | Runtime | Summary |
| --- | --- | --- | --- | --- | --- |
Season 12
| Episode No. | No. Overall | Title | Airdate | Runtime | Summary |
| --- | --- | --- | --- | --- | --- |
Season 13
| Episode No. | No. Overall | Title | Airdate | Runtime | Summary |
| --- | --- | --- | --- | --- | --- |
Season 14
| Episode No. | No. Overall | Title | Airdate | Runtime | Summary |
| --- | --- | --- | --- | --- | --- |
Season 15
| Episode No. | No. Overall | Title | Airdate | Runtime | Summary |
| --- | --- | --- | --- | --- | --- |
Season 16
| Episode No. | No. Overall | Title | Airdate | Runtime | Summary |
| --- | --- | --- | --- | --- | --- |
Season 17
| Episode No. | No. Overall | Title | Airdate | Runtime | Summary |
| --- | --- | --- | --- | --- | --- |
Season 18
| Episode No. | No. Overall | Title | Airdate | Runtime | Summary |
| --- | --- | --- | --- | --- | --- |
Season 19
| Episode No. | No. Overall | Title | Airdate | Runtime | Summary |
| --- | --- | --- | --- | --- | --- |
Season 20
| Episode No. | No. Overall | Title | Airdate | Runtime | Summary |
| --- | --- | --- | --- | --- | --- |
Season 21
| Episode No. | No. Overall | Title | Airdate | Runtime | Summary |
| --- | --- | --- | --- | --- | --- |
Season 22
| Episode No. | No. Overall | Title | Airdate | Runtime | Summary |
| --- | --- | --- | --- | --- | --- |
Season 23
| Episode No. | No. Overall | Title | Airdate | Runtime | Summary |
| --- | --- | --- | --- | --- | --- |
Season 24
| Episode No. | No. Overall | Title | Airdate | Runtime | Summary |
| --- | --- | --- | --- | --- | --- |
Season 25
| Episode No. | No. Overall | Title | Airdate | Runtime | Summary |
| --- | --- | --- | --- | --- | --- |
Season 26
| Episode No. | No. Overall | Title | Airdate | Runtime | Summary |
| --- | --- | --- | --- | --- | --- |
Season 27
| Episode No. | No. Overall | Title | Airdate | Runtime | Summary |
| --- | --- | --- | --- | --- | --- |
Season 28
| Episode No. | No. Overall | Title | Airdate | Runtime | Summary |
| --- | --- | --- | --- | --- | --- |
Season 29
| Episode No. | No. Overall | Title | Airdate | Runtime | Summary |
| --- | --- | --- | --- | --- | --- |
Season 30
| Episode No. | No. Overall | Title | Airdate | Runtime | Summary |
| --- | --- | --- | --- | --- | --- |
Season 31
| Episode No. | No. Overall | Title | Airdate | Runtime | Summary |
| --- | --- | --- | --- | --- | --- |
Season 32
| Episode No. | No. Overall | Title | Airdate | Runtime | Summary |
| --- | --- | --- | --- | --- | --- |
Season 33
| Episode No. | No. Overall | Title | Airdate | Runtime | Summary |
| --- | --- | --- | --- | --- | --- |
Season 34
| Episode No. | No. Overall | Title | Airdate | Runtime | Summary |
| --- | --- | --- | --- | --- | --- |
Season 35
| Episode No. | No. Overall | Title | Airdate | Runtime | Summary |
| --- | --- | --- | --- | --- | --- |
Season 36
| Episode No. | No. Overall | Title | Airdate | Runtime | Summary |
| --- | --- | --- | --- | --- | --- |
Season 37
| Episode No. | No. Overall | Title | Airdate | Runtime | Summary |
| --- | --- | --- | --- | --- | --- |
Season 38
| Episode No. | No. Overall | Title | Airdate | Runtime | Summary |
| --- | --- | --- | --- | --- | --- |
Season 39
| Episode No. | No. Overall | Title | Airdate | Runtime | Summary |
| --- | --- | --- | --- | --- | --- |
Season 40
| Episode No. | No. Overall | Title | Airdate | Runtime | Summary |
| --- | --- | --- | --- | --- | --- |
Season 41
| Episode No. | No. Overall | Title | Airdate | Runtime | Summary |
| --- | --- | --- | --- | --- | --- |
Season 42
| Episode No. | No. Overall | Title | Airdate | Runtime | Summary |
| --- | --- | --- | --- | --- | --- |
Season 43
| Episode No. | No. Overall | Title | Airdate | Runtime | Summary |
| --- | --- | --- | --- | --- | --- |
Season 44
| Episode No. | No. Overall | Title | Airdate | Runtime | Summary |
| --- | --- | --- | --- | --- | --- |
Season 45
| Episode No. | No. Overall | Title | Airdate | Runtime | Summary |
| --- | --- | --- | --- | --- | --- |
Season 46
| Episode No. | No. Overall | Title | Airdate | Runtime | Summary |
| --- | --- | --- | --- | --- | --- |
Season 47
| Episode No. | No. Overall | Title | Airdate | Runtime | Summary |
| --- | --- | --- | --- | --- | --- |
Season 48
| Episode No. | No. Overall | Title | Airdate | Runtime | Summary |
| --- | --- | --- | --- | --- | --- |
Season 49
| Episode No. | No. Overall | Title | Airdate | Runtime | Summary |
| --- | --- | --- | --- | --- | --- |
Season 50
| Episode No. | No. Overall | Title | Airdate | Runtime | Summary |
| --- | --- | --- | --- | --- | --- |
| 21 | 2 | Hospital Hush-Up; Modern Family | 2016-04-23 | 60 | An investigation into the secrecy laws of hospitals; a family turns its triplets' disabilities into a campaign for a cure. |
| 22 | 3 | Born Free; The Ringmaster | 2016-04-30 | 60 | An investigation into the future of wild horses; a Canadian heads Cirque de Soleil in Las Vegas. |
| 23 | 4 | Episode 23 | 2016-05-07 | 60 | |
| 24 | 5 | Episode 24 | 2016-05-14 | 60 | |
| 25 | 6 | Episode 25 | 2016-05-21 | 60 | |
| 26 | 7 | Fortune Takers, Desire Deficit | 2016-05-28 | 60 | An investigation into psychics who take advantage of their customers; a pill may be the cure for women's sexual dysfunction. |
| 27 | 8 | Hany's Journey | 2016-06-25 | 60 | A Syrian refugee begins life in Canada. |
| 32 | 9 | Who Killed Harry?; Bulls Eye | 2016-09-17 | 60 | An investigation into the killing of Canadian Harry Doyle. |
| 33 | 10 | W5 50th Anniversary Special | 2016-09-24 | 60 | |
Season 51
| Episode No. | No. Overall | Title | Airdate | Runtime | Summary |
| --- | --- | --- | --- | --- | --- |
| 1 | 11 | Episode 1 | 2016-10-01 | 60 | |
| 28 | 12 | Making a Terrorist | 2017-05-13 | 60 | An investigation into the RCMP's efforts to turn two homeless people into terrorists. |
| 29 | 13 | Troubled Waters; Family Affair | 2017-05-20 | 60 | Local water needs compete against the bottled water industry; Charles Bronfman discusses his family's fortune. |
| 30 | 14 | Neglected Care; Electric Pow Wow | 2017-05-27 | 60 | Families of patients of long-term care facilities seek class action damages in court; music group A Tribe Called Red blends electronic music with First Nations culture. |
| 31 | 15 | Serena; A New Game | 2017-06-03 | 60 | Folk rock star Serena Ryder discusses her music and her life; the game of hockey is becoming less violent. |
| 32 | 16 | W5 50th Anniversary Special | 2017-06-17 | 60 | Canada through the decades. |
Season 52
| Episode No. | No. Overall | Title | Airdate | Runtime | Summary |
| --- | --- | --- | --- | --- | --- |
Season 53
| Episode No. | No. Overall | Title | Airdate | Runtime | Summary |
| --- | --- | --- | --- | --- | --- |
Series Cast
| | | | |
| --- | --- | --- | --- |
| | Lloyd Robertson | as Anchor | |
| | Kevin Newman | as Anchor | |
| | Lisa LaFlamme | as Anchor | |
| | Sandie Rinaldo | as Anchor | |
| | Henry Champ | as Anchor | |
| | Ken Lefolii | as Anchor | |
| | Tom Gould | as Anchor | |
| | Jim Reed | as Anchor | |
| | Helen Hutchinson | as Anchor | |
| | Eric Malling | as Anchor | |
| | Craig Oliver | as Anchor | |
| | Jim O'Connell | as Anchor | |
| | Peter Reilly | as Anchor | |
| | Ken Cavanagh | as Anchor | |
Related News
TVMaze