In this 60s show, the first of four Irwin Allen science fiction productions, the advanced submarine Seaview takes on all kinds of missions for the American government. Under the leadership of Admiral Nelson and Captain Crane, the Seaview takes on a variety of gritty real-world missions with spies, missile launches, deep-sea exploration, etc.
Unfortunately, then Batman caught on and Allen decided that camp and far-out science was the way to go. Increasingly, episodes dealt with mind control, aliens, werewolves, evil puppets, monsters in cheap-looking rubber suits, etc. After three more seasons, the show came to an end due to low ratings.
Series Overview
Rating
imDb Rating: 7.2 (3,004 Votes)
Metascore: N/A
Plot
The submarine Seaview is commissioned to investigate the mysteries of the seas. Usually it finds more problems than answers...
Details
Rated: N/A
Released: 14 Sep 1964
Runtime: 52 min
Genre: Adventure, Sci-Fi
Director: N/A
Writer: Irwin Allen
Actors: Richard Basehart, David Hedison, Robert Dowdell, Del Monroe
Language: English
Country: USA
Awards: Won 4 Primetime Emmys. Another 9 nominations.
Total Seasons: 4
Previous Episode
No Way Back
Episode 4x26; Mar 31, 1968
Previous Episodes 4x26: No Way Back 4x25: The Death Clock 4x24: Edge of Doom 4x23: Attack! 4x22: Flaming Ice 4x21: Savage Jungle 4x20: Man-Beast 4x19: Secret of the Deep 4x18: The Abominable Snowman

View All Episodes
Cast
Richard Basehart as Admiral Nelson
David Hedison as Captain Crane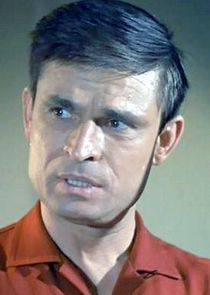 Del Monroe as Kowalski
Henry Kulky as Chief Curley Jones
Paul Trinka as Patterson
Terry Becker as Chief Francis Ethelbert Sharkey
View Full Cast
Skip to:
Season 1
| Episode No. | No. Overall | Title | Airdate | Runtime | Summary |
| --- | --- | --- | --- | --- | --- |
| 1 | 1 | Eleven Days to Zero | 1964-09-14 | 50 | |
| 2 | 2 | The City Beneath the Sea | 1964-09-21 | 50 | |
| 3 | 3 | The Fear-Makers | 1964-09-28 | 50 | |
| 4 | 4 | The Mist of Silence | 1964-10-05 | 50 | |
| 5 | 5 | The Price of Doom | 1964-10-12 | 50 | |
| 6 | 6 | The Sky is Falling | 1964-10-19 | 50 | |
| 7 | 7 | Turn Back the Clock | 1964-10-26 | 50 | |
| 8 | 8 | The Village of Guilt | 1964-11-02 | 50 | |
| 9 | 9 | Hot Line | 1964-11-09 | 50 | |
| 10 | 10 | Submarine Sunk Here | 1964-11-16 | 50 | |
| 11 | 11 | The Magnus Beam | 1964-11-23 | 50 | |
| 12 | 12 | No Way Out | 1964-11-30 | 50 | |
| 13 | 13 | The Blizzard Makers | 1964-12-07 | 50 | |
| 14 | 14 | The Ghost of Moby Dick | 1964-12-14 | 50 | |
| 15 | 15 | Long Live the King | 1964-12-21 | 50 | |
| 16 | 16 | Hail to the Chief | 1964-12-28 | 50 | |
| 17 | 17 | The Last Battle | 1965-01-04 | 50 | |
| 18 | 18 | Mutiny | 1965-01-11 | 50 | |
| 19 | 19 | Doomsday | 1965-01-18 | 50 | |
| 20 | 20 | The Invaders | 1965-01-25 | 50 | |
| 21 | 21 | The Indestructible Man | 1965-02-01 | 50 | |
| 22 | 22 | The Buccaneer | 1965-02-08 | 50 | |
| 23 | 23 | The Human Computer | 1965-02-15 | 50 | |
| 24 | 24 | The Saboteur | 1965-02-22 | 50 | |
| 25 | 25 | Cradle of the Deep | 1965-03-01 | 50 | |
| 26 | 26 | The Amphibians | 1965-03-08 | 50 | |
| 27 | 27 | The Exile | 1965-03-15 | 50 | |
| 28 | 28 | The Creature | 1965-03-22 | 50 | |
| 29 | 29 | The Enemies | 1965-03-29 | 50 | |
| 30 | 30 | The Secret of the Loch | 1965-04-05 | 50 | |
| 31 | 31 | The Condemned | 1965-04-12 | 50 | |
| 32 | 32 | The Traitor | 1965-04-19 | 50 | |
Season 2
| Episode No. | No. Overall | Title | Airdate | Runtime | Summary |
| --- | --- | --- | --- | --- | --- |
| 1 | 33 | Jonah and the Whale | 1965-09-19 | 50 | |
| 2 | 34 | Time Bomb | 1965-09-26 | 50 | |
| 3 | 35 | ...And Five of Us Are Left | 1965-10-03 | 50 | |
| 4 | 36 | The Cyborg | 1965-10-17 | 50 | |
| 5 | 37 | Escape from Venice | 1965-10-24 | 50 | |
| 6 | 38 | The Left-Handed Man | 1965-10-31 | 50 | |
| 7 | 39 | The Deadliest Game | 1965-11-07 | 50 | |
| 8 | 40 | Leviathan | 1965-11-14 | 50 | |
| 9 | 41 | The Peacemaker | 1965-11-21 | 50 | |
| 10 | 42 | The Silent Saboteurs | 1965-11-28 | 50 | |
| 11 | 43 | The X Factor | 1965-12-05 | 50 | |
| 12 | 44 | The Machines Strike Back | 1965-12-12 | 50 | |
| 13 | 45 | The Monster from Outer Space | 1965-12-19 | 50 | |
| 14 | 46 | Terror on Dinosaur Island | 1965-12-26 | 50 | |
| 15 | 47 | Killers of the Deep | 1966-01-02 | 50 | |
| 16 | 48 | Deadly Creature Below! | 1966-01-09 | 50 | |
| 17 | 49 | The Phantom Strikes | 1966-01-16 | 50 | |
| 18 | 50 | The Sky's on Fire | 1966-01-23 | 50 | |
| 19 | 51 | Graveyard of Fear | 1966-01-30 | 50 | |
| 20 | 52 | The Shape of Doom | 1966-02-06 | 50 | |
| 21 | 53 | Dead Men's Doubloons | 1966-02-13 | 50 | |
| 22 | 54 | The Death Ship | 1966-02-20 | 50 | |
| 23 | 55 | The Monster's Web | 1966-02-27 | 50 | |
| 24 | 56 | The Menfish | 1966-03-06 | 50 | |
| 25 | 57 | The Mechanical Man | 1966-03-13 | 50 | |
| 26 | 58 | The Return of the Phantom | 1966-03-20 | 50 | |
Season 3
| Episode No. | No. Overall | Title | Airdate | Runtime | Summary |
| --- | --- | --- | --- | --- | --- |
| 1 | 59 | Monster from the Inferno | 1966-09-18 | 50 | |
| 2 | 60 | Werewolf | 1966-09-25 | 50 | |
| 3 | 61 | The Day the World Ended | 1966-10-02 | 50 | |
| 4 | 62 | Night of Terror | 1966-10-09 | 50 | |
| 5 | 63 | The Terrible Toys | 1966-10-16 | 50 | |
| 6 | 64 | Day of Evil | 1966-10-23 | 50 | |
| 7 | 65 | Deadly Waters | 1966-10-30 | 50 | |
| 8 | 66 | Thing from Inner Space | 1966-11-06 | 50 | |
| 9 | 67 | The Death Watch | 1966-11-13 | 50 | |
| 10 | 68 | Deadly Invasion | 1966-11-20 | 50 | |
| 11 | 69 | The Haunted Submarine | 1966-11-27 | 50 | |
| 12 | 70 | The Plant Man | 1966-12-04 | 50 | |
| 13 | 71 | The Lost Bomb | 1966-12-11 | 50 | |
| 14 | 72 | The Brand of the Beast | 1966-12-18 | 50 | |
| 15 | 73 | The Creature | 1967-01-01 | 50 | |
| 16 | 74 | Death from the Past | 1967-01-08 | 50 | |
| 17 | 75 | The Heat Monster | 1967-01-15 | 50 | |
| 18 | 76 | The Fossil Men | 1967-01-22 | 50 | |
| 19 | 77 | The Mermaid | 1967-01-29 | 50 | |
| 20 | 78 | The Mummy | 1967-02-05 | 50 | |
| 21 | 79 | Shadowman | 1967-02-12 | 50 | |
| 22 | 80 | No Escape from Death | 1967-02-19 | 50 | |
| 23 | 81 | Doomsday Island | 1967-02-26 | 50 | |
| 24 | 82 | The Wax Men | 1967-03-05 | 50 | |
| 25 | 83 | Deadly Cloud | 1967-03-12 | 50 | |
| 26 | 84 | Destroy Seaview! | 1967-03-19 | 50 | |
Season 4
| Episode No. | No. Overall | Title | Airdate | Runtime | Summary |
| --- | --- | --- | --- | --- | --- |
| 1 | 85 | Fires of Death | 1967-09-17 | 50 | |
| 2 | 86 | The Deadly Dolls | 1967-10-01 | 50 | |
| 3 | 87 | Cave of the Dead | 1967-10-08 | 50 | |
| 4 | 88 | Journey with Fear | 1967-10-15 | 50 | |
| 5 | 89 | Sealed Orders | 1967-10-22 | 50 | |
| 6 | 90 | Man of Many Faces | 1967-10-29 | 50 | |
| 7 | 91 | Fatal Cargo | 1967-11-05 | 50 | |
| 8 | 92 | Time Lock | 1967-11-12 | 50 | |
| 9 | 93 | Rescue | 1967-11-19 | 50 | |
| 10 | 94 | Terror | 1967-11-26 | 50 | |
| 11 | 95 | A Time to Die | 1967-12-03 | 50 | |
| 12 | 96 | Blow Up | 1967-12-10 | 50 | |
| 13 | 97 | Deadly Amphibians | 1967-12-17 | 50 | |
| 14 | 98 | The Return of Blackbeard | 1967-12-31 | | |
| 15 | 99 | Terrible Leprechaun | 1968-01-07 | 50 | |
| 16 | 100 | The Lobster Man | 1968-01-21 | 50 | |
| 17 | 101 | Nightmare | 1968-01-28 | 50 | |
| 18 | 102 | The Abominable Snowman | 1968-02-04 | 50 | |
| 19 | 103 | Secret of the Deep | 1968-02-11 | 50 | |
| 20 | 104 | Man-Beast | 1968-02-18 | 50 | |
| 21 | 105 | Savage Jungle | 1968-02-25 | 50 | |
| 22 | 106 | Flaming Ice | 1968-03-03 | 50 | |
| 23 | 107 | Attack! | 1968-03-10 | 50 | |
| 24 | 108 | Edge of Doom | 1968-03-17 | 50 | |
| 25 | 109 | The Death Clock | 1968-03-24 | 50 | |
| 26 | 110 | No Way Back | 1968-03-31 | 50 | |
Series Cast
| | | | |
| --- | --- | --- | --- |
| | Richard Basehart | as Admiral Nelson | |
| | David Hedison | as Captain Crane | |
| | Del Monroe | as Kowalski | |
| | Henry Kulky | as Chief Curley Jones | |
| | Paul Trinka | as Patterson | |
| | Terry Becker | as Chief Francis Ethelbert Sharkey | |
| | Arch Whiting | as Sparks | |
| | Richard Bull | as Doctor | |
| | Robert Dowdell | as Chip Morton | |
| | Allen Hunt | as Riley | |
Series Crew
| | Position | Name |
| --- | --- | --- |
| | Creator | Irwin Allen |
Related News
TVMaze