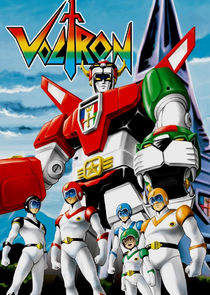 From days of long ago, from uncharted regions of the universe, comes a legend. The legend of Voltron: Defender of the Universe! A mighty robot. Loved by good, feared by evil. As Voltron's legend grew, peace settled across the galaxy. On planet Earth, a galaxy alliance was formed. Together with the good planets of the solar system, they maintained peace throughout the universe. Until a new horrible menace threatened the galaxy. Voltron was needed once more. This is the story of the super force of space explorers. Specially trained and sent by the Alliance to bring back Voltron: Defender of the Universe.
Series Overview
Rating
imDb Rating: 7.9 (3,781 Votes)
Metascore: N/A
Plot
This series focuses on five lion robots and their pilots as they fight the evil forces of King Zarkon and Prince Lotor.
Details
Rated: TV-Y7
Released: 10 Sep 1984
Runtime: 24 min
Genre: Animation, Family, Sci-Fi
Director: N/A
Writer: N/A
Actors: Jack Angel, Michael Bell, Peter Cullen, Neil Ross
Language: English
Country: USA, Japan
Awards: N/A
Total Seasons: 2
Previous Episode
Breakin' Up Is Hard to Doom
Episode 2x20; Nov 18, 1985
Previous Episodes 2x20: Breakin' Up Is Hard to Doom 2x19: The Alliance Strikes Back! 2x18: No Muse Is Good Muse 2x17: Lotor, My Hero? 2x16: With Friends Like You 2x15: Doom Girls on the Prowl! 2x14: To Soothe the Savage Robeast 2x13: A Ghost of a Chance 2x12: Enter Merla: Queen of Darkness

View All Episodes
Skip to:
Season 1
| Episode No. | No. Overall | Title | Airdate | Runtime | Summary |
| --- | --- | --- | --- | --- | --- |
| 1 | 1 | Space Explorers Captured | 1984-09-10 | 24 | |
| 2 | 2 | Escape to Another Planet | 1984-09-11 | 24 | |
| 3 | 3 | A Ghost and Four Keys | 1984-09-12 | 24 | |
| 4 | 4 | The Missing Key | 1984-09-13 | 24 | |
| 5 | 5 | Princess Joins Up | 1984-09-14 | 24 | |
| 6 | 6 | The Right Arm of Voltron | 1984-09-17 | 24 | |
| 7 | 7 | The Lion Has New Claws | 1984-09-18 | 24 | |
| 8 | 8 | The Stolen Lion | 1984-09-26 | 24 | |
| 9 | 9 | A Pretty Spy | 1984-09-27 | 24 | |
| 10 | 10 | Secret of the White Lion | 1984-09-28 | 24 | |
| 11 | 11 | Surrender | 1984-10-01 | 24 | |
| 12 | 12 | Bad Birthday Party | 1984-10-08 | 24 | |
| 13 | 13 | The Witch Gets a Face Lift | 1984-10-12 | 24 | |
| 14 | 14 | Yurak Gets His Pink Slip | 1984-10-02 | 24 | |
| 15 | 15 | Give Me Your Princess | 1984-10-03 | 24 | |
| 16 | 16 | Bridge over the River Chozzerai | 1984-10-04 | 24 | |
| 17 | 17 | My Brother Is a Robeast | 1984-11-19 | 24 | |
| 18 | 18 | Zarkon Is Dying | 1984-10-05 | 24 | |
| 19 | 19 | The Buried Castle | 1984-10-16 | 24 | |
| 20 | 20 | Pidge's Home Planet | 1984-10-25 | 24 | |
| 21 | 21 | It'll Be a Cold Day | 1984-11-21 | 24 | |
| 22 | 22 | The Deadly Flowers | 1984-10-09 | 24 | |
| 23 | 23 | It Takes Real Lions | 1984-10-17 | 24 | |
| 24 | 24 | Raid of the Alien Mice | 1984-10-10 | 24 | |
| 25 | 25 | Short Run of the Centipede Express | 1984-10-11 | 24 | |
| 26 | 26 | The Invisible Robeast | 1984-10-26 | 24 | |
| 27 | 27 | The Green Medusa | 1984-10-15 | 24 | |
| 28 | 28 | Treasure of Planet Tyrus | 1984-10-30 | 24 | |
| 29 | 29 | Magnetic Attraction | 1984-11-06 | 24 | |
| 30 | 30 | The Sleeping Princess | 1984-10-18 | 24 | |
| 31 | 31 | The Sincerest Form of Flattery | 1984-10-31 | 24 | |
| 32 | 32 | A Transplant for Blue Lion | 1984-11-15 | 24 | |
| 33 | 33 | Attack of the Fierce Frogs | 1984-11-08 | 24 | |
| 34 | 34 | Lotor Traps Pidge | 1984-10-19 | 24 | |
| 35 | 35 | Doom Boycotts the Space Olympics | 1984-10-29 | 24 | |
| 36 | 36 | Lotor's Clone | 1984-11-07 | 24 | |
| 37 | 37 | Lotor's New Hit Man | 1984-11-14 | 24 | |
| 38 | 38 | Raid of the Red Berets | 1984-11-16 | 24 | |
| 39 | 39 | The Captive Comet | 1984-10-22 | 24 | |
| 40 | 40 | The Little Prince | 1984-10-23 | 24 | |
| 41 | 41 | There'll Be a Royal Wedding | 1984-10-24 | 24 | |
| 42 | 42 | The Sand People | 1984-11-05 | 24 | |
| 43 | 43 | Voltron Frees the Slaves | 1984-11-12 | 24 | |
| 44 | 44 | Voltron vs. Voltron | 1984-11-09 | 24 | |
| 45 | 45 | One Princess to Another | 1984-11-20 | 24 | |
| 46 | 46 | The Mighty Space Mouse | 1984-11-13 | 24 | |
| 47 | 47 | Summit Meeting | 1984-11-22 | 24 | |
| 48 | 48 | Return of Coran's Son | 1984-11-01 | 24 | |
| 49 | 49 | Coran's Son Runs Amuck | 1984-11-02 | 24 | |
| 50 | 50 | Zarkon Becomes a Robeast | 1984-11-23 | 24 | |
| 51 | 51 | Lotor, the King | 1984-11-26 | 24 | |
| 52 | 52 | Final Victory | 1984-11-27 | 24 | |
Season 2
| Episode No. | No. Overall | Title | Airdate | Runtime | Summary |
| --- | --- | --- | --- | --- | --- |
| 1 | 53 | Dinner and a Show | 1985-10-21 | 24 | |
| 2 | 54 | Envoy from Galaxy Garrison | 1985-10-22 | 24 | |
| 3 | 55 | Mousemania | 1985-10-23 | 24 | |
| 4 | 56 | The Shell Game | 1985-10-24 | 24 | |
| 5 | 57 | The Traitor | 1985-10-25 | 24 | |
| 6 | 58 | Voltron Meets Jungle Woman | 1985-10-28 | 24 | |
| 7 | 59 | Little Buddies | 1985-10-29 | 24 | |
| 8 | 60 | Who Was That Masked Man? | 1985-10-30 | 24 | |
| 9 | 61 | Take a Robot to Lunch | 1985-11-01 | 24 | |
| 10 | 62 | War and Peace ... and Doom! | 1985-11-04 | 24 | |
| 11 | 63 | Who's Flyin' Blue Lion? | 1985-11-05 | 24 | |
| 12 | 64 | Enter Merla: Queen of Darkness | 1985-11-06 | 24 | |
| 13 | 65 | A Ghost of a Chance | 1985-11-07 | 24 | |
| 14 | 66 | To Soothe the Savage Robeast | 1985-11-08 | 24 | |
| 15 | 67 | Doom Girls on the Prowl! | 1985-11-11 | 24 | |
| 16 | 68 | With Friends Like You | 1985-11-12 | 24 | |
| 17 | 69 | Lotor, My Hero? | 1985-11-13 | 24 | |
| 18 | 70 | No Muse Is Good Muse | 1985-11-14 | 24 | |
| 19 | 71 | The Alliance Strikes Back! | 1985-11-15 | 24 | |
| 20 | 72 | Breakin' Up Is Hard to Doom | 1985-11-18 | 24 | |
Related News
TVMaze