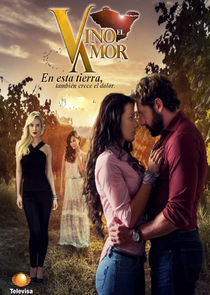 Vino el amor (Love wine) is the story of Luciana, a beautiful young rebel who after being deported with his father in a raid several years ago, returns to Sonoma, California, to be reunited with his family in the vineyards of the Bodega de los Angeles. By a twist of fate, it comes at a time when the vineyard owner, David, is plunged into a deep depression over the death of his wife Lisa, asituation that has taken advantage of his ambitious mother Lilian, and attorney Vineyard Juan, to divert funds for their benefit.
Series Overview
Rating
imDb Rating: 6.1 (8 Votes)
Metascore: N/A
Plot
David owns a Vineyard, he has 2 children, 1 girl, 1 boy. The whole novela involves love, hate, jealousy. The employees play huge parts. They are all involved.
Details
Rated: TV-14
Released: 08 Aug 2016
Runtime: N/A
Genre: Drama, Romance
Director: N/A
Writer: N/A
Actors: Gabriel Soto, Cynthia Klitbo, Azela Robinson, Christian de la Campa
Language: Spanish
Country: Mexico
Awards: N/A
Total Seasons: 1
Previous Episode
Episode 142
Episode 1x142; Feb 19, 2017
Previous Episodes 1x142: Episode 142 1x141: Episode 141 1x140: Episode 140 1x139: Episode 139 1x138: Episode 138 1x137: Episode 137 1x136: Episode 136 1x135: Episode 135 1x134: Episode 134

View All Episodes
Cast
Gabriel Soto as David
Irina Baeva as Luciana
Cynthia Klitbo as Marta
Azela Robinson as Lilian
Christian de la Campa as Juan
Raúl Coronado as Miguel
View Full Cast
Skip to:
Season 1
| Episode No. | No. Overall | Title | Airdate | Runtime | Summary |
| --- | --- | --- | --- | --- | --- |
| 1 | 1 | Episode 1 | 2016-08-08 | 60 | |
| 2 | 2 | Episode 2 | 2016-08-09 | 60 | |
| 3 | 3 | Episode 3 | 2016-08-10 | 60 | |
| 4 | 4 | Episode 4 | 2016-08-11 | 60 | |
| 5 | 5 | Episode 5 | 2016-08-12 | 60 | |
| 6 | 6 | Episode 6 | 2016-08-15 | 60 | |
| 7 | 7 | Episode 7 | 2016-08-16 | 60 | |
| 8 | 8 | Episode 8 | 2016-08-17 | 60 | |
| 9 | 9 | Episode 9 | 2016-08-18 | 60 | |
| 10 | 10 | Episode 10 | 2016-08-19 | 60 | |
| 11 | 11 | Episode 11 | 2016-08-22 | 60 | |
| 12 | 12 | Episode 12 | 2016-08-23 | 60 | |
| 13 | 13 | Episode 13 | 2016-08-24 | 60 | |
| 14 | 14 | Episode 14 | 2016-08-25 | 60 | |
| 15 | 15 | Episode 15 | 2016-08-26 | 60 | |
| 16 | 16 | Episode 16 | 2016-08-29 | 60 | |
| 17 | 17 | Episode 17 | 2016-08-30 | 60 | |
| 18 | 18 | Episode 18 | 2016-08-31 | 60 | |
| 19 | 19 | Episode 19 | 2016-09-01 | 60 | |
| 20 | 20 | Episode 20 | 2016-09-02 | 60 | |
| 21 | 21 | Episode 21 | 2016-09-05 | 60 | |
| 22 | 22 | Episode 22 | 2016-09-06 | 60 | |
| 23 | 23 | Episode 23 | 2016-09-07 | 60 | |
| 24 | 24 | Episode 24 | 2016-09-08 | 60 | |
| 25 | 25 | Episode 25 | 2016-09-09 | 60 | |
| 26 | 26 | Episode 26 | 2016-09-12 | 60 | |
| 27 | 27 | Episode 27 | 2016-09-13 | 60 | |
| 28 | 28 | Episode 28 | 2016-09-14 | 60 | |
| 29 | 29 | Episode 29 | 2016-09-15 | 60 | |
| 29 | 30 | Episode 29 | 2016-09-15 | 60 | |
| 30 | 31 | Episode 30 | 2016-09-16 | 60 | |
| 31 | 32 | Episode 31 | 2016-09-19 | 60 | |
| 32 | 33 | Episode 32 | 2016-09-20 | 60 | |
| 33 | 34 | Episode 33 | 2016-09-21 | 60 | |
| 34 | 35 | Episode 34 | 2016-09-22 | 60 | |
| 35 | 36 | Episode 35 | 2016-09-23 | 60 | |
| 36 | 37 | Episode 36 | 2016-09-26 | 60 | |
| 37 | 38 | Episode 37 | 2016-09-27 | 60 | |
| 38 | 39 | Episode 38 | 2016-09-28 | 60 | |
| 39 | 40 | Episode 39 | 2016-09-29 | 60 | |
| 40 | 41 | Episode 40 | 2016-09-30 | 60 | |
| 41 | 42 | Episode 41 | 2016-10-03 | 60 | |
| 42 | 43 | Episode 42 | 2016-10-04 | 60 | |
| 43 | 44 | Episode 43 | 2016-10-05 | 60 | |
| 44 | 45 | Episode 44 | 2016-10-06 | 60 | |
| 45 | 46 | Episode 45 | 2016-10-07 | 60 | |
| 46 | 47 | Episode 46 | 2016-10-10 | 60 | |
| 47 | 48 | Episode 47 | 2016-10-11 | 60 | |
| 48 | 49 | Episode 48 | 2016-10-12 | 60 | |
| 49 | 50 | Episode 49 | 2016-10-13 | 60 | |
| 50 | 51 | Episode 50 | 2016-10-14 | 60 | |
| 51 | 52 | Episode 51 | 2016-10-17 | 60 | |
| 52 | 53 | Episode 52 | 2016-10-18 | 60 | |
| 53 | 54 | Episode 53 | 2016-10-19 | 60 | |
| 54 | 55 | Episode 54 | 2016-10-20 | 60 | |
| 55 | 56 | Episode 55 | 2016-10-21 | 60 | |
| 56 | 57 | Episode 56 | 2016-10-24 | 60 | |
| 57 | 58 | Episode 57 | 2016-10-25 | 60 | |
| 58 | 59 | Episode 58 | 2016-10-26 | 60 | |
| 59 | 60 | Episode 59 | 2016-10-27 | 60 | |
| 60 | 61 | Episode 60 | 2016-10-28 | 60 | |
| 61 | 62 | Episode 61 | 2016-10-31 | 60 | |
| 62 | 63 | Episode 62 | 2016-11-01 | 60 | |
| 63 | 64 | Episode 63 | 2016-11-02 | 60 | |
| 64 | 65 | Episode 64 | 2016-11-03 | 60 | |
| 65 | 66 | Episode 65 | 2016-11-04 | 60 | |
| 66 | 67 | Episode 66 | 2016-11-07 | 60 | |
| 67 | 68 | Episode 67 | 2016-11-08 | 60 | |
| 68 | 69 | Episode 68 | 2016-11-09 | 60 | |
| 69 | 70 | Episode 69 | 2016-11-10 | 60 | |
| 70 | 71 | Episode 70 | 2016-11-11 | 60 | |
| 71 | 72 | Episode 71 | 2016-11-14 | 60 | |
| 72 | 73 | Episode 72 | 2016-11-15 | 60 | |
| 73 | 74 | Episode 73 | 2016-11-16 | 60 | |
| 74 | 75 | Episode 74 | 2016-11-17 | 60 | |
| 75 | 76 | Episode 75 | 2016-11-18 | 60 | |
| 76 | 77 | Episode 76 | 2016-11-21 | 60 | |
| 77 | 78 | Episode 77 | 2016-11-22 | 60 | |
| 78 | 79 | Episode 78 | 2016-11-23 | 60 | |
| 79 | 80 | Episode 79 | 2016-11-24 | 60 | |
| 80 | 81 | Episode 80 | 2016-11-25 | 60 | |
| 81 | 82 | Episode 81 | 2016-11-28 | 60 | |
| 82 | 83 | Episode 82 | 2016-11-29 | 60 | |
| 83 | 84 | Episode 83 | 2016-11-30 | 60 | |
| 84 | 85 | Episode 84 | 2016-12-01 | 60 | |
| 85 | 86 | Episode 85 | 2016-12-02 | 60 | |
| 86 | 87 | Episode 86 | 2016-12-05 | 60 | |
| 87 | 88 | Episode 87 | 2016-12-06 | 60 | |
| 88 | 89 | Episode 88 | 2016-12-07 | 60 | |
| 89 | 90 | Episode 89 | 2016-12-08 | 60 | |
| 90 | 91 | Episode 90 | 2016-12-09 | 60 | |
| 91 | 92 | Episode 91 | 2016-12-12 | 60 | |
| 92 | 93 | Episode 92 | 2016-12-13 | 60 | |
| 93 | 94 | Episode 93 | 2016-12-14 | 60 | |
| 94 | 95 | Episode 94 | 2016-12-15 | 60 | |
| 95 | 96 | Episode 95 | 2016-12-16 | 60 | |
| 96 | 97 | Episode 96 | 2016-12-19 | 60 | |
| 97 | 98 | Episode 97 | 2016-12-20 | 60 | |
| 98 | 99 | Episode 98 | 2016-12-21 | 60 | |
| 99 | 100 | Episode 99 | 2016-12-22 | 60 | |
| 100 | 101 | Episode 100 | 2016-12-23 | 60 | |
| 101 | 102 | Episode 101 | 2016-12-26 | 60 | |
| 102 | 103 | Episode 102 | 2016-12-27 | 60 | |
| 103 | 104 | Episode 103 | 2016-12-28 | 60 | |
| 104 | 105 | Episode 104 | 2016-12-29 | 60 | |
| 105 | 106 | Episode 105 | 2016-12-30 | 60 | |
| 106 | 107 | Episode 106 | 2017-01-02 | 60 | |
| 107 | 108 | Episode 107 | 2017-01-03 | 60 | |
| 108 | 109 | Episode 108 | 2017-01-04 | 60 | |
| 109 | 110 | Episode 109 | 2017-01-05 | 60 | |
| 110 | 111 | Episode 110 | 2017-01-06 | 60 | |
| 111 | 112 | Episode 111 | 2017-01-09 | 60 | |
| 112 | 113 | Episode 112 | 2017-01-10 | 60 | |
| 113 | 114 | Episode 113 | 2017-01-11 | 60 | |
| 114 | 115 | Episode 114 | 2017-01-12 | 60 | |
| 115 | 116 | Episode 115 | 2017-01-13 | 60 | |
| 116 | 117 | Episode 116 | 2017-01-16 | 60 | |
| 117 | 118 | Episode 117 | 2017-01-17 | 60 | |
| 118 | 119 | Episode 118 | 2017-01-18 | 60 | |
| 119 | 120 | Episode 119 | 2017-01-19 | 60 | |
| 120 | 121 | Episode 120 | 2017-01-20 | 60 | |
| 121 | 122 | Episode 121 | 2017-01-23 | 60 | |
| 122 | 123 | Episode 122 | 2017-01-24 | 60 | |
| 123 | 124 | Episode 123 | 2017-01-25 | 60 | |
| 124 | 125 | Episode 124 | 2017-01-26 | 60 | |
| 125 | 126 | Episode 125 | 2017-01-27 | 60 | |
| 126 | 127 | Episode 126 | 2017-01-30 | 60 | |
| 127 | 128 | Episode 127 | 2017-01-31 | 60 | |
| 128 | 129 | Episode 128 | 2017-02-01 | 60 | |
| 129 | 130 | Episode 129 | 2017-02-02 | 60 | |
| 130 | 131 | Episode 130 | 2017-02-03 | 60 | |
| 131 | 132 | Episode 131 | 2017-02-06 | 60 | |
| 132 | 133 | Episode 132 | 2017-02-07 | 60 | |
| 133 | 134 | Episode 133 | 2017-02-08 | 60 | |
| 134 | 135 | Episode 134 | 2017-02-09 | 60 | |
| 135 | 136 | Episode 135 | 2017-02-10 | 60 | |
| 136 | 137 | Episode 136 | 2017-02-13 | 60 | |
| 137 | 138 | Episode 137 | 2017-02-14 | 60 | |
| 138 | 139 | Episode 138 | 2017-02-15 | 60 | |
| 139 | 140 | Episode 139 | 2017-02-16 | 60 | |
| 140 | 141 | Episode 140 | 2017-02-17 | 60 | |
| 141 | 142 | Episode 141 | 2017-02-19 | 60 | |
| 142 | 143 | Episode 142 | 2017-02-19 | 60 | |
Series Cast
| | | | |
| --- | --- | --- | --- |
| | Gabriel Soto | as David | |
| | Irina Baeva | as Luciana | |
| | Cynthia Klitbo | as Marta | |
| | Azela Robinson | as Lilian | |
| | Christian de la Campa | as Juan | |
| | Raúl Coronado | as Miguel | |
| | Luciano Zacharski | as Carlos | |
| | Mar Contreras | as Susan | |
Related News
TVMaze