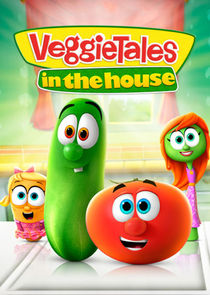 VeggieTales in the House is an American computer-animated television series produced by Big Idea Entertainment and DreamWorks Animation Television. It takes place outside of VeggieTales, a Christian-themed video and film series, featuring anthropomorphic vegetables. The series was executive produced by Doug TenNapel, creator of Earthworm Jim. The series premiered on Netflix on November 26, 2014. Three seasons of the series have been ordered, consisting of a total of 75 22-minute episodes. A fourth season was released on September 23, 2016. A spinoff series titled VeggieTales in the City will premiere February 24, 2017 on Netflix.
Series Overview
Rating
imDb Rating: 4.9 (188 Votes)
Metascore: N/A
Plot
Get ready to love your veggies! The beloved faith-based brand has a fresh new look as Bob the Tomato, Larry the Cucumber and all their Veggie friends venture off the countertop for the ...
Details
Rated: TV-Y
Released: 26 Nov 2014
Runtime: N/A
Genre: Animation, Comedy, Family, Music
Director: N/A
Writer: N/A
Actors: Phil Vischer, Mike Nawrocki, Tress MacNeille, Rob Paulsen
Language: N/A
Country: USA
Awards: 1 nomination.
Total Seasons: 4
Previous Episode
Yambot
Episode 4x26; Sep 23, 2016
Previous Episodes 4x26: Yambot 4x25: The Big Race 4x24: Destination: SPACE STATION! 4x23: The Good Samaricumber 4x22: Grow-tato 4x21: VeggieCards! 4x20: Save the Cherry Cat 4x19: The Bob and Larry Show 4x18: Larry's Cousin Comes to Town

View All Episodes
Skip to:
Season 1
| Episode No. | No. Overall | Title | Airdate | Runtime | Summary |
| --- | --- | --- | --- | --- | --- |
| 1 | 1 | Puppies & Guppies | 2014-11-26 | 22 | |
| 2 | 2 | Sorry We're Closed Today | 2014-11-26 | 22 | |
| 3 | 3 | Bob & The Awesome Frosting Mustache | 2014-11-26 | 22 | |
| 4 | 4 | Bob and Larry: Gettin' Angry | 2014-11-26 | 22 | |
| 5 | 5 | Bob's Bad Breath | 2014-11-26 | 22 | |
| 6 | 6 | Trading Places | 2014-11-26 | 22 | |
| 7 | 7 | Jimmy & Jerry Are Rich | 2014-11-26 | 22 | |
| 8 | 8 | Feelin Hot, Hot, Hot | 2014-11-26 | 22 | |
| 9 | 9 | Laura at Bat | 2014-11-26 | 22 | |
| 10 | 10 | Pie Fight! | 2014-11-26 | 22 | |
| 11 | 11 | Pa Grape's Son | 2015-01-30 | 22 | |
| 12 | 12 | Larry's Cardboard Thumb | 2015-01-30 | 22 | |
| 13 | 13 | The Gong Heard Around the House | 2015-01-30 | 22 | |
| 14 | 14 | When Dust Bunnies Come to Town | 2015-01-30 | 22 | |
| 15 | 15 | The Bucket List | 2015-01-30 | 22 | |
| 16 | 16 | A Gift for Singing | 2015-01-30 | 22 | |
| 17 | 17 | Lie-Monade | 2015-01-30 | 22 | |
| 18 | 18 | Let's Build a Fort | 2015-01-30 | 22 | |
| 19 | 19 | Bacon & Ice Cream | 2015-01-30 | 22 | |
| 20 | 20 | For the Honor of LarryBoy | 2015-01-30 | 22 | |
| 21 | 21 | The Birthday Thief | 2015-04-17 | 22 | |
| 22 | 22 | Junior Gets a Pet | 2015-04-17 | 22 | |
| 23 | 23 | Cool as a Cucumber | 2015-04-17 | 22 | |
| 24 | 24 | The Rich Young Comic Ruler | 2015-04-17 | 22 | |
| 25 | 25 | Popcorntastrophe | 2015-04-17 | 22 | |
| 26 | 26 | Junior Jetpack | 2015-04-17 | 22 | |
| 27 | 27 | Monster Manners | 2015-04-17 | 22 | |
| 28 | 28 | You, Me, & Tiny Pea | 2015-04-17 | 22 | |
| 29 | 29 | Jenna Chive Live | 2015-04-17 | 22 | |
| 30 | 30 | Captain LarryBeard | 2015-04-17 | 22 | |
Season 2
| Episode No. | No. Overall | Title | Airdate | Runtime | Summary |
| --- | --- | --- | --- | --- | --- |
| 1 | 31 | The Great Ice Cream Chase | 2015-09-25 | 22 | |
| 2 | 32 | The Guppy Whisperer | 2015-09-25 | 22 | |
| 3 | 33 | The Silly Ray | 2015-09-25 | 22 | |
| 4 | 34 | The Camp Out | 2015-09-25 | 22 | |
| 5 | 35 | Monster Truck Flower Delivery | 2015-09-25 | 22 | |
| 6 | 36 | Vote for Archibald | 2015-09-25 | 22 | |
| 7 | 37 | Ready for Action | 2015-09-25 | 22 | |
| 8 | 38 | Sickabeezer | 2015-09-25 | 22 | |
| 9 | 39 | Plant-demonium | 2015-09-25 | 22 | |
| 10 | 40 | DUO Day | 2015-09-25 | 22 | |
| 11 | 41 | Mayoral Bike Lessons | 2015-09-25 | 22 | |
| 12 | 42 | It | 2015-09-25 | 22 | |
| 13 | 43 | Callie Flower | 2015-09-25 | 22 | |
| 14 | 44 | World of Whiners | 2015-09-25 | 22 | |
| 15 | 45 | Two Birthdays | 2015-09-25 | 22 | |
| 16 | 46 | Playground Tales | 2015-09-25 | 22 | |
| 17 | 47 | Spacetato | 2015-09-25 | 22 | |
| 18 | 48 | Starved for Attention | 2015-09-25 | 22 | |
| 19 | 49 | The Imposters | 2015-09-25 | 22 | |
| 20 | 50 | Place Trading | 2015-09-25 | 22 | |
| 21 | 51 | Locked Out | 2015-09-25 | 22 | |
| 22 | 52 | Coach Ichabeezer | 2015-09-25 | 22 | |
Season 3
| Episode No. | No. Overall | Title | Airdate | Runtime | Summary |
| --- | --- | --- | --- | --- | --- |
| 1 | 53 | Scaredy Cat Bootcamp | 2016-03-25 | 22 | |
| 2 | 54 | Ichabeezer Moves Out | 2016-03-25 | 22 | |
| 3 | 55 | The Missing Jetpack | 2016-03-25 | 22 | |
| 4 | 56 | Bacon vs. Tomato | 2016-03-25 | 22 | |
| 5 | 57 | Motato Gets a Job | 2016-03-25 | 22 | |
| 6 | 58 | Pet Day | 2016-03-25 | 22 | |
| 7 | 59 | Blueberry's Tickets | 2016-03-25 | 22 | |
| 8 | 60 | A Team Divided | 2016-03-25 | 22 | |
| 9 | 61 | Laura's Animal Babysitting Service | 2016-03-25 | 22 | |
| 10 | 62 | Rise of Night Pony | 2016-03-25 | 22 | |
| 11 | 63 | Takesaurus | 2016-03-25 | 22 | |
| 12 | 64 | The Painting | 2016-03-25 | 22 | |
| 13 | 65 | Ichabeezer's Granddaughter | 2016-03-25 | 22 | |
| 14 | 66 | Gone Lobster | 2016-03-25 | 22 | |
| 15 | 67 | Bob Gets Glasses | 2016-03-25 | 22 | |
| 16 | 68 | Crossing Guard | 2016-03-25 | 22 | |
| 17 | 69 | Glued at the Hip | 2016-03-25 | 22 | |
| 18 | 70 | The Action Figure | 2016-03-25 | 22 | |
| 19 | 71 | The Lost Tooth | 2016-03-25 | 22 | |
| 20 | 72 | The Companion Ship | 2016-03-25 | 22 | |
| 21 | 73 | Jimmy Boy | 2016-03-25 | 22 | |
| 22 | 74 | The Larry Express | 2016-03-25 | 22 | |
| 23 | 75 | Larry Lives It Up! | 2016-03-25 | 22 | |
| 24 | 76 | Petunia is Not Funny | 2016-03-25 | 22 | |
| 25 | 77 | The Big Secret | 2016-03-25 | 22 | |
| 26 | 78 | The Secret Soccer Skills | 2016-03-25 | 22 | |
Season 4
| Episode No. | No. Overall | Title | Airdate | Runtime | Summary |
| --- | --- | --- | --- | --- | --- |
| 1 | 79 | Chef Larry | 2016-09-23 | 22 | |
| 2 | 80 | Lost in the Woods | 2016-09-23 | 22 | |
| 3 | 81 | Shrink-abeezer | 2016-09-23 | 22 | |
| 4 | 82 | Motato is My Neighbor | 2016-09-23 | 22 | |
| 5 | 83 | Invisible Arm Wrestling | 2016-09-23 | 22 | |
| 6 | 84 | Silly No More | 2016-09-23 | 22 | |
| 7 | 85 | Stunt Driving School | 2016-09-23 | 22 | |
| 8 | 86 | Off the Rails | 2016-09-23 | 22 | |
| 9 | 87 | Jimmy and Jerry's Big Mess | 2016-09-23 | 22 | |
| 10 | 88 | Beatbox Bill | 2016-09-23 | 22 | |
| 11 | 89 | Larry the Sleepwalker | 2016-09-23 | 22 | |
| 12 | 90 | The Case of the Missing Monocle | 2016-09-23 | 22 | |
| 13 | 91 | Larry Gets a Bulldozer | 2016-09-23 | 22 | |
| 14 | 92 | Bird on the Loose | 2016-09-23 | 22 | |
| 15 | 93 | Leader of the Team | 2016-09-23 | 22 | |
| 16 | 94 | Tina's the Boss | 2016-09-23 | 22 | |
| 17 | 95 | The Puppy | 2016-09-23 | 22 | |
| 18 | 96 | Larry's Cousin Comes to Town | 2016-09-23 | 22 | |
| 19 | 97 | The Bob and Larry Show | 2016-09-23 | 22 | |
| 20 | 98 | Save the Cherry Cat | 2016-09-23 | 22 | |
| 21 | 99 | VeggieCards! | 2016-09-23 | 22 | |
| 22 | 100 | Grow-tato | 2016-09-23 | 22 | |
| 23 | 101 | The Good Samaricumber | 2016-09-23 | 22 | |
| 24 | 102 | Destination: SPACE STATION! | 2016-09-23 | 22 | |
| 25 | 103 | The Big Race | 2016-09-23 | 22 | |
| 26 | 104 | Yambot | 2016-09-23 | 22 | |
Related News
TVMaze